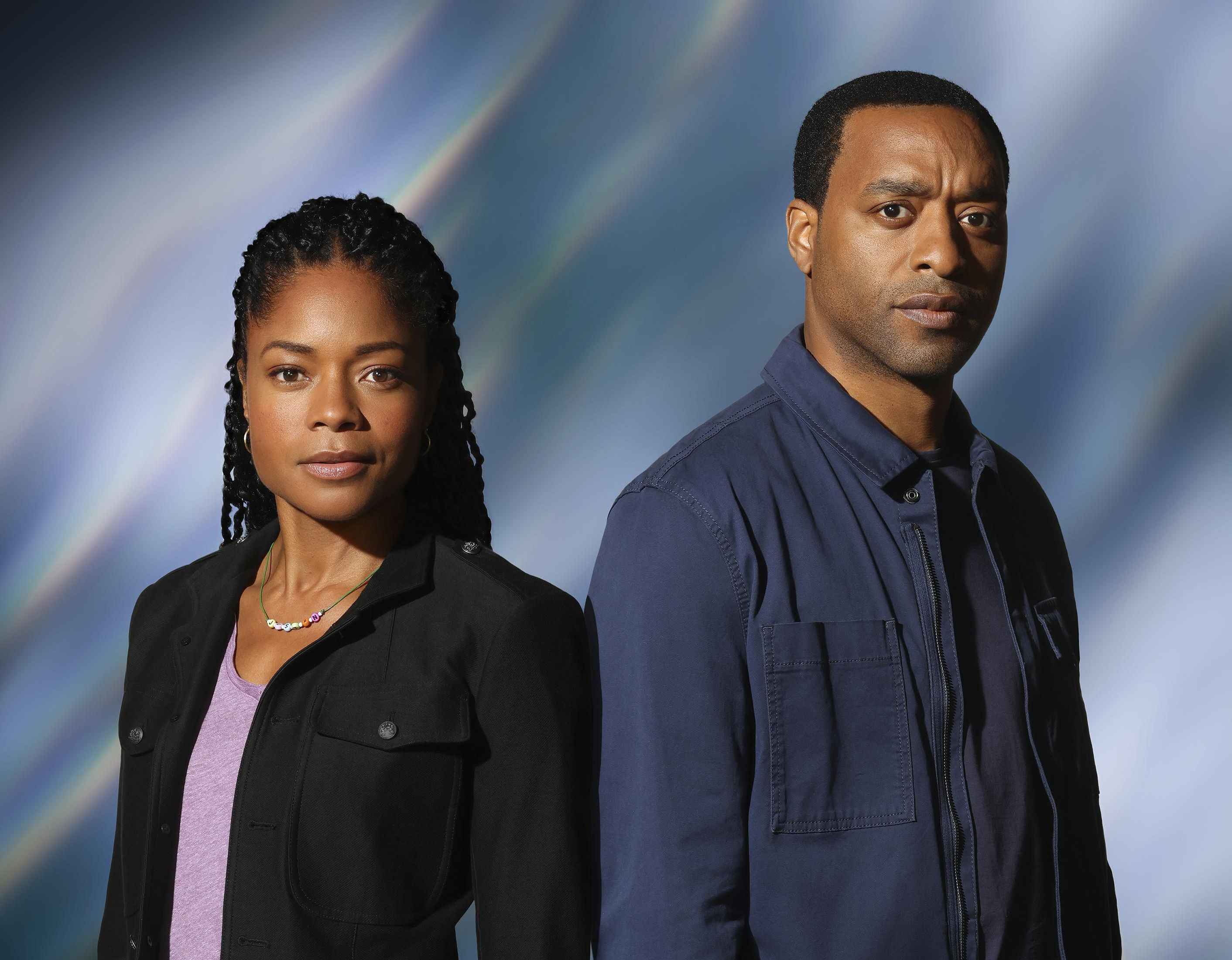 Photo Credit: Tayo Kuku/SHOWTIME
Chiwetel Ejiofor and Naomie Harris explore alien territory in SHOWTIME's The Man Who Fell to Earth.
By Oliver Jones
What if there were life on another planet and they were just as desperate for connection and concerned about their future as we are?
That idea, first explored in a 1963 novel by Walter Tevis, and then in 1976 in the popular head trip of a sci-fi movie starring the late, great David Bowie, gets an update for our age of technology and isolation in SHOWTIME's new drama The Man Who Fell to Earth.
Starring Oscar nominee Chiwetel Ejiofor (12 Years a Slave) as the titular character who arrives on Earth frantic to save his own planet while carrying dire warnings about the state of his new one, the show is a fable about hope at a pivotal moment in human history. To complete his mission, the alien must team up with Justin, played by Oscar nominee Naomie Harris (Moonlight), a struggling single mom whose background as a fusion energy scientist may be the key to survival for the two planets.
The Man Who Fell to Earth airs Sundays at 10p.m. ET/PT on SHOWTIME, after it premieres April 24th.
---
SUBSCRIBE NOW: Enjoy 4 Digital Plus 2 Print/Digital Issues Of Watch Per Year — For Free!
Lonely People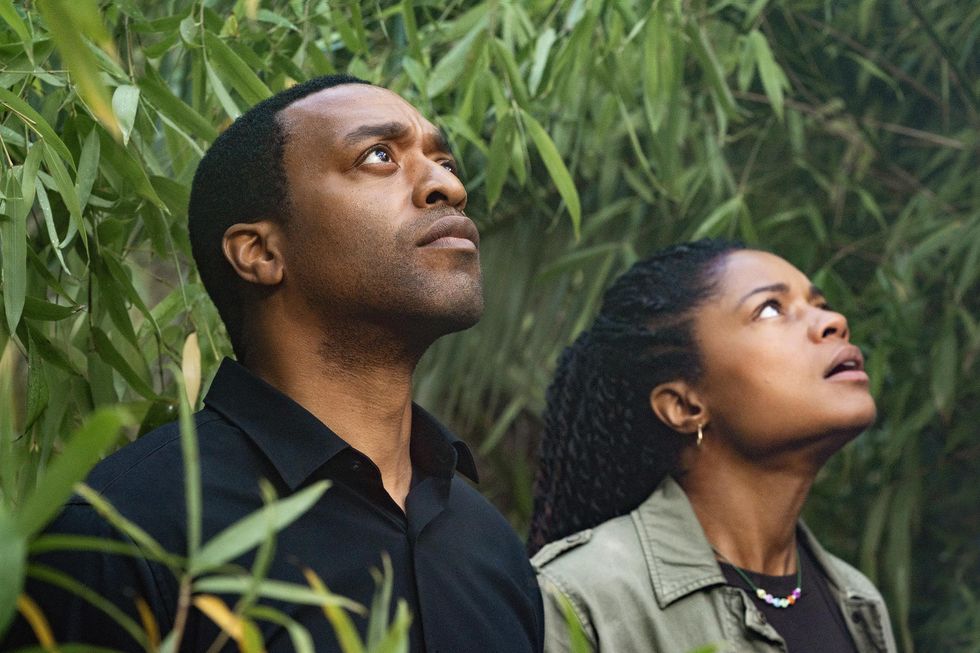 Chiwetel Ejiofor as Faraday and Naomie Harris as Justin look toward the sky.
Photo credit: Aimee Spinks/SHOWTIME
"There is a huge pull of loneliness in this show," says Jenny Lumet, who developed the series with Alex Kurtzman. (The pair
also worked as creators and executive producers of Star Trek: Strange New Worlds.) "I know I often feel alone in my own country, and many of us feel alone on our own planet. This is a story about the two loneliest people in the universe forging a connection."
Part comedy, as the visitor learns how to navigate the social norms of his new home, and part environmental wake-up call, The Man Who Fell to Earth is like nothing else currently on television, which was exactly the idea.
"It's rare to watch a show or a movie that makes you go, 'I just don't know where this is going,'" says Kurtzman, who also serves as a creator and an executive producer of Star Trek: Discovery and Star Trek: Picard. "That's a wonderful gift to give an audience, and it was our goal to achieve that experience here. It all adds up in the end, but the way we get there is through so many very strange tributaries that you would never expect and won't be able to predict. That was a really fun journey."
It was just this sense of unpredictability that attracted A-listers Ejiofor and Harris. We sat down with the two stars to talk about their very different approaches to their job, their hopes and concerns about their home planet, and how David Bowie, the original starman, served as a guiding force over the whole project.
Why Tell This Story?
You are both hugely in-demand actors. What was it that made you want to tell this particular story at this point in your lives? What were you trying to get off your chest?

CE: I was quite intrigued by the idea of re-approaching this material. The 1976 David Bowie film directed by Nicolas Roeg is a truly great film! It's very strange and surreal—a real trip down the rabbit hole. Then they sent me the script and found I just couldn't put it down. Really, it was simple as that. They had managed to take the original concept from the film and expand it into this universe and into this place and into these themes that felt really immediate, relevant, and very human.

NH: For me, there were so many themes in the show, but the one that I connected most with was the urgent need to take heed of the fact that our planet is perilously close to no longer being our planet. If we continue to abuse it in the way that we have, it will no longer be ours. This is a story of someone who has come to save his own planet and in doing so gives a warning to humanity that they have little time left to really turn things around and not have the same disaster that he had. I
really connected with that.

CE: That's one of the great things about science fiction. It can allow us the distance to really take a look at things as they are and also things that scare us. I play a character who is coming from a planet that has experienced devastation and is arriving on Earth to say, "Listen, I can't tell you exactly what's going to happen, but I'm letting you know this is what happened to us. So beware."
Alien and Anchor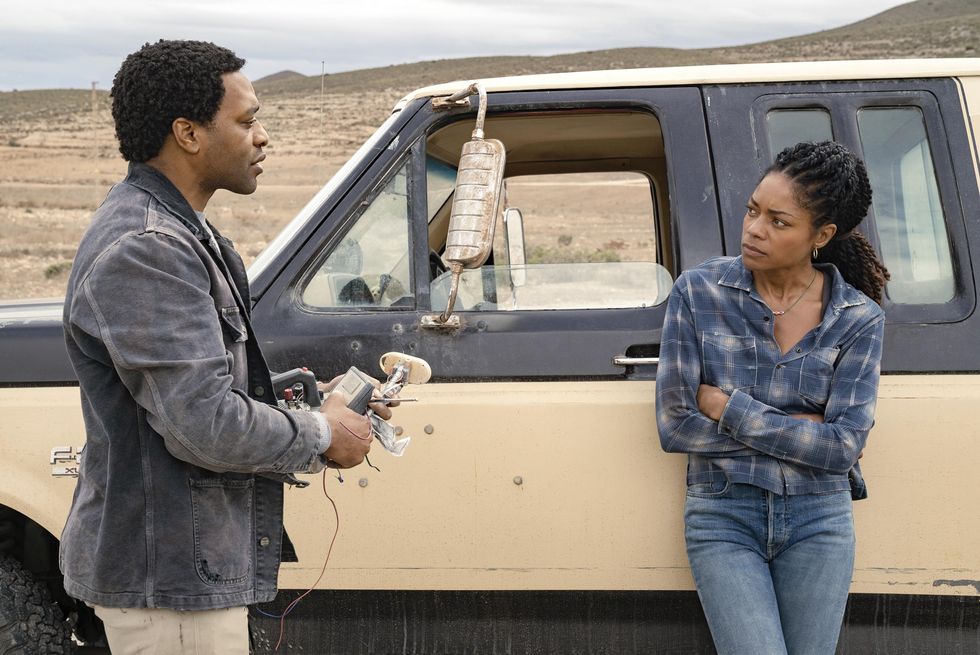 Chiwetel Ejiofor as Faraday and Naomie Harris as Justin talk things over in the desert.

Photo credit: Rico Torres/SHOWTIME
What's the key to playing an alien, Chiwetel?

CE: When you read the script and start the process, you become intimidated, because people have already done this incredibly well. There's Jeff Bridges in Starman and Joe Morton in The Brother from Another Planet and, of course, David Bowie. Let's not forget E.T. himself!
Those are all performances that have given us a sense of what this feels like, of what this texture feels like. How can someone approach this again and find something unique? I became really interested in trying to find out what was specific to this experience. What is specific about this alien and how does it relate to some of the things that perhaps you yourself have felt, the things that are unique to you, that belong to you alone?
In combining those two elements you come up with something that inevitably feels different. It may have echoes of and certain similarities to what came before, but it is also something all its own.
Naomie, you play a character who is a great mom and a terrific caretaker for her father, but she has turned her back on her own genius as a fusion energy scientist. What was your entry point on that?

NH: To me, my character, Justin, represents the highest ideal of what it is to be human. She represents the power of creativity as well as that tremendous sacrificial love—the ability to put others first.
I feel like she is the emotional anchor of the piece. She is the way in. She is the one everyone can relate to—not everyone can relate to an alien! Justin is the doorway in for the audience.
As our proxy, she carries the weight of the whole narrative on the show. Was that daunting?

NH: When you put it like that, it sounds absolutely terrifying! I just tried to keep the focus on her individual journey.
Emotion and Intellect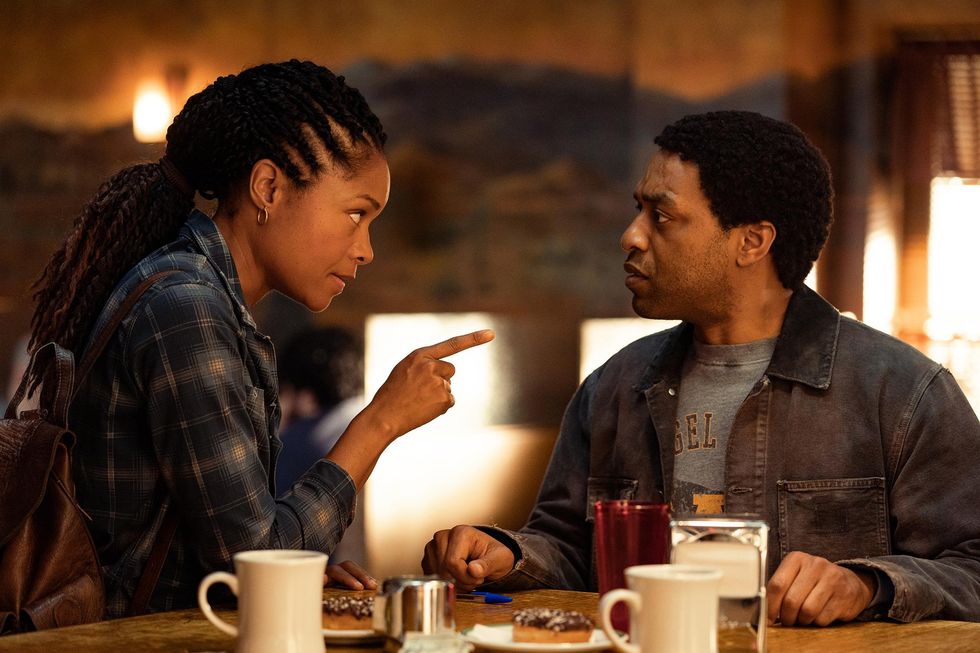 Naomie Harris as Justin Falls and Chiwetel Ejiofor as Faraday face off over donuts.
Photo Credit: Aimee Spinks/SHOWTIME
Do you guys have a similar approach to acting?

NH: Not at all! Chiwetel and I work in very different ways. He likes rehearsal and wants to have a lot of conversations about the material. I am totally different in that I don't like any of that.
For me, it's all about the emotions. I just want to go inward and find the truth for myself. So we came at it in completely different ways.
I hope it doesn't show! I hope that, ultimately, we get to the same place. We are always aiming for that point of truth and connection. That is all that matters and not what your process is to get there.
CE: Yes, it was two different approaches, but it also represents two very different characters. Mine reflected my character's nature: He is scientific, analytical. Her nature is as more of a maverick, like her character.
Naomie bringing all of her intelligence, all of her liveliness, into a moment is electrifying. It's great responding to that in the moment and just playing with her. We never tried to sit in each other's rhythms. Instead, we were discovering where we sat together.
NH: That is so true! My character is all pure emotion while his is pure intellect. That describes my process, too: I always want to get back to my heart. I am always just looking for that emotional truth. That's what is most important to me and that is who I am as a person.
Chiwetel as a person is very cerebral. The way we are as people completely works for our characters on this show. Clearly, they cast this very well!
David Bowie's Legacy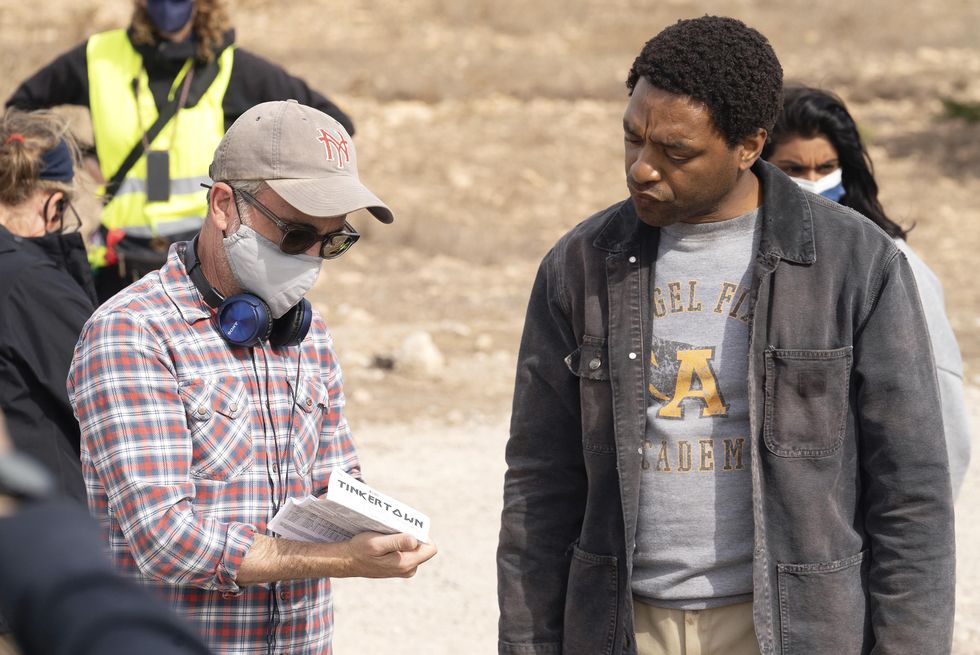 Behind-the-scenes with show co-creator Alex Kurtzman and actor Chiwetel Ejiofor.
Photo Credit: Rico Torres/SHOWTIME
This show is inspired by a David Bowie film, and each episode is named after one of his songs. Why was honoring him such an integral part of telling this story?

CE: Bowie is an extraordinary figure who is beloved and deeply missed. Part of the attraction of doing this was to celebrate him and what he stood for. Even people who have never seen the film know that David Bowie is the man who fell to Earth! He carried an otherworldly dignity and grace and, of course, a musical skill and acumen that was unmatched and irreplaceable.
So, before you do anything else, you want to pay tribute to him, the legacy of who he was, what he stood for, and what he stood against. He was a unique figure on the cultural landscape, and it was important and necessary to not just acknowledge that but also feature it.
NH: It was really wonderful to see so many people who worked on the show who are such huge fans of his and really dedicated themselves to making sure that he was a guiding light over the whole project. They made sure that you could feel his influence in all aspects of this.

CE: Hopefully Bowie aficionados will be moved by it, but we also wanted to be meaningful to those who only know bits and pieces of his legacy.
SUBSCRIBE NOW: Enjoy 4 Digital Plus 2 Print/Digital Issues Of Watch Per Year — For Free!
The Man Who Fell to Earth airs Sundays at 10p.m. ET/PT on SHOWTIME, after it premieres April 24th.