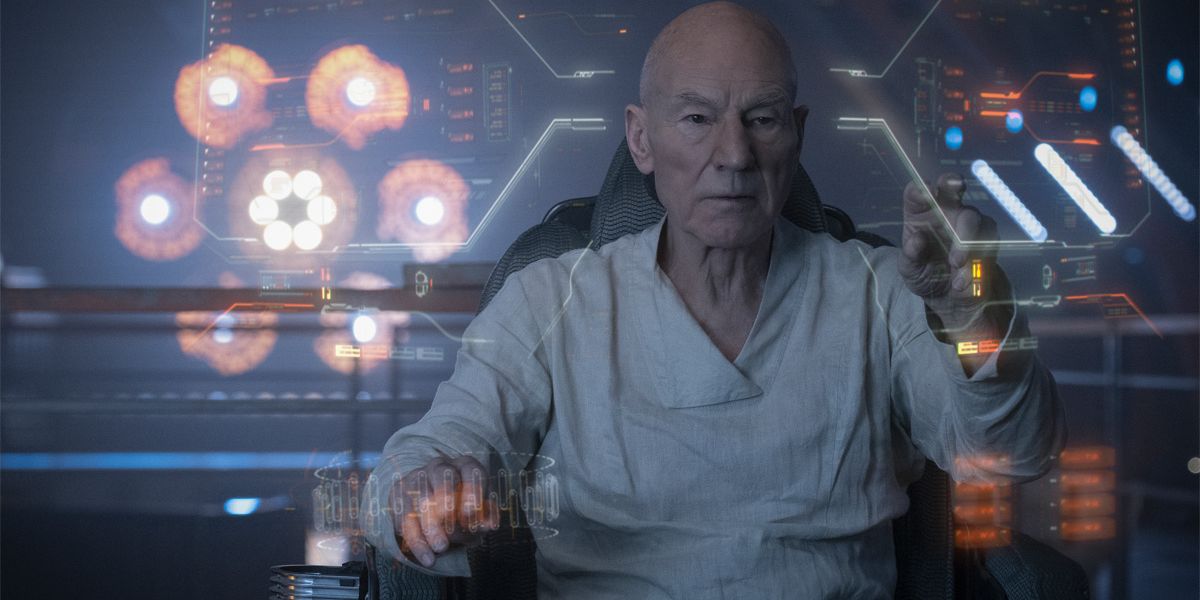 Photo Credit: Trae Patton/CBS.
The renowned actor guides us through the galaxy in the Paramount+ original series Star Trek: Picard.
By Gina McIntyre
Speaking with Sir Patrick Stewart, the first thing one notices is the power and resonance of his voice, that magnificent, mellifluous baritone. It radiates intelligence, commands respect, and suggests profound wisdom acquired during a lifetime of experience—all qualities that the actor imbued Captain Jean-Luc Picard with more than three decades ago, when Star Trek: The Next Generation debuted in 1987.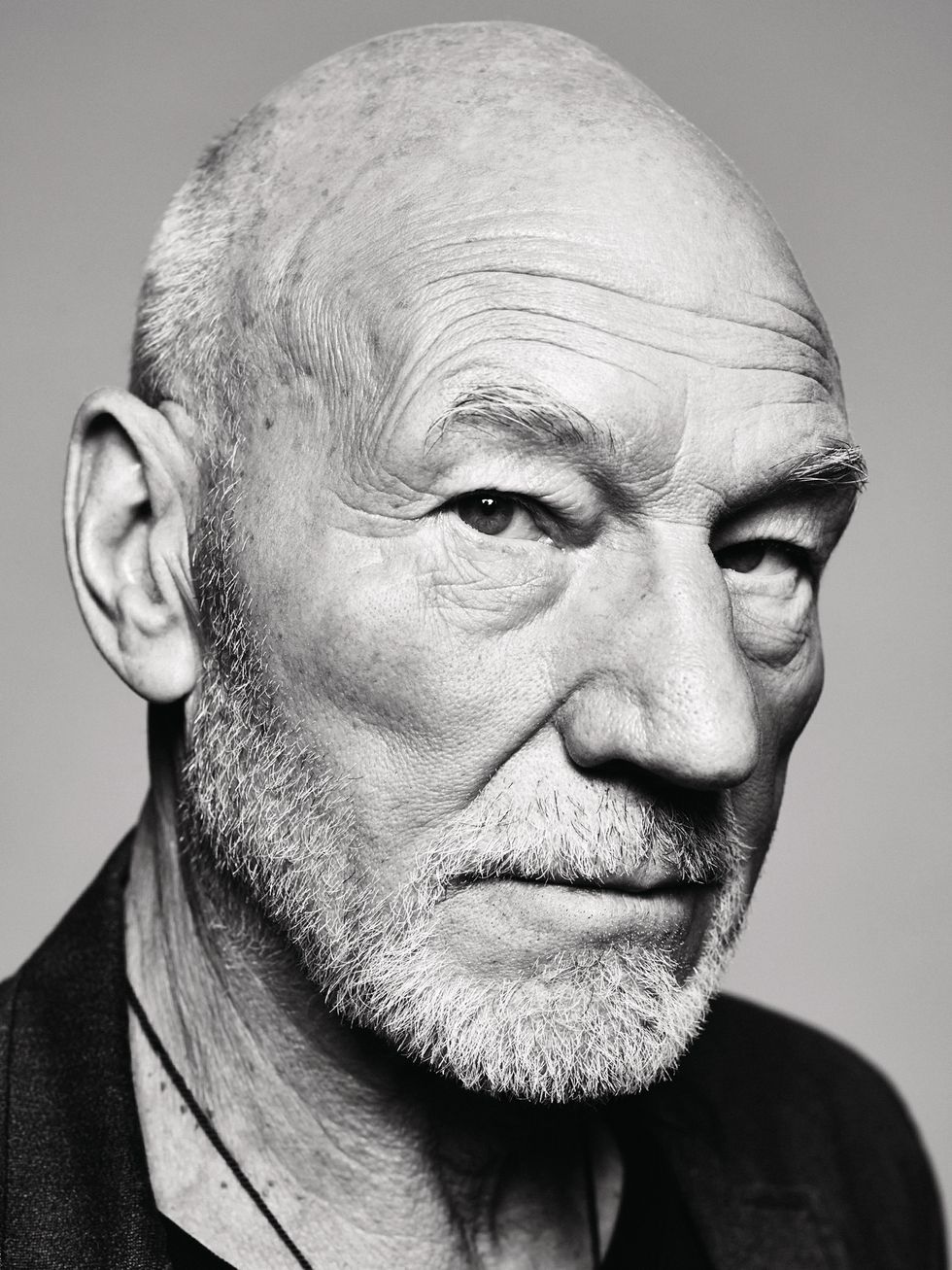 Photo Credit: Peter Hapak/Trunk Archive.
By the time he took his seat as the sage, steadfast captain of the U.S.S. Enterprise and the consummate statesman of the United Federation of Planets, Stewart had long since established himself as a leading presence on the London stage, with impeccable credentials including a 15-year tenure with the prestigious Royal Shakespeare Company.
Picard became the cerebral, dignified counterpoint to William Shatner's hot-tempered, impulsive Captain Kirk, and fans around the world embraced the character with zeal. Yet when Stewart's Trek tenure concluded in 2002, after seven seasons of television and four spinoff feature films, the venerable actor didn't look back, embarking instead on a slew of movie, television, and theater projects.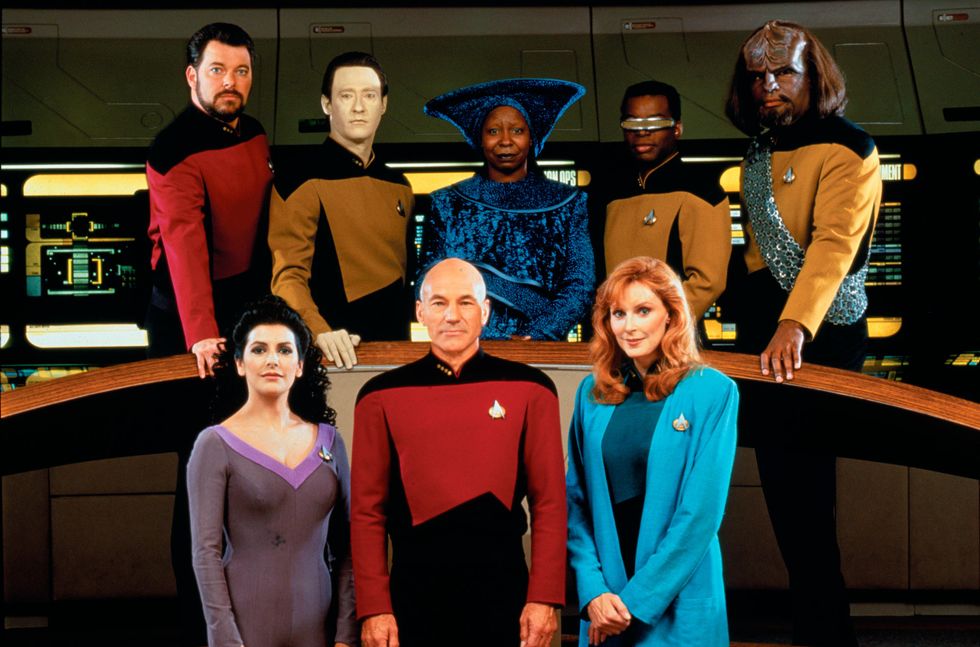 Sir Patrick Stewart and the Next Generation crew.Photo Credit: CBS Photo Archive/Getty Images.
He headlined the blockbuster X-Men franchise as the powerful, telepathic mutant Charles Xavier. He played a backwoods leader of a white nationalist gang in the 2015 cult movie Green Room; he starred as a misguided British newscaster trying to make it in America on the acclaimed comedy series Blunt Talk. And he and Sir Ian McKellen, old friends and X-Men colleagues, became the toast of London for a 2009 production of Samuel Beckett's Waiting for Godot.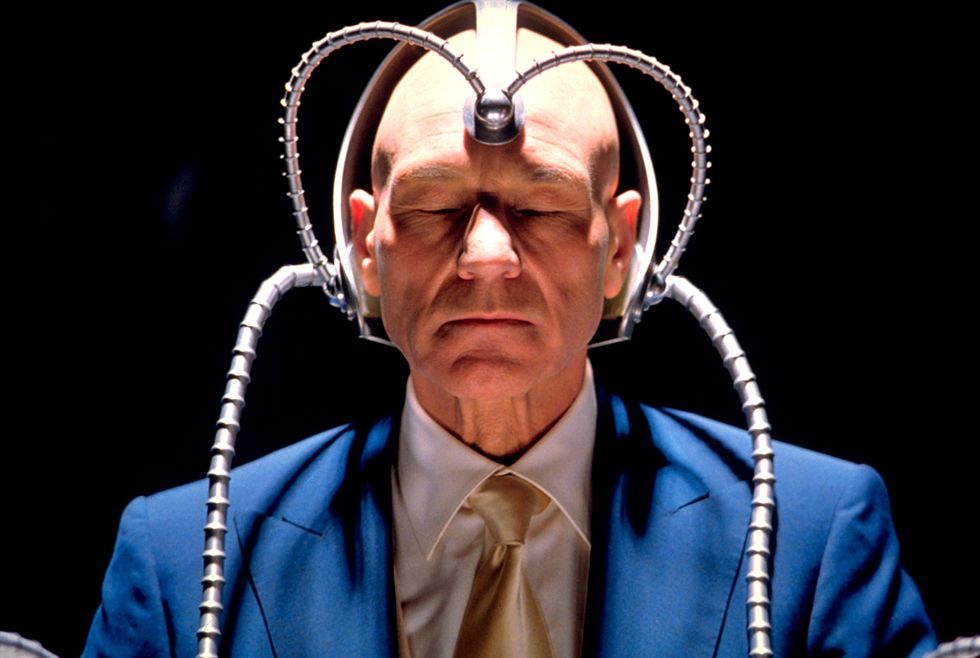 Sir Patrick Stewart as Professor Charles Xavier in X-Men 2.
Photo Credit: 20th CentFox/Everett Collection.

When the actors reprised their roles—as well as starring in Harold Pinter's No Man's Land on Broadway four years later—the two knights earned a legion of new fans for their internet palling around, thanks to a series of fun-loving selfies. (McKellen even officiated Stewart's 2013 marriage to Brooklyn-based singer-songwriter Sunny Ozell.) Captain Picard, it seemed, was gone for good.
Then came an encounter in 2017 with producers Akiva Goldsman, Alex Kurtzman, and Kirsten Beyer, who pitched Stewart their take on a new series that would bring his character out of retirement. "I took the meeting in order to explain to them kindly, politely, in detail, why I was turning down their offer," remembers Stewart, 79. During their conversation, however, the actor began to see the potential in reprising his most famous role.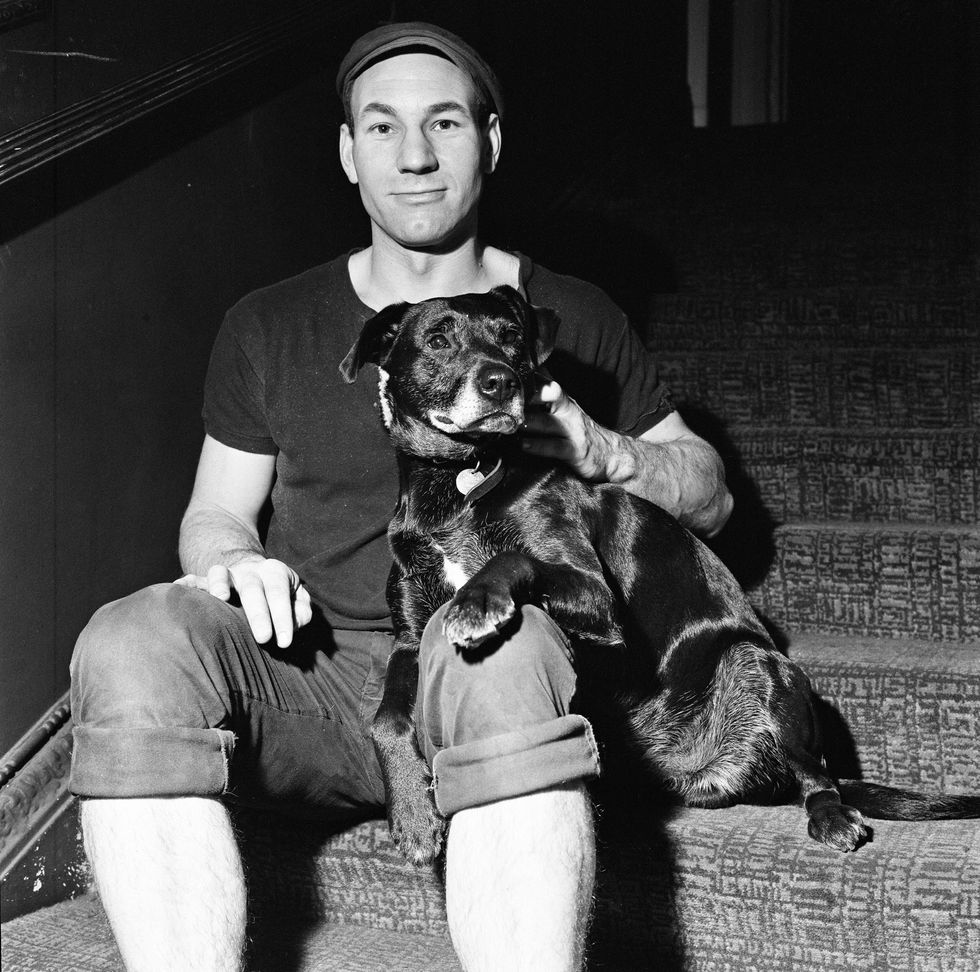 Sir Patrick Stewart starring in the Royal Shakespeare Company's Two Gentleman of Verona, circa 1970.Photo Credit: Malcolm McNeill/Mirrorpix/Getty Images.
As the producers imagined it, time off wasn't suiting the iconic hero, who appears to have lost his way while living out his days in France. Stewart was intrigued by the creative possibilities. "We quite quickly learn that this is not a happy camper," says Stewart of Picard. "He is not the same outgoing, positive, optimistic individual that we saw on the Enterprise. I became very interested in picking up the threads of this character whose life had fundamentally changed."

As his famous alter ego prepares to embark on a mission that takes him to the place where he's most at home—the stars—Sir Patrick Stewart shares what audiences can expect from the show's first season, and how it felt to re-engage with Federation space after so much time away.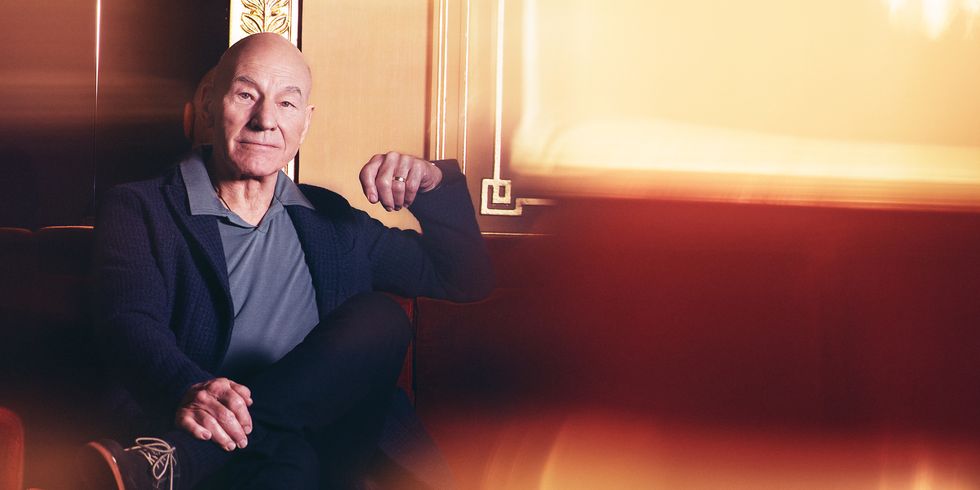 The Next Generation Of Sir Patrick Stewart
Photo Credit: Simon Emmett/Trunk Archive.
The early looks of Star Trek: Picard have been incredible. This must be such an exciting moment for you.

I increasingly began to feel, a few weeks before we began filming and during filming, that we had something unusual in hand. It proves to have all the elements that I had talked about wanting as a continuation, an extension, of Star Trek: The Next Generation, without basing the series onboard the Enterprise. We've now completed the whole of the first season, and it was exactly the circumstances and the conditions that I wanted to have for a return to Star Trek.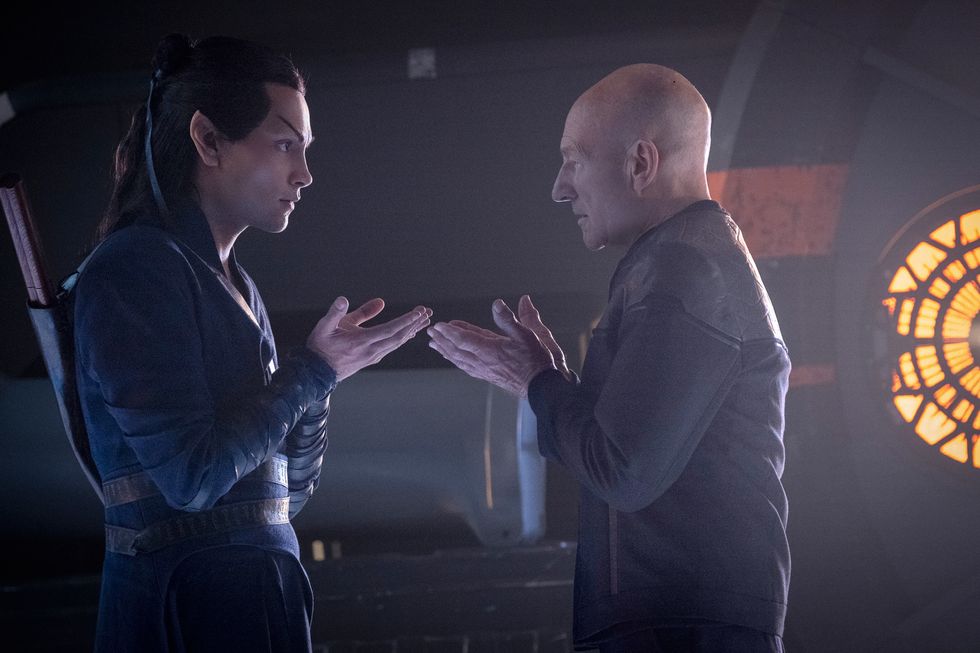 Sir Patrick Stewart and Star Trek: Picard co-star Evan Evagora (Elnor).
Photo Credit: Trae Patton/CBS.
What was it that ultimately convinced you that this was the right moment for you to return to the role of Jean-Luc Picard?

The most important decision that was made, certainly as far as it affected me, was that we all agreed that 18 or 19 years had passed for Jean-Luc Picard, as they'd passed for Patrick Stewart as well. Once we had all started talking in that direction, that really interested me. What would happen to Jean-Luc when he was no longer a member of Starfleet, no longer captaining a starship, no longer intimate with all those crew members that he had worked with for all those years? That was why I changed my mind. I've never been in a series before where I've had to build onto a character that I knew very well in a whole different existence.
How would you describe where Jean-Luc is when we first meet up with him again?
Physically, he is living on his family's estate in France, where they grow grapes and make wine. There was one episode of the 178 episodes we made back in the late '80s and early '90s when we saw the Chateau Picard, and that's where we find him when episode 1 of the new series opens. What is his emotional and intellectual state? It's not good. He's irritable, short-tempered, mood-changing, none of the things that could ever be attached to Jean-Luc Picard in his previous existence. We learn that he returned to the Enterprise for a short period of time before being promoted to admiral, and after that had a huge responsibility having to do with the Romulan nation ... but that all went tragically wrong.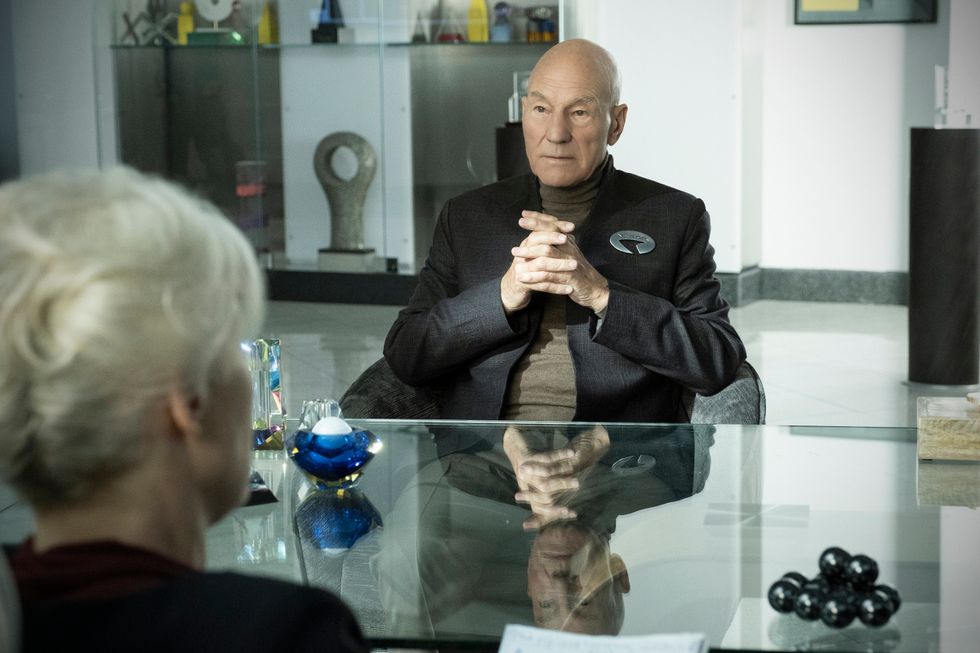 Jean-Luc Picard practices diplomacy in the new series.
Photo Credit: Trae Patton/CBS.
Now, I just want to say, so that people don't get the impression that we've got a very depressing series coming up with a moody, overcast Jean-Luc, no, not at all. Things change quite rapidly, but very, very believably. Picard finds himself at a point where he can take actions and make decisions that will not only give him a focus in his life other than making wine but also [allow him to] do some good.

Did it feel natural to be back in this role, or did it take a moment to find the character again?
One of the conveniences of what we've done is that Jean-Luc and I have aged at exactly the same rate—actually, I only discovered a few weeks ago that Jean-Luc is older than I thought he was. I thought he and I were the same age, but he is, in fact, in his '90s. I'm 79, and luckily I'm very healthy, but I know what it feels like to be 25 years older than I was when I was [last] wearing Picard's uniform.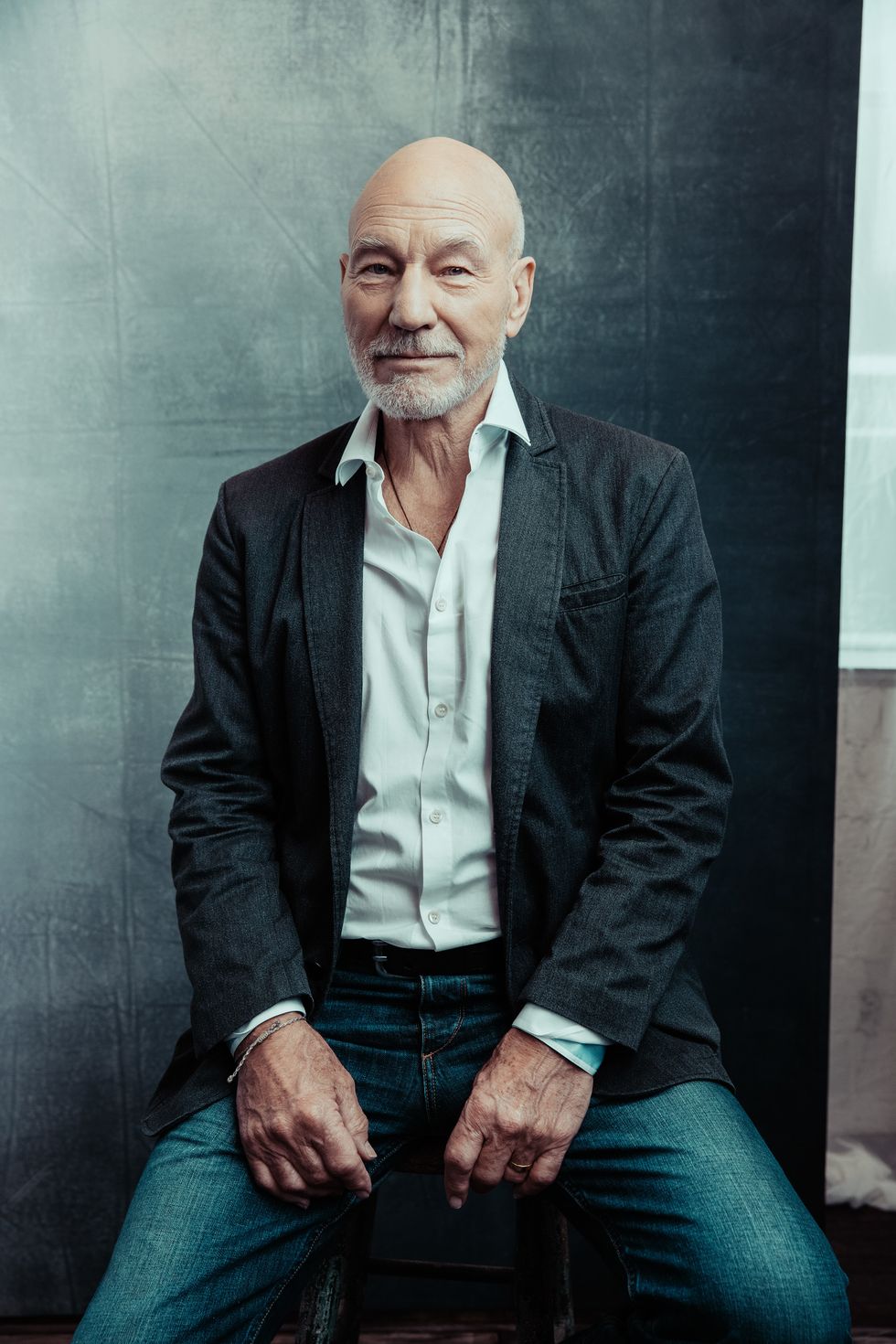 Photo Credit: Austin Hargrave/AUGUST.
Part of the joy of watching The Next Generation came from the relationships among all the characters —as a viewer you felt as though you could imagine what it would be like to be part of the crew. Did you find a similar camaraderie with this new cast?

Well, those things don't happen overnight. But because I'm co-executive producer of the new series, I was able to play a role in the casting of the series, and I enjoyed that very much. We got a good working relationship almost immediately, but something happened when we all went to the San Diego Comic-Con for the very first time as a company to promote Star Trek: Picard.
We had a chance to socialize properly, to hang out and talk and chat and drink some glasses of wine—real wine, not fake wine like we'd been drinking on the show. [Laughs.] That experience shifted the dimension of our relationships, and we went from being colleagues to being friends. That doesn't always happen in theater or television or film, and it doesn't have to happen. But in a series, where you are going to be together for potentially a long period of time, that's very important because the best kind of work comes out of ease and comfort and confidence. By the time we got to the last two or three episodes, we were very much locked together as a group.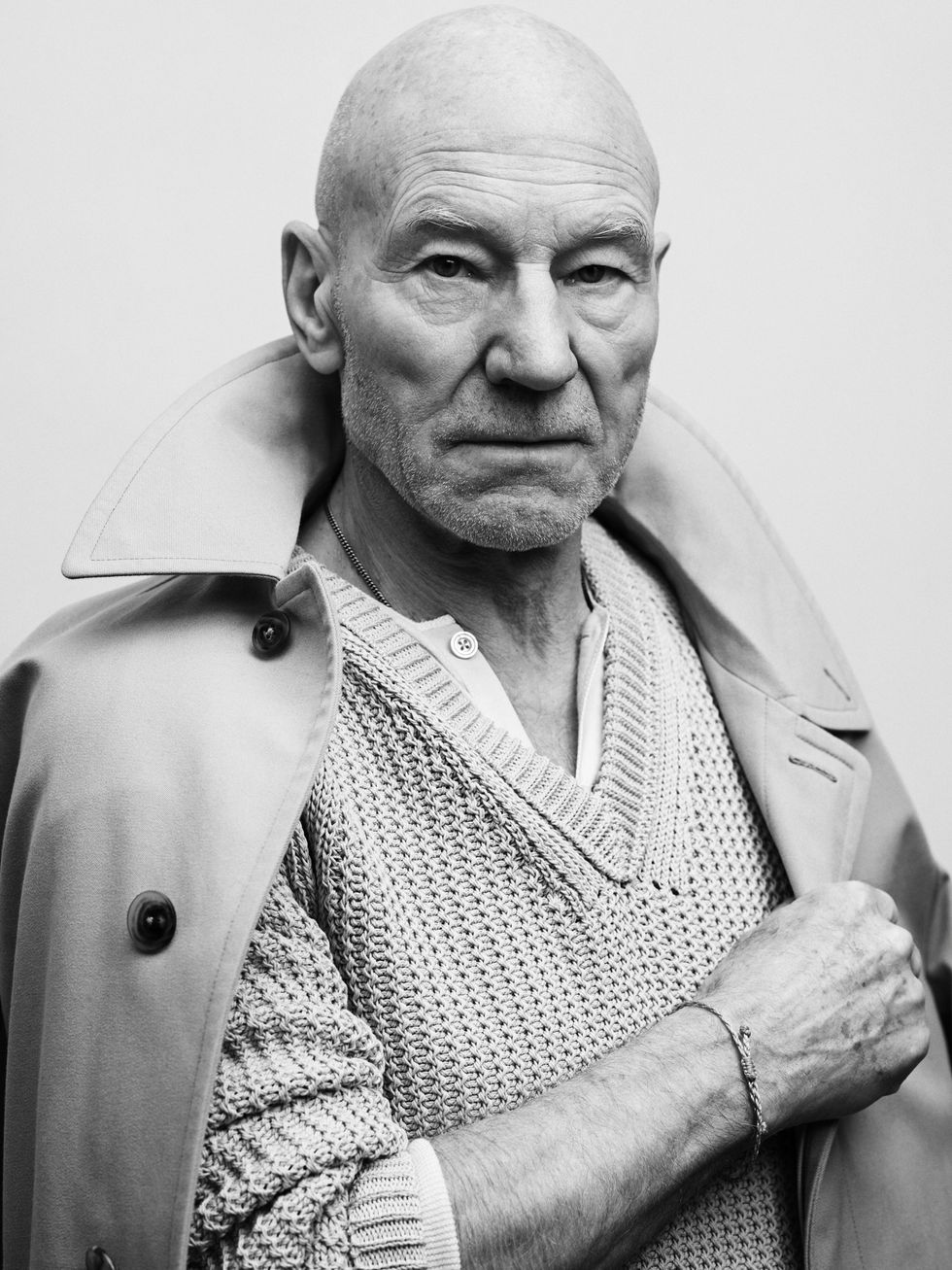 Photo Credit: Sebastian Kim/AUGUST.
You are, of course, also working with some old friends here. What was it like to reunite on-screen with some of the Next Generation stars?

That was very, very special. My relationship with the principal cast of Next Generation has just grown stronger and stronger over the years--they are still a very significant and important part of my life. Brent Spiner as Data, and Jonathan Frakes and Marina Sirtis, as Commander Riker and Counselor Troi. Of course [the characters Riker and Troi] were married before The Next Generation ended. They, too, now have a very different life, and I go to them looking for help.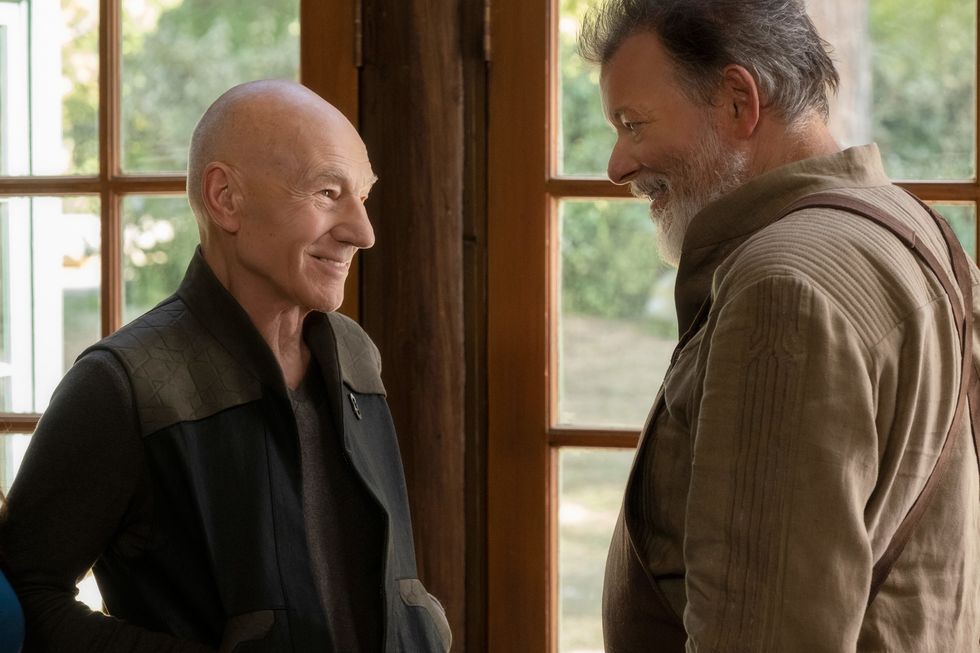 Jean-Luc Picard and his old right-hand man, William Riker (Jonathan Frakes) in Star Trek: Picard.
Photo Credit: Trae Patton/CBS.
We knew from the very beginning that we would want to encounter some of the characters that everyone had grown to love in the original series, but not all at once. We didn't want to suddenly fill Chateau Picard with the crew members of the Enterprise. Some we don't meet in this first season, but there is a hope that, should there be a second and a third season, we might have more encounters of that kind. I hope so because I love working with these people.

Jonathan Frakes directed two of the episodes as well.
Jonathan has a particular style of directing, which I think most actors love because it's very releasing and erases inhibitions. He creates a very joyful atmosphere on the set. New people who had not worked with him before enjoyed it, and because Jonathan had directed me in numerous episodes of the series, as well as my own personal favorite movie [1996's Star Trek: First Contact], it was charming.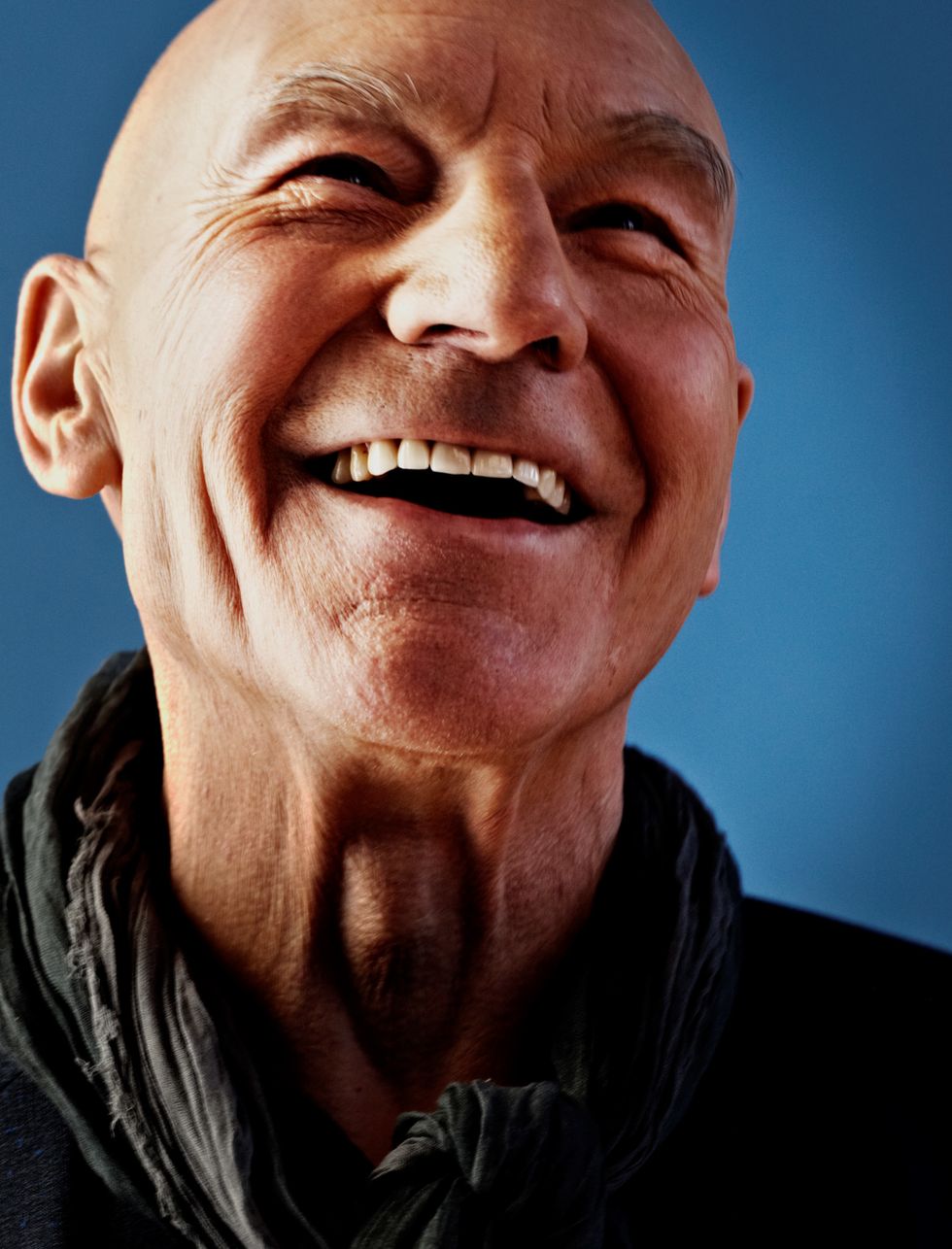 Photo Credit: Sebastian Kim/AUGUST.
Having accomplished so much over the course of your career, what has the experience of playing Jean-Luc Picard meant to you as an actor?

It has, very simply, changed my life. On that Monday morning in March in 1987 after I did my final audition for the studio, my agent finally tracked me down—because there were no cellphones back then—and told me that I'd been offered the role and that I had a week to make up my mind whether I wanted to do it or not. I was utterly unaware at the time how much that decision would impact me. There is not a corner of my life or my work that hasn't been touched by this.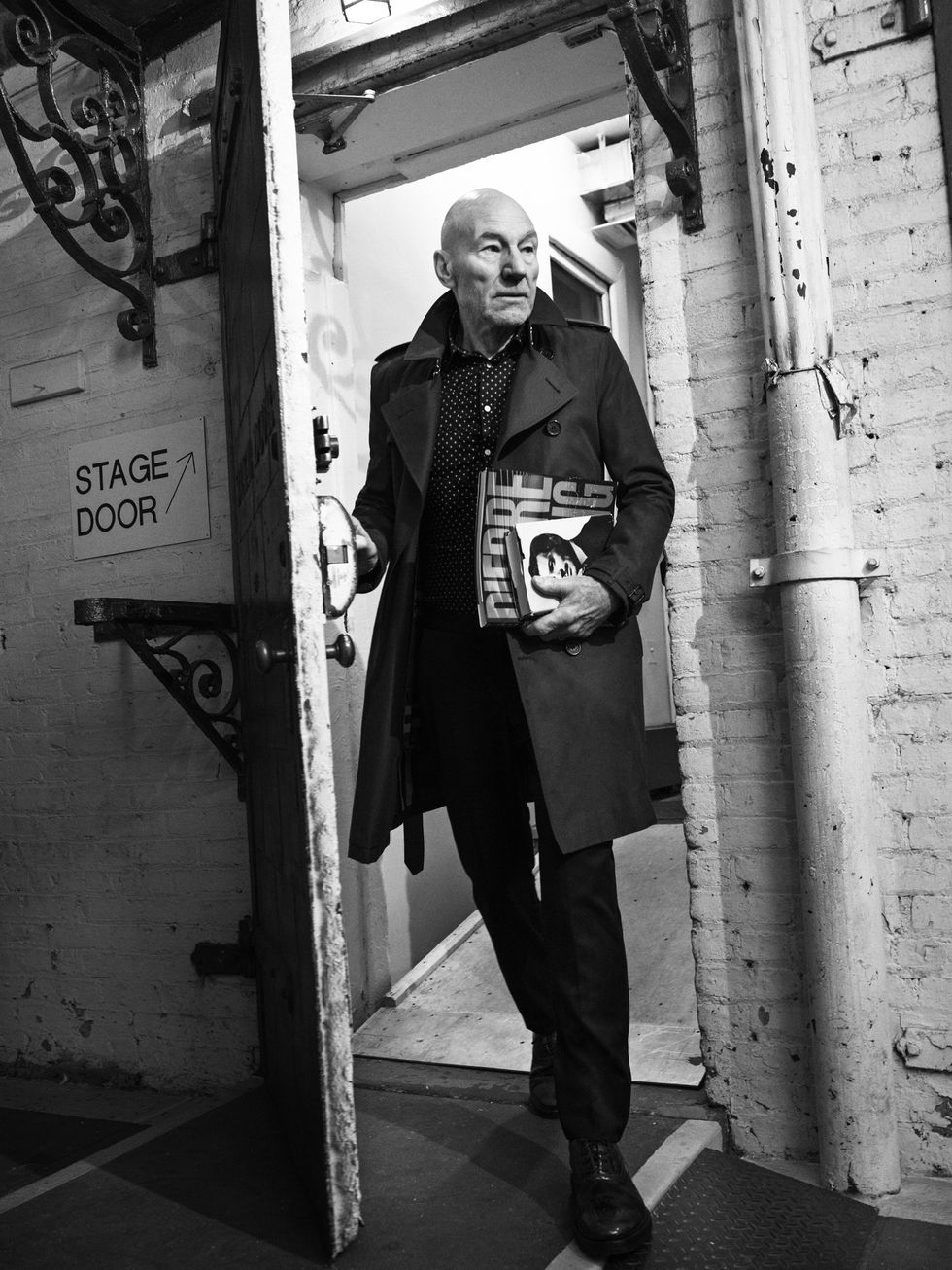 Photo Credit: Nigel Parry/thelicensingproject.com.
Originally published in Watch! Magazine, January-February 2020.
SUBSCRIBE NOW: Enjoy 4 Digital Plus 2 Print/Digital Issues Of Watch Per Year — For Free!

Stream Star Trek: Picard on Paramount+.