Photography by Justin Stephens. Styled by Jordan Grossman.
Twin Peaks and Riverdale star Mädchen Amick on Hollywood dreams, reviving legendary roles, and putting family first.
By Fred Schruers
On an overcast Los Angeles afternoon, Mädchen Amick makes her way down a stone pathway leading to the garden patio of Chateau Marmont's restaurant and arrives at our table with a slight smile, perhaps acknowledging that heads all around have subtly turned.

The bone structure that first caught Hollywood's eye in April 1990, when she was just 19 and a sudden star in David Lynch's Twin Peaks, still commands attention. The ever-striking Amick has brought along a jacket but settles in with only a sheer white blouse keeping off the slight chill in the air. From the first moment, she's the ideal interviewee—open and accessible in the way secure people are, disarmingly candid, ready to laugh, and free of the nerves that sometimes accompany this part of the job.

---
A waiter is at hand immediately. Amick has just gotten over a cold and asks him, "Do you have a mint tea, or what tea do you have?"
"We are out of hot water," he replies, matter-of-factly.
Some in show business might have seen this as a teachable moment and called for the manager, but Amick pauses—it's not like she asked him to grow potatoes on Mars—and almost covertly notches an eyebrow across the table. The look embraces without ire how wonderfully improbable this news is. The actress—famously, diner waitress Shelly Johnson in Lynch's series—nods, perhaps thinking of a different option, but the waiter quickly volunteers to see what can be done (and will, unsurprisingly, soon be back with better news).
"The Chateau used to be like my home away from home," Amick says with undimmed fondness. "This was before it was renovated. It was grungy—but really good prices. I was loyal. I would take one of the little châteaus"—she gestures toward the cottage-dotted upslope part of the property—"and camp out here while I was filming. But then they renovated, which is great. I'm glad they did, because they basically saved it, and it's a piece of history. But now I just can't justify paying the prices."
The key topic of our talk, of course, is her gainful employment as a returning cast member for the revival of Lynch's pathbreaking episodic series that premieres in May on Showtime. (She's also a key player in The CW's Riverdale.) But when she touches on the rougher times she and her family have sporadically endured, her comments are as devoid of self-pity as they are of pretense, and the talk of the Chateau's earlier days seems to lead to sunnier, present matters. It seems natural to start with a thought about Lynch, her great friend and mentor.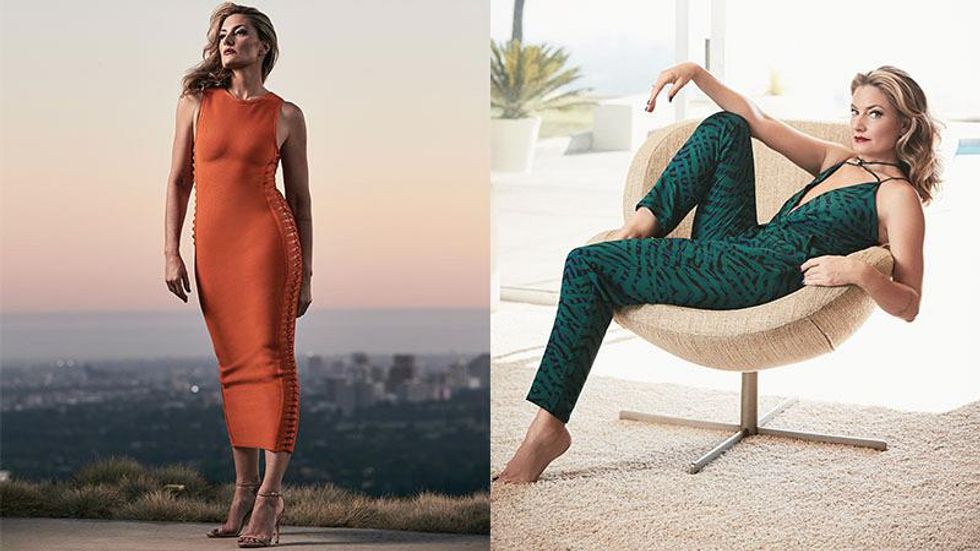 Photography by Justin Stephens. Styled by Jordan Grossman.
This place has always had an old-Hollywood kind of elegance.
Yeah, so many good ghosts walking around.
Perhaps it's not a stretch to say there's something Lynchian about it?
Absolutely.
I'd say you're an expert on that. What was it like to hear, out of the blue in October 2014, that the revival was under way?
The morning it was announced—before I knew—I woke up to a slew of texts and emails on my phone, and I just was like, "Oh my God, what happened? Is it the end of the world?" I was scanning through, and one of the ones that caught my eye was from Dana Ashbrook [who played Shelly's lover Bobby Briggs]. I opened it up, and he said, "Mädchen, is this true?" I wrote back, "I have no idea, but wouldn't that be amazing?"
Then I immediately emailed David and said, "Are these rumors true, finally?" He just simply wrote back, "I'll see you very soon in the beautiful world of Twin Peaks." I was like, "Oh." Just chills. And pure elation ever since.
There was one major bump in the road in April 2015 when the budget was in dispute. That was resolved with some pressure by your group of loyal cast members. So your role as Shelly was reborn, though with lots of questions surrounding her, I'm sure.
We definitely left her in limbo. We left her in fear of [abusive husband] Leo being out there and her still desperately in love with Bobby. I was definitely curious as to "All right, what's happened in 25 years? Did Leo come back? Did he not? Did she continue something with Bobby? Did she leave town?"
The only thing I really knew after a couple of dinners with David—he was very tight-lipped, of course—was that it's going to be a continuation, we were going to pick up at the present day, 25 years later, see where everybody's at and move forward from there. That's all we knew. It wasn't going to try to go back or fill in the gaps.
It's a huge cast with many returning actors, yet each of you were given only your specific pages of script. So in terms of the overall arc, still some mysteries?
None of us knows how many episodes we'll be in. My work was sprinkled through six months. The cool thing about it is that David shot it like one long film production. Instead of chopping it up episode by episode, he could film all the characters that would be in one location and then move on.
Friends come back to work after long absences—for example, you and your boss at the diner as played by Peggy Lipton?
I got to be reunited with Peggy. And Kimmy Robertson [as police department aide Lucy Moran]; I love Kimmy. We didn't really know each other back in the day because our story lines never really intersected, so getting to know her has been fun. She's a little Sagittarian spirit animal.
When we heard that this was going to come together, it rekindled old friendships, just this really lovely kind of anniversary moment for us, and we really were in awe and celebrating, and it just blew our minds. We felt so lucky.
And to experience it was a trip down memory lane with David directing again—and how familiar it was. People have asked, "What's David like now? Is it any different from the way he directed before?" He's exactly the same, and what I can say about the new experience is that I was back with similar sets, same crew, some of the same cast and David. It was mind-blowing.
I felt like I was hovering above the ground the whole time—it was just touching, and I was crying constantly, and David was crying constantly. It was as if we had just left each other the week before, but then with 25 years of experiencing other projects, other filmmakers, then coming back to it and appreciating him even more now. I didn't know back then. He was kind of my first experience, right? We've kept in touch over the years.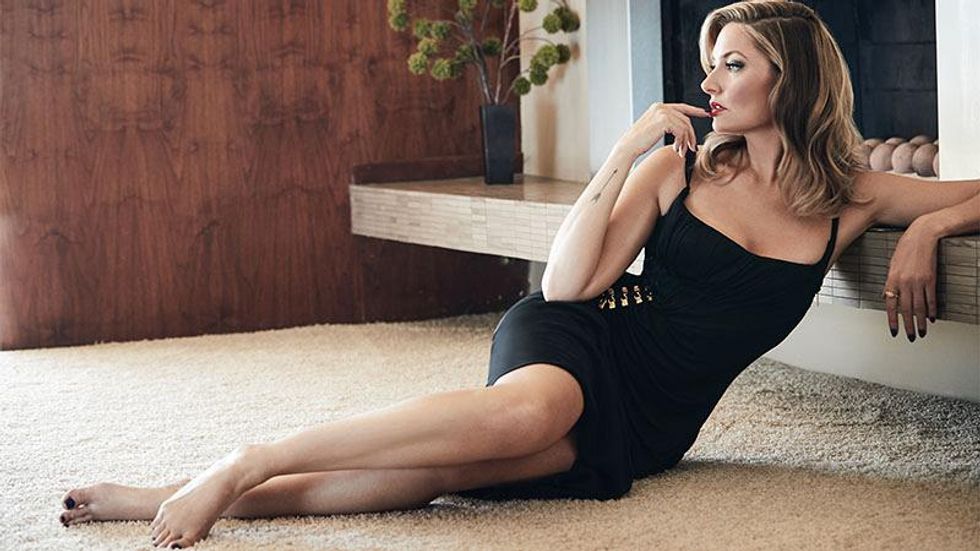 Photography by Justin Stephens. Styled by Jordan Grossman.
There was that arrival, then the second season where David's collaborator Mark Frost mostly shouldered it, then Fire Walk with Me as a prequel. Then you're spit out into the wider Hollywood world.
Yeah, I came to L.A. at 16, left Reno having stars in my eyes, wanting to be a big film actress but then was hit with the fame of all that. It immediately taught me, "Oh, I don't want to be famous. I just want to be successful." That molded my direction with that idea of not wanting to just be the super hot new face that's everywhere but with kind of shitty roles, just beautiful and decoration. I wanted something that challenged me, and I went for longevity. I feared too much fame, because it's hard to sustain. I went for a little bit lower-profile routes, to go for just a body of work that challenged me.
You came out of that very particular Lynchian world. In a way that's liberating, and in another way maybe it becomes a tag as, "Oh—weirdgirl."
Right, they try to put you in a corner, for sure. I immediately thought, "All right, I've got to break those barriers. I've got to make sure they don't put me in a box right away. Let me show I can do other things." I had to fight against that. I still get certain roles because of Twin Peaks fans, and they like to put me in a little bit of a femme fatale role... even though that's the opposite of Shelly, but it's more of that film noir world that makes them feel like, "Oh, this is like David Lynch."
Not to lay that right on Riverdale, but for a show derived from Archie comics, the series partakes of a good deal of that dark, ironic world of Twin Peaks.
Yeah, it was definitely a huge influence on them, a huge component. I get the similarities. We start out with a murder of a teenage boy, and we get to know the town through that event, and all the secrets that are there, but it just has a very different feel to me, and when I read it, I didn't think [it was that similar]. It's just a different rhythm. Twin Peaks is very dreamy, slow, takes its time with shots and characters, and Riverdale has that faster pace, that very quick-witted feel.
When you were less active for a while, people presumed you were in a "home and family" mode.
There was a time period where the things I was doing were either pilots that didn't get picked up or shows that weren't very well known, or maybe some B movies. People thought I took a hiatus to have kids, and I rolled with it, but no, I was working the whole time. I worked through both of my pregnancies and immediately after delivery of both of them. I didn't take any time off.
I watched your son Sylvester's online video where he explains how he came through what you at first thought was addictive behavior but turned out to be bipolar disorder. Now he's 25 and he's a counselor at the center where he got the crucial treatment for that.
He was still very fresh from that. He's even more stable now than he was in that interview, so for him to have that bravery, that coming out and talking about it... after he did that interview he goes, "I guess I just came out of the closet." Not that he was hiding anything, but it was just that he officially talked about it publicly and that he was in a place of stability where he could talk about it.
The family crisis became a sort of mission for you all?
When we went through it with our son, and it was a really scary, dark journey for us as a family—we almost lost him a couple times—I had no secrecy and no shame. I wasn't ashamed of my son for having bipolar, and I just wanted to immediately help other families, because one thing that may happen is you lose your loved one. Maybe there's one thing I can say that might help that family.
You directed a music video for your daughter, Mina, who's 24. You're now doing the same for your son?
That's coming up next; I'm editing it now. He's a lyricist and a rapper.
And your husband began as a musician. How does a couple last 30 years in this town?
Oh, I just found an unbelievable man who is so not Hollywood. You don't see him on my arm at red carpets or at celebrity events. He's very genuine, he finds a lot of it very superficial, and he just doesn't want to be a part of it. He encourages me and supports me—"That dress would be beautiful on the red carpet ... so I'll see you when you get home."
Are you considering hanging back a bit on taking jobs, perhaps to see the impact this new Twin Peaks has on the career?
[Laughs.] No, I'm such a hustler! I'm not at that level of an Angelina Jolie or a Cate Blanchett, where I can sit back and pick and choose an amazing movie every other year. I'm just not. I've got to keep working. I'm very optimistic, so sometimes I take things that maybe I shouldn't have. Maybe they weren't as good as they were in my head, but no--I'm all about grabbing!
Photography by Justin Stephens. Styled by Jordan Grossman. Originally published in Watch! Magazine, June 2017.
Don't miss Twin Peaks, streaming on Showtime. Watch Riverdaleon The CW.
From Your Site Articles
Related Articles Around the Web