Interviews
Y&R Star Elizabeth Hendrickson On Becoming A Mom During The Coronavirus Pandemic
Photo Credit: Sonja Flemming/CBS.
On CBS' popular Daytime TV show The Young and The Restless, actress Elizabeth Hendrickson revels in her character's drama. Welcoming her beautiful baby girl Josephine James to the real world in the midst of an international pandemic, however, was another thing!
By Deanna Barnert
Since taking on the role of The Young and the Restless' Chloe Mitchell in 2008, Elizabeth Hendrickson has found love with Greg Rikaart's Kevin Fisher, battled with Melissa Claire Egan's Chelsea Newman, delivered two babies, and played her share of paternity games.
Not only did she fake her own death, but she killed someone who came back from the dead, himself! Hendrickson, who got her start in soaps opposite All My Children's Susan Lucci, has played it all. But nothing could prepare the actress for delivering her baby during the coronavirus (COVID-19) pandemic.
Watch spoke to Elizabeth Hendrickson about the challenges—and the joy—of welcoming her baby girl to the world during this chaotic time.
Watch The Young and the Restless Weekdays on CBS and CBS All Access.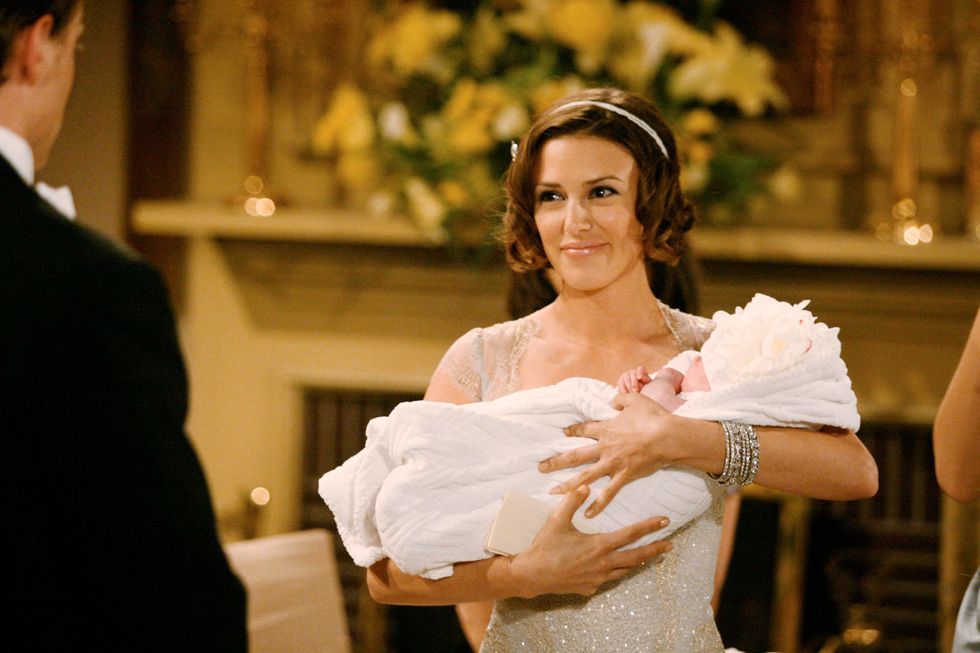 Elizabeth Hendrickson as Chloe Mitchell in The Young and the Restless.
Photo Credit: Aaron Montgomery/JPI Studios.
Congratulations on your new bundle, Josephine James, born March 27, 2020! How has motherhood been so far?
It's kind of everything I expected it to be and more. It's like the greatest love you'll ever have… and there are such challenges. Some days are so hard, and then some days are just easier. It's like the best, hardest job you'll ever have. The crazy thing is that it is flying by. I didn't expect it to be going by so fast. Everybody keeps saying in the blink of an eye, she'll be 16.

But I'm happy it's all moving so quickly. Because when everything started to change and get kind of scary, the thought of having to bring a child into the world at a time like this was really daunting. I was really scared and there was so much unknown, and there still is, about babies and pregnant women with COVID-19. I was just afraid I might have it and could I give it to her.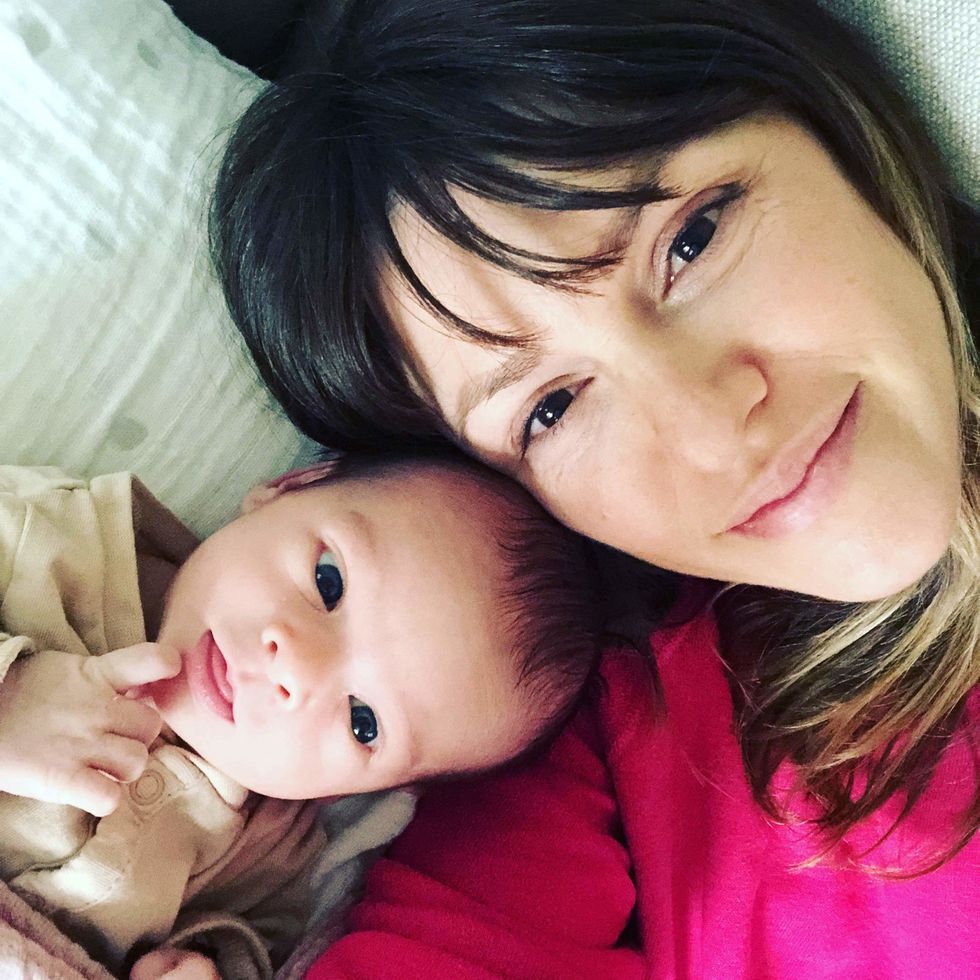 Elizabeth Hendrickson with newborn daughter Josephine James.
Photo Credit: Courtesy of Elizabeth Hendrickson.
Was this because your onscreen husband, Greg Rikaart (Kevin Fisher), was sick with COVID-19 in March?
The thing was, he started getting symptoms the day after I worked with him, but he couldn't get tested. So I was just sitting there as scared as he was to see whether he had it. His symptoms sounded so much like coronavirus and then when they said he had pneumonia, I knew he had it. Josephine was due the day that Greg found out he tested positive. If I had delivered without going through the 14-day quarantine, I would have had to deliver alone. So I was just trying to keep her in there as long as possible. And thankfully, she listened to her mother for the first time and didn't come! And then, on day 15, we went for it. We induced.

When I checked into the hospital, they had just changed the protocol. So Rob was allowed in the delivery room, but I had to be in postpartum alone. So I had my first night by myself. There are nurses, but the nurses are busy. You're left there with a baby that's just a few hours old. It's hard.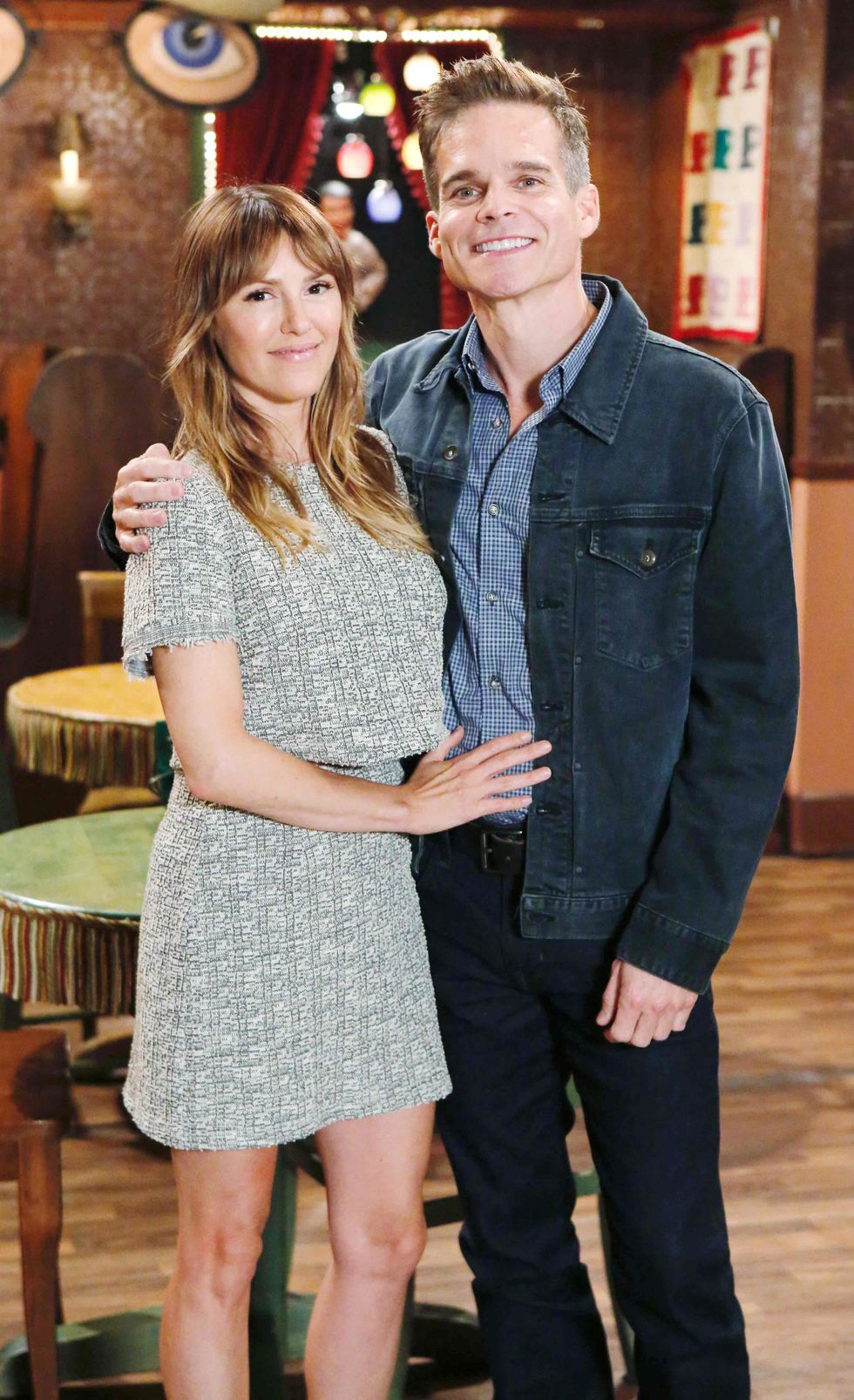 Elizabeth Hendrickson with on-screen husband Greg Rikaart.
Photo Credit: Howard Wise/JPI Studios.
Was it a relief to bring her home to your husband, Rob Meder?
Well, I was worried about how we were going to do when we got home, because we weren't able to add any of that postpartum care I'd been gearing up for! During my whole pregnancy, everyone asked how I felt about having a baby. And I kept saying, "It's going to be a breeze. I'm going to have all this help!" And then, instead, it was just us, left to our own devices. And it's just always changing.

The only thing to do is take it day-by-day. Anytime I got ahead of myself, my husband would slow me down and bring me back to reality. He'd say, "Listen, we got to go moment-to-moment here. We can't be thinking about tomorrow or a month out. We just got to take it day by day." That's how we've been dealing with it.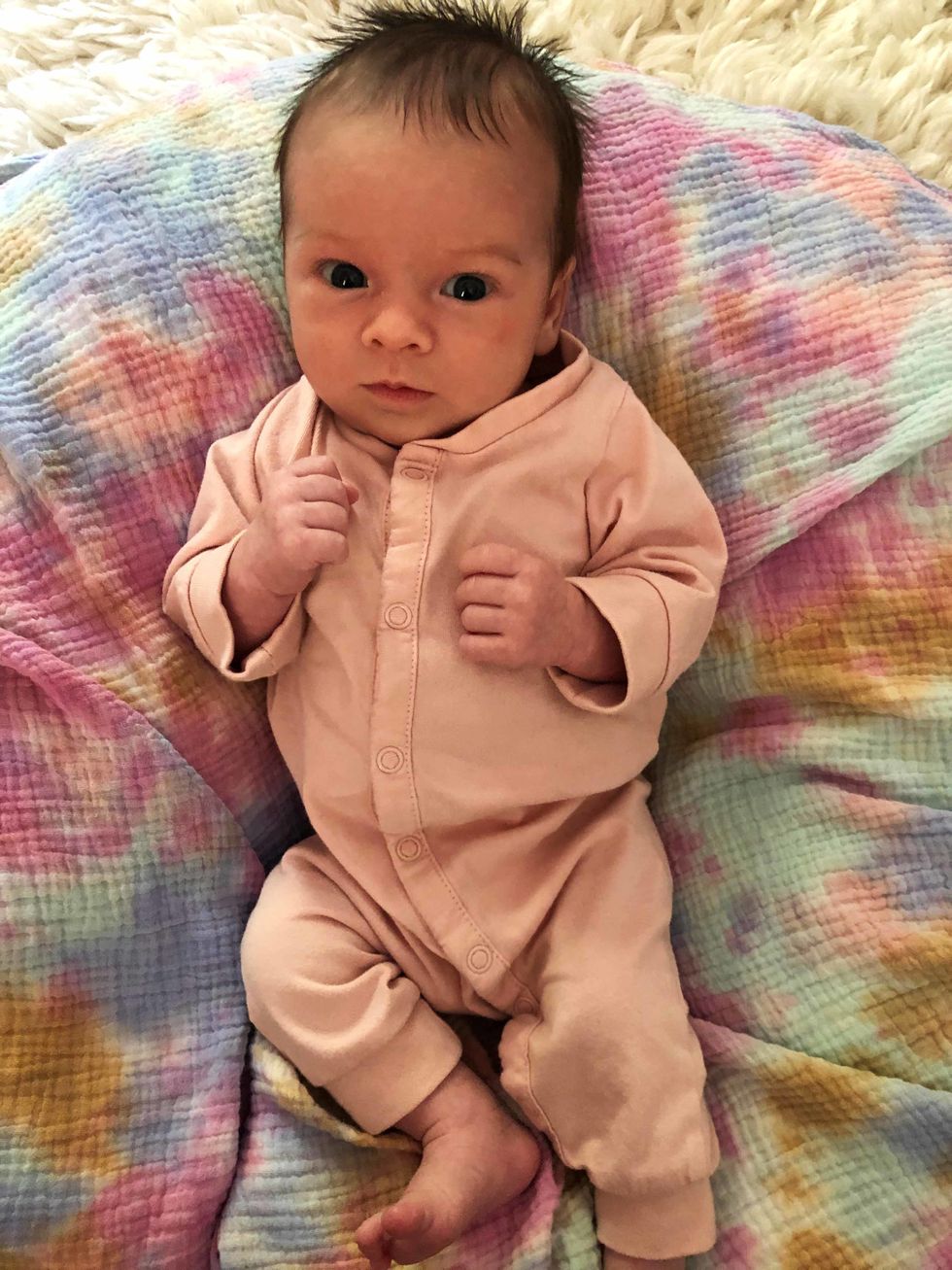 Pretty in pink!
Photo Credit: Courtesy of Elizabeth Hendrickson.
Would that be your advice for fans stuck at home right now—potentially with kids—for channeling strength and patience during this time?

Just trying your best to carve out some time for yourself—even if it's just 20 minutes of your day. My time is in the morning. I set myself up my garden and I have my coffee. I just sit in peace for 20 minutes. But I have a newborn, so she sleeps a lot. I know it's really hard for a lot of parents at home with multiple kids or even one to find that 20 minutes… but it's important to do that, if possible.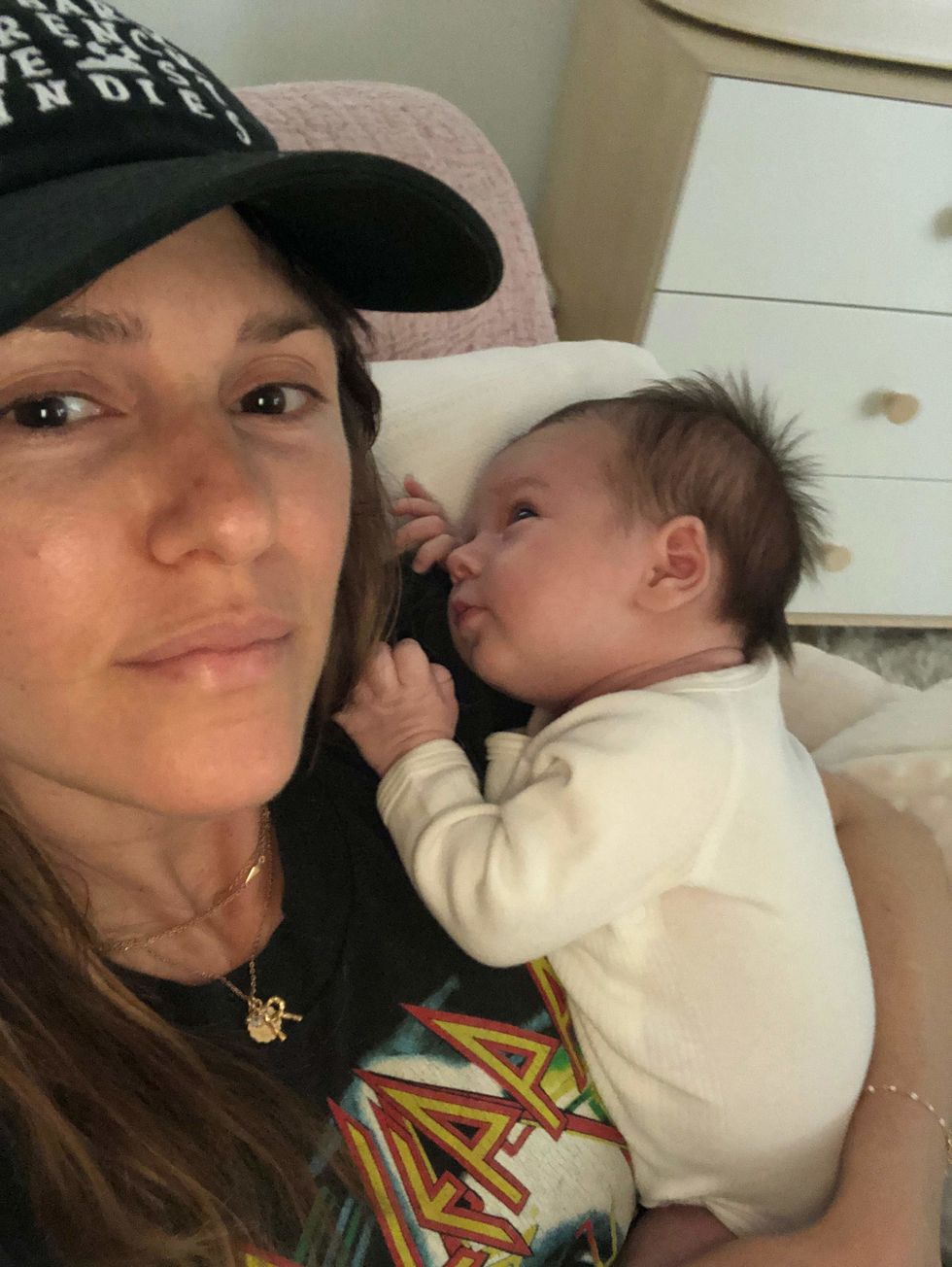 New mom Elizabeth Hendrickson bonds with her daughter.
Photo Credit: Courtesy of Elizabeth Hendrickson.
Your Y&R character Chloe Mitchell is still expecting her baby. What was it like to go through your pregnancy with her?
It was so awesome. It was so wild. I've been pregnant on the show a couple times and it was wonderful to not have to PLAY pregnant, but just BE pregnant… and then realize that you were playing it all wrong, the whole time! When I was in the throes of active labor and in the most excruciating pain in my life, I looked at the nurse and said, "I've done this on my show two times… and I just feel like I'm a horrible actress!"
I am so looking forward to getting to shoot what delivering was really like, whenever that happens. Although now, I just remember all the amazing, incredible parts. I've blocked out that couple hours of excruciating pain.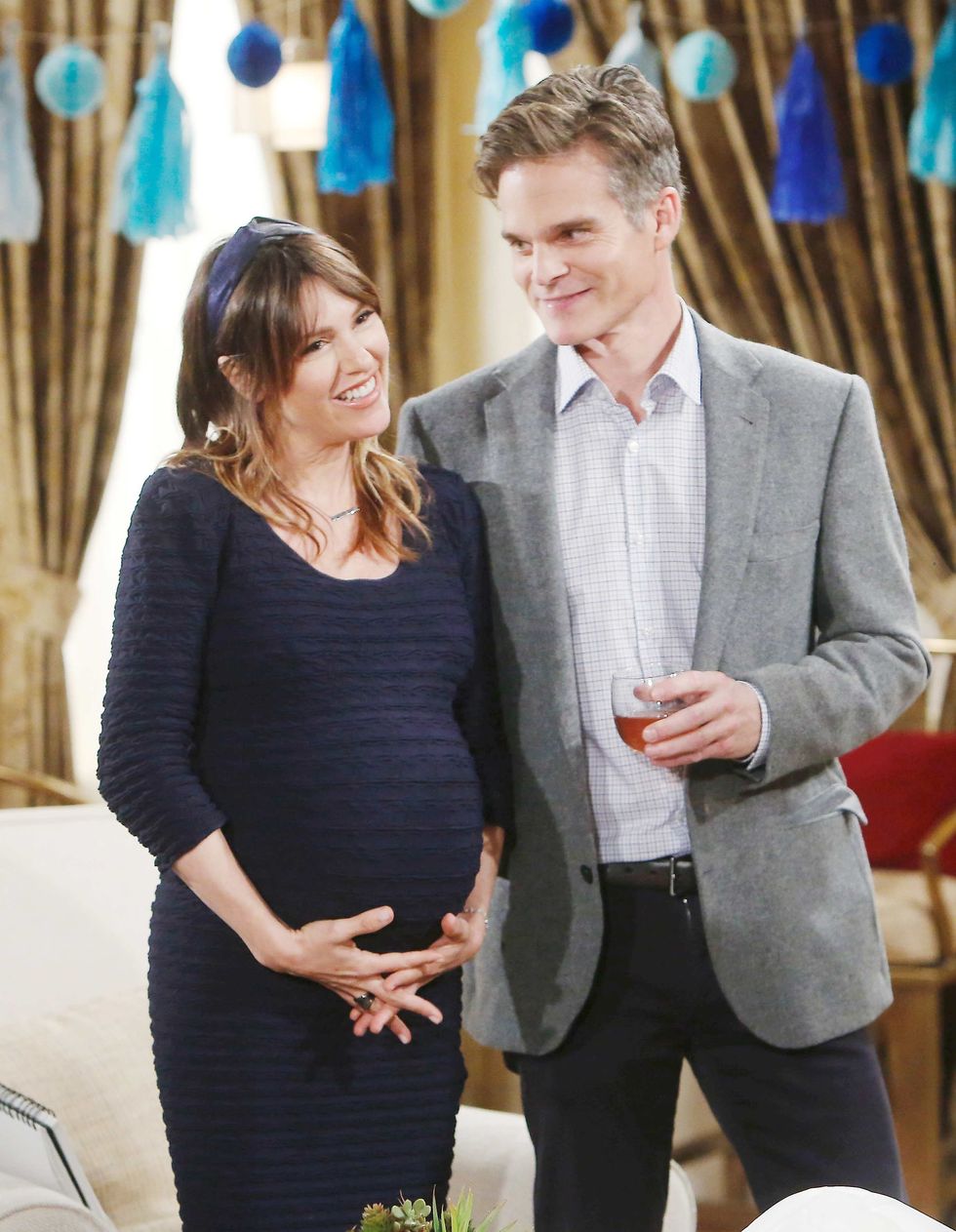 Elizabeth Hendrickson as pregnant Chloe Mitchell with TV husband Greg Rikaart as Kevin Fisher in The Young and the Restless.
Photo Credit: Howard Wise/JPI Studios.
You filmed Y&R right up to your due date and your castmates threw you a real-life baby shower. Tells us about that.
Greg Rikaart, Missy Claire Egan (Chelsea Newman), Michelle Stafford (Phyllis Summers), and Kate Linder (Esther Valentine) all threw me the most beautiful baby shower. I couldn't believe how many people came—cast, crew, wardrobe, casting, and even some of the guys came. Peter Bergman (Jack Abbott) came. That was the best surprise!
Tony Morina, our executive producer, came. I felt so loved. There was this whole onesie station and everyone decorated these adorable onesies with Y&R-themed designs on them — "Young and Restless" and "Soap Diva." It was such a great party!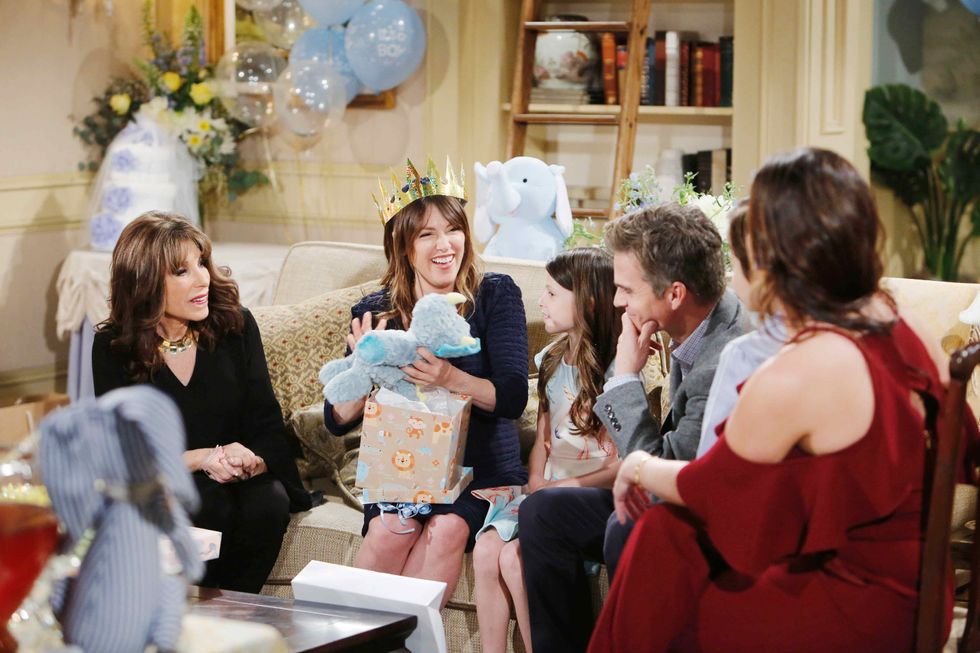 Elizabeth Hendrickson as pregnant Chloe Mitchell in The Young and the Restless.
Photo Credit: Howard Wise/JPI Studios.
Any last thoughts before we let you get back to Josephine?
I was so scared… and now, I'm just so thankful that this has been one of the most beautiful experiences. It's really given me a lot of time to just quiet my mind, be with my family, and be appreciative of my health. My heart goes out to those who are on the frontlines, those who are sick and mothers that are being separated from their babies.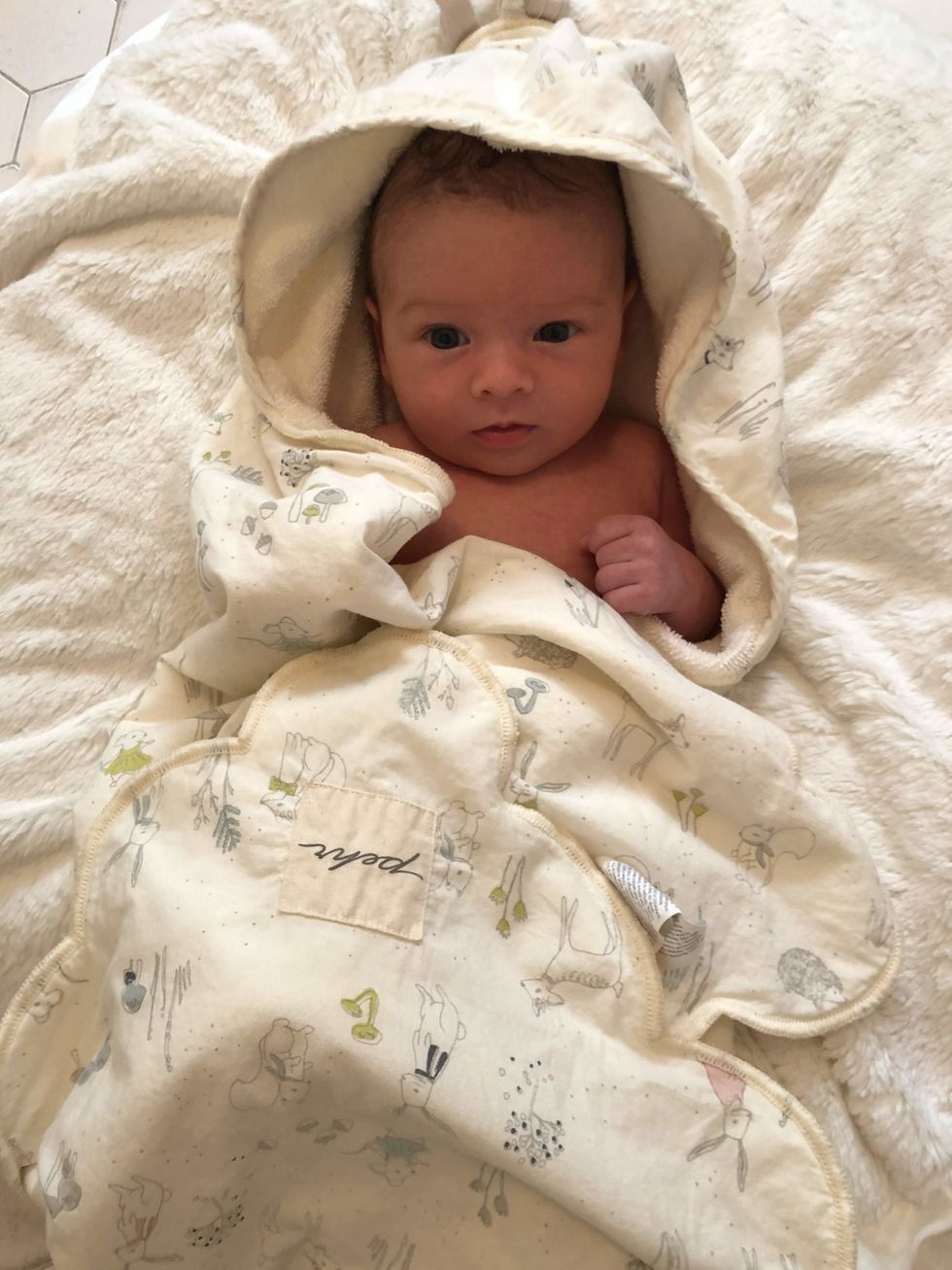 Isn't she the cutest bundle of joy?
Photo Credit: Courtesy of Elizabeth Hendrickson.
Watch The Young and the Restless Weekdays on CBS and CBS All Access.