Photo Credits: Cliff Lipson/CBS (Mantegna); Lauren Radley (Illustration)
Criminal Minds star Joe Mantegna shows us around the Windy City.
Joe Mantegna spends most of his days on set in Los Angeles filming CBS's hit procedural drama CriminalMinds, where he plays FBI profiler David Rossi. While TV fans know him best as the leading agent in the behavior analysis unit, the versatile actor has starred onstage and on the big screen, nabbing a Tony Award and over 100 acting credits, including voicing Fat Tony on The Simpsons.
Born and raised in Chicago, Mantegna relocated in 1978 to California, where Hollywood dreams and a pleasant climate beckoned. But the Criminal Minds star will always have a soft spot for Chi-town, and come summertime, he's usually itching to see the Cubs play. "I used to have a saying: 'When the snow blows, Joe goes!' I love Chicago with all my heart, but I never liked the cold weather, so filming Criminal Minds in Los Angeles is just fine with me, especially between October and May," he says.
Still, no matter what the temperature, Chicago will always be the place that feels most like home. "As Sinatra sang, 'My kind of town, Chicago is,'" Mantegna says. "I guarantee if you spend a little time there, you'll feel the same." Need help planning your trip? Watch! asked Mantegna to share his favorite spots in the Windy City.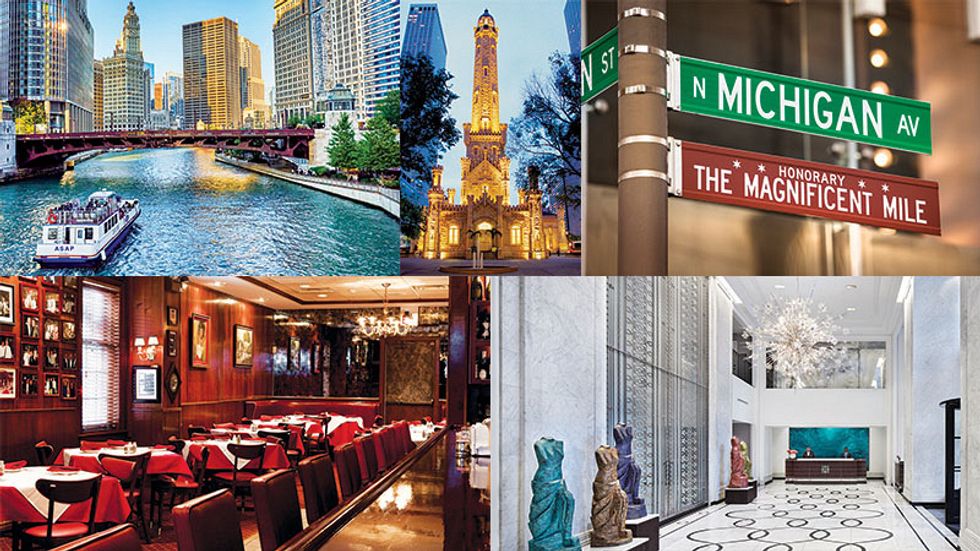 Photo credits:Peter Unger/Getty Images (River); Medioimages/Photodisc/Getty Images (Water Tower); Pgiam/Getty Images (Magnificent Mile sign); John Muggenborg/Courtesy Waldorf Astoria (Waldorf Astoria Chicago); darekm101/Getty Images (Skyline)
CHECK OUT THE VIEW

I worked on the Chicago Sun-Times newspaper trucks for one summer when I was 15. I would take the L train downtown early so I could just sit at the lakefront and look at the boats in the harbor before setting off to the Sun-Times building. It's still one of the most picturesque spots on the Chicago River.

SHOP TILL YOU DROP

Shopping is great along Michigan Avenue, anchored by Water Tower Place right near the famous
Water Tower
. Walk down Michigan Avenue from Oak Street to the Chicago River, and you'll know why they call it the
MagnificentMile
. Also, State Street still has some of the shopping spots I remember as a child.
FOOD FOR THOUGHT

Any of the restaurants owned by Alex Dana are favorites of mine, which include Carmine's and all the Rosebud establishments, among others. Gibsons and Gene and Georgetti are Chicago steakhouse icons. I also have to do an Italian beef sandwich at Mr. Beef on Orleans. They catered my 40th birthday party years ago on the day we wrapped the David Mamet film Things Change in Chicago, and the owners have been friends of mine ever since. Our restaurant Taste Chicagoin Burbank, California, is somewhat inspired by Mr. Beef.

STAY COOL

Chicago is a great hotel town. My favorites have been the
Waldorf Astoria
, the Peninsula, the Drake, the Hilton, and the Four Seasons. All are conveniently located to most places you'd want to walk to.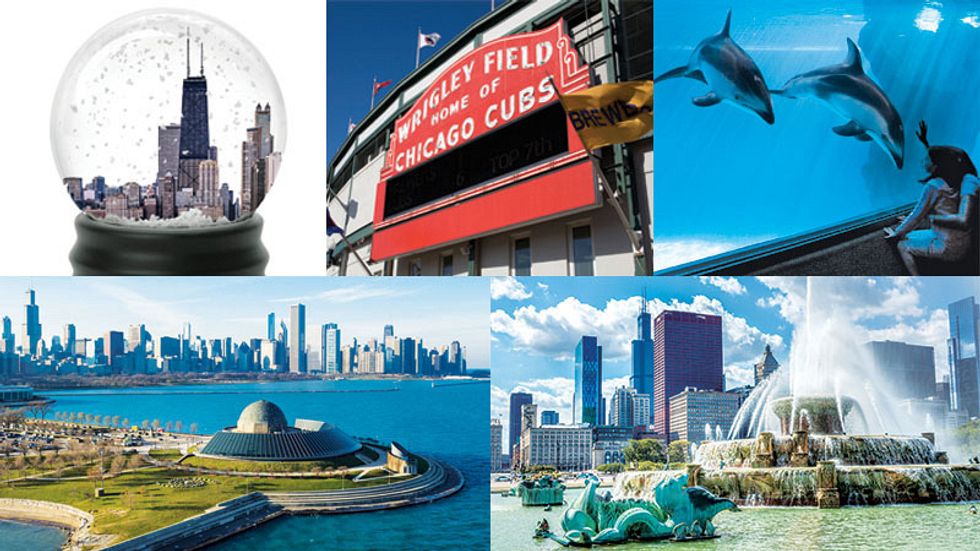 Photo credits: t_kimura/Getty Images (Snow globe); Charles Cook/Lonely Planet/Getty Images (Wrigley Field); Brenna Hernandez/Courtesy Shedd Aquarium (Dolphins); Nisian Hughes/Getty Images (Adler Planetarium); Gargolas/Getty Images (Fountain)
TAKE THIS HOME

A nice Chicago souvenir is a snow globe with the skyline in it. That's a way to see Chicago in the snow without walking through it!

SEE THE SIGHTS

My perfect day in Chicago would be going to a favorite lunch spot and catching a Cubs day game at Wrigley Field. If the Cubs are out of town, maybe going to the Art Institute of Chicago, the Field Museum, the Museum of Science and Industry, or Shedd Aquarium, all world-class venues. Also nothing wrong with catching the White Sox, Bulls, Bears, or Blackhawks, depending on your sports preference. Chicago is a great sports town.

SNAP THESE INSTA-MUSTS

That spot in front of the Adler Planetarium looking north toward the city is spectacular. It was the cover shot of an album of the soul group the Chi-Lites. Also a shot standing by Buckingham Fountain or in front of the Art Institute of Chicago would be pretty cool.

By Yolanda Crous | Originally published in Watch! Magazine, July/August 2017.

Stream Criminal Minds on CBS All Access .