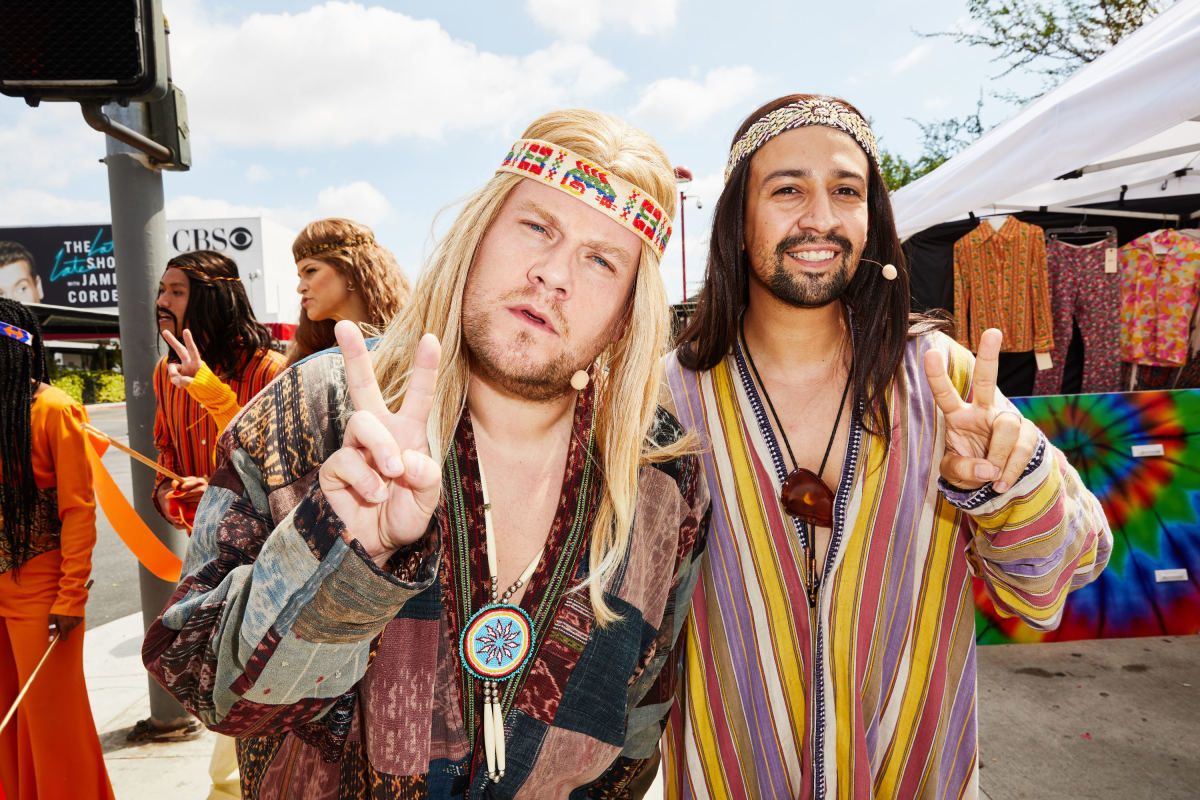 Photo Credit: Terence Patrick/CBS.
All singing! All dancing! All Corden! We're living for these hilarious, harmonious segments from the host of The Late Late Show With James Corden.
From belting out Broadway tunes to spitting rhymes in rap battles, James Corden serves up musical gold on CBS' The Late Late Show. Here are 10 memorable song-and-dance moments that have us pressing "Replay."
Watch The Late Late Show Weeknights on CBS. Stream all episodes only on CBS All Access.
1. Adele's Carpool Karaoke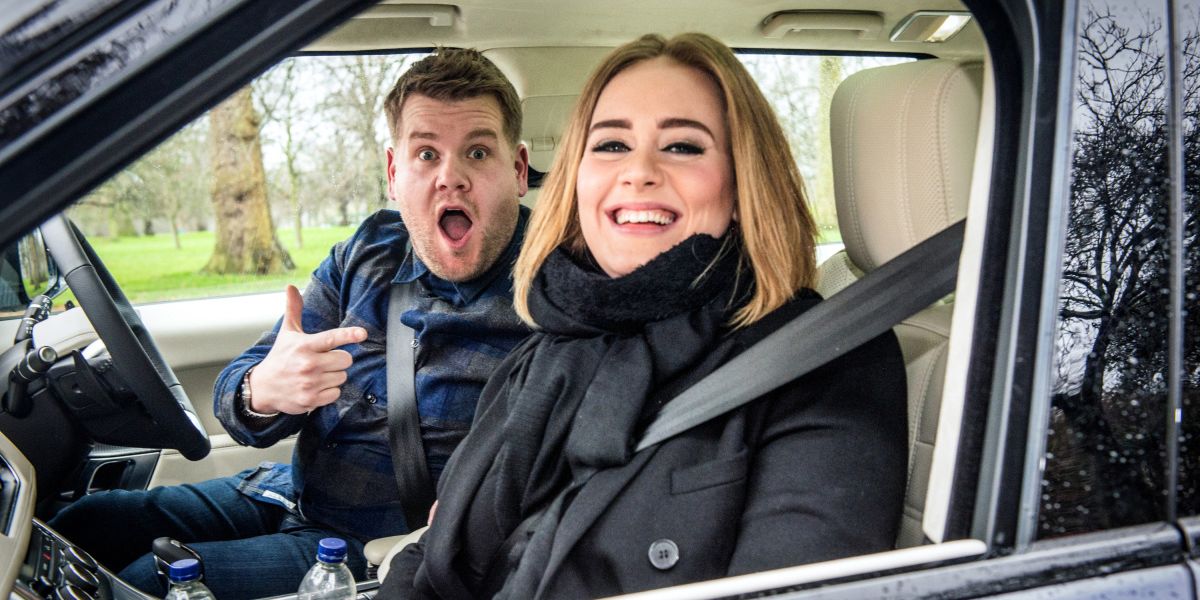 Adele joins James Corden for Carpool Karaoke on The Late Late Show.
Photo Credit: Craig Sugden/CBS.
In a change of pace from his usual L.A. scene, James Corden went home for the holidays to drive around London with unmatched musical genius Adele. Between the Grammy winner regaling us with tales of her drunken adventures to blessing us with her rendition of Nicki Minaj's "Monster," this edition of Carpool Karaoke is hard to beat.
P.S. Don't miss Adele's priceless facial expression at the 1:28 mark, when Corden impresses her with his vocals while they're duetting on her smash hit "Hello."
2. 22 Musicals In 12 Minutes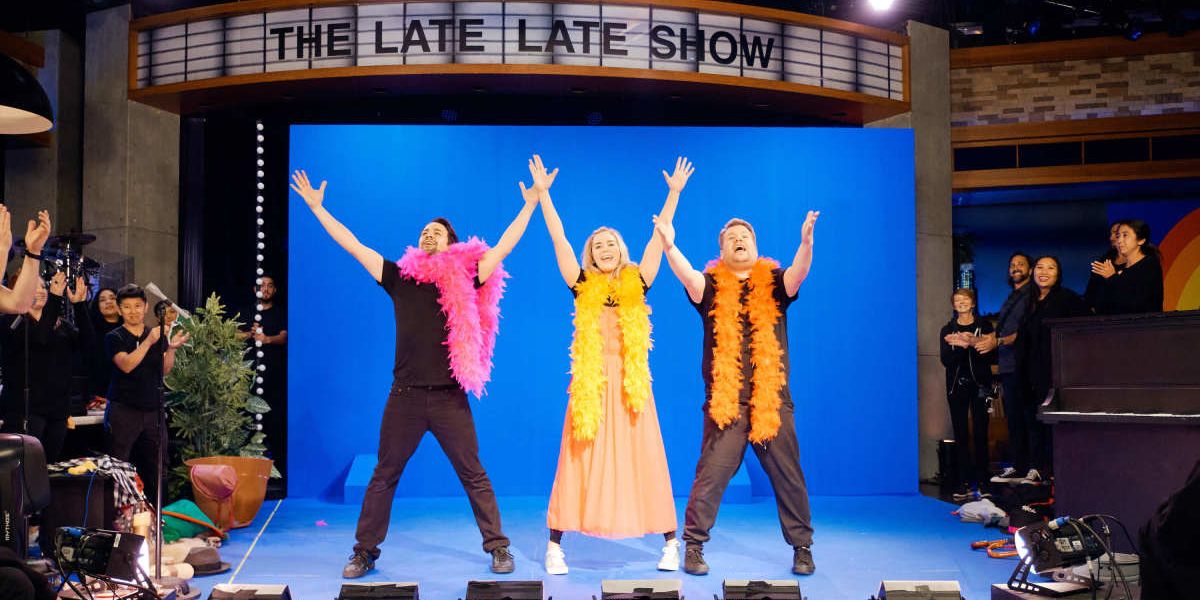 Emily Blunt and Lin-Manuel Miranda on The Late Late ShowWith James Corden.
Photo Credit: Terence Patrick/CBS
When Mary Poppins Returns co-stars Lin-Manuel Miranda and Emily Blunt popped by to plug their film, Corden did not—to quote Miranda's 11-time Tony Award–winning musical, Hamilton—throw away his shot, enlisting his fellow triple threats to sing a medley of songs from 22 movie musicals.
The catch: The trio has to complete them as fast as they can, cramming tunes from the likes of Hairspray, Annie, Cabaret, Fiddler on the Roof, Mamma Mia!, and even The Muppet Movie (with a cameo from Kermit!) into a tight 12 minutes. If you haven't seen this segment yet, you're missing out on the best 12 minutes we've ever seen on TV.
3. Harry Styles' Crosswalk Concert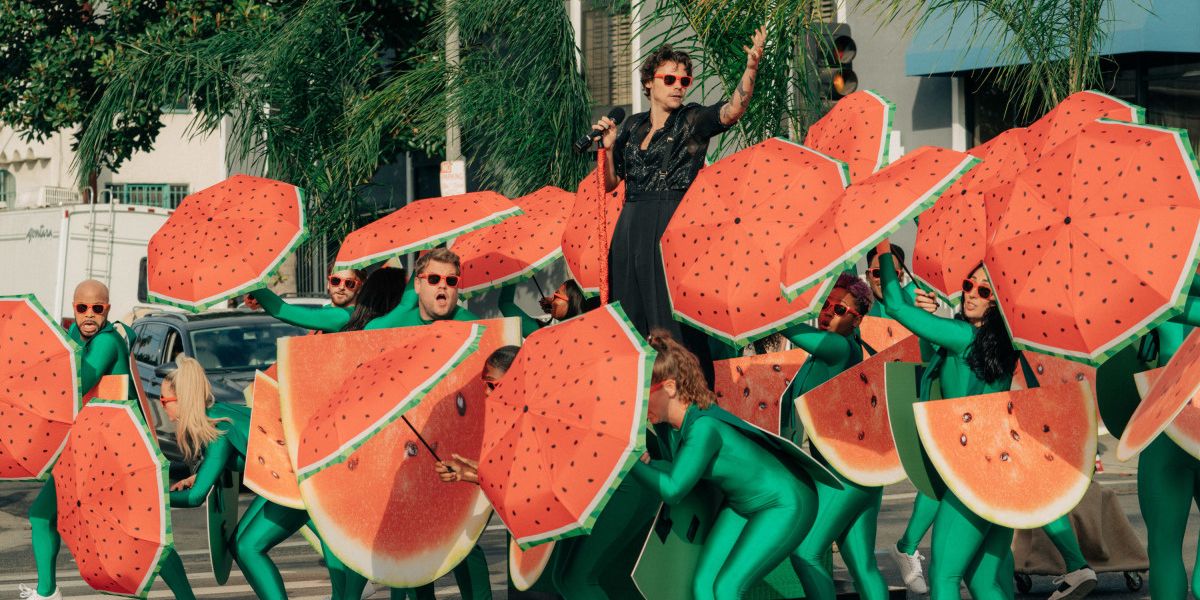 Harry Styles performs a Crosswalk Concert on The Late Late ShowWith James Corden.
Photo Credit: Terence Patrick/CBS.
As Harry Styles was readying to debut his second album, Fine Line, Corden hosted a concert in the crosswalk of L.A.'s Beverly Boulevard to thrill commuters with Styles' musical talents. Working around traffic light schedules, this frenetic performance was unlike anything we've ever seen from Styles, complete with shameless self promotion, backup dancers (with a few moves from Corden himself, naturally), and a show-stopping finale that reached new heights…literally.
4. Drop The Mic With Anne Hathaway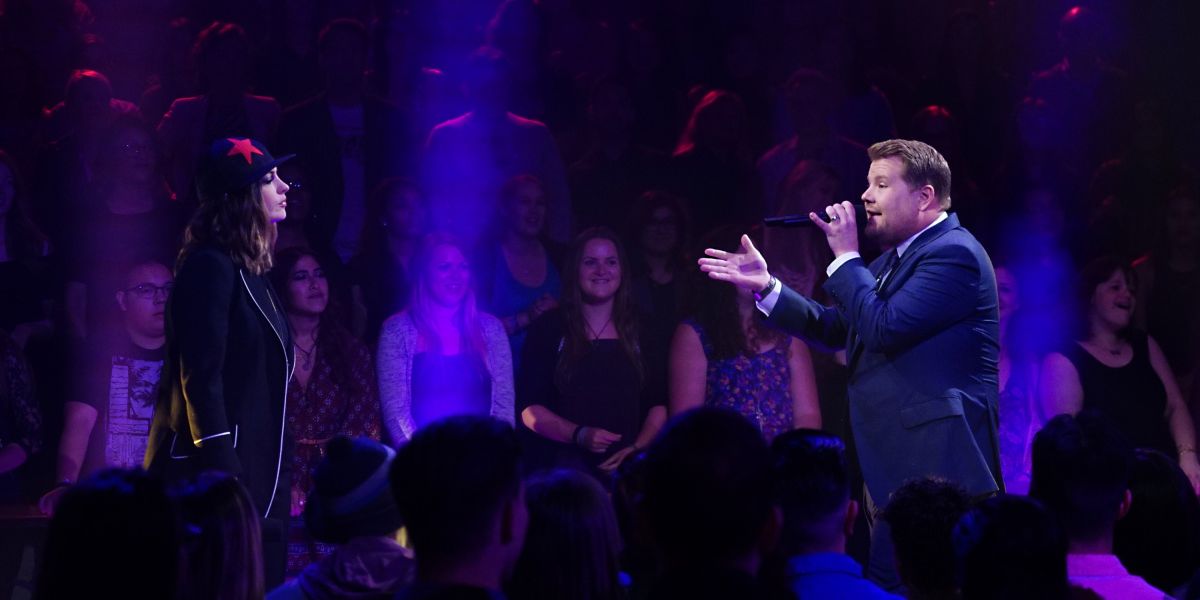 Anne Hathaway and James Corden battle on The Late Late Show.
Photo Credit: Monty Brinton/CBS.
When Corden challenges Anne Hathaway (Les Misérables, The Dark Knight Rises) to a rap battle, nothing is off the table—not even her performance as Catwoman or her stint hosting the Oscars. But Hathaway has a few sick burns of her own up her sleeve; just wait till she steps up to out-diss Corden in an intense Drop the Mic battle that'll knock your stilettos off.
5. Crosswalk The Musical: Hair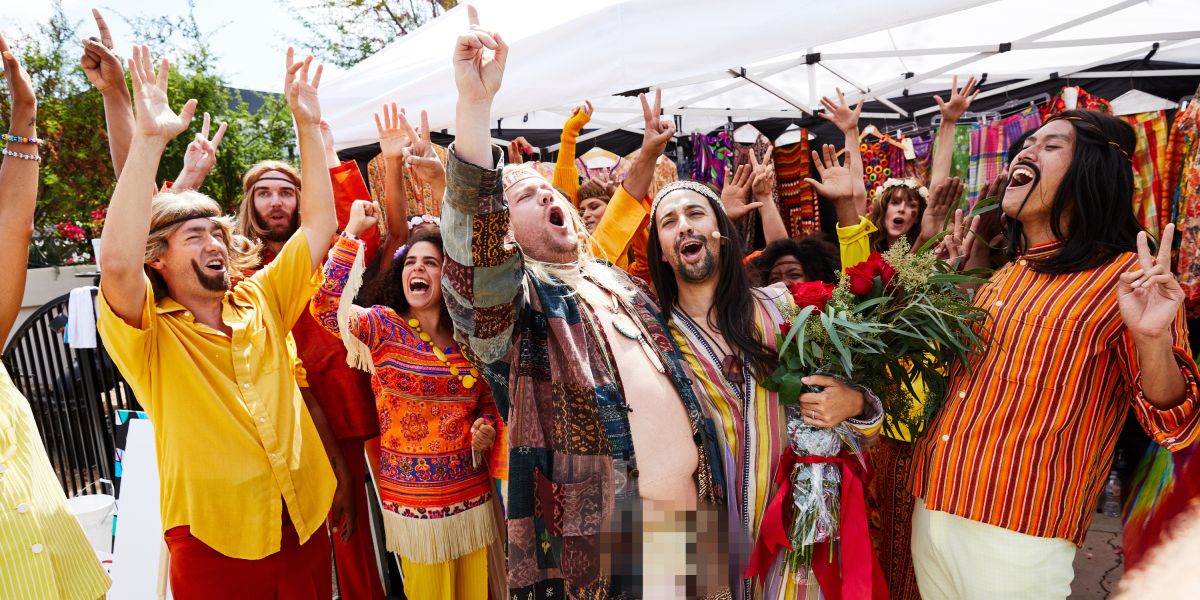 Lin-Manuel Miranda performs in Crosswalk the Musical: Hair with James Corden.
Photo Credit: Terence Patrick/CBS.
When Lin-Manuel Miranda makes an appearance on The Late Late Show, something musical is usually in the works. The Tony-winning Hamilton creator/star joined Corden and his ensemble on the streets of L.A. for an unforgettable performance of the hit 1960s-set Broadway musical Hair. Corden and his tie-dye-clad cast definitely lived up to the show's summary in their shaggy rendition: a lot of wigs and a lot of nudity.
6. Pitch Perfect Riff-Off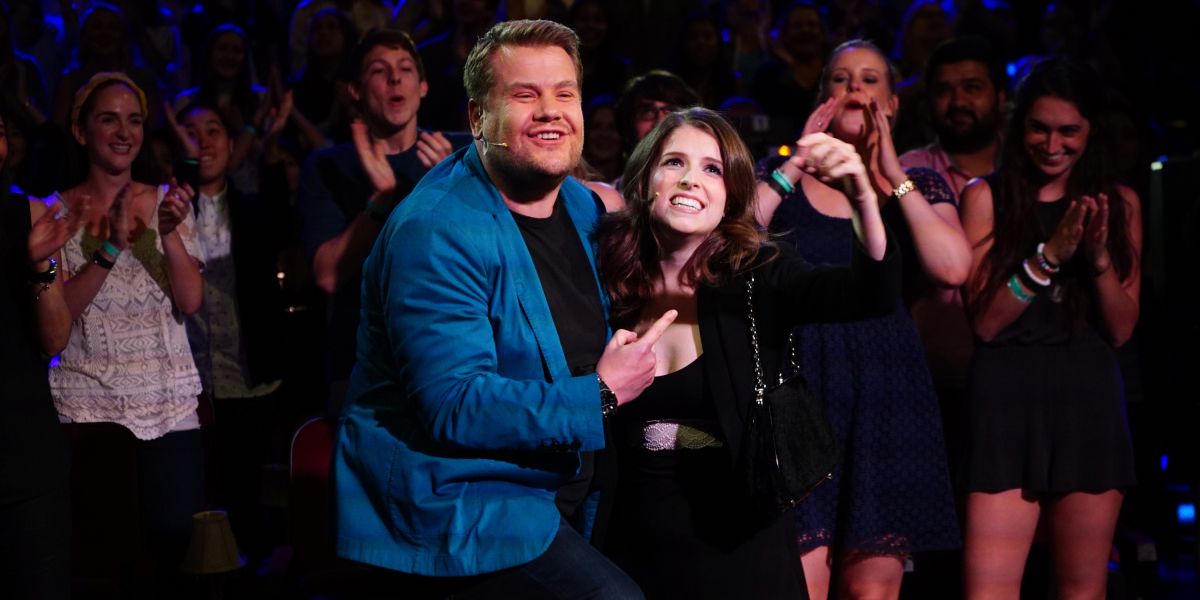 Anna Kendrick and James Corden perform on The Late Late Show.
Photo Credit: Monty Brinton/CBS
Actress-singer Anna Kendrick crashes Corden's show to challenge him to a Pitch Perfect style riff off—a nod to arguably the best scene in the 2012 a cappella–themed romantic comedy. When Corden claims he's the best a cappella singer in town, Kendrick—his co-star in the 2014 movie musical Into the Woods—puts him to the test and unleashes the beast in this melodic showdown.
7. The Jonas Brothers: Year 2019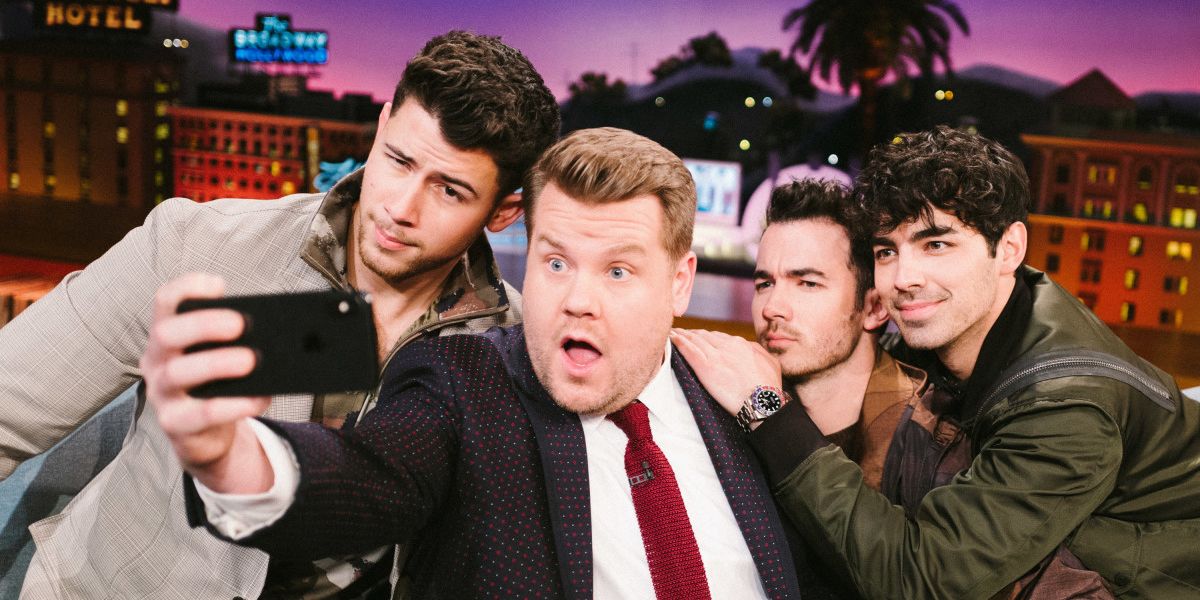 Nick Jonas, Kevin Jonas, and Joe Jonas on The Late Late ShowWith James Corden.
Photo Credit: Terence Patrick/CBS.
When the Jonas Brothers reunited, not even the "Year 3000" could have predicted this Corden parody. This takeoff of the band's 2006 hit finds Kevin, Nick, and Joe back in, of course, 2006 (cue the Myspace reference and Borat jokes) working on their new song "Year 2019." That's when they meet James Corden—"a dude with a British voice"—who tells them what they'll see in 13 years, and it's pretty weird: "Spider-Man, and another one, and another one, and another one." And it will probably take you another 13 years to get that song out of your head!
8. Michelle Obama's Carpool Karaoke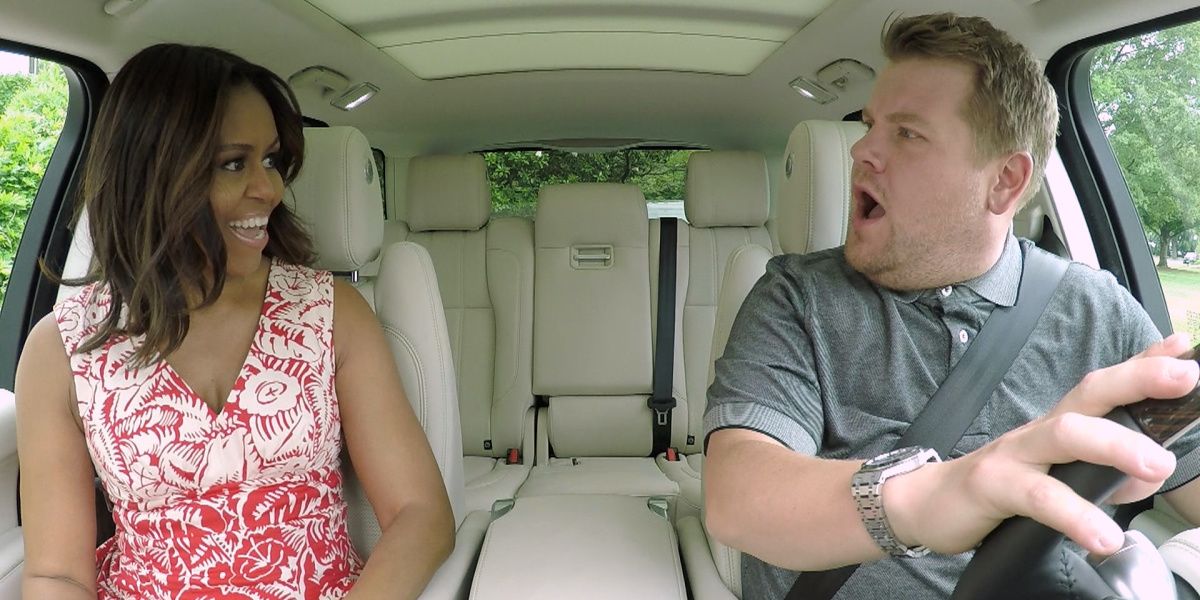 Michelle Obama joins James Corden for Carpool Karaoke on The Late Late Show.
Photo Credit: CBS Broadcasting
During her husband's final year in office, first lady Michelle Obama joined Corden for a drive around the White House grounds in one of the most wholesome carpool karaokes ever. Obama, who says she rarely gets to listen to music in her car, joins Corden on Stevie Wonder's "Signed Sealed Delivered (I'm Yours)" and Beyoncé's "Single Ladies." (Obama after they finished singing along to Bey: "We were making honey to put in our lemonade!").
This segment gave us 14 minutes of pure joy—and also showed us that Obama knows all the lyrics to Missy Elliott's "Get Ur Freak On."
9. Wildly Inappropriate Kids Duo With Paul Rudd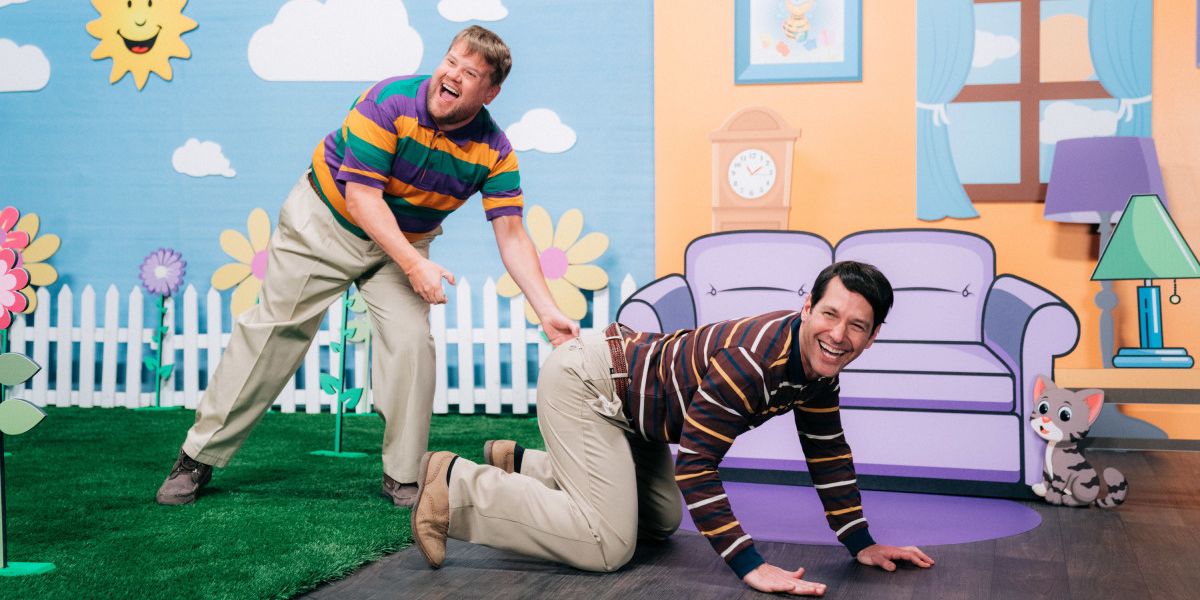 Paul Rudd joins James Corden on The Late Late Show.
Photo Credit: Terence Patrick/CBS
In this mockumentary-style interview, Corden and Paul Rudd (Ant-Man, Living With Yourself), reminisce about making catchy kids' songs as The Naptime Boyz. After watching this hilarious, and purposely cringe-worthy, compilation of music videos—complete with suggestive dance moves—we now know why the duo never made it in the childrens' music industry.
10. The NFL Big Man Dance Crew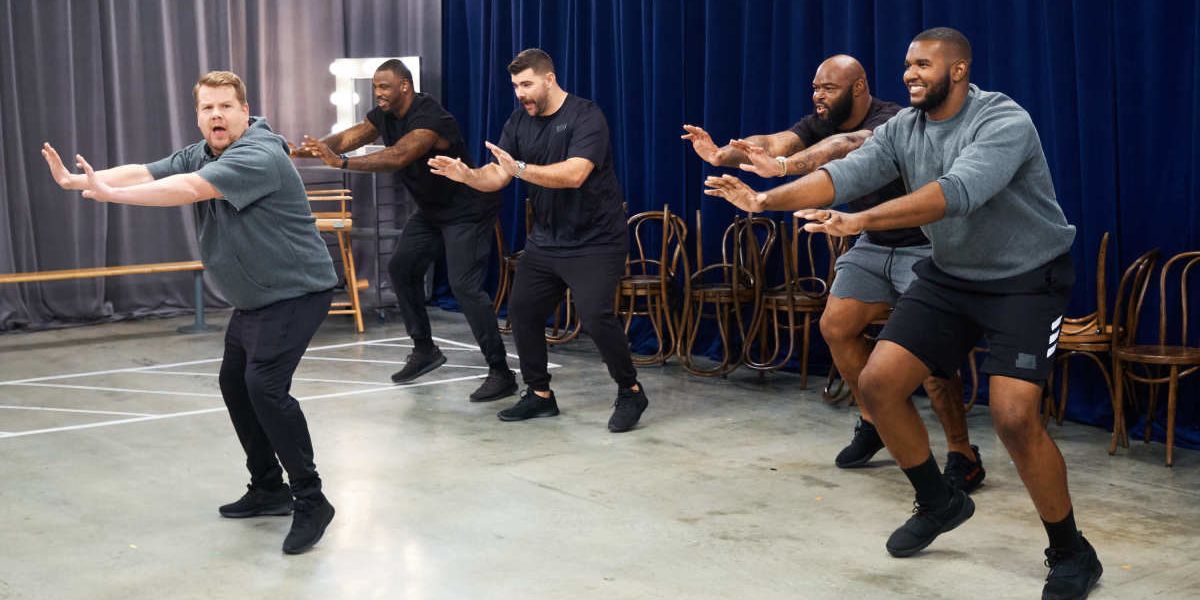 A'Shawn Robinson, Brandon Parker, Justin Pugh, and Malik Jackson rehearse with James Corden for their NFL Big Man Dance Crew debut.
Photo Credit: Terence Patrick/CBS.
Every pro football player deserves to have a dazzling touchdown dance, and Corden sets out to make that happen. In this laugh-out-loud segment, he teams up with four offensive and defensive linemen—the Jaguars' Malik Jackson, the Cardinals' Justin Pugh, the Raiders' Brandon Parker, and the Lions' A'Shawn Robinson—to create the first-ever NFL Big Man Dance Crew. After rigorous training (think improv exercises) and some stinging critique from Corden, the guys are finally ready to debut their new moves worldwide.