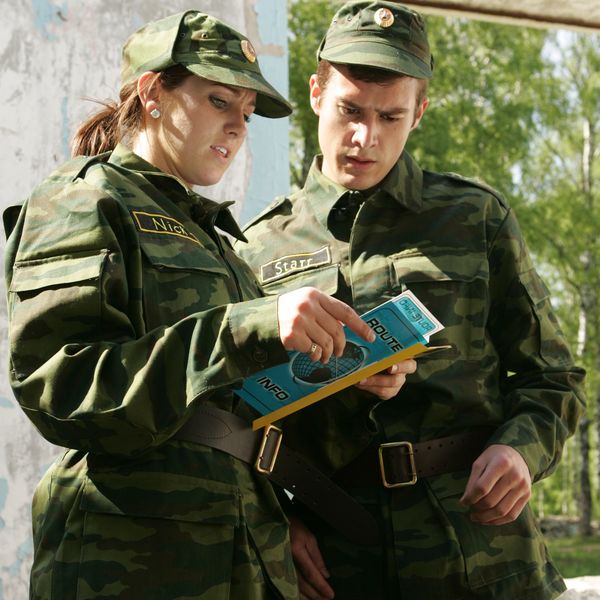 Photo Credit: Monty Brinton/CBS.
We revisit some of the most memorable Detour challenges over the years on CBS' longtime hit reality competition series The Amazing Race.
"A Detour is a choice between two tasks, each with its own pros and cons," says The Amazing Race host Phil Keoghan. A look back at some of the best—and brilliantly titled—challenges that tripped up teams over 31 seasons.
Watch all-new episodes of The Amazing Race on Wednesdays at 8/7c on CBS and CBS All Access.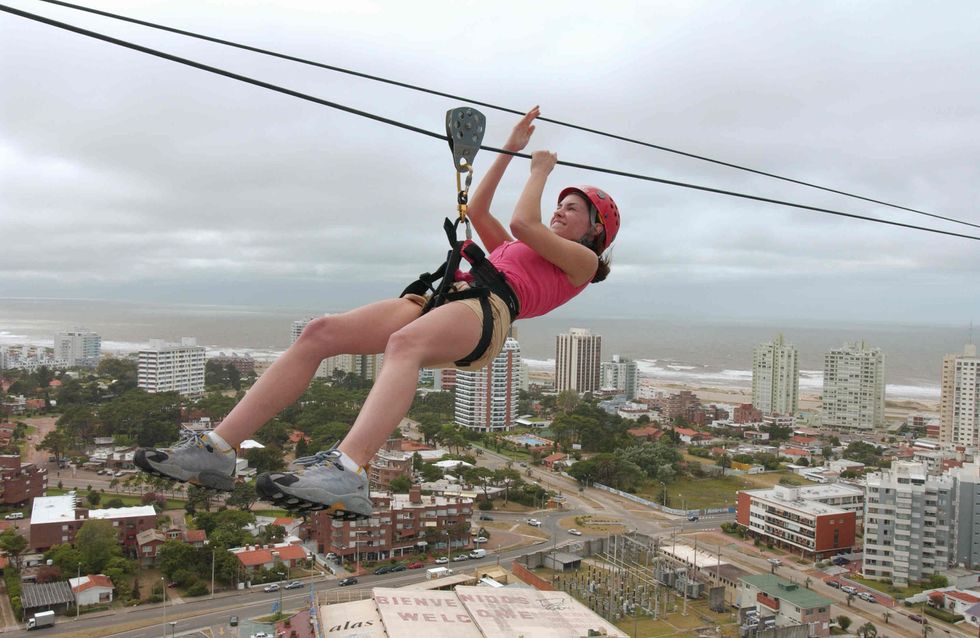 Christie competes in "The Zips or Chips" challenge for The Amazing Race.
Photo Credit: Tony Esparza/CBS.
ZIPS OR CHIPS
From a penthouse of the Conrad Hotel, traverse a zip line hand over hand 210 feet above the ground, then take a second zip line 18 stories down to the hotel pool to receive the next clue. Or play roulette in the hotel casino with 20 chips and receive your clue if you win a game.
DOG POWER OR HORSEPOWER

Ride a dog sled 11 miles or snowmobile 30 miles to your next clue.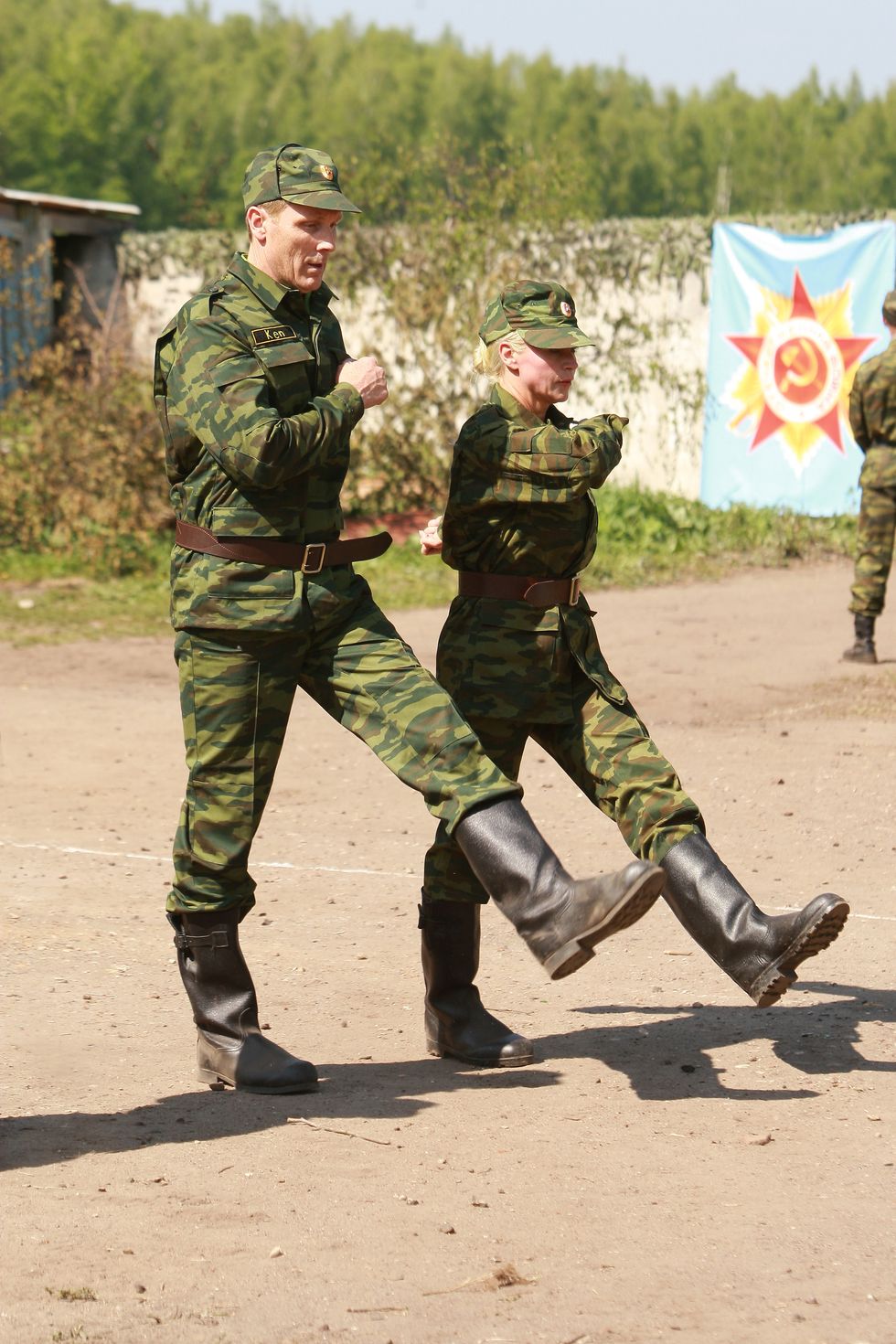 The Amazing Race contestants Ken and Tina don traditional military uniforms and learn a traditional Russian military march.
Photo Credit: Monty Brinton/CBS.
BOOTS OR BORSCHT
Dress in a Russian military uniform and learn a Russian parade march, then fall in line and perform a full lap with a drill team. Or put on a chef's hat and apron before serving each of the 75 soldiers a bowl of borscht.
COUNT THE MONEY OR RUN THE NUMBERS

Count an insane amount of Swiss currency inside of a jar right next to the safe. Or search the streets of Zürich to find the combination to the safe that contained the next clue.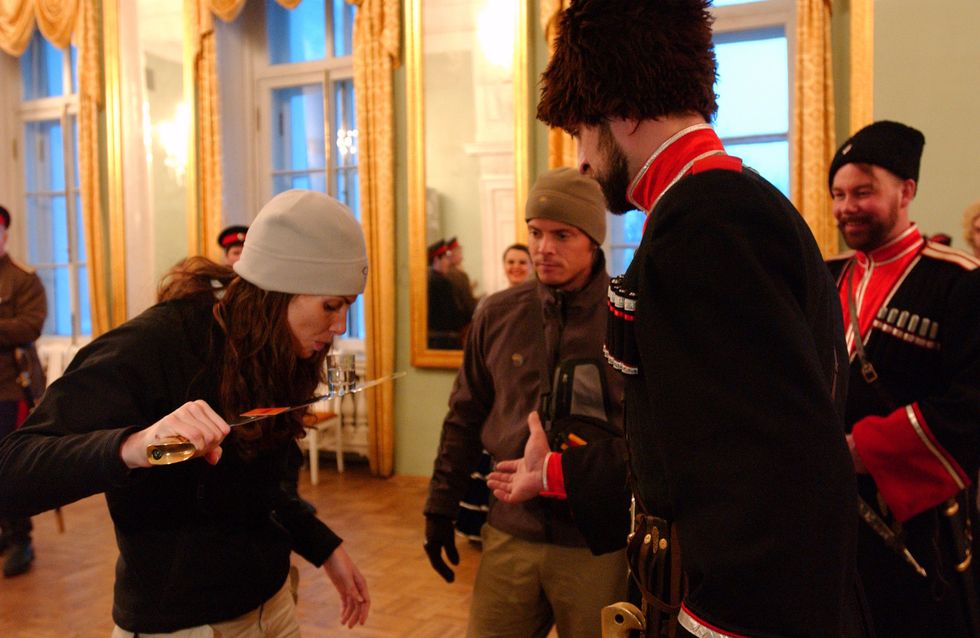 The Amazing Race teams participate in a traditional Cossack ritual, drinking a shot of vodka from a glass balanced on a ceremonial sabre at the Anichkov Palace in St. Petersburg, Russia.
Photo Credit: Tony Esparza/CBS.
BLOCK 5 SHOTS OR DRINK 1 SHOT

Dress up in goalie gear and block five slap shots by pro hockey players. Or balance a shot glass of vodka on the blade of a saber and tilt the sword to your mouth to drink the vodka without dropping the glass.
SUDS OR DUDS
Hand-wash a bunch of laundry to reveal the next clue printed on a piece of clothing, or search through hundreds of saris to find one with the clue printed on it.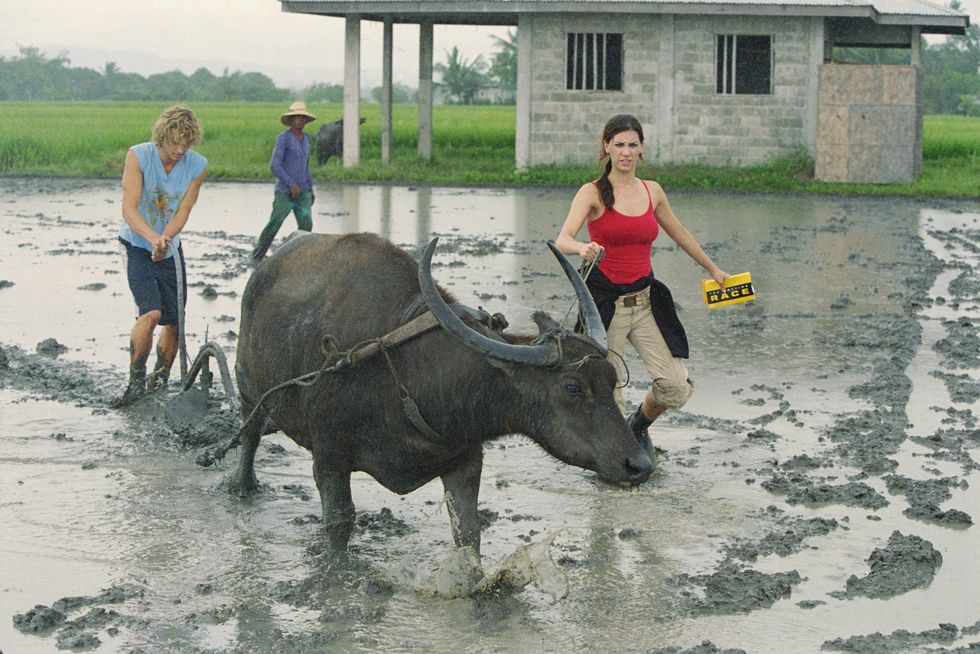 Teams must lead the Carabao through a muddy field in Victoria, Philippines, to find their next clue in The Amazing Race.
Photo Credit: Travis Pierson/CBS.
PLOW OR FOWL
Use an ox-drawn plow to till the soil until your plow gets caught on a buried rope attached to a hidden clue. Or herd 1,000 ducks from one pen to another 50 yards away.
BEER OR BRATS
Search the tables at the crowded bar for five coasters bearing your team's name and picture, then exchange two full steins of beer to the patron in exchange for each coaster. Or use a hand-operated sausage-maker to create one rope of five 7-inch bratwursts.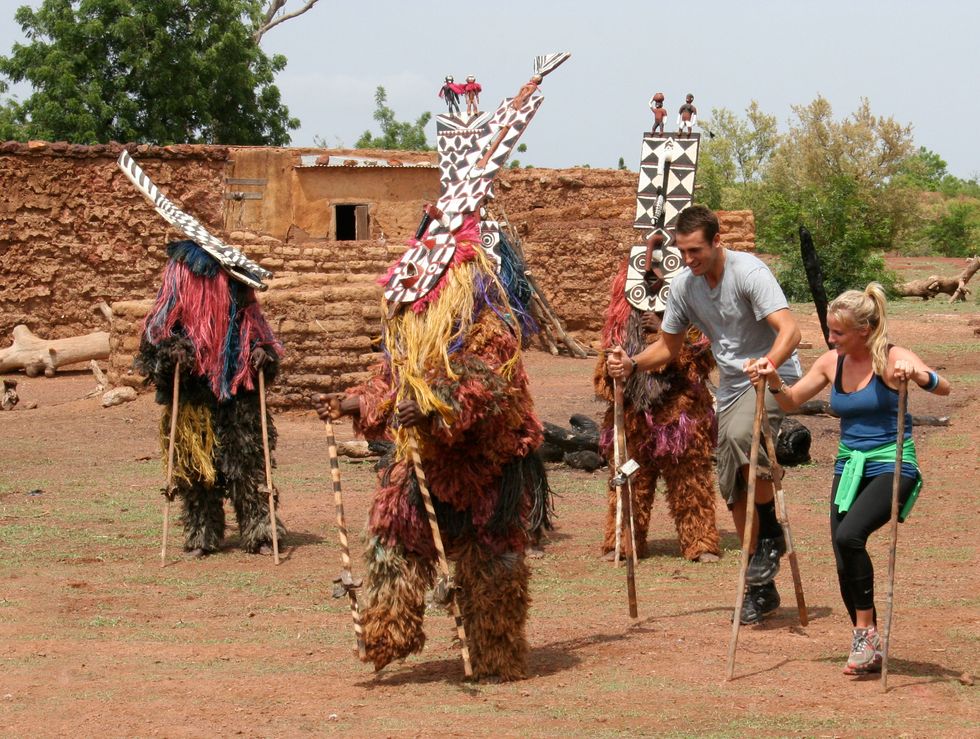 Nate and Jen must impress the local judges in Burkina Faso with their dance moves.
Photo Credit: Chris Castallo/CBS.
SHAKE YOUR PAN OR SHAKE YOUR BOOTY
Use traditional methods to pan for one ounce of gold. Or learn a traditional local dance, and perform it with Winiama masked dancers for a crowd. If three local celebrity judges deem your dance to lack creativity—or just plain suck—you would incur a 10-minute penalty.
TEACH IT OR LEARN IT

Teach schoolchildren who did not speak English to memorize 10 words of English. Or learn from locals 10 words in the Mossi language.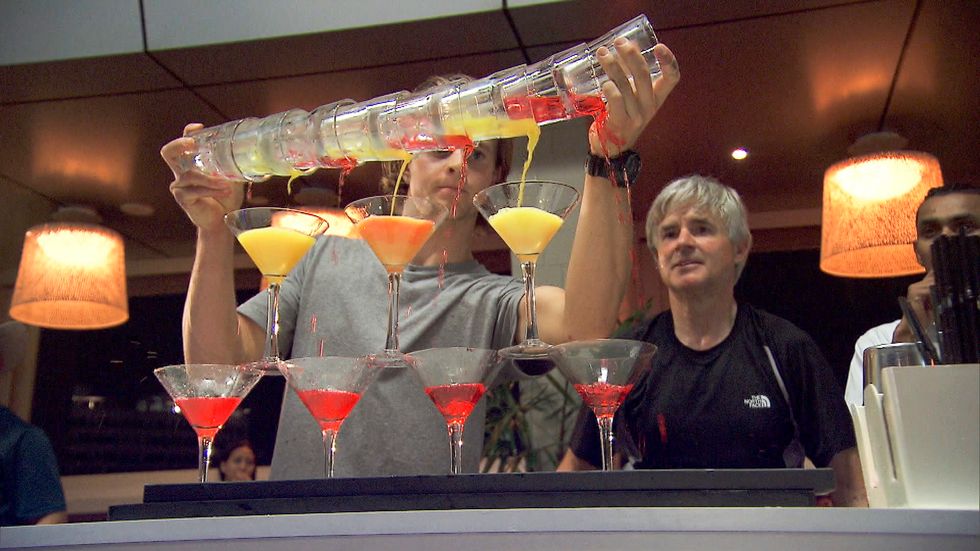 In the "Smarter, Not Harder" challenge, father/son team Connor (left) and David (right) must mix seven cocktails and pour them simultaneously into a pyramid of glasses.
Photo Credit: © 2013 CBS Broadcasting, Inc.
MIX MASTER OR MASTER MIX
Learn to scratch on a DJ table and then perform in front of a DJ and crowd. Or stack seven cocktail glasses into a two-tier pyramid and pour different colored cocktails into each glass simultaneously so none of them mixed.
CATAPULT CRASH OR CANNONBALL RUN
Use a catapult to hurl a watermelon 150 feet onto a wooden target to retrieve the clue hidden within. Or push a cannon uphill to the castle courtyard, then carry 55 4-pound cannonballs and stack them into a pyramid next to the cannon.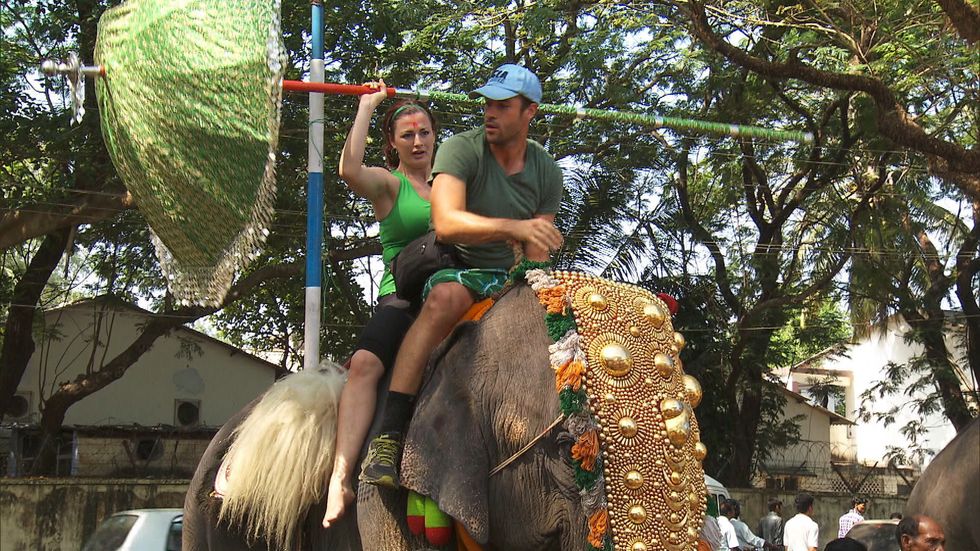 The Amazing Race contestants Rachel and Brendon must decorate an elephant for a local festival then clean up after her in order to receive the next clue.
Photo Credit: CBS ©2012 CBS Broadcasting, Inc.
PACHYDERM OR PACK A BOX
Decorate an Asian elephant with ornate accoutrements, then transport 15 wheelbarrow loads of elephant manure to a nearby truck. Or collect 10 empty boxes, fill them with sifted ginger, stencil a label on each box, and deliver the boxes to a shipping depot to receive your next clue from the manager.
MAIDEN OR MESSENGER

Transport a young Japanese woman, via traditional Japanese palanquin, to a tea ceremony pavilion. Or assemble bikes and ride them through the streets of Tokyo to deliver packages.
Originally published in Watch Magazine, July-August 2020.
Watch all-new episodes of The Amazing Race on Wednesdays at 8/7c on CBS and CBS All Access.