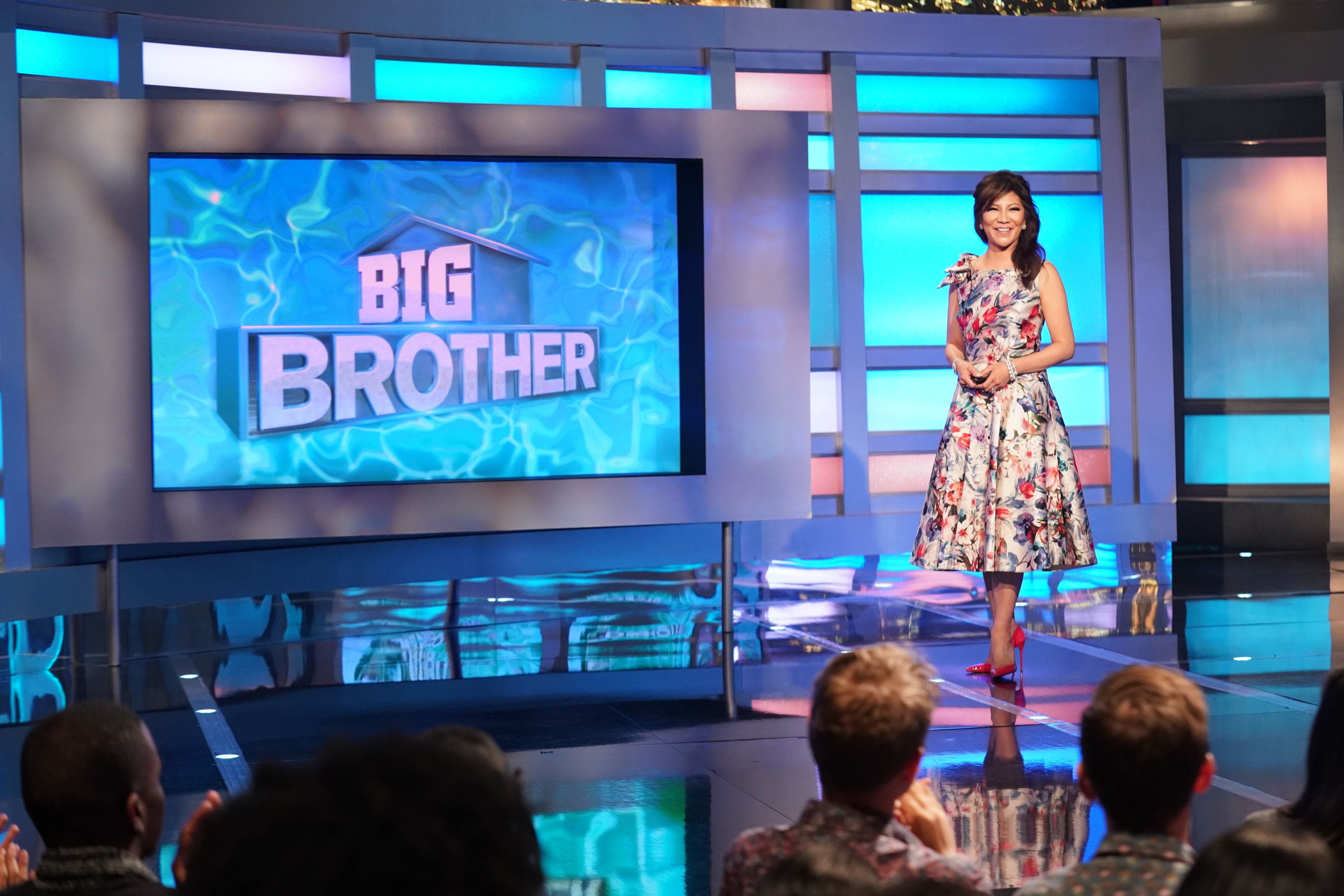 Photo Credit: Sonja Flemming/CBS.
We celebrate the iconic reality show by singling out 20 milestones.
By Nate Millado
Back in July 5, 2000, CBS premiered a unique reality competition that isolated players inside a makeshift house rigged with cameras and mics so that we could watch their every move 24/7 on live feeds. (Yep, it was the original quarantine, decades before sheltering-in-place became our reality.)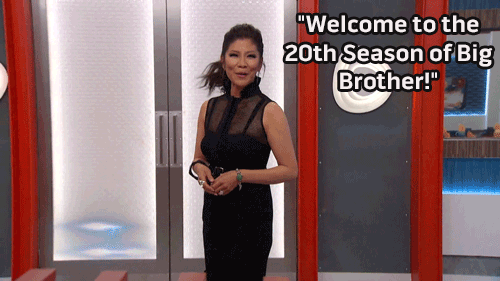 The host Big Brother fans affectionately call "The Chenbot."
It was called Big Brother, and we've been coming to "expect the unexpected" ever since. We're rounding up 20 of the best blindsides, twists, comps, quotes, and other milestones from summer's guiltiest pleasure!

Watch all-new episodes of Big Brother on Sundays, Wednesdays, and Thursdays at 8/7c on CBS and Paramount+.
Dan's Funeral (Season 14)
Dan was "dead" in the game until he hatched a plan in solitary confinement. Consider it the football coach's Hail Mary: Clad in all black, Dan presided over his own "Big Brother funeral" and thanked each of the remaining Houseguests—except loyal ally Danielle. The play worked, and Dan not only survived elimination but also made it to final two.
Project DNA (Season 5)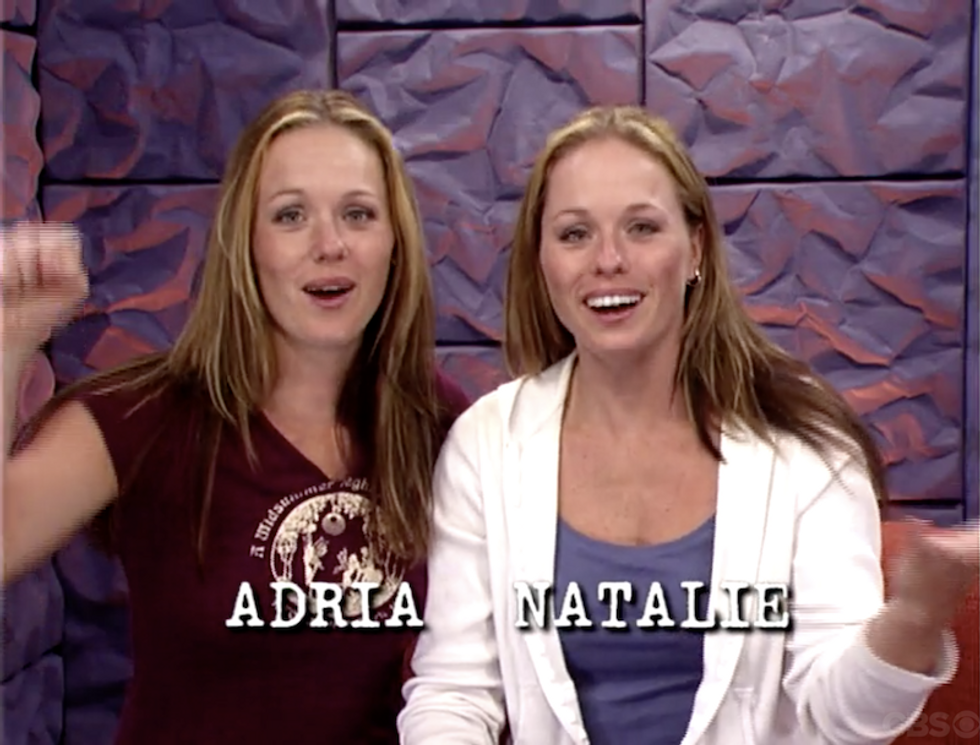 Adria and Natalie were part of BB5's summer twist: Project DNA.
Sure, we expect the unexpected...but no one was expecting this season's crazy twist. Not only were Cowboy and Nakomis, two of the Houseguests, secretly half-siblings (unbeknownst to them!), but then a pair of twins kept swapping places—unbeknownst to the rest of the house!
Jeff Uses The Coup D'État (Season 11)
America granted Jeff a secret power that enabled him to overthrow current HoH Chima and change up her nominations right before the live vote. After Jordan picked her jaw off the floor, Jeff replaced Russell and Lydia with Chima's allies, Natalie and Jessie. The game-changing move sent Jessie packing—and Chima spiraling, until she broke several house rules and was kicked out herself.
Kaysar's Revolving Door (Season 6)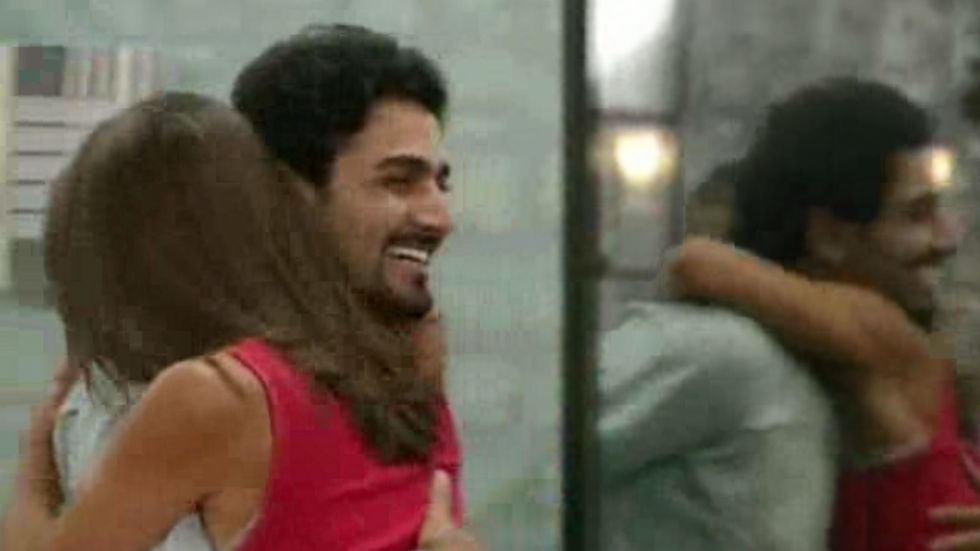 The Sovereign Six alliance lost Kaysar (twice!) on BB6.
Nice guys finish 10th: Kaysar was so popular with America that fans voted him back into the house on Day 40. But after throwing HoH to Jennifer during a grueling endurance comp, she betrayed him and put him back on the block. He was voted out unanimously a week later.
"Bye Bye, Bitches!" (Season 6)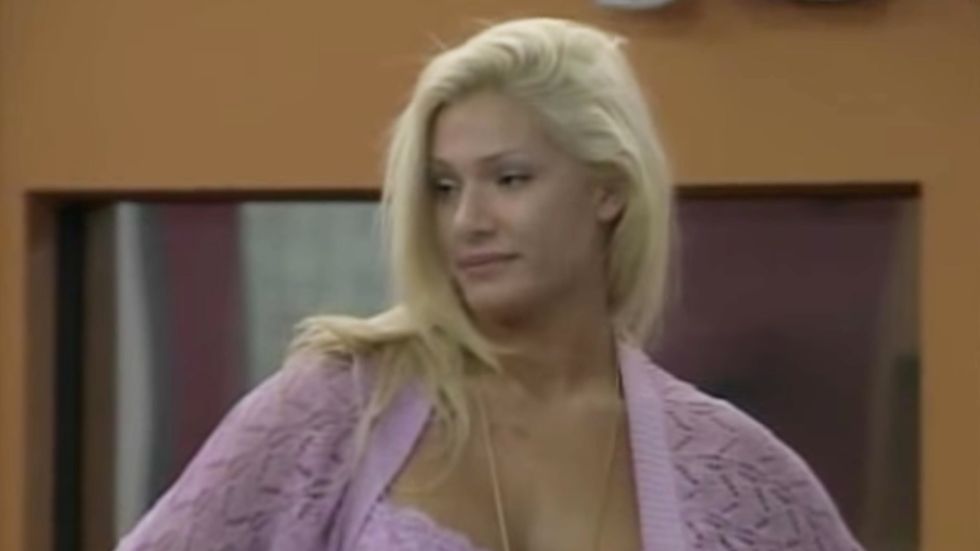 Payback is a bitch! Janelle nominates Maggie and Jennifer on BB6.
This is Big Brother, so naturally the pendulum of power eventually swings the other way. When Kaysar's closest ally, Janelle, won HoH, she immediately nominated Maggie and Jennifer in retribution. As the credits rolled and we eavesdropped on the Houseguests, Janelle delivered her now infamous line to the ladies on the block.
Evel Dick And Daniele Make The Final Two (Season 8)
You know what they say—"expect the unexpected," and Daniele was definitely not expecting to see her estranged dad also competing in the BB house. There were tears, laughs, even some fence-mending. But at the end of a roller-coaster season, Dick and Daniele beat the odds—and 12 other Houseguests—to make it to the final two, where Evel Dick edged out his daughter for the 500G's.

Danielle And Jason's Secret Alliance (Season 3)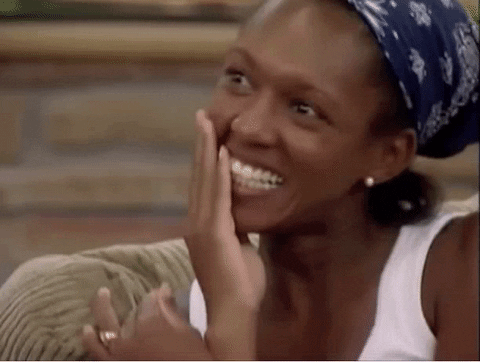 Danielle from Big Brother 3—one of the best players never to win.
Sure, there have been other successful duos (one word: Chilltown), but Danielle and Jason land on this list because even though they couldn't have been more different, they were a formidable pair. The fact that they kept their alliance under the radar and both made final three is impressive.
Not-So-Happy Taco Tuesday (Season 21)
Christie had one foot out the door until she decided to spice things up during Taco Tuesday. By accusing Nick of forging deals with everyone in the house, she blew up his game—and saved her own. It was a master class in vote-flipping.
Frankie Wins Battle Of The Block (Season 16)
Everyone wanted Frankie Grande (yes, Ariana's brother) out of the house. So when HoH Nicole nominated him and Caleb—who agreed to throw the comp—Frankie was on his own. While Donny and Zach worked as a team to complete the football-themed challenge, Frankie managed to beat them solo, shocking everyone—including himself!
Jeff Proposes To Jordan (Season 16)
Their show-mance blossomed into a full-blown romance, and since Jeff and Jordan met inside the BB house on Season 11, it seemed only fitting that they would get engaged there. Jordan thought they were there to host a comp, but instead Jeff got down on one knee and flashed a ring. "Is this a joke?" Jordan asked incredulously.
Nakomis Invents The Backdoor (Season 5)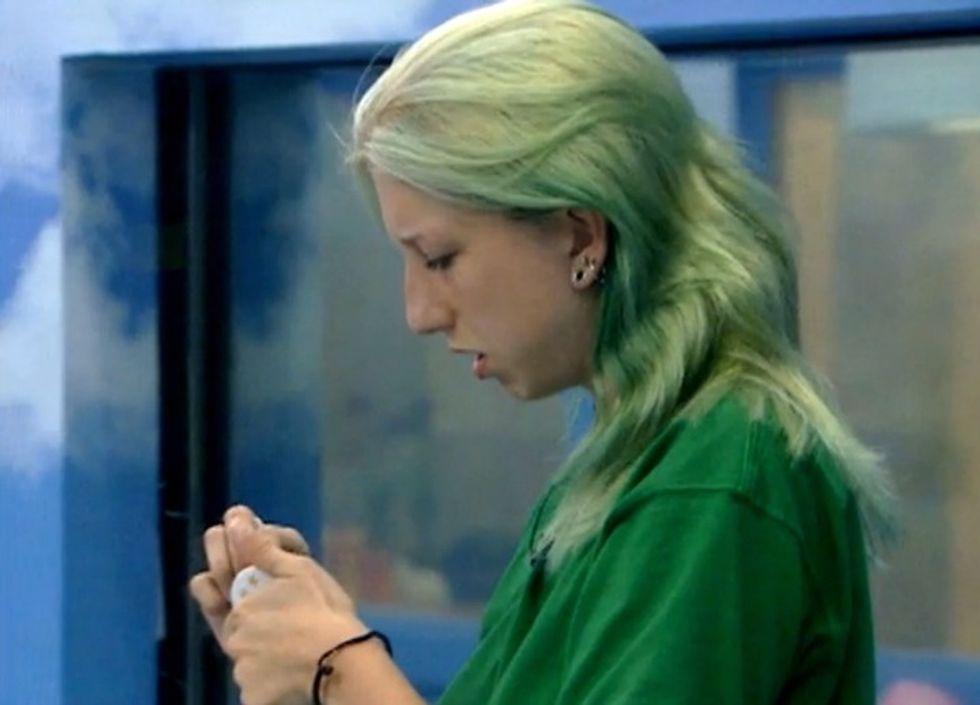 Just about every HoH has used the "backdoor" since Nakomis invented it in BB5.
Hard to believe there was ever a time in BB when the backdoor didn't exist, but the strategy actually didn't come into play until self-proclaimed "mastermind" Nakomis came up with it. Originally called "The Six-Finger Plan," it prevented the HoH's actual target from playing in the Veto comp by instead nominating two "decoys," or pawns. Jase didn't know what hit him until it was too late!
"Anybody Want Cake?" (Season 10)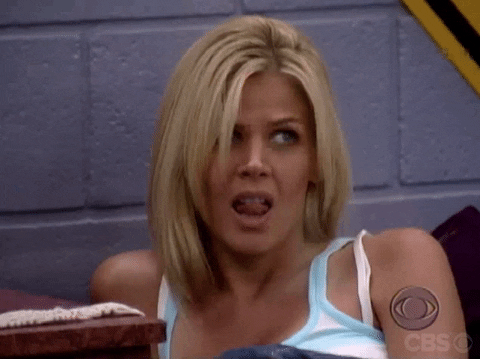 Keesha celebrated the worst birthday inside the BB house during Big Brother 10.
After a big house blowup simmered down, everyone gathered around to sing Keesha the saddest "Happy birthday" ever! Following an awkward silence, Libra asked: "Anybody want cake?"
Zingbot's First Appearance (Season 12)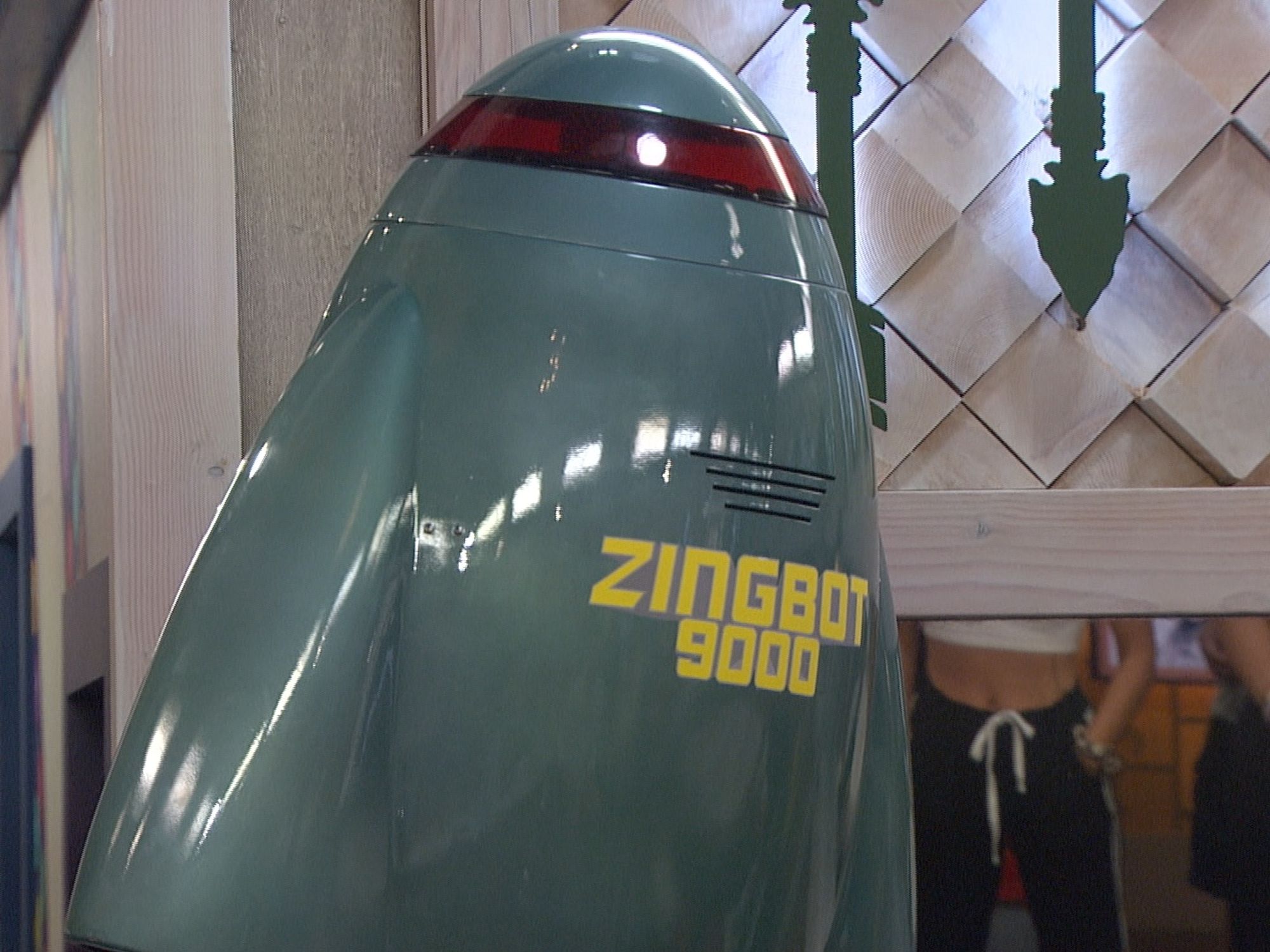 The Zingbot at the Veto Comp "Free The Zing" on Big Brother.
Screengrab/CBS ©2016 CBS Broadcasting Inc.
Longtime Big Brother fans-turned-Houseguests usually want to make it far enough in the game to (A) make the jury and (B) get roasted by Zingbot. It's become a badge of honor, frankly! Some of our faves: "Porsche, shouldn't you be named after a car with a roomier trunk?" "Ian, for a chemical engineering student, it's amazing how little chemistry you have with the ladies." "I think there's a ghost in the Big Brother house. It has a high-pitched wail, it's pasty white, and it loves to float. Oh wait, that's just Andy." Zing!
Dr. Will's Epic Veto Speech (Season 7 All-Stars)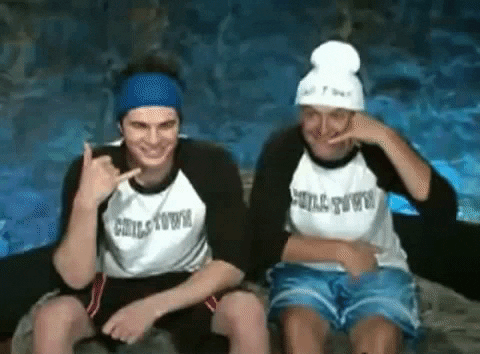 "Chilltown" founding members Will Kirby and Mike "Boogie" Malin.
Coming into Big Brother: All-Stars as a previous winner, Will already had a huge target painted on his back. But when facing elimination, the Puppetmaster pulled more strings: He told everyone in the house he hated them and promised to throw every competition if they kept him in the house. And they did!
Omarosa Spills White House Tea (Celebrity BB)
All eyes and ears were on Omarosa when the bonafide BB fan competed in the first-ever celebrity edition. That's because the reality TV vet was just two months removed from her stint in the Trump administration. When Ross asked Omarosa why she would even consider working for the president, she told him through tears that she thought she was answering "a call of duty" but confessed that it was baaaaaaad and "we are not going to be okay."
"Floaters, You Better Grab Your Life Vest!" (Season 13)
Love her or hate her, Rachel delivered one of the most iconic lines in BB history when, after winning HoH, she threatened any Houseguest who wasn't playing hard enough or was flying too far under the radar. Shots fired!
America's Player Blindsides Dustin (Season 8)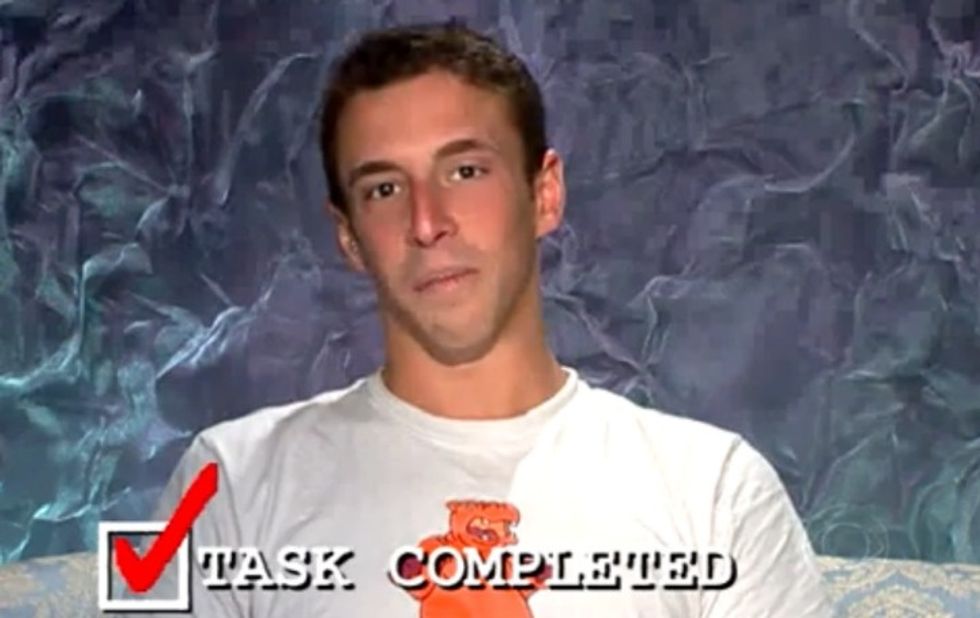 America's Player Eric on Big Brother 8.
No. 1 rule in the Big Brother house: Never offer to be a pawn, because pawns go home! Dustin learned this lesson the hard way. Evel Dick was as good as gone, but fans had other plans. America's Player Eric was rewarded $10K for every five tasks completed—including letting us cast his votes to evict.
Victor Wins The Battle Back (Season 18)
Five evicted Houseguests had a chance to battle their way back into the BB house, but it wasn't easy: Each battle tested the players' physical strength, brain power, and overall strategic gameplay. After five grueling rounds, Victor emerged the winner of this unprecedented comp, shocking the house when he reentered the front doors.
Morgan Wins BB: Over The Top (All Access)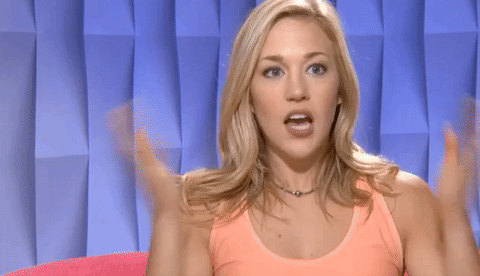 Morgan won the first-ever All Access season of Big Brother.
It was the first (and, so far, only) BB season that aired exclusively on CBS All Access. And not since the first season of Big Brother did we wield so much power: America, not a jury of evicted Houseguests, crowned the winner. An all-female alliance rarely lasts in the BB house, but The Ballsmashers dominated the game. And Morgan—one half of an early season twist where she secretly competed with her sister—edged out fan favorite Jason.
Julie's Big Reveal (Season 11)
The host we've all lovingly come to know as The Chenbot uttered her iconic line—with a twist—to kick off BB11: "Whether you're expecting the unexpected or," looking down at her baby bump, "just expecting, get ready because another crazy summer is about to begin!"
Watch all-new episodes of Big Brother on Sundays, Wednesdays, and Thursdays at 8/7c on CBS and Paramount+.