Shows
7 Best Auntie Olu And Uncle Tunde Moments From Bob ♥️ Abishola
Photo credit: Michael Yarish/CBS.
By Nate Millado
Sure, Bob (Billy Gardell) hearts Abishola (Folake Olowofoyeku), but we absolutely love Auntie Olu (Shola Adewusi) and Uncle Tunde (Barry Shabaka Henley). The scene-stealing duo had us at e nle o—that's "hello" in Yoruba, BTW.

So in honor of National Aunt and Uncle Day on July 26, we're rounding up Olu and Tunde's greatest hits from Season 1 of Chuck Lorre's groundbreaking rom-com sitcom Bob ♥️ Abishola.

Stream full episodes of Bob ♥️ Abishola on CBS All Access.
Van About Town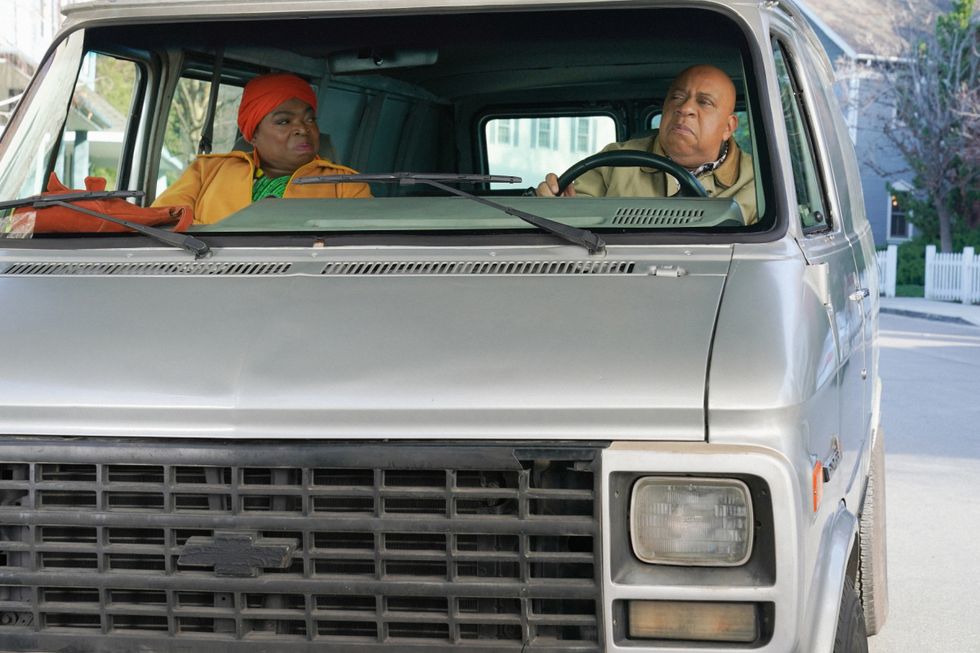 Olu and Tunde surveil Abishola's potential suitor, Bob.
Photo credit: Michael Yarish/CBS.
Olu and Tunde hop into their van to do some recon on the sock salesman enamored with their niece. The prying pair scopes out Bob's car—hopefully leased!—and his workplace. They think they're being so slick—until Bob realizes he's being tailed and follows them right back to Abishola's apartment. Olu and Tunde continue to grill Bob over tea and biscuits ("What's your credit score?") OK, so they're not the best spies—or the most subtle interrogators—but mission accomplished: Abishola agrees to a pseudo-date with Bob.
Package Deal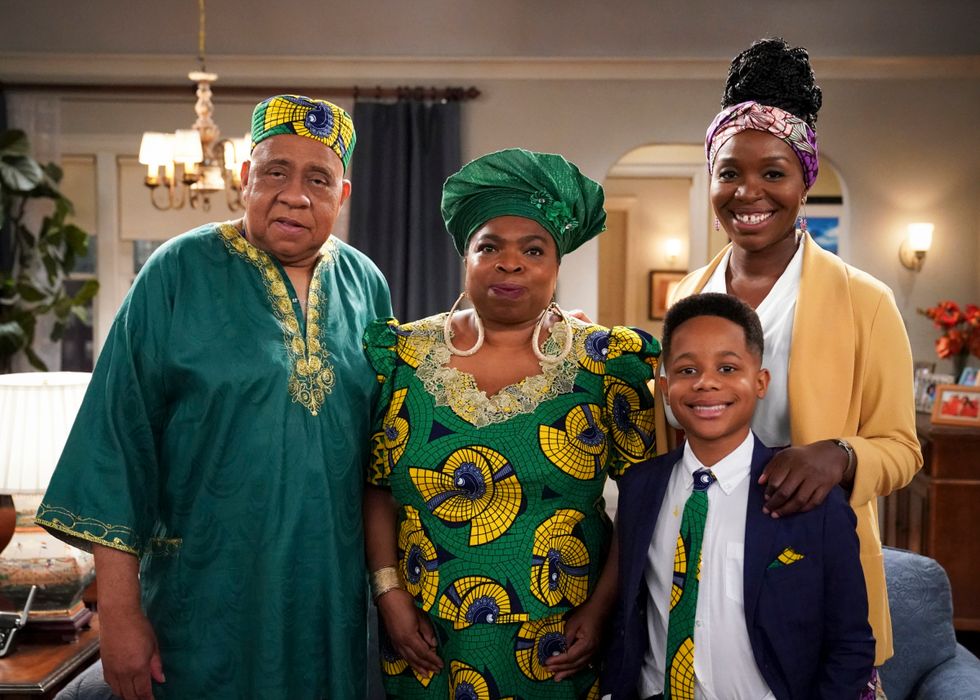 Abishola's family: Uncle Tunde, Aunt Olu, and her son, Dele (Travis Wolfe Jr.).
Photo credit: Michael Yarish/CBS.
Olu and Tunde know that whomever ends up with their niece has to take in her entire family as well. So when they park their van outside Bob's very large house, Tunde tells Olu, "You're right! He has a very beautiful home." Without missing a beat, Olu replies: "We'll be very happy there!"

​Fast Food Connoisseurs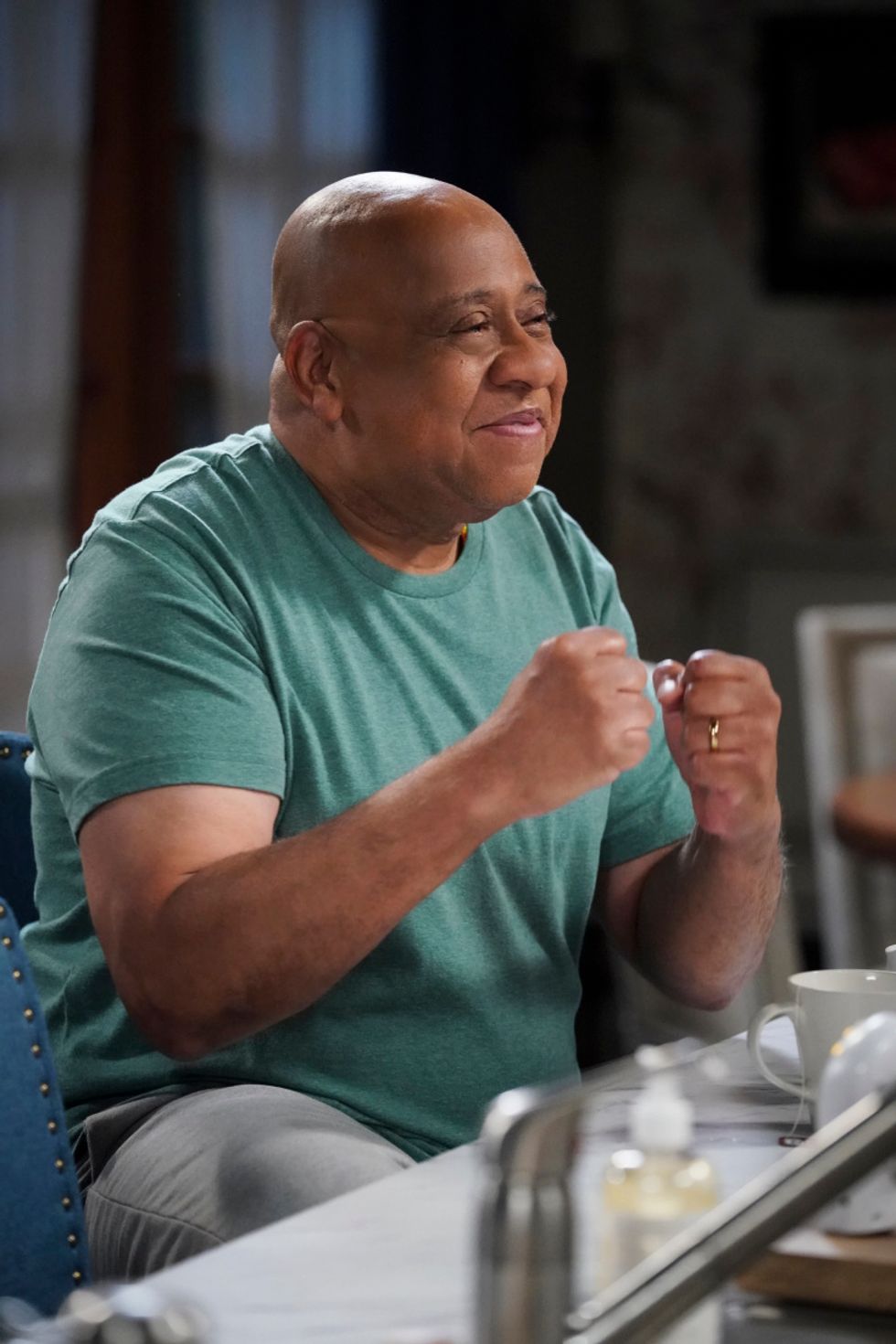 Barry Shabaka Henley as Uncle Tunde in Bob ♥️ Abishola.
Photo Credit: Michael Yarish/CBS.
After Abishola and Olu get into a little tiff, the Nigerian nurse offers her auntie a mea culpa: a Wendy's Baconator (with extra bacon and American cheese) and a fistful of ketchup packets. Later that evening, Tunde nukes a midnight snack: "Baconator! Square burger, round buns," he says to himself. "Somehow it works!"
​Playing The Field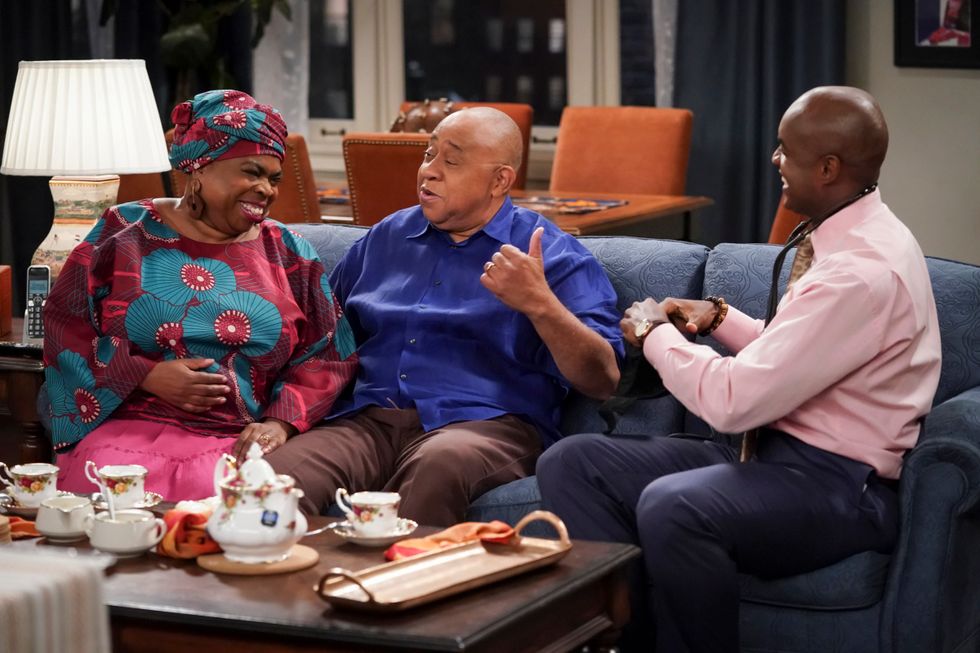 Auntie Olu and Uncle Tunde with pharmacist Chukwuemeka (Tony Tambi).
Photo credit: Michael Yarish/CBS.
When Abishola cools things off with Bob, Olu sets her up with a handsome (albeit boring) CVS pharmacist. And while Tunde has always been "Team Bob," Olu delivers the season's funniest line: "We were beggars...now we are choosers!"

​Unlikely Friends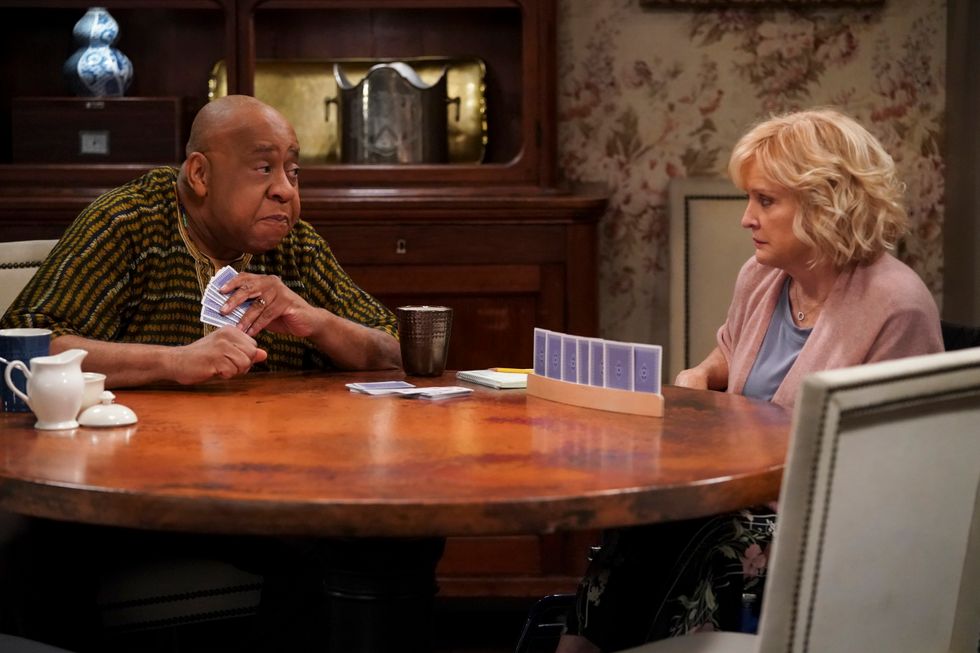 Tunde and Dottie (Christine Ebersole) play gin rummy.
Photo credit: Michael Yarish/CBS.
After going behind Olu's back to warn Bob about the pharmacist, Tunde is kicked out of the apartment—and ends up crashing at Bob's house. The next morning, Tunde connects with Bob's stroke survivor mother, Dottie (Christine Ebersole), over gin rummy. "A penny a point?" Tunde asks. "How about a dime?" she suggests. "Make it hurt!"

Here Comes The Cheer Squad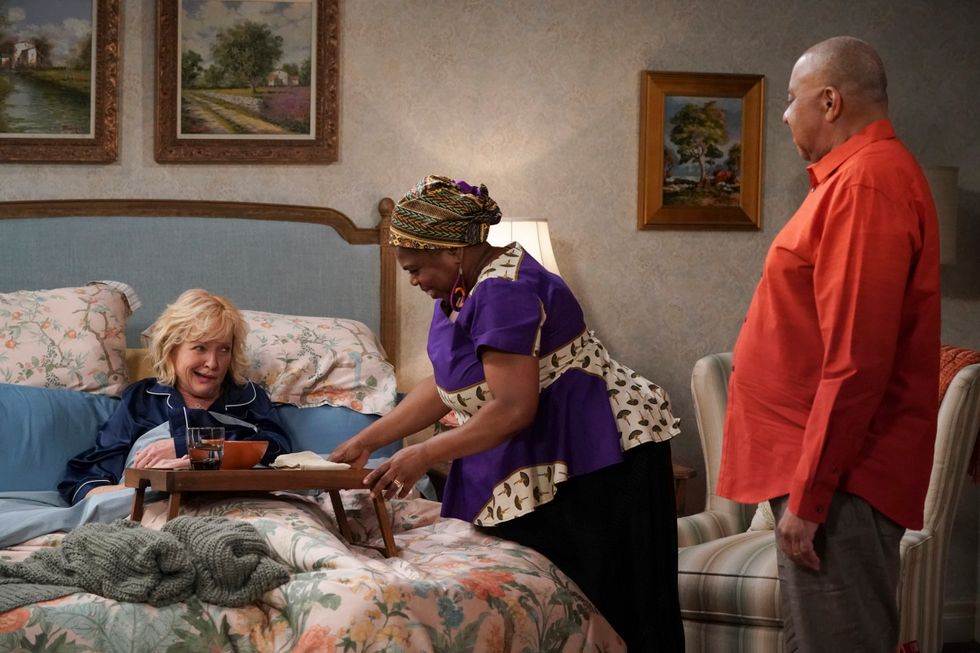 Olu and Tunde try to cheer up Dottie.
Photo credit: Michael Yarish/CBS.
Dottie falls into a funk, and not even her country-club "lookie-loo" pals can drag her from depression. Enter Olu and Tunde, who come bearing spicy hot pepper soup, board games, a confusing parable about a monkey who lost its tail, and, most important, a six-pack.

"Where's Your Other Wives, Tunde?"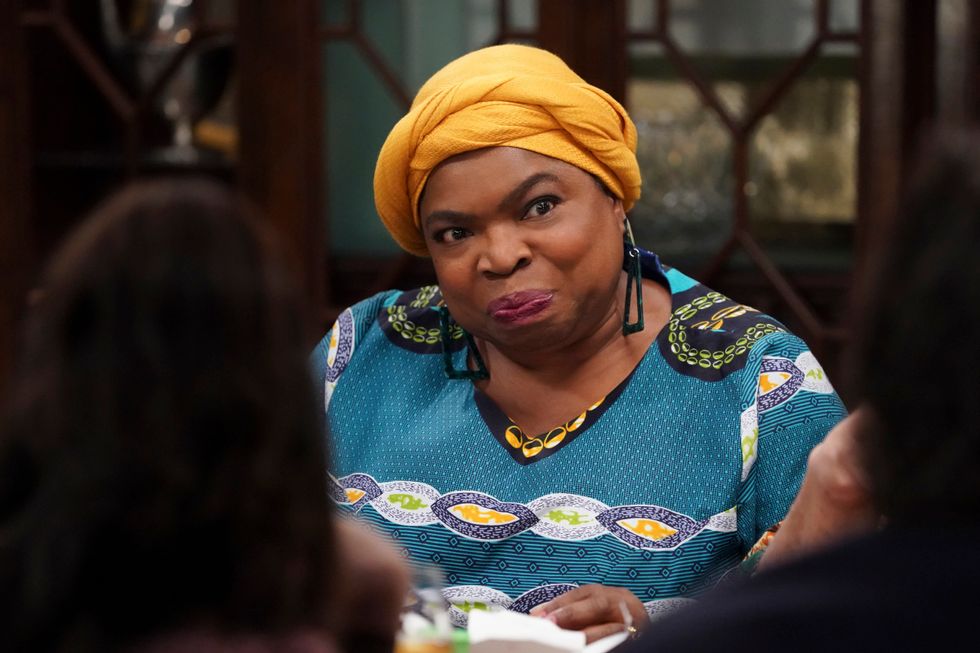 Olu tells a story over dinner.
Photo credit: Michael Yarish/CBS
While getting to know Abishola's family over Chinese takeout, the ever-tactful Dottie asks Olu and Tunde about the Nigerian tradition of polygamy. "How do all the wives keep from killing each other?" Dottie asks. Well…apparently it happens sometimes. Olu describes in detail how Wife No. 1 prepares dinner, poisons Wife No. 2 with arsenic, and everyone moves up one spot! "How do you know all this?!" Tunde asks his wife. "Girls talk," Olu says.
Olu is Tunde's one and only—but according to Abishola's mild-mannered uncle, being hitched to a woman with many personalities is the equivalent of marrying multiple wives!

Stream full episodes of Bob ♥️ Abishola on CBS All Access.
From Your Site Articles
Related Articles Around the Web