Photo Credit: Mark Seliger/SHOWTIME.
Our columnist invests in the hit SHOWTIME series Billions.
By Emily Hirshey
Have you ever thought you weren't poor and then, after binge-watching 36 hours of television, realized you actually are? No? Then you clearly haven't watched Billions (or you actually aren't poor, in which case, mazel!).
The SHOWTIME drama centers on Bobby "Axe" Axelrod (Damian Lewis) whose hedge fund, Axe Capital, brings in a bonkers amount of money and thus is constantly under scrutiny from the Securities and Exchange Commission—and the U.S. attorney's office, headed up by Axe's mortal enemy, Chuck Rhoades (Paul Giamatti). Stuck smack dab between the two men is Wendy Rhoades (Maggie Siff ) Chuck's wife, who serves as the in-house performance coach at Axe Capital and Axe's own personal Yoda.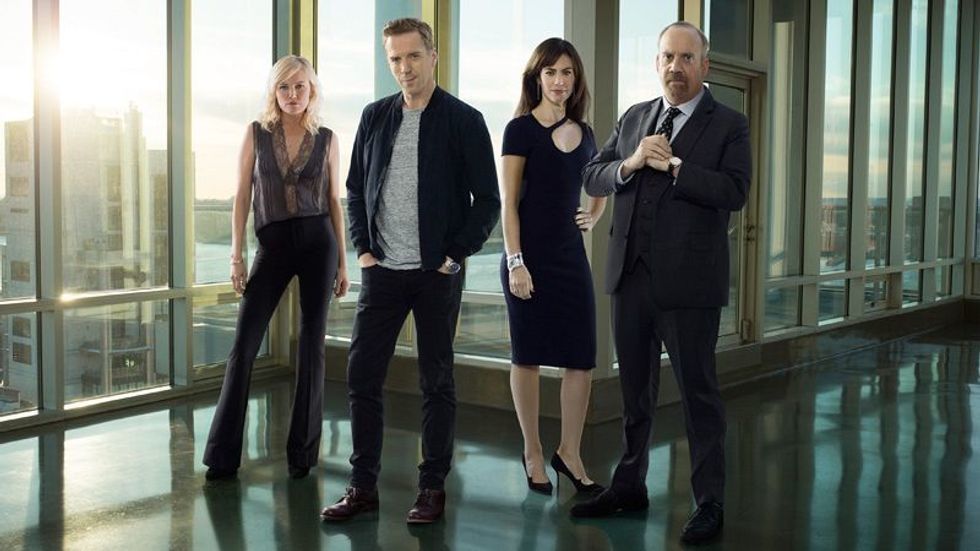 Malin Akerman as Lara Axelrod, Damian Lewis as Bobby "Axe" Axelrod, Maggie Siff as Wendy Rhoades, and Paul Giamatti as Chuck Rhoades in SHOWTIME series Billions.
Photo Credit: Jim Fiscus/SHOWTIME.
It's a messy triangle, made only messier by Chuck's law-abiding co-workers and Axe's law-defying minions (led by David Costabile's Mike "Wags" Wagner and his triumph of a mustache), but made shinier by the loads of cash that every character seems to possess (including Chuck, and the dude works for the government!).

Season 5 of Billions will return to SHOWTIME soon. Catch up now on SHOWTIME and SHOWTIME ANYTIME apps, as well as via SHOWTIME On Demand.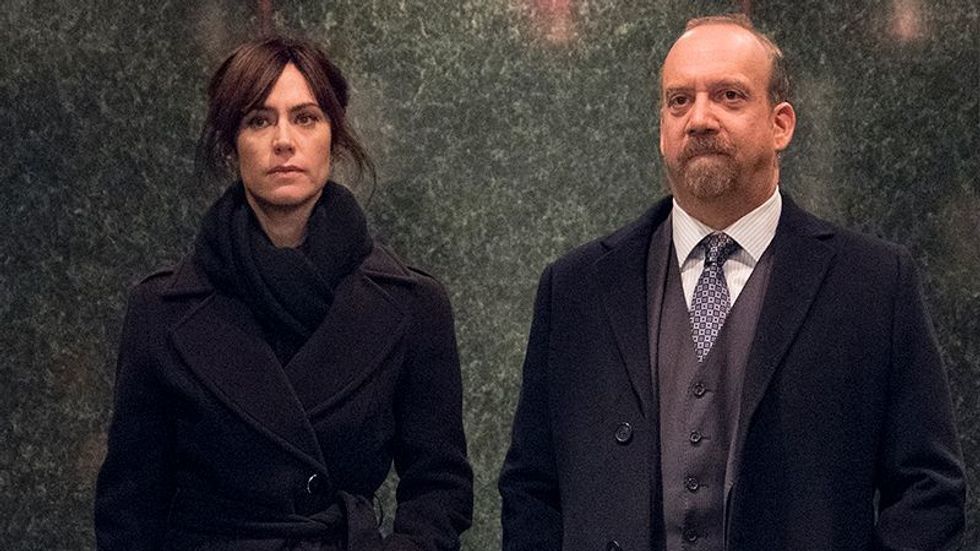 Psychiatrist and performance coach Wendy Rhoades (Maggie Siff) joined Axe Capital long before her husband Chuck Rhoades (Paul Giamatti) became U.S. Attorney.
Photo Credit: Jeff Neumann/SHOWTIME.
WEEK ONE
I've never wanted to work in finance, but the beyond gorg aesthetic of Axe Capital is making me rethink. What sort of things would I have to trade to buy an $83 million home as a pick-me-up after my dog got neutered? Or to afford dropping $125 million to have a building named after me just to stick it to a childhood enemy? (Yes, Axe did both of these things!)
With my mind full of questions and my pockets full of chump change, I know there's only one person who can solve my problems: Wendy Rhoades. Because, y'all, Wendy is the TRUTH. There aren't enough praise-hands emojis in the world to explain how exceptionally bomb this chick is. Her husband, Axe, all of the traders, and literally every other character (well, except Axe's wife, Lara, played by Malin Akerman) turn to her in times of crisis, and she knows exactly how to find the root of the problem and how to solve it.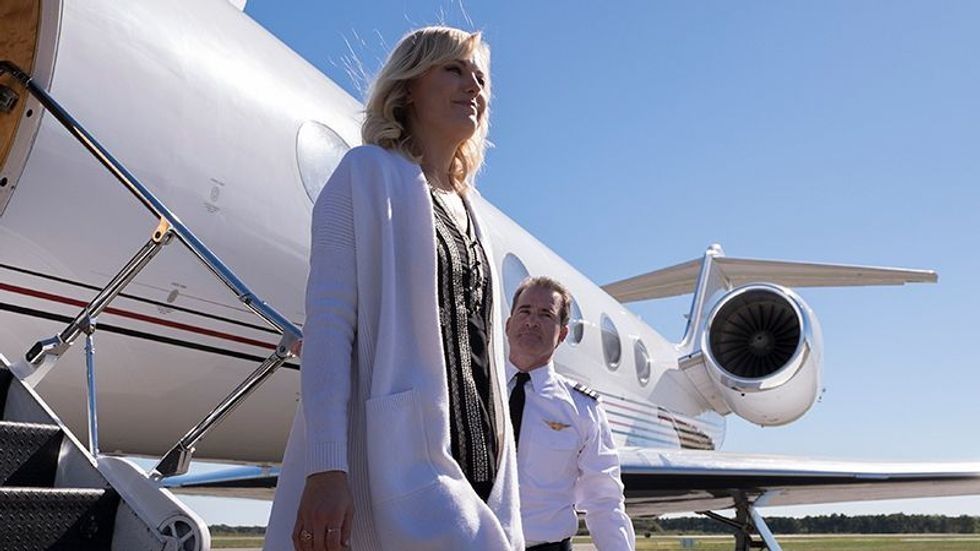 Axe's childhood-friend-turned-wife Lara Axelrod (Malin Akerman) adjusting to her new lifestyle.
Photo Credit: Jeff Neumann/SHOWTIME.
Oh, and she looks chic as hell while doing it. The woman walks out of a SoulCycle class fresh as a daisy, sporting what looks to me like a cashmere coat and an alligator handbag, so naturally Axe is going to offer a year-end-bonus Maserati! You think he'd offer me that, as I walk out of a cheapo cycling class, wearing a stained sweatshirt my husband got for free and a backpack with actual duct tape holding it together? Please.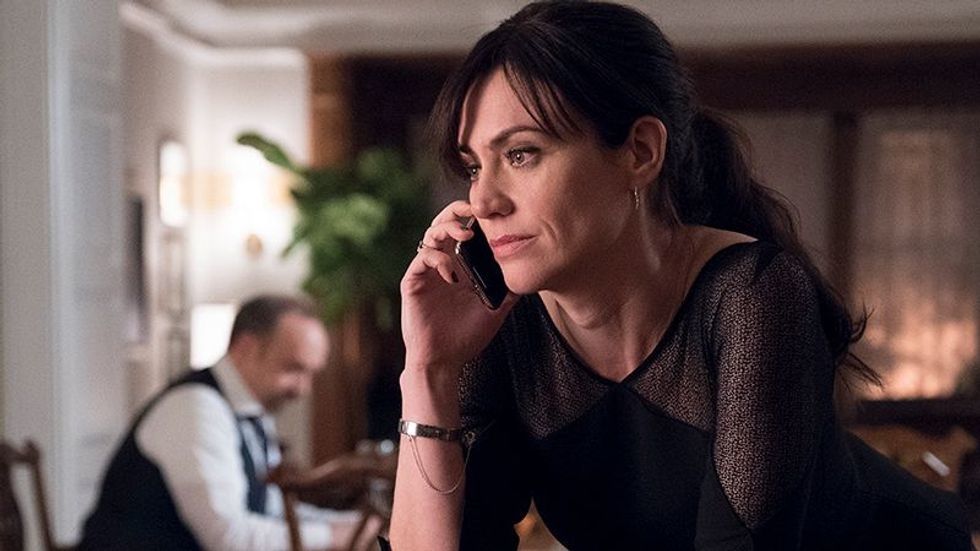 Wendy Rhoades (Maggie Siff) is stuck with the emotional labor on both sides of the Axelrod/Rhoades war.
Photo Credit: Jeff Neumann/SHOWTIME.
WEEK TWO
Not to talk only about Wendy (though I could definitely talk only about Wendy), but Season 2 has begun and Wendy got bangs and she is totally pulling them off. Seriously, is there anything this woman can't do?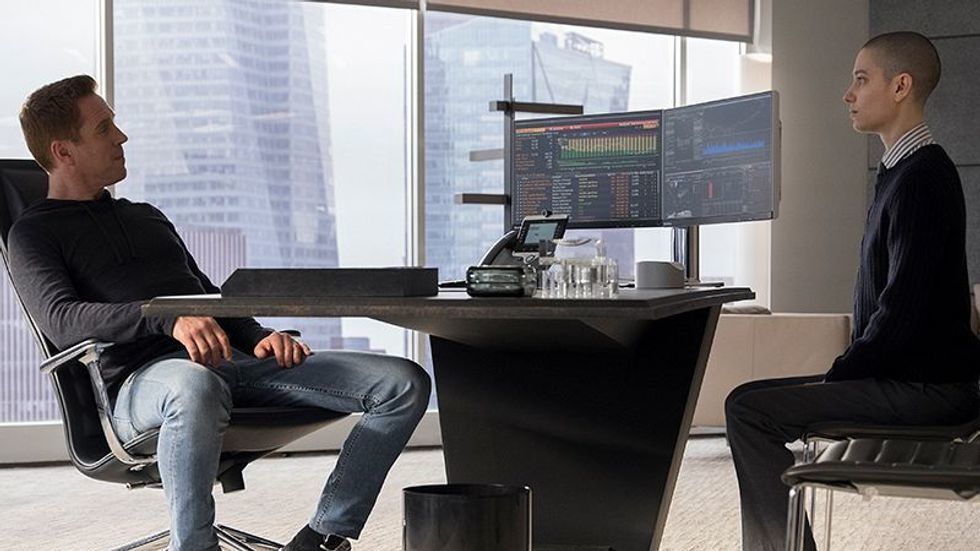 Axe, with Taylor, learns a costly lesson about mentoring the wrong protégé.
Photo Credit: Jeff Neumann/SHOWTIME.
I will, in fact, talk about other stuff in this show, and that other stuff is the new trader on the block, Taylor (Asia Kate Dillon), who is young and bald and whose self-proclaimed pronoun is "them." Taylor's got swagger for days, despite standing out like a perfectly pressed, button-downed thumb, and they are immediately my second favorite character after Wendy (sorry, Axe and Chuck, I'm here for the ladies and the nonbinary). It appears that Axe and I have similar taste—as the season goes on and his relationship with Wendy strains, Taylor becomes Axe's go-to, moving quickly from a measly intern to his chief officer and actual successor when Axe gets in a whole lotta legal trouble thanks to Mr. Wendy Rhoades (Chuck). About that …
WEEK THREE
Well, um, there's been a bunch of money stuff and trading stuff and legal stuff and his-and-hers jets and something called "Ice Juice" and David Strathairn as a man called "Black Jack" and Mary-Louise Parker with a Southern accent and multiple Mark Cuban cameos and Chuck calling Axe "Bob" just to be mean and, oh yeah, Taylor got their heart broken and decided to start a rival firm, and lest I forget, Wendy's bangs have grown to the side and I can't decide my favorite look because they're all so good.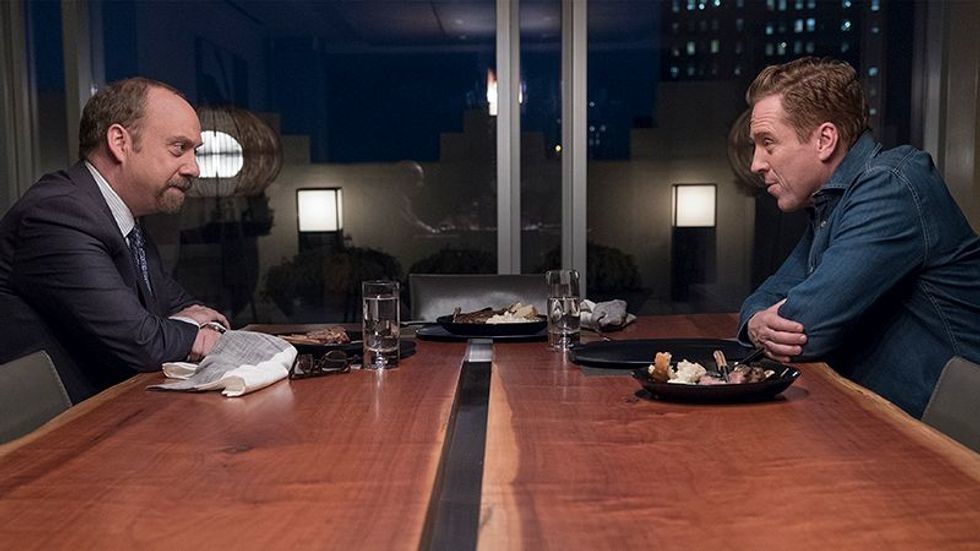 Chuck Rhodes (Paul Giamatti) and Bobby "Axe" Axelrod (Damian Lewis) find common ground.
Photo Credit: Jeff Neumann/SHOWTIME.
Anyway, Wendy managed to unite sworn enemies Chuck and "Bob," and it's going to take all three of them to get revenge on Taylor. I, on the other hand, am still spending 30 minutes trying random words as discount codes on Postmates while trying to decide if I should throw out a bra that has only one functioning strap. Alas, I guess you aren't what you watch.
Originally published in Watch Magazine, January-February 2019.
Season 5 of Billions will return to SHOWTIME soon. Catch up now on SHOWTIME and SHOWTIME ANYTIME apps, as well as via SHOWTIME On Demand.
From Your Site Articles
Related Articles Around the Web