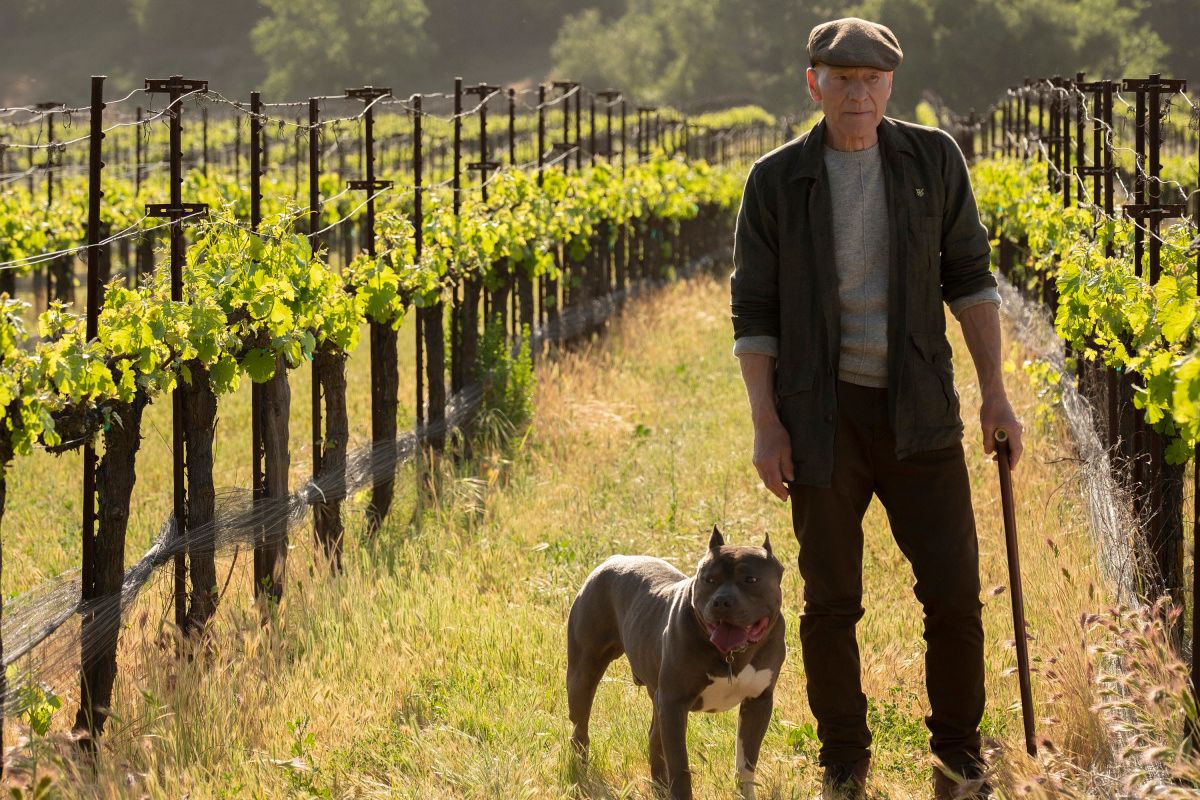 Photo Credit: Matt Kennedy/CBS.
Let the countdown begin: After 17 years, Jean-Luc Picard (Sir Patrick Stewart) returns with Star Trek: Picard, ready to lead a new generation into Federation space. Here, a behind-the-scenes look at all you need to know before this ship takes off.

By Gina McIntyre
STAR TREK: PICARD IS NEITHER A SEQUEL NOR A REBOOT.

Patrick Stewart made his debut as the captain of the U.S.S. Enterprise with the 1987 premiere of Star Trek: Next Generation, a role he would play on the small screen for seven seasons and in four spinoff movies, the last of which, Star Trek: Nemesis, was released in 2002. When the actor agreed to return to the character, both Stewart and showrunner Michael Chabon decided to pick up the story after Picard's last appearance.
"It's definitely not a direct sequel," says Chabon, who is perhaps best known as the Pulitzer Prize-winning author of such novels as The Amazing Adventures of Kavalier & Clay and Wonder Boys. "It is a continuation. In several instances, it incorporates the history of the characters, then uses that history to carry the story forward. We learn along the way what happened in the interval between Nemesis and our show."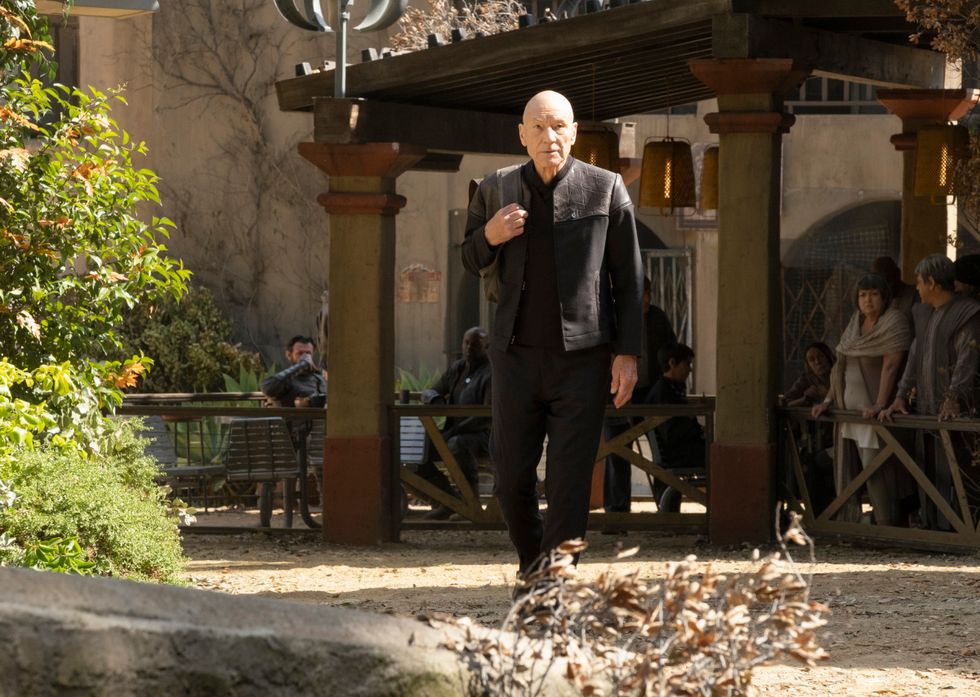 Photo Credit: Trae Patton/CBS
REGARDLESS, NO PREVIOUS TREK KNOWLEDGE IS REQUIRED.
"You don't need to have seen any of the preceding material to be able to enjoy and understand the show," promises Chabon. "That was definitely one of the stated goals—to make the show accessible to someone who is stepping into this world for the first time."
STEWART HELPED SHAPE THE SERIES.
As they were developing storylines, Chabon and the other members of the show's writing staff often met with their star, who also serves as executive producer, to solicit his input. Says the showrunner: "He gave us notes and thoughts, and in some cases had strong, clear reactions—'I love the way this is going, please do more of that,' or 'I'm not crazy about the way that sounds. Could you find a way to take a different approach?' He was quite engaged." No pun intended.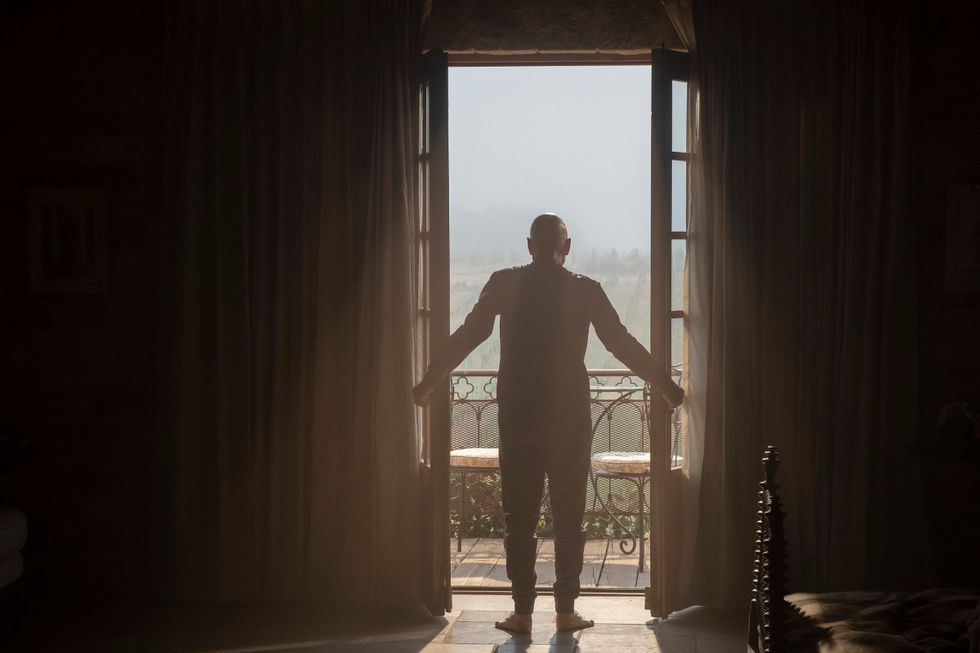 Photo Credit: Matt Kennedy/CBS
WHEN THE SHOW OPENS, PICARD's STARFLEET DAYS ARE BEHIND HIM.
He's now living a tranquil life on his family's vineyard in the Franche-Comté region of France with a trusty canine named (naturally) Number One. When Picard encounters a mysterious woman named Dahj (Isa Briones) seeking help, it sets him on a course for the stars.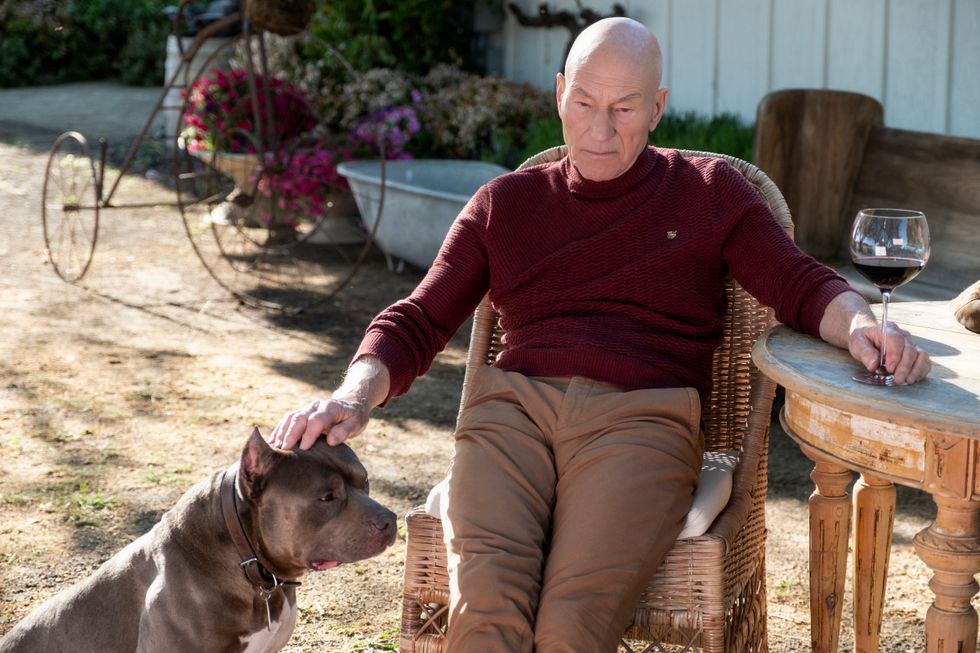 Photo Credit: Matt Kennedy/CBS
STAR TREK: PICARD INTRODUCES A NEW ENSEMBLE OF PLAYERS.
"We were looking to create a cast of supporting characters that would have richness and depth, characters who seemed like they would be interesting foils or partners for Jean-Luc Picard," says Chabon. In addition to Briones' Dahj, those include Alison Pill as researcher Dr. Agnes Jurati; Santiago Cabrera as ex-Starfleet officer Cristobal Rios; Harry Treadaway as a Romulan named Narek; Evan Evagora as 17-year-old Romulan Elnor; and Michelle Hurd as Raffi Musiker, a woman from Picard's past.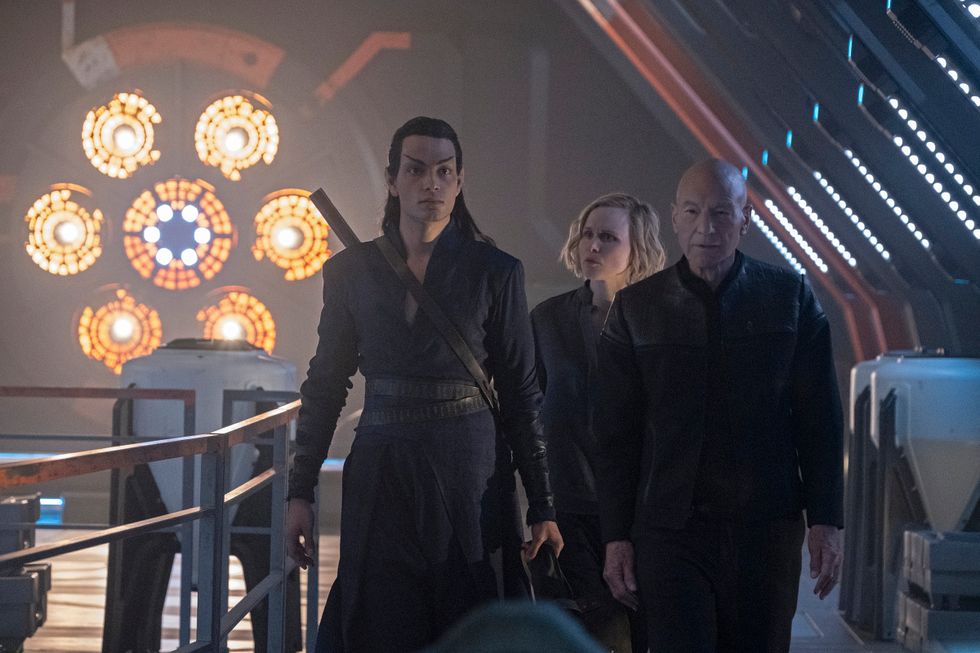 Evan Evagora as Elnor; Alison Pill as Dr. Jurati; Patrick Stewart as Jean-Luc Picard.
THE SHOW BRINGS BACK FAMILIAR FACES.
Brent Spiner, Jonathan Frakes, and Marina Sirtis reprise their respective Next Generation roles of Data, William Riker, and Deanna Troi. Next Gen alumnus Jonathan Del Arco returns as Borg drone Third of Five/Hugh, while Star Trek: Voyager star Jeri Ryan appears as her fan-favorite character, Seven of Nine.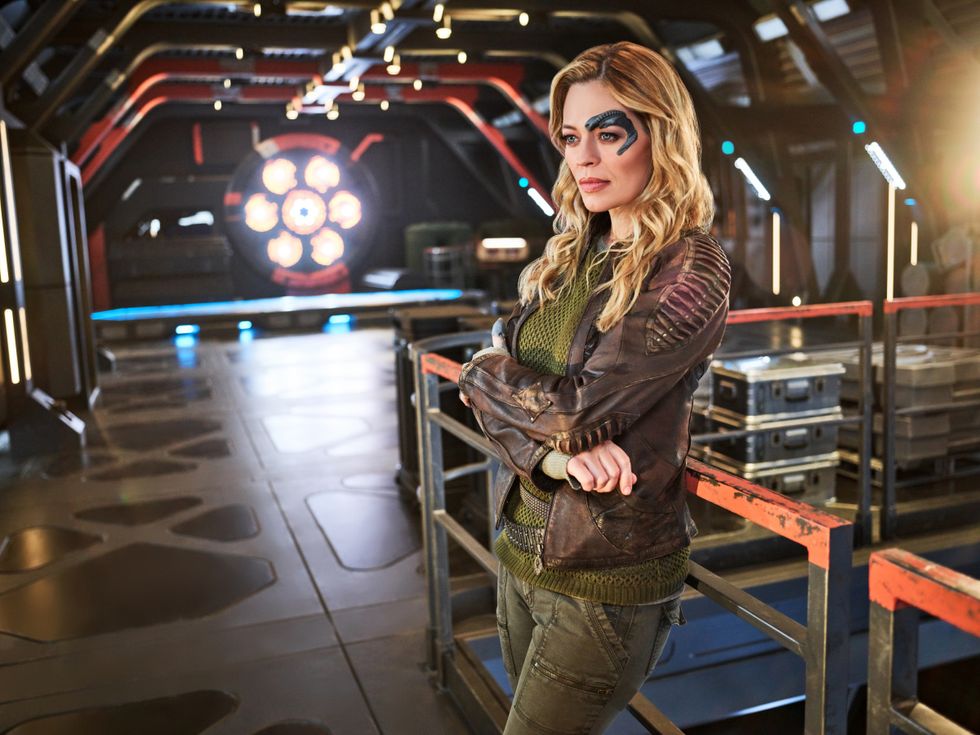 Jeri Ryan as Seven of Nine.
Photo Credit: James Dimmock/CBS
DIE-HARD FANS SHOULD KEEP AN EYE OUT FOR EASTER EGGS.
"There definitely are all kinds of indirect references, overt references, and more," says Chabon, whose passion for all things Trek dates to his childhood. "We're telling a story about a new time and a new place with new characters, but we did try, whenever possible, to allow our love of and knowledge of the earlier series and the films to inform the choices we made."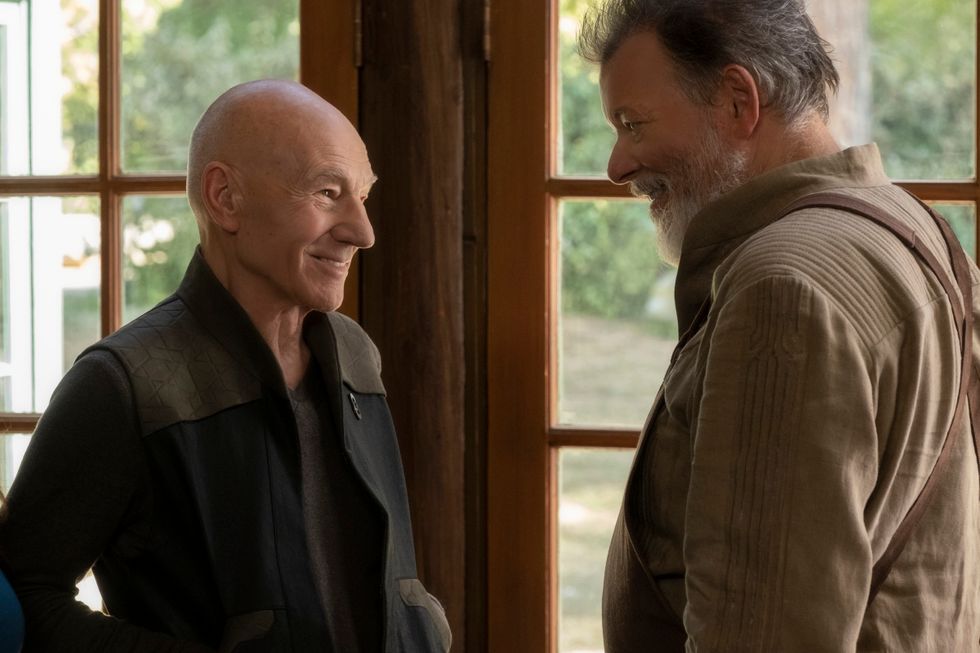 Sir Patrick Stewart as Picard and Jonathan Frakes as Riker
Photo Credit: Trae Patton/CBS
STEWART COMMANDS THE SET, AS WELL AS THE BRIDGE.
"He's such a magnificent actor," says Chabon of his star. "To hear a line that could have been a throwaway transformed through his incredible gifts as an actor is a never-ending thrill."

JEAN-LUC PICARD IS THE IDEAL HERO FOR OUR TIMES.
"He has an absolute principled commitment to the ethos of the United Federation of Planets, which is one of tolerance, science, inquiry, understanding, acceptance, and courage," Chabon explains. "Something we see exhibited in the course of Star Trek: Picard is Picard's willingness to take another look at his beliefs or his actions and consider them, and if he makes a mistake to try to rectify it—if he was wrong, to acknowledge that he was wrong. That, in itself, is a kind of strength that we see all too little of in our leaders today."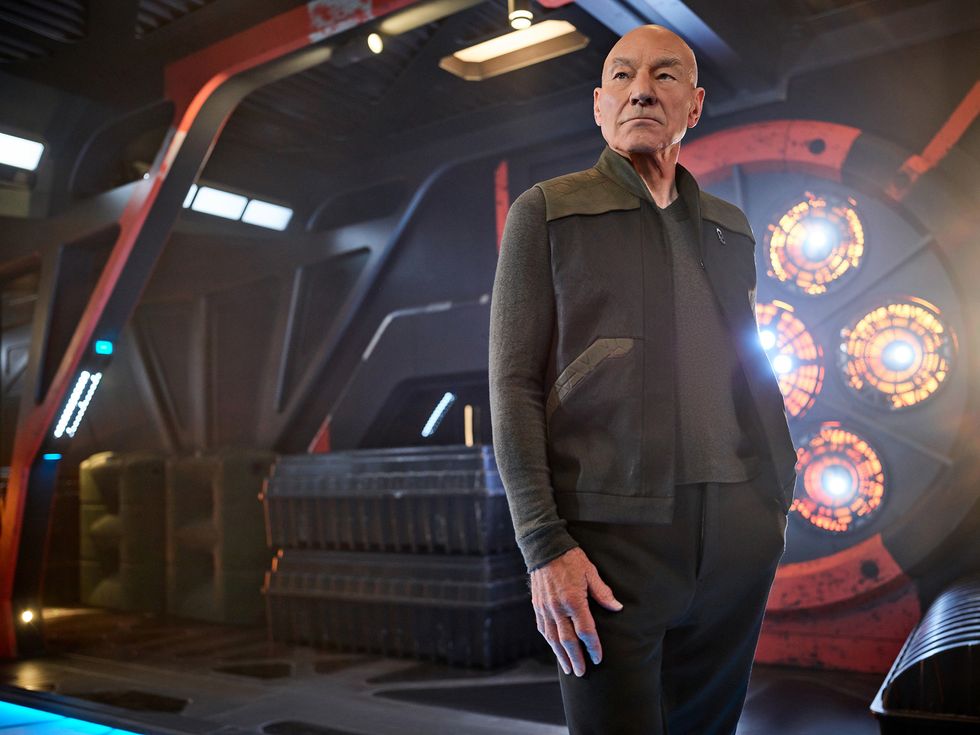 Photo: James Dimmock/CBS
Star Trek: Picard streams exclusively on CBS All Access.
BOLDY GOING ON ...
The Star Trek universe is alive and well in CBS All Access' stellar franchise offerings.
Star Trek: Discovery
The first scripted
Trek
series to premiere on the streaming service in 2017 follows the crew of the U.S.S. Discovery as they encounter new worlds. Its second season concluded with a massive cliffhanger that saw the ship's heroes—played by a cast that includes Sonequa Martin-Green, Anthony Rapp, Ethan Peck, Mary Wiseman, and Michelle Yeoh—disappearing through a wormhole. In season 3 in 2020, the setting will be almost 1,000 years in the future.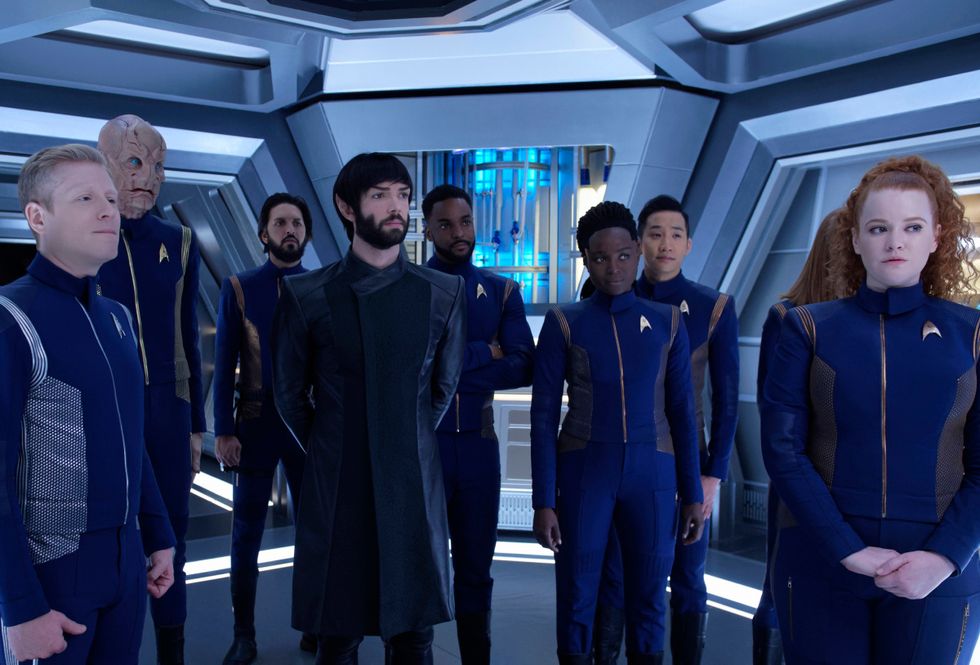 Photo Credit: Ben Mark Holzberg/CBS
Star Trek: Short Treks
This anthology series of shorts started as a spinoff of Discovery but has grown to include both live-action and animated. The new season even features an appearance by some troublesome Tribbles. Streams on CBS All Access.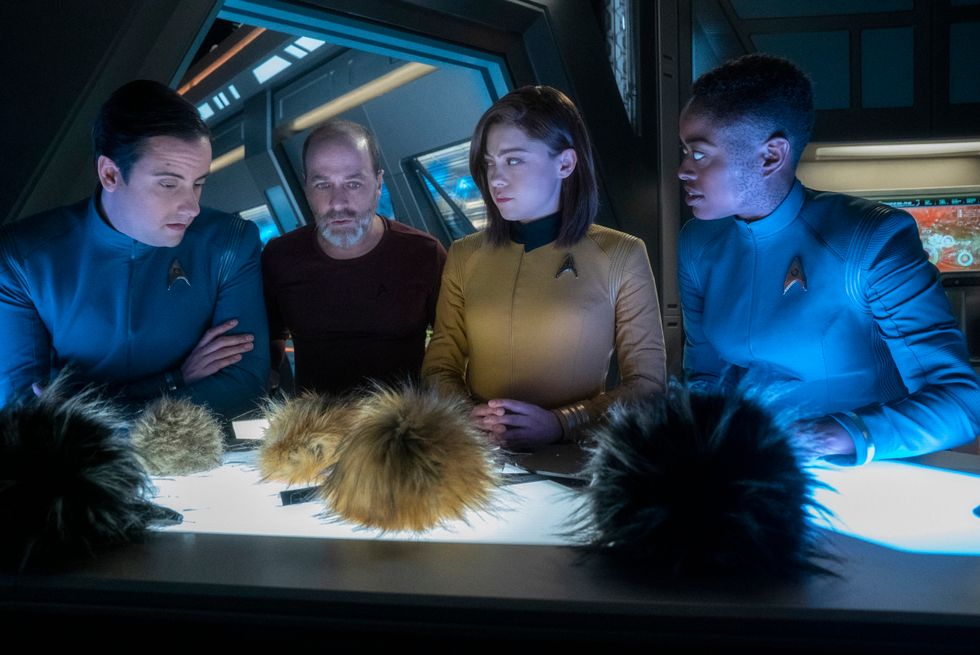 Photo Credit: Michael Gibson/CBS
Star Trek: Lower Decks
Debuting later this year, the 10-episode animated series is developed by Rick and Morty head writer Mike McMahan and centers on four ensigns serving on a ship called the U.S.S. Cerritos. Jack Quaid voices the show's protagonist, straight-laced Voyager veteran Jeri Ryan returns as Seven of Nine.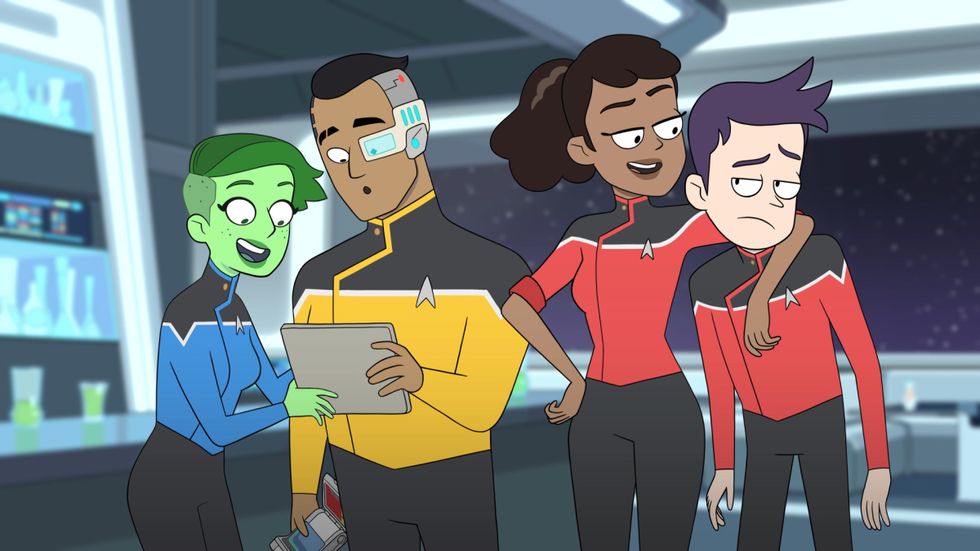 Photo Credit: CBS Interactive, Inc.
Section 31
Still in development is this Discovery spinoff/sequel, which follows Michelle Yeoh's Philippa Georgiou during her time as an agent of a clandestine Federation intelligence service.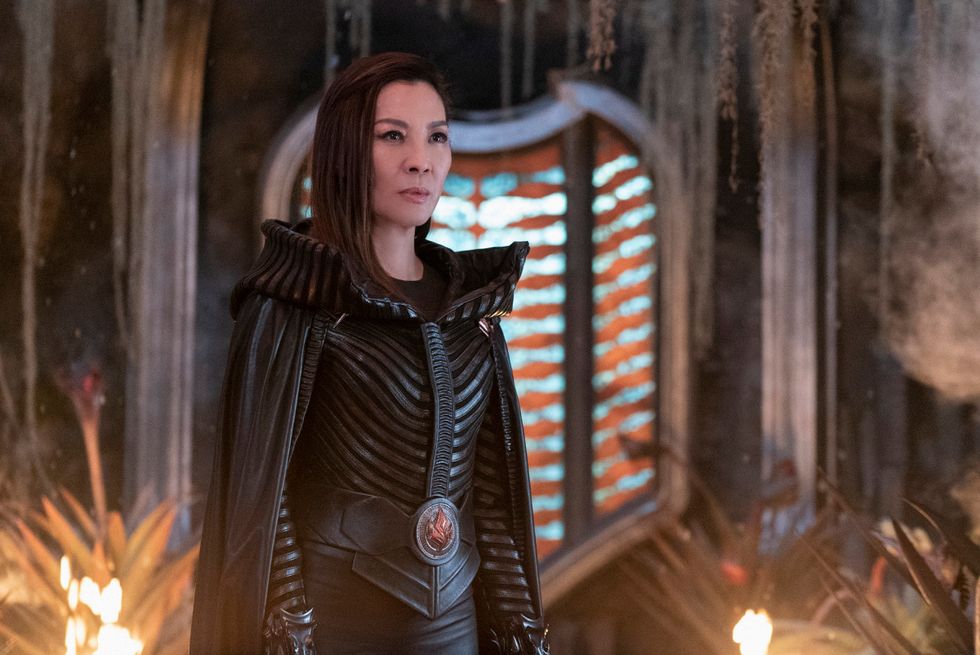 Photo Credit: Michael Gibson/CBS