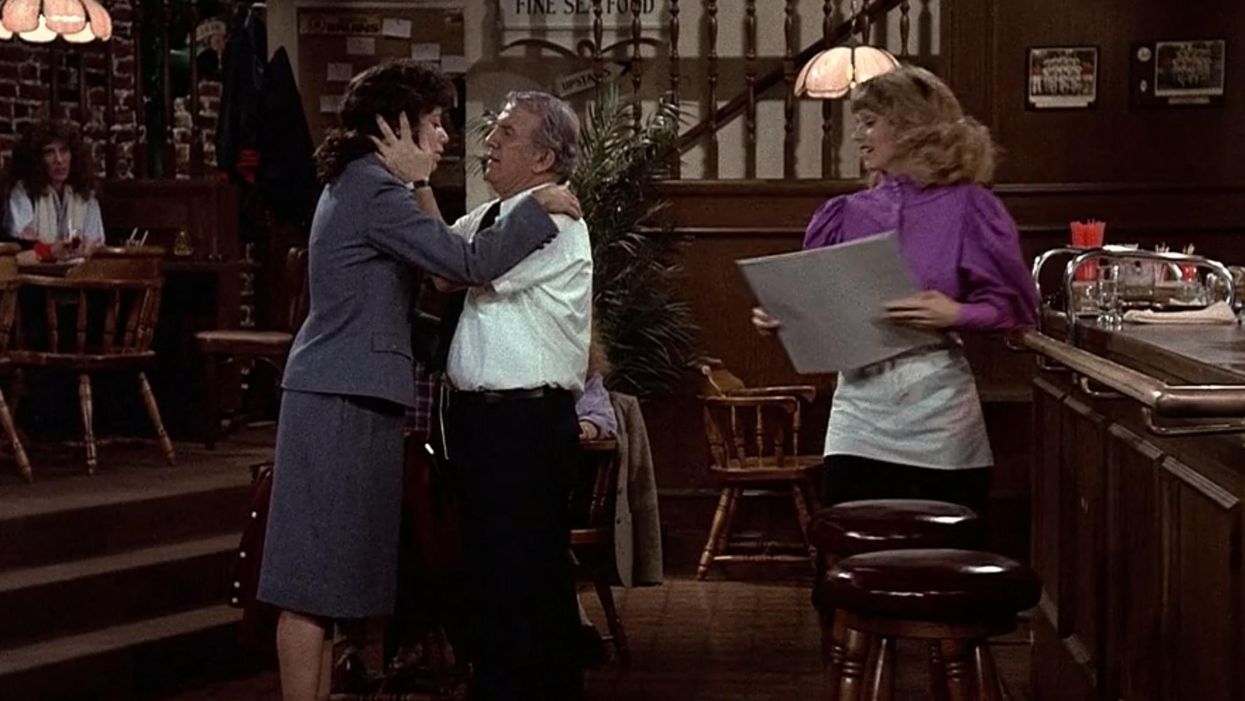 Photo: Paramount+
The lovable bartender has such a way with words.
By Katey Clifford
Whether you remember him as Coach, Ernie Pantusso, or just "my favorite character from Cheers," we can all agree that the late Nicholas Colasanto created a character no one could forget. In only three seasons on the all-time great sitcom, Colasanto brought the charming Boston bartender to life with scene-stealing moments that could make you laugh and cry—and laugh until you cried.
Paramount+ has the entire show's run available to stream, so we're inviting you to reacquaint yourself with some of Coach's pearls of wisdom and most touching scenes. Tending bar offers plenty of situations for Coach to give advice to friends, patrons, strangers, and everyone in between. Is it always good advice? Well … as Coach says himself:
"Sometimes I just think of the smartest thing to say and then it comes out so stupid."
"That doesn't make any sense," Carla responds.
"Well, you should have heard it before I said it."
Let's look at who Coach was, the man behind the beloved character, and some of our favorite moments from the show.
SUBSCRIBE NOW: Enjoy 4 Digital Plus 2 Print/Digital Issues Of Watch Per Year — For Free!

Stream Cheers on Paramount+.

The Man Behind Coach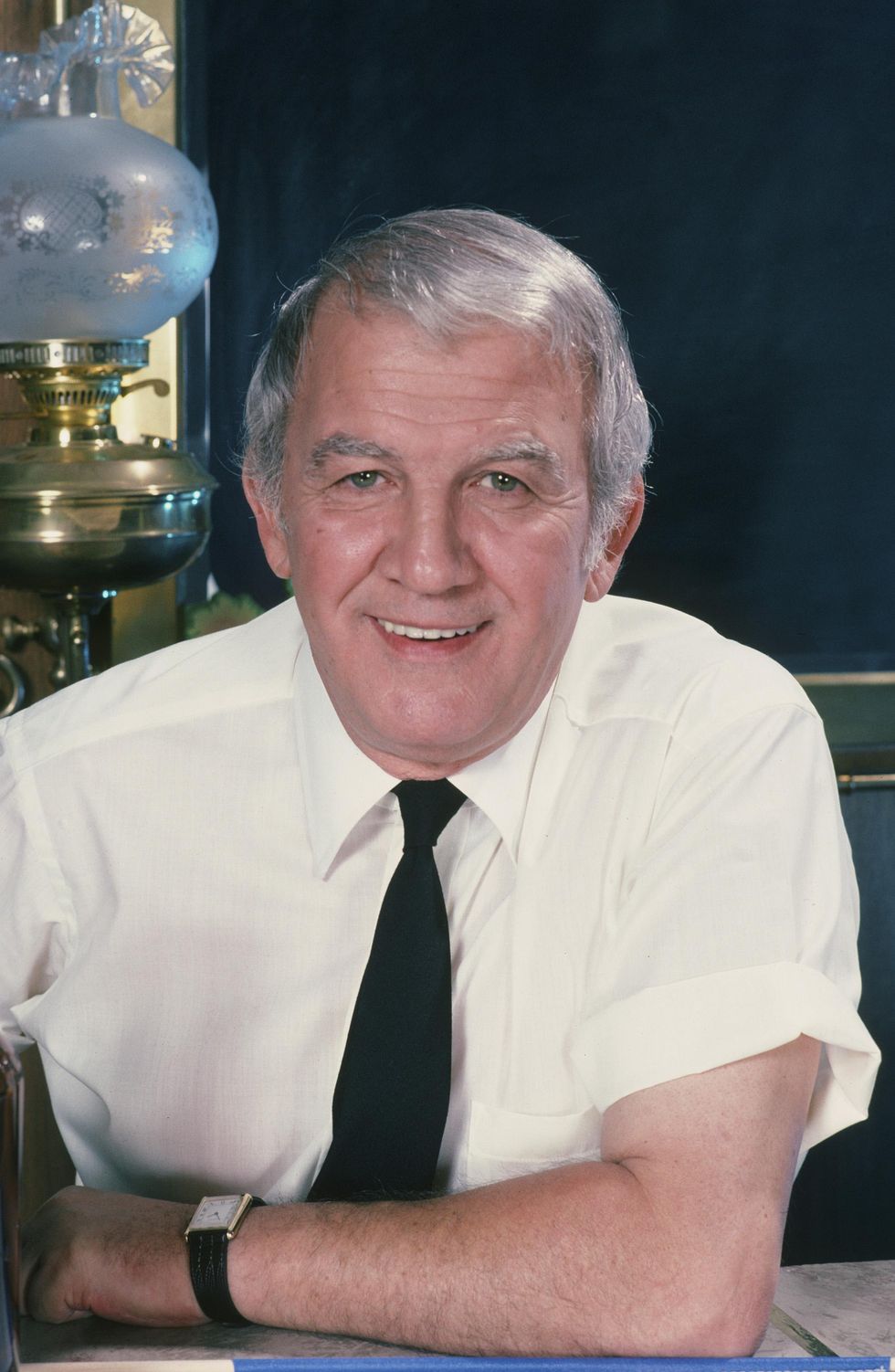 All smiles
Photo: Herb Ball/NBCU Photo Bank/NBCUniversal via Getty Images
Nicholas Colasanto started his adult life like many men of his generation, serving in World War II after joining the U.S. Navy in 1943. He went on to attend the American Academy of Dramatic Arts after his honorable discharge in 1945. Coach's backstory was similar—he served in the Navy before heading to the Boston Red Sox. But the parallels between Colasanto and his signature character stop there.
Colasanto developed a passion for acting while seeing Henry Fonda perform on Broadway. Inspired to pursue the craft, he performed off Broadway and starred in TV commercials, then enjoyed a long and varied acting career before landing the role he's best known for.
His time on Cheers not only earned Colasanto fans' affection, but also netted him three Emmy nominations for Outstanding Supporting Actor in a Comedy Series.
Action!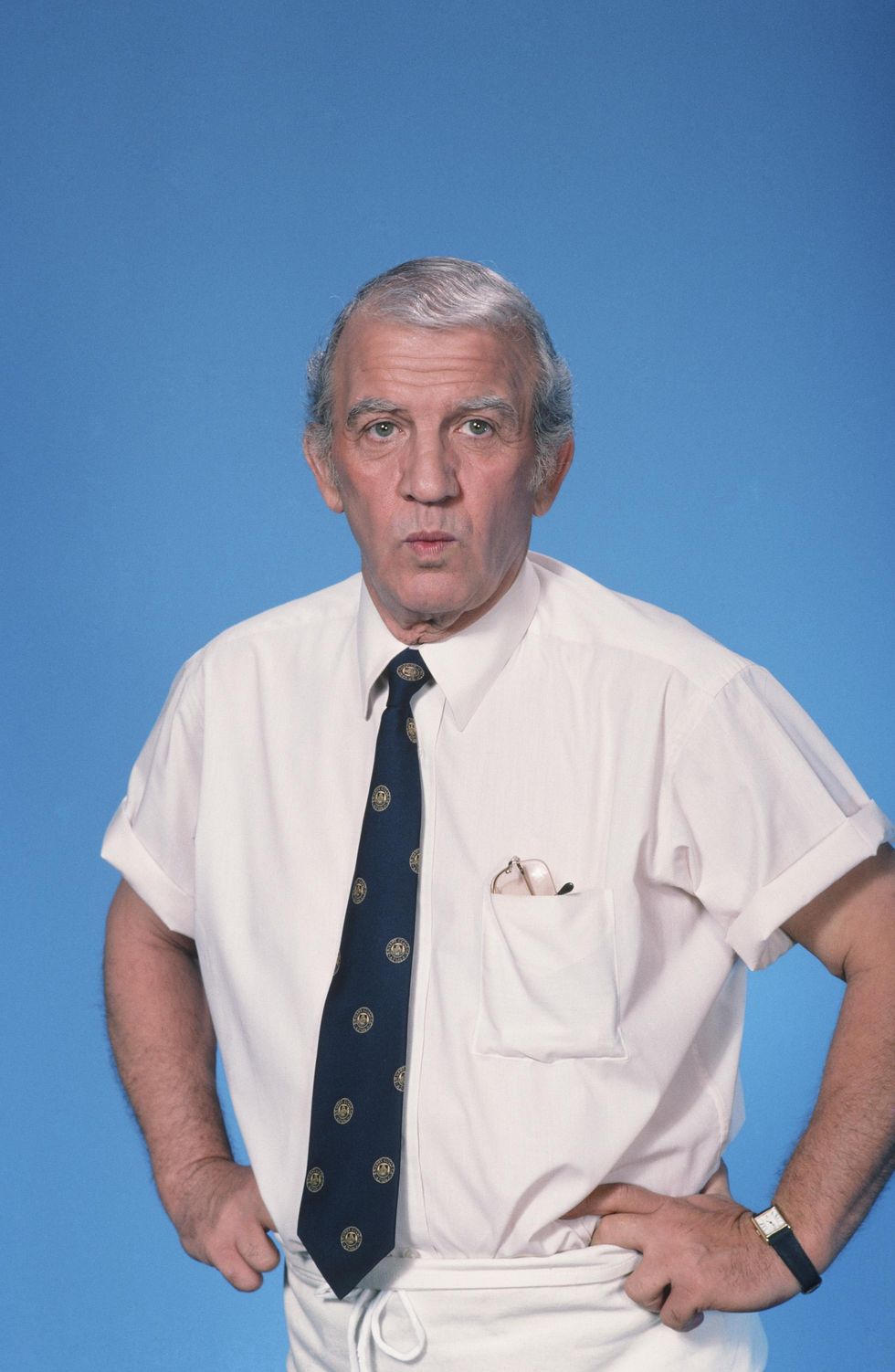 Colasanto was a director and dramatic actor before winning fans' hearts as Coach.

Photo: Herb Ball/NBCU Photo Bank/NBCUniversal via Getty Images
Before he became Coach, Colasanto came into his own as a TV director in the 1960s and 1970s. He worked on marquee shows of the era, including S.W.A.T., Hawaii Five-O, Bonanza, Columbo, and Starsky and Hutch.
His big-screen resume includes role that placed him in the world of sports, even as a mentor, well before he offered his first words of advice to Sam Malone (Ted Danson). He appeared in two boxing movies: Fat City and Martin Scorsese's classic Raging Bull. In Raging Bull Colasanto is a mob boss; in Fat City he portrays Ruben, manager and trainer to washed-up boxer Billy Tully (Stacy Keach).
Colasanto also appeared in The Counterfeit Killer and Family Plot.
Coach: Man, Myth, Legend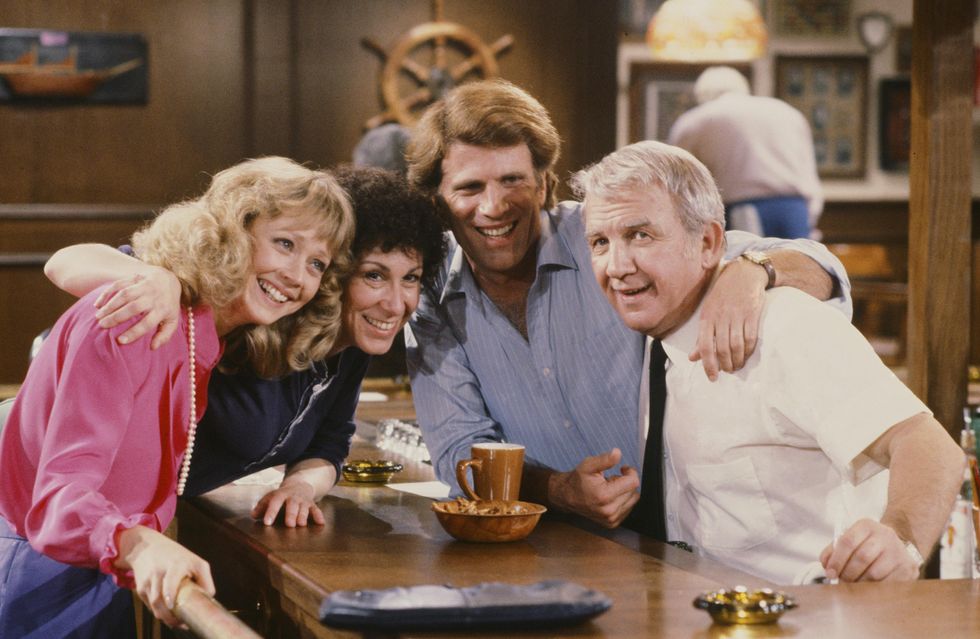 The Cheers gang
Photo: Herb Ball/NBCU Photo Bank/NBCUniversal via Getty Images
Although Colasanto took many dramatic roles, his most iconic performance was as the understated and congenial comic heart of Cheers. Sam Malone's co-bartender may have been a little confused, but he was always ready and willing to help anyone in need.
Coach was an outstanding bartender and an even better friend to Sam, Norm, Diane, Carla, Cliff, and the whole gang at Cheers. Here are some of our favorite Coach moments to highlight Colasanto's incredible performance.

Hit By Pitch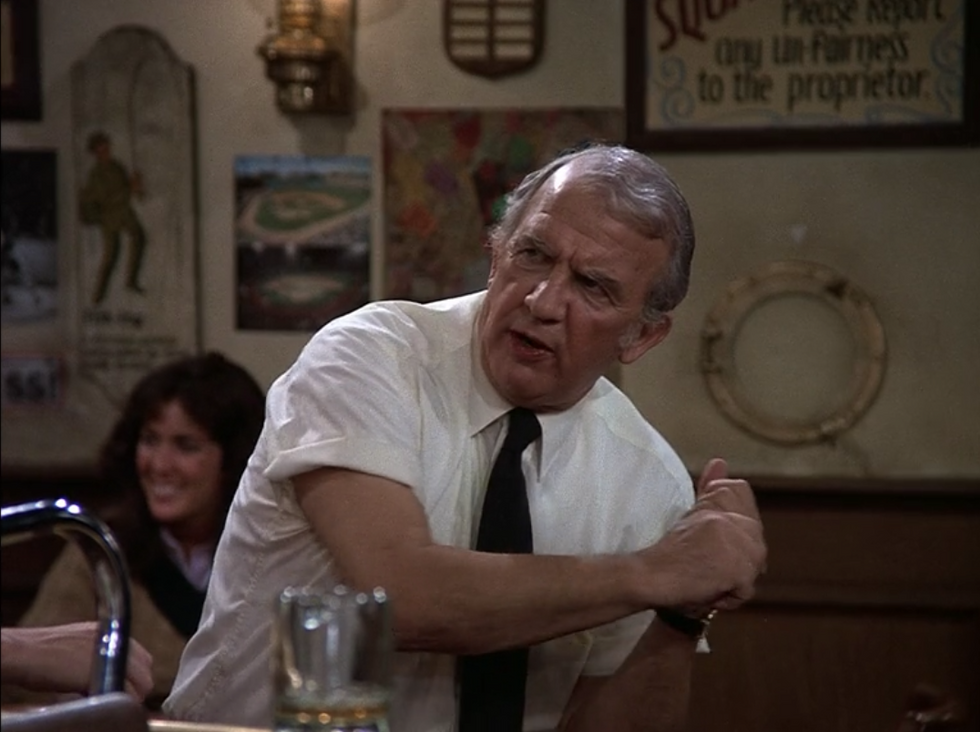 When it comes to baseball, Coach is a pro.
Photo: Paramount+
Season 1, Episode 3: "The Tortelli Tort"
Just listen to Coach for a few minutes and it's not hard to tell that he took one too many pitches to the old noggin on the baseball diamond. The man is always taking one for the team—in fact, he used to do it literally!
Being hit by a pitch was a skill he perfected in his playing days, earning him the highest average in the majors for getting on base the hard way. And he's very proud of that fact.
One infamous night at the bar, Coach is recalling his skill at getting on base. He's sure he can replicate the team-first strategy of his past, so he makes Diane (yes, Diane!) throw a pitch his way to see if he can take it.
And boy, oh, boy, does he! With a mix of Diane's terrible throw across the bar and Coach's impressive drive to get hit, she manages to hit him right in the head. Yikes!
That's a comedy home run, Coach.
Naming Conventions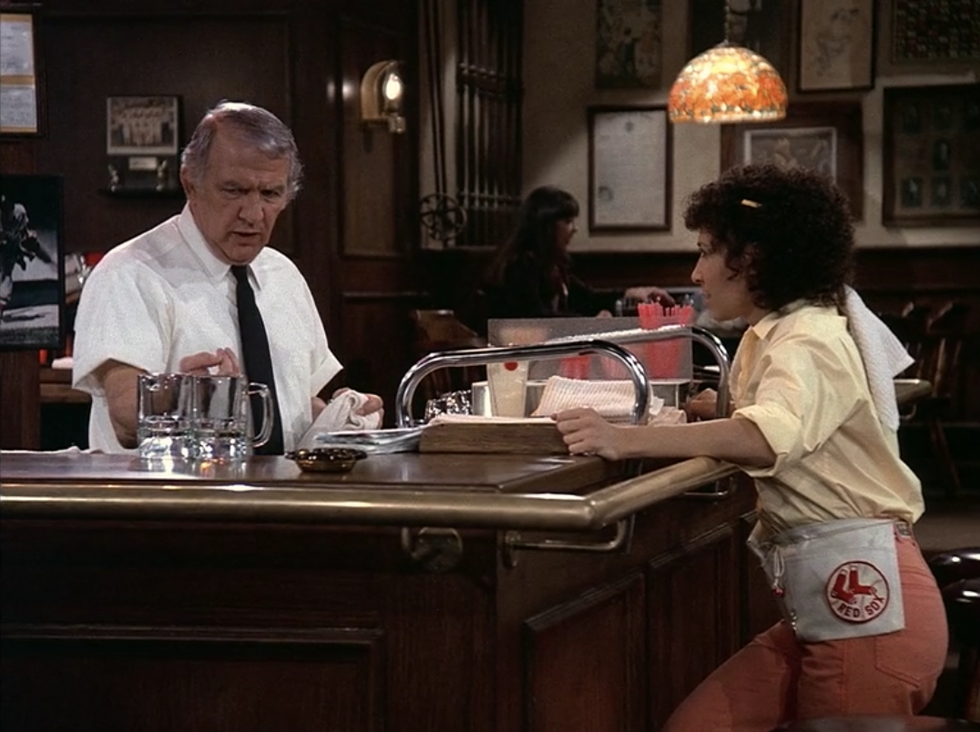 This is the bar where everyone knows your name, after all.
Photo: Paramount+
Season 1, Episode 5: "Coach's Daughter"
Coach is, you might say … a little forgetful. Someone once called the bar looking for him and Coach asked around to see if anyone named Ernie Pantusso was there! Despite not being able to recall his own name, Coach remembers the names he gave every single piece of glassware at the bar. When Carla asks which drink on the tray is which, Coach tells her that the gin collins is in Larry and the vodka collins is in Steve.
Apparently, each glass is unique ... except for the Wilson brothers. Those two are just too darn similar.
Words, Words, Words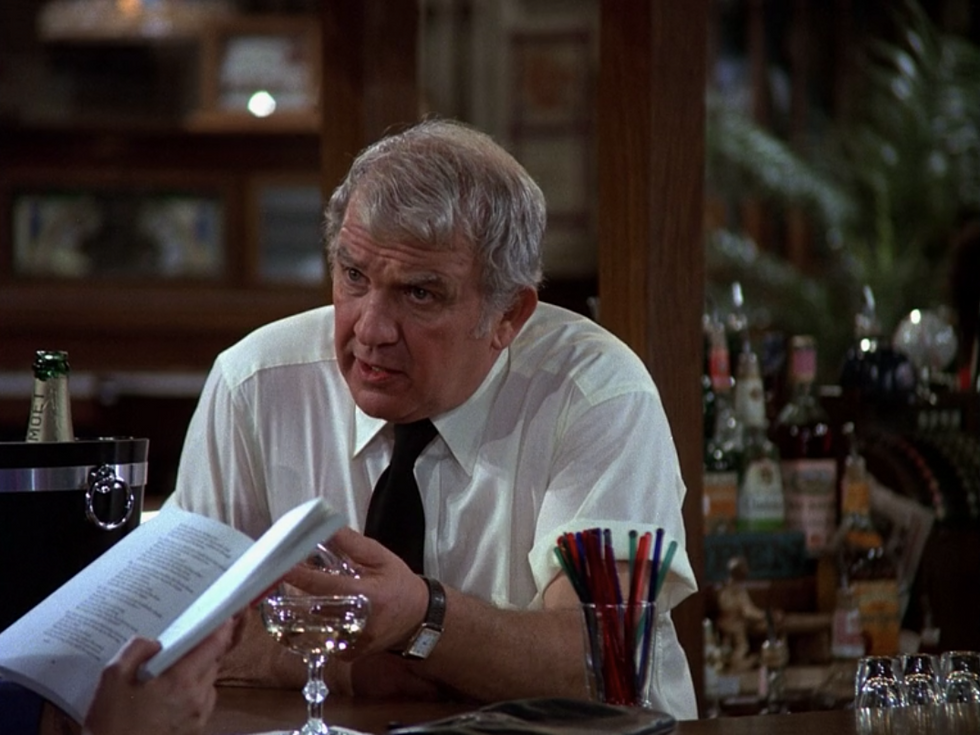 Coach never went to high school but is working on a novel.
Photo: Paramount+
Season 1, Episode 1: "Give Me A Ring Sometime"
Coach has quite a way with words. He tells Diane he's been working on a novel for six years.
"You're writing a novel?" Diane asks.
"No, reading one!"
Acceptance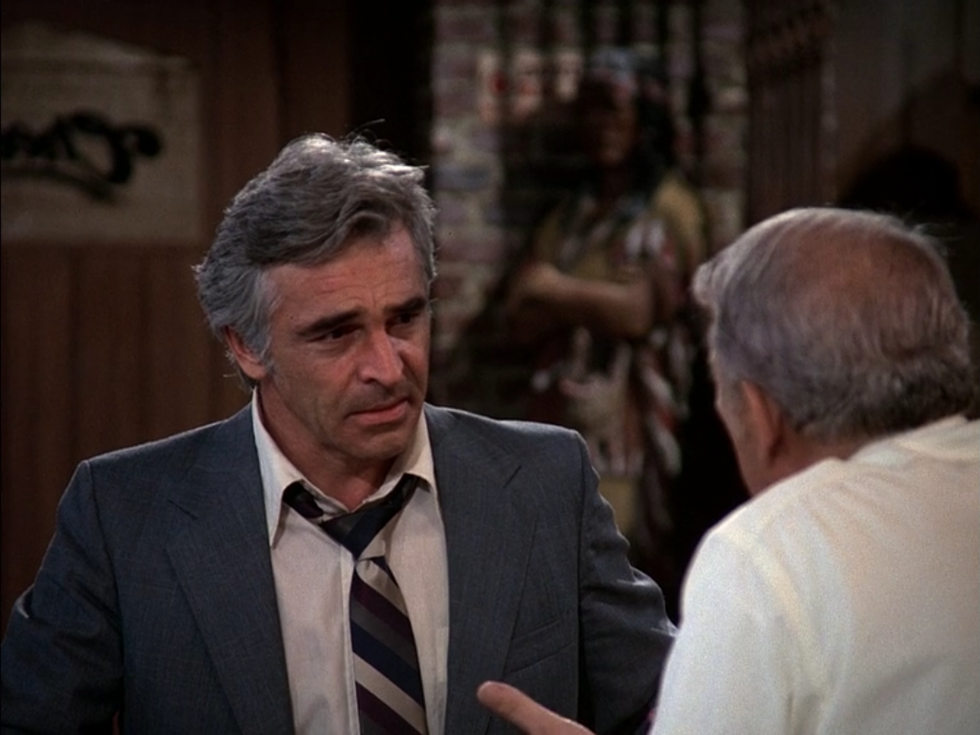 Leo looks for advice.
Photo: Paramount+
Season 1, Episode 2: "Sam's Women"
When a man named Leo comes into the bar looking for advice from the guy two owners before Sam, Coach says he'll be happy to pinch hit as a counselor. At first, Leo isn't sure, but begrudgingly he shares his troubles with Coach: Leo explains that his son brought home a Black fiancé.
Coach finds an easy solution: Just sit Leo's son down … and what's Leo's son's name? Ron. And what's Ron's fiancé's name? Rick. Uh, oh. For a 1980s man that's quite a problem. Have no fear! Coach manages to convince Leo that he loves his son and he'll lose him if he doesn't accept him. Good on you, Coach!
High School is Tough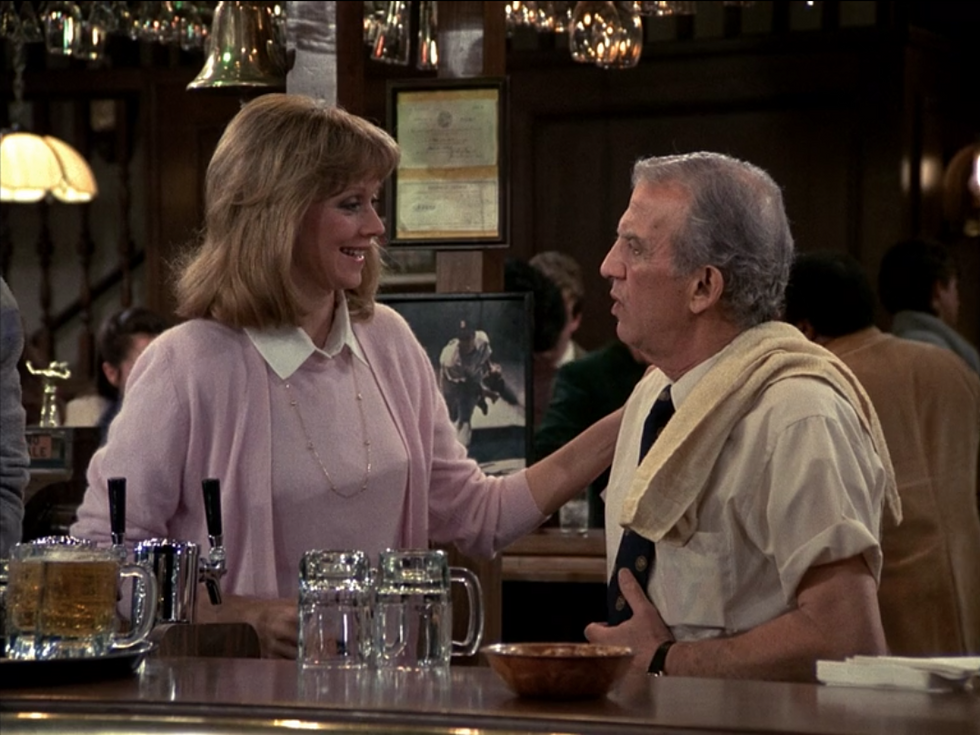 Diane supporting Coach.
Photo: Paramount+
Season 3, Episode 16: "Teacher's Pet"
When Sam needs just one more class—geography—to finish his diploma, Coach boasts that he was actually very good in geography, despite being a high school dropout. Or … maybe it was geometry? To find out, he asks Diane to give him a geometry question.
"What's the sum of the angles in an isosceles triangle?" she asks.
Coach is quick with the answer: It was geography!
When Harry Meets George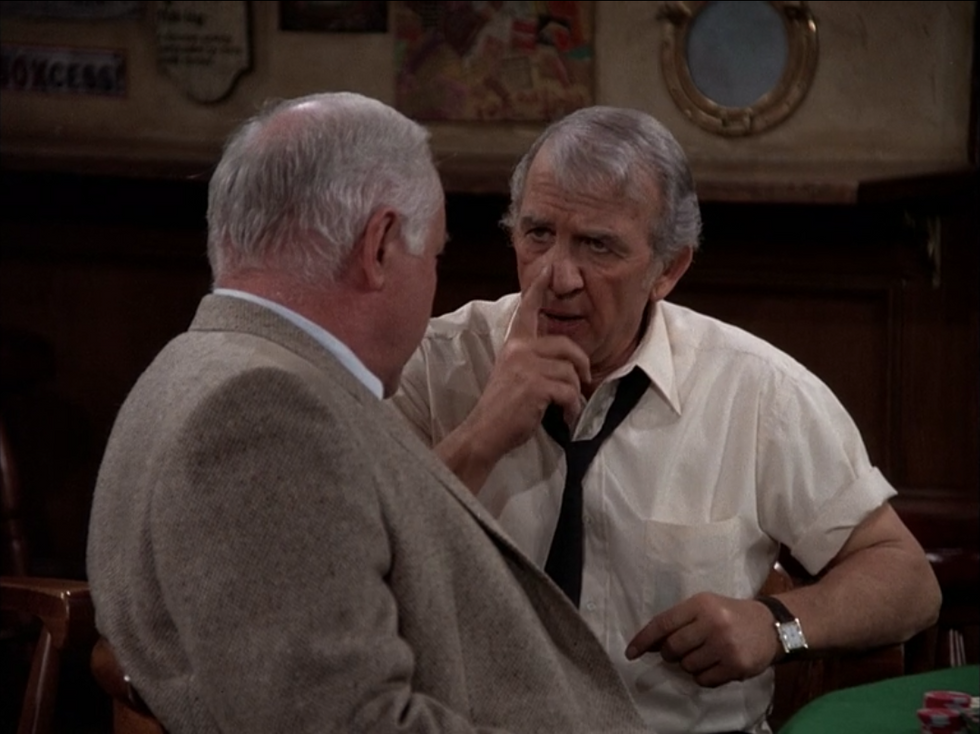 The old sign for bunt is Coach's preference when it comes to making signals.
Photo: Paramount+
Season 1, Episode 19: "Pick A Con ... Any Con"
When Coach loses $8,000 to his friend George in cards, Sam, neighborhood conman Harry, and Coach devise a plan to get Coach's cash back. With $5,000 of Sam's own money on the line, the stakes are high. It looks like Harry has lost to George ... until the Cheers crew discovers that the two were in cahoots to make a quick buck.
Undaunted, Coach works out a deal with George to try to win the money back from Harry: He'll give a signal by scratching his nose to indicate Harry can't beat three queens. In the end, it turns out Harry and Coach have been secretly working together against George the whole time—and everyone gets their money back.
The Long-Winded Proposal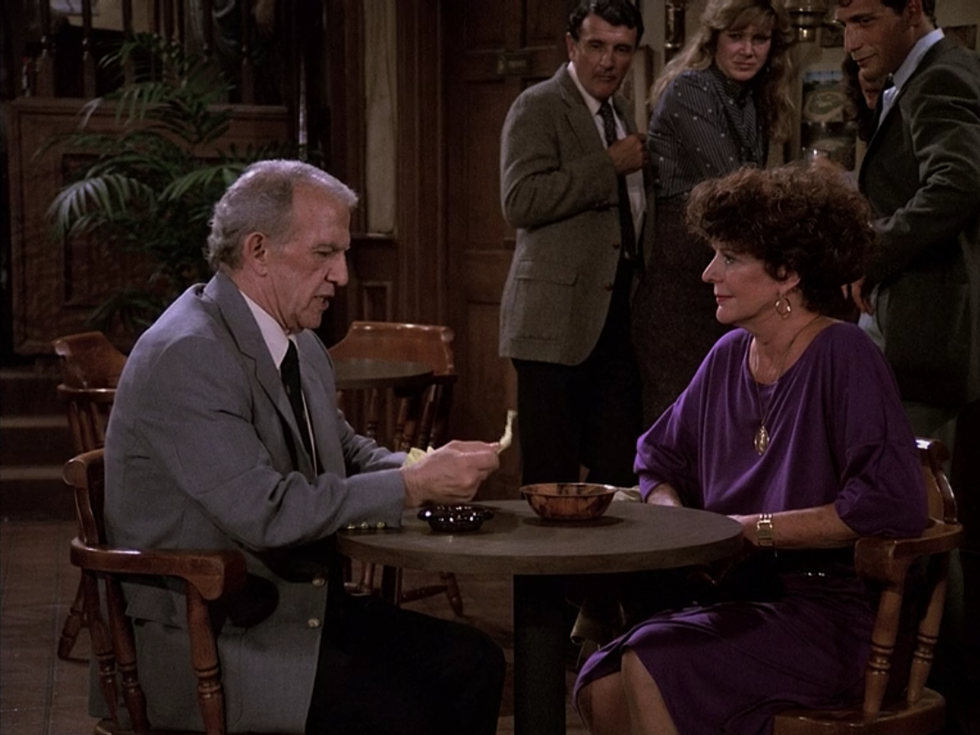 Coach finds love once again.
Photo: Paramount+
Season 3, Episode 6: "Coach In Love: Part 1"
When Coach falls in love with Irene, he has quite a marriage proposal planned: "l'm not a rich man. I'm not a young man. I'm not a handsome man. I'm not a tall man. I'm not a strong man. I'm not a talented man. I'm not a well-traveled man. I'm not a smart man. I'm not a milkman. I'm not a fat man. I'm not a gingerbread man. I'm ..."
Go Get 'Em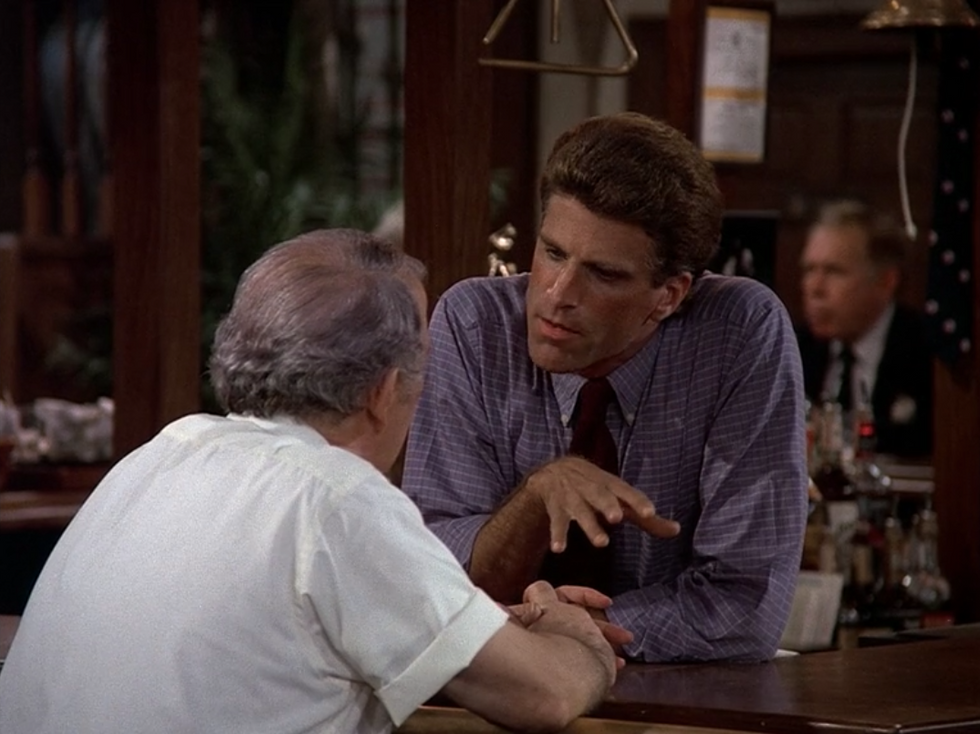 Sam and Coach have a close relationship.
Photo: Paramount+
Season 1, Episode 5: "Coach's Daughter"
When Coach's daughter comes into town, he's the one in need of assistance. Sam reminds him of a time he was in a jam on the mound. Sam was about to step in as relief pitcher, and the thing that saved his game was Coach's simple advice: "Go get 'em."
Sometimes all you need is someone to root for you, and Coach is happy to be that person. He always cheers his friends on.
From his baseball days with Sam to his time as co-bartender, Coach wants the best for others (like secretly hoping Sam and Diane will get married)—even if his generous wishes are not in his own best interest. Must I remind you of his hit-by-pitch average?
Not Quite Beautiful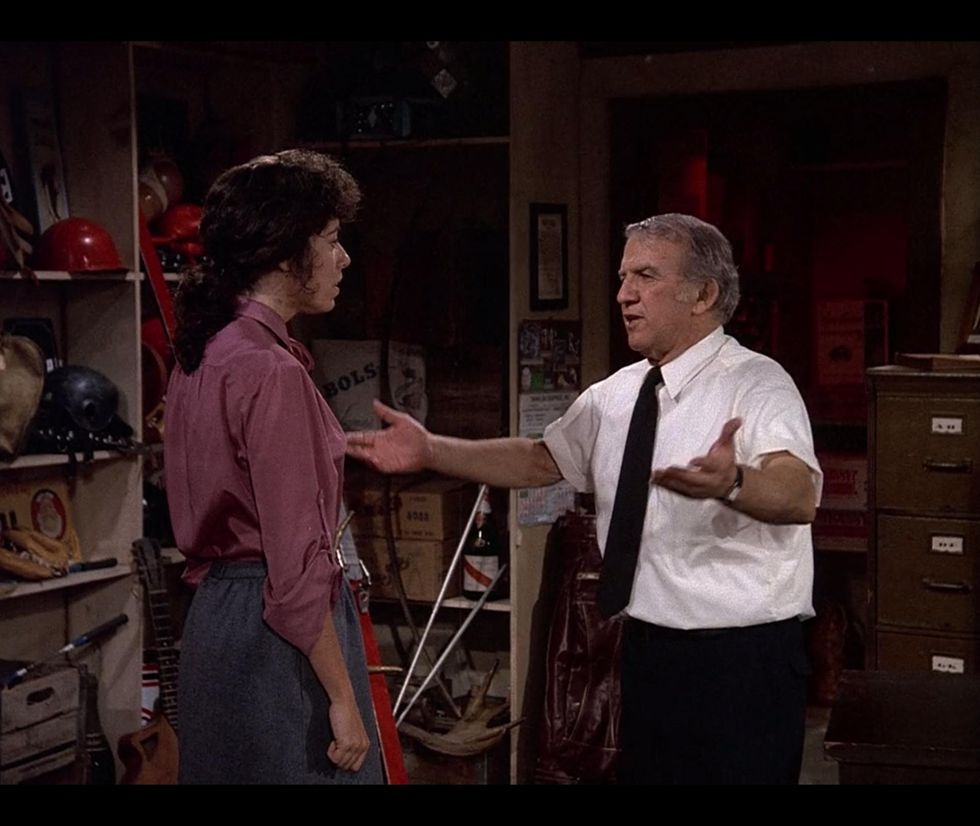 Coach is always there with open arms.
Photo: Paramount+
Coach's daughter Lisa (played by Allyce Beasley before she landed her most famous role as Agnes DiPesto in Moonlighting!) is in hot water when she brings her revolting, abrasive fiancé Roy to Cheers to meet her father. After much prodding, Lisa confesses to Coach that she doesn't want to marry the guy. She just thinks she should because he's the first man to propose—and she's afraid he'll be the last.
Loving Father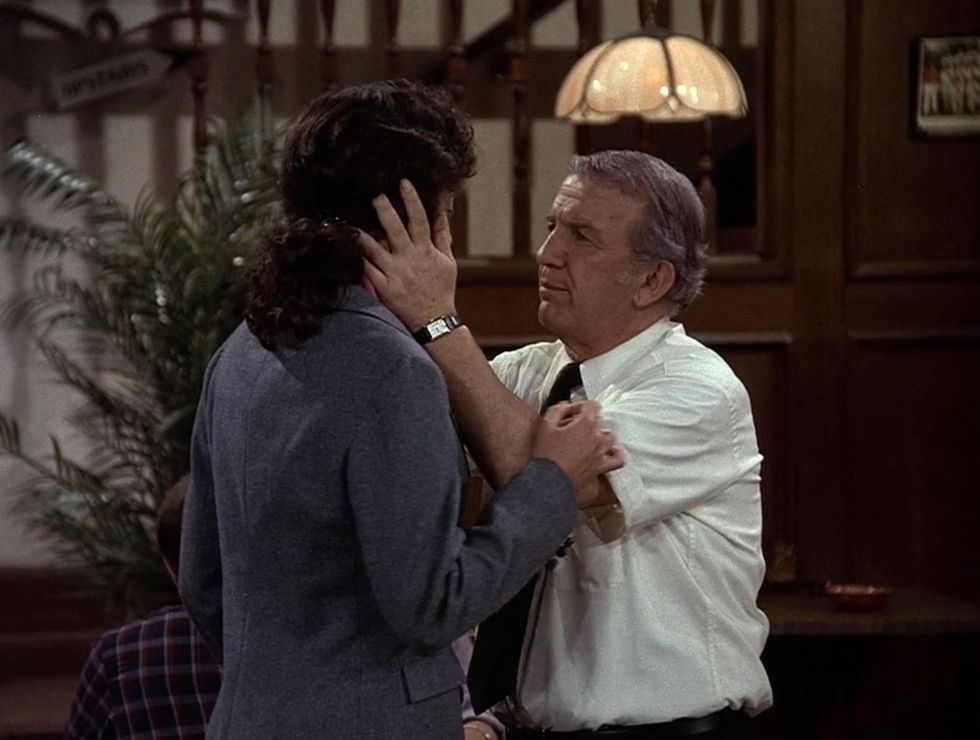 Doting dad Coach is always there for his daughter Lisa.
Photo: Paramount+
The only reason Lisa is settling for less than she deserves, we discover, is that she lacks self confidence. She doesn't think she's beautiful. Coach tells Lisa she looks just like her mother—instilling her with the confidence she needs to avoid settling for someone less kind and loving than her father.
In a defiantly bold move, Lisa walks up to Roy and tells him she won't marry him, all because of Coach's just-right words. He reminds us that there's nothing quite as sweet as the love between a father and his daughter.
After saving Lisa from an unhappy marriage, Coach knows just the trick to cheer her up. Ice cream!
Coach's End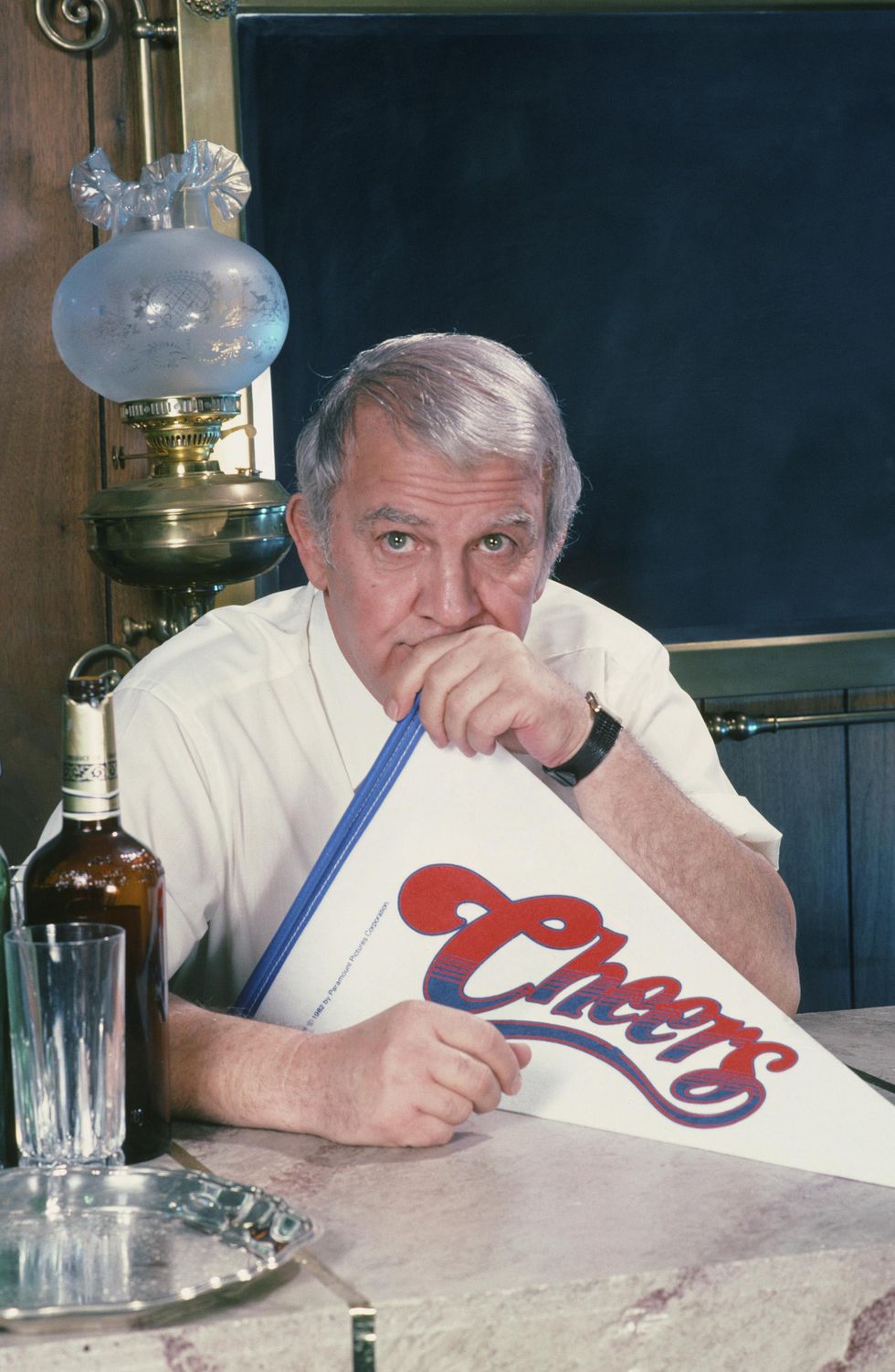 Colasanto as Coach
Photo: Herb Ball/NBCU Photo Bank/NBCUniversal via Getty Images
Colasanto managed to create a completely sympathetic character who could handle the funny moments just as well as the more serious ones. Sadly, we only got to experience that TV magic for three short seasons; After years of battling alcoholism and a serious decline in health, Colasanto passed away in his home from a heart attack at the age of 61.
As Ted Danson once said, by the end of his career, Colasanto was having trouble remembering his lines, giving a tragic authenticity to his character. Nonetheless, he gave an incredible performance as Coach and was sorely missed in later episodes of the series.

I'll Be There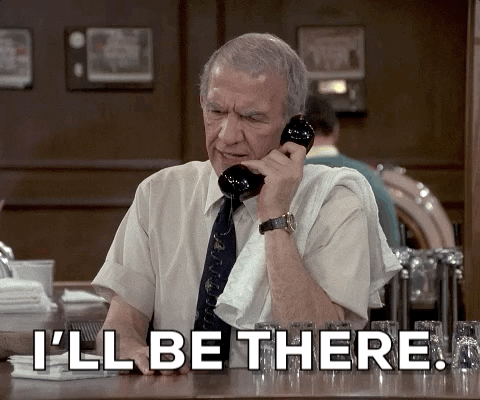 Who ya gonna call? Coach!
One thing is certain—Coach is reliable. He might not be all there in the memory department, but at the end of the day you know you can count on him.
SUBSCRIBE NOW: Enjoy 4 Digital Plus 2 Print/Digital Issues Of Watch Per Year — For Free!

Stream
Cheers
on
Paramount+