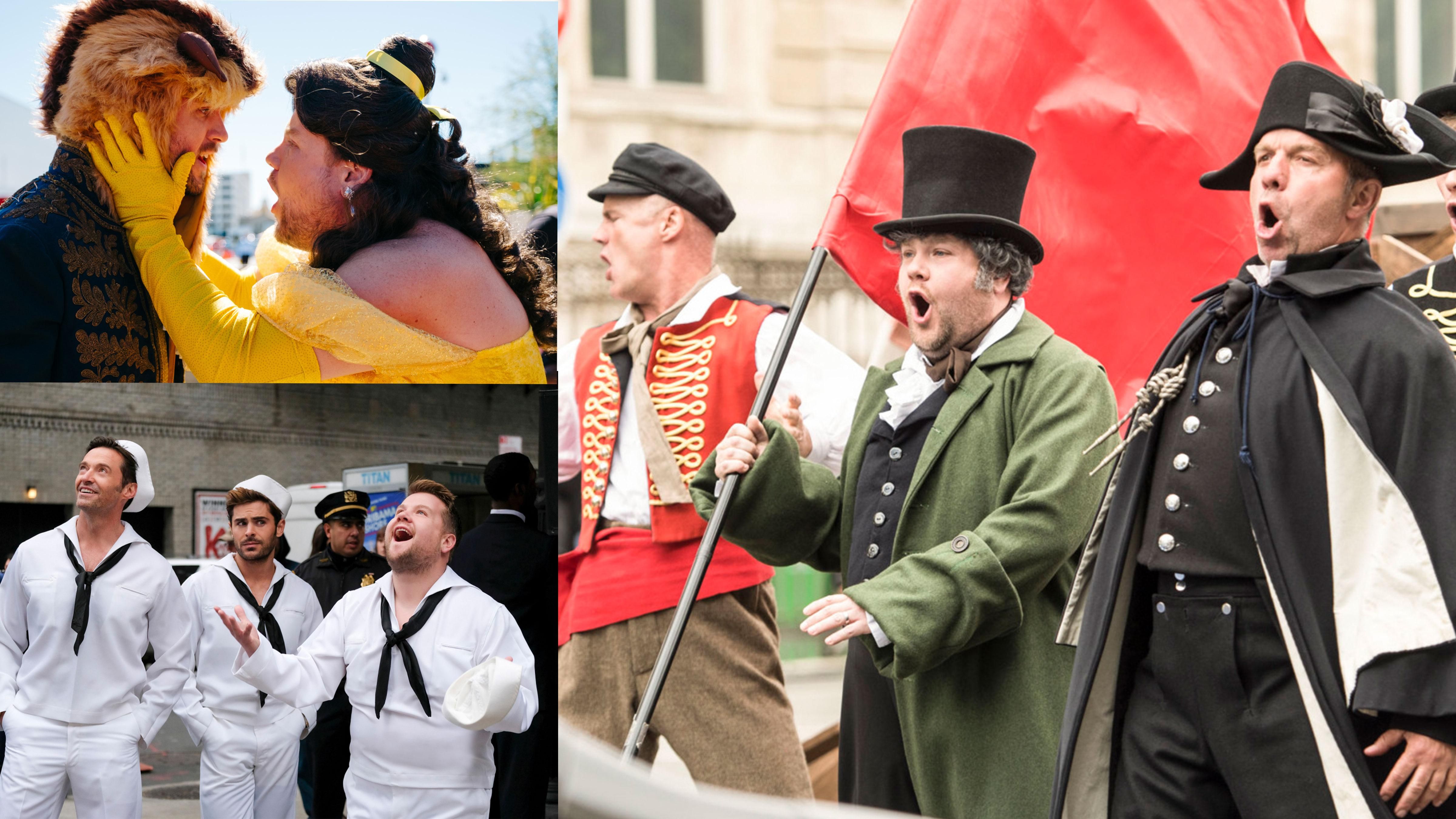 Photo credits: (clockwise from top) Terence Patrick/CBS, Craig Sugden/CBS, Timothy Kuratek/CBS.
From Aladdin to Les Miz, these hilarious renditions literally stop traffic!
Crosswalk the Musical on Broadway With Hugh Jackman, Zendaya & Zac Efron
Who is the greater showman: Hugh Jackman…or James Corden? Decide for yourself with this special edition of Crosswalk the Musical on Broadway. (The Big Apple troupe also features Zendaya and Zac Efron.) New Yorkers are a notoriously hard-to-please bunch, but Corden and Co. give it their best shot, performing selections from On the Town, Guys and Dolls, Fame,and, of course, the Jackman-Zendaya-Efron movie The Greatest Showman.
Crosswalk the Musical: Aladdin With Will Smith, Naomi Scott & Mena Massoud
The stars of the live-action adaptation of Aladdin bring a whole new world to a busy Los Angeles intersection. A surprisingly moving highlight: Jasmine (Naomi Scott) and Aladdin (Mena Massoud) serenading each other on a forklift-powered magic carpet. "We rubbed the lamp and what came out is a friendship that I will cherish forever," Corden tells Will Smith. "You ain't never had a friend like me," teased the A-list genie.
Crosswalk the Musical: Frozen With Kristen Bell, Idina Menzel, Josh Gad & Jonathan Groff
The Frozen 2 cast really let it go on Beverly Boulevard—faux snow and all—much to the amusement (or chagrin?) of the commuter audience.
Crosswalk the Musical: Beauty and the Beast With Dan Stevens, Luke Evans & Josh Gad
Corden is the Belle of this ball, donning Beauty's iconic yellow gown as he warbles showstoppers alongside the live-action adaptation's stars Luke Evans (Gaston), Josh Gad (LeFou), and the Beast himself, Dan Stevens!
Crosswalk the Musical: Mary Poppins With Sir Ben Kingsley
Corden takes his show on the road—and across the pond—when he performs Crosswalk the Musical back home in England as Mary Poppins. Sure, Sir Ben Kingsley may have won an Oscar for playing Gandhi, but here the Hollywood icon tackles a bigger challenge: stepping in time like chimney sweeper Bert while dodging double-decker buses.
Crosswalk the Musical: Grease
Honk if you wanna see Corden don a black leather jacket as Danny Zuko! After intense prep, the Crosswalk crew perform Grease on the corner of Beverly Boulevard and Genesee Avenue in Los Angeles.
Crosswalk the Musical: The Sound of Music With Allison Janney
Mom star Allison Janney performs the mother of all musicals, The Sound of Music!Just a few of our favorite things:Corden and Allison Janney as dueling Marias, dancing marionettes, and a cameo by Young Sheldon himself Iain Armitage.
Crosswalk the Musical in Paris—Les Misérables
The Crosswalk cast conquered Los Angeles, New York, and London, so it was only a matter of time before our intrepid hosthit French soil. And what could possibly be more French than the Eiffel Tower, a French bulldog, and Le Corden in a beret and scarf? Why, a staging of Les Misérables before unimpressed Parisians, of course—including the rousing Act 1 closer, "One Day More." Corden subs baguettes for guns in a few crucial scenes because, as he quips, "Le pain is mightier than the sword."
DISCOVER MORE: Check Out The Latest Digital Issue Of Watch—Available Now!
The Late Late Show with James Cordenairs Weeknights at 12:37/11:37c on CBS. Stream anytime on Paramount+.