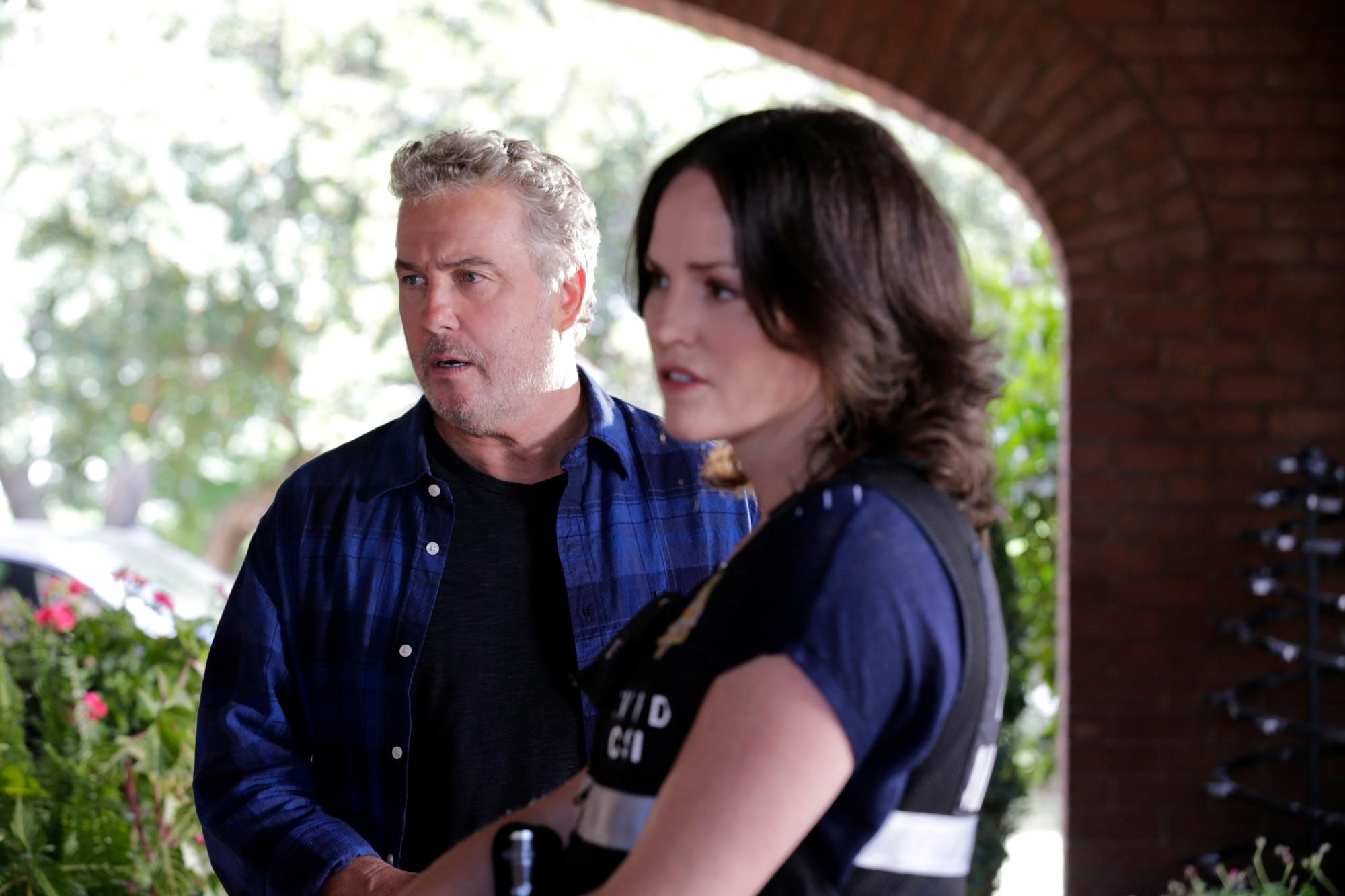 Photo: Sonja Flemming/CBS via Getty Images.
"Grissom and Sara" are total #CoupleGoals!
By Nate Millado
In forensics, "GSR" refers to gunshot residue, but to CSI: Crime Scene Investigationfans, it's all about the "Grissom Sara Romance." That's why we're so psyched to see that 'ship continue to sail in this fall's highly anticipated reboot, CSI: Vegas, which welcomes the OGs back to Sin City. Watch rounds up some of our favorite GSR moments!
SUBSCRIBE NOW: Enjoy 4 Digital Plus 2 Print/Digital Issues Of Watch Per Year — For Free!
Watch CSI: Vegas on CBS and streaming on Paramount+.
"Cool Change" (Season 1, Episode 2)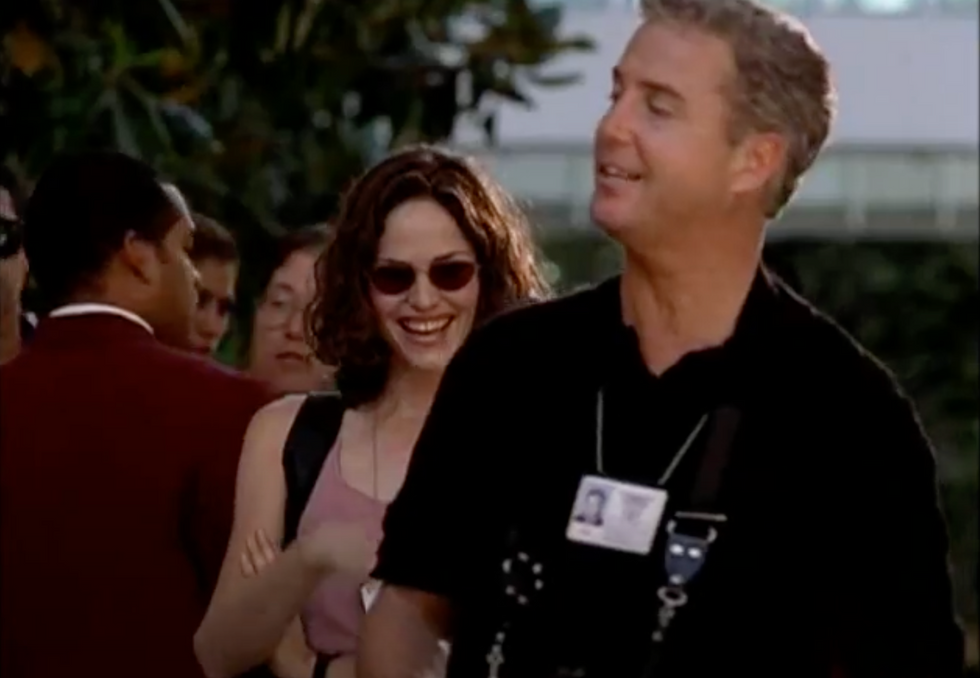 Grissom (William Petersen) immediately recognizes Sidle (Jorja Fox) when she speaks.
Photo: YouTube.
Gil Grissom (William Petersen) says he doesn't "even have to turn around" to know who's crashing his dummy test. Sara Sidle (Jorja Fox) joined the CSI team in Episode 2, but clearly these two already shared a past because Grissom was able to ID her simply by the sound of her voice.
"Invisible Evidence" (Season 4, Episode 11)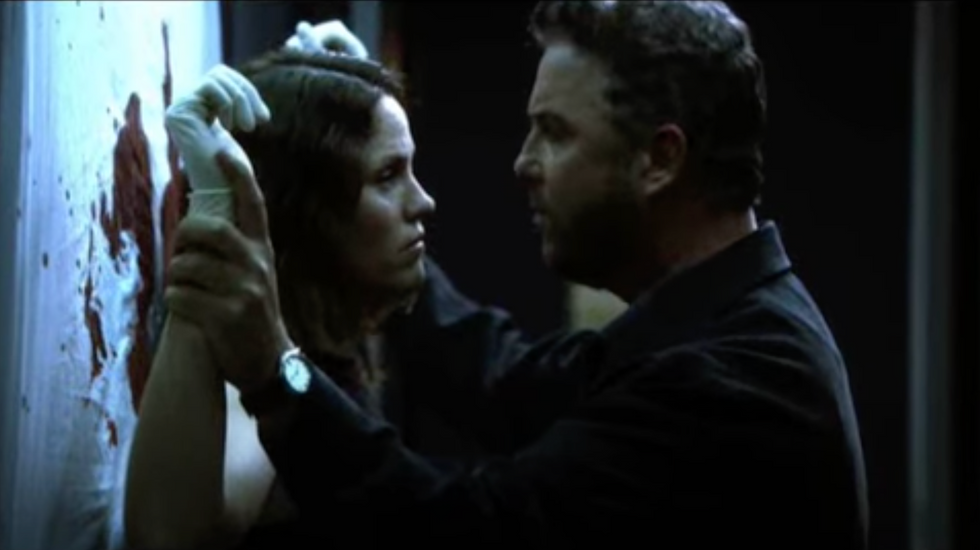 Grissom and Sidle reenact a crime scene.
Photo: YouTube.
Sparks fly whenever Sidle recruits Grissom to reenact a crime scene. (Remember this playful exchange from Season 1, Episode 3: "Hey Grissom! Can you help tape me up?" "I love my job," he tells Catherine Willows, played by Marg Helgenberger.) So when Sidle asks Grissom in Season 4 to pin her against the wall to test out a theory, he gladly obliges.
"Nesting Dolls" (Season 5, Episode 13)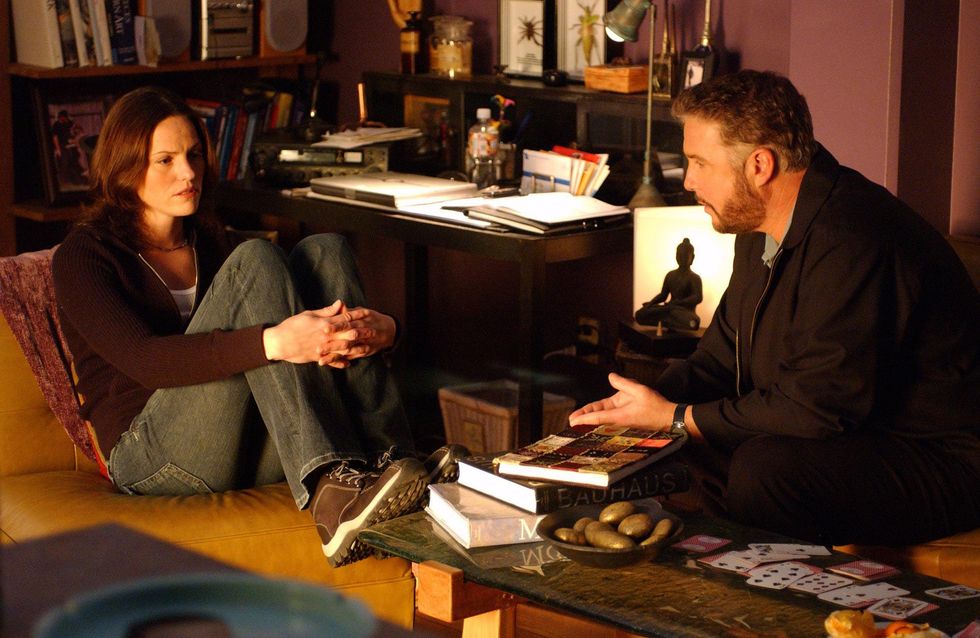 Sidle can tell Grissom just about anything.
Photo: Michael Yarish/CBS Photo Archive via Getty Images.
Of course GSR was more than just a flirtatious office romance: In this pivotal Season 5 episode, Sidle reveals to Grissom that her mom killed her abusive father, which sent her into foster care.
"Fallen Idols" (Season 7, Episode 17)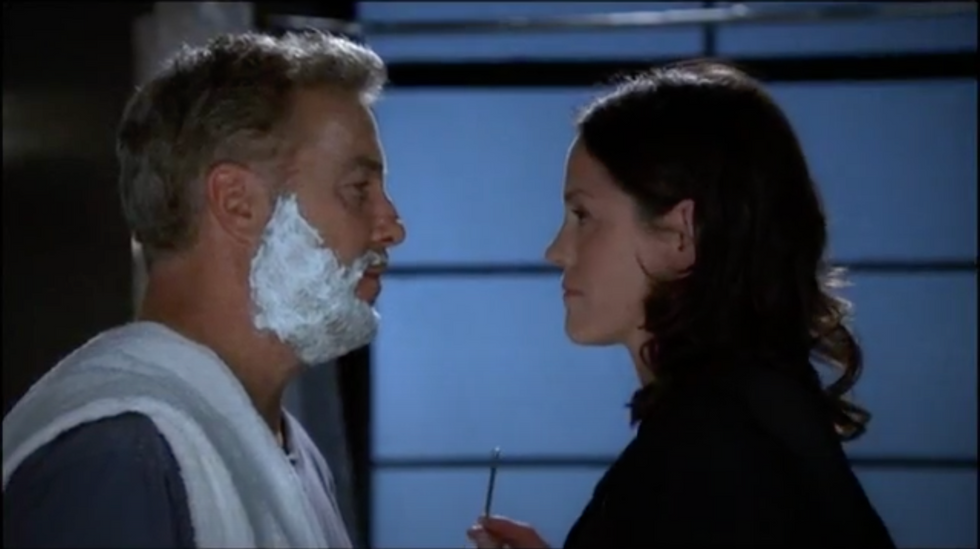 Sidle shaves Grissom's beard.
Photo: YouTube.
In this steamy Season 7 scene, Sidle asks Grissom if he trusts her. "Intimately," he replies. She then proceeds to shave off his beard. Yowza!
"Goodbye and Good Luck" (Season 8, Episode 7)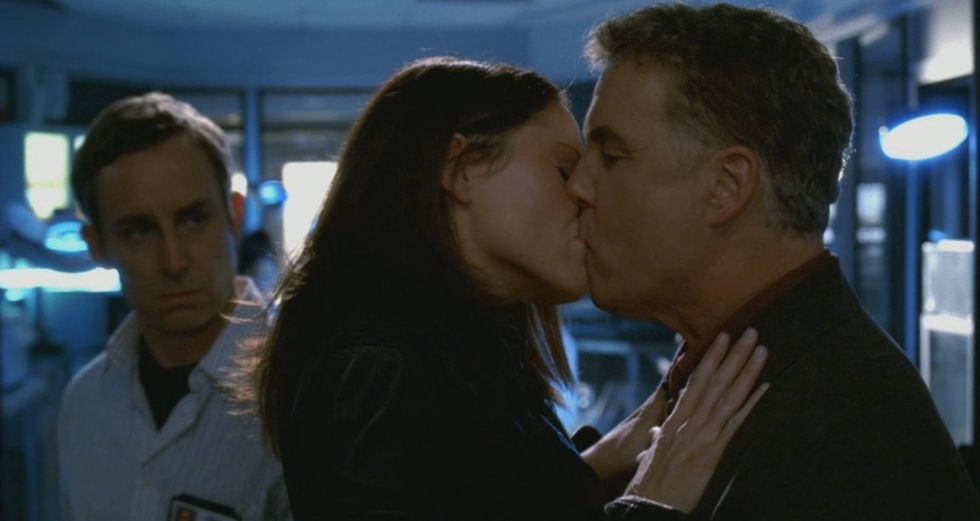 Sidle kisses Grissom goodbye.
Photo: YouTube.
Sidle plants a passionate kiss on an unsuspecting Grissom in her Season 8 send-off. Little does he know it will be a kiss goodbye. Later, he reads a letter she left him:
"Gil, you know I love you. I feel I've loved you forever. Lately, I haven't been feeling very well. Truth be told, I'm tired. Out in the desert, under that car that night, I realized something, and I haven't been able to shake it. Since my father died, I've spent almost my entire life with ghosts. We'd been like close friends, and out there in the desert, it occurred to me that it was time for me to bury them. I can't do that here. I'm so sorry.
"No matter how hard I try to fight it off, I'm left with the feeling that ... I have to go. I have no idea where I'm going, but I know I have to do this. If I don't, I'm afraid I'll self-destruct, and worse, you'll be there to see it happen. Be safe. Know that I tried very hard to stay. Know that you are my one and only. I will miss you with every beat of my heart. Our life together was the only home I've ever really had. I wouldn't trade it for anything. I love you. I always will. Goodbye."

"One to Go" (Season 9, Episode 10)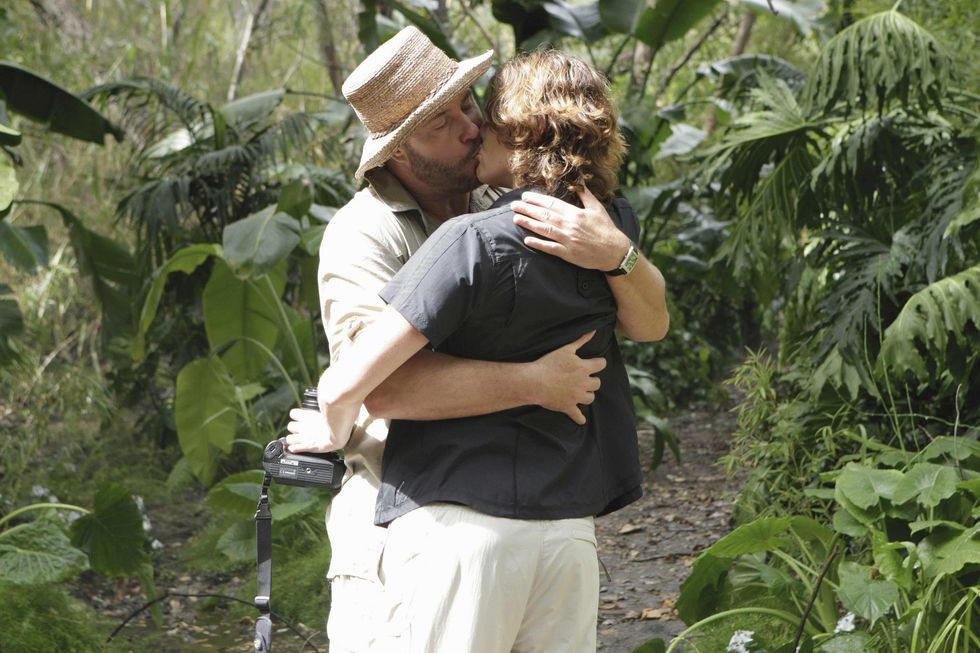 Grissom and Sidle reunite in the jungle
Photo: Sonja Flemming/CBS via Getty Images
In Petersen's CSI swan song (or so we thought), Grissom tracks Sidle down in a Costa Rican jungle as she's photographing monkeys—and seals their reunion with a kiss.
"Immortality" (Series Finale)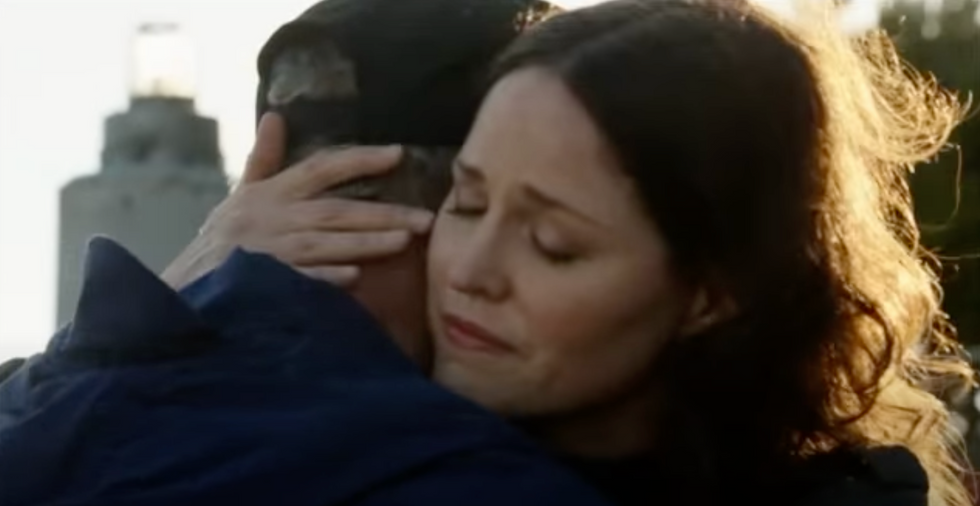 No words needed: Sidle and Grissom in the series finale.
Photo: YouTube.
In the two-hour series finale, Grissom thanks Lady Heather (Melinda Clarke) for helping him open up to find love. "[Sara] restores my faith in the human being … plus she helps me with my crossword puzzles," he tells her. And before Grissom heads off on his boat, Sidle catches him in the nick of time at the dock. They share a tender embrace, and sail off into the sunset ... together.