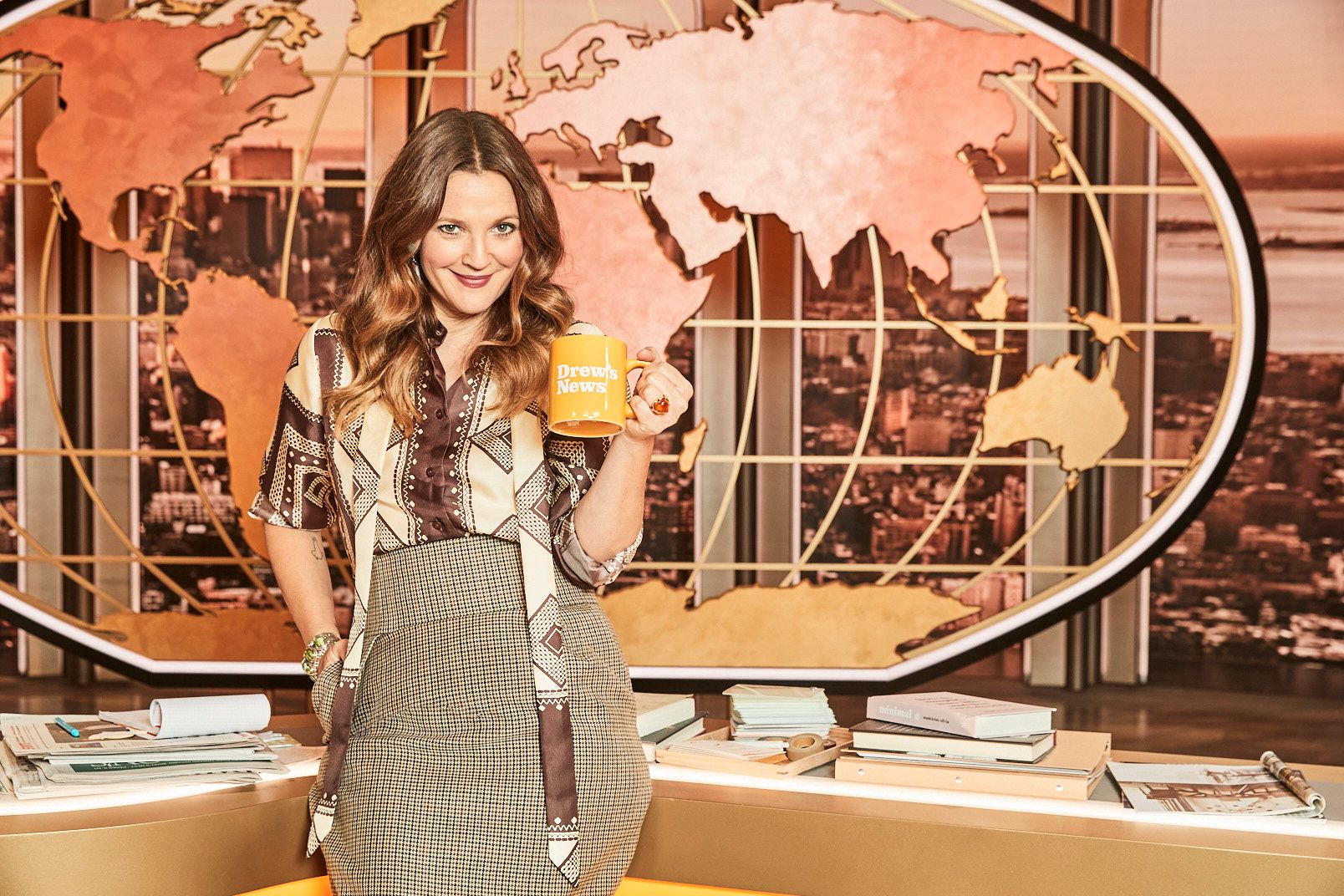 Photo Credit: Ben Watts/CBS.
One of Hollywood's brightest stars is taking on a new role: talk show host!
By Nate Millado
You loved her as a child actress in E.T., as one of Charlie's kick-ass Angels, and as a rom-com queen in Never Been Kissed and The Wedding Singer. Now Drew Barrymore is tackling a new role: talk show host. "This is not a character," she told Entertainment Tonight. "This is the first job I had where I really get to be utterly myself."
Here's everything you need to know about the bubbly star's new talker before The Drew Barrymore Show premieres this Monday, Sept. 14!
Watch The Drew Barrymore Show Weekdays, starting Sept. 14. Check your local listings for times.
Drew Interviews Herself
"It is beyond my wildest dreams to have this opportunity for a daily talk show," Drew Barrymore said in a statement to CNN when her show was first announced. In this adorable promo for The Drew Barrymore Show, Barrymore interviews her 7-year-old self (the old footage is actually from her 1982 appearance on The Tonight Show Starring Johnny Carson). "We're gonna spend an hour every day celebrating life!" present-day Barrymore tells childhood Barrymore about her, er, their new daytime show. Fun fact: Her own daughters, Frankie and Olive, were stand-ins for this shoot!
It's A Live (Show)
The Drew Barrymore Show will air live (no pressure, Drew!) The host/producer said she fought really hard for this format: "I don't know how to do this show not live." In her The Art of the Interview digital series on YouTube, Barrymore sought the advice of Andy Cohen and CBS This Morning co-host Gayle King on how to execute a show with no safety net. "Whatever happens happens," said King. "And even when all goes to hell in a handbasket, you can send it to commercial break."
Oprah's BFF also said the beauty of live is that you can be topical. "You can react in real time to what's happening." Cohen loves the "spontaneity" of doing a live show, but advised Barrymore to condensefor the sake of time:"You're a glorious rushing river of words," he said. "Make it a trickle."
What To Expect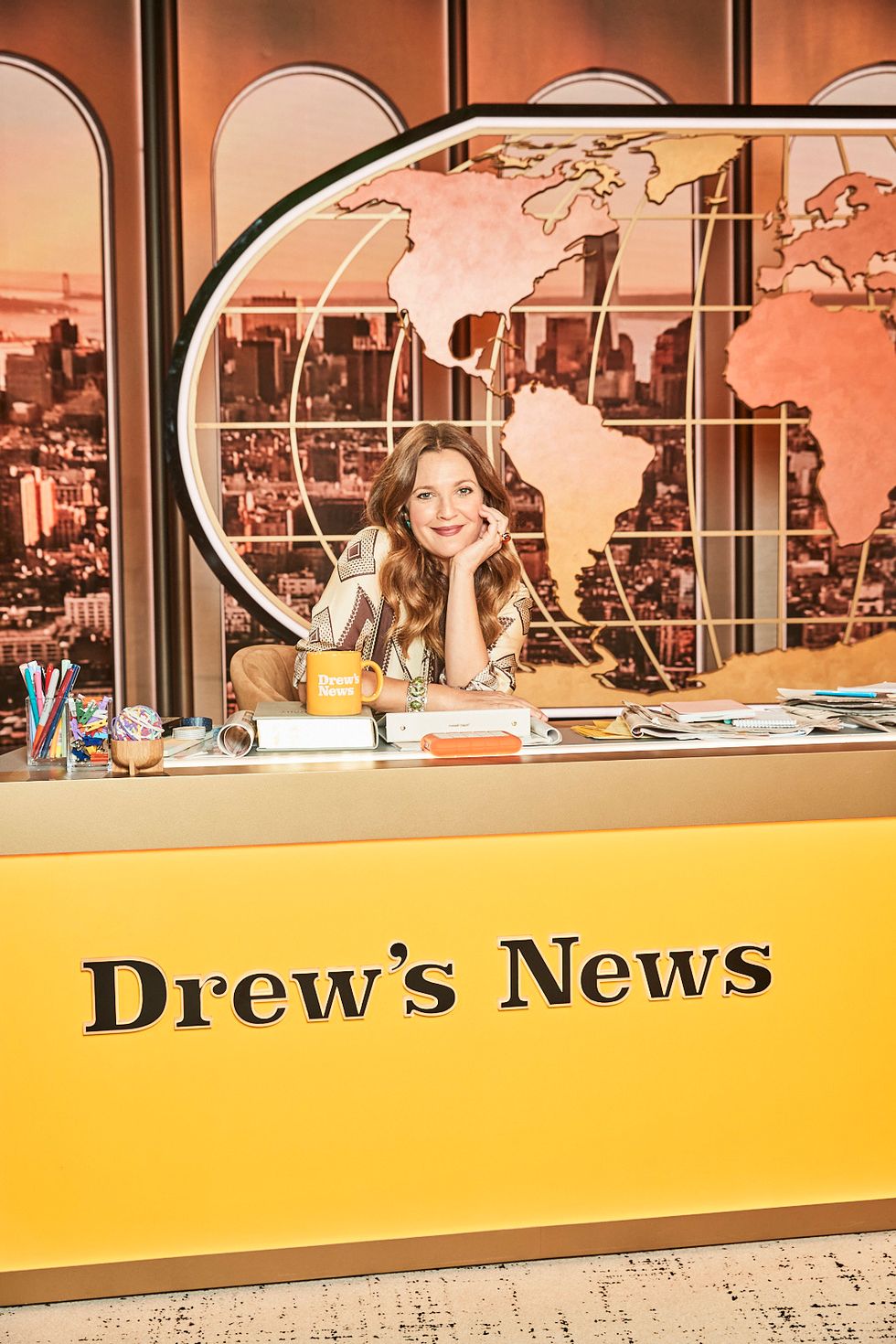 The Drew Barrymore Show features a fun segment called "Drew's News."
Photo Credit: Ben Watts/CBS.
Nothing is off limits—including Barrymore's new status as a single mama of two. When talking to her Boys on the Side co-star Whoopi Goldberg on The Art of the Interview, the fellow talk show host advised Barrymore to "be a good listener...but have as good of a time as you can." So expect some fun segments, such as "Drew's News"—her take on current events and pop culture—beauty secrets, and SNL-style sketches. (Another fun fact: Barrymore hosted SNL when she was only 7 years old!)
Don't Miss The Making-Ofs
"What happens behind the scenes I think is sometimes even more important than what you see out front," explains the newly minted host, as she takes viewers through the The Drew Barrymore Show's yearlong conception-to-creation process and gives us a peek of her Working Girl–style office. Plus: Learn how a young Barrymore and her mom bonded over McDonald's Filet-O-Fish sandwiches.
Who'll Be On Drew?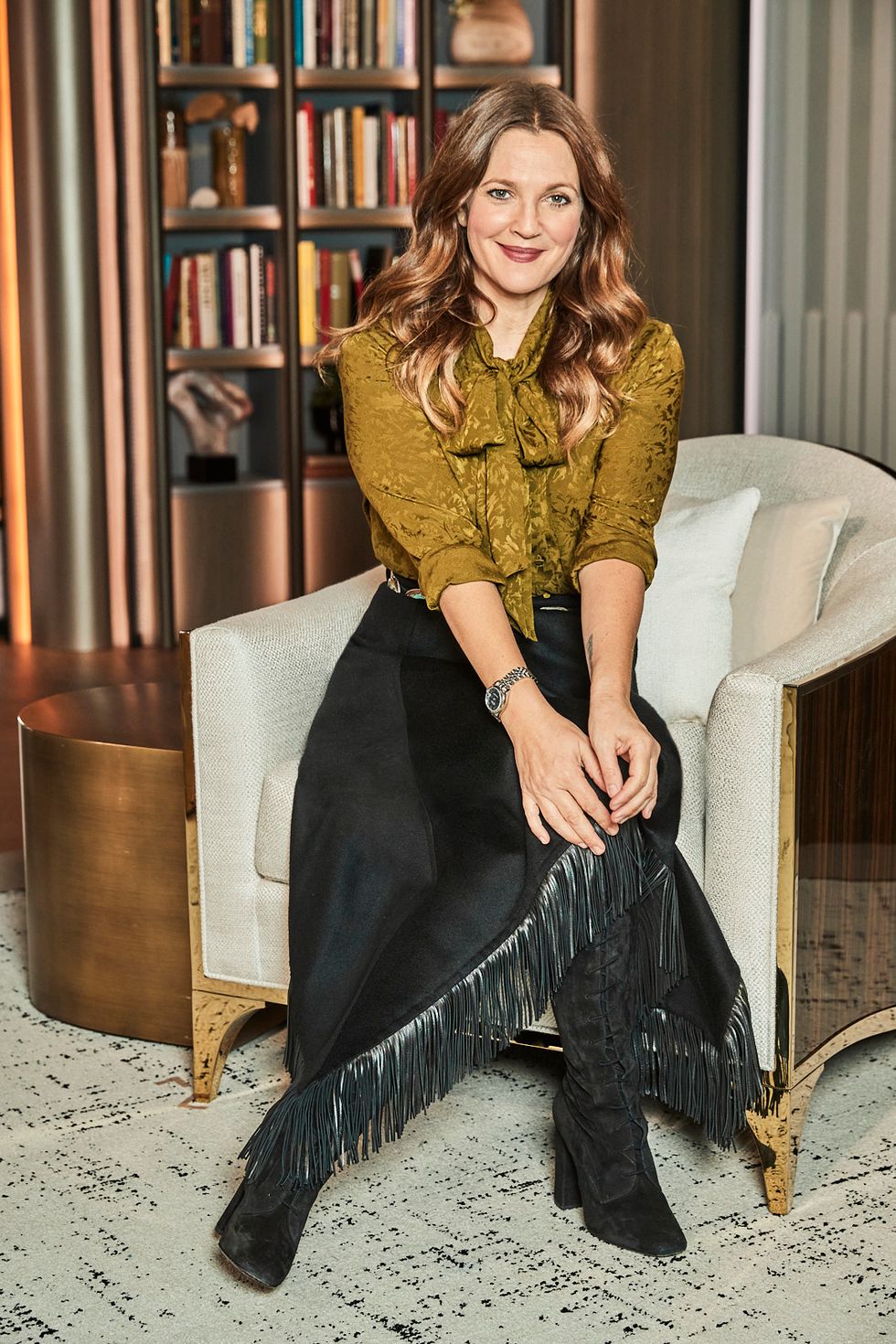 Expect a lot of star power on The Drew Barrymore Show.
Photo Credit: Ben Watts/CBS.
No one has a more famous Rolodex than Drew, so expect plenty of her high-wattage friends to stop by! Check out the star-studded slate of first-week guests:
Monday, Sept. 14: It's a Charlie's Angels reunion with independent women Cameron Diaz and Lucy Liu. And speaking of big-screen reunions…Barrymore also also reunites with longtime friend and multi-film co-star Adam Sandler (The Wedding Singer, 50 First Dates, Blended). Plus, the host surprises a family of essential workers in one of the show's soon-to-be-signature segments "Designed by Drew."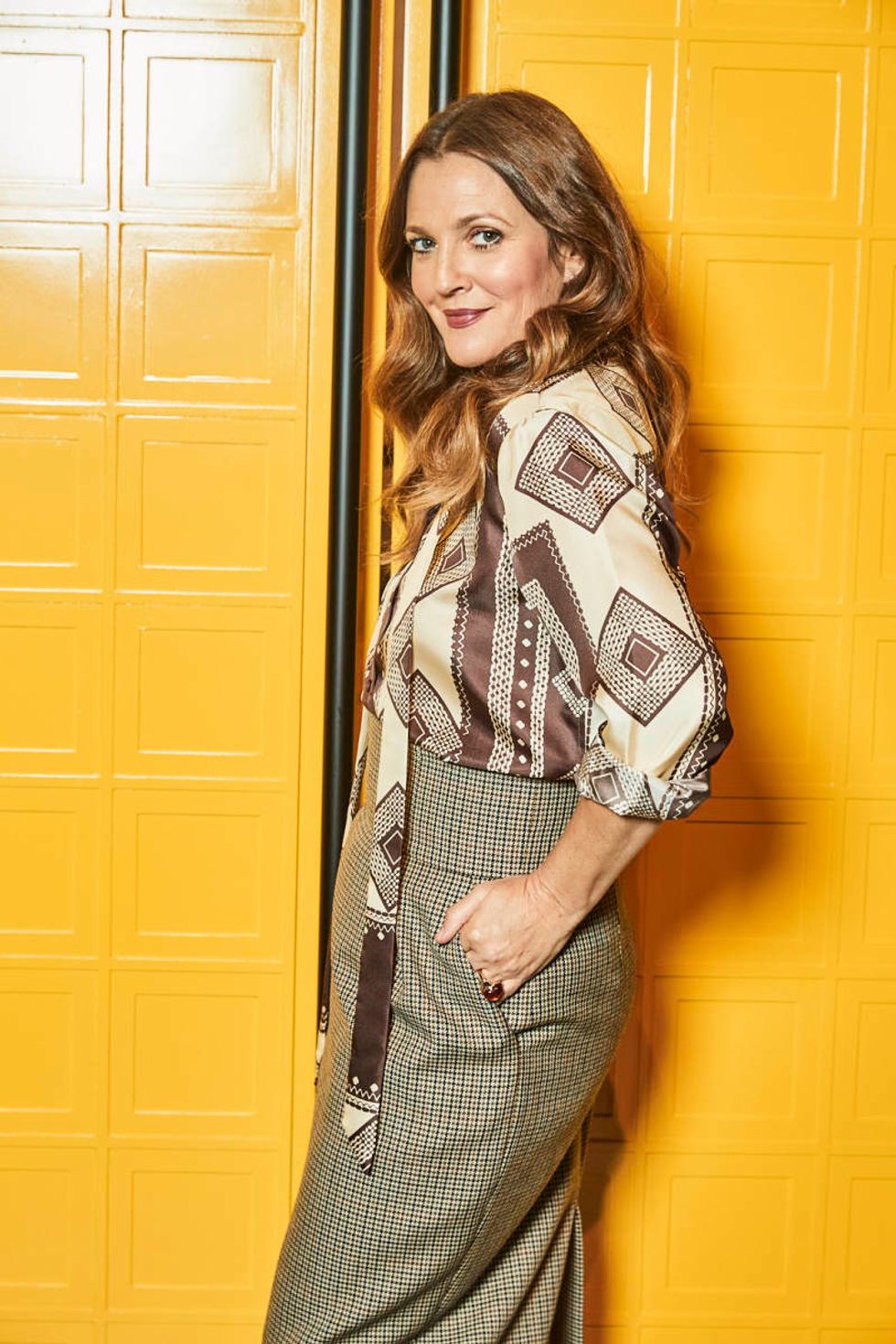 Drew Barrymore strives to elevate, inspire, and entertain in every area one her new talk show.
Photo Credit: Ben Watts/CBS.
Tuesday, Sept. 15: Oscar- and Emmy-winning actress/producer/entrepreneur Reese Witherspoon drops by. Actor/comedian Billy Eichner will play a rousing round of "Would Drew Barrymore Like That?"—a skit from his Emmy-nominated show Billy on the Street. Plus, meet Derrick Barnes and Gordon C. James, who penned the upbeat but powerful new picture book I Am Every Good Thing.
Wednesday, Sept. 16: Two-time Oscar winner Jane Fonda discusses What Can I Do? My Path from Climate Despair to Action, her just-released book on climate change. Barrymore and actress Gabrielle Union surprise a struggling small business owner who is changing the lives of others one wig at a time. Plus: Get ready for a quarantine fashion show with designer Christian Siriano(you know it will be fierce!).
Thursday, Sept. 17:Academy Award–winning actress Charlize Theron makes an appearance. New Dancing With the Stars host—and former America's Next Top Model magnate—Tyra Banks teaches Barrymore the art of "smizing." Plus, Barrymore continues the #ShareTheMicNow campaign in the recurring segment "Share The Mic With Luvvie," where movement co-founder Luvvie Ajayi Jones shines a light on amazing Black women.
Friday, Sept. 18: Emmy, Grammy, and Tony Award–winning actor Billy Porter—who's up for another Emmy on Sept. 20 for his starring role on Pose—sings a beautiful rendition of a classic tune. Meet the mom behind the back-to-school snapshot that captured the country's collective heart—an image of her son overwhelmed on his first day of virtual kindergarten—and see the surprise Barrymore has for her family. Plus, a curated list of our host's favorite picks in "The Weekender."
Watch The Drew Barrymore Show Weekdays, starting Sept. 14. Check your local listings for times.