Shows
Eric Braeden Celebrates 40 Years On Y&R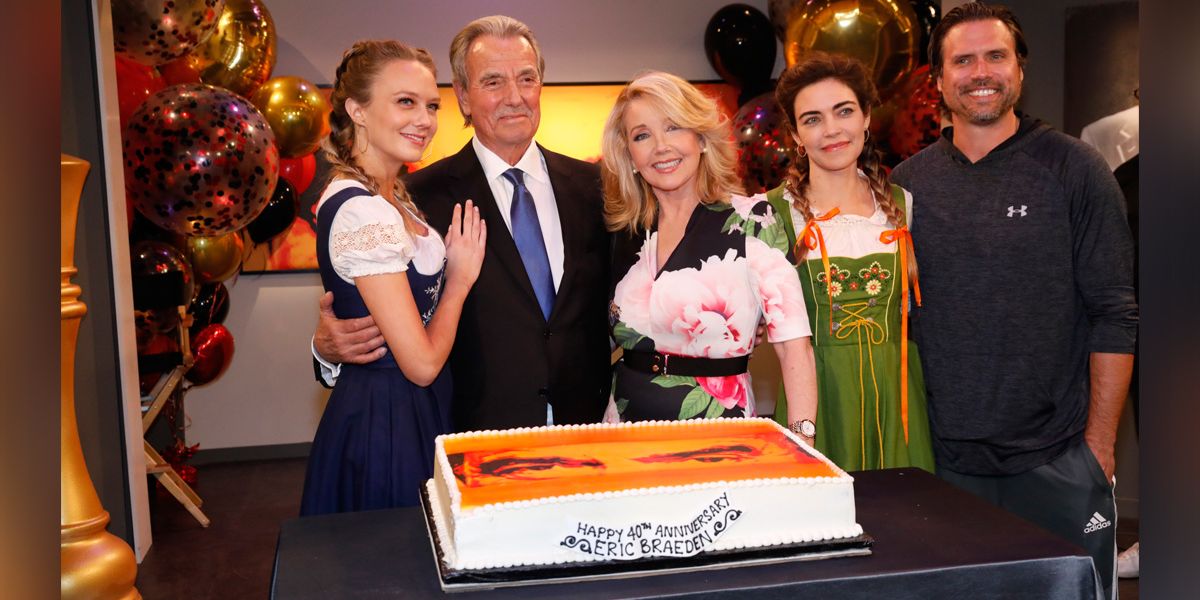 Photo Credit: Sonja Flemming/CBS.
Check out these exclusive photos and behind-the-scenes tidbits from the 40th anniversary party celebrating The Young and the Restless' legendary Victor Newman!
By Joey Anthony

In case you missed it, The Young and the Restless honored veteran actor Eric Braeden's milestone 40th anniversary on the television's #1 Daytime drama with three new tribute episodes celebrating his four decades in Genoa City.
But first, Y&R cast, crew, friends, and family came together to toast the beloved TV icon.
The lunch was held on one of CBS Television City's Y&R stages, which had been decorated with the Victor Newman artwork. And event emcee Doug Davidson (Paul Williams) kept guests laughing from the moment he introduced Braeden—who took his seat of honor to a rousing applause.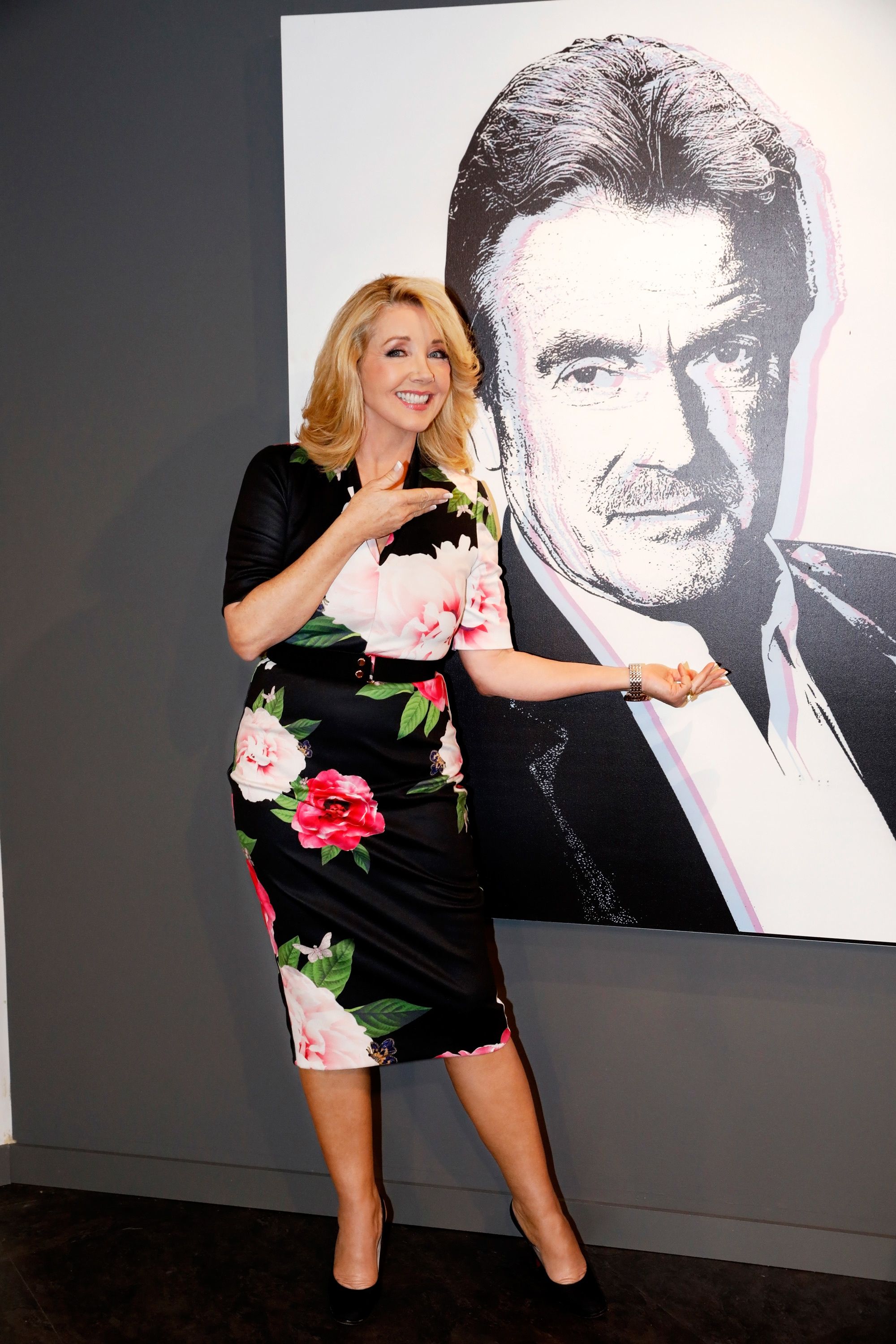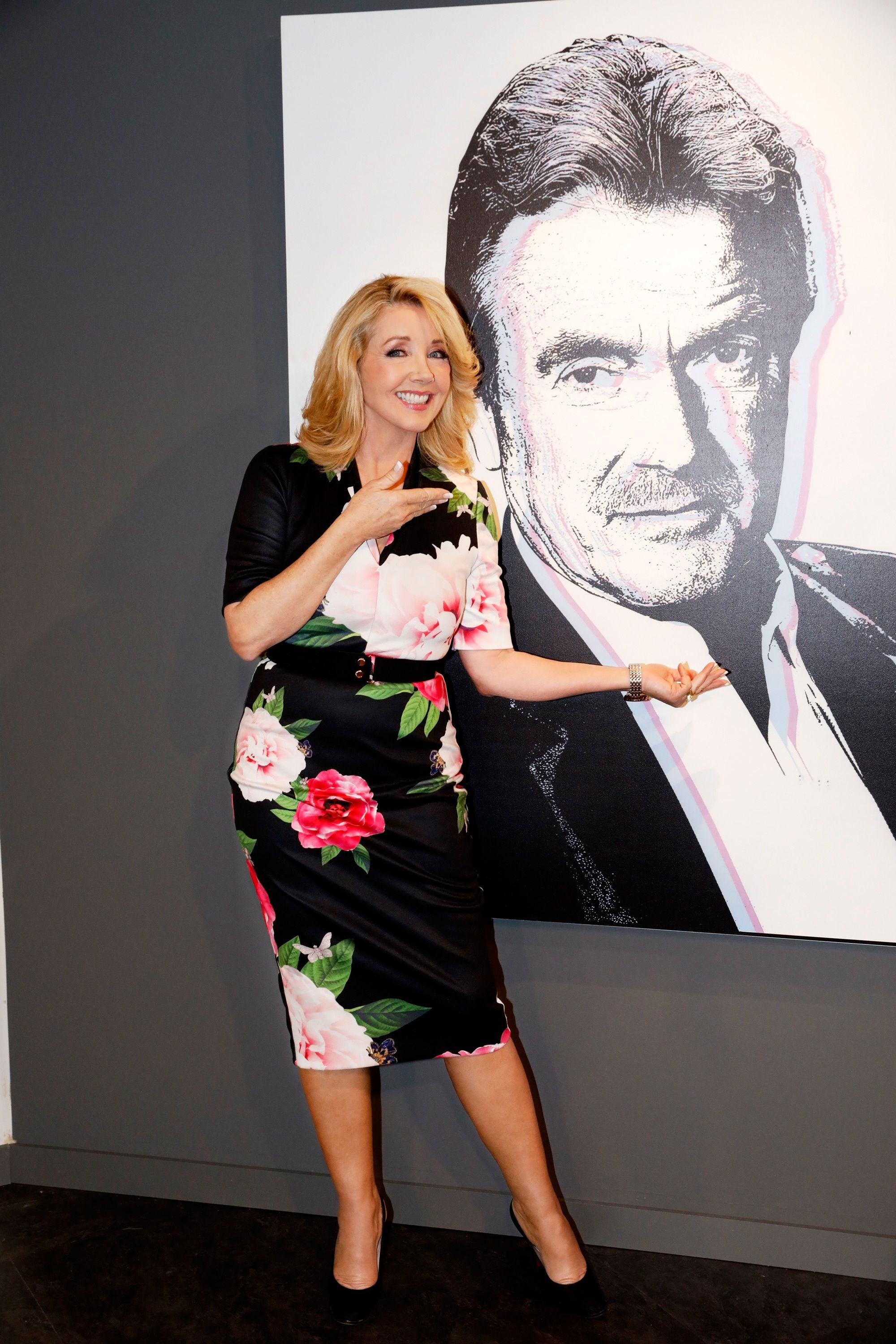 Melody Thomas Scott shows off custom artwork of Eric Braeden.
Photo Credit: Sonja Flemming/CBS.
Doug Davidson kicked things off by recounting how excited Y&R creator William J. Bell had been to find Braeden and bring him to the show for a "short" stint that started on February 8, 1980… and then revealed that only a year later, he and his new costar were almost mobbed by 30 thousand fans at a mall event in Canada!

"Eric became the star of our show," Davidson raved. "He and Bill created a character that could do and get away with anything, and still be loved. Eric as Victor was powerful, charismatic, truthful and his ace in the hole, vulnerable. Just like Eric."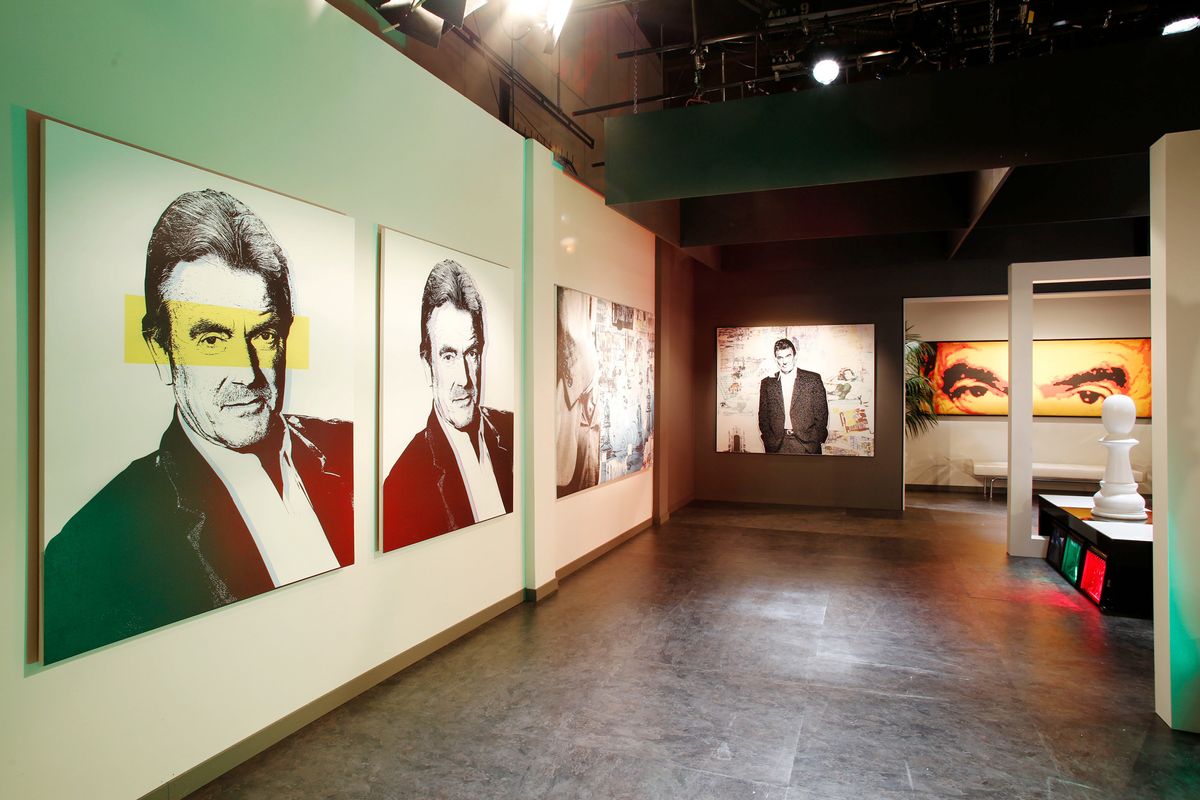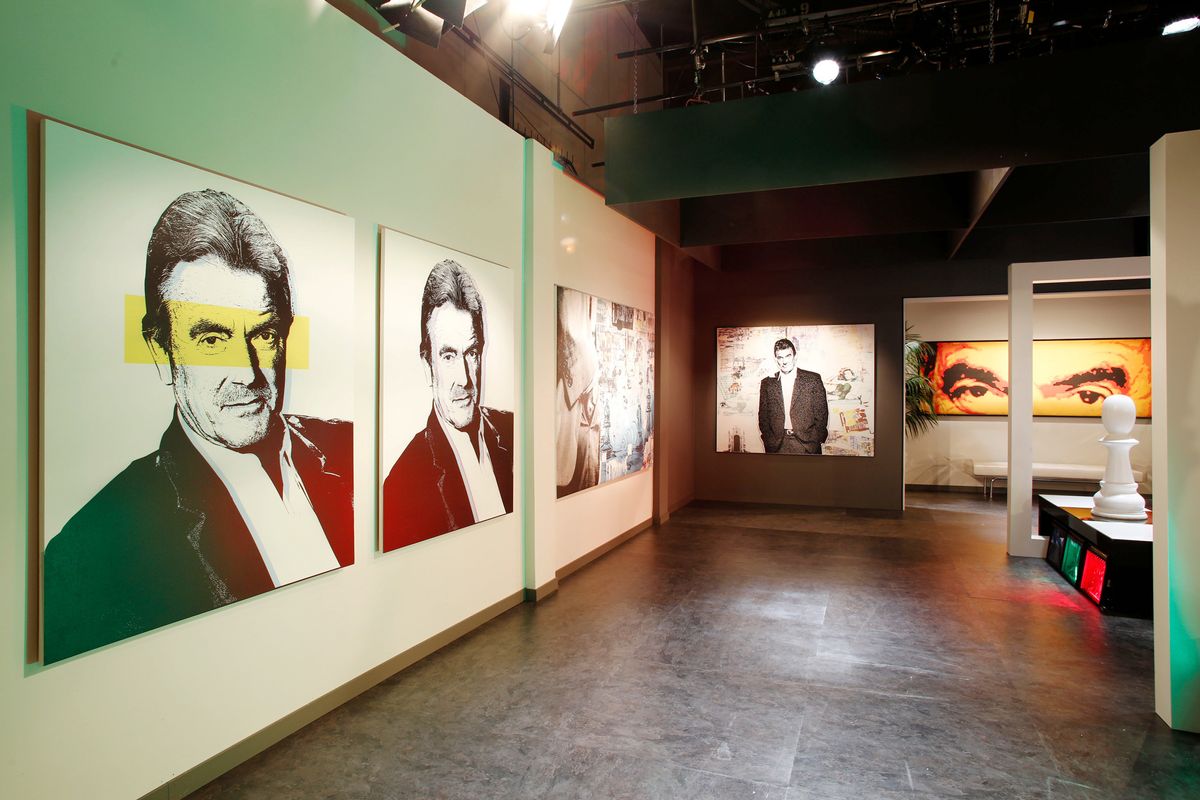 Custom artwork featuring Eric Braeden decorate the Y&R soundstage.
Photo Credit: Howard Wise/jpistudios.com.
Though Braeden didn't take the microphone until the end, he did speak up when Davidson introduced Dabney Coleman—the veteran actor who'd convinced him to audition for this little daytime stint, to begin with. "You, son of a bitch, are responsible for me being here 40 years," Braeden teased happily. "The travails and tribulations I've gone through are because of you. I'm going to sue you for pain and suffering!"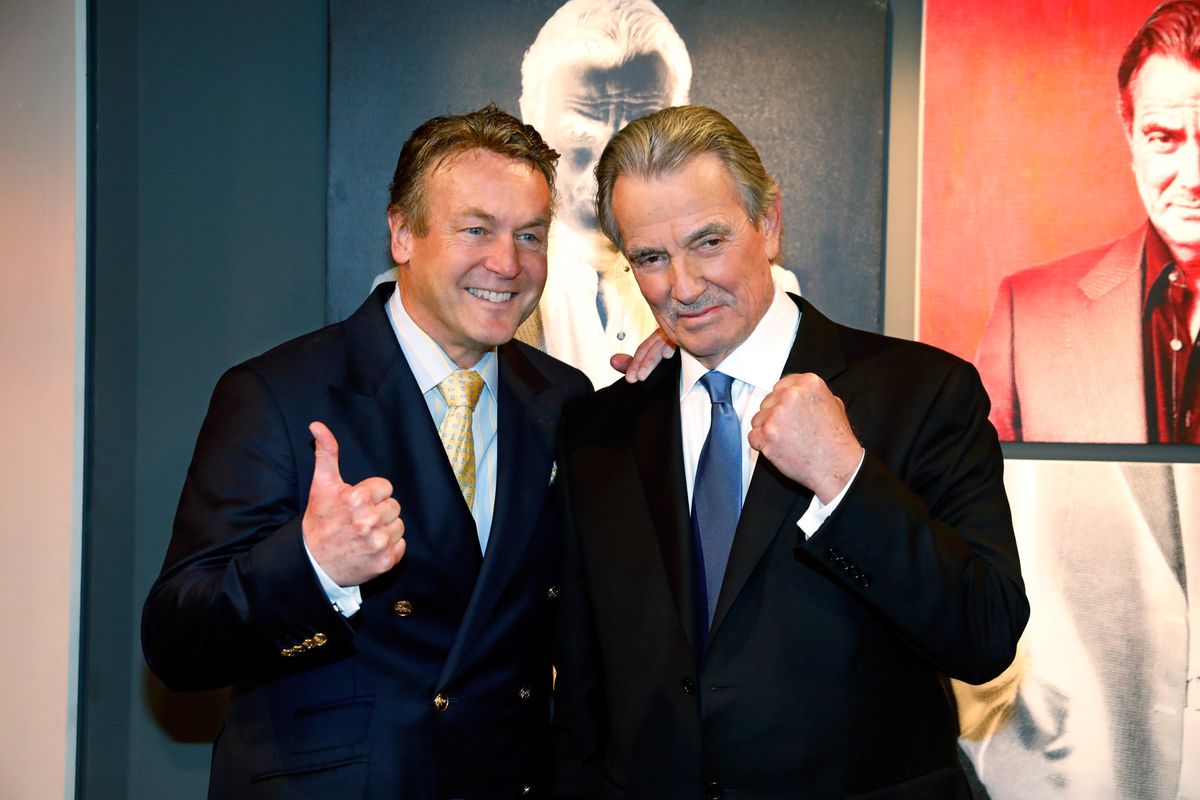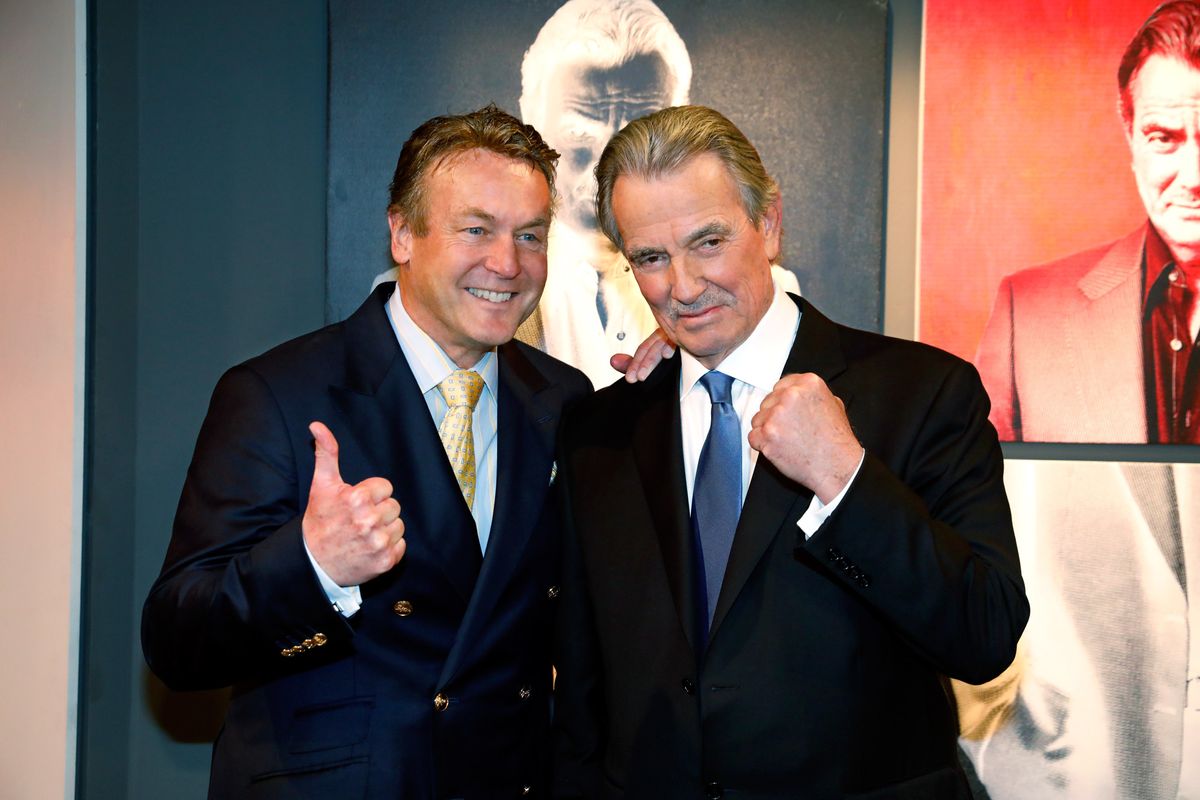 Y&R stars Doug Davidson and Eric Braeden.
Photo Credit: Sonja Flemming/CBS.
Speakers who took the stage to honor Braeden ranged from his onscreen family, CBS President Kelly Kahl, executive producer Anthony Morina, and co-executive producer and head writer Josh Griffith to sportscaster Stephen A. Smith, former Los Angeles city councilman Tom LaBonge (aka "Mr. LA"), and The Bold And the Beautiful's executive producer Bradley Bell—who was there to represent his iconic family.
Former executive producer turned B&B supervising producer Edward Scott also had the honor of sharing the long story of Braeden's trajectory from growing up in Germany's darkest era as Hans Jörg Gudegast to building his storied career in America —which boasts 120 TV series and films.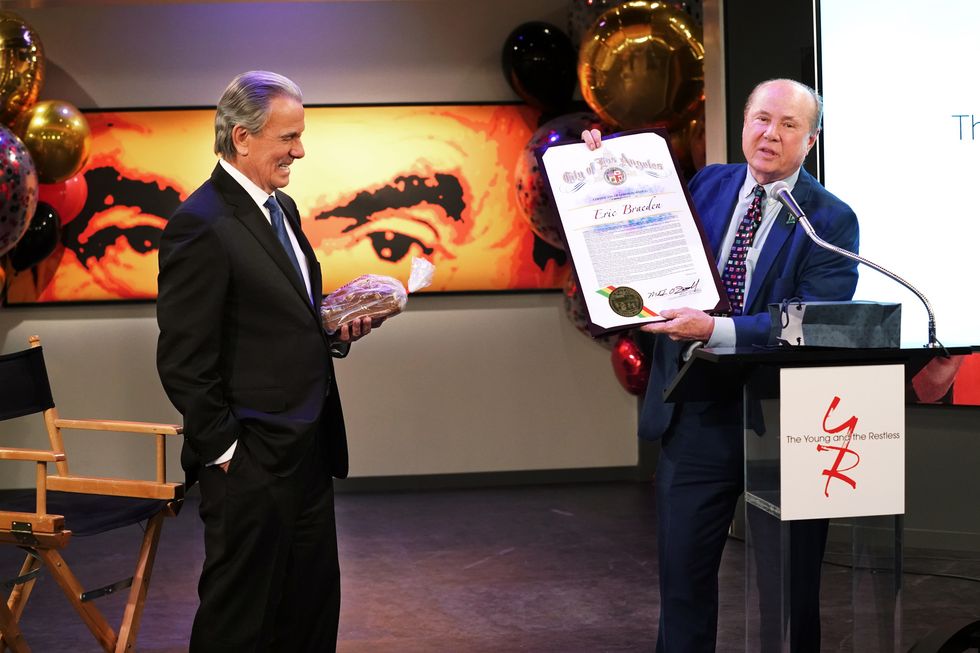 Tom LaBonge presents longtime LA resident Eric Braeden with a distinguished award from the City of Los Angeles.
Photo Credit: Sonja Flemming/CBS.
While the speeches honoring Braeden were filled with sentiment and even awe, the energy remained light. In fact, only two moments brought tears to Braeden's eyes—and both times, they were tears of laughter!
After onscreen daughters Amelia Heinle (Victoria Newman) and Melissa Ordway (Abby Newman) took the stage in German dirndls and braids, they introduce a blooper reel that left everyone gasping for breath.
And onscreen son Joshua Morrow (Nick Newman) regaled Braeden with behind the scenes stories that had everyone cackling.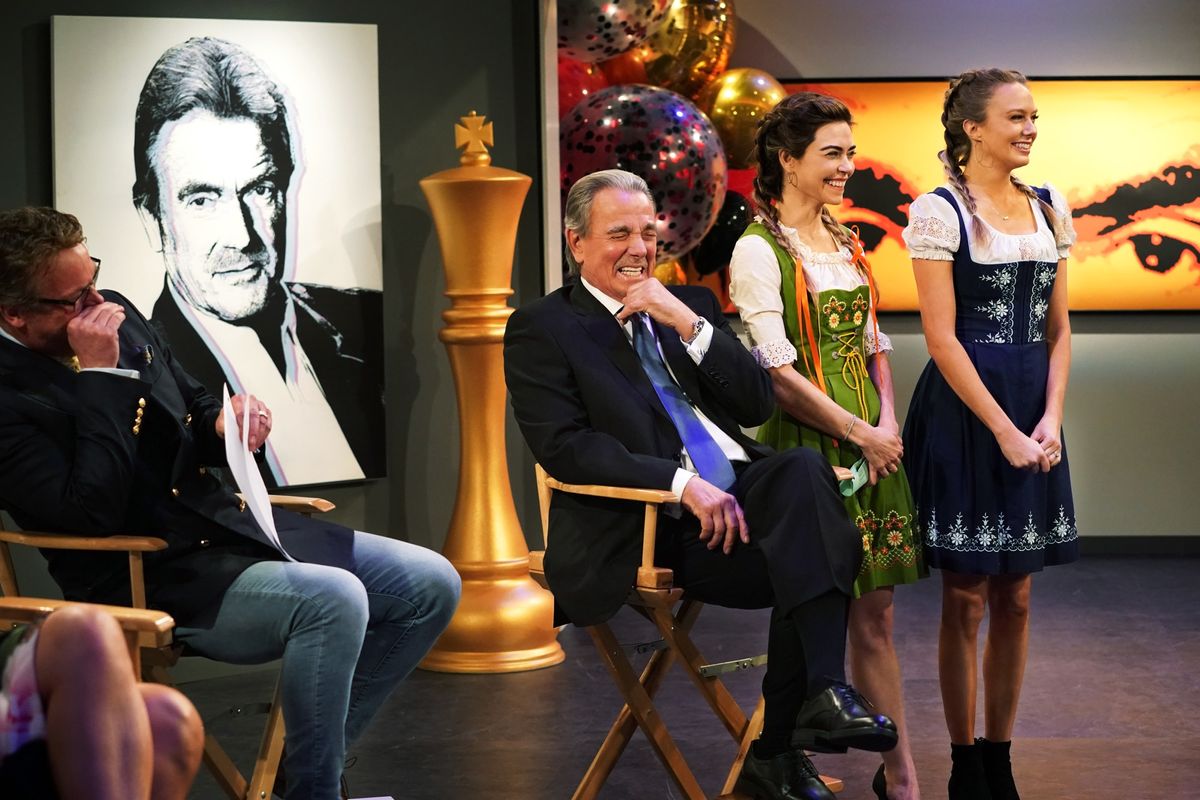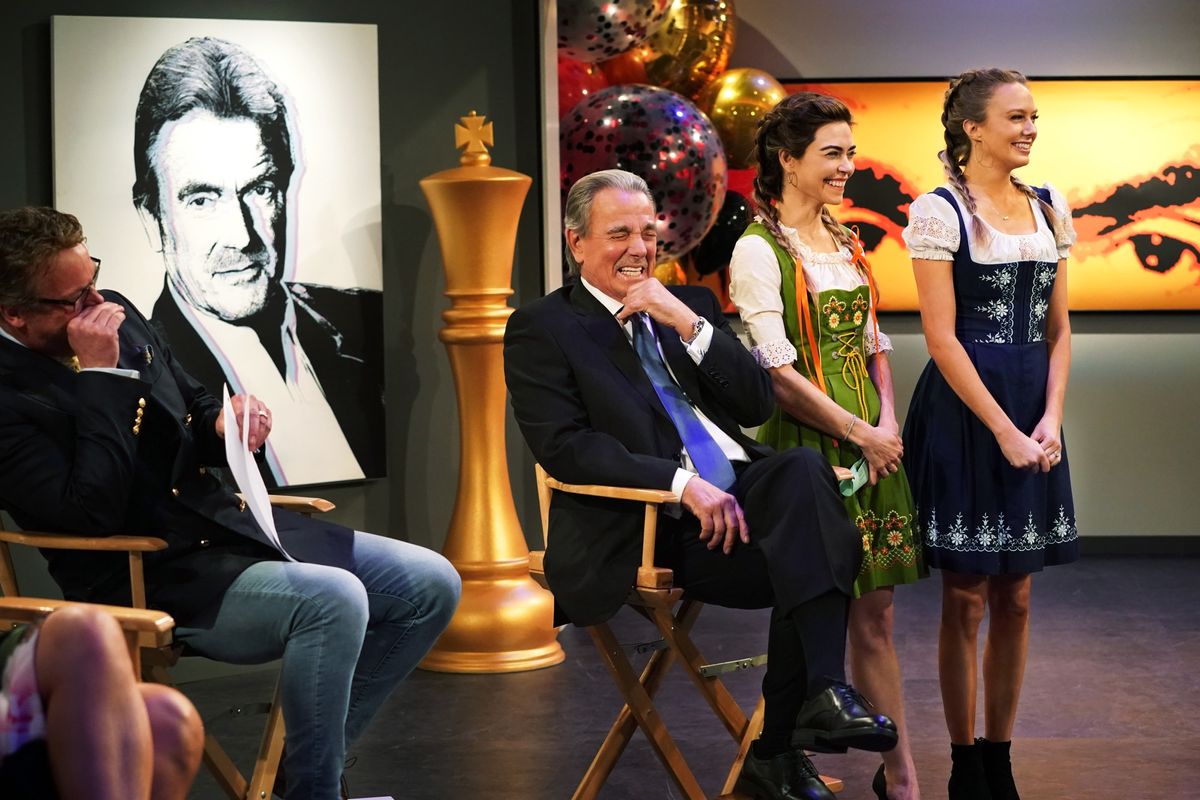 Guest of honor Eric Braeden enjoying one of the many humorous moments at the celebration.
Photo Credit: Sonja Flemming/CBS.
Peter Bergman (Jack Abbott) also earned laughs when he recounted the time he was invited backstage to meet his idol after she appeared at the 1999 Daytime Emmys. "I stood ten feet away from Aretha Franklin, looking at me, saying 'Jack,'" he marveled. "I crossed the room and as I hugged the queen of soul, she whispered in my ear… 'I love Eric Braeden. He is a pain in my ass! He is also the iconic face of the most successful show in the history of Daytime television.'"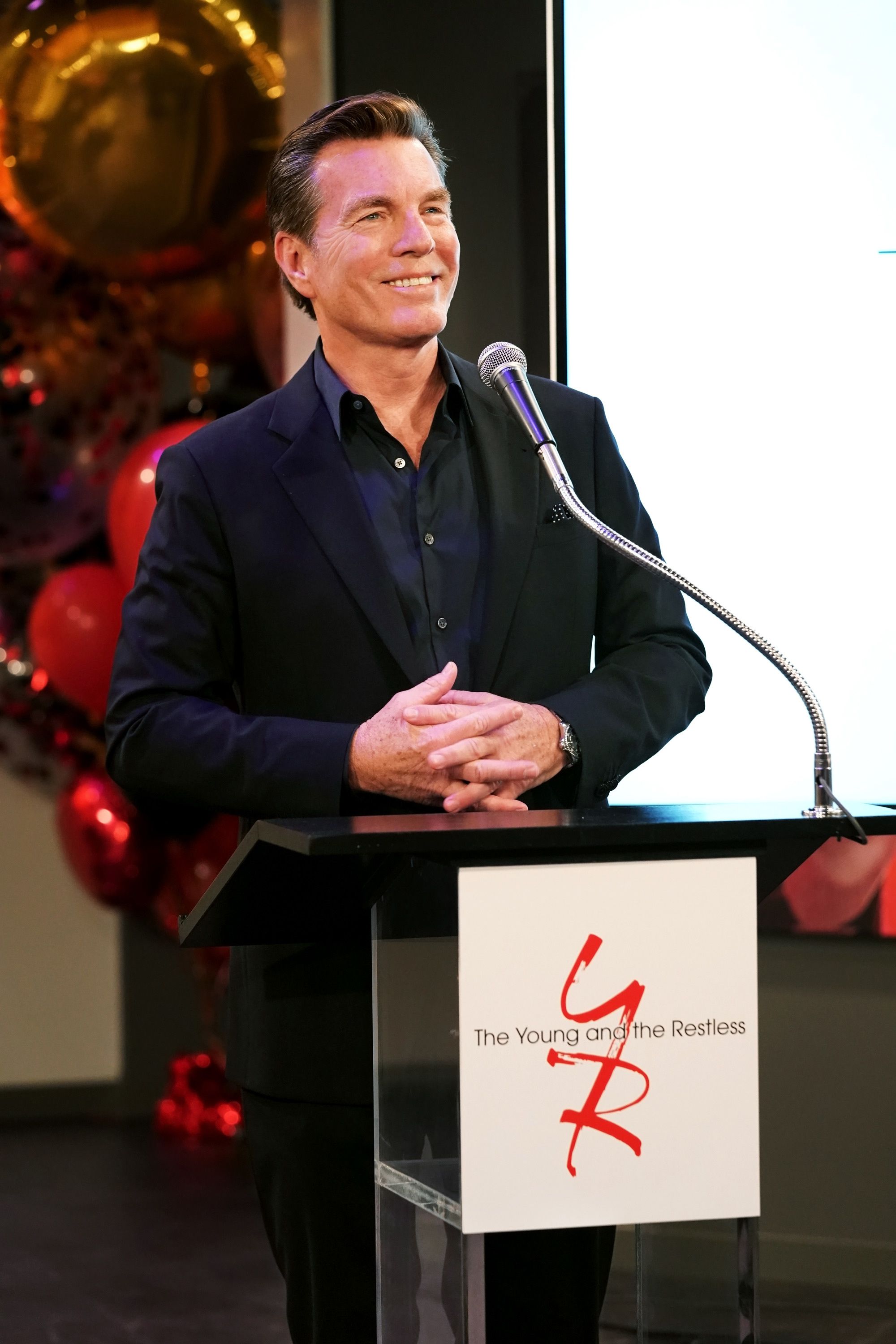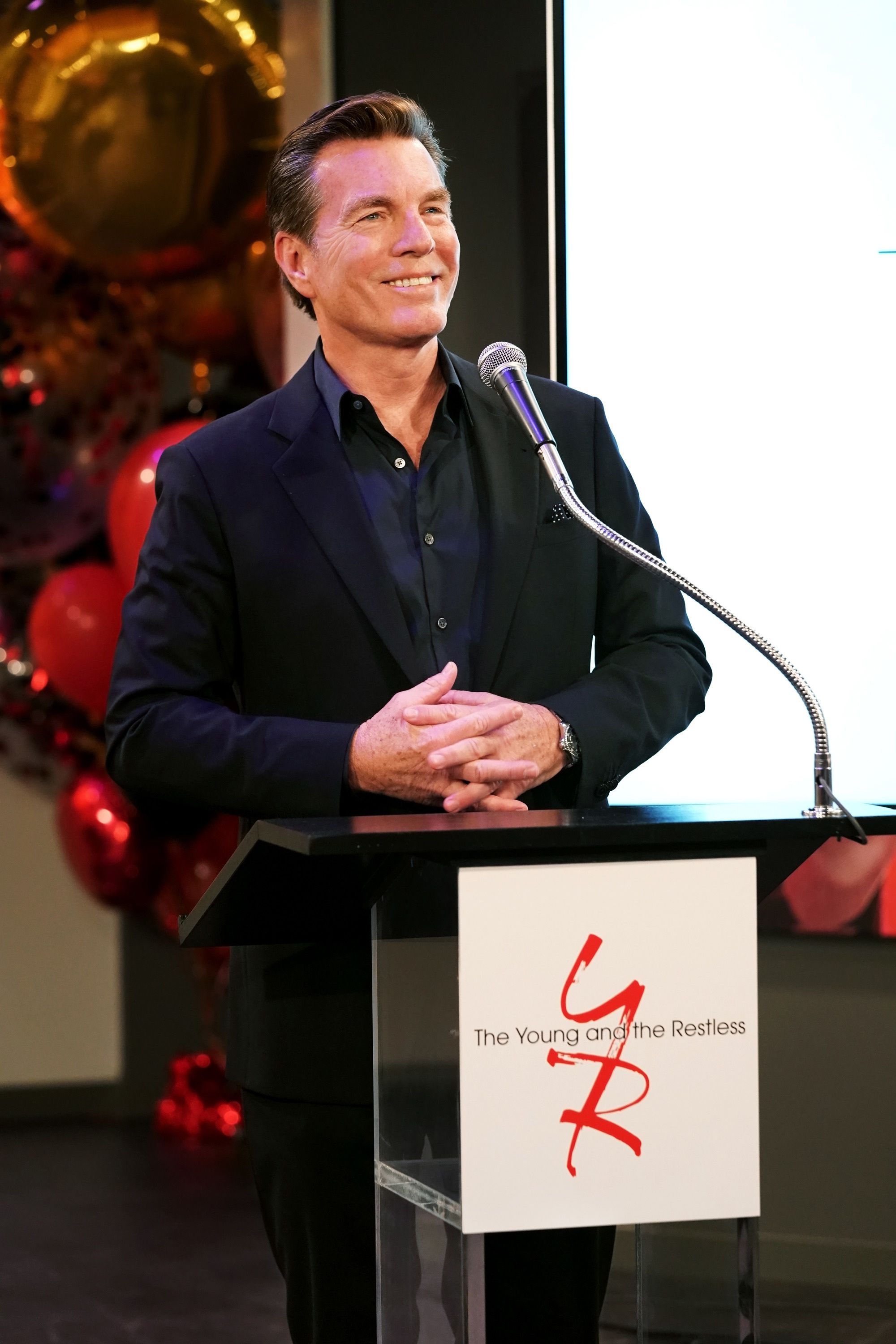 Peter Bergman toasts Y&R legend Eric Braeden at his 40th anniversary party.
Photo Credit: Sonja Flemming/CBS.
Y&R alum Justin Hartley (ex-Adam Newman) came back from This Is Us to confess he hadn't known what to expect when he signed up to play Braeden's onscreen son. "I'd heard tell that he was gruff," he recalled. "You know what he is? He's a teddy bear!"
WATCH: The Latest Episodes—Including The Eric Braeden Tributes—Of Y&R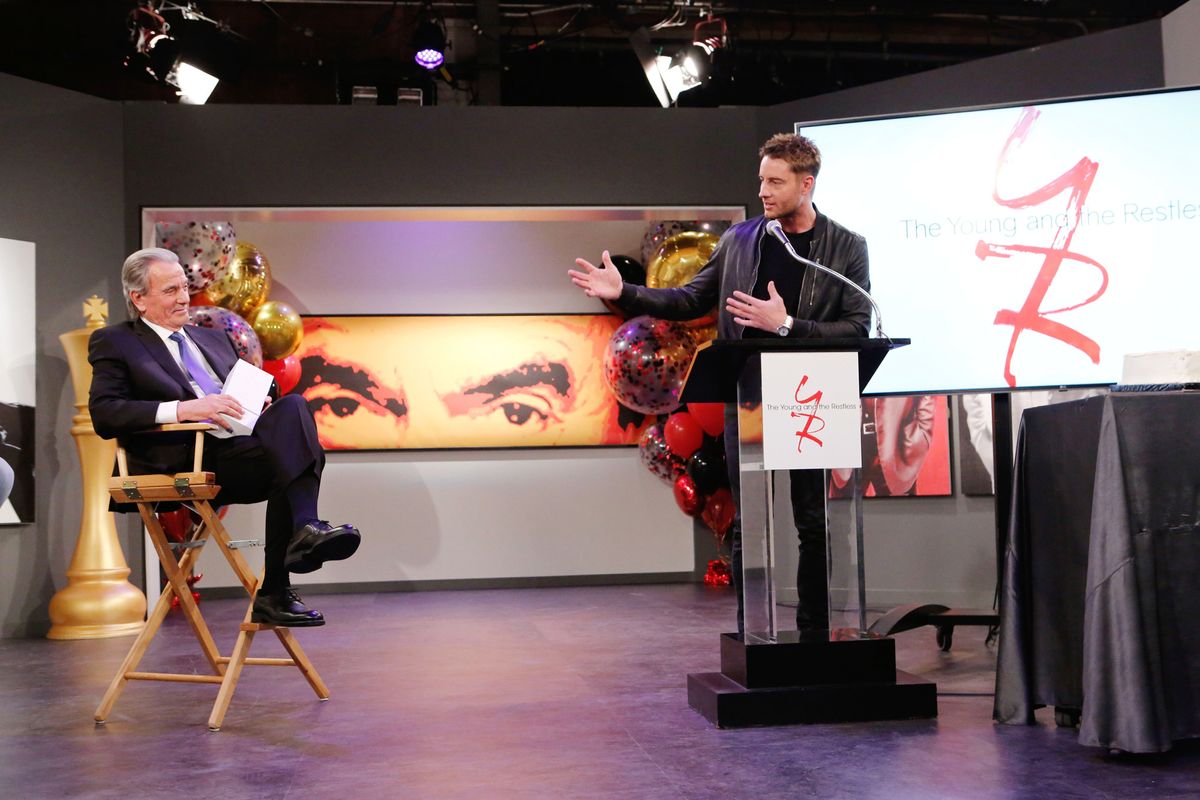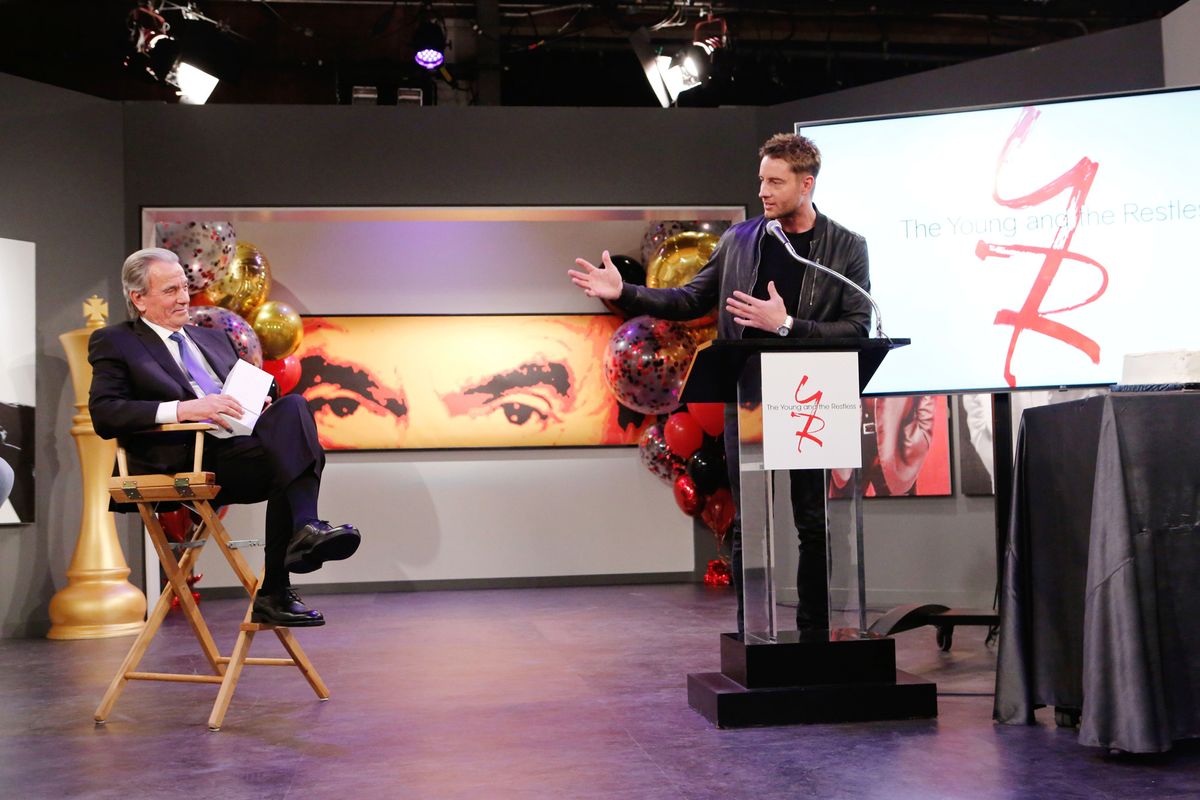 Y&R alum Justin Hartley speaks at Eric Braeden's 40th anniversary celebration.
Photo Credit: Howard Wise/jpistudios.com.
Melody Thomas Scott (Nikki Newman) closed out the speeches by marveling over the chemistry creator Bell had recognized between them long before they had. "We did indeed have… something," Scott grinned. "That very rare spark that, for the lack of a better term, entices our souls into dancing together."
Scott added that whether Victor and Nikki were fighting, loving or not even talking, that spark never faded. "Together, our souls become one," she concluded. "May the two of us always be one."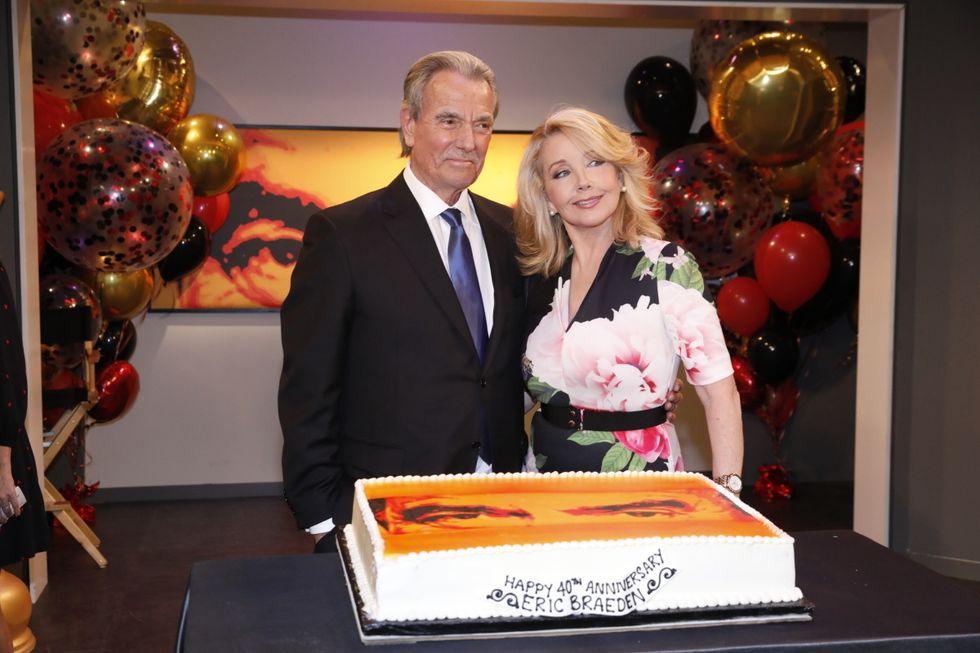 Both Eric Braeden and on-screen wife Melody Thomas Scott have both been on The Young and the Restless for 40 years.
Photo Credit: Sonja Flemming/CBS.
When Eric Braeden finally took the microphone, himself, he thanked just about everyone in the room—from his family, friends and The Young and the Restless co-stars to his former soccer team The Maccabees, the cast and crew from The Man Who Came Back, members of the press and every single member of the Y&R crew (by name!).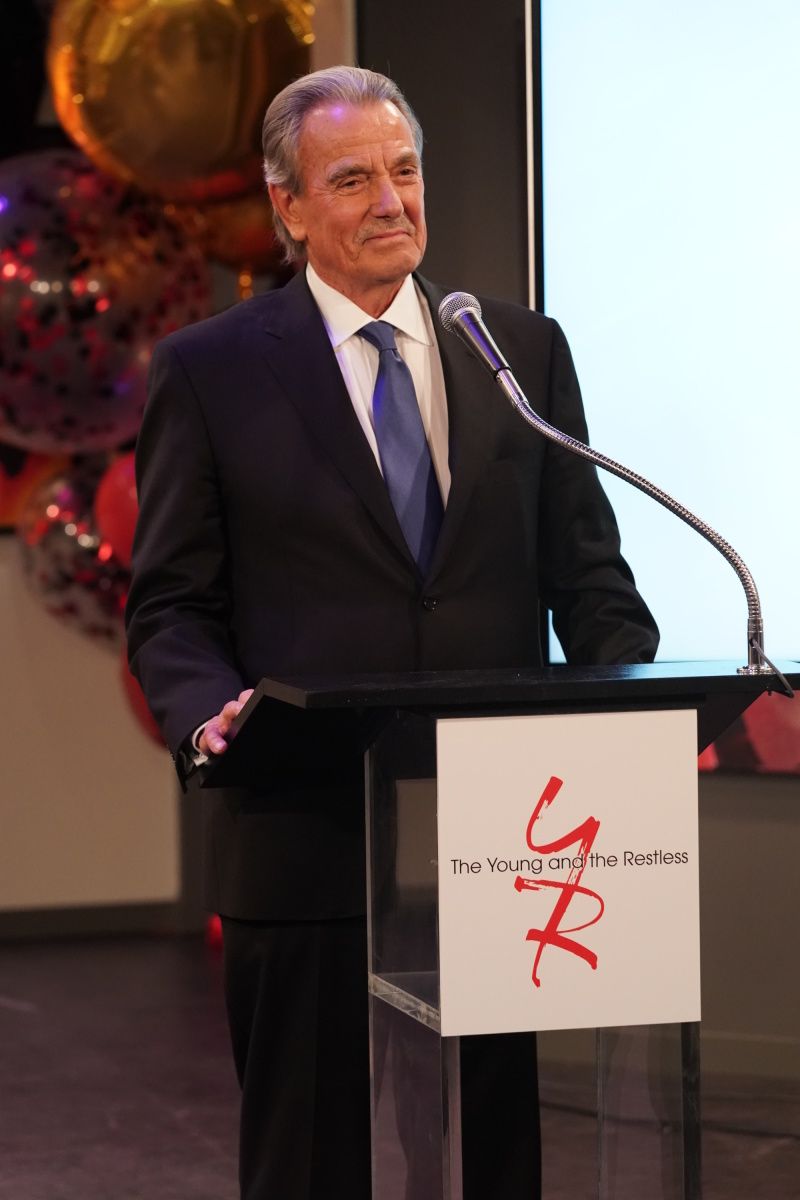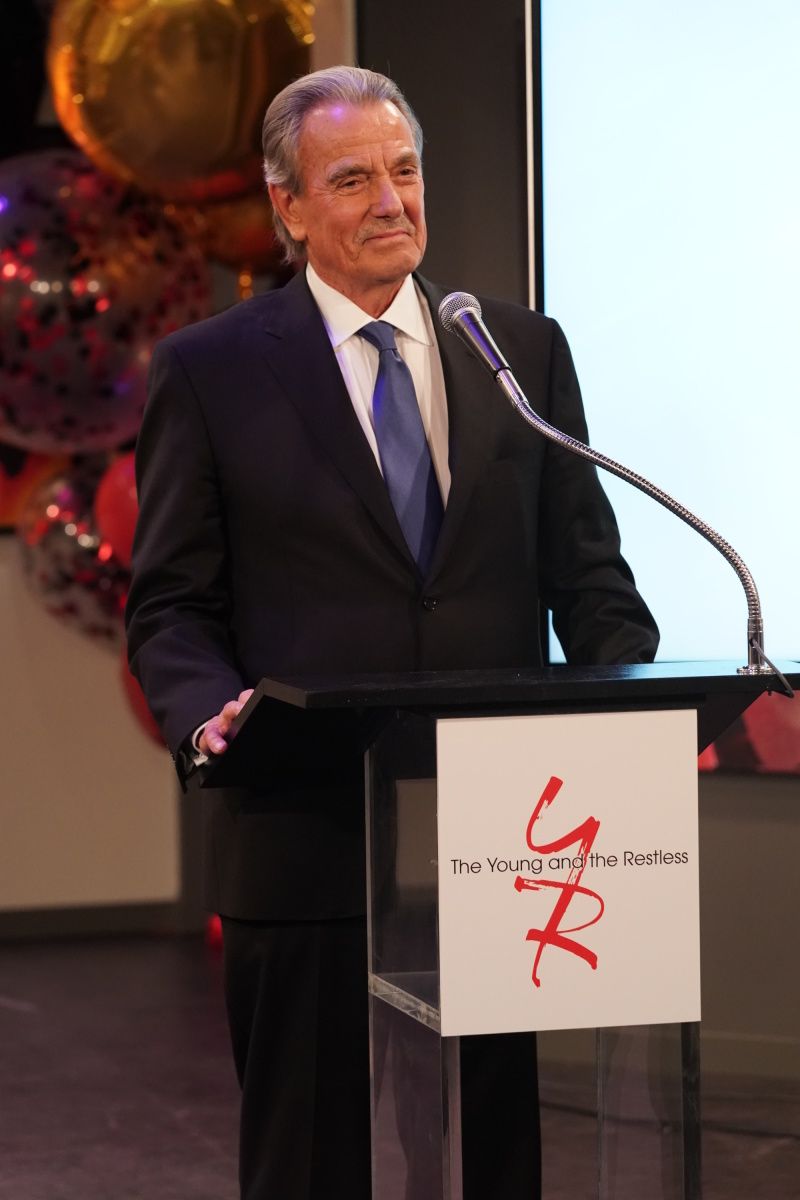 Eric Braeden takes the microphone at his 40th anniversary celebration.
Photo Credit: Sonja Flemming/CBS.
He honored his epic love story with Melody Thomas Scott's Nikki and his longtime enmity with Peter Bergman's Jack, before touting the hard work, commitment and diversity of the Y&R cast and crew—as well as that of the country he and other immigrants have made their own. Before breaking for lunch, the crowd stood as one of Braeden's friend played "The Star-Spangled Banner" on the trumpet.
After the cake and photos, of course, it was back to business at Y&R!

SEE MORE: Eric Braeden On Being Victor Newman
Watch The Young and the Restless Weekdays at 12:30 PM ET/11:30 AM PT on CBS and CBS All Access.