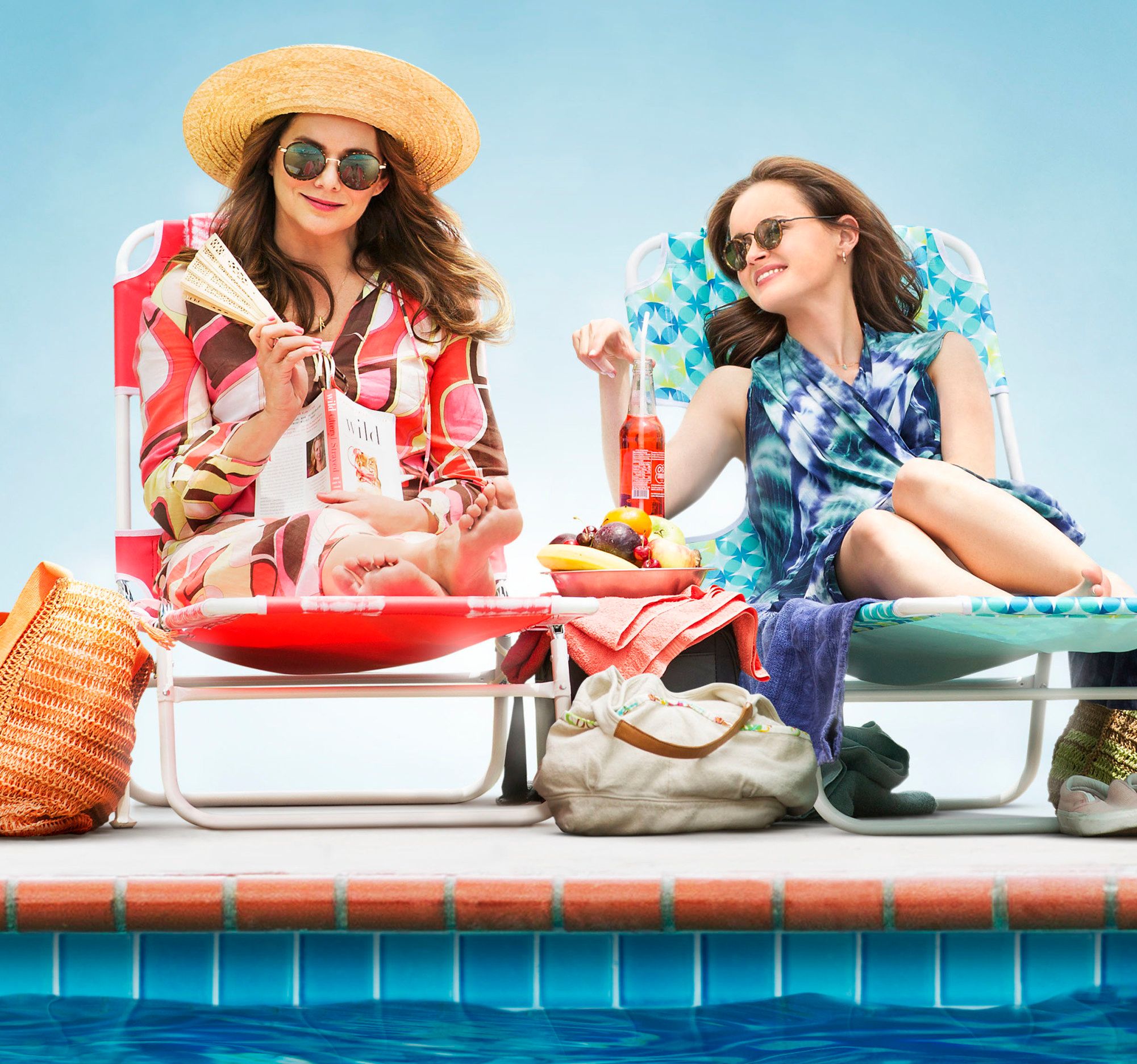 Photo Credit: The CW – 2020 The CW Network LLC.
Oy with the poodles already! The iconic mother-daughter duo is back for the series' 20th anniversary.
By Nate Millado
The Girls are back in town! For seven seasons, Lorelai (Lauren Graham) and Rory (Alexis Bledel) gave us all the feels with their unbreakable mother-daughter bond and rapid-fire caffeine-fueled repartee.
And now, just in time for its 20th anniversary, Gilmore Girlsreturns to The CW with the four-part miniseries that follows Lorelai, Rory, and Emily Gilmore (Kelly Bishop) through four seasons—Winter, Spring, Summer, and Fall—in (fictional) present-day Stars Hollow, Conn.
So grab your Pop-Tarts and settle in: Here's everything you need to know about Gilmore Girls: A Year in the Life!
The broadcast premiere of Gilmore Girls: A Year in the Life begins Monday, Nov. 23 at 8/7c on The CW. Stream free for a limited time on The CW App.
When We Last Saw Rory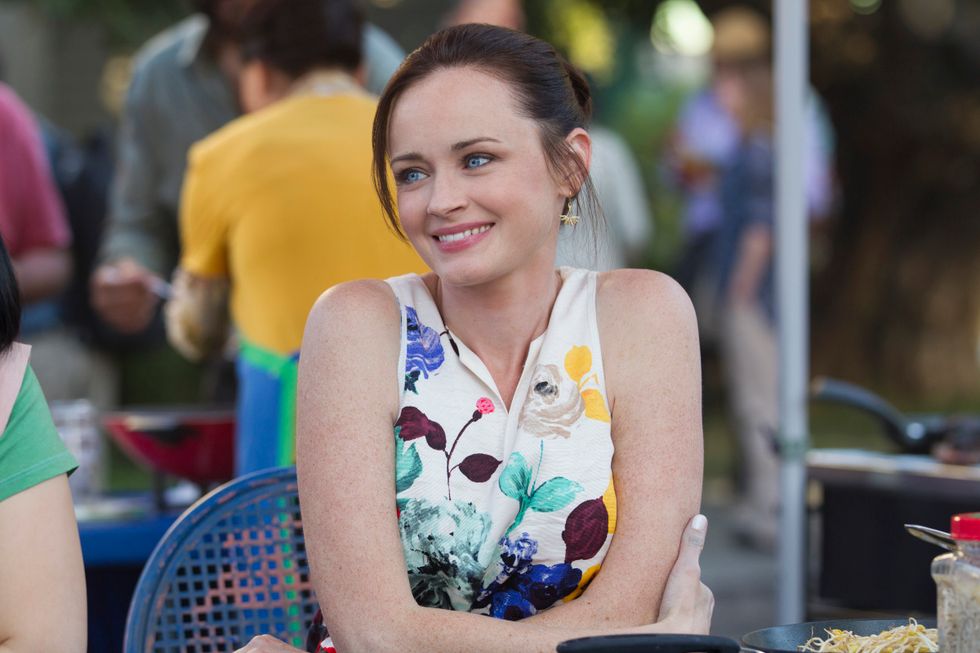 Alexis Bledel as Rory Gilmore.
Photo Credit: Saeed Adyani/Netflix.
It's been 13 years since the Gilmore Girls' series finale, titled "Bon Voyage," so here's a refresher to get you back up to speed. Rory graduated from Yale and is planning a summer road trip with her mom—to ride roller coasters!—when she gets a job for an online magazine to cover the campaign of a presidential hopeful, Sen. Barack Obama. (Perhaps you've heard of him?) She even got to meet her idol, journalist Christiane Amanpour, who just so happened to be staying at the Dragonfly Inn.
When We Last Saw Lorelai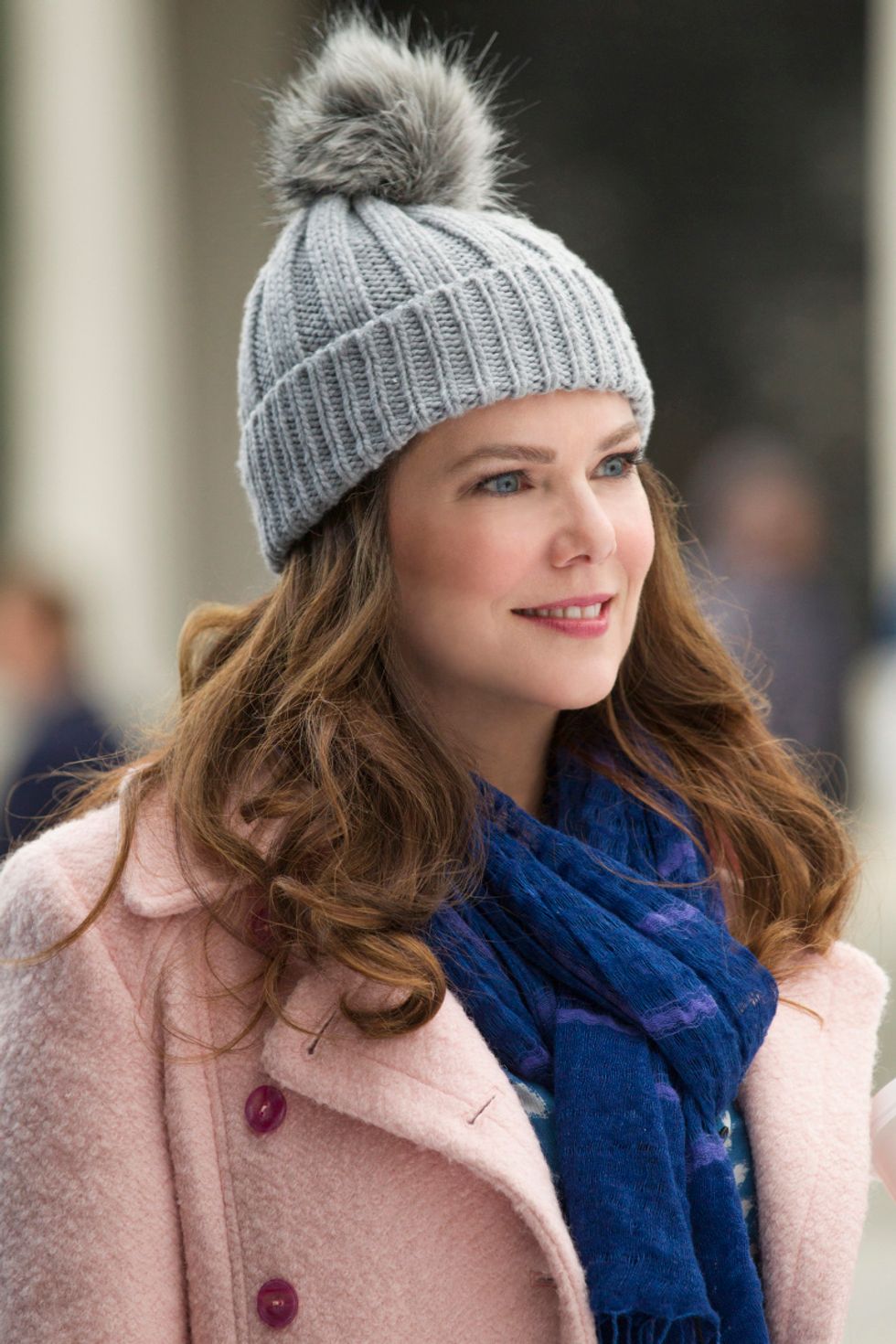 Lauren Graham as Lorelai Gilmore, ready for her favorite season.
Photo Credit: Saeed Adyani/Netflix.
Bummed that their roller coaster road trip is on hold, Lorelai throws herself into getting everything on Rory's campaign trail checklist, from travel-size shampoo and a book light to a fanny pack (random!). When Rory asks her mom why she isn't her usual overly emotional self, Lorelai fesses up that it's "too soon" and that if she stops to think about it, she'll fall apart. Later, as she watches Rory sleep, Lorelai finally breaks down in tears.
When We Last Saw Emily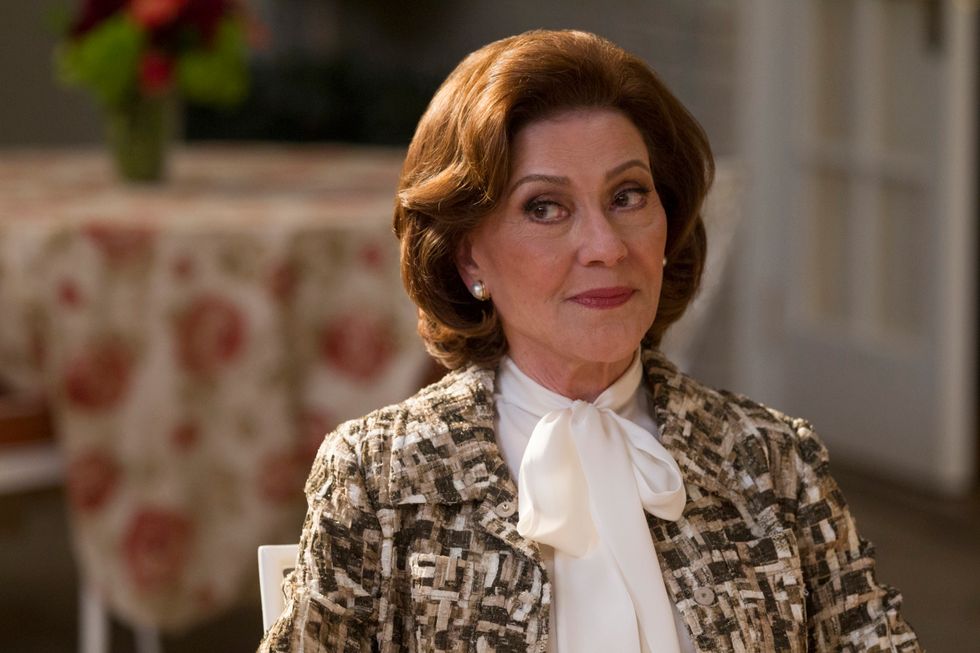 Kelly Bishop as Emily Gilmore.
Photo: Saeed Adyani/Netflix.
Lorelai's judgmental mother keeps lobbing ideas at her on how to upgrade the Dragonfly—a spa or tennis court, perhaps? Emily even says she and Richard (Edward Hermann) would be happy to lend her the money, interest-free. Lorelai soon catches on that Emily is doing this only to stay in her life, so she assures her mom that Friday night dinners will continue, even after Rory leaves.
When We Last Saw Luke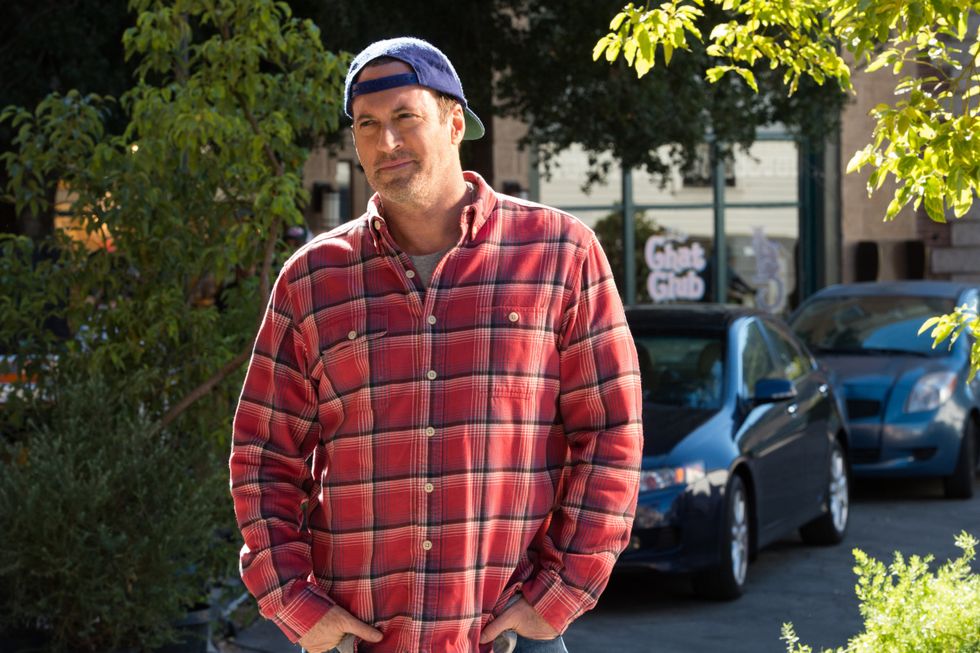 Scott Patterson as Luke Danes.
Photo Credit: Neil Jacobs/Netflix.
At the start of the series finale, Luke (Scott Patterson) and Lorelai are "just friends." Lorelai spent much of the final season marrying then divorcing her childhood sweetheart/baby daddy, Christopher (David Sutcliffe). Unbeknownst to Lorelai, Luke enlists the entire town to stage a surprise farewell for Rory—rain be damned! Sookie (Melissa McCarthy) lets it slip that the party was all Luke's idea, and a grateful Lorelai and her on-again-off-again coffee-serving beau share a kiss, hinting at another go at love.
What To Expect From A Year In The Life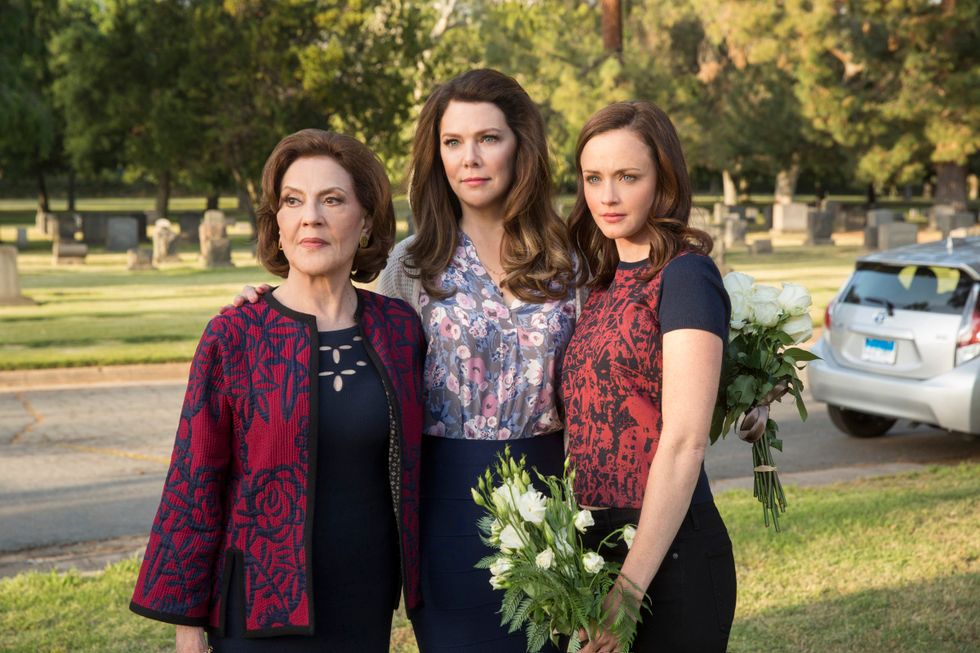 Three generations of Gilmores: Kelly Bishop as Emily, Lauren Graham as Lorelai, and Alexis Bledel as Rory.
Photo Credit: Saeed Adyani/Netflix.
The four-part revival picks up many years after the finale. Rory has found success as a journalist. But when career-related drama boils over—and a few of her exes resurface—how does the girl who's always had it together deal when it all falls apart? Lorelai still runs the Dragonfly Inn and is firmly with Luke, but when her father dies, she's forced to face some unresolved issues. Emily is also at a crossroads; what does she do now that she's no longer just Mrs. Richard Gilmore?
Returning Favorites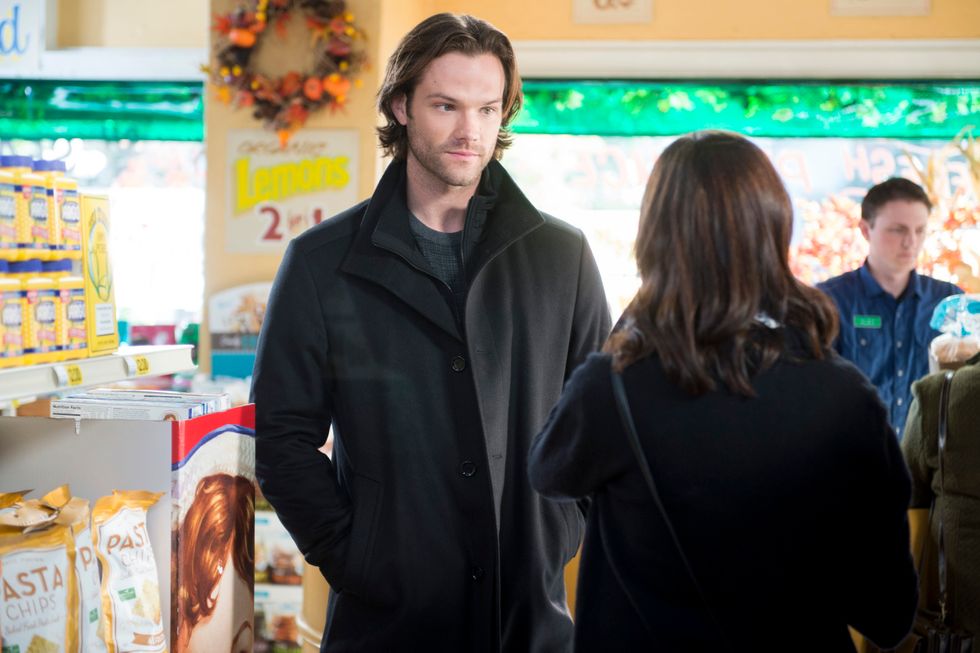 Fancy seeing you here: Dean (Jared Padalecki) and Rory (Alexis Bledel) reunite at Doose's Market, where they shared their first kiss so many years ago.
Photo Credit: Neil Jacobs/Netflix.
Whether you were Team Dean (Supernatural's Jared Padalecki), Team Jess (This Is Us' Milo Ventimiglia), or Team Logan (The Good Wife's Matt Czuchry), you'll be happy to know that all of Rory's former beaus are back. As is kooky Kirk (Sean Gunn) and Rory's BFF, Lane (Keiko Agena)—a married mom of twins when we last saw her. Snooty French concierge Michel (Yanic Truesdale) is still at the Dragonfly, and we finally get some confirmation on his love life.
Rory's frenemy Paris (Liza Weil) is thankfully present, with an ambitious job that's so Paris. And in case you were wondering, yes, lovable accident-prone chef Sookie stops by; getting award-winning A-lister Melissa McCarthy back is nothing short of a coup.
Wait…Was That…?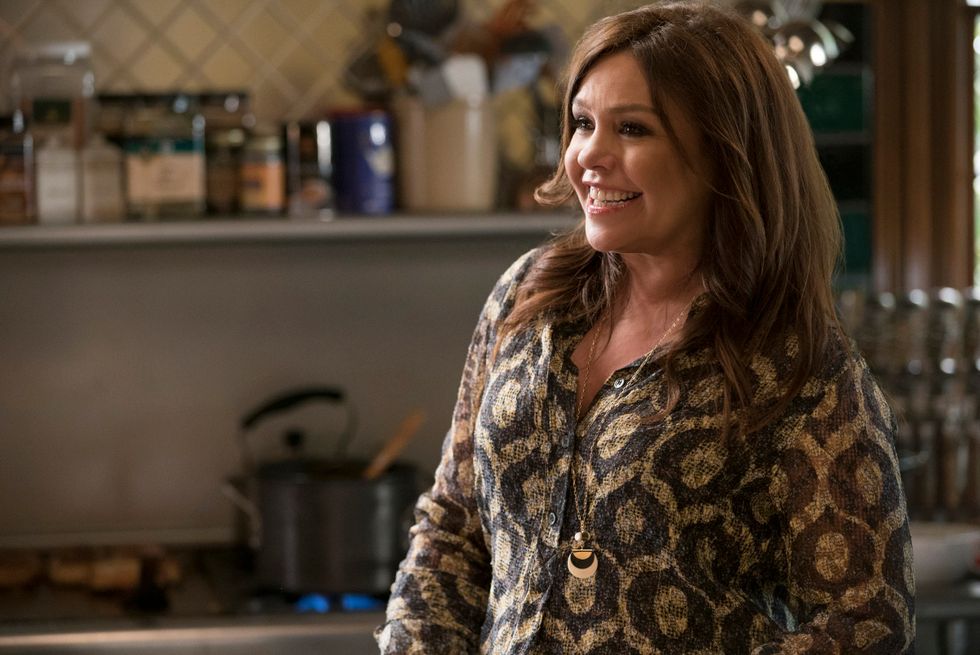 Celebrity chef Rachel Ray as herself.
Photo Credit: Saeed Adyani/Netflix.
Expect tons of fun cameos in A Year in the Life. To name just a few: celebrity chef Rachael Ray; music icon Carole King, who appeared as Stars Hollow music shop owner Sophie and also performed GG's theme song, "Where You Lead," with her real-life daughter Louise Goffin (plus: look for Louise strumming her guitar as a town troubadour); Graham's real-life partner and former Parenthood co-star Peter Krause; and Broadway royalty Christian Borle and Sutton Foster—star of TV Land's hit Younger and GG creator Amy Sherman Palladino's 2012–13 cult series Bunheads—in a hilariously off-the-rails Stars Hollow: The Musical (the rap number is a must-see!).
Famous Last Words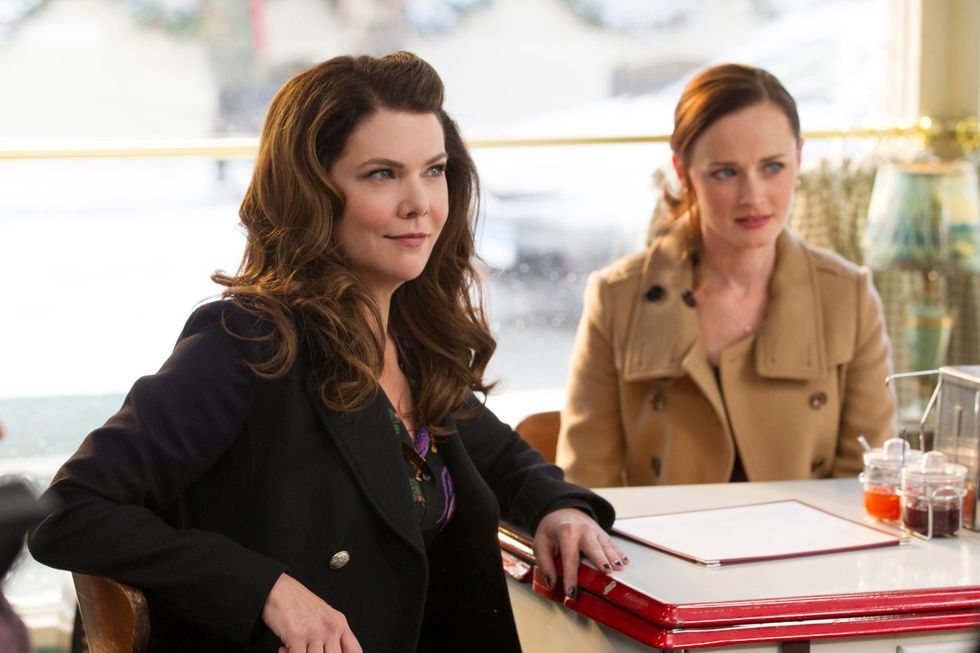 Are they thinking about coffee? That's always a safe assumption with Lorelai (Lauren Graham) and Rory (Alexis Bledel).
Photo Credit: Saeed Adyani/Netflix.
Creator Amy Sherman-Palladino always knew what the "last four words" would be. But since she and executive producer Daniel Palladino exited the series prior to the seventh season, she never got to see her vision through…until now. With the husband-and-wife team back to write, direct, and produce the revival, you'll finally get to see who utters the famous last words.
Watch miniseries Gilmore Girls: A Year in the Life starting Monday, Nov. 23 at 8/7c on The CW. Stream free for a limited time on The CW App.