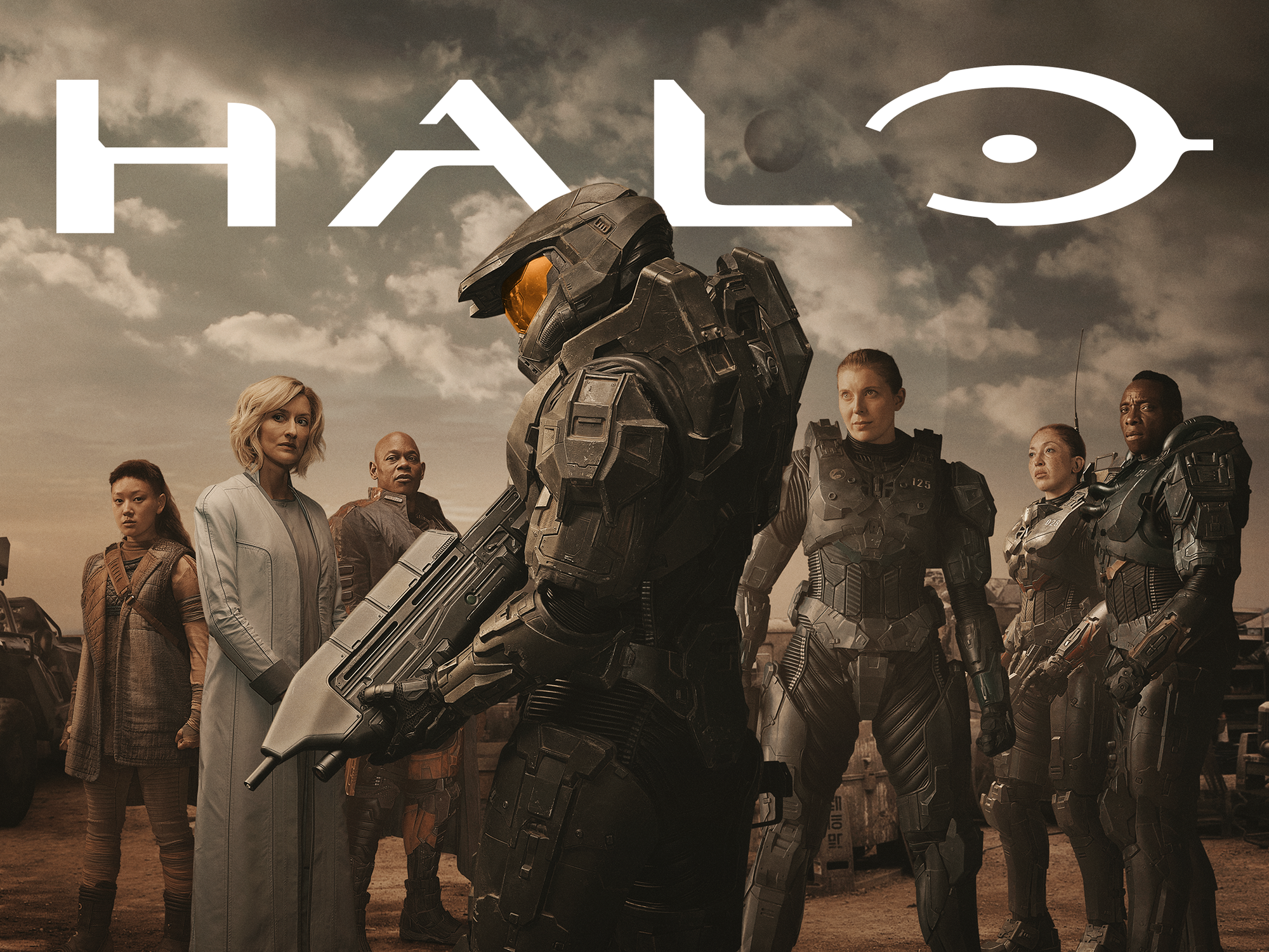 Photo Credit: Paramount+
Catch the live-action series based on Xbox's iconic military sci-fi franchise.
By Suzette Duncan
Halo, a live-action adaption of the eponymous, era-defining Xbox game franchise introduced on the Microsoft console in 2001, can now be streamed on Paramount+. Fans of the Halo universe can look forward to seeing an epic battle for the future of humanity. Read on to learn more about the series!
Catch up on Halo on Paramount+.
---
SUBSCRIBE NOW: Enjoy 4 Digital Plus 2 Print/Digital Issues Of Watch Per Year — For Free!
Die-Hard Fans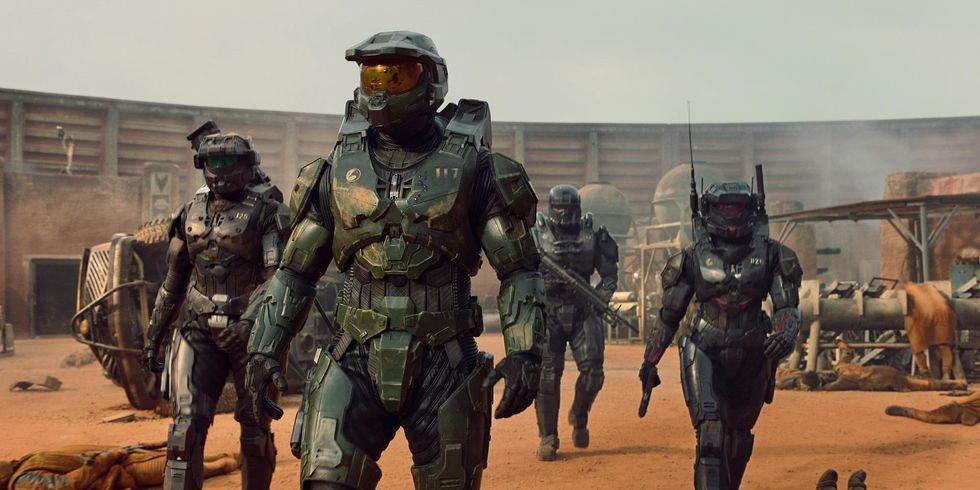 Master Chief leads the Silver Team of Spartans
Photo Credit: Paramount+
Halo admirers, by the way, are not in short supply. A favorite among players and critics alike, Halo the game has sold more than 80 million copies and shaped video games for the past two decades, as competitors tried to keep up with its success.
The video game franchise alone includes six main titles—most recently Halo Infinite, launched in December 2021. Halo has also inspired numerous adaptations and extensions, including 36 novels, 31 graphic novels, and six short anime films produced by Japanese animators.
Silver Streamer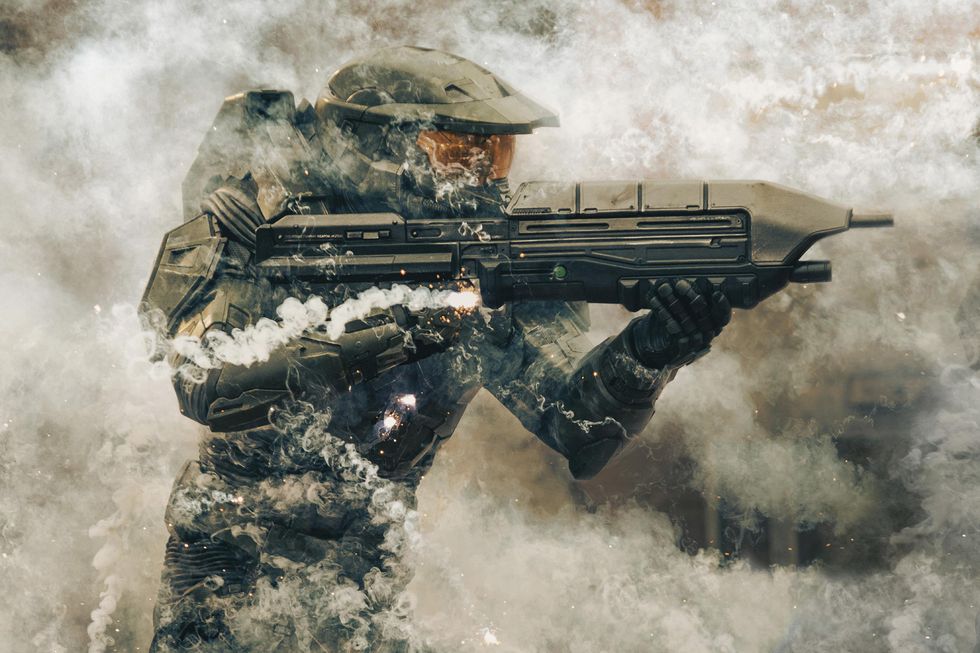 Master Chief charges ahead
Photo Credit: Adrienn Szabo/Paramount+
It's been a long road for 343 Industries, the game studio that makes Halo, and for producer Steven Spielberg, who first tried to make the show in 2013. Originally, the collaborators had a plan to distribute their creation through the Xbox gaming platform, but it never happened.
In 2018, SHOWTIME joined 343 and Spielberg as a production partner and announced plans to air the series on that network. However, after COVID-19 disrupted the shooting schedule, Halo moved to Paramount+ to reach the widest possible audience.
Newbies Welcome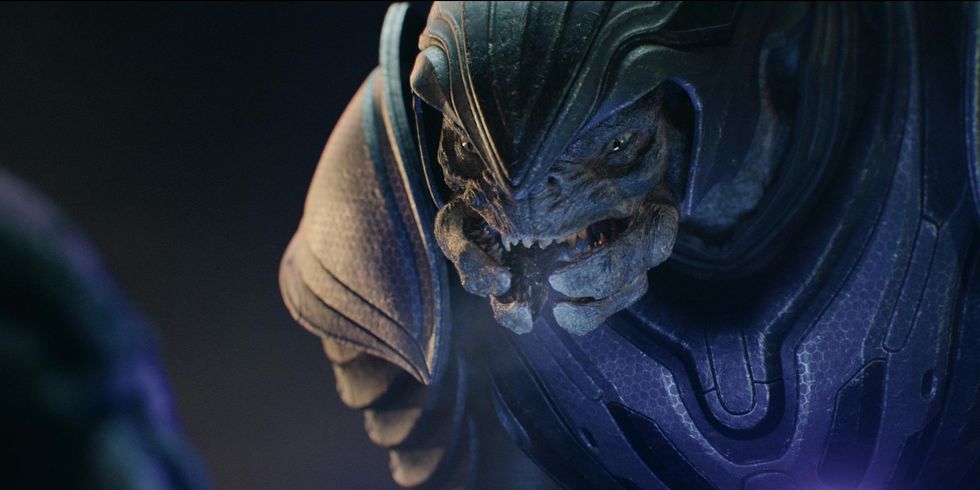 The Covenant says hello.
Photo credit: Paramount+
Though inspired by the video game franchise, the new series is based on a standalone story about a 26th-century war between humans and the alien enemy known as the Covenant. This gives newcomersa chance to get to know thecharacters and setting without prior knowledge of Halo—and provides a thrill ride for gamers and non-gamers alike.

For anyone swept up by the story and interested in taking the opposite approach, 20 years of internet fandom leave an impressive archive to enjoy alongside the series. Start with a concise history or dive into the encyclopedic deep end of the Halo universe and you, too, can understand the origins of the Covenant, what drives the conflicts unfolding, and which character stories emerge from obscure corners of the canon.
Spartan Supersoldier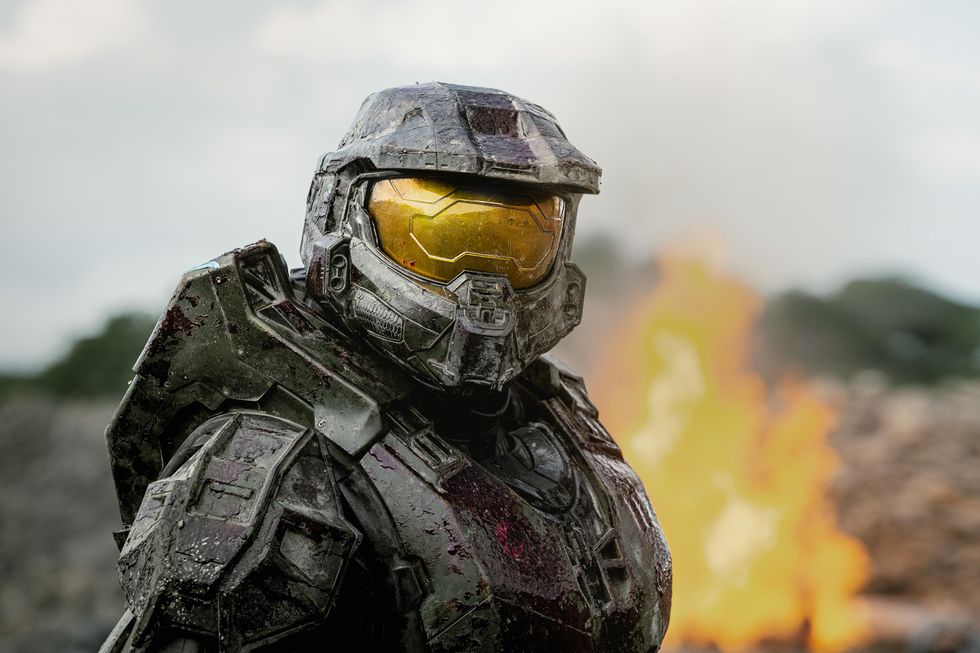 Master Chief dressed for battle
Photo Credit: Adrienne Szabo/Paramount+
The most familiar face associated with Halo isn't a face at all, but a helmet. Veteran actor Pablo Schreiber (American Gods) plays main protagonist Master Chief Petty Officer John-117, a towering, genetically-engineered supersoldier also known as Spartan-117.
The Unmasked Soldier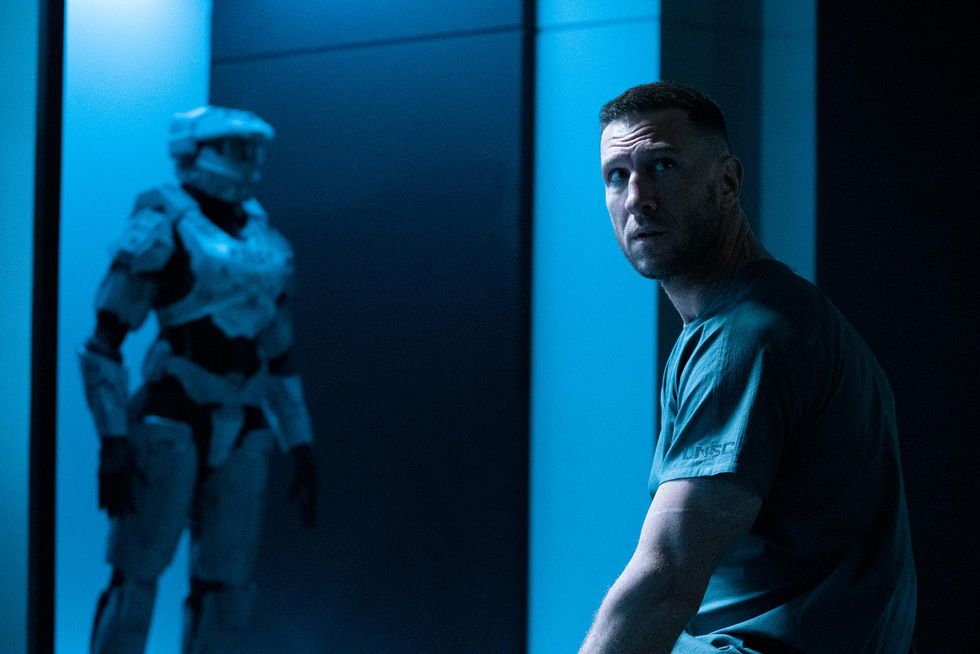 Pablo Schreiber as Master Chief in Halo
Photo Credit: Adrienne Szabo/Paramount+
In one of the major departures the series makes from Halo the game, we're quickly introduced to the man behind the Spartan mask. Schreiber's John-117 not only reveals his face, but also shows us glimpses of his humanity, as a mysterious object brings him visions of a past he's forgotten.
The Doctor Is In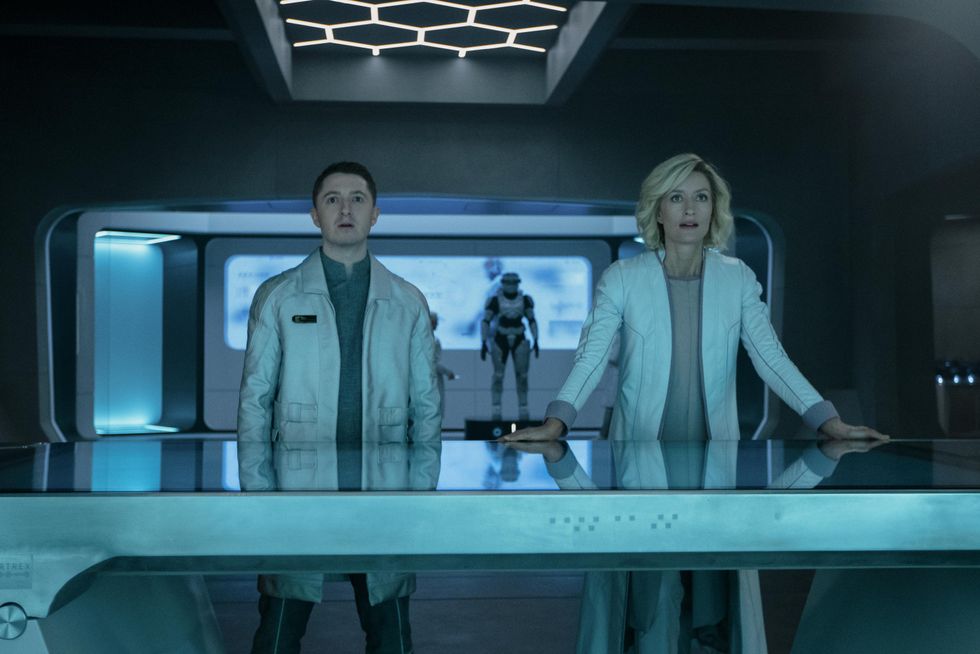 Ryan McParland as Adun and Natascha McElhone as Dr. Catherine Halsey
Photo Credit: Adrienn Szabo/Paramount+
Natascha McElhone (Californication) plays Dr. Catherine Halsey, a scientist for the UNSC (United Nations Space Command) and creator of the Spartan-II Project, which includes Master Chief Petty Officer John-117.
Viewers not familiar with the game will quickly gather through McElhone's intensely focused stare that Dr. Halsey's fervor for her scientific projects is likely to overtake her commitment to organizational chain of command.
A.I. Guide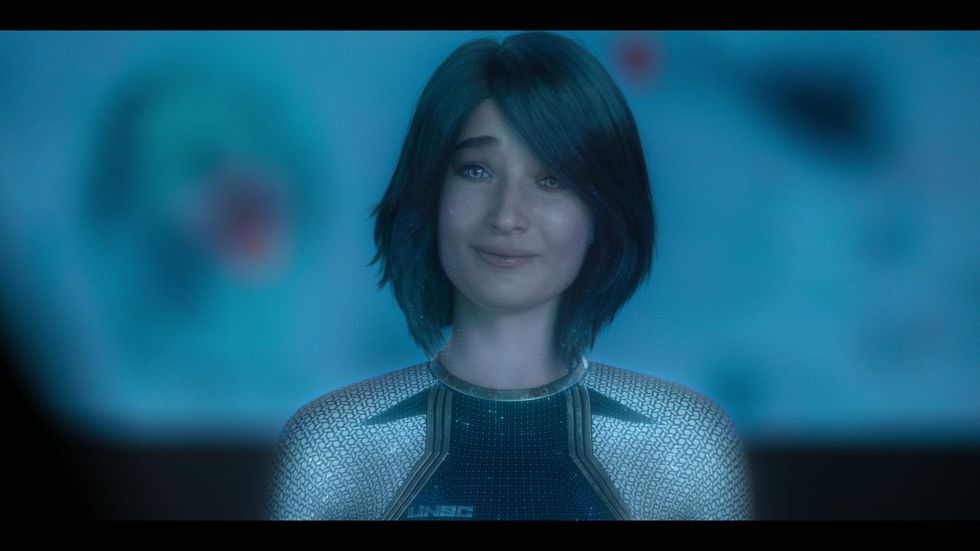 Cortana, voiced by Jen Taylor
Photo Credit: Paramount+
Voice actor Jen Taylor resumes her role from the game franchise as the Artificial Intelligence named Cortana, the most advanced A.I. in human history—and potentially the key to the human race's survival.
According to the lore and the original script, McElhone should have played Cortana, but COVID-19 delays scrambled scheduling, so veteran voice-actor Taylor came on board.
[For trivia buffs and Microsoft partisans (sorry PlayStation peeps): Jen Taylor also voiced the Alexa-like assistant, Cortana, built into recent Windows operating systems.]
Soren and Laera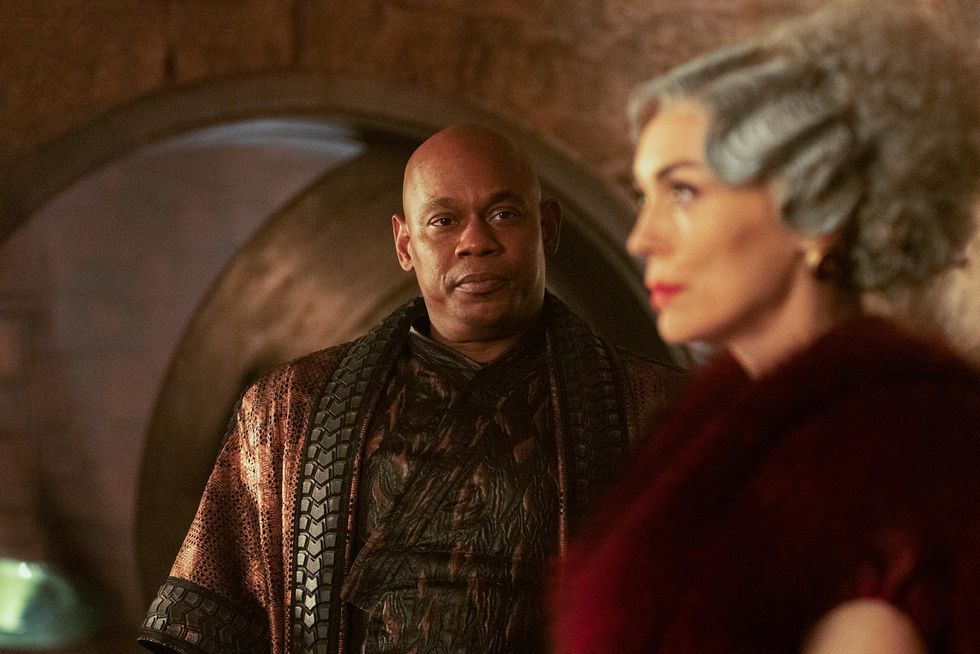 Bokeem Woodbine as Soren-066 and Fiona O'Shaughnessy as Laera
Photo credit: Adrienn Szabo/Paramount+
Added from the Halo literary universe, Bokeem Woodbine's (Fargo) Soren is a dropout (or escapee, some would say) from the Spartan-II program, where he was known to Master Chief as Soren-066. Living with Soren on a remote outpost of outcasts and scoundrels is his striking partner, Laera, an entirely new addition to the franchise, portrayed by Irish actor Fiona O'Shaughnessy (Nina Forever).
More New Faces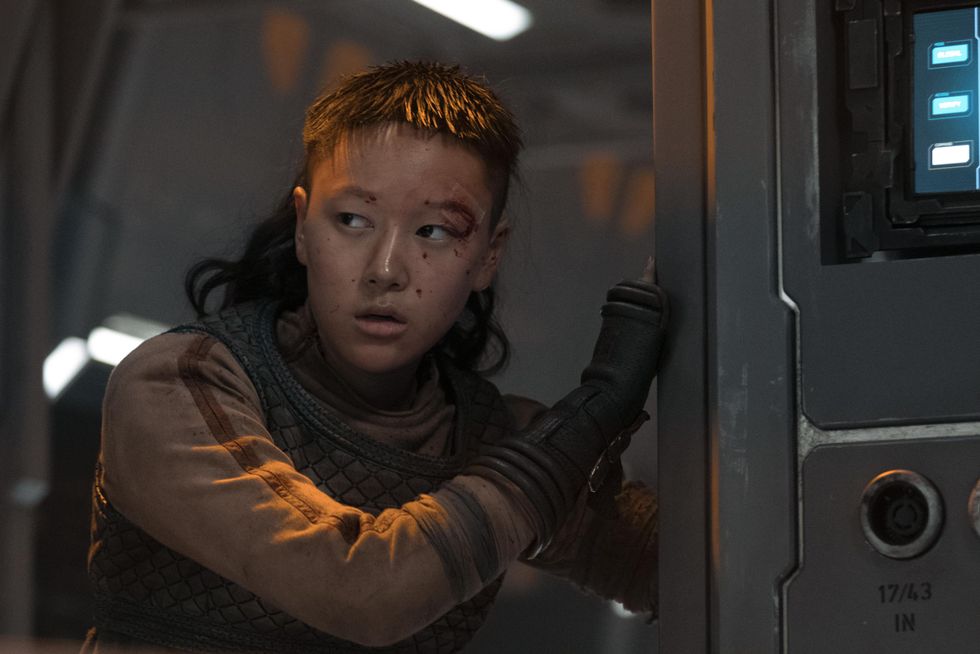 Yerin Ha as Kwan Ha
Photo Credit: Adrienn Szabo/Paramount+
The series also adds a number of other new characters, notably including Australian actress Yerin Ha (Reef Break) as Kwan Ah, the shrewd teenage daughter of a rebel leader from one of the Outer Colonies. Off to a slower start in terms of on-screen action, but consistently visible at Dr. Halsey's side nonetheless, is Adun, played by Ryan McParland (6Degrees).
For novice and veteran Halo fans alike, there's even more to be excited about: After a two-decade wait for the first season of this series, you can rest assured that a second will not be far behind. Season 2 has already been ordered!
Catch up on Halo on Paramount+.
SUBSCRIBE NOW: Enjoy 4 Digital Plus 2 Print/Digital Issues Of Watch Per Year — For Free!