Why seeing the live eviction taping of CBS' hit reality series is a big event for any fan of Big Brother.
By Marc Berman

Full disclosure: I have never missed an episode of summer competition Big Brother on CBS, which debuted in 2000. If you factor in recent winter addition Celebrity Big Brother, that means I have seen about 750 episodes, to date, of this addictive reality competition series. That's a whole lot of BB!

STREAM: Every Episode Of Big Brother On CBS All Access

Naturally, no trip to the Television Critics Association Summer Press Tour for me would be complete without sitting in the studio audience for a live Thursday night Big Brother eviction show. Last summer, I was privy to what historically had to be the most tumultuous exit: Rachel Swindler being blindsided by her teammate Angela Rummans, who, no doubt, had her own secret agenda. A few years earlier, there was one of my all-time favorite houseguests, Da'Vonne Rogers, as she tearfully tried to decipher what went wrong.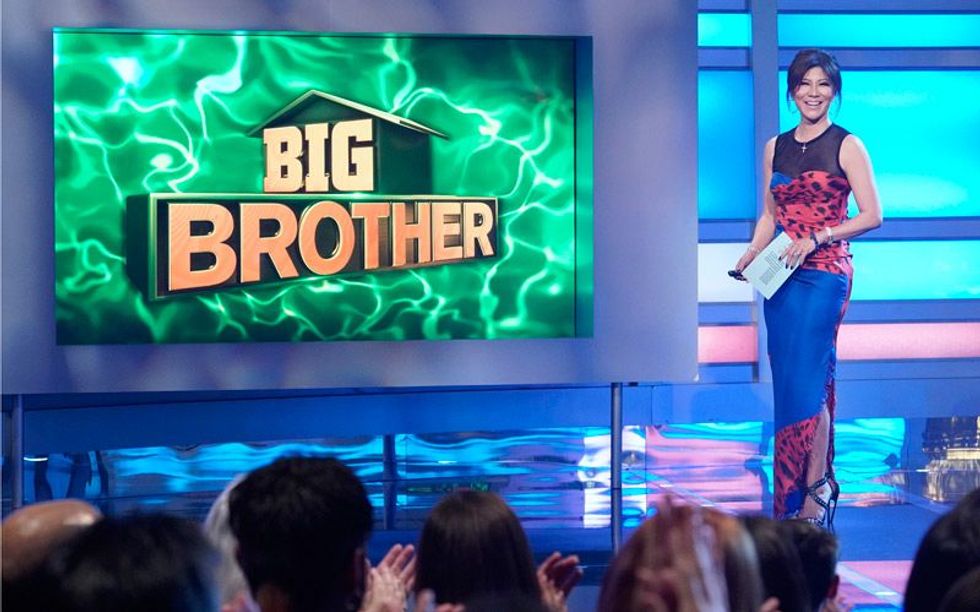 Host Julie Chen Moonves on the fifth live eviction on Big Brother.

This time, it seemed obvious from the prior telecast that Sam Smith may be leaving. He was not part of the "Six-Shooters" alliance, after all, and Cliff Hogg III only seemed to solidify his exit by not completing his big move as HOH that week.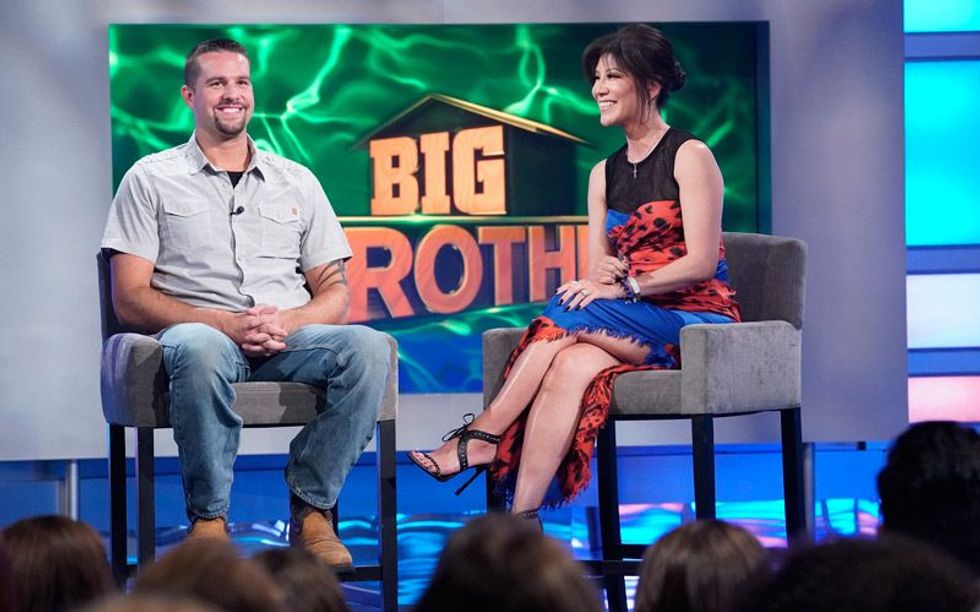 Host Julie Chen Moonves talks to the fifth evictee, Sam Smith, at the live eviction on Big Brother.

While Sam Smith did ultimately get evicted, what I learned once I got to CBS Studio Center for the taping in Studio City, California was there was a battle in the house to potentially flip the vote to Kathryn Dunn (who offered to put herself up as a pawn). The Marcellas Reynolds move on Big Brother 3: never, ever, put yourself on the block assuming there is no way you will get evicted. He did, and that strategy backfired, in to this day remains one of the worst moves for any houseguest in Big Brother history.

READ MORE: The Best Big Brother Moments

Of course, had Nick Maccarone not won the POV he would have been reunited with his recently departed showmance Isabella Wang. Yes, there is nothing like Big Brother speak! We have our own lingo!

If you happen to be a fan of Big Brother, or want to experience what has to be one of the most passionate fan base for any series in the history of television, I suggest taking the time on Thursday afternoon during BB season if you are in Los Angeles to see a live eviction show.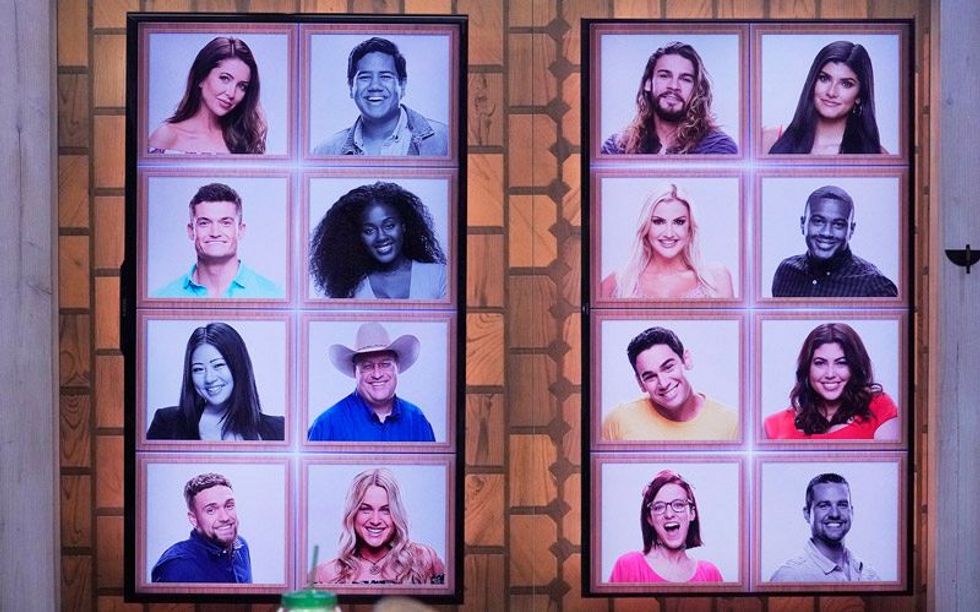 Memory Wall after Sam Smith is evicted on Big Brother.

Since I write about television for a living, I had the honor to visit the green room prior to the taping—where Big Brother producer Don Wollman fielded questions and shared insights about the show.

Wollman is also the voice of Big Brother inside the house as he calls the various houseguests into the Diary Room, so as he spoke I kept expecting to be called into that room to spill my guts out!

DISCOVER MORE: Big Brother Hall Of Fame

Once in the studio, Wollman spent about 15 minutes talking to the audience and taking questions before handing over the stage to a very energetic comedian named Bill, who like everyone else in the audience is the ultimate fan of Big Brother. With about 30 minutes to go to the live taping, beloved host Julie Chen Moonves came out, greeted the audience, and rehearsed the opening.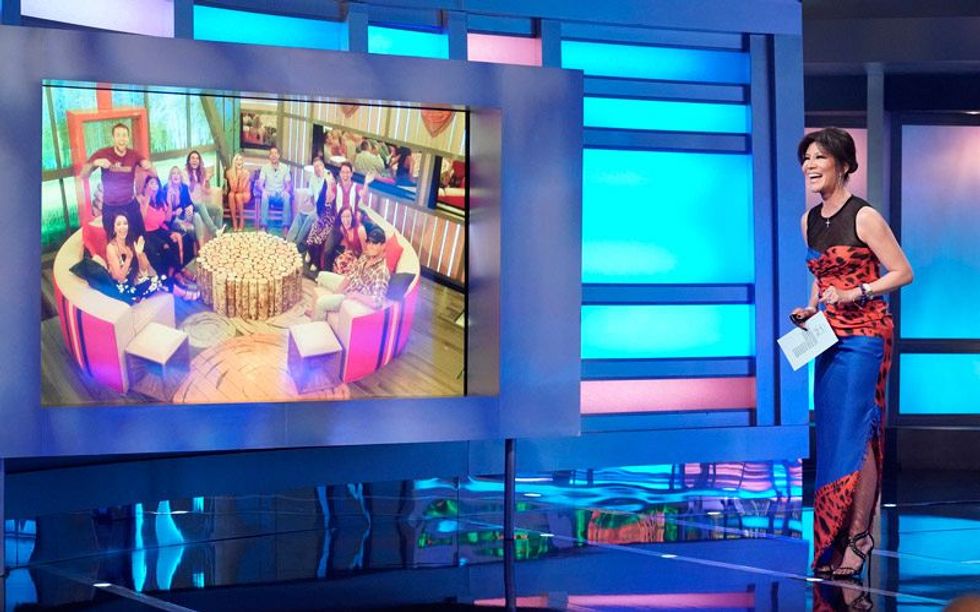 Host Julie Chen Moonves talks to the houseguests before the fifth live eviction on Big Brother.

Now, is the countdown...ten minutes to the start of the show, nine minutes, eight minutes and so on. Since the studio audience is really not all that big (maybe 200 people), no seat is a bad seat to watch the live show. You can see everything. But this year (my sixth time seeing a live eviction show) my family and I were seated smack in the middle of the front row to see the evicted houseguest energetically (and disappointingly) depart. And as he did so, we had a full view of the remaining houseguests waving and screaming. Yes, it was awesome!

Unlike prior eviction shows I have attended, an added element is Julie doing a 10-minute interview with the evicted houseguest.

Poor Sam ... he should have been a contender! Once back at our hotel, we could not wait to watch the telecast on CBS here in Los Angeles. And, as always, we will be gathered at back at our home in New York for the remainder of the season.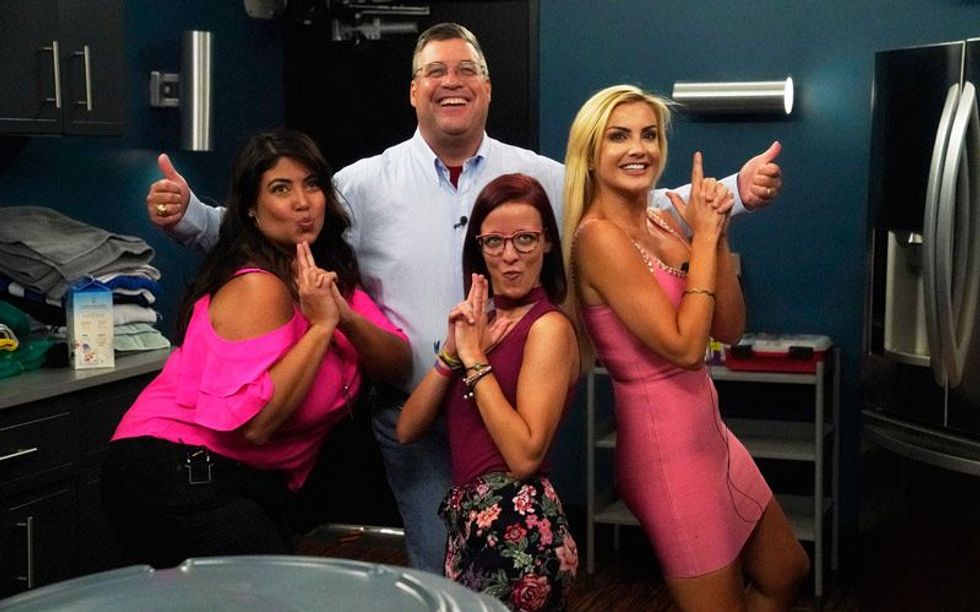 Cliff Hogg III with BB houseguests Jessica Milagros, Nicole Anthony, and Kathryn Dunn.

Since the "Six-Shooters" are, no doubt, about to self-destruct, this season of Big Brother is about to get very interesting. And, while I did criticize Cliff Hogg III for deciding to work with Christie Murphy (who convinced him to put Isabella on the block), maybe it was not such a bad idea after all. I personally think Cliff has the goods to win BB21. Then again, Tommy Bracco's combination of strategic moves and an under the radar approach seems like the strategy to beat.

Stay tuned.

GET MORE: Big Brother's Best Twists

Photo Credits: Robert Voets/CBS.

Don't miss all-new episodes of Big Brother on Sundays/Wednesdays at 8/7c and Thursdays at 9/8c—always on CBS and CBS All Access.