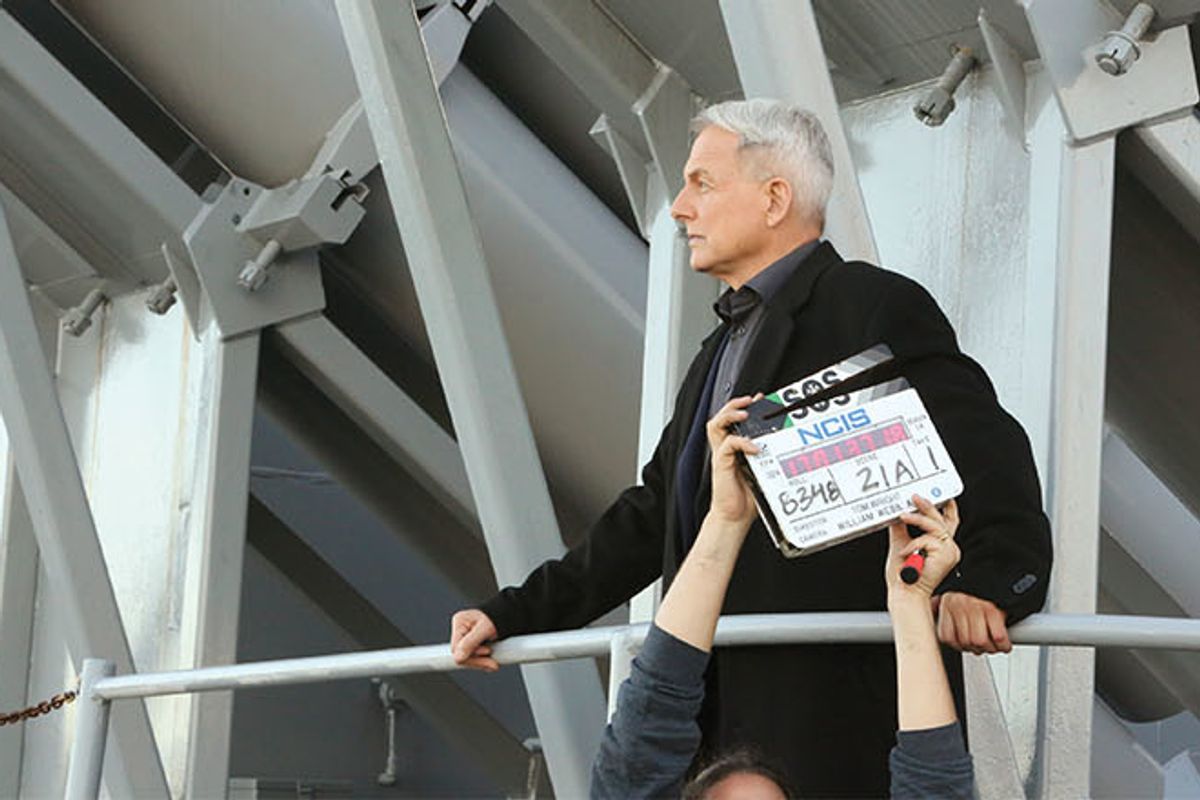 Patrick McElhenney/CBS (Clapper Board)
With over 18 million viewers in more than 200 territories worldwide, NCIS has become a global phenomenon.
By Tom Roston
There are many ways to gauge the incredible success of NCIS. You might start with the fact that it's been the No. 1 or 2 most watched show in the world over the past three years. Or that it has consistently been the top-ranked drama in the United States for more than a decade.

Or you could peruse the internet to count the rabid fan offerings—from Tolstoy-length fan fiction to "Mrs.
MarkHarmon
" T-shirts to a variety of Abby dolls (crochet, anyone?). Another clear indicator is something Harmon recently said over lunch to his longtime
NCIS
executive producer, Chas. Floyd Johnson: "After 14 years, I still love coming to work with this cast and this crew."
SUBSCRIBE NOW: Enjoy 4 Digital Plus 2 Print/Digital Issues Of Watch Per Year — For Free!


During those 14 years, and while watching NCIS marathons on TV, Johnson has noticed that the show, about a Navy criminal investigation unit, "becomes like an old friend," thanks to its main characters, the procedural format, and its particular brew of humor and drama.

He credits show creator Donald Bellisario for forging the original subtle interplay between comedy and crime. "
NCIS
has an ability not to let the humor step on the drama," Johnson says. "It doesn't belittle the actual investigation." It's something that Bellisario developed on
The Rockford Files
in the 1970s and on
Magnum, P.I.
in the 1980s; Johnson worked as a producer for the latter.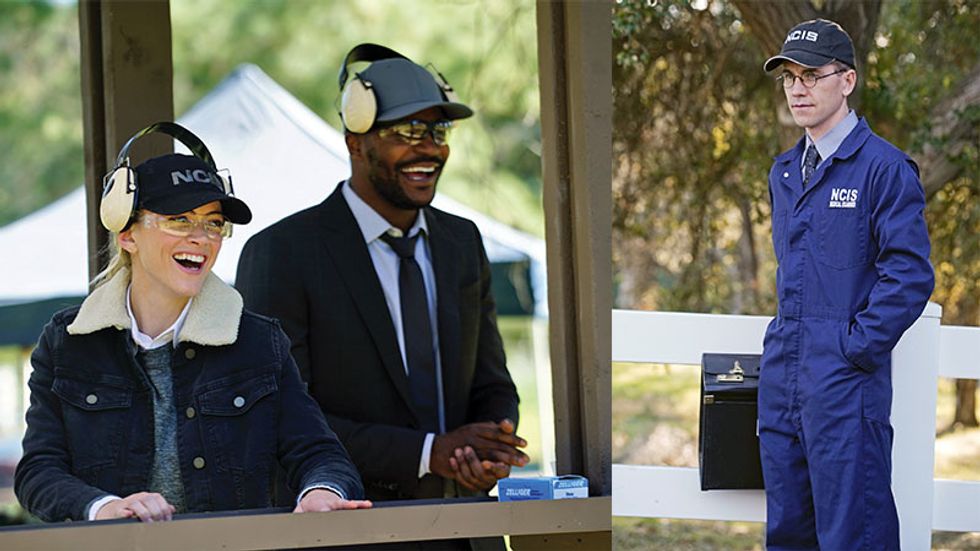 Emily Wickersham and Duane Henry (as special agent Eleanor Bishop and M16 agent Clayton Reeves); Brian Dietzen (as assistant medical examiner Jimmy Palmer).
Sonja Flemming/CBS (Wickersham, Henry); Jace Downs/CBS (Dietzen)
"It's really smart to stick with the idea that they are going to solve a case every week," says Donna Kauffman, who has been writing NCIS recaps for the past two seasons for USA Today. "A lot of shows that have strong characters devolve into a soap opera."

This "dead guy of the week" format, as she calls it, is what Kauffman loves most about the show. She also notes that its consistent but not showy way of integrating real issues into episodes helps ground NCIS even further. Military initiatives that help suffering soldiers have been highlighted in such a way that they don't feel like public service announcements, so much so that Kauffman often looks up whether a featured program actually exists—and invariably finds that it does. "They do a lovely job at that," she says.

Keeping it real—including special cameos, like former first lady
Michelle Obama
—is part of what makes the show "unique," says Johnson, who reports that the actual NCIS was at first skeptical of the production. "We had to prove ourselves," he says. "They were very afraid that we might minimize the military, but we have been very respectful." Johnson says the show and the Navy continue to have a strong, collaborative relationship. In the spring, CBS's
48
Hours
ran a six-part series on the real NCIS, with
NCIS
actor
Rocky Carroll
narrating.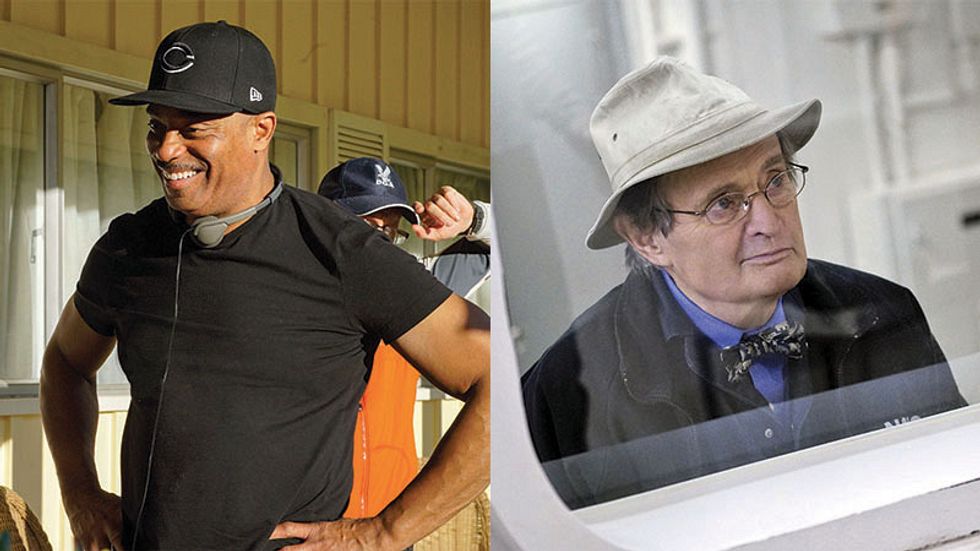 Rocky Carroll and David McCallum (in character as medical examiner Ducky Mallard).
Cliff Lipson/CBS (Carroll);Sonja Flemming/CBS (McCallum)
But everyone has different reasons to love the show. TV Fanatic reviewer Kathleen Wiedel says that action fans love to feast on the big explosions that frequent NCIS: Los Angeles, one of two spin-offs (the other is NCIS: New Orleans).

The characters and the actors who play them are the primary reason Wiedel has been a fan since the original show's pilot in 2003. "I love the actors," she says, citing DavidMcCallum, who plays the medical examiner, Ducky, and then Harmon, who plays special agent Leroy Jethro Gibbs, the leader of the unit.

Johnson says that Harmon has a special quality to him. "He has a genuine relatability to his personality. He is in many ways an everyman," he says. "The show has had a long arc, so Gibbs is a complicated character. And Harmon has understood how to fill that character. I've been amazed watching him. When there's humor to the show, he may not be the one to initiate it, but with one look, he can control the scene with the force of his personality."
As for McCallum, Johnson admires the seasoned actor for going the extra mile, spending time with actual coroners to better portray his character.
The eclectic cast of long-term regulars also includes McGee, played by
Sean Murray
, and
Pauley Perrette
's Abby, the show's forensic scientist, a nerdy goth girl who has set the template for many of the quirky TV characters on the procedurals that have followed. And plenty of other characters have come and gone. One of the show's bold elements is that beloved regulars can die, sometimes in shocking fashion.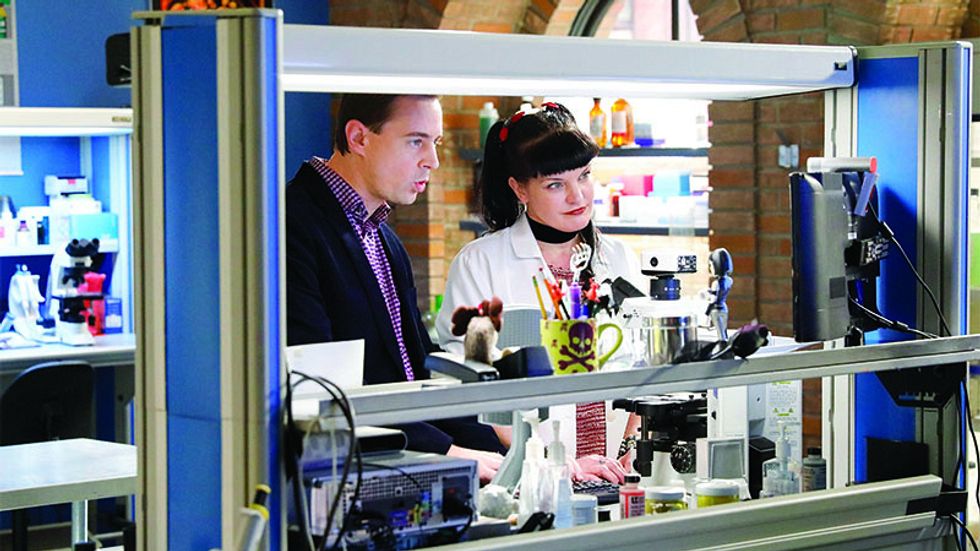 Sean Murray and Pauley Perrette have been on NCIS since Season 1.
Trae Patton/CBS
"That started when Sasha Alexander let the show know that she didn't want to work as much," Johnson says of the actress, who played Caitlin Todd, a key character in the first two seasons. "We realized then that to sustain ourselves, to keep the drama and mystery going, we could lose certain characters." Gibbs' ex-wife, Diane Sterling, for example, was killed in Season 12.

"Knowing that not everybody is going to make it means you care more," says Kauffman, who adds that "comfort" is the primary emotion she feels when watching the show. "You know the crime is going to be solved every week, and they are going to do it together," she says. "And through the tears and the laughter, you are with friends. They are your people."
Which is why it can be difficult for fans, as well as the production, when characters are written off the show. Johnson admits to a lot of soul-searching during such changes, and no more so than when actor Michael Weatherly, who played Tony, left before Season 14 to star in CBS's Bull. "We were petrified," Johnson says.

SUBSCRIBE NOW: Enjoy 4 Digital Plus 2 Print/Digital Issues Of Watch Per Year — For Free!
The introduction of new main characters last year—played by Wilmer Valderrama and Duane Henry—certainly raised the stakes. And when showrunner Gary Glasberg died suddenly, the show was hit particularly hard. "It was a tough year for us," Johnson says. "But we banded together. And the writers did a great job finding who the characters were and how they should relate to each other and making sure the audience would come along."

A year ago, CBS picked up the show for two years, which includes the upcoming 15th season. Watching the 14th season, Johnson's wife told him it feels like a new show, which he considers a good sign. "We keep changing," he says. "And we'd love to continue this chemistry."
Originally published in Watch Magazine, July-August 2017

Watch NCIS on Mondays at 9 PM, ET/PT on CBS and streaming on Paramount+.