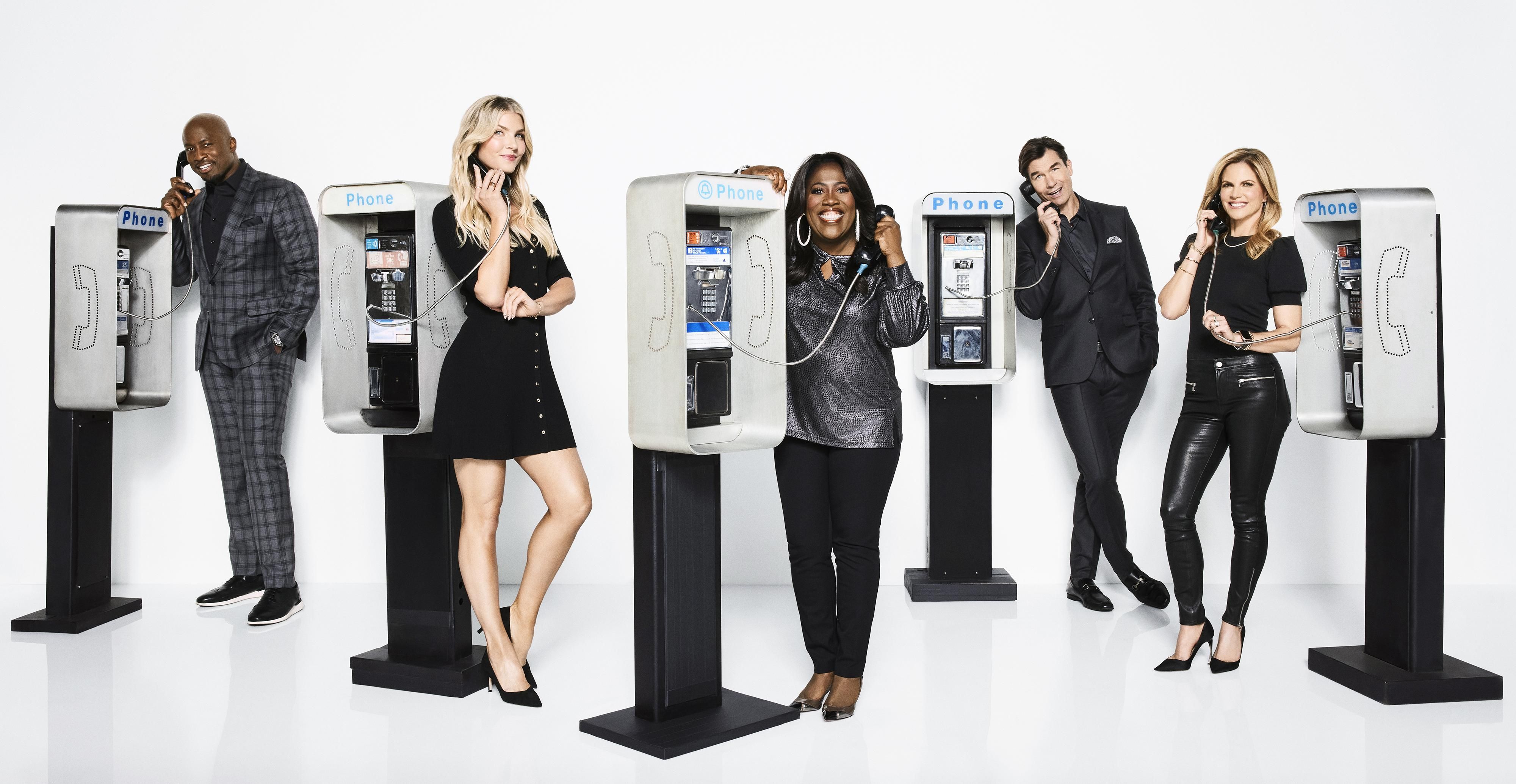 Photography by Art Streiber and Styled by Cara Giannini.
Strike up the band and uncork the champagne. The addition of four fabulous new hosts—and one pledge to keep the conversation spirited, not spiteful—has made The Talk the toast of the town.
By Mara Reinstein

Nine minutes and eight seconds. That's how long it takes for the five hosts of The Talk to stop chit-chatting on a joint late-afternoon Zoom call and settle down so this interview can officially begin.
"Natalie, I need to call you because I want to tell you something I just heard!" Sheryl Underwood crows to Natalie Morales. (Alas, her news is too R-rated to be revealed here.) Jerry O'Connell, checking in from behind the wheel of his car, still can't believe Amanda Kloots dropped to the floor on that day's live episode and started demonstrating aerobic pelvic thrusts. Akbar Gbajabiamila wants to make sure everyone on the call can see him. Morales ultimately declares, "We're very good at picking up on each other's cues ... even nonverbal ones."
---
Photography by Art Streiber and Styled by Cara Giannini.
Top image: From left: On Gbajabiamila: Suit by Élevée, shirt by Anto, shoes by Wolf & Shepard. On Kloots: Dress by Maje, shoes by Stuart Weitzman. On Underwood: Top by Roz & Ali, pants by Alfani, shoes by Christian Louboutin. On O'Connell: Suit and shirt by Hugo Boss, shoes by Magnanni. On Morales: Top by Alice & Olivia, pants by J Brand, shoes by Christian Dior
Watch The Talk Weekdays on CBS and Paramount+.
SUBSCRIBE NOW: Enjoy 4 Digital Plus 2 Print/Digital Issues Of Watch Per Year — For Free!
​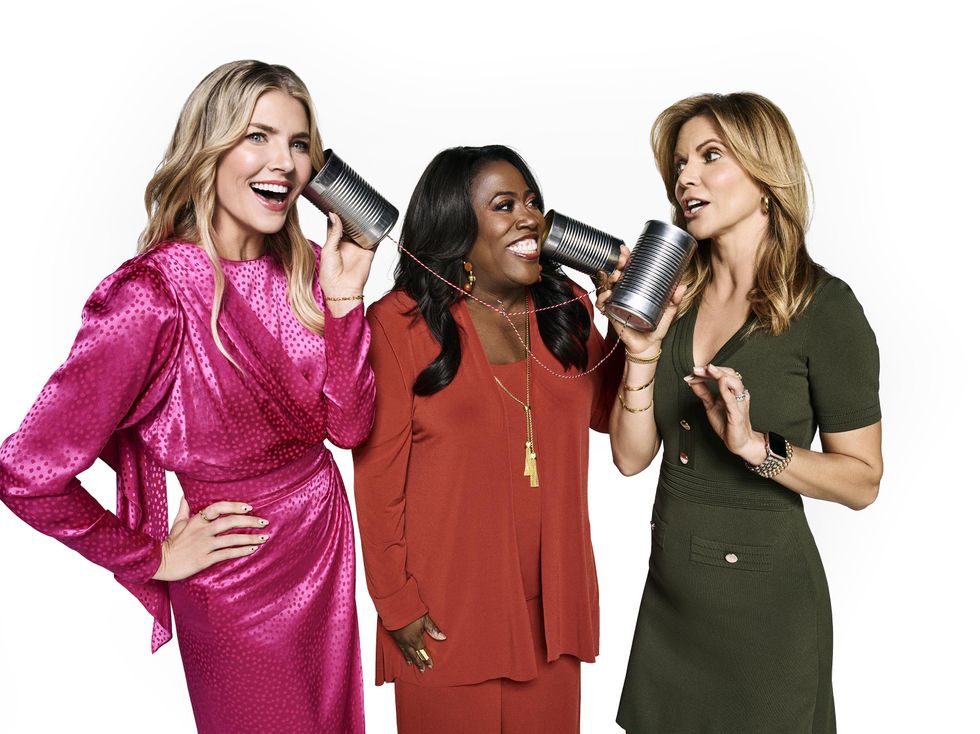 On Kloots: Dress by Ronny Kobo. On Underwood: Suit by Robert Ellis. On Morales: Dress by Ted Baker
Photography by Art Streiber and Styled by Cara Giannini.
The group's effortless banter is the reason The Talk—now in its 12th season and having recently celebrated its 2,500th episode—is speaking a new language these days. With the addition of four hosts since January 2021, the show has evolved into a freewheeling and entertaining escape in which everything from how to lose graciously to the importance of waiting for The One is open to discussion. (In between, the hosts welcome celebrities such as Andy Cohen, Helen Mirren, and Olivia Newton-John.) Disagreements are welcome; infighting is not. "We genuinely respect each other's opinions," says Underwood, the grand dame of the quintet. "It's a funny group but also a thought-provoking one."
They come from vastly different backgrounds. Morales, 49, is an Emmy-winning journalist thanks to her tenure on the Today show; O'Connell, 47, is a veteran actor best known for his roles in Jerry Maguire and Stand by Me (and he's married to actress/model Rebecca Romijn); Kloots, 39, is a sunny former Broadway dancer turned entrepreneur; the straight-shooting Gbajabiamila, 42, is an NFL veteran, sports analyst, and American Ninja Warrior host with deep Nigerian roots; and Underwood, 58, is an in-demand comedian and the only nonparent in the bunch. Together, they're proud to be a tight-yet-freewheeling unit in it for the long haul. Boasts the resident pro-athlete: "I have a Ph.D. when it comes to team chemistry. This is legit."
​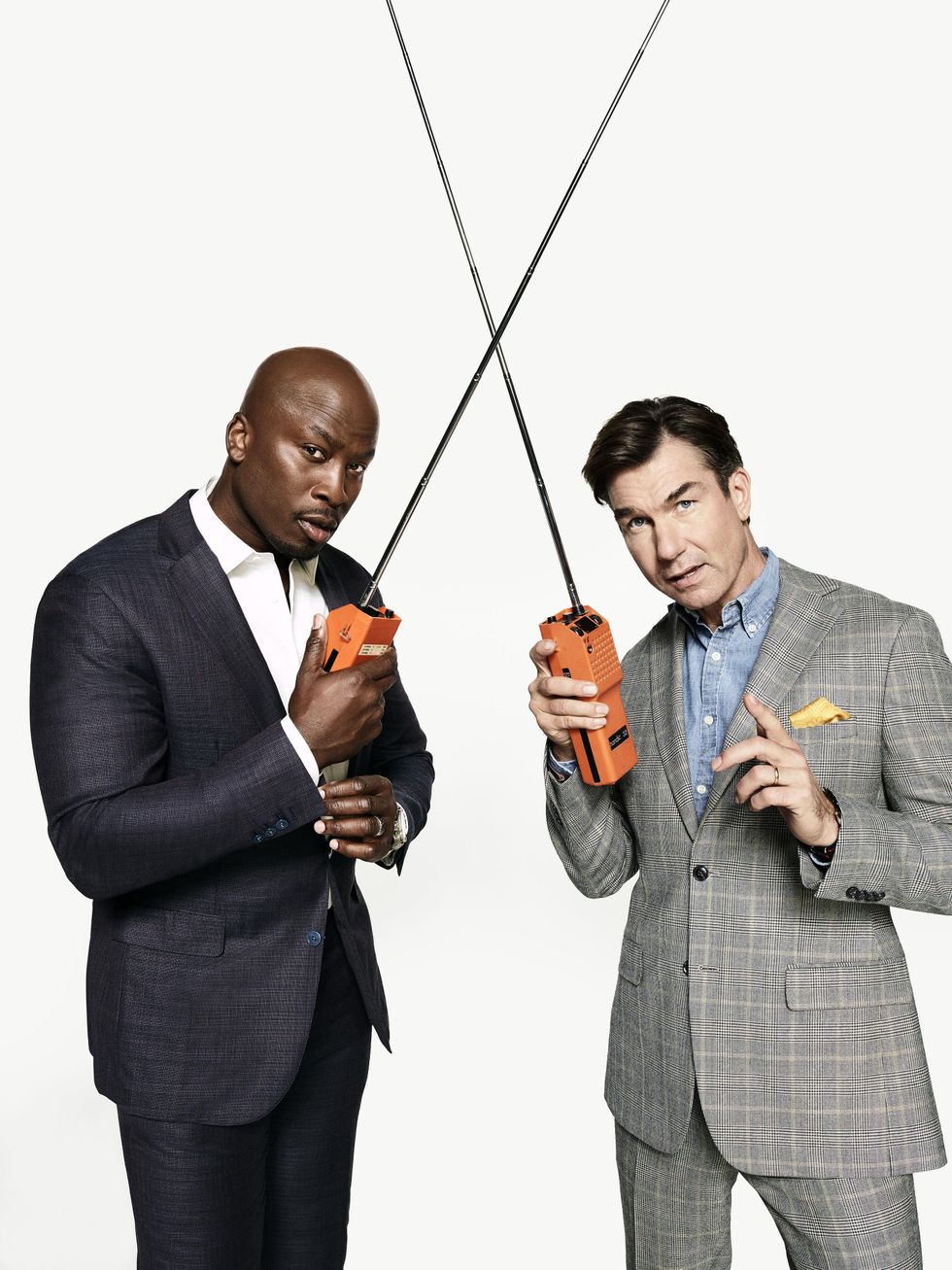 On Gbajabiamila: Suit by Élevée, shirt by Anto. On O'Connell: Suit by Tallia, shirt by Peter Millar
Photography by Art Streiber and Styled by Cara Giannini.
What's the key to achieving naturally great chemistry?
UNDERWOOD: You have to not make it about your ego. I know Akbar is the football player, but I believe that we should all celebrate whoever gets the touchdown. That's a great feeling. But I will tell you some dirt, honey. They are as wild as rascals.
MORALES: I like Assertive Amanda!
UNDERWOOD: You are a rascal, Natalie. You have that news background and keep us on point as the moderator, but you know you are.
MORALES: [Jokes.] I do bring out the best and worst in people.

Natalie, you joined in October. Was there any trepidation?

MORALES: Yeah, it's funny because I'd watch the show and saw all the rapport and thought to myself, "They're all such good friends already. I don't want to be the fifth wheel." Once I became part of it, the embrace was pretty quick. They saw that I was making jokes with them. Like, OK, she's cool. She can hang.
GBAJABIAMILA: There was a little intimidation on our end because, for a long time, her name was associated with breaking news. But once she sat down, she was one of the homies. Now we are the Starting Five.
KLOOTS: It's so crazy to think we're only a few months into this crew, because it feels like it's been years.
​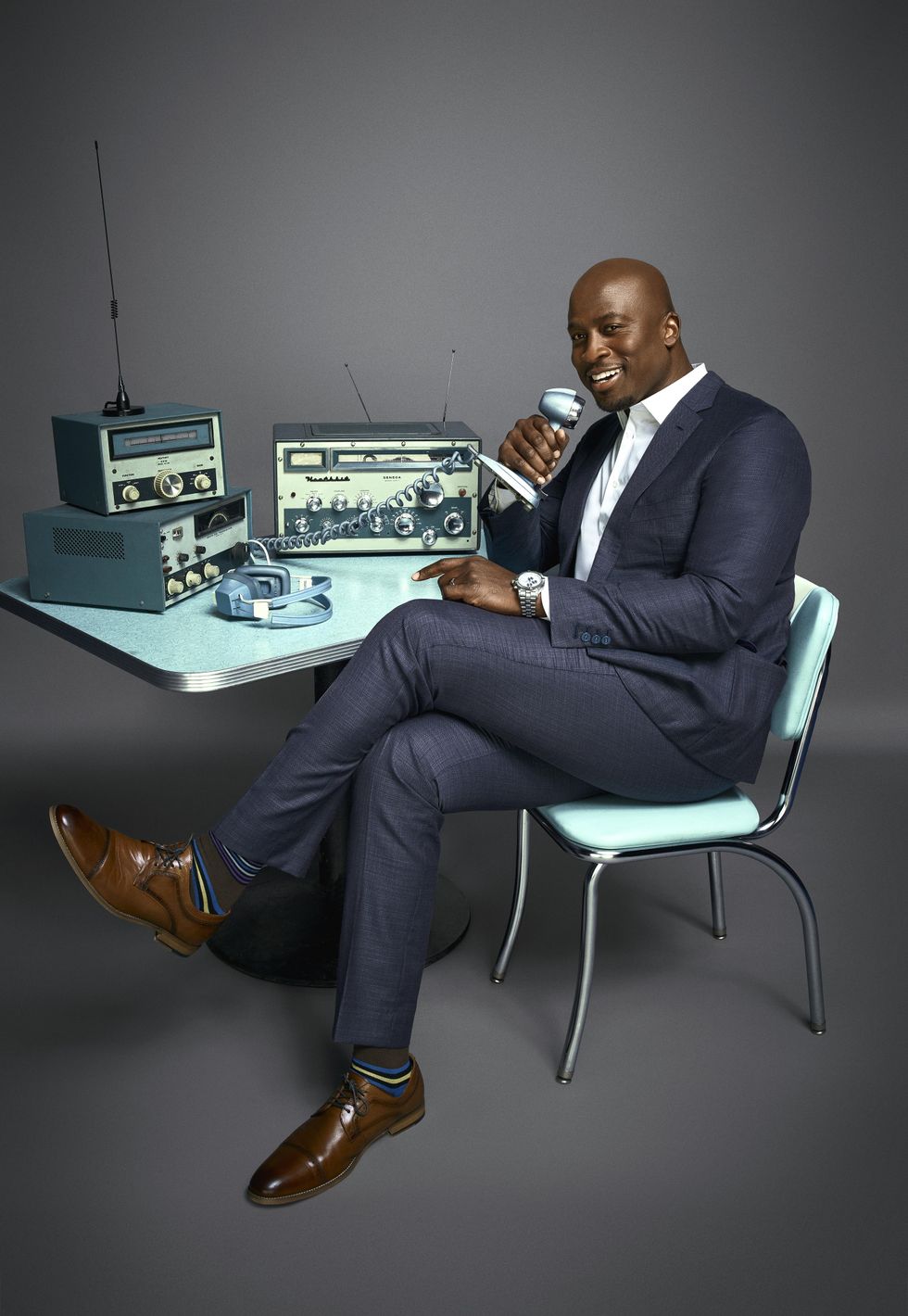 Suit by Élevée, shirt by Anto, shoes by Stacy Adams
Photography by Art Streiber and Styled by Cara Giannini.
Did you do any bonding exercises before going onstage for the first time? Or maybe a fancy group dinner?

GBAJABIAMILA: No, it was natural.
MORALES: We have since had a spicy skinny margarita dinner inside Casa Vega [in Sherman Oaks]. We got one into Akbar.
GBAJABIAMILA: I've never had a margarita, but I was just doing what the group was doing! I don't mess with any other alcohol.
O'CONNELL: It had a kick! I'm still feeling it. I have to say it was fun to not be wearing microphones at that dinner. We really let loose.
GBAJABIAMILA: Sheryl recommended the place, and it was great because you could feel that old Hollywood magic. You look at the walls and see some of the people who had dined there. We had a powwow in a very historic place.
MORALES: But we don't need to go out. We're on text chains and are constantly updating each other. I actually get kind of sad during the long breaks and weekends; I miss having little conversations with them.
​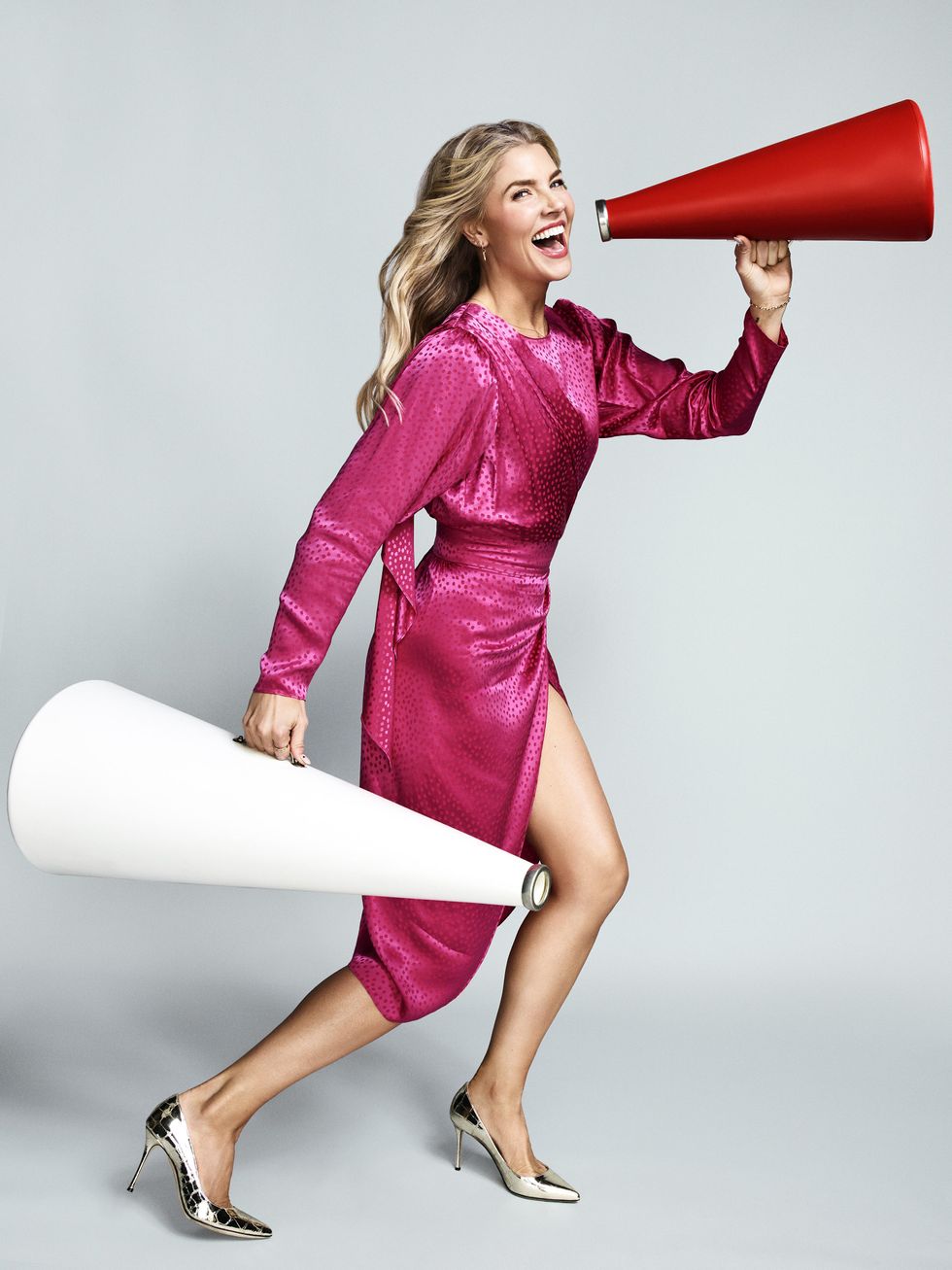 Dress by Ronny Kobo, shoes by Sergio Rossi
Photography by Art Streiber and Styled by Cara Giannini.
Are you in constant contact right before the show starts?

MORALES: We have a morning ritual: We all hold hands and say a prayer before we go out there. We ask for guidance and do our best to enlighten and put positivity out there in the world. Akbar is our preacher.
GBAJABIAMILA: If we're running late and have three minutes, we still do it.

Sheryl, you started hosting back in 2011. What wisdom did you offer the newbies?

GBAJABIAMILA: I've got to tell this story. When I came in, I was really nervous. Cancel culture was in the back of my mind. And then Sheryl, in this very sisterly auntie way, name-dropped big on me. She said, "I'm going to tell you something Tupac [Shakur] told me: Do what got you there." It was so short and sweet. I realized I didn't have to change anything.
UNDERWOOD: What I wanted to convey was that you all have presences and I'm happy you're here, so let us get to know you. Don't not be Jerry O'Connell. And we'll protect each other.
So how do you partake in a lively and civil discussion without it turning divisive?

KLOOTS: Oh my gosh, you have to take a breath for a minute. If we all just listened to each other, arguments wouldn't arise—someone can just interpret what the other person is saying.
GBAJABIAMILA: Just to piggyback on that, you should always assume the best in people. I think divisiveness comes when you're not respectful and jump on a weakness. We're all ignorant in some areas. You need to have grace about it.
O'CONNELL: I feel safe to say things I normally wouldn't say in any other workplace.
MORALES: I look forward to being educated every day in some way. I hope the show is fun, but hopefully people see how we have different points of view and yet still come together around the table and have these engaging conversations.

​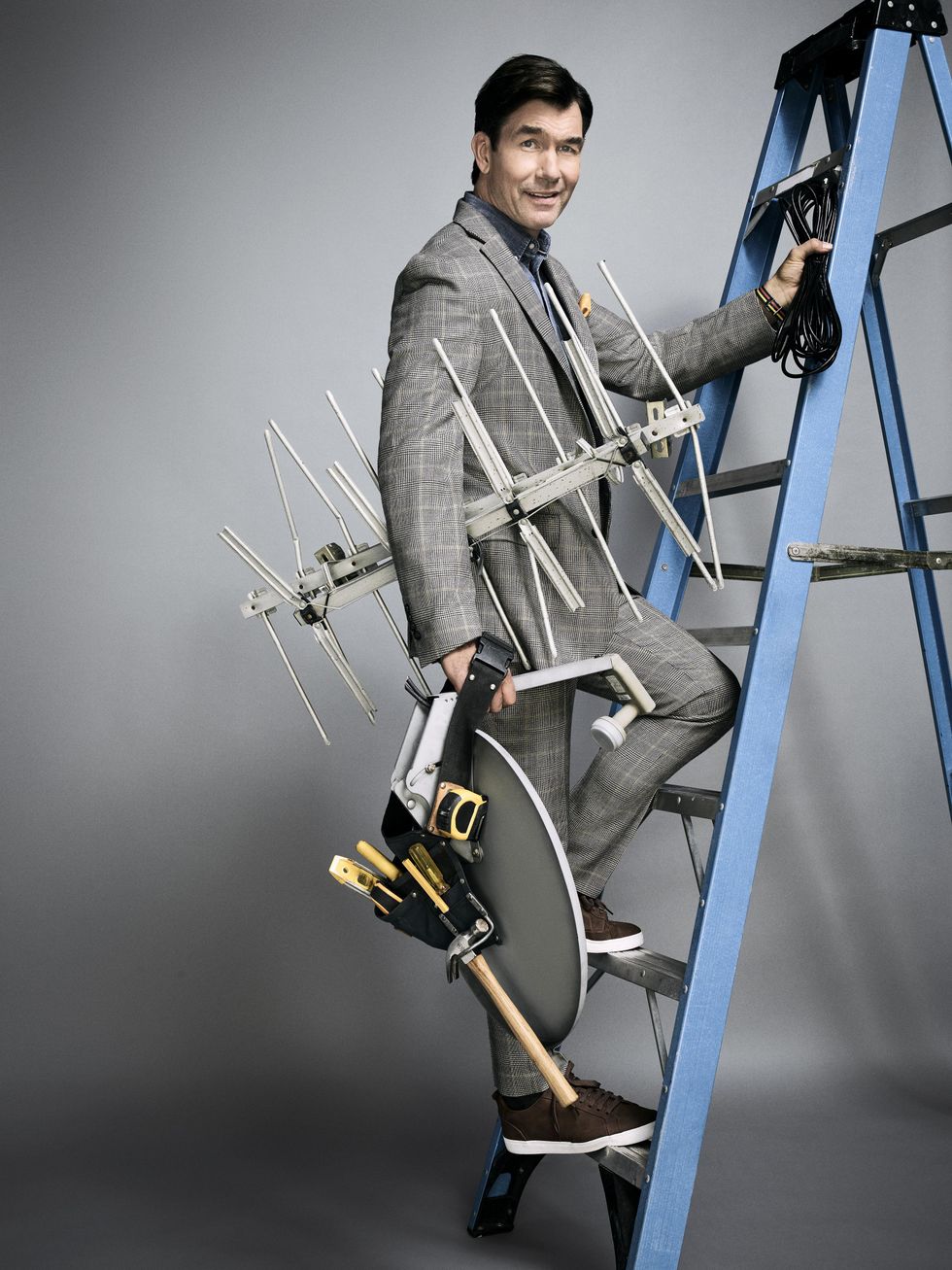 Suit by Tallia, shirt by Peter Millar, shoes by Zara
Photography by Art Streiber and Styled by Cara Giannini.
What's a recent example in which your varying opinions were expressed?

MORALES: A few days ago, we were sharing stories about Christmas firsts. Akbar brought up being raised in a dual religion household and the first time he and his wife put up a Christmas tree. That was enlightening.
O'CONNELL: I hope I'm not speaking out of turn here, but Akbar also told us about when he found out his mother had passed. I feel so honored when my hosts feel comfortable to be that vulnerable live.

Beyond the surface, what do you each bring to the table?
UNDERWOOD: Overwhelming sex appeal. I'm also a stable influence in that I can help with the funny and the thought-provoking. I'm the troubleshooter. If I can push a laugh over the top because I've been here so long, I'll do it. I like being the person that the audience knows, so when they see me fist-bump Amanda, they can see the evolution of the show.
MORALES: She also brings sisterhood. I didn't have a sorority, but now I feel like I'm part of one.
O'CONNELL: I'm the funny guy in the office. You want to come to my cubicle to have a few laughs. That's where it's happening.
KLOOTS: I'm a wholesome Midwestern girl. But I think it surprises people that I also lived in New York City for 19 years and have had 19 different lives. I'm a single mom, I've gone through a divorce, I've lost a husband [Broadway star Nick Cordero, who died in 2020 after contracting COVID-19]. There's a deepness to me as well.
GBAJABIAMILA: She could play in the NFL because she has that upness positivity. I don't know how she juggled the show and Dancing with the Stars last season and never complained.
O'CONNELL: My goodness, it was so exciting to watch her.
KLOOTS: They were the best supporters! I felt like I had my family out there every Monday night.
​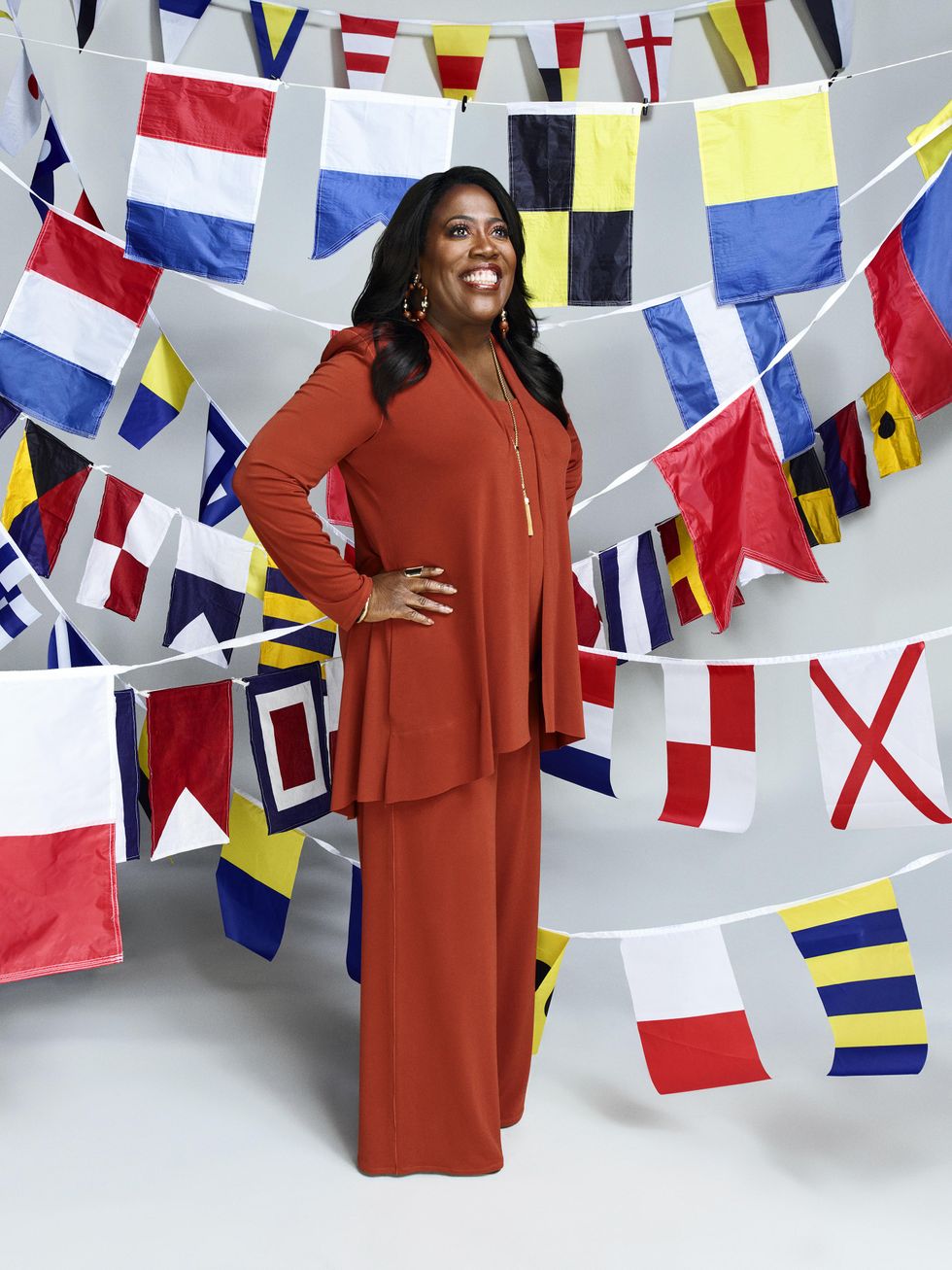 Suit by Robert Ellis
Photography by Art Streiber and Styled by Cara Giannini.
Akbar, you've enjoyed a prolific career after the NFL. Why add this to your résumé?

GBAJABIAMILA: I wanted to be a part of the discussion and have my voice heard. I grew up in a Nigerian household going to church and attending Arabic school in an all-Black neighborhood. I've also gone to 40 countries because I love traveling. So there's so much I can add to this kind of platform. I like giving my perspective as a man and as a father [of four] because fathers can get the hammer knocked down on them. I've also got to bring the swag because the athlete inside me never dies.
O'CONNELL: Full disclosure: Akbar and I were just at the same girls' volleyball tournament for our daughters. He stayed. I left.

Who are your dream guests?

O'CONNELL: You know, Don Johnson was exciting for me. But I've got to say Bruce Willis. I used to watch Moonlighting every week, and his David Addison character actually shaped my personality. I'd think, "That's who I'm going to act like when I grow up."
MORALES: I'd love to go on a dude ranch getaway in Montana and interview Kevin Costner on the set of Yellowstone.
O'CONNELL: We've got to re-create The Bodyguard poster and have Kevin carry Natalie.
MORALES: If you build it, it will come!
GBAJABIAMILA: I'd love to interview the queen, Oprah Winfrey. Plus Barack Obama and Denzel Washington.
​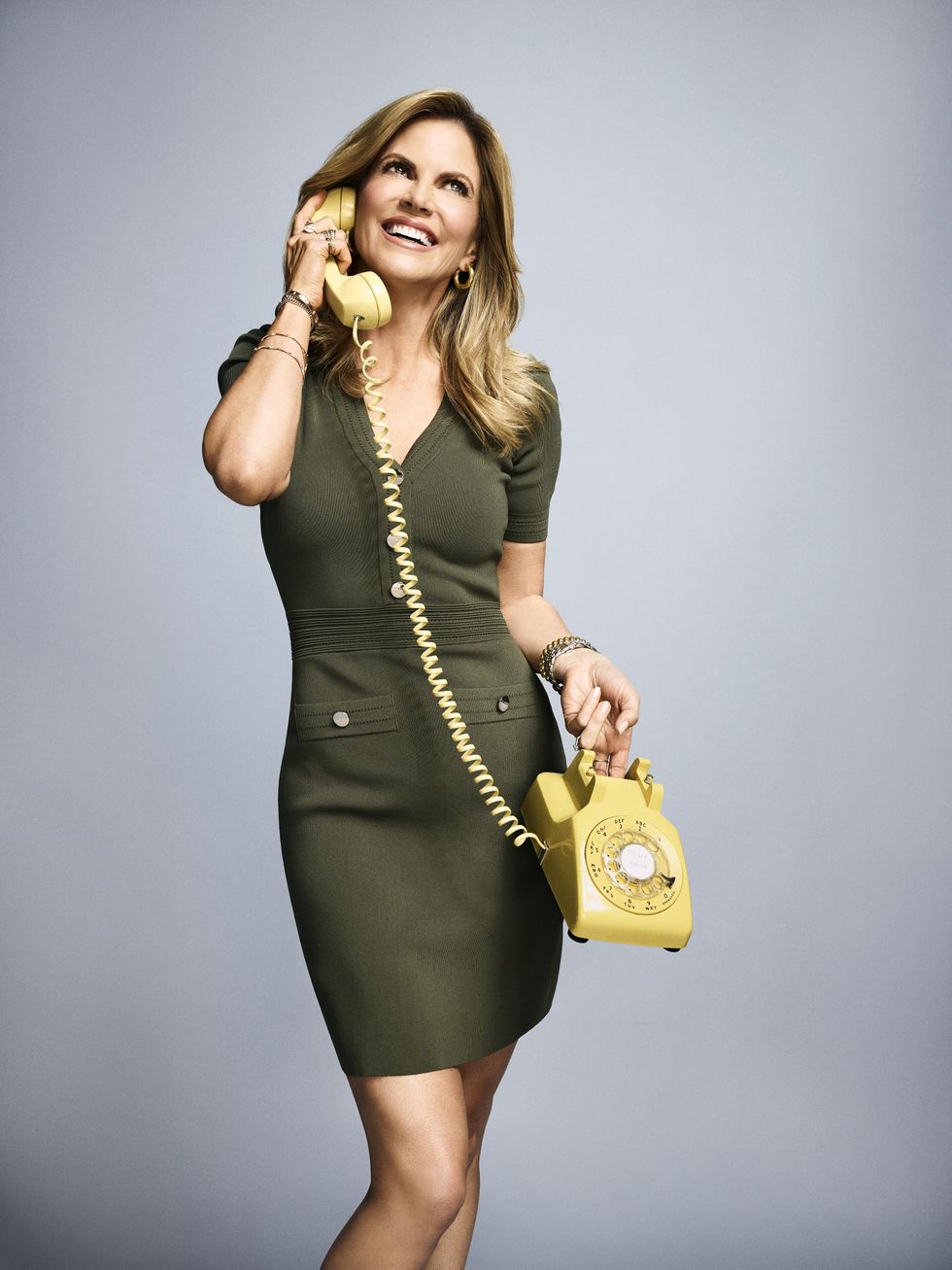 Dress by Ted Baker
Photography by Art Streiber and Styled by Cara Giannini.
What are your goals for the show in 2022? Amanda, you're up first.

KLOOTS: I don't like to say goals. I'm more of a vision board kind of person and see things manifest. For me, I love this joyous atmosphere and hope we can continue to build our relationship and let it shine through the camera lens so that America will want to join our conversation. I think we can do it, and we're proving a little bit each day that we are here and want to have fun and show you a different way to enjoy daytime.
UNDERWOOD: She hit the nail on the head. But I'd like for the show to go places. I want to ride those horses with Natalie!
MORALES: I would love for Sheryl to take us on a USO tour.
Jerry, what's the first thing that comes to mind for you?

O'CONNELL: Well, my first goal is for my daughters [12-year-old twins Charlie and Dolly] to have a passing grade in advanced math. I'd also love for us to receive a Daytime Emmy. I'd like to start my EGOT [Emmy, Grammy, Oscar, Tony] campaign. Currently I have [he goes quiet]. You're hearing silence because I have nothing!
UNDERWOOD: I was scared to say that before. But I think this is the team!
How do you manage to look forward without dwelling on the past?

MORALES: What's important is that everybody associated with the show believes in the success. And to pass that commitment to greatness on to our viewers.
GBAJABIAMILA: I remember growing up and seeing must-see TV with Oprah and Montel Williams. This is a great opportunity for us to have that same buzz, because we're all good conversationalists and people want to be part of the conversation. Look at social media! Nobody reads the posts; they just want to comment. It's our time to add to the conversation.
Set Designer: Anthony A. Altomare. Hair, Makeup & Grooming: (Kloots) Troy Lazaris–makeup, Nicole Walpert–hair; (Underwood) Dell McDonald–makeup & hair; (Morales) Kenia Daniel–makeup, Jasmin Robles–hair; (Gbajabiamila & O'Connell) Laura Schaffer–makeup, Vickie Mynes–hair
Watch The Talk Weekdays on CBS and Paramount+.
SUBSCRIBE NOW: Enjoy 4 Digital Plus 2 Print/Digital Issues Of Watch Per Year — For Free!