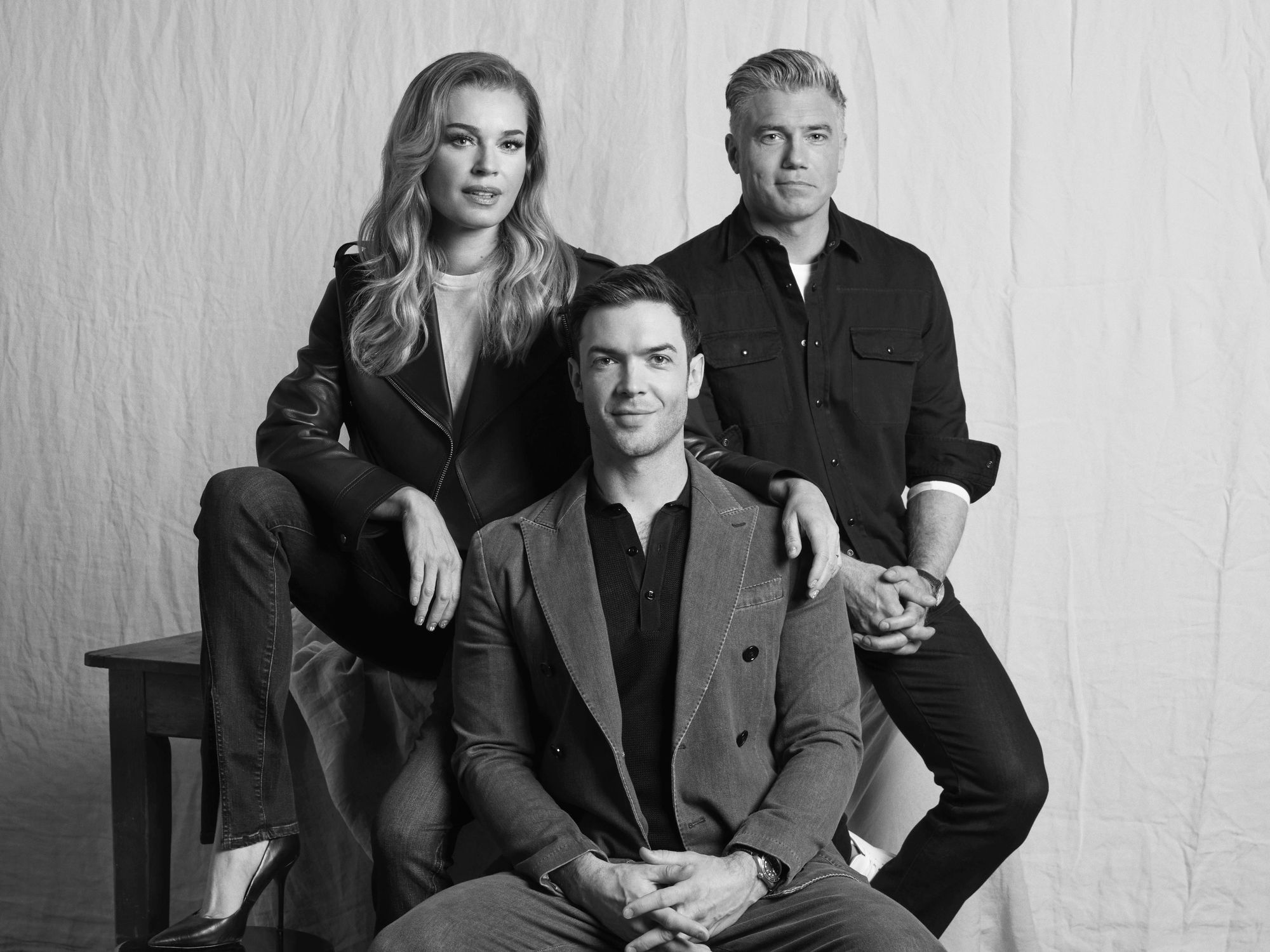 Photo credit: Saty + Pratha / CBS
Anson Mount, Rebecca Romijn, and Ethan Peck are giving fans the franchise backstory they've always dreamed about in Star Trek: Strange New Worlds.
By Oliver Jones
It's one of the biggest What-Ifs in sci-fi history: What if the original Star Trek pilot episode shot in 1965 had been picked up instead of rejected? That episode, "The Cage," starred Jeffrey Hunter as the dashing Captain Pike, Majel Barrett (later Barrett-Roddenberry, after she married the series' legendary creator, Gene Roddenberry) as his trusted Number One, and Leonard Nimoy as a Vulcan officer named Spock.
Photography by Saty + Pratha. Styled by Zeina Esmail.
Stream Star Trek: Strange New Worlds on Paramount+.
---
SUBSCRIBE NOW: Enjoy 4 Digital Plus 2 Print/Digital Issues Of Watch Per Year — For Free!
Intergalactic Journey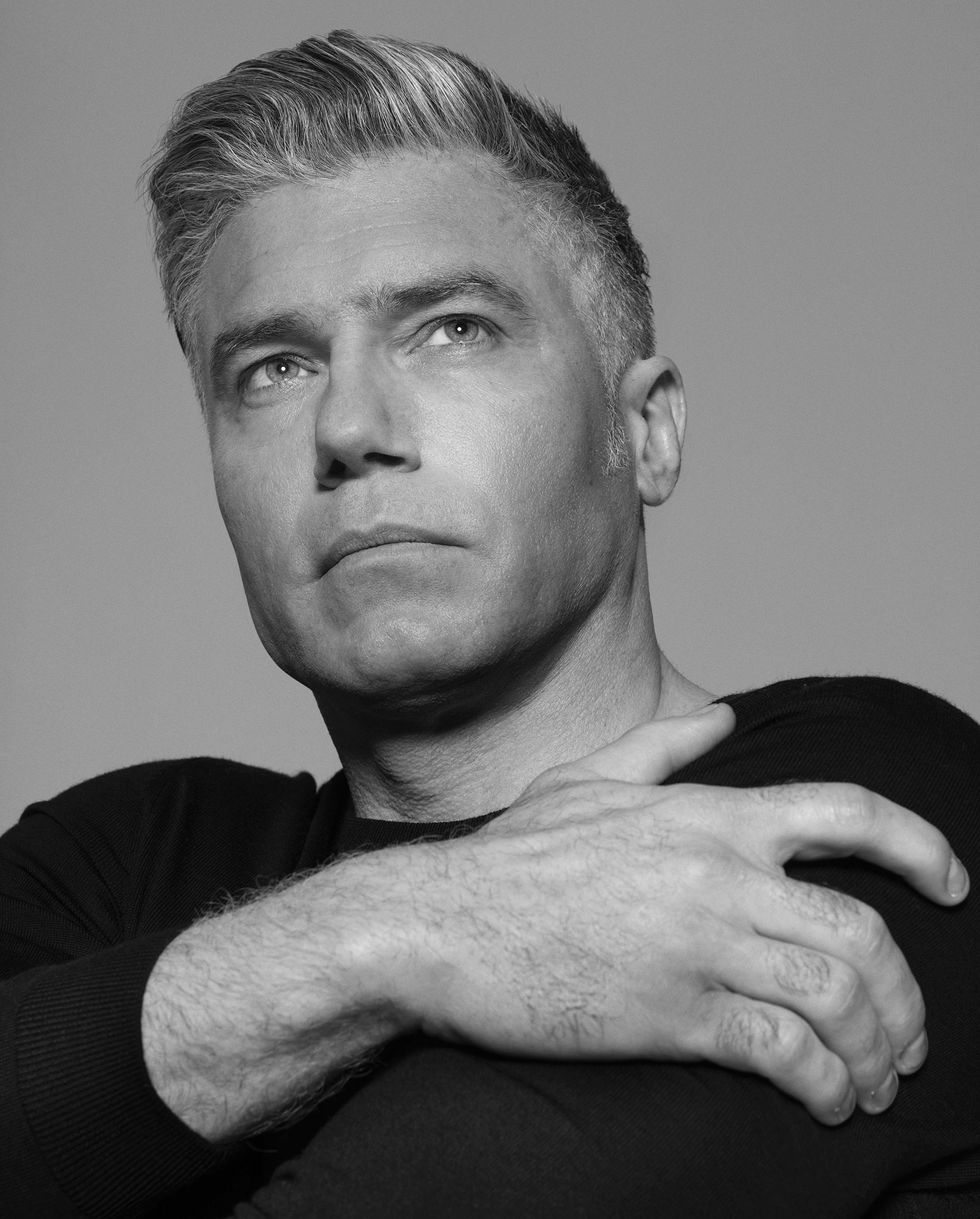 Sweater by BOSS
Photo credit: Saty + Pratha / CBS
While that episode (currently available on Paramount+) is now considered a classic, at the time executives found it too heady and demanded a new pilot. Star Trek: The Original Series and the adventures of Captain Kirk and his famous crew were born. Captain Pike and his cohort—save, of course, for Nimoy's Spock, who would become one of the most indelible characters in television history—were consigned to Starfleet lore.
That was until January 2019, when Pike, Number One (now named Una), and a deeply troubled Spock restarted their intergalactic journey with a thrilling season-long arc on the Paramount+ series Star Trek: Discovery. Played by Anson Mount, Rebecca Romijn, and Ethan Peck, respectively, the new adventures of these groundbreaking Federation originals quickly captured the imagination of both longtime Trekkies and neophytes discovering the depth of the show's mythology.
Now this trio of adventurers—along with a crew of both new and familiar characters—is ready to boldly go where they should have gone more than a half century ago.
Classic Approach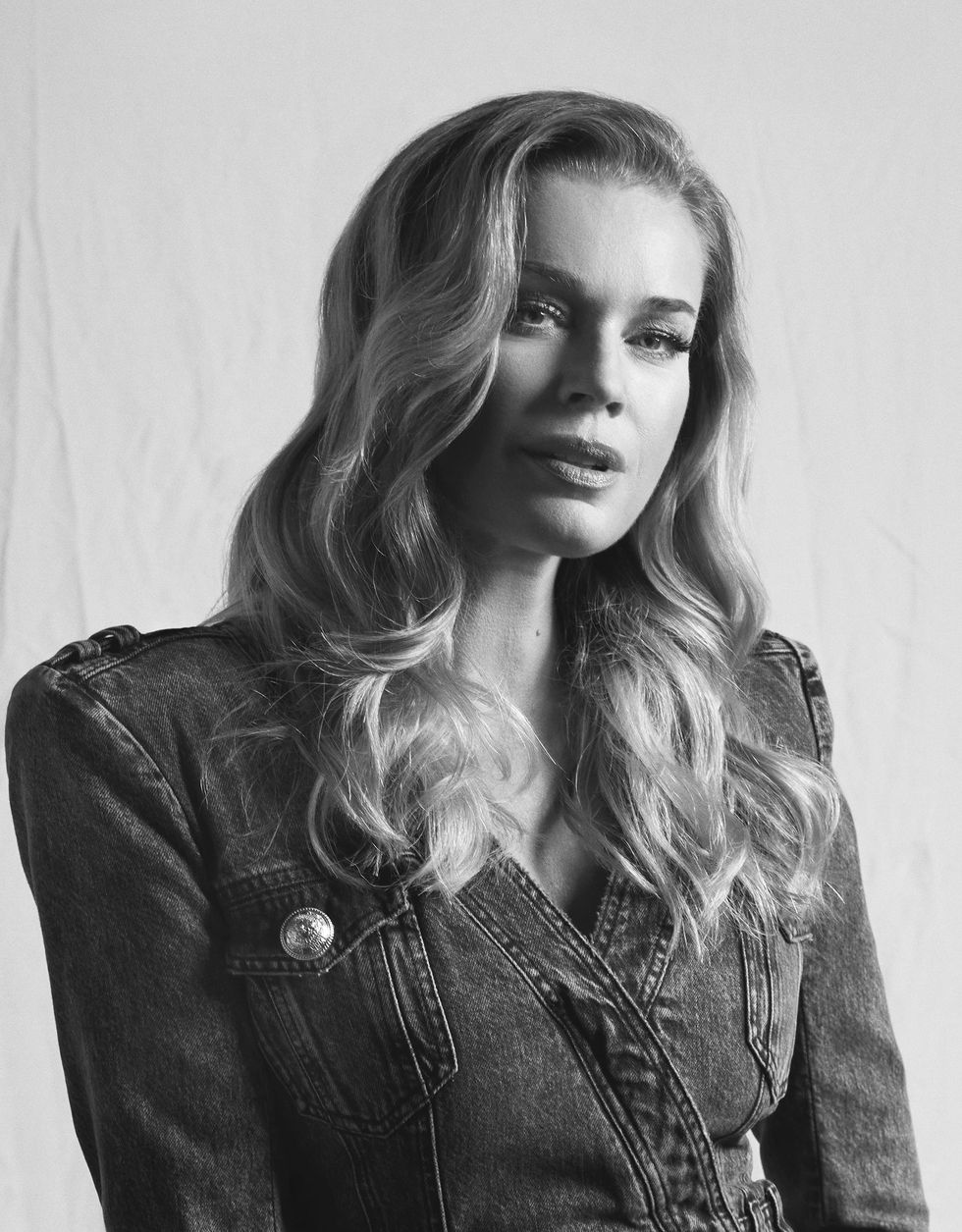 Dress by Balmain
Photo credit: Saty + Pratha / CBS
Star Trek: Strange New Worlds premiered on Paramount+ Thursday, May 5, 2022, and its first 10-episode season is set to run through July 7. The second season began shooting this past January.
"Our approach to this show was very classic," explains Strange New Worlds co-showrunner Henry Alonso Myers. "We asked ourselves a simple question: "If Gene Roddenberry were doing this show today, with a modern sensibility, modern budgets, and a modern approach to character, what would it be? This is not a reinvention. It's a reimagining for today's sensibility."
In other words, if the warp drive isn't broke, why fix it?
"The Original Series tapped into this magical formula," says Romijn. "This show is all about embracing that Original Series tradition with its amazing mix of levity and horror, science and social issues, and just good, breezy fun. That's exactly what we are shooting for here."
We sat down with Mount, Romijn, and Peck to talk about the enormity of taking on these legendary characters, the friendship among the three of them, and the surprises in store this season and beyond.
"I've never had a response to my work like the one that I had after Discovery," says Mount. "I hope we can live up just a bit to audience expectations and the trust they have placed in us."
Strange New Worlds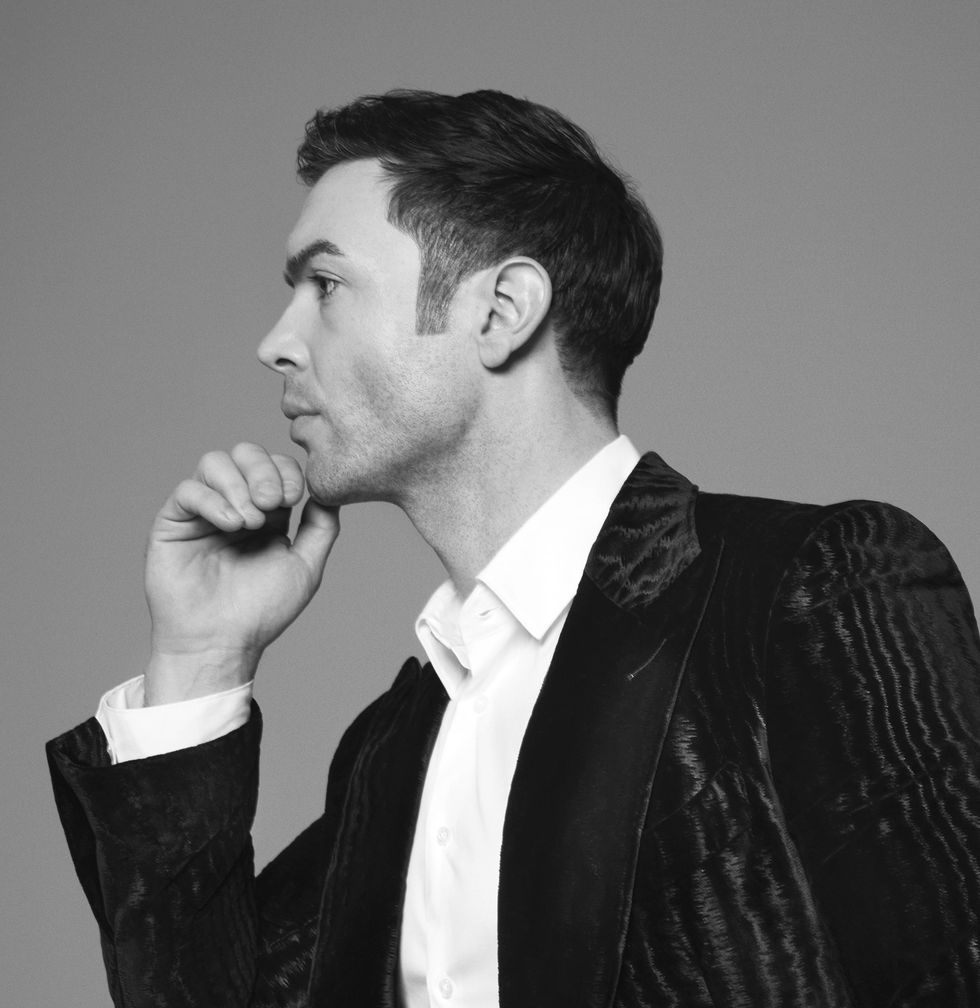 Tuxedo by Tom Ford at Harry Rosen, shirt by BOSS
Photo credit: Saty + Pratha / CBS
Did you have any idea that Strange New Worlds was in store for you after you finished these characters' season-long arc during the second season of Discovery?
AM: There were no official plans for the show after that—at least that we knew about. I came to find out later that the powers that be had been talking about a Pike show even before Season 1 of Discovery. Thankfully, they never shared any of that with me, or I would not have known what to do with myself. I realized the other day that it's three years ago this month that I first got the call where they said, "I think we got a show going." Three years, my friend, three years … My life has changed in every conceivable way over that time.
RR: I would like to think that when my character ordered a cheeseburger with habanero sauce during her first scene on Discovery, I knew I would be playing her for years to come. But that definitely was not the case. But there was a magical moment when Anson, Ethan, and I walked onto the Enterprise bridge set for the first time during Discovery, and we all had this intense physical reaction. We started to look around and say, "What is happening? They didn't build this set just for a one-off, did they? Really? Would they do that?" We had no inkling of what was to come, but standing on the physical set of the Enterprise bridge, it started to all feel very possible. I turned to the guys and was like, I would do this. Would you do this? That was a magical moment. After that, you could really start to envision what was to come.
EP: I had a recurring role on Season 2 of Star Trek: Discovery, and the possibility of that becoming something more regular was little more than a wonderful dream. After we finished on Discovery, Anson and I did a convention tour that I saw as the two of us unofficially campaigning for the existence of Strange New Worlds. I think that it contributed to its genesis; at least I hope it did. We put a lot of time and care into each convention. Still, when I was told that the show was going forward, I couldn't believe it. I was floored. I still am.
Welcome Pressure
Tuxedo by Saks Fifth Avenue, shirt by BOSS, watch by Accutron, shoes by Magnanni
Photo credit: Saty + Pratha / CBS
Star Trek fans are deeply invested not just in this show but also in each of your characters. Is that ever daunting?
RR: The pressure is always there to make them happy, but it is a welcome pressure. It is part of our job to protect these legacy characters in much the same way that the show's fans want them protected. But to do that, we also have to have some artistic liberty on the side. It always makes for an interesting balance: On the one hand, we are caretakers of these great characters, and on the other, making our own creative decisions and hoping that the fans who love these characters as much as we do are pleased with the outcome.
EP: This fandom is fervent and definitely had that same pressurizing effect on me, especially in the beginning. Not only do I want to do a good job for myself—I am a recovering perfectionist—but I want to do well by them. My main focus is on delivering a performance with integrity and authenticity. I will never be Leonard Nimoy—he is inimitable. But I am trying to create something true to both Nimoy's invention and my own. The fans became just further inspiration for me to really dig deep.
AM: Star Trek fans are never a burden. Their love for the franchise is a responsibility and, more particularly, a privilege. They literally changed my life. Not only did it provide me with a great job at a time when that is not an easy thing to get as an actor, but it also provided me the wherewithal to start a family. As often as I can, I try to say thank you.
Cultural Impact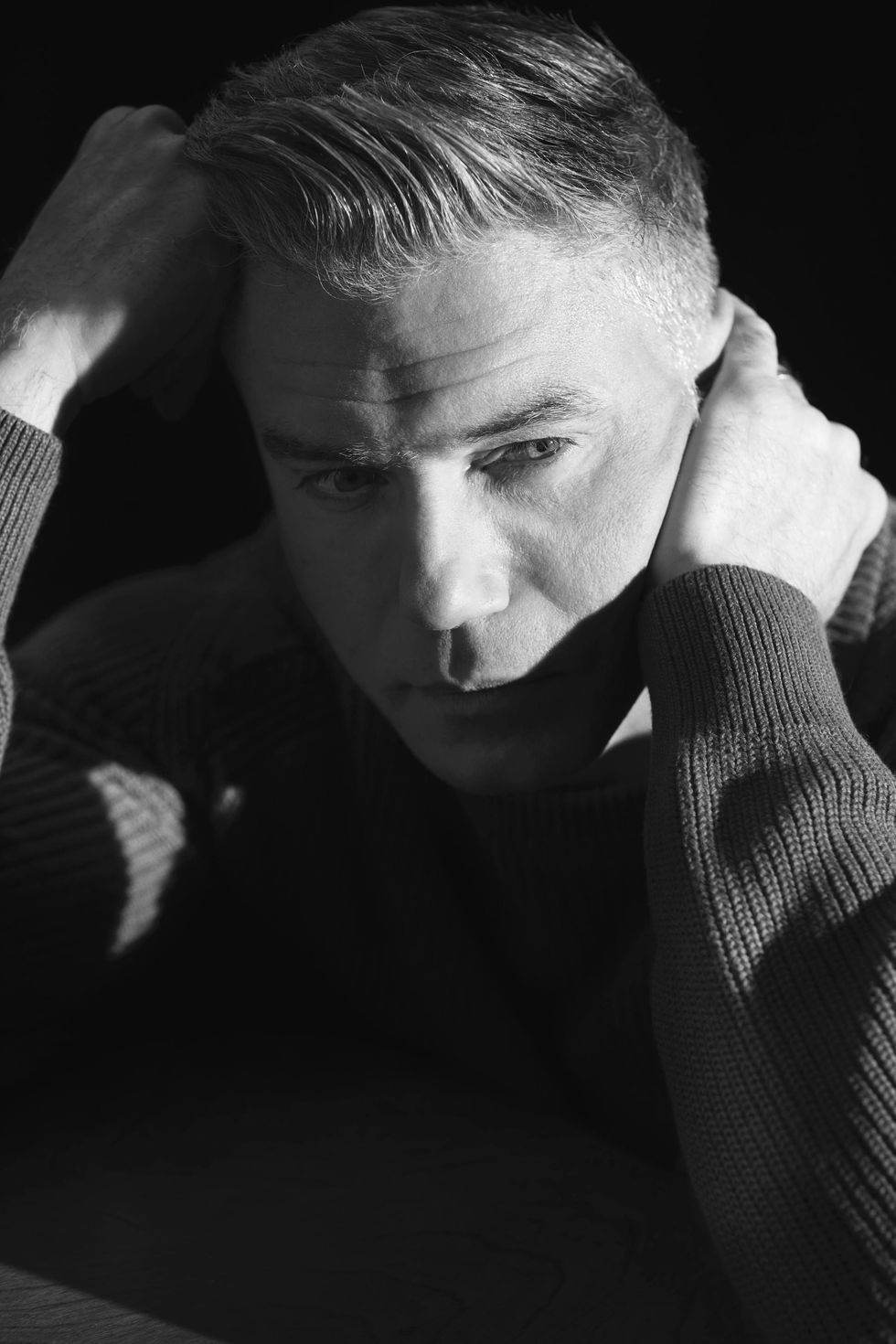 Sweater by BOSS
Photo credit: Saty + Pratha / CBS
Were any of you intimidated by taking on characters that had already had such significant cultural impact?
RR: I watched that original pilot episode, and I appreciated Majel Roddenberry and everything she did with the character. What was put into my head was that because Star Trek had been a Desilu production and Lucille Ball had been very involved with bringing Star Trek to the world, Lucy was in love with that initial Star Trek pilot because there had been a female first officer. She felt that that was an enormously important thing. Of course, that pilot was rejected. As a result, the character was pretty much just a blank slate. All we had was 14 minutes of screen time to work with. We know that she works well with the captain and is very good at her job. So that really gave the writers and me an opportunity to flesh her out.
AM: Pike is older now than when Jeffrey Hunter first created him. He's a bit more established in who he is and the captain he wants to be. Obviously, huge changes occur at the end of Season 2 of Discovery that affect how we start this show. Dealing with those events becomes a very intricate part of the first season.
EP: To be perfectly honest, I was completely terrified about taking this on. I experienced absolute terror while I was on Discovery, and then there was a whole new batch of it when we started Strange New Worlds. They had laid out things on this show that Spock had never done before. There's no blueprint for what he experiences. So to carve that out on my own without the guidance of Nimoy was a huge challenge. Honestly, I had no idea how I was going to do it. It has been a really long journey in terms of accepting and understanding this role and the impact it has had on my life. Being the keeper of this character is such a huge deal.
Big Secret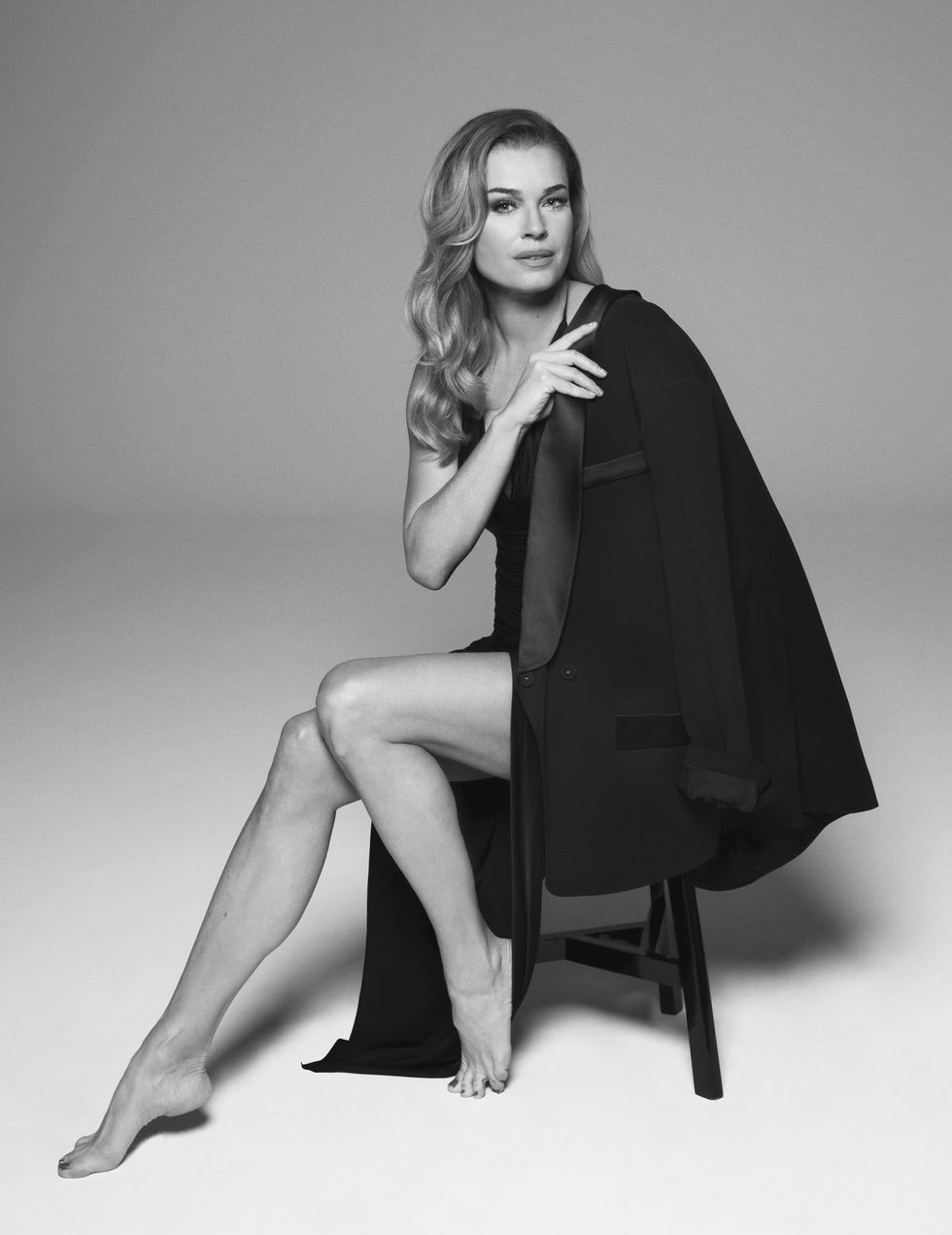 Dress by Alexandre Vauthier from HBC The Room, blazer by Balmain
Photo credit: Saty + Pratha / CBS
Rebecca, Number One has a big secret that's revealed early on in Strange New Worlds. How did that affect the way you play her?
RR: Oh, it's a big one, isn't it? She is very good at her job, but she also likes to make sure people are intimidated by her as a way to keep them at a distance. It is her way of hiding her secret. This level of shame that she carries as part of Starfleet— and Una is someone who loves Starfleet more than just about anyone—was really the most exciting layer to play. I had a lot of fun with that.
​Captain Pike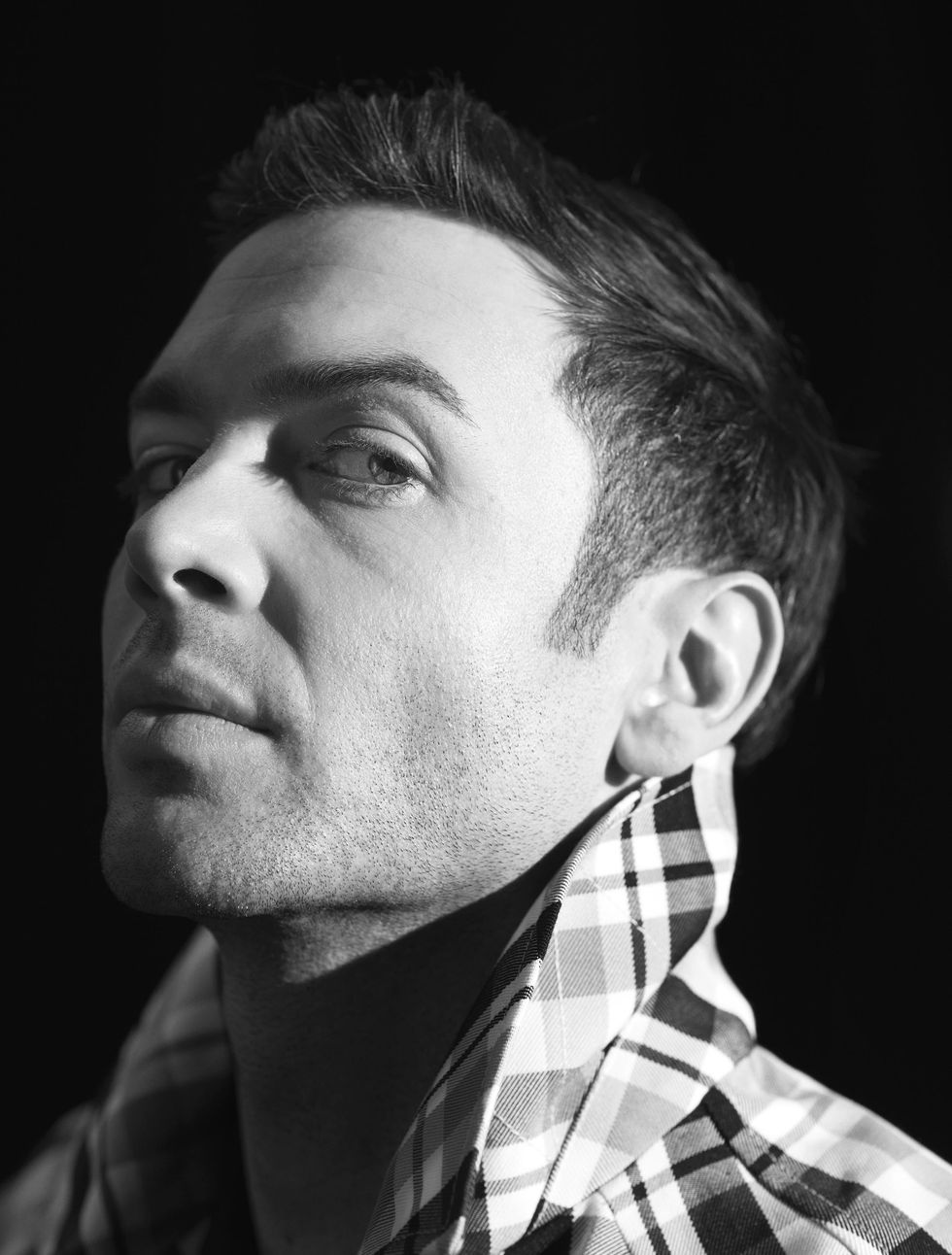 Sweater by Tom Ford at Harry Rosen, coat by HUGO
Photo credit: Saty + Pratha / CBS
Anson, are you anything like Captain Pike?
AM: I'll let you know when I figure out who he is! I will say that there are certain roles that you have to really stretch to fill, while there are others where the person just happens to be closer to your skin. This is definitely one of those. It is weird to me that I went to acting school to learn how to be like different people, and suddenly people are responding the most to someone who is just closer to me than I have ever done before.
Most Famous Vulcan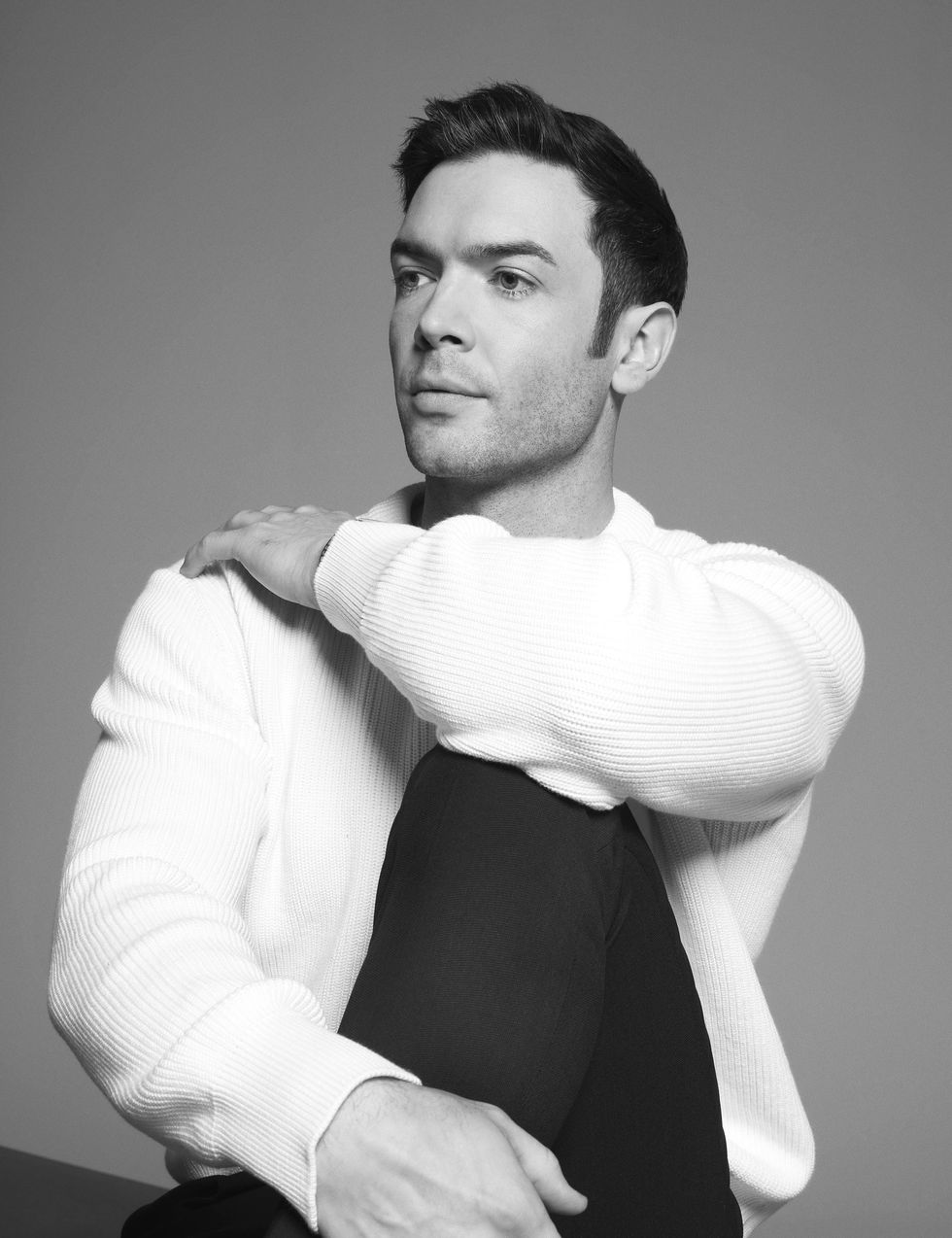 Sweater and pants by Ermenegildo Zegna from Harry Rosen
Photo credit: Saty + Pratha / CBS
Ethan, how do you begin that process of playing the world's most famous Vulcan?
EP: There is a culling of my expressions, responses to things, and sense of humor that occurs before I go on set. I have to do this process of withdrawing all of that within myself—which is not the same as detaching from it. Spock is a deeply emotional person, but it is so contained and controlled. That process has become more nuanced over time as I have become more comfortable with the character. I have found more and more emotional life within that little chamber inside of him. It seems to become brighter with my further experiences playing the character.
Leadership Figures
Leather jacket by HUGO, tank top by Aritzia, jeans by Mother Denim
Photo credit: Saty + Pratha / CBS
For Anson and Rebecca, has playing these leadership figures affected your own ability to lead?
AM: Whether you like it or not, being number one on the call sheet is a leadership position. Pike is definitely a better leader than I am, and I try to learn from him. I was fortunate that I had the great opportunity to learn from Sonequa Martin-Green when I worked on Discovery. She is a tremendous leader on that set. I don't think that anybody really feels like a natural born leader. If they do, they are probably a tremendous a**hole. To be a good leader, you need to have a sense of doubt and deep humility.
RR: I like to think that I have become a much better leader due to this show—my six dogs really listen to me now! Actually, that's not true: Only three out of the six dogs have started to listen to me. The other three still don't give a crap what I have to tell them. I try the best I can to be a leader, but in truth I'm only successful at it when playing this character.
Relationship Changes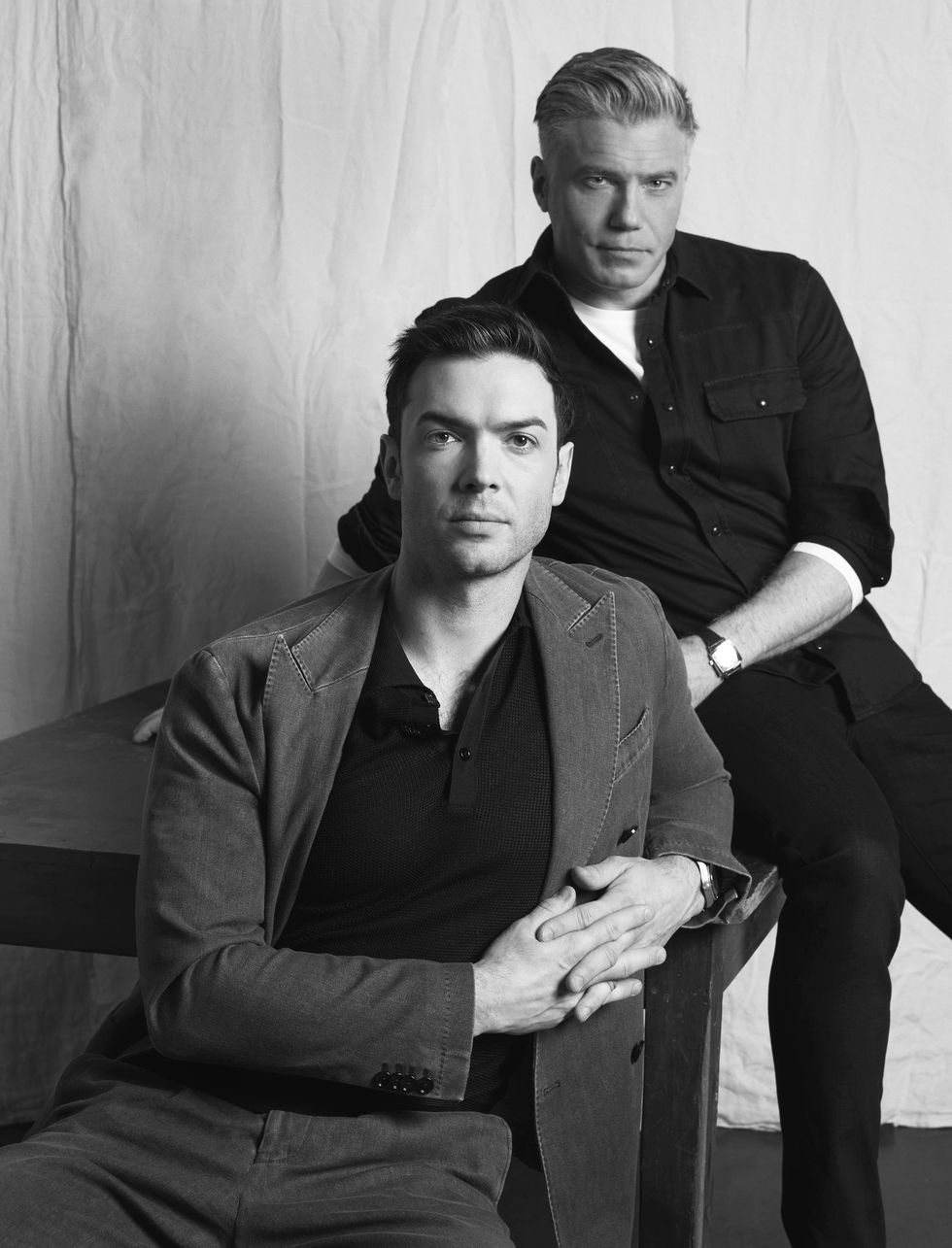 On Peck: Suit by BOSS, sweater by Tom Ford at Harry Rosen, watch by Accutron. On Mount: Shirt by HUGO, pants by Ermenegildo Zegna from Harry Rosen, watch by Accutron
Photo credit: Saty + Pratha / CBS
How should we expect these characters' relationships to change throughout Strange New Worlds' first and second seasons?
RR: The captain and Una regard each other as best friends, but we still don't know what our backstory is. We have talked about the possibility that we are exes who can speak straight to each other. You know, those people in your life where you can read each other like a book? I think these two have that. Those are the people you can trust the most.
AM: I am not the guy to ask about the on-screen relationships—I take my cues from the writers. But I can tell you about the off-screen relationships: I could not be luckier to have this group of actors to work with. It was clear pretty early on when we were making Discovery that Ethan, Rebecca, and I generally had the same sense of humor. We would really enjoy spending more time together if we had the opportunity. We hang out together in the off-season. After we finished shooting pickups last fall, Ethan and I drove to Detroit together just because neither of us had seen Detroit before. This past weekend, we hung out with Rebecca and her family at the park. I genuinely enjoy the people I work with on the show, and I know enough not to take that for granted.
RR: It's true. Anson, Ethan, and I have been in this together going on three years now. It has felt like the longest pregnancy in history! We have created this extraordinary friendship between the three of us, which we have extended to the rest of this cast, all of whom we adore.
EP: I now share this incredible bond with Anson and Rebecca that has evolved from Discovery to Strange New Worlds. The world shared among the three of us is really spectacular. It is something that I may never have with anyone else. That is just so unique—to become family with the people you work with. That is what this is to me, family.
Romantic Side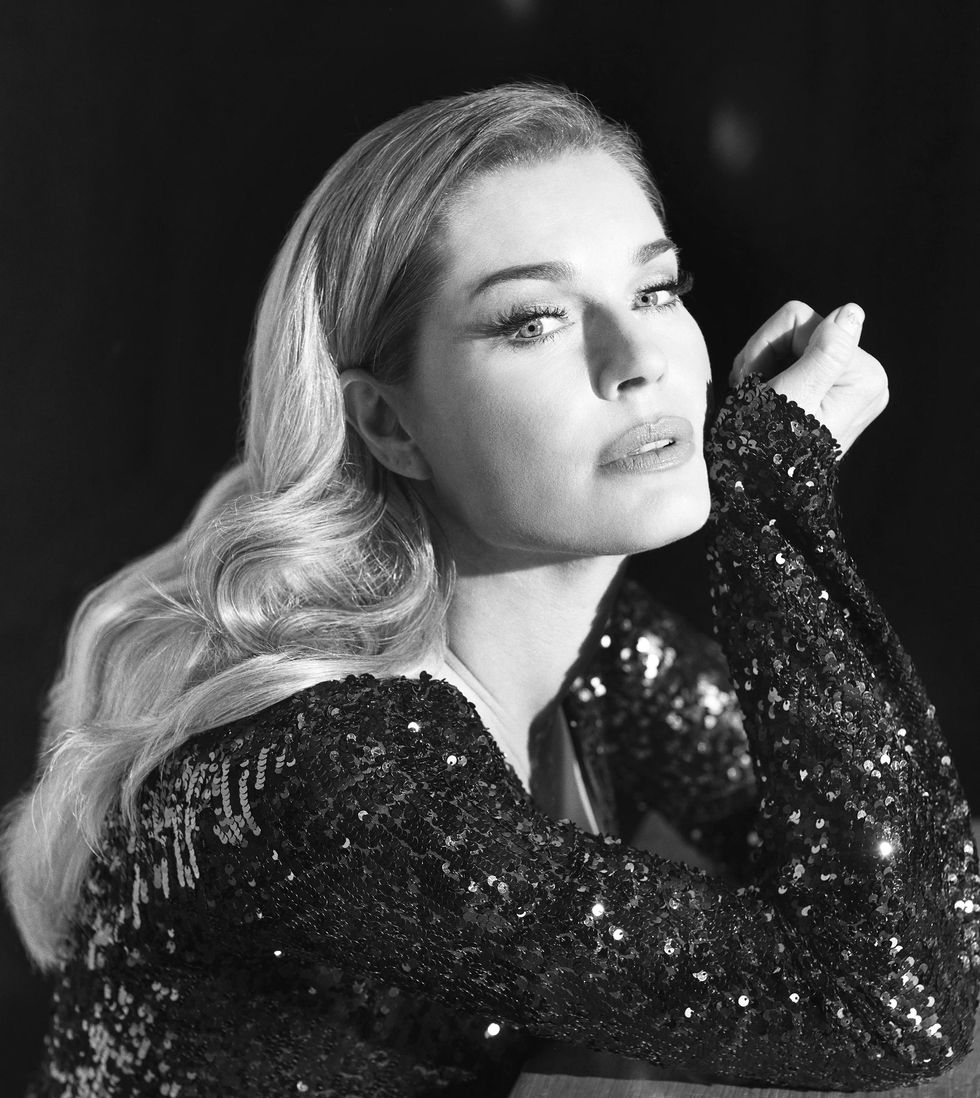 Dress by Galvan London
Photo credit: Saty + Pratha / CBS
Ethan, the early episodes of Strange New Worlds hint at a more romantic side of Spock. Can we expect to see more of that?
EP: There is a lot more exploration of Spock's human side on this show than we have ever seen before. That, of course, includes human nature. Many of us are sexually compelled, and he is no different. I think it is a part of him that we will encounter in the series based on the amount of time we spend with him within his inner chambers. People will really be surprised and amused by what they discover there.
​Lasting Impact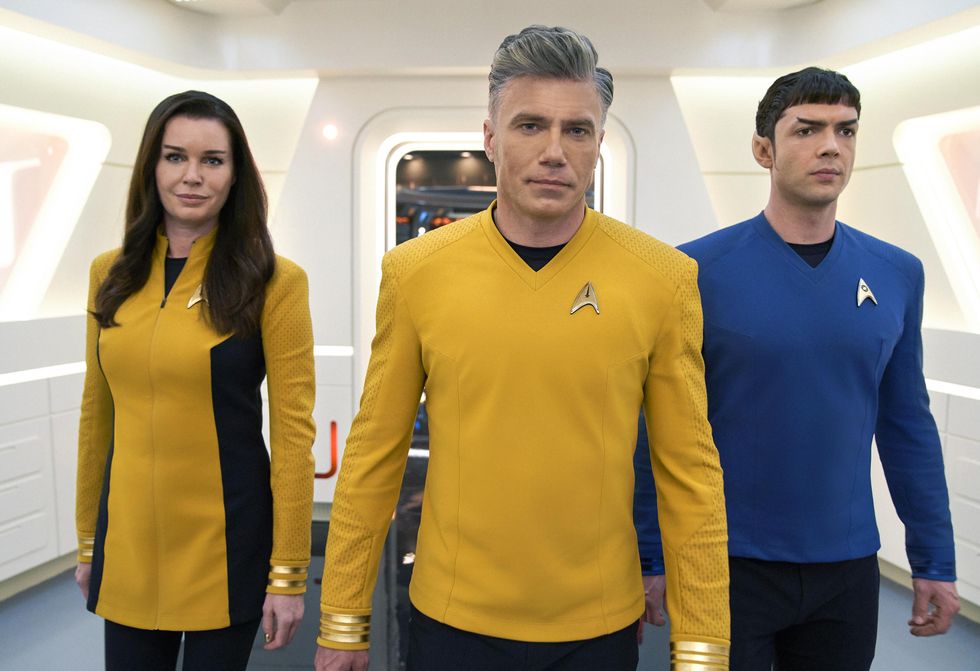 Star Trek Strange New Worlds' three main crew members on the bridge
Photo Credit: Marni Grossman/CBS
Why do you think Star Trek has lasted so long and had such a lasting cultural impact?
EP: I can speak to the ongoing appeal of Spock. We are all trying to find this comfortable place between logic and emotion, between being human and Vulcan. It is something we all struggle with within our own lives. He is such a unique, lasting character because he shows us so much about ourselves. He gives us a lot to hold on to.
RR: This show is as relevant now as it was in the '60s when Gene Roddenberry created it—almost more so. And it is not even just in our country, but internationally. What it stands for has never been more relevant. I'm a mother now, sharing it with my daughters, and I was introduced to the Original Series by my mother when I was 8 years old. It carries on a conversation that has been vital across generations. It helps to explain what is going on in the world through vibrant storytelling. That's a real gift that Star Trek just keeps delivering. Sure, you can enjoy the show just as shallow entertainment, but it's designed to have a takeaway at the end of every episode, something that sparks a conversation and often asks you to take a different point of view.
AM: Part of the joy of Star Trek is in the joy of exploration with a sense of empathy rather than a colonial or empirical perspective. When asked about space exploration, the vast majority of people on this planet say that, yeah, we should be engaged in space exploration. Why? Why do we have that as a species? Something in us is called to turn around and walk away from the campfire and into the dark forest to see what's out there. We often assume that the sum total of human endeavor is based on greed. I disagree with that. I think that one of the main reasons we first walked out beyond the firelight was because it was the best way to look at the stars. We have always wondered what was up there. I think that Star Trek taps into that specific dream. It's something that's a deeply primordial part of ourselves.
SUBSCRIBE NOW: Enjoy 4 Digital Plus 2 Print/Digital Issues Of Watch Per Year — For Free!
Stream Star Trek: Strange New Worlds on Paramount+.