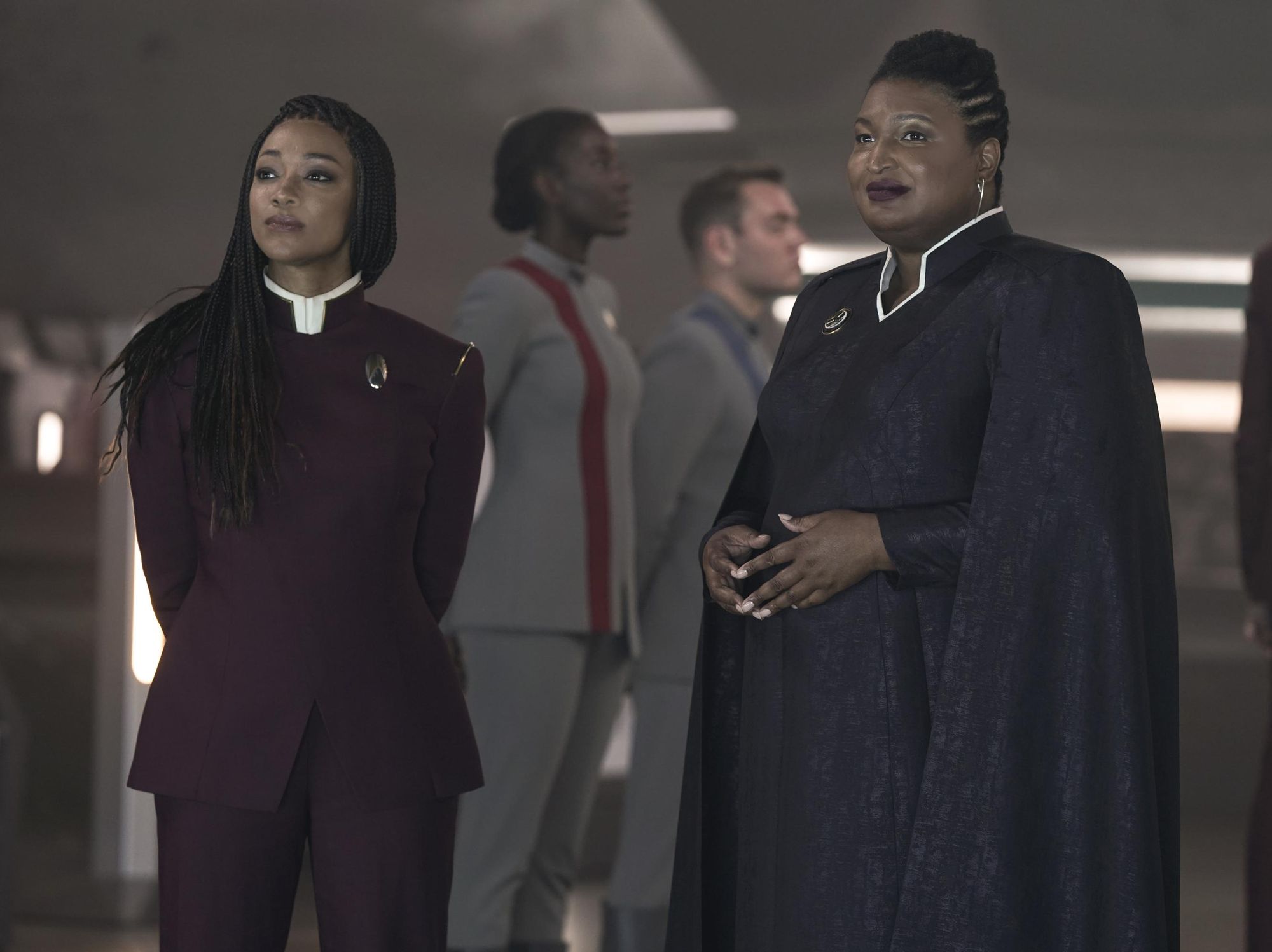 Photo Cr: Marni Grossman/Paramount+ © 2021 CBS Interactive. All Rights Reserved.
The famous franchise hashad its fair share of outlandish cameos, by everyone from politicians to punk rockers. Here are a few of our favorites.
By Laurie Ulster
Legions of celebrity guests have made their way into one Star Trek series or another. Some were already A-listers, while others made it big later.
Among the well-known actors who have beamed up are Kirsten Dunst, Joel Grey, Kelsey Grammer, Ashley Judd, The Rock, Jason Alexander, Christian Slater, Kim Cattrall, Gabrielle Union, Joan Collins, Dean Stockwell, Michael McKean, Adam Scott, Christopher Plummer, Daniel Dae Kim, Tom Hardy, Vanessa Williams, Ed Begley, Jr., and Starsky and Hutch's David Soul.
In addition, a number of standouts from other fields have donned a Starfleet uniform or alien makeup for a coveted guest spot on a Star Trek series. Here, in alphabetical order, are some of the most surprising.
Watch all of your favorite Star Trek series on Paramount+.
SUBSCRIBE NOW: Enjoy 4 Digital Plus 2 Print/Digital Issues Of Watch Per Year — For Free!
The Prince (now King) of Jordan—Abdullah II
Back when he was merely the Prince of Jordan, Abdullah II bin Al-Hussein got his much-wanted cameo during a visit to the U.S. on the set of Star Trek: Voyager. Not being a member of the Screen Actors Guild, he couldn't have a speaking part, but he did get a uniform and pointy sideburns! Afterwards, he threw a party for the cast and invited them all to visit him in Jordan. Ethan Phillips (Neelix) took him up on it.
Politician, Writer, and Georgia Gubernatorial Candidate Stacey Abrams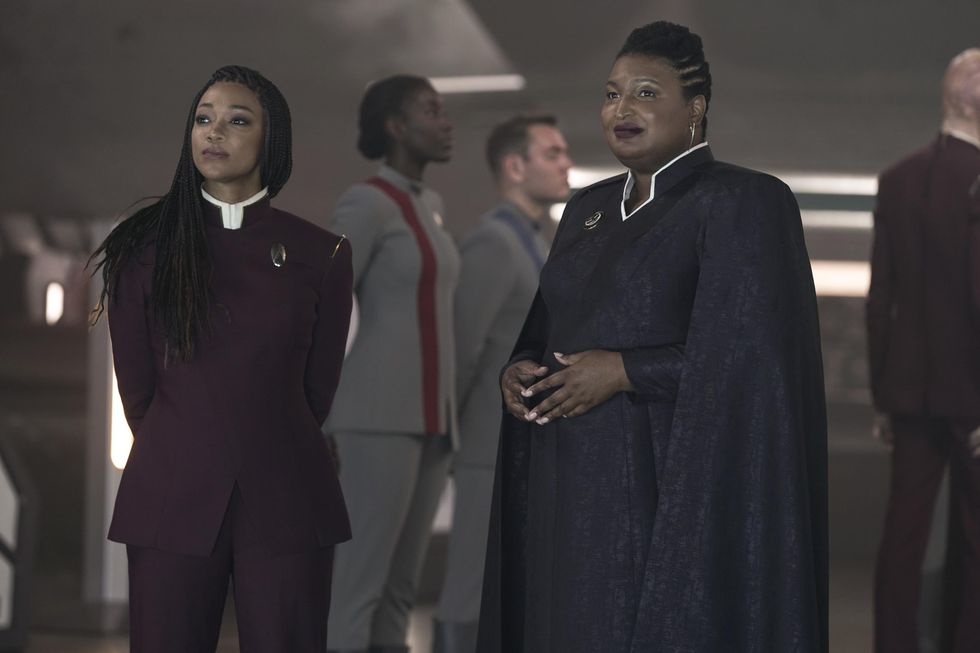 Sonequa Martin-Green as Burnham and Stacey Abrams as United Earth President
Photo Cr: Marni Grossman/Paramount+ © 2021 CBS Interactive. All Rights Reserved.
In a bold move, Star Trek: Discoverywrapped up its fourth season with a visit from the President of United Earth, who showed up to thank Captain Burnham and her crew for saving the entire galaxy, so they hired none other than longtime fan Stacey Abrams to take on the role. Well played.
Amazon Founder Jeff Bezos
Bezos begged Paramount for a guest role in a Star Trek movie, offering to put on any amount of makeup as long as he got a speaking role and didn't end up on the cutting room floor. He finally got an eight-second cameo as an alien Starfleet official in 2016's Star Trek Beyond. Chris Pine (Kirk) reported that Bezos showed up with nine bodyguards and three limos—and no one in the cast had any idea who he was.
Screenwriter and Director David Cronenberg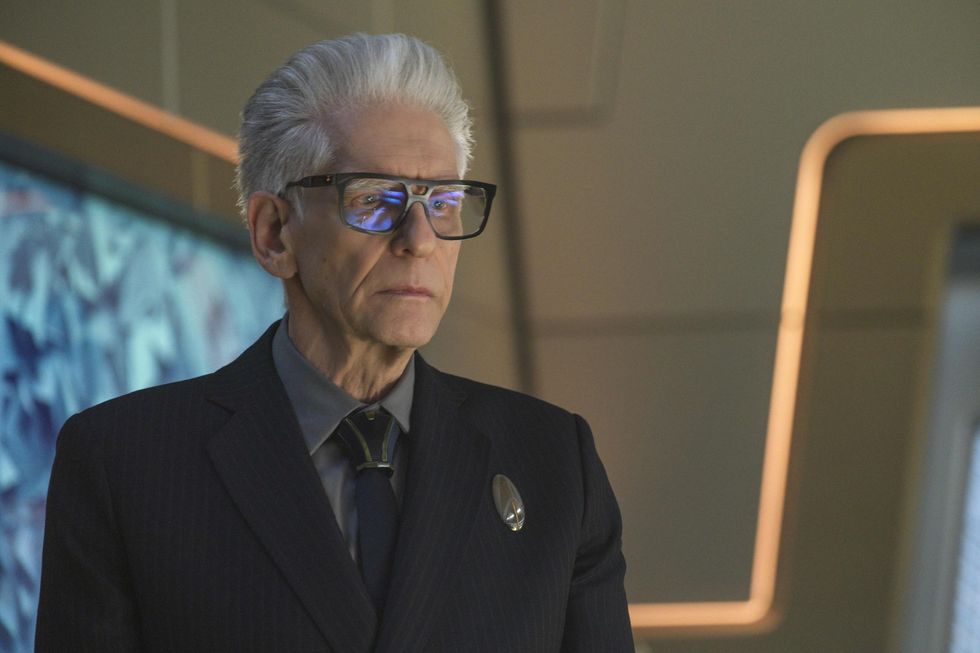 David Cronenberg as Kovich
Photo Cr: Michael Gibson/Paramount+ © 2021 CBS Interactive. All Rights Reserved.
Alex Kurtzman, the man in charge of the Star Trek franchise, is a Cronenberg fan, and since Star Trek: Discovery is filmed in Toronto, he seized the opportunity to ask the famous Canadian director to make a guest appearance on the show. Cronenberg played Kovich in Discovery's third and fourth seasons and is likely to show up in the fifth, now that he's one of the gang. He says part of the appeal for the Trek team is that he's "cheap" as well as local.
Fleetwood Mac's Mick Fleetwood
Fleetwood's very first acting role (in 1987's The Running Man) saw him speaking the line, "Mr. Spock, you have the conn," and it was apt: He was a longtime fan who asked the Star Trek: The Next Generationproducers if he could appear on their show. He played an Antedian dignitary in the episode "Manhunt," which required hours of makeup—he's unrecognizable inside his fishy prosthetic head—and even shaved off his famous beard to do it.
Theoretical Physicist Stephen Hawking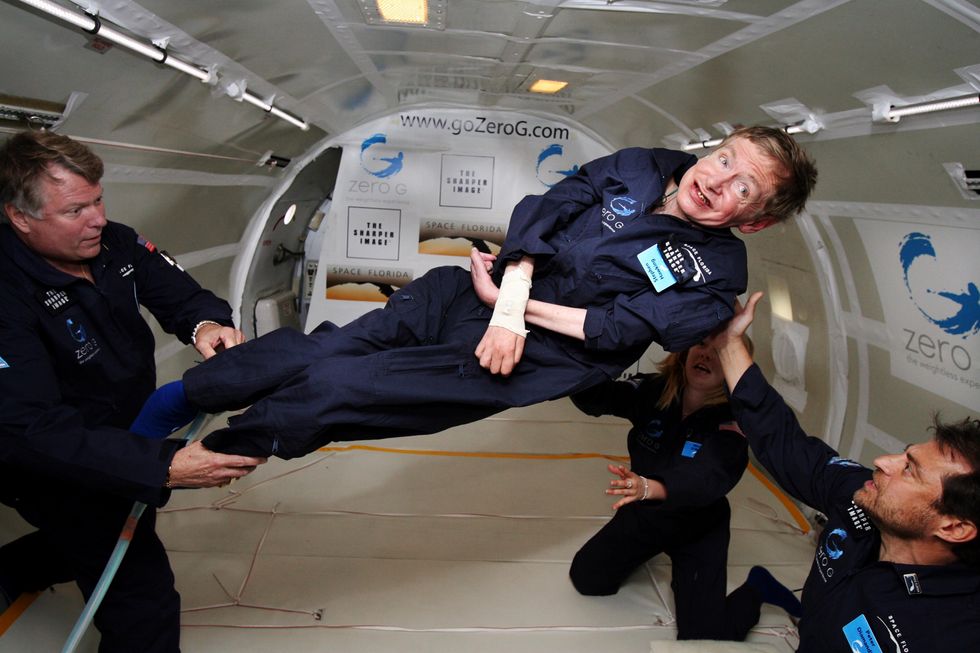 Physicist Stephen Hawking in Zero Gravity NASA
en.wikipedia.org
Hawking has the distinction of being the only person to ever play themselves in an episode of Star Trek. He was a huge fan, famous in Trek lore for saying, "I'm working on that" about the warp core during a tour of TNG's engineering set. In "Descent," he played a holodeck version of himself, enjoying a poker game with Data, Albert Einstein, and Sir Isaac Newton.
NASA Astronaut Dr. Mae Jemison, the First Woman of Color in Space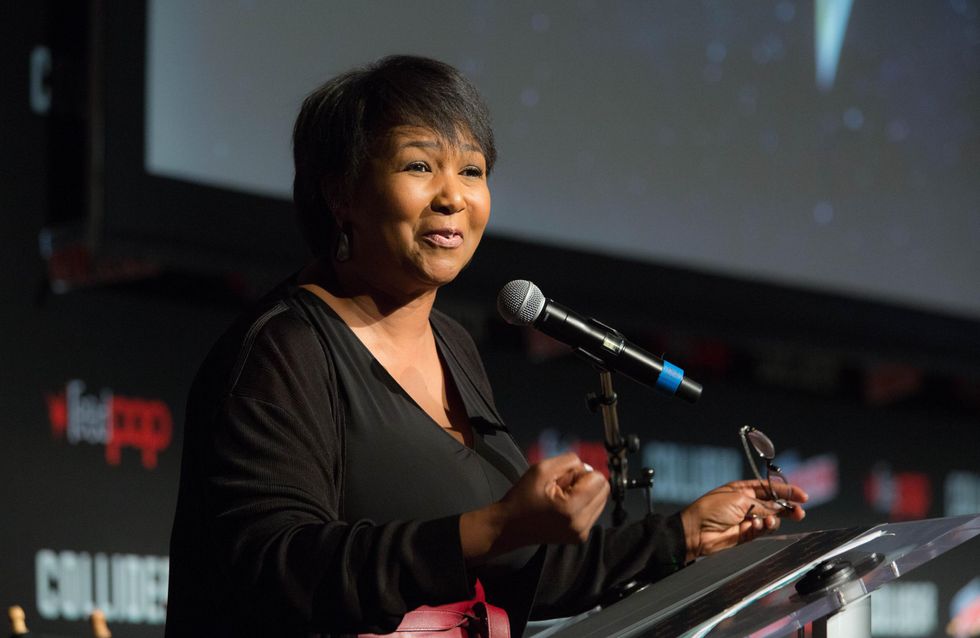 Dr. Mae Jemison during the New York Comic-Con 2017 panel for Star Trek: Discovery
Photo Cr: Lisette M. Azar/CBS © 2017 CBS Interactive. All Rights Reserved.
Dr. Jemison is a huge Star Trek fan who cites The Original Series' Nichelle Nichols as one of her inspirations for applying for the space program. Nichols visited her on set during the filming of her guest appearance on Star Trek: The Next Generation's "Second Chances." Other astronauts have turned up in the franchise since, but trailblazer Jemison was the first.
Cooking Show Host Padma Lakshmi
Over a decade before she became famous for sending chefs home with the phrase, "Please pack up your knives and go" on Top Chef, Lakshmi appeared on Enterprise as Kaitaama, a princess, in the episode "Precious Cargo"—and yes, she was the cargo.
Rage Against The Machine's Tom Morello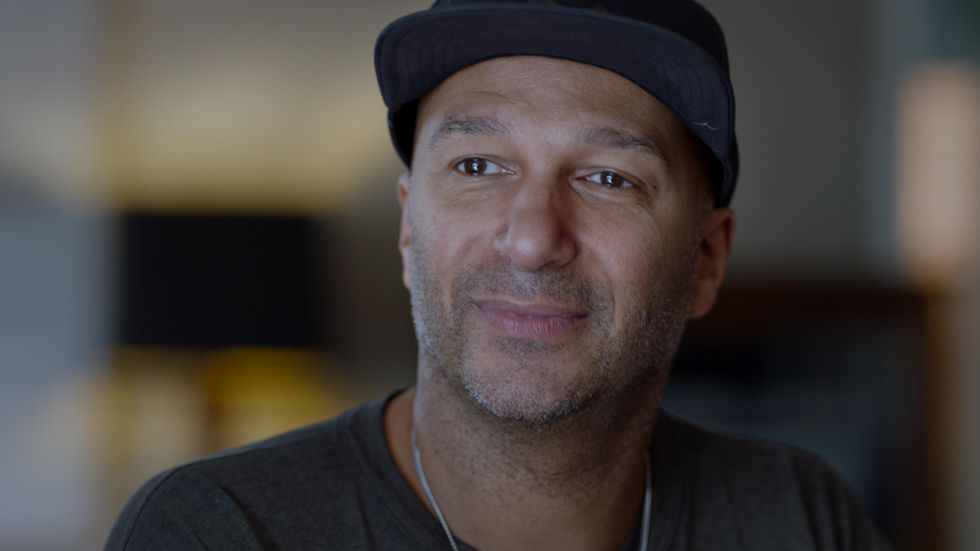 Tom Morello
Photo credit: PARAMOUNT+/MTV 2021 Paramount+, Inc. All Rights Reserved.
The Grammy-winning guitarist and huge Trek fan got his first Star Trek role as a Son'a officer in the movie Star Trek: Insurrection, but since he was almost impossible to spot under the makeup, he was invited to appear as a regular old human on Voyager, where he played Crewman Mitchell in "Good Shepard." He even got a line to speak this time!
Saturday Night Live's Joe Piscopo
In one of Next Gen's most unusual choices, Joe Piscopo turned up in the episode "The Outrageous Okona" as a holographic comedian who tried to teach Data how to tell jokes. The producers' first choice was Jerry Lewis, but he was unavailable, so in came Piscopo. Despite his best efforts, Data still didn't learn how to tell jokes, but you can't blame him for that.
Singer/Songwriter Iggy Pop
Deep Space Nine showrunner Ira Steven Behr is a huge Iggy Pop fan and was determined to get him on the show. After a few failed attempts due to scheduling conflicts (it's hard to do a guest appearance when you're on tour), he finally got his wish. Punk rock icon Iggy played a Vorta clone named Yelgrun in the sixth-season episode "The Magnificent Ferengi."
Writer/Comedian Sarah Silverman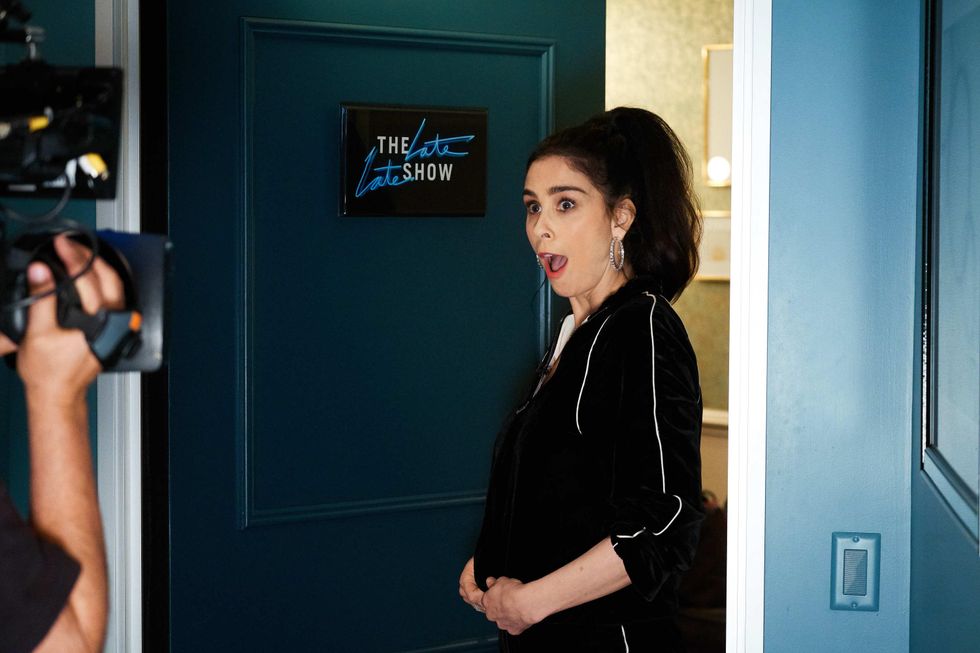 Sarah Silverman
Photo: Terence Patrick/CBS ©2018 CBS Broadcasting, Inc. All Rights Reserved
In her first dramatic role, Silverman played Rain Robinson, an astronomer who helped Voyager's crew save the future in the two-parter "Future's End." Her character was a hit with the producers, who considered making her a regular. While on set, Silverman stuck around in her off-time just to watch Kate Mulgrew do her Captain Janeway thing. Can you blame her?
NBA All-Star James Worthy
At six feet nine inches tall, Worthy was an obvious choice for a Klingon—so when he met actor Robert O'Reilly (who was playing one on The Next Generation and Deep Space Nine) on a flight and told him what a fan he was, O'Reilly convinced him to make a call. Hence his appearance as Koral in Next Gen's "Gambit, Part II."
Watch all of your favorite Star Trek series on Paramount+.
SUBSCRIBE NOW: Enjoy 4 Digital Plus 2 Print/Digital Issues Of Watch Per Year — For Free!