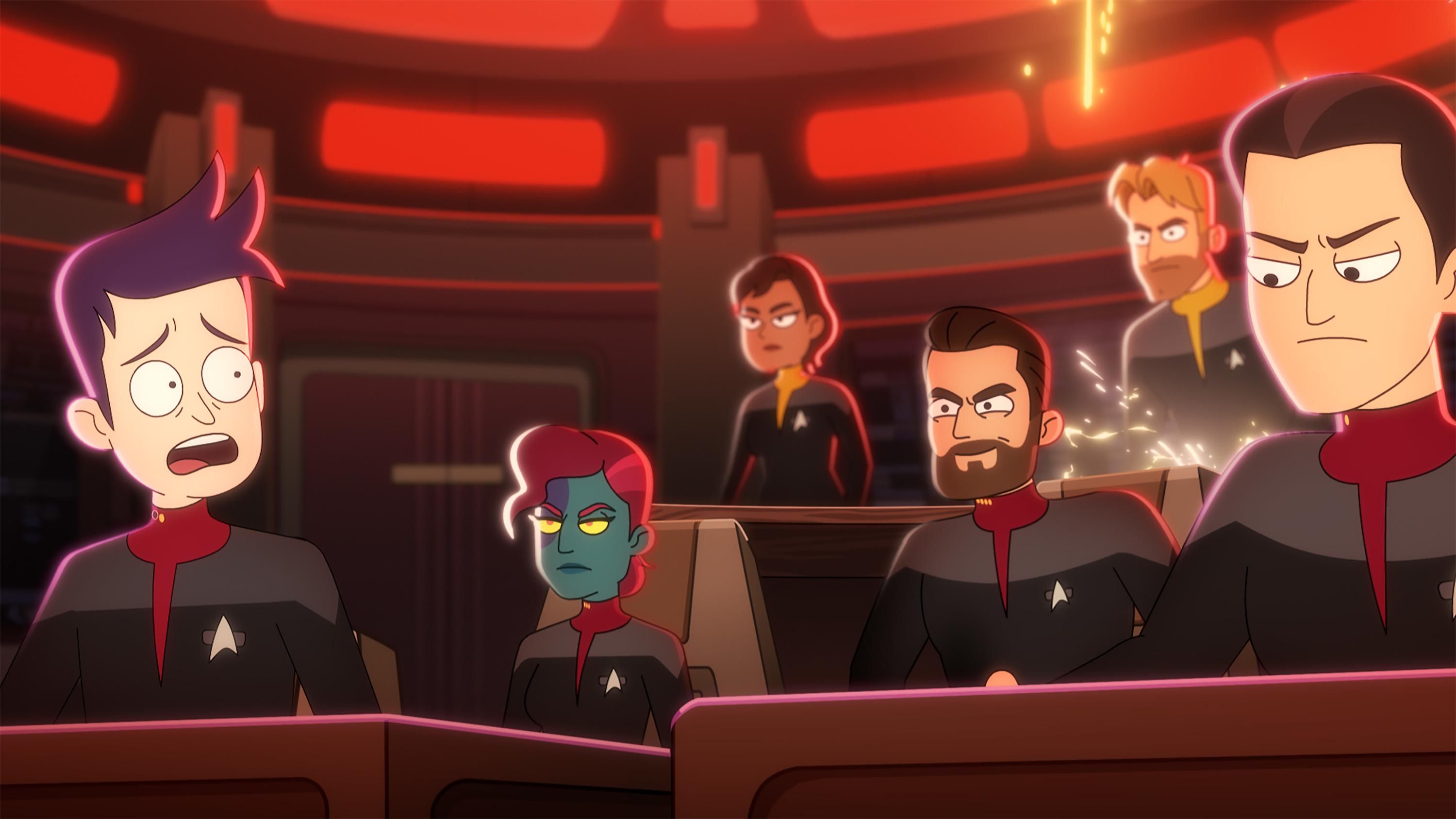 Photo: Paramount+
The acclaimed animated Star Trek series returns to Paramount+ on Aug. 12
By Nate Millado
"Bigger! Funnier! The same length!" previewed Star Trek: Lower Decks creator Mike McMahan about the upcoming 10-episode season. "It's a really great mix of Serious Trek and Silly Trek." Ahead of its Aug. 12 premiere on Paramount+, Watch shares a Captain's Log–full of secrets and sneak peeks about Season 2.
SUBSCRIBE NOW: Enjoy 4 Digital Plus 2 Print/Digital Issues Of Watch Per Year — For Free!

Star Trek: Lower Deckspremieres Aug. 12 on Paramount+. New episodes every Thursday!
---
Previously On…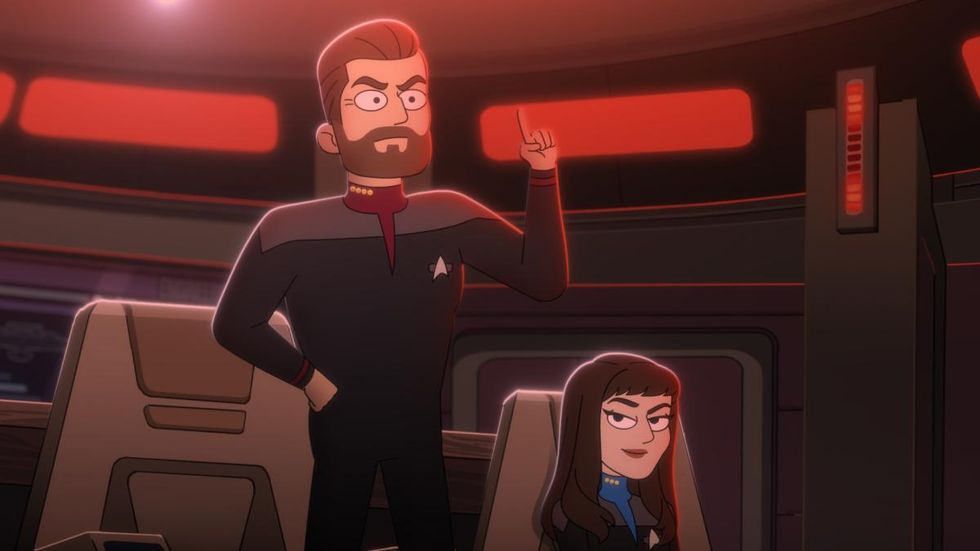 Jonathan Frakes as Capt. William T. Riker and Marina Sirtis as Cmdr. Deanna Troi
Photo: Paramount+
TBH, what didn't happen during Lower Decks'action- and canon-packed finale? Boimler (Jack Quaid) reveals to Mariner (Tawny Newsome) that he knows she's Captain Freeman's daughter—inadvertently over an open comm link, so the entire crew knows! The Cerritos is attacked (and seriously damaged) by the Pakleds, alien scavengers that hark back to Season 2 of The Next Generation.
Speaking of TNG, in comes the USS Titan with Captain Riker (Jonathan Frakes) and Commander Troi (Marina Sirtis) to save the day! Boimler gets promoted—to lieutenant (junior grade)—aboard the Titan. And the Cerritos suffers a major casualty: RIP Lieutenant Shaxs (Fred Tatasciore).
Jerry O'Connell Uses "Inside Jazz Hands"
Before we dive into Season 2, can we talk about moderator Jerry O'Connell's entrance during the Comic-Con@Home panel for Star Trek: Lower Decks?"Energizing…energizing…I just got beamed up!" said the actor, aka Lower Decks' Cmdr. Jack Ransom, as he emerged from below the screen. "Why was your beaming-up effect so slow?" ribbed Tawny Newsome (Beckett Mariner). "When in the history of Starfleet has it taken that long?" (O'Connell quipped it was due to a "bad knee.") Co-stars Quaid and Eugene Cordero (who plays Ensign Rutherford) dubbed the hilariously low-definition effect "inside jazz hands."
Season 2 Will Feature More On Mariner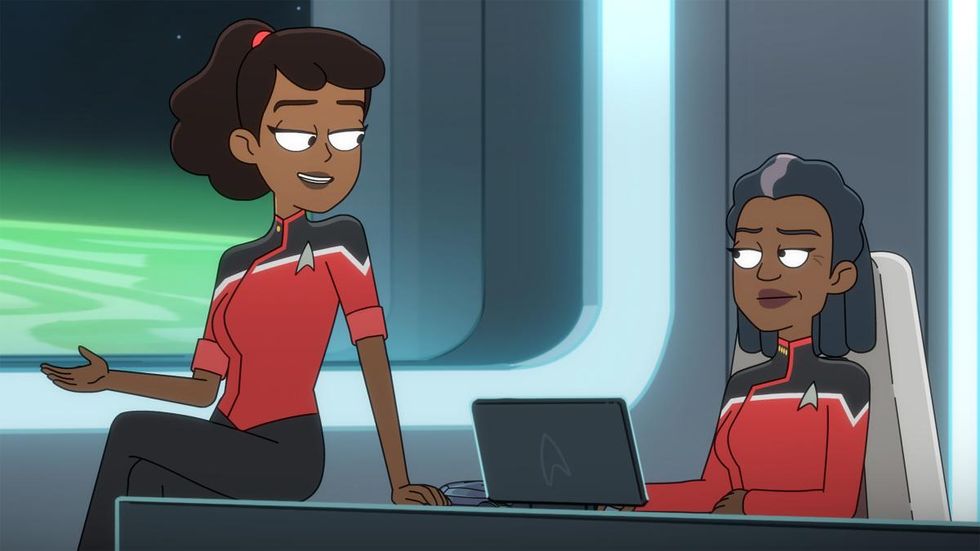 Tawny Newsome as Ensign Beckett Mariner and Dawnn Lewis as Capt. Carol Freeman
Photo: Paramount+
Tawny Newsome has read all your online fan theories: "Was Mariner a child on the Enterprise? Is Mariner a time traveler? Is Mariner in some secret ops?" she told TrekMovie.com. "How old is she? Is she 1,000? Is she 25 like the rest of them? And the answer is: I'm not gonna tell you, and some of it's because I don't know and some of it's because we reveal a little bit in the season. So it'll be delightful when you find out."
Newsome also revealed during the Comic-Con@Home panel that Season 2 will continue to explore Mariner's "sticky and weird and difficult" relationship with her mom, Captain Freeman. They do end up working together—or attempt to do so. "Mariner defines herself through rebellion, and when rebellion is taken away, how do you function?"
Welcome To The Cerritos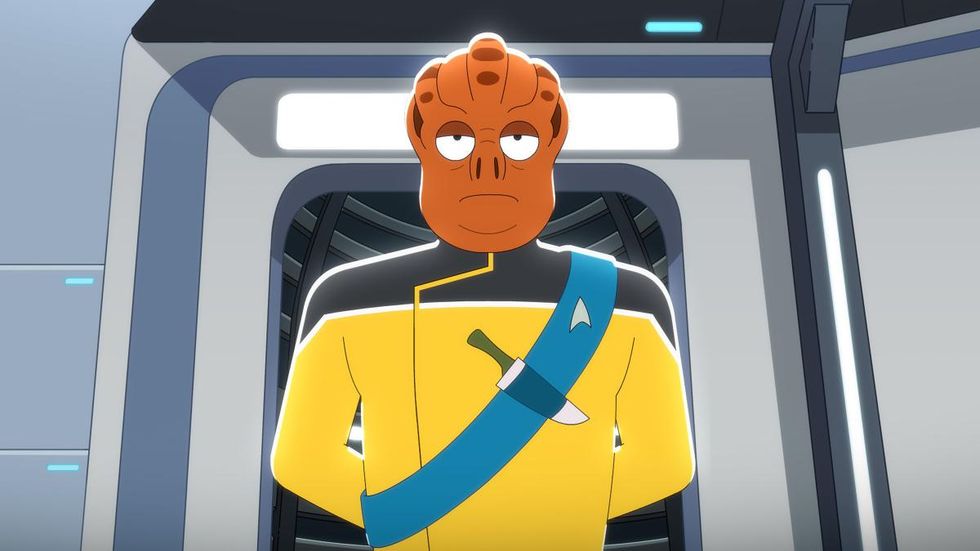 Carl Tart as Lieutenant Kayhon
Photo: Paramount+
Improv comic Carl Tart joins the crew as Tamarian Lieutenant Kayshon, who basically speaks in memes and metaphors. (The Tamarians are another TNG throwback.)
Expect Even More Easter Eggs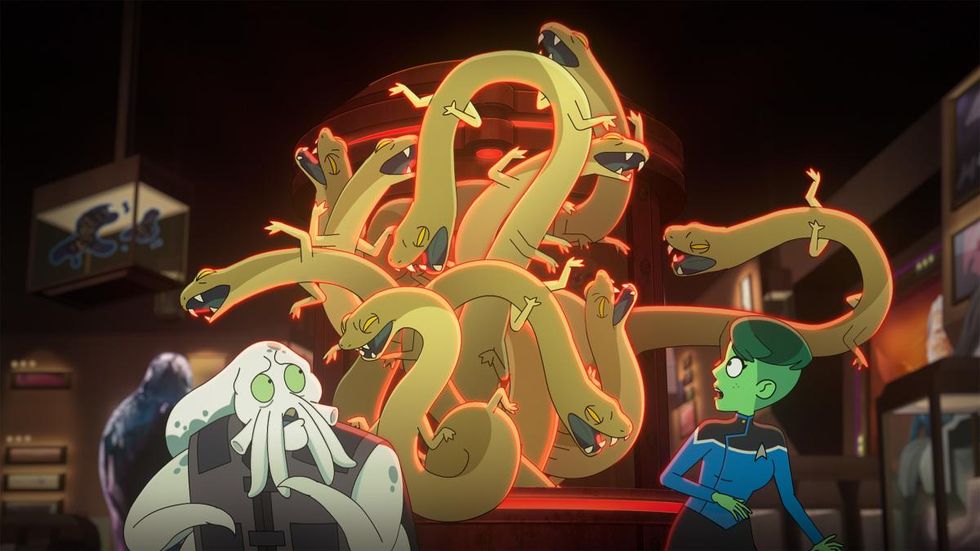 Noël Wells as D'Vana Tendi of the USS Cerritos
Photo: Paramount+
Eagle-eyed Trekkies spotted references galore during Season 1, from Klingon weaponry and Romulan whiskey to Geordi La Forge's VISOR and a random Gary Mitchell shoutout. The fun continues in Season 2, which features an evil computer, voiced by Star Trek vet Jeffrey Combs, and a Tom Paris cameo (voiced by Voyager's Robert Duncan McNeill).
The Pakleds Are Back!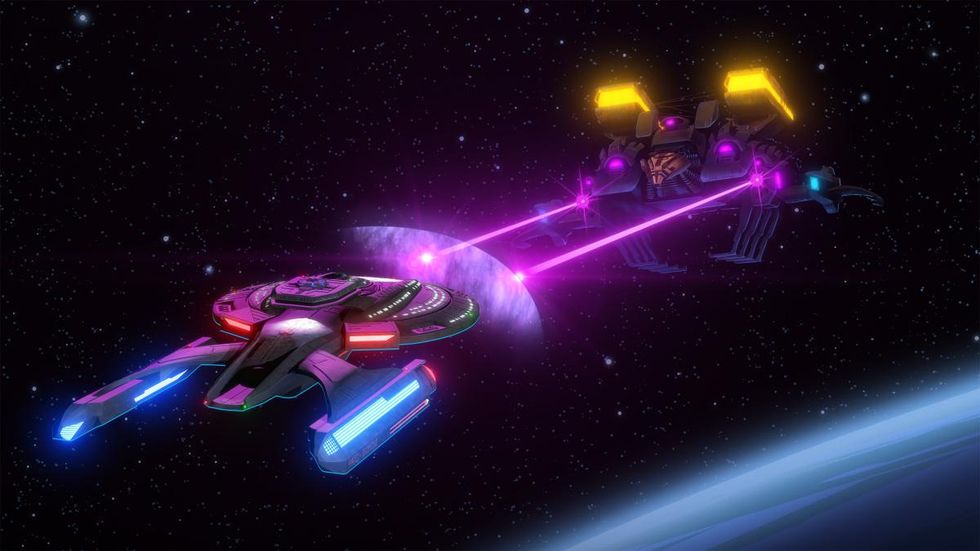 The Pakled warship in Lower Decks
Photo: Paramount+
Star Trek: TOS contended with the Klingons, TNG rumbled with the Romulans, and now Lower Decks has its own big bad force to deal with. "Second season, we delve into how the Pakleds got to be so strong," McMahan told IGN. "They're a recurring villain for us for a little bit. And you do get to understand them a little bit more."
And So Is Riker!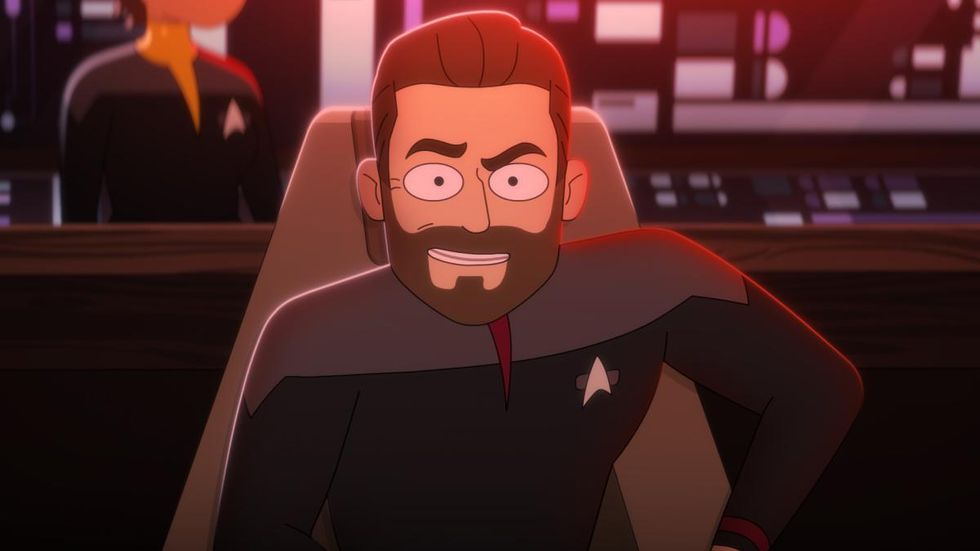 Jonathan Frakes as Capt. William T. Riker
Photo: Paramount+
Excited for more Jonathan Frakes? You're not the only one! "I love this version of Riker that we haven't really seen before, where he gets to be a little nuttier and a little bit more jazzy," Quaid revealed to TrekMovie.com. "He was amazing in our season one finale, and he is great in [Season 2]."