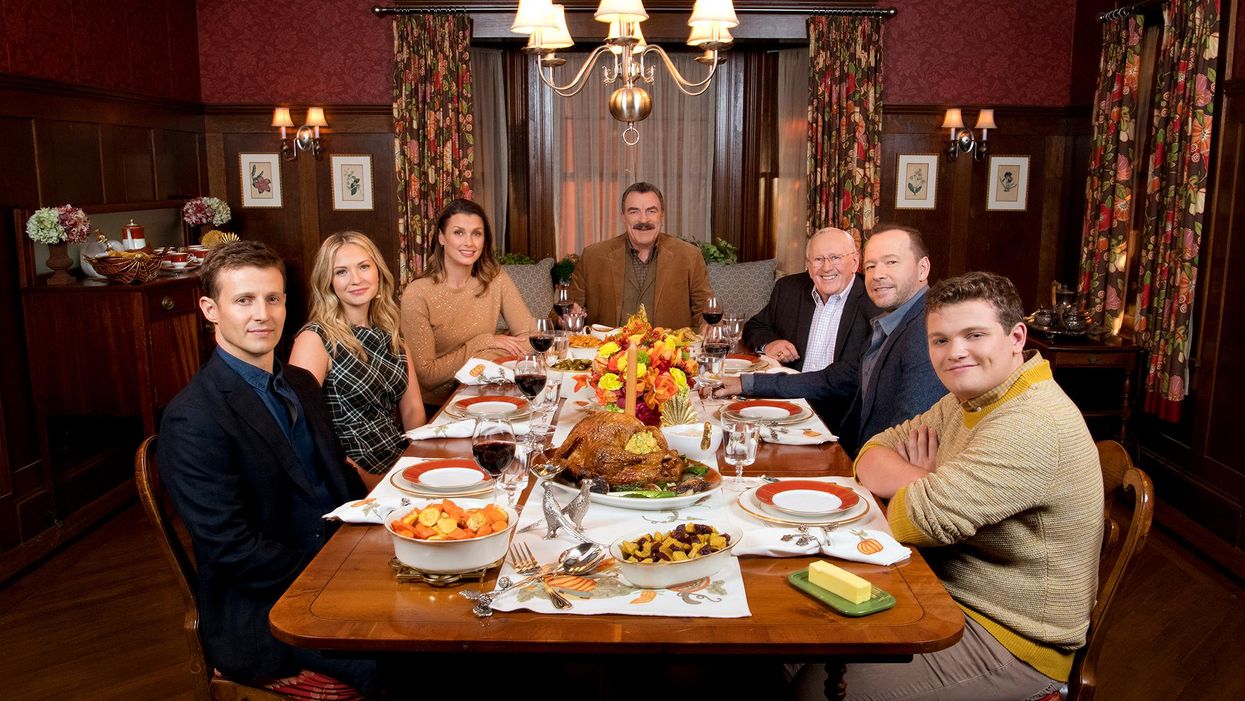 Photo credit: CBS
From the Reagans' table to yours this holiday season—with a little help from the pros
By Michelle Darrisaw
In CBS police procedural Blue Bloods, both drama and comfort food are always on the menu as Commissioner Frank Reagan (Tom Selleck) and the NYPD's first family fight crime and corruption on the streets of New York. The Reagans share more than just a life in law enforcement: Their love for tradition also takes center stage, namely in their fondness for Sunday dinners.

Now, 12 seasons and over 250 Sunday dinners since its premiere, the Blue Bloods weekly ritual is practically a character all its own. And in case it isn't obvious, all the gorgeous food they serve on camera is real, delicious, and actually eaten by the cast during take after take. That means finding something to please everyone in a large group with different tastes during an exceptionally long meal—a challenge that sounds pretty familiar at this time of year.
With the holiday season fast approaching, we turned to Blue Bloods prop master Zach Badalucco and freelance recipe developer and caterer Treva Chadwell, the creative and culinary masterminds behind the legendary food and dinner scenes, for advice on setting our own Thanksgiving tables.
While you're gobbling up the current season, read on to find out how you can prepare for the big feast and make your guests feel welcome, in true Reagan style.
Watch Blue Bloods Fridays at 10 p.m. ET/PT on CBS and streaming on Paramount+.
SUBSCRIBE NOW: Enjoy 4 Digital Plus 2 Print/Digital Issues Of Watch Per Year — For Free!
1. Make Tradition and Variety Friends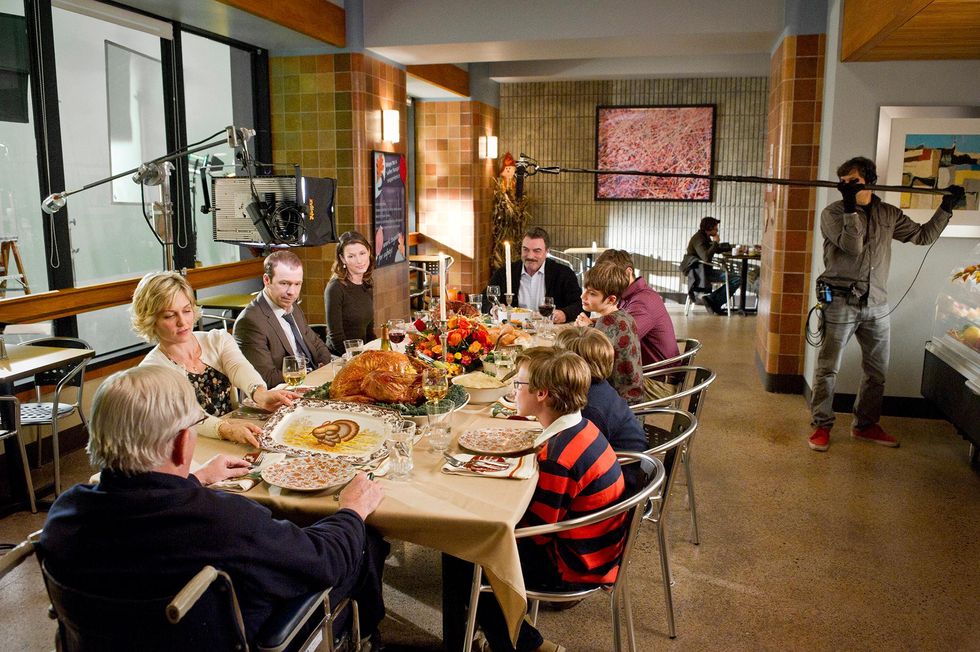 Be flexible and find ways to include everyone. Take inspiration from the moving feast for Henry in Season 2's classic "Thanksgiving."
Photo credit: CBS
Badalucco, in his role as prop master, is responsible for supplying everything the actors touch on set, from the cars Danny (Donnie Wahlberg) and Jamie (Will Estes) drive to the food the Reagans eat.
"We're entering the peak holiday season and planning our menus accordingly by featuring both warm and savory meals like roasts, chili, fried chicken, and sweets like chocolate cake and warm apple pie," Badalucco says.
But not everyone enjoys a forkful of decadence during multiple takes ("The actors perform the scene for the camera over 30 times per family dinner," he notes). Badalucco and his team always provide lighter options for the cast to eat while shooting.
His advice when planning your holiday menu: Cater to all your guests' dietary needs and accommodate any food restrictions, intolerances, or allergies for those who want to enjoy hearty dishes and sweets sans the guilt.
"If we're serving dinner, we always serve salad with cucumbers. The cast loves cucumbers because they are crunchy, light, and healthy," Badalucco says. "If we're serving dessert, along with a sugary treat like cake or pie, we'll serve mixed berries. Blueberries seem to be the cast's berry of choice."
2. Get Everyone Involved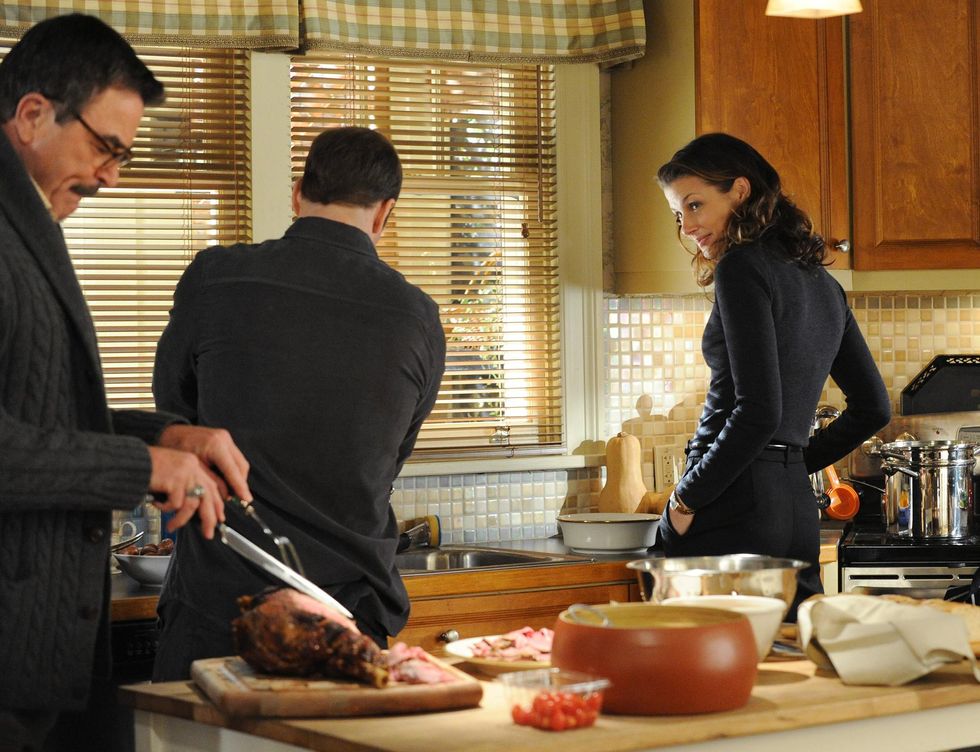 In this Reagan division of labor, the Commissioner cuts the ham as Danny prepares the sides and Erin supervises.
Photo credit: CBS
Chadwell, a classically trained chef, and her husband, John, have been preparing food for Blue Bloods since Season 3. Former owners of the now-closed BeeHive Oven restaurant, they work with Badalucco to ensure meals reflect scripts and scenes.
The Chadwells aren't just responsible for the signature family dinners. They also make casseroles for funeral scenes and even the green Jell-O fans see in hospital scenes.
For Chadwell, collaboration is key—and not just on set. Another way to make guests feel welcome is being open to receiving their help.
"Get people involved and let them help where possible," Chadwell says. "I like to have my menu planned before making the invitations so that when they ask what they can do, I have an answer."
Chadwell also recommends making an actual to-do list to coordinate the helping hands, adding, "everyone feels good when they contribute."
3. Set an Inviting Table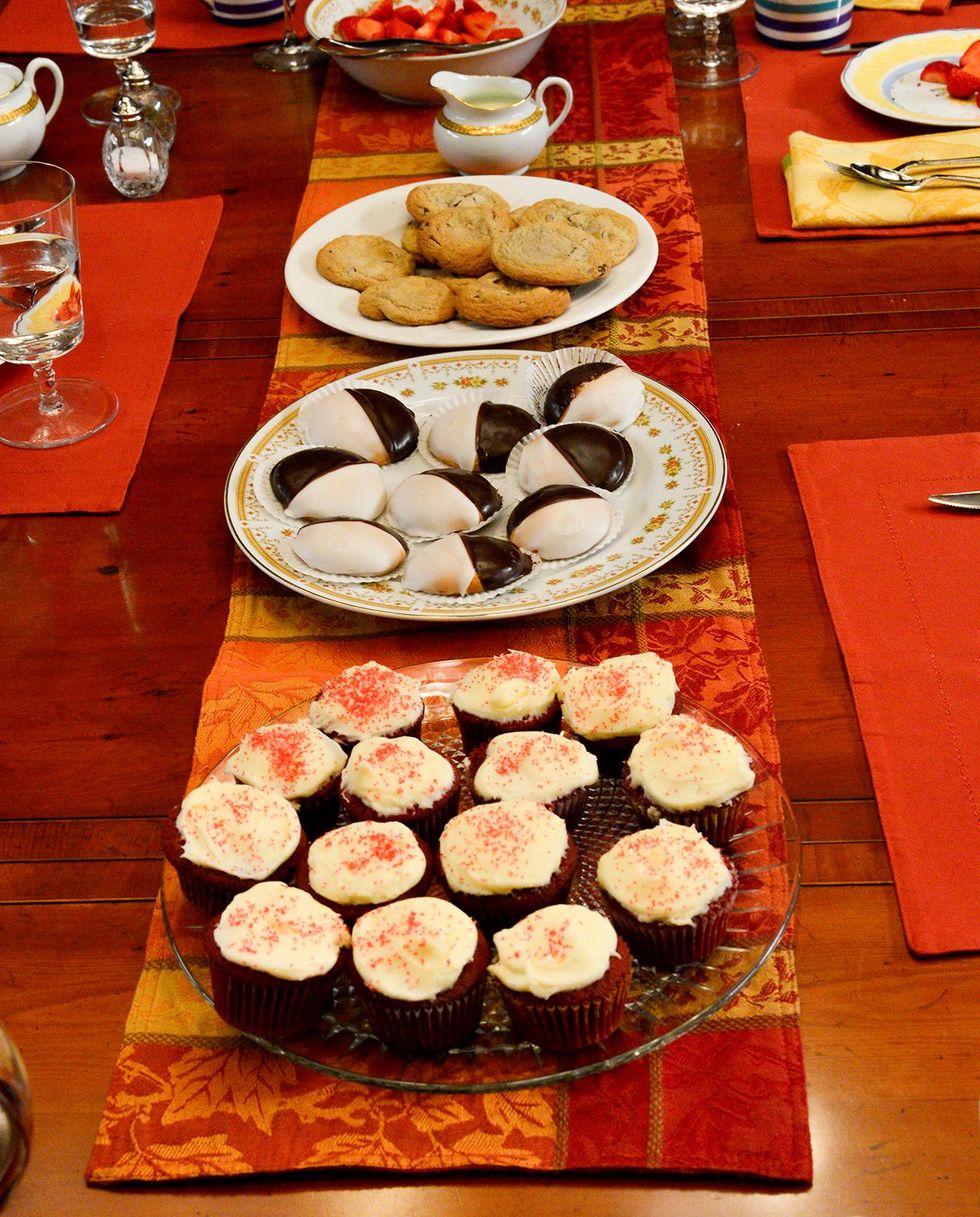 The Reagan desserts enhance the table's autumnal splendor. The array of strawberries, chocolate chip cookies, New York favorite black and whites, and red velvet cupcakes means there's something for everyone.
Both Chadwell and Badalucco agree the dinner table should look just as good as the plated meals sitting atop it. When it comes to Blue Bloods dinner scenes, Chadwell notes that "a lot of care goes into the 'look' of the table, making sure there is color, and the food looks appetizing."
As for her home decorations, Chadwell uses tablecloths and her best china during the holidays. She recommends that festive tabletop arrangements, if you add them, not be too large.
It's also important to keep everyone close: "I also have a rule that if it's possible, everyone sits at the same table," says Chadwell. "If that isn't possible, we work to get all the tables in the same room so we can all be together."
4. Start Early and Think Easy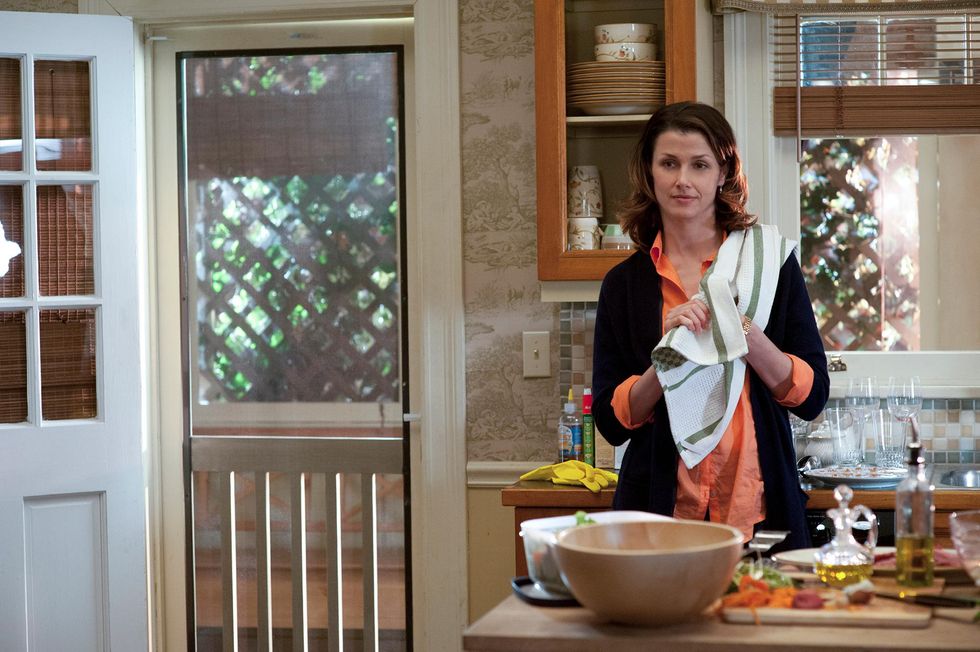 Count on Erin Reagan for strategic planning and thinking ahead.
Photo credit: CBS
To reduce Thanksgiving Day stress (and meal day chaos for other food-first holidays), the Blue Bloods pros emphasize starting preparations early. Chadwell suggests cleaning out your refrigerator and freezer two weeks before the holiday.
Both Badalucco and Chadwell recommend dishes that require minimal same-day effort. For Chadwell, this includes casseroles, lasagna, gratins, and macaroni and cheese.
She adds: "Desserts can be made a couple of days ahead. Prep vegetables, including chopping onions and celery for stock and blanching green beans, the day before. This helps so everyone can maximize visiting time and minimize the work."
"We recommend serving roasted or mashed potatoes," says Badalucco. "For roasted potatoes, chop up some sweet potatoes and throw them in to sweeten up the pot. You can also serve Brussels sprouts, butternut squash casserole, homemade stuffing, and, of course, a crunchy salad with dinner rolls on the side."
"I love making dishes that can go into the oven ahead of time and are easy to reheat," says Chadwell. "A potato gratin and traditional ham come to mind."
5. Avoid the Fussy Fixings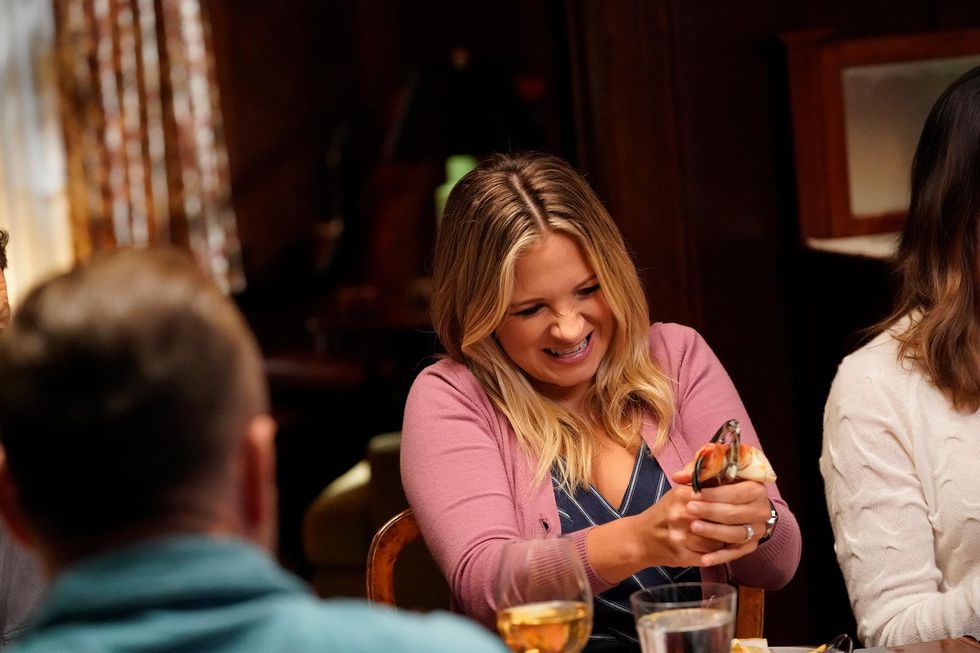 Sure Eddie Janko can crack a case, but can Mrs. Reagan crack a claw? Consider saving the foods that require special tools to eat for another happy occasion.
Photo credit: CBS
Every family has its favorites—and it's tempting to try to please everyone. But Chadwell offers a solid rule of thumb for deciding what makes the menu: "I would skip anything that requires more time to make than eat."
"Fussy appetizers take a large amount of work but only a second to disappear," she says. "Instead of the little bites, a charcuterie board is great and easy to assemble."
When it comes to the main course, Badalucco thinks it's best to stick with traditional fixings like turkey or honey-baked ham that "come out oven-ready to carve and serve to a large group."
"If you're hosting a large family gathering, skip the fried chicken and save it for a night with fewer guests," says Badalucco. "The prep takes up a lot of time, and you have to fry each piece of chicken, so it's tough to present all the chicken at once [to guests]."
6. Embrace the Comfort (Food and Family)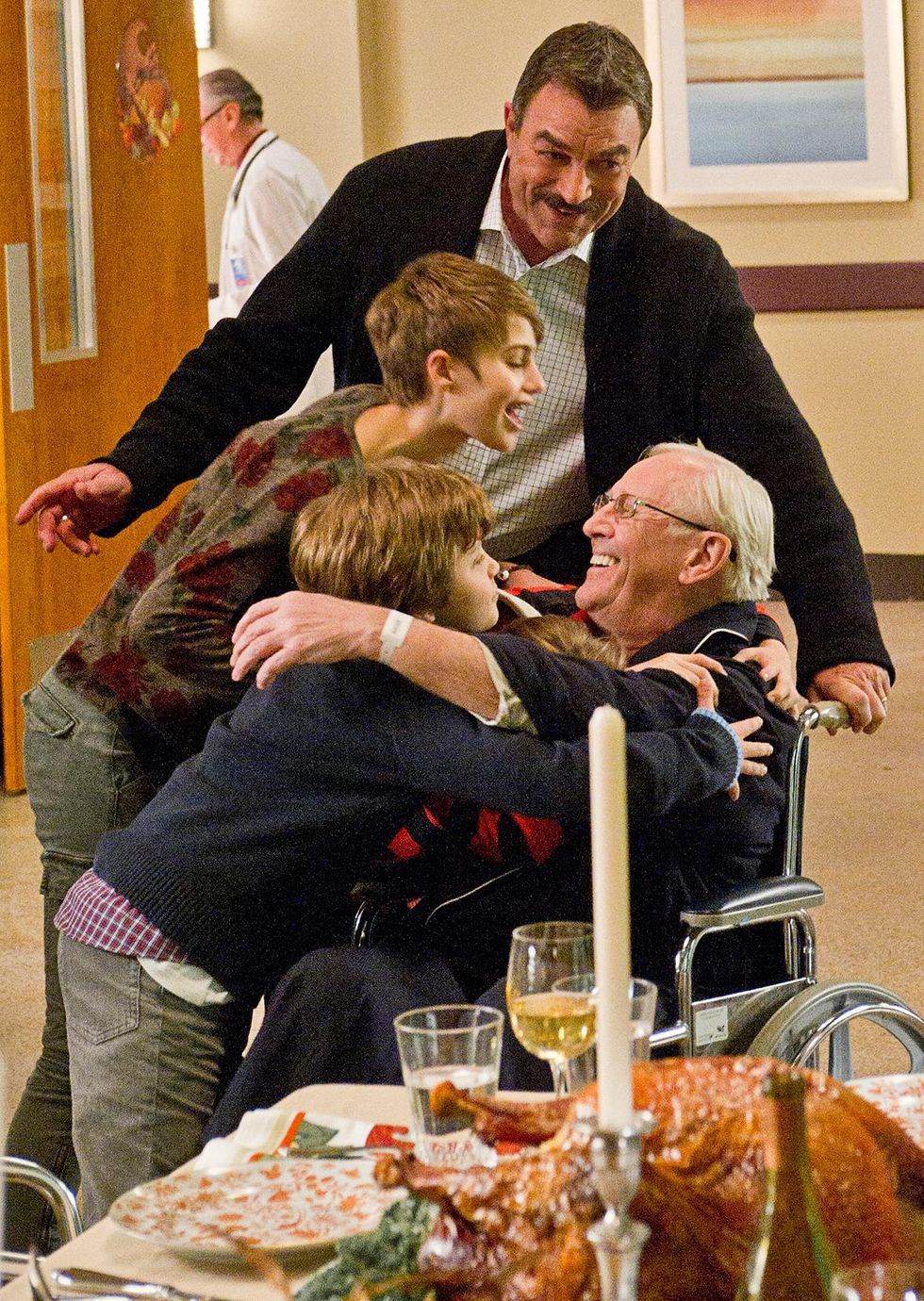 Big Thanksgiving hugs for Henry, back in Season 2 when Nicky, Sean, and Jack could jump on his lap without putting him in intensive care.
Photo credit: CBS
When the Reagans come together at the table, the focus of their feasts is no accident. Badalucco confirms planning comfort-food dinners for the Reagans is "100 percent intentional" and is meant to serve "as an escape from the pressure of real life."
Chadwell goes even further, adding, "I think comfort food is key during the holidays and for special family dinners. The food brings back memories of loved ones you are currently with and ones you no longer see."
But what comfort dishes get the real Reagan raves? Chadwell regards their crown rib roast and Turducken as well-received among the cast. Turducken is a trio of meaty goodness, consisting of stuffed chicken, duck, and turkey—all seasoned to perfection.
7. Pass the Finnerty's 18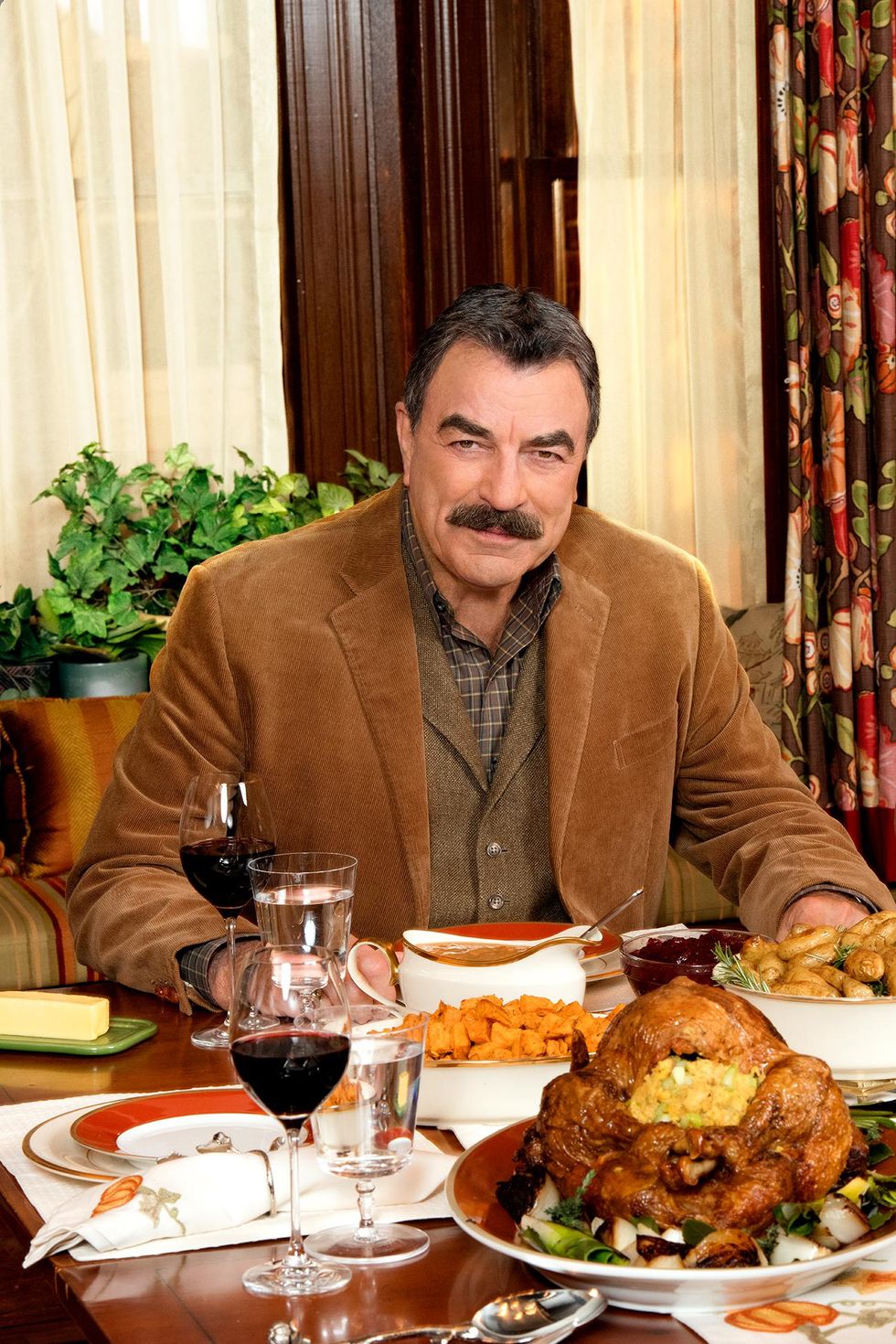 Frank Reagan helms the Thanksgiving table, ready to toast his family, just as he does every other week of the year, come what may. Let us all be thankful for that.
Photo credit: CBS
According to Chadwell, you can't go wrong with white and red wine for dinner or sparkling punch as a nonalcoholic option. Badalucco echoes Chadwell's sentiment: "No Reagan holiday party is complete without red wine and a bottle of Finnerty's."
Sure, the Finnerty's 18-year scotch referenced on the show is a fictional drink, and Wahlberg once revealed in an interview with CBS that it's iced tea in the glasses on set. But that doesn't mean you can't crack open your preferred whiskey or wine to capture the spirit of Thanksgiving (and of the Reagan family) as you toast your loved ones.
The Reagans Are Thankful for Us, Too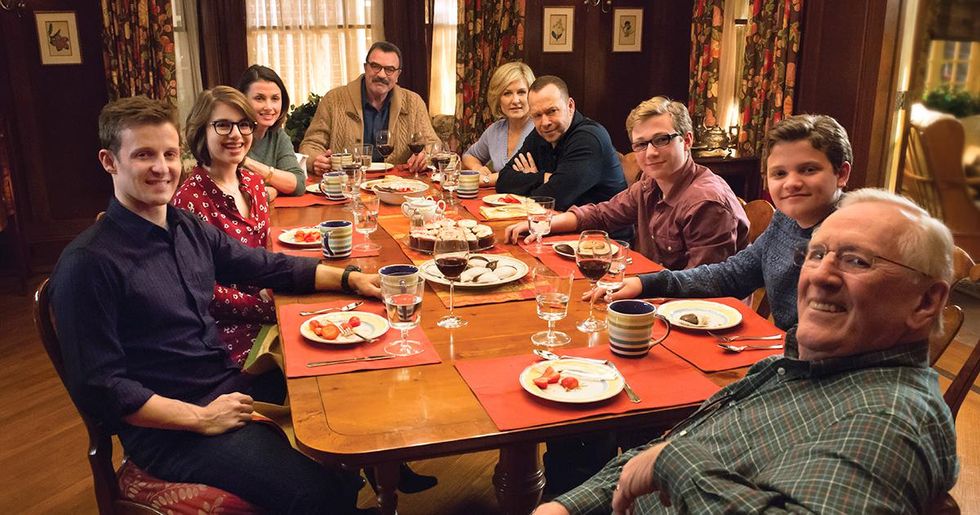 Give thanks for all the dinners we get to spend with the Reagans and know that they appreciate all their fans.
Photo credit: CBS
Finally, here's something else we can all be grateful for this holiday season: Breaking bread with the Reagan family every Friday on CBS—and any other time we need the comfort of those gatherings by streaming our favorite meals past on Paramount+.

And remember, the cast and crew of Blue Bloods are thankful for all of us who tune in, too.
Watch Blue Bloods Fridays at 10 p.m. ET/PT on CBS and streaming on Paramount+.
SUBSCRIBE NOW: Enjoy 4 Digital Plus 2 Print/Digital Issues Of Watch Per Year — For Free!