Photo Credit: Shane Harvey/The CW.
LGBTQIA+ representation in popular shows? Yes, please!
While LGBTQIA+ representation in TV shows and on the big screen is still limited, The CW is showering fans with diversity and inclusivity. According to GLAAD, The CW recorded the highest percentage of LGBTQIA+ series regulars in 2019, a breakthrough for the community. From inspiring fans to come out to shedding light on taboo topics, queer characters are making a big impact on their audiences.
To celebrate Pride today and every day, we're highlighting some of our favorite LGBTQIA+ characters across The CW.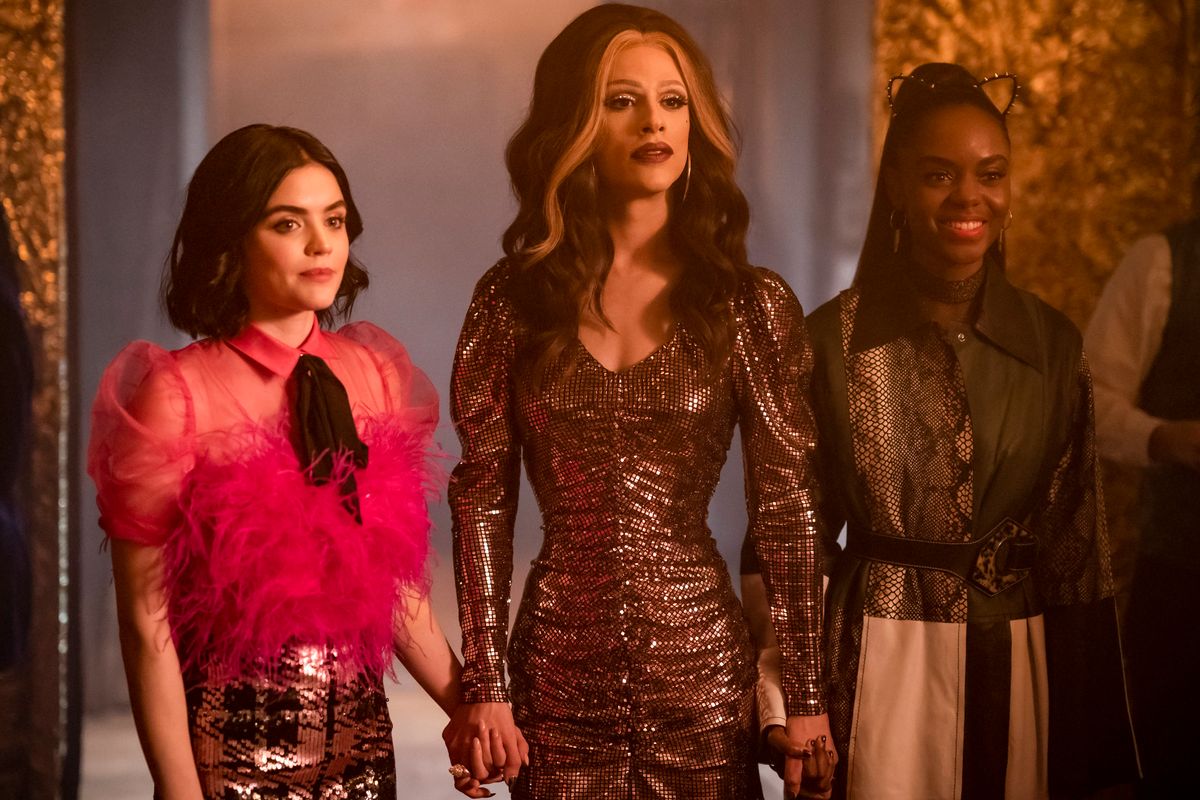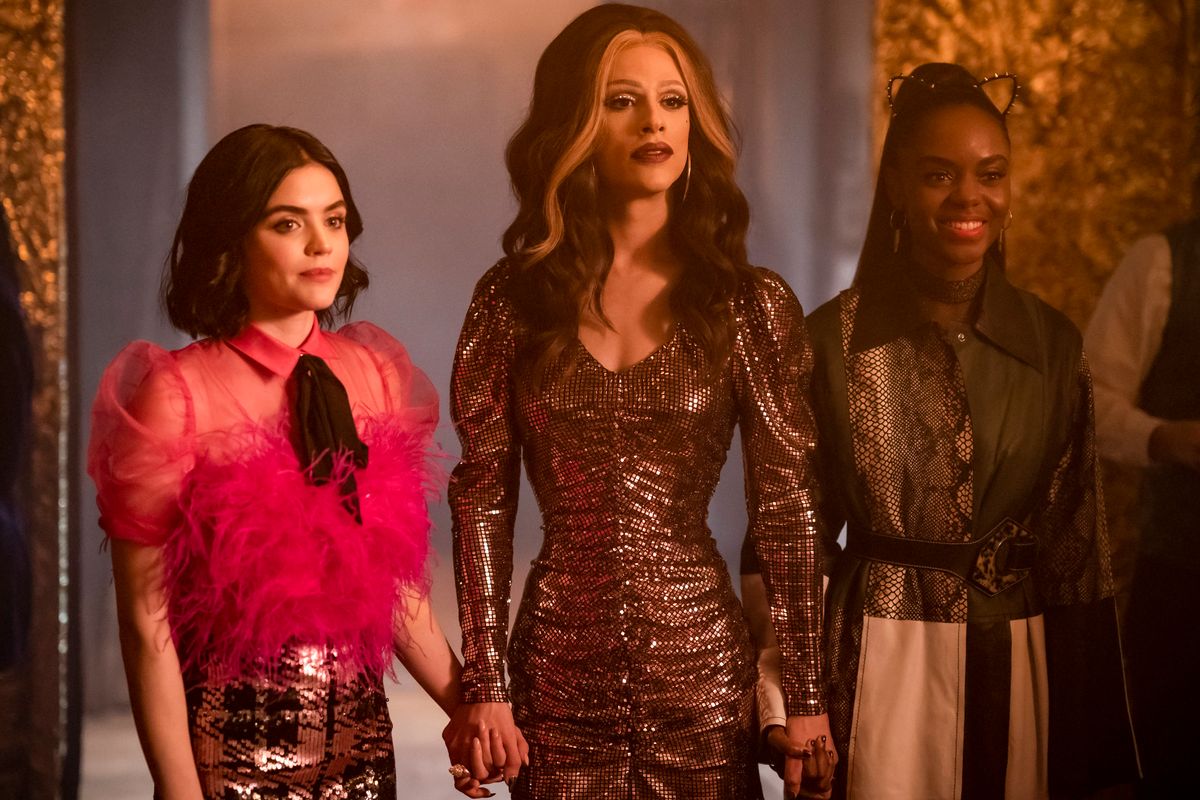 (L-R): Lucy Hale as Katy Keene, Jonny Beauchamp as Ginger and Ashleigh Murray as Josie McCoy
Photo Credit: Peter Kramer/The CW.
Cheryl Blossom, Riverdale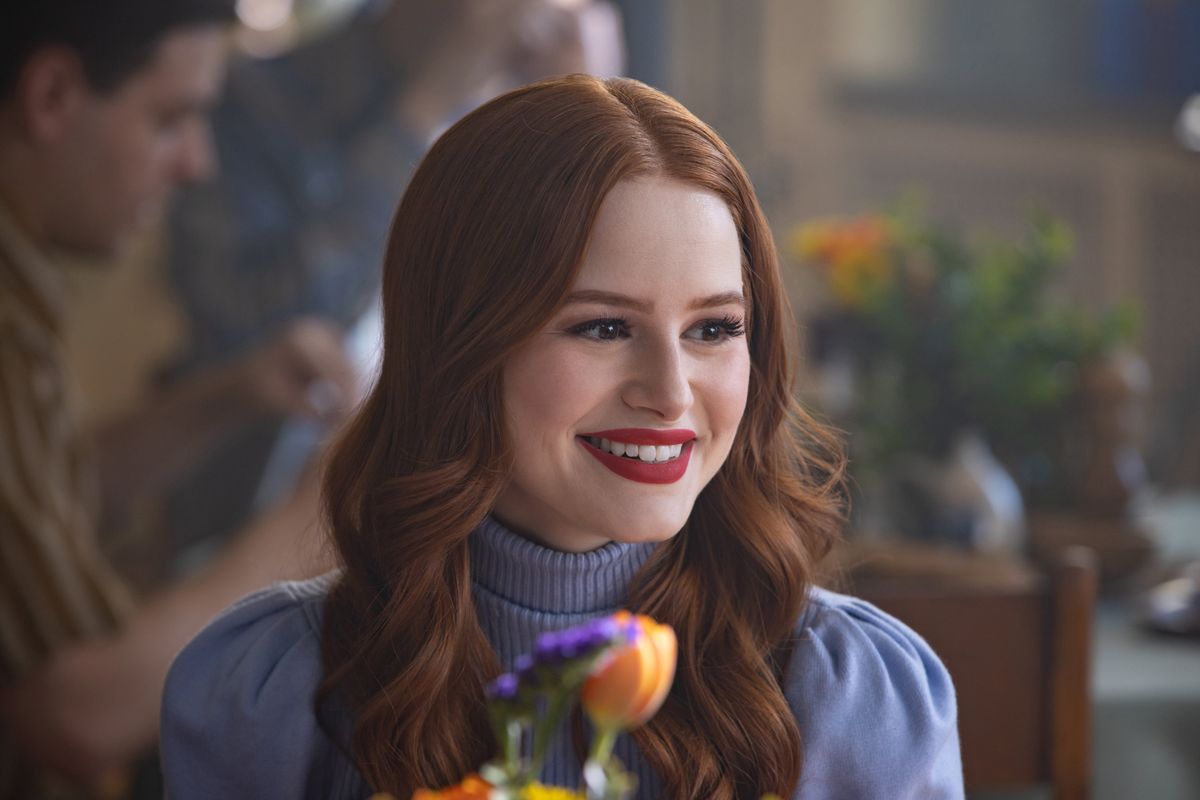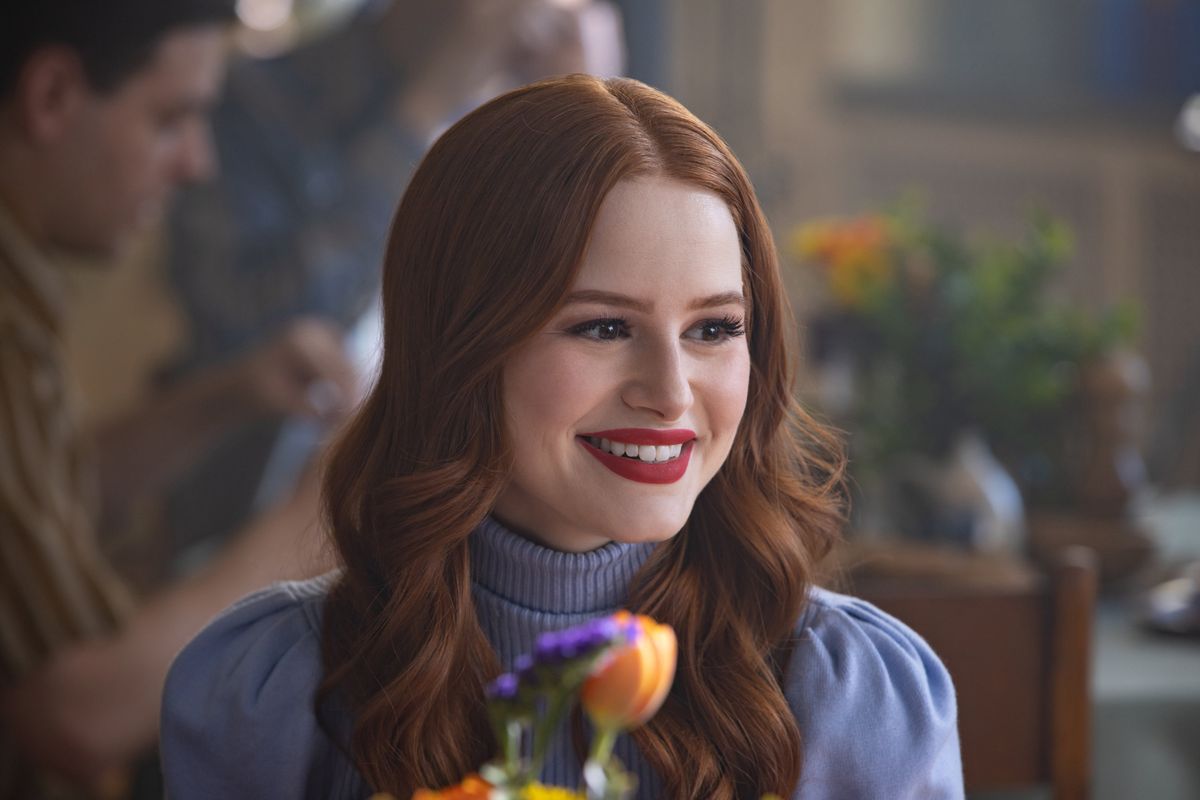 Madelaine Petsch as Cheryl Blossom
Photo Credit: Jack Rowand/The CW.
As the first openly lesbian character in Riverdale, Cheryl Blossom (Madelaine Petsch) made a huge impact on the show's viewers. Though Cheryl had shown interest in male characters, she was never in a relationship until her current girlfriend, Toni Topaz (Vanessa Morgan), made her debut on the show. Before they dated, Cheryl shared her struggles with Toni, revealing that she had loved a girl named Heather, but her mother called their friendship "deviant" when the two children were caught sleeping (just sleeping) in the same bed. Cheryl has suffered prejudice from her family members and was even sent to conversion therapy in Season 2. Toni, a proud bisexual woman of color, helps Cheryl come to terms with her sexuality as they become Riverdale's first lesbian couple.
Both Petsch and Morgan identify as straight but have done their part to make the characters' relationship as genuine as possible for the fans. "We have a responsibility to our fans to stay true to the authenticity of being in a female-female relationship," Petsch explained in a YouTube video. "We're very aware of that and try our best to stay true to that." Petsch also proudly shares that characters like Cheryl and Toni inspired some LGBTQ+ fans to come out to loved ones after seeing what "Choni" goes through. "I never thought in my wildest dreams that my art could help someone embrace who they truly are. For the show's demographic, it's really important to showcase these diverse relationships," Petsch has said.
Anissa Pierce, Black Lightning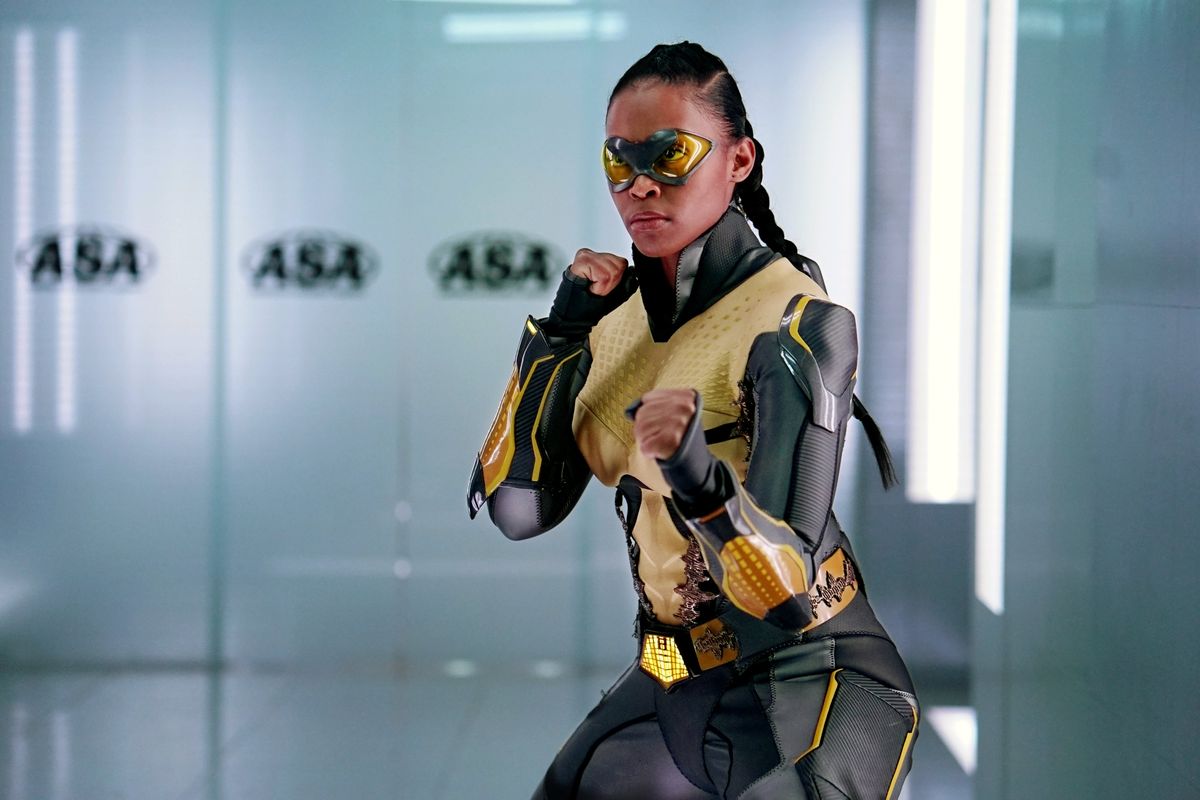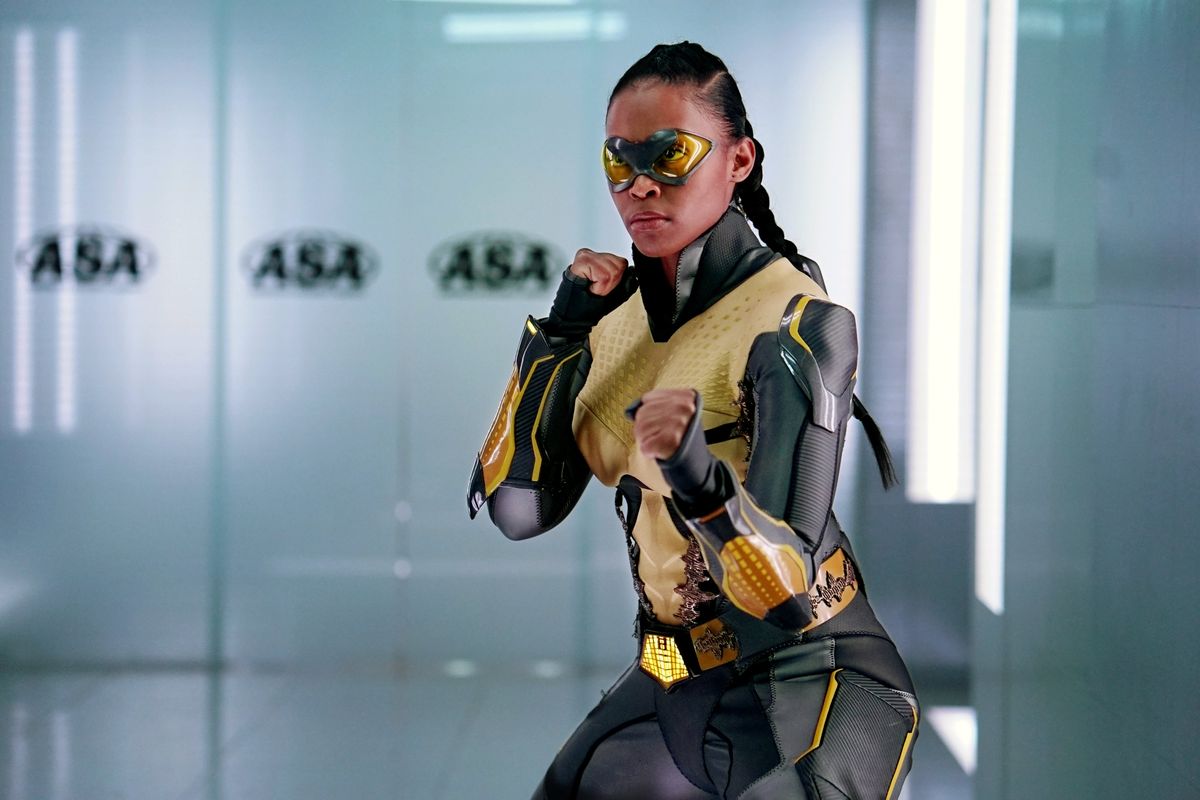 Nafessa Williams as Thunder in Black Lightning.
Photo Credit: Bob Mahoney/The CW.
Being a Black woman in the media comes with challenges, but being a Black lesbian woman in the media presents a different set of challenges. So when Nafessa Williams saw the script for The CW's Black Lightning, she said, "Sign me up." Black Lightning's main heroine, Anissa Pierce (a.k.a. Thunder), is television's first Black lesbian superhero, and she is already out and proud with a long-term partner—a huge win for LGBTQIA+ viewers. Anissa's character has been called "refreshing," and the show wins applause for broadening her story beyond her sexuality.
Black queer women had high expectations for the character, and Anissa Pierce did not disappoint. Though Williams does not identify as queer, she leaned on friends and family for research to bring her character to life. She has said that she had very few Black characters to idolize growing up, which inspired her to work in television. She knew there was still work to be done getting representation. "Black Lightning is a part of change. It transcends race and sexuality," she told Out Magazine. We're rooting for you, Anissa Pierce!
Stream full episodes of Black Lightning free only on The CW.
Jorge Lopez, Katy Keene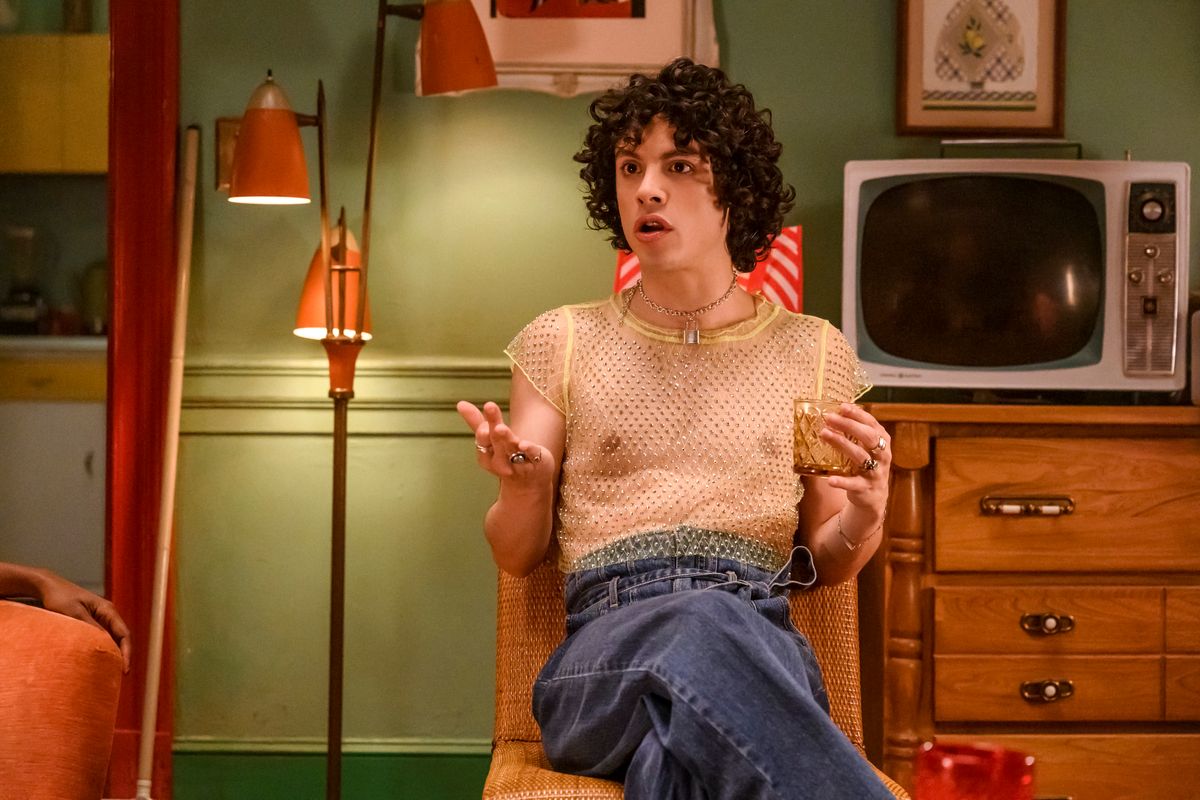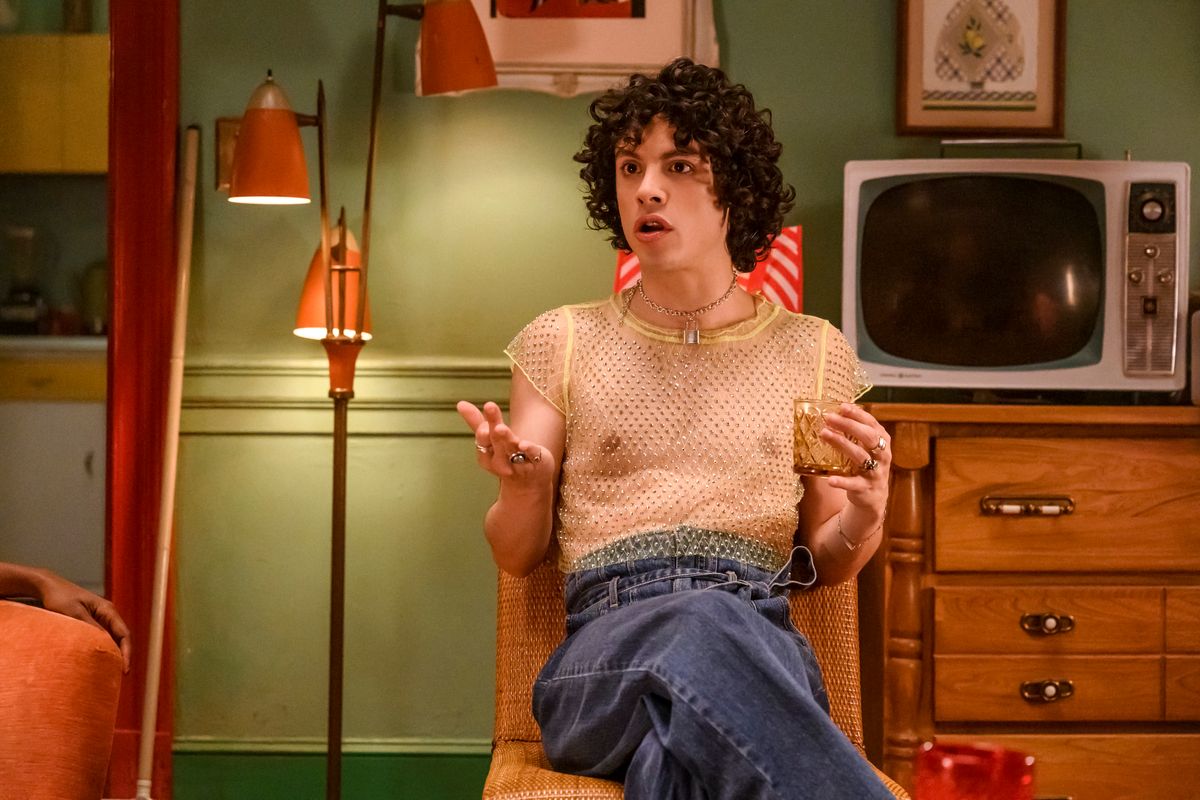 Jonny Beauchamp as Jorge Lopez in Katy Keene.
Photo Credit: The CW.
When the cast list for Katy Keene—a show based on the Archie Comics—went public, some noticed one major casting change involving Ginger Lopez. The new character, Jorge Lopez, is a genderbent take on the Latina-American Archie Comics character Ginger Lopez. Jonny Beauchamp plays Jorge, an aspiring drag performer who works at a local club (Molly's Crisis) with the drag persona "Ginger Lopez," the original character's name. Jorge's character finds relationships in and out of drag.
On one hand, neither his parents nor his love interest Buzz Brown (Eric Freeman) quite understand his art. On the other hand, there's Bernardo (Ryan Faucett), a firefighter who is happy to be with Jorge as well as with Ginger. While his parents aren't comfortable with their son wearing heels and women's clothing, they eventually come around. Through these challenges—including meeting with violence when a group of thugs attack him and Bernardo—Jorge is proud to show the world who he is and refuses to hide to please others.
Beauchamp described Ginger as Jorge's armor, a persona that allows him to be exactly who he wants to be, in an interview with
TV Insider
. When asked about the hype surrounding drag in the media today, Beauchamp said, "People are a lot more into drag queens now as rock stars, icons, and social media stars. It's no longer super-niche. There's lots of fun, but there's seriousness and aggressiveness as well. It's just like us; we're complicated." With his theatrical background and numerous castings in drag, Beauchamp had no trouble bringing his character to life.
Stream full episodes of Katy Keene free only on The CW.
Nia Nal/Dreamer, Supergirl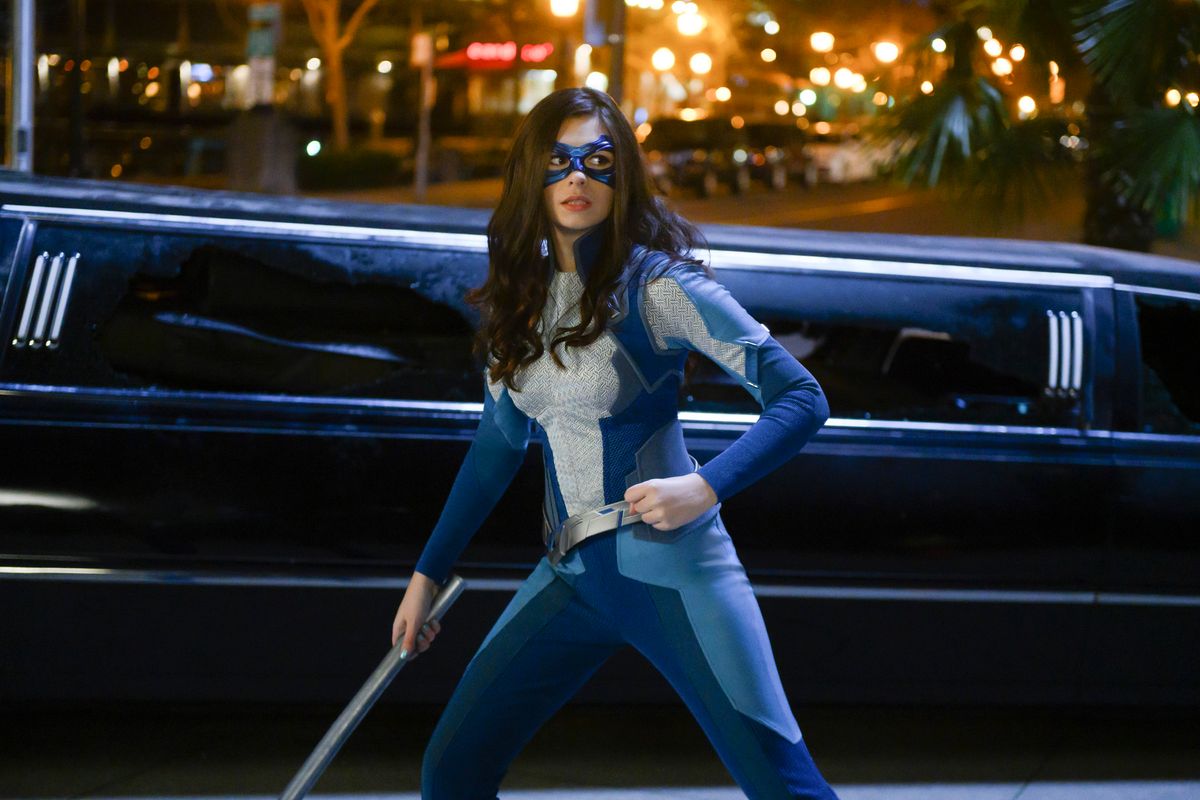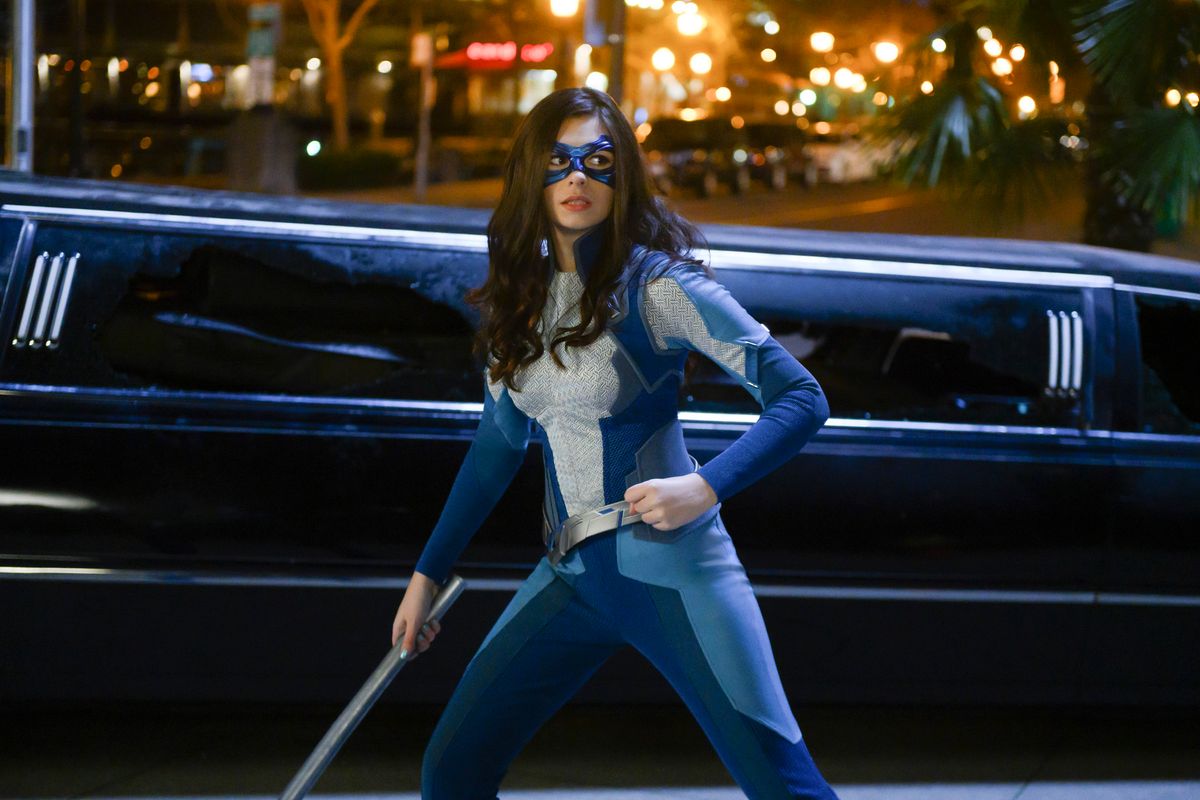 Nicole Maines as Nia Nal/Dreamer in Supergirl.
Photo Credit: Diyah Pera/The CW.
Nia Nal (Nicole Maines) is breaking new ground as Dreamer, the first transgender superhero, on Supergirl. But even superpowers can't protect her from many of the real-world challenges that trans people face. When her own sister, Maeve Nal (Hannah Jones), is overcome with jealousy about their mom's powers passing to Nia, Maeve's go-to insult is "How did you get the powers?...You're not even a real woman!"
Maines, who is trans herself, takes her responsibility as a representative of an underrepresented demographic in TV and film seriously, and often channels her own struggles into her role. For example, when Brainiac 5 (Jesse Rath) breaks up with Nia, her first (unfounded) fear is that it happened because of her trans status. "There is a lot of feeling under the surface that I think trans people experience while dating," Maines told Variety in a YouTube interview. "I was drawing a lot from those experiences of mine. Is it because I'm trans? Of course it isn't. That's not why Brainiac broke up with her."
An activist for trans right since her preteen years, Maines was instrumental in defeating a bill in the state of Maine that would have forced people to use the bathroom of the gender they were assigned at birth and has been candid about enduring childhood bullying and wishing there had been a trans superhero when she was little. "(Dreamer) has this ferocious drive to protect people and to fight against discrimination and hatred," she told an audience at San Diego's Comic-Con. "She's the superhero we need right now."
Kevin Keller, Riverdale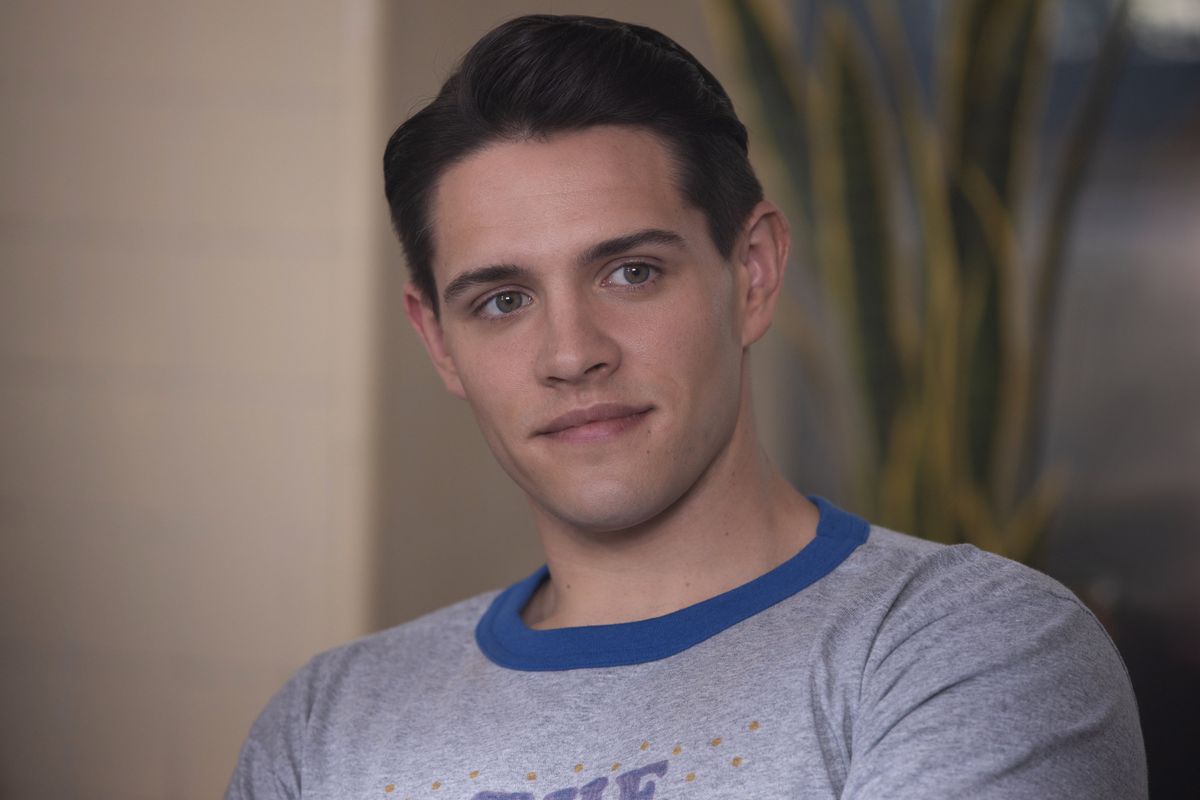 Casey Cott as Kevin Keller in Riverdale.
Photo Credit: Jack Rowand/The CW.
Kevin Keller (Casey Cott) is one of few out gay teens at Riverdale High. Quickly, he is branded as Betty and Veronica's GBF (gay best friend). Kevin has difficulty finding love throughout the series. His first crush, Moose (Cody Kearsley), denies his sexuality at the outset, but then wants their relationship kept secret. Southside Serpents member Joaquin DeSantos (Rob Raco) initially showed interest in Kevin to get information on Jason Blossom's murder case through Kevin's father, Sheriff Keller (Martin Cummins), making the relationship feel dishonest. In Season 2, Kevin starts looking for love in dangerous places. He frequents Fox Forest at night to find men to hook up with, worrying Betty Cooper (Lili Reinhart), who tells Kevin's father about his "cruising."
Costars Madelaine Petsch and Vanessa Morgan have been open about their positive experiences playing LGBTQIA+ characters on
Riverdale
, and Cott feels no different. In an interview with
Teen Vogue
, Cott discussed his appreciation for fans of the show: "The amount of positive reactions we've gotten about our characters, especially Kevin, has been amazing." Cott also praised Kevin as a well-rounded, three-dimensional character who will continue to evolve as the show progresses.
Tamia "Coop" Cooper, All American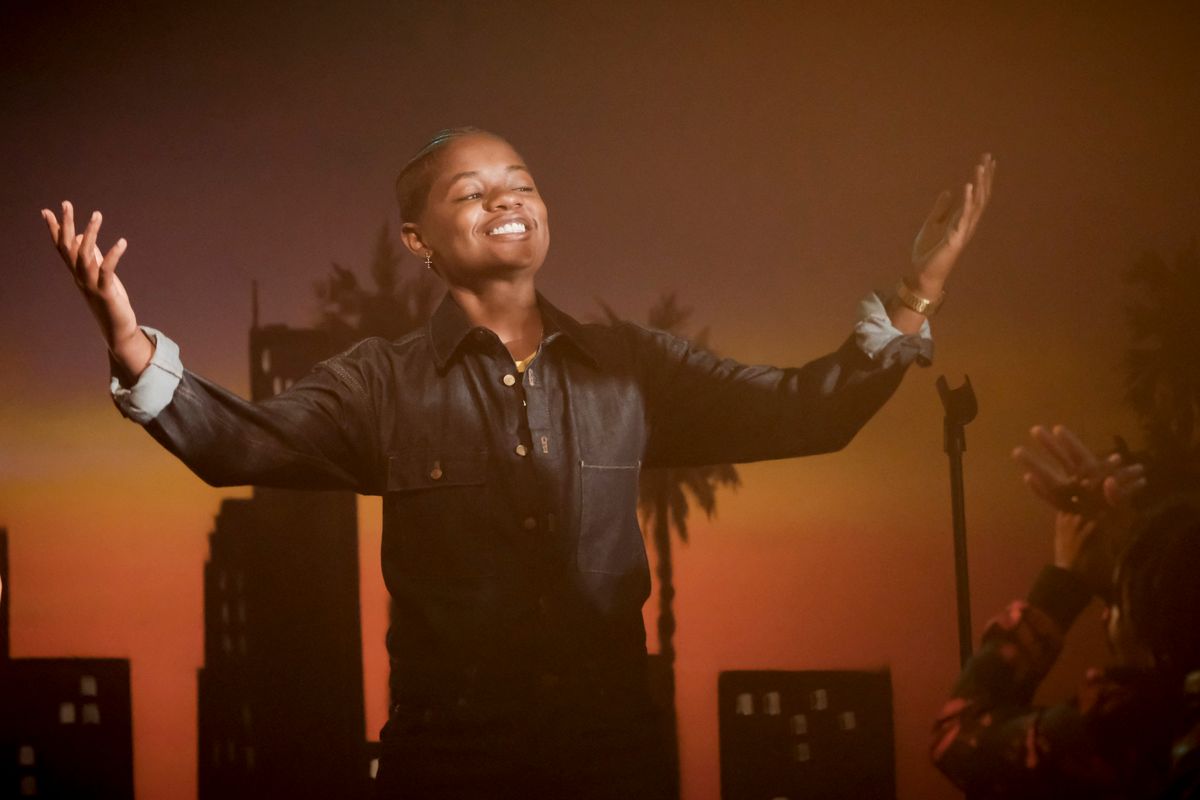 Bre-Z as Coop in All American.
Photo Credit: Eddy Chen/The CW.
Though on the surface All American may seem to be a male-focused drama about football, the women are arguably the driving force behind storylines. Tamia "Coop" Cooper (Bre-Z) is Spencer James' (Daniel Ezra) best friend and moral compass. Spencer is Coop's "protector" until she encourages him to go to Beverly High with Coach Baker (Taye Diggs) to advance his football career, and she is forced to navigate their community on her own. Coop is a masculine-presenting proud lesbian, but is not out to her family. Her mother is completely in denial of Coop's lesbian lifestyle and even kicks Coop out of the house for being "confused." Though Coop explores a flirtatious relationship with Patience (Chelsea Tavares), a young churchgoer with a reputation, tensions between them rise because Patience's parents are very accepting of her sexuality, leaving Coop feeling alienated. Coop struggles with acceptance and gang violence throughout the show, making her story unique yet relatable to some fans.
Bre-Z recently spoke out about the importance of LGBTQIA+ characters on screen, why they sometimes miss the mark, and how she wants to change it. "I finally had a chance to make whoever this lesbian is on TV an actual, real person. I got to make her multidimensional, show her softer side, show the femininity in her, show all of her sides," Bre-Z told
Refinery29
. "I hate the way lesbians and the LGBTQ+ community in general have been depicted in film forever. It's never a normal life and
I just so happen to date girls
."
Stream full episodes of All American free only on The CW.

Samuel Josiah "Sammy Jo" Jones, Dynasty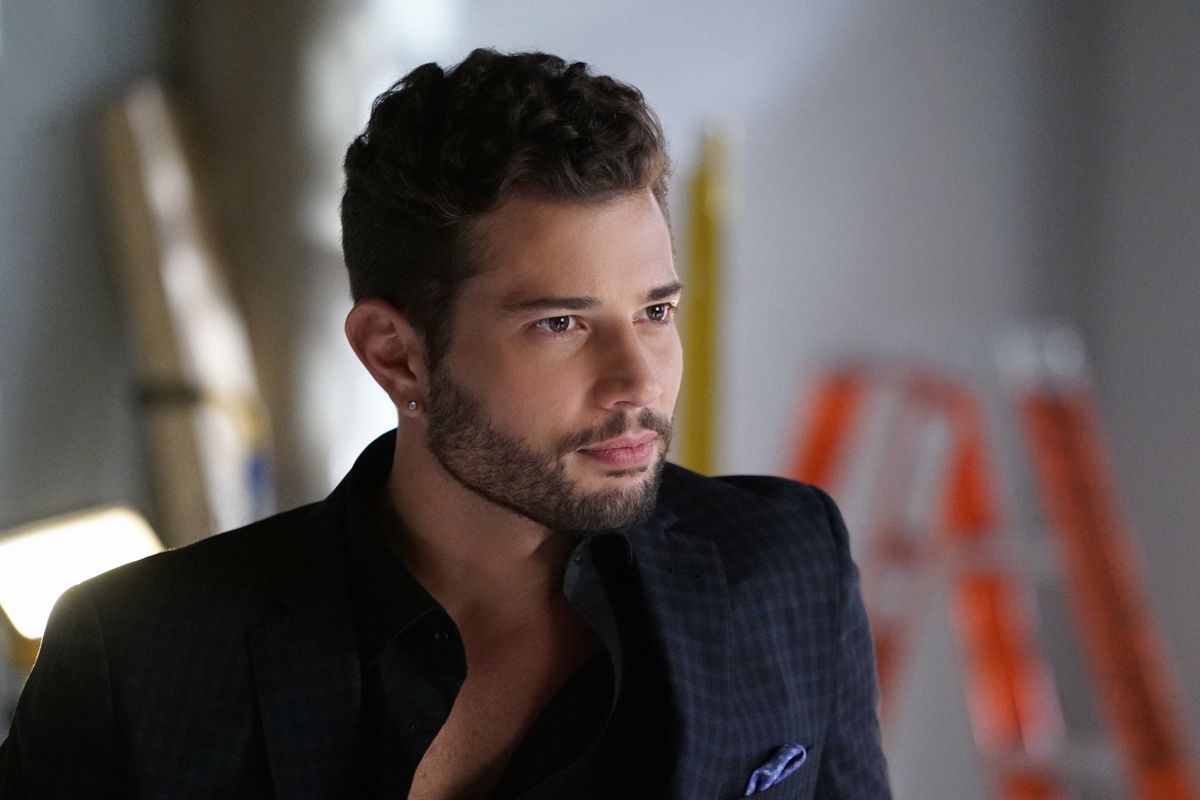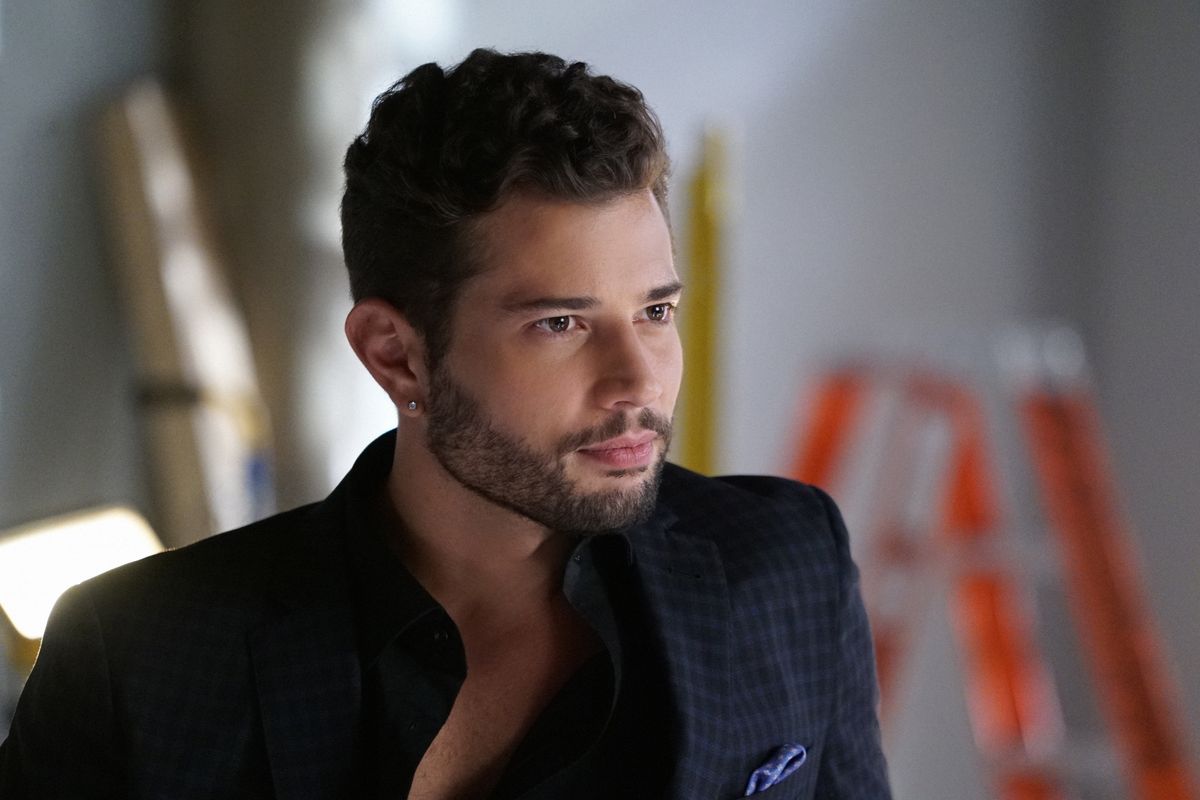 Rafael De La Fuente as Sammy Jo in Dynasty.
Photo Credit: Annette Brown/The CW.
When the reboot of Dynasty premiered in 2017, the crew decided to make a big change to a signature character: Sammy Jo, a female role originally played by a woman, would be written as Samuel, a male role played by a man (Rafael De La Fuente). Executive producer Stephanie Savage spoke on the gender-bending casting choice in a feature with IndieWire, saying, "With Steven Carrington (James Mackay) out and proud, it makes sense for Sammy Jo to be a man."
De La Fuente is no stranger to gay soap characters; he played Michael Sanchez in
Empire
. But that doesn't mean that being out was always easy for him. "There was a time where I was terrified of being gay," he told
Michael Fairman TV
. "I thought if I dared to be honest and open about who I was, I'd never be able to work as an actor or have a healthy love and family life." Looking back on his success as an actor who has played multiple gay characters, he wouldn't trade it for the world. His best advice? "Be bold, be proud, be you."
Related Articles Around the Web