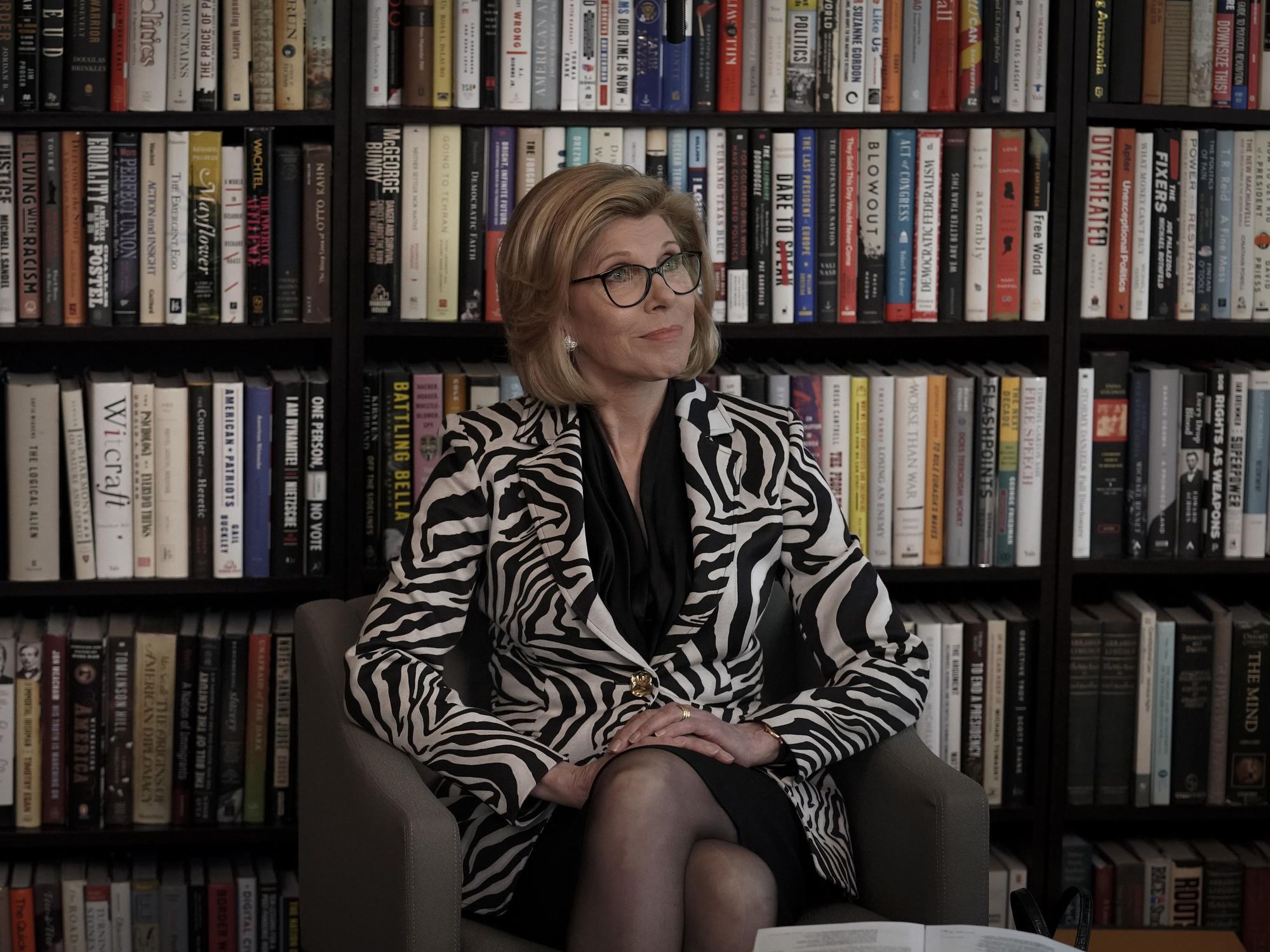 Photo Credit: Patrick Harbon/CBS ©2021 Paramount+, Inc. All Rights Reserved.
By Laurie Ulster
With its snappy dialogue, brilliantly drawn characters, and stories that dig into the darkest and weirdest corners of contemporary issues, The Good Fight consistently takes an unflinching look at race and politics … and thoroughly entertains along the way.
Something else this show excels at: brilliant season premieres that both set and defy expectations. With the sixth and final season scheduled for September 8 on Paramount+, let's take a look back at what makes each of those premieres so exquisite, and how they manage to kick off every new season with an unexpected bang.
Stream The Good Fight exclusively on Paramount+.
SUBSCRIBE NOW: Enjoy 4 Digital Plus 2 Print/Digital Issues Of Watch Per Year — For Free!
Season 1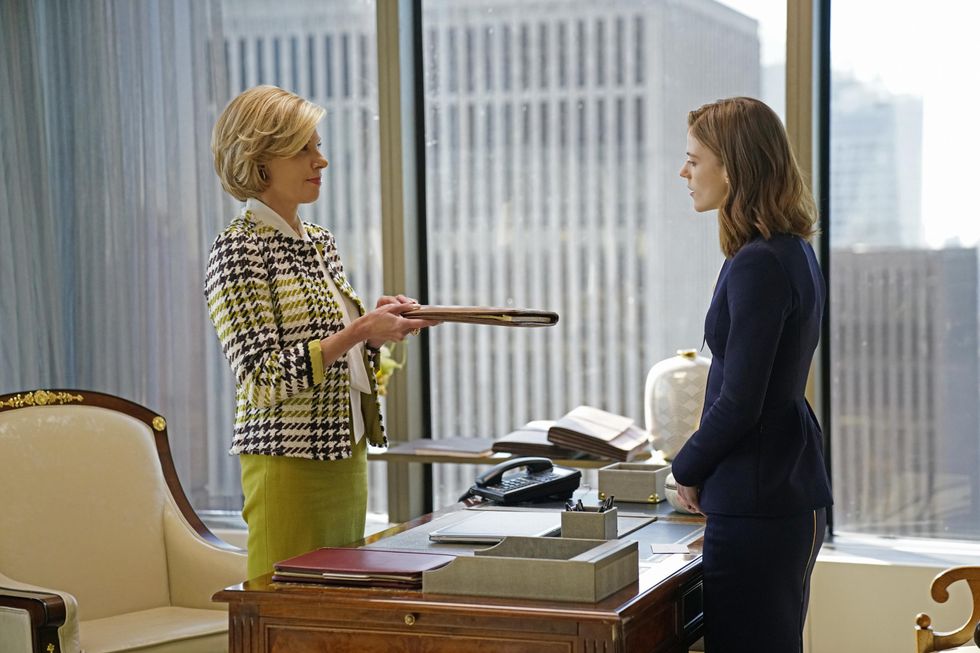 Diane Lockhart hands a file to her goddaughter, Maia Rindell
Photo Credit: Patrick Harbron/CBS ©2016 CBS Interactive, Inc. All Rights Reserved
"Inauguration" – Feb. 19, 2017
The first episode of The Good Fight has a big job to do. It has to remind fans of The Good Wife that they already know Diane Lockhart (Christine Baranski) and her world, but simultaneously hook a brand-new audience. It does so with a roller coaster ride that takes its characters through heights and dips that are just dizzying enough to let us know the show is both 100% grounded in reality and whimsically, wildly unpredictable.
Disgusted by Trump's election, high-powered attorney Diane resigns from her own firm and makes plans to buy an estate in the south of France. Her goddaughter Maia Rindell (Rose Leslie) passes the bar exam and joins Diane's soon-to-be-ex firm. This all seems like business as usual until Maia's father is arrested for running a Ponzi scheme—the catalyst that spins everything around.
By the end of the hour, Diane has lost her entire life savings and is considered "poison" by other law firms, and Maia has been fired in disgrace. At the last minute, Diane becomes the "diversity hire" at Chicago's preeminent Black law firm (Reddick, Boseman), scooping Maia up with her … and there our story begins, with a perfect mix of familiar faces from The Good Wife and new ones.
Rarely does a series' first episode cover so much ground while setting the tone so perfectly for what the rest of the show is going to be—and making it clear who Diane's arch-nemesis is for almost the entire series: Donald J. Trump.
Season 2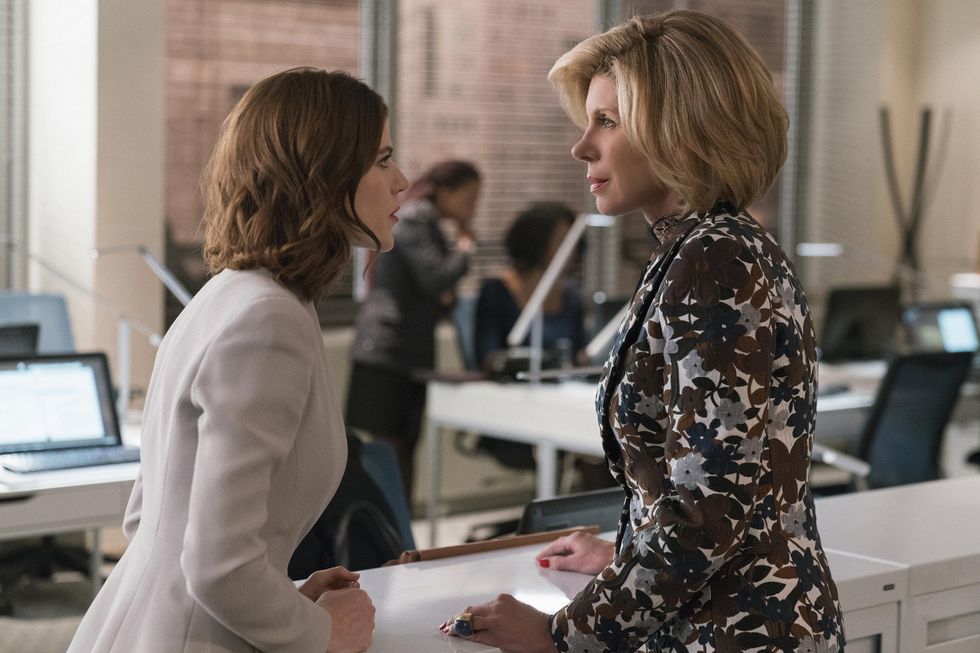 Maia leans in to make a point to Diane
Photo Credit: Patrick Harbron/CBS ©2017 CBS Interactive, Inc. All Rights Reserved.
"Day 408" – March 4, 2018
Season 2 kicks off with a recap, not just of the show, but also a litany of Trump's most recognizable catchphrases, from "very fine people" to "no collusion." The episode title is "408," indicating the 408th day of his presidency, and the rest of the season's episode titles follow suit. Boom! We're back in Diane Lockhart's world of dismay.
This premiere—and the season it introduces—are all about the twists and turns of fate. The episode includes two funerals and a death. One Reddick passes away—Carl (Louis Gossett, Jr.), whose funeral sets the stage for a lot of the action—and one arrives: his daughter Liz (Audra McDonald), who joins the firm as a name partner.
Diane gets a job offer that's yanked away even as she turns it down. Maia and fellow lawyer Lucca (Cush Jumbo) turn the tables on a sneaky federal agent who is trying to trick them with a fake recording by making a fake of their own. And one of The Good Wife's most ludicrous, sexist, racist lawyers has become a judge.
So of course, Diane takes up microdosing psilocybin (hallucinogenic mushrooms), because what else is there to do? This season, The Good Fight embraces the chaos, laughing all the way.
Season 3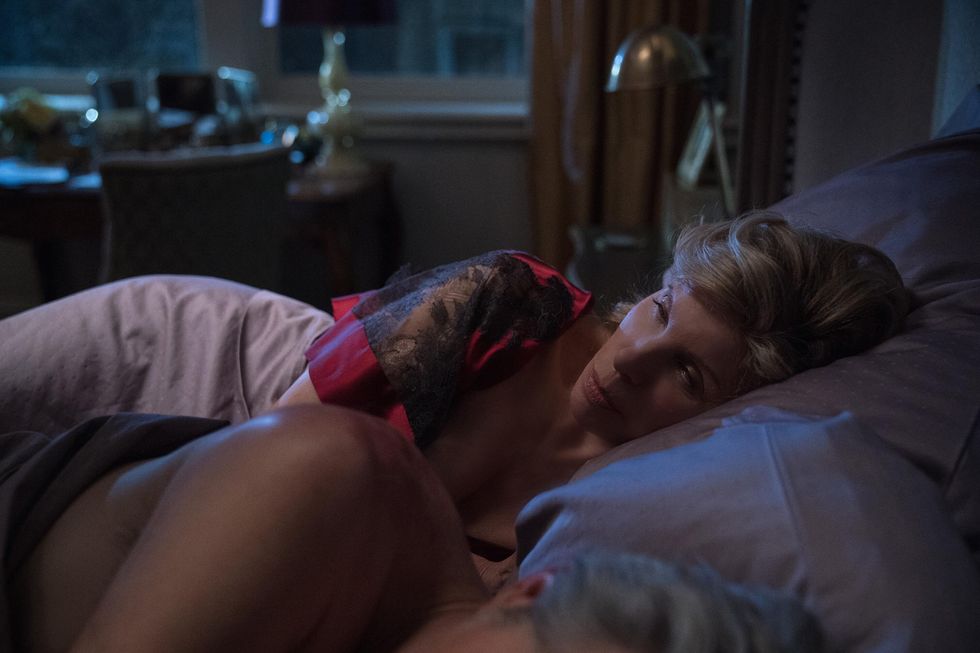 A worried Diane lies awake next to her husband, Kurt
Photo Credit: Elizabeth Fisher/CBS ©2018 CBS Interactive, Inc. All Rights Reserved.
"The One About the Recent Troubles" – March 14, 2019
In the Season 3 premiere, nothing is what it seemed. A documentary about the late Carl Reddick, revered civil rights hero and founder of Diane's law firm, unearths the truth: Carl was a serial sexual abuser. His daughter wants to know the truth while his victims, despite the atrocities they endured, want to preserve his legacy.
Diane is so happy about her life she's not afraid to say so out loud … uh-oh. Things turn dark when she thinks husband Kurt (Gary Cole) is cheating on her—and he is, but the truth is almost worse: He's been going hunting with Eric and Don Jr.! Then one of them accidentally shoots him—and he can't tell Diane which one because he signed an NDA.
What happens next is what makes this premiere so next-level: Where else but on The Good Fight would you find a bullet wound speaking in Donald Trump's voice, mocking Diane in the wee hours while Kurt sleeps. "You're not fit to kiss my husband's feet," she tells it, reminding us that our whole sense of reality is suspect at best.
Season 4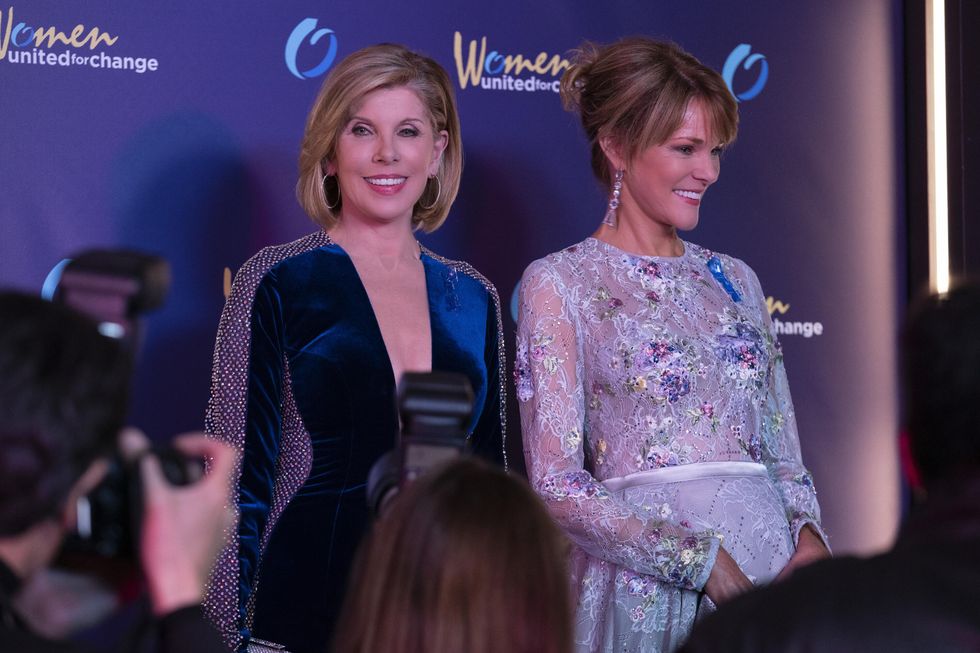 Diane and Ingrid Hill (Carolyn McCormick) pose for the paparazzi
Photo Credit: Patrick Harbron/CBS ©2018 CBS Interactive, Inc. All Rights Reserved.
"The Gang Deals with Alternate Reality" – April 9, 2020
Just when you think the show can't reach new heights, The Good Fight hits you with the best season premiere of the whole series.
Diane walks into work to find out that the world she thought she was living in has turned upside down, and she's the only one who notices the difference. Hilary Clinton is president, global warming is on the mend, nobody's even heard of Brett Kavanaugh, the polar bears have been saved, and there's a cure for cancer! She doesn't remember any of what's happened in the past two years, but it all seems pretty wonderful, right?
But it isn't. The MeToo movement never happened, so not only is Harvey Weinstein still out there sexually abusing women, but Diane is his lawyer … and if the firm doesn't keep him as a client, they're out of business.
The biggest laughs come when Diane tries explaining "her reality" to her stunned and stymied colleagues, all of whom are wondering if she's gone mad. Trump was president, even after his vulgar comments? Charlie Rose and Matt Lauer—and firm founder Carl Reddick—have been identified as sexual harassers? "Where were the Obamas during all this?" asks Liz Reddick.
There's much more to this one, from the reversal of the opening credits, where objects reassemble themselves instead of exploding (as they've done for the past three seasons), to the dramatic wrap-up as the phony world unravels. It's an hour of unique and thoroughly absorbing television.
Season 5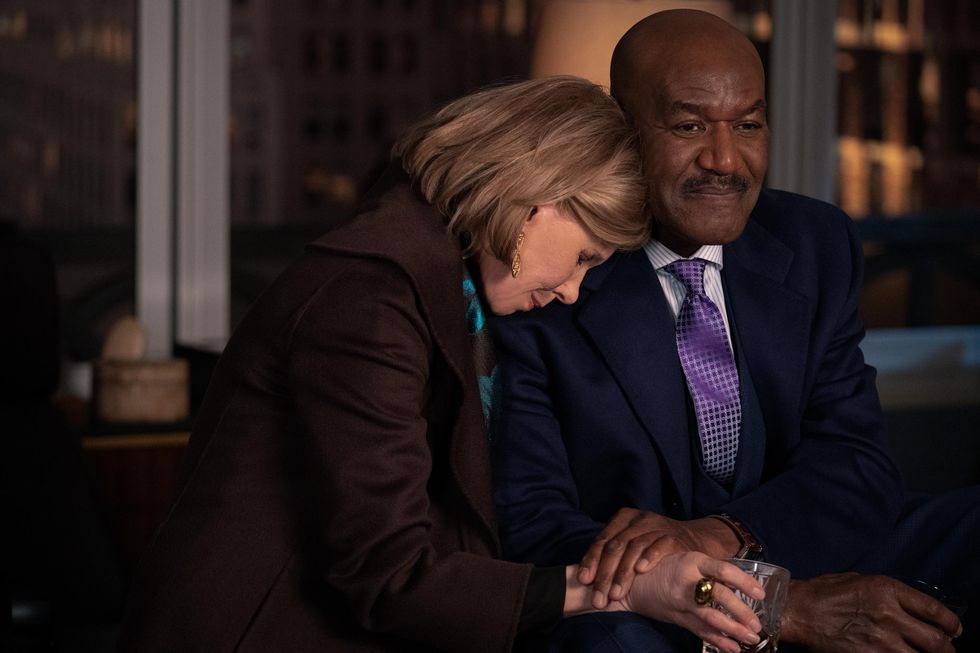 Adrian Boseman (Delroy Lindo) consoles a distraught Diane
Photo Credit: CBS ©2021 Paramount+, Inc. All Rights Reserved.
"Previously On …" June 24, 2021
Season 4 was cut short due to the Covid outbreak. Since the show has always been about what's going on in the world, how do you come back from a global pandemic? What story do you tell? Is everyone wearing masks? Are we going to go through it all again, step by step?
No. The Good Fight covers everything it wants to say about Covid in one episode. It wraps up loose ends from the shortened previous season and sets the path for the departures of favorite characters Lucca and Adrian.
It also dramatizes the spectrum of life in pandemic times. We see the firm explaining Zoom to teams, the office abandoned, and staff cutbacks looming. While some of the characters sail through the pandemic safe and sound, private investigator Jay nearly dies alone in the hospital, besieged by hallucinations. And that's a wrap on Covid in one episode.
The season premiere also manages to squeeze in an L.A. Law dig, Democratic party hypocrisy, the death of Ruth Bader Ginsburg, the election of Joe Biden, and more flips of fate. And all THAT comes before diving into a season that recreates the Jan. 6 insurrection in the courtroom of Season 5 Hal Wackner (Mandy Patinkin). Buckle your seat belts.
Season 6 is Coming on September 8!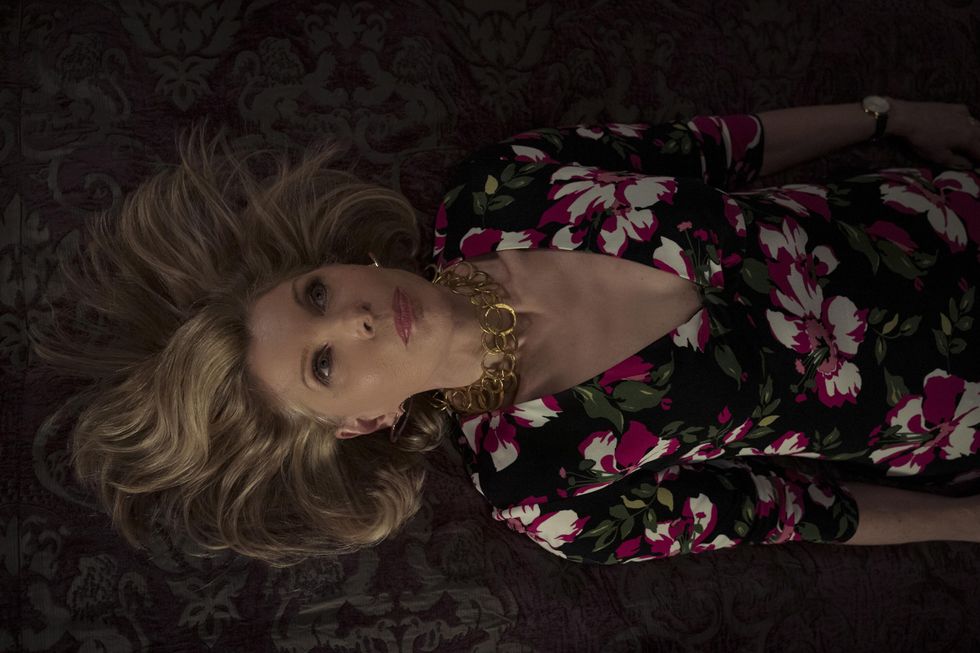 What's next? Diane stares into the distance.
Photo Credit: Elizabeth Fisher©2021 Paramount+, Inc. All Rights Reserved.
Can The Good Fight top itself in its final season premiere? After consistently upping the ante, there's no doubt it's going to try—and we can't wait to see what happens!
Stream The Good Fight exclusively on Paramount+.
SUBSCRIBE NOW: Enjoy 4 Digital Plus 2 Print/Digital Issues Of Watch Per Year — For Free!