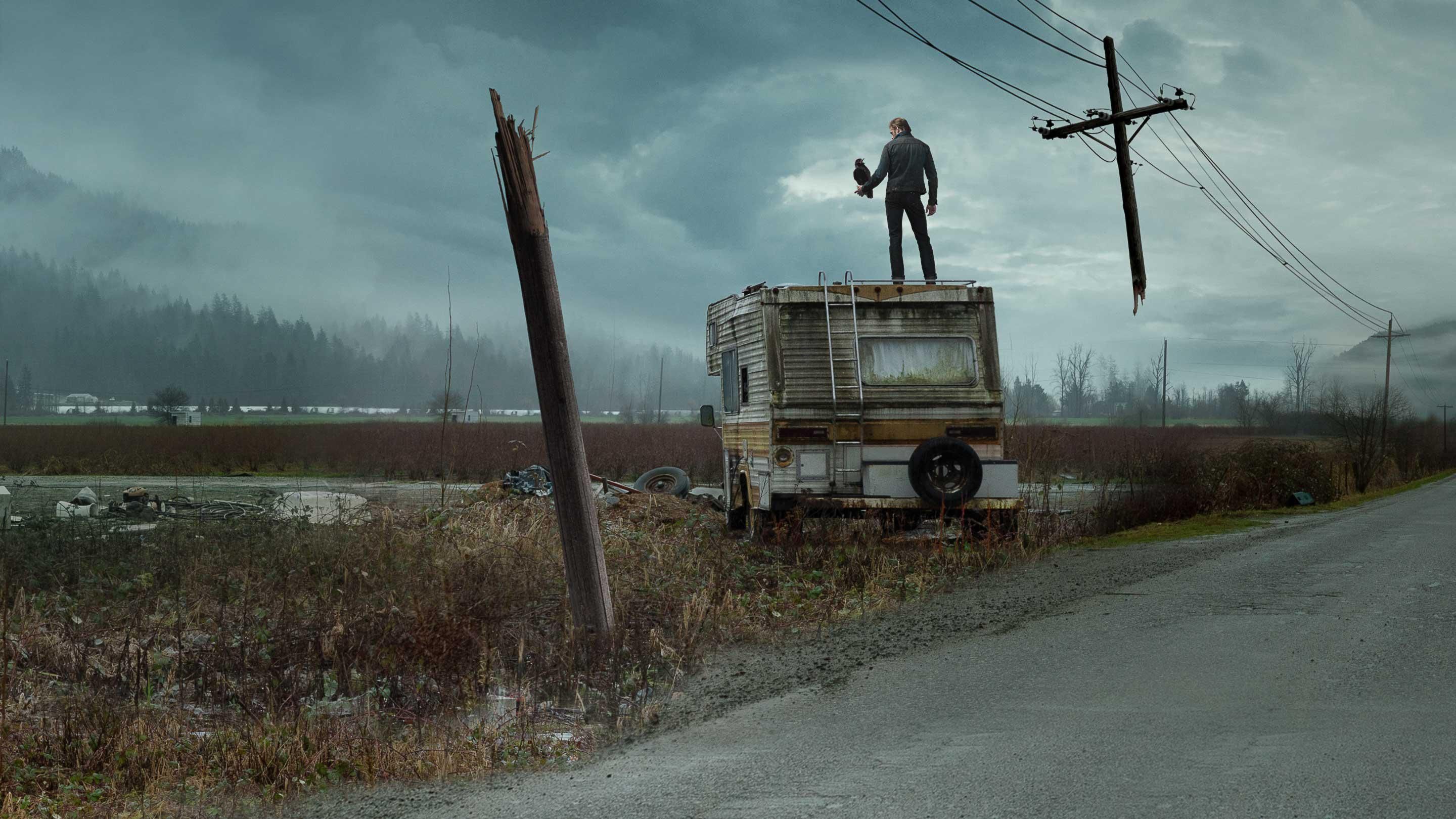 Photo Credit: Robert Falconer/CBS.
Watch chats with showrunner Benjamin Cavell about adapting Stephen King's classic into a highly anticipated epic limited series.
By Nate Millado
A deadly virus ravages the world as survivors grapple with rebuilding society in light of a global pandemic. Sound eerily familiar?
Hard to believe that Stephen King's novel The Standwas published in 1978. Now CBS All Access has adapted his prescient, post-apocalyptic magnum opus into a nine-episode limited series, premiering on Dec. 17. It's the ultimate battle between good and evil: in one corner, 108-year-old Mother Abagail (Whoopi Goldberg); in the other, Randall Flagg (Alexander Skarsgård), a charismatic man with a killer smile and unspeakable powers.
Watch caught up with The Stand showrunner Benjamin Cavell, who previews the highly anticipated epic.
The nine-episode limited series The Stand premieres Thursday, Dec. 17, exclusively on CBS All Access.
Under The Influence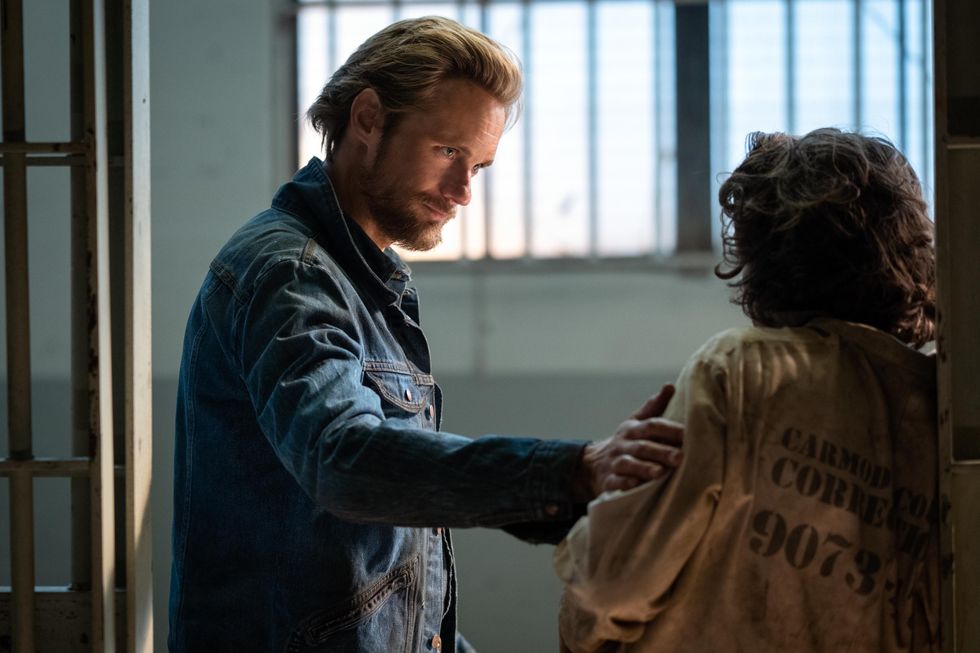 Alexander Skarsgård as Randall Flagg and Nat Wolff as Lloyd Henreid in The Stand.
Photo Credit: Robert Falconer/CBS.
What was your first introduction to The Stand?
I think I probably read The Stand when I was 11. I just remember loving it. I know this book is, like, 1,200 pages long, but it was so immersive and transporting. Probably everybody who's grown up in the last, I don't know, 50 years who wanted to tell stories has been influenced by Stephen King. He's found, I think, some universal interests, universal fears, universal desires. It's hard to describe the extent of his influence and reach.
We're sure Stephen King has been part of your creative DNA.
Having read his books, I know that there's no question. There's something that he taps into that is so visceral, so deep. It's inspiring to want to be able to create that same feeling in other people.
Limited Series, Unlimited Possibilities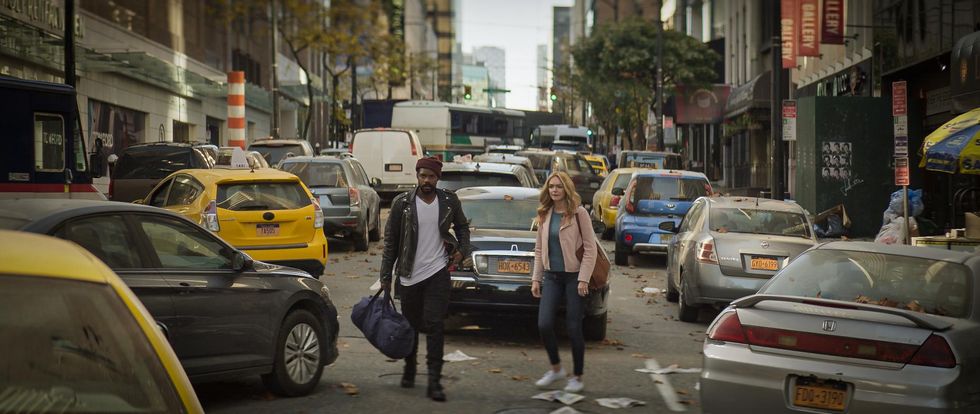 Jovan Adepo as Larry Underwood and Heather Graham as Rita Blakemoor in The Stand.
Photo Credit: Best Possible Screengrab/CBS © 2020 CBS Interactive Inc.
The Stand was a miniseries in the '90s, and there were once plans to turn it into a multiple film franchise. But it's been notoriously difficult to adapt. How did you and CBS All Access crack the code?
The idea of The Stand as a two-and-a-half-hour movie—I don't even know how you would approach it. It seems to require the kind of really novelistic storytelling across eight, nine, or 10 hours that a limited series offers. This is the medium The Stand was designed for.
King's Blessing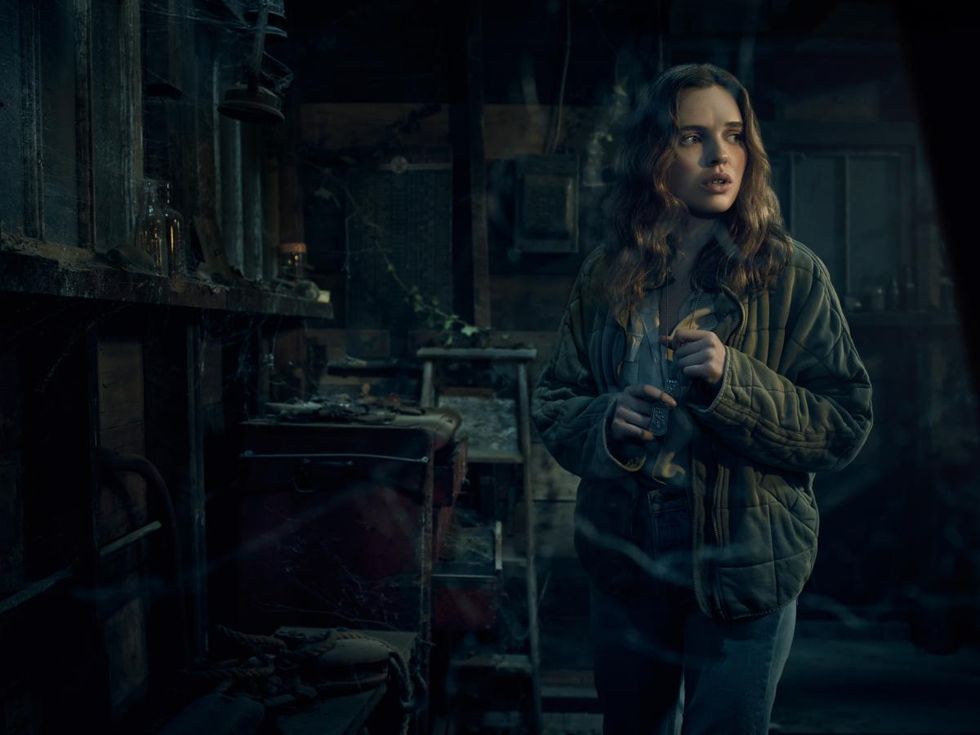 Odessa Young as Frannie Goldsmith in The Stand.
Photo Credit: James Minchin/CBS.
You produced Justified and created CBS' SEAL Team, so obviously this isn't your first time at the rodeo. How is a limited series different from those experiences?
Well, for one thing, we have Stephen King actually involved in this from the beginning, so we were adapting it under the eye of the author. He wasn't looking over our shoulder by any means, but he was approving scripts, involved with casting, and talking about directors. And [his son] Owen King was in the writers' room! To be able to adapt The Stand with the blessing of the guy who originally created it—that's pretty special.
Speaking of special, Stephen King wrote an all-new coda, which serves as the final episode. Why do you think he wanted to rewrite his own ending?
In the book, Fran doesn't go on the Stand, so he always wanted a more satisfying climax of her own. I think [the new coda] is quite beautiful.
Battle Lines Drawn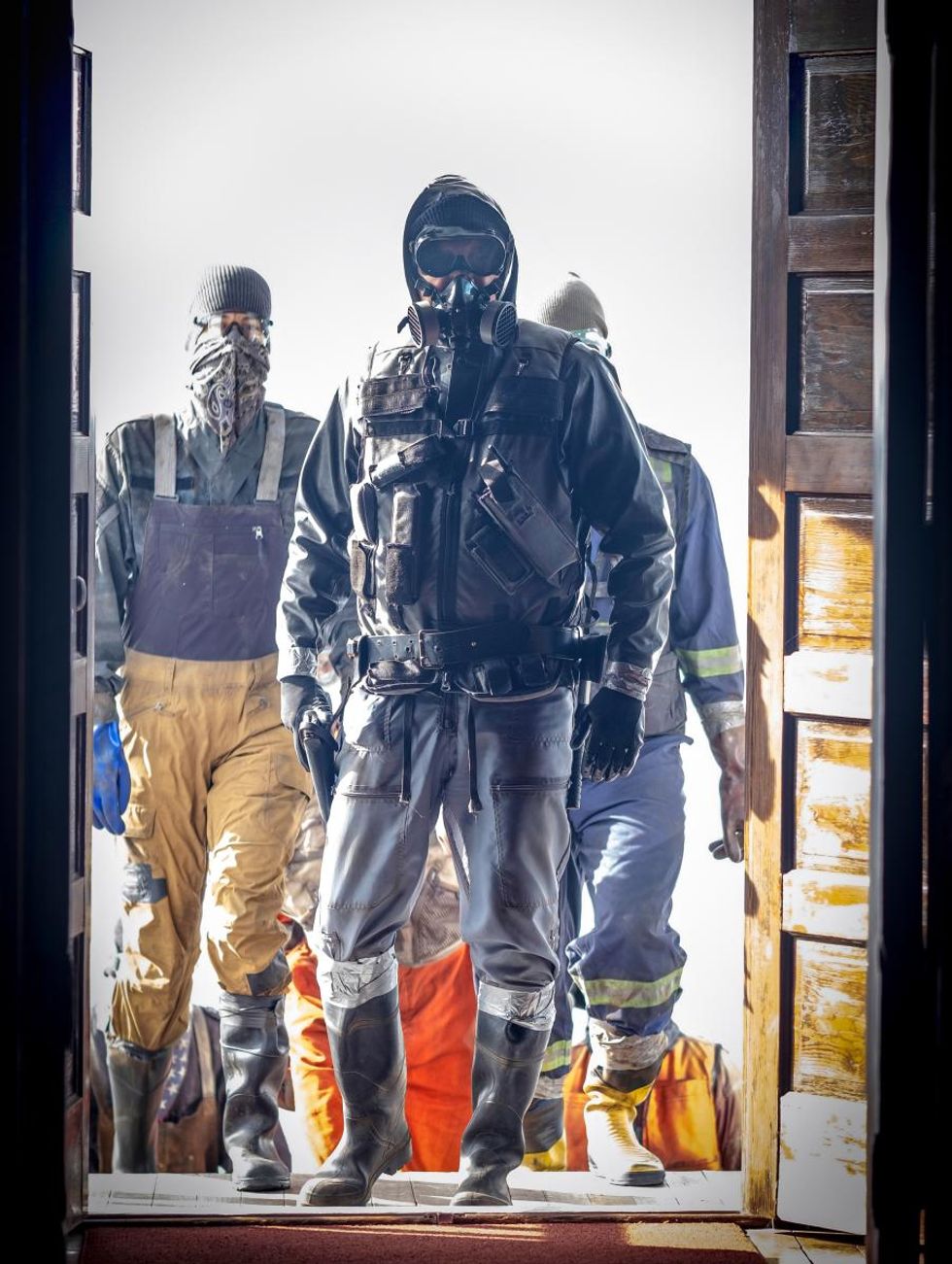 Masked men barge in during a scene from The Stand.
Photo Credit: Robert Falconer/CBS.
King said about creating The Stand: "I wanted to write about bravery. At some point, people do have to make a stand." Whether it's the Women's March or the peaceful protests going on right now, people have been making a stand. Do you feel like this series resonates even more in 2020?
I love your construction that, you know, essentially we're all over the place at this moment where we have to choose to take our own stand, just as the characters in the book have to choose. I certainly hope the series will resonate and look, I completely agree with you—for me, The Stand has never really been about a pandemic. I mean, of course it is, but the pandemic really functions as a means to strip away all the protections and artificial comforts that people are used to relying on. The protagonists in the book are forced to stand on their own; there is nobody else, there isn't a savior coming, there's only us.
Role Of A Lifetime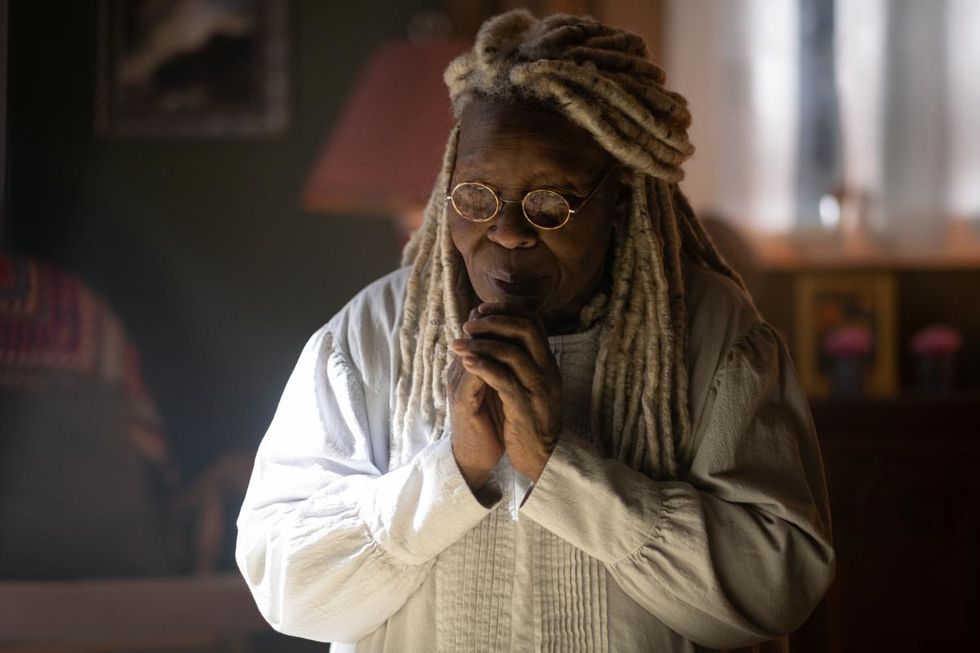 Whoopi Goldberg as Mother Abagail in The Stand.
Photo Credit: Robert Falconer/CBS.
You've assembled an impressive cast, including James Marsden, Greg Kinnear, Heather Graham, and, of course, Whoopi Goldberg in a role she's wanted to play for nearly 30 years now. What does Whoopi bring to Mother Abagail?
This goes without saying, but Whoopi brings a kind of gravitas. But probably just as important is a sense of humor. In any other hands, the character of Mother Abagail could be sort of humorless and holier-than-thou.
Hex Appeal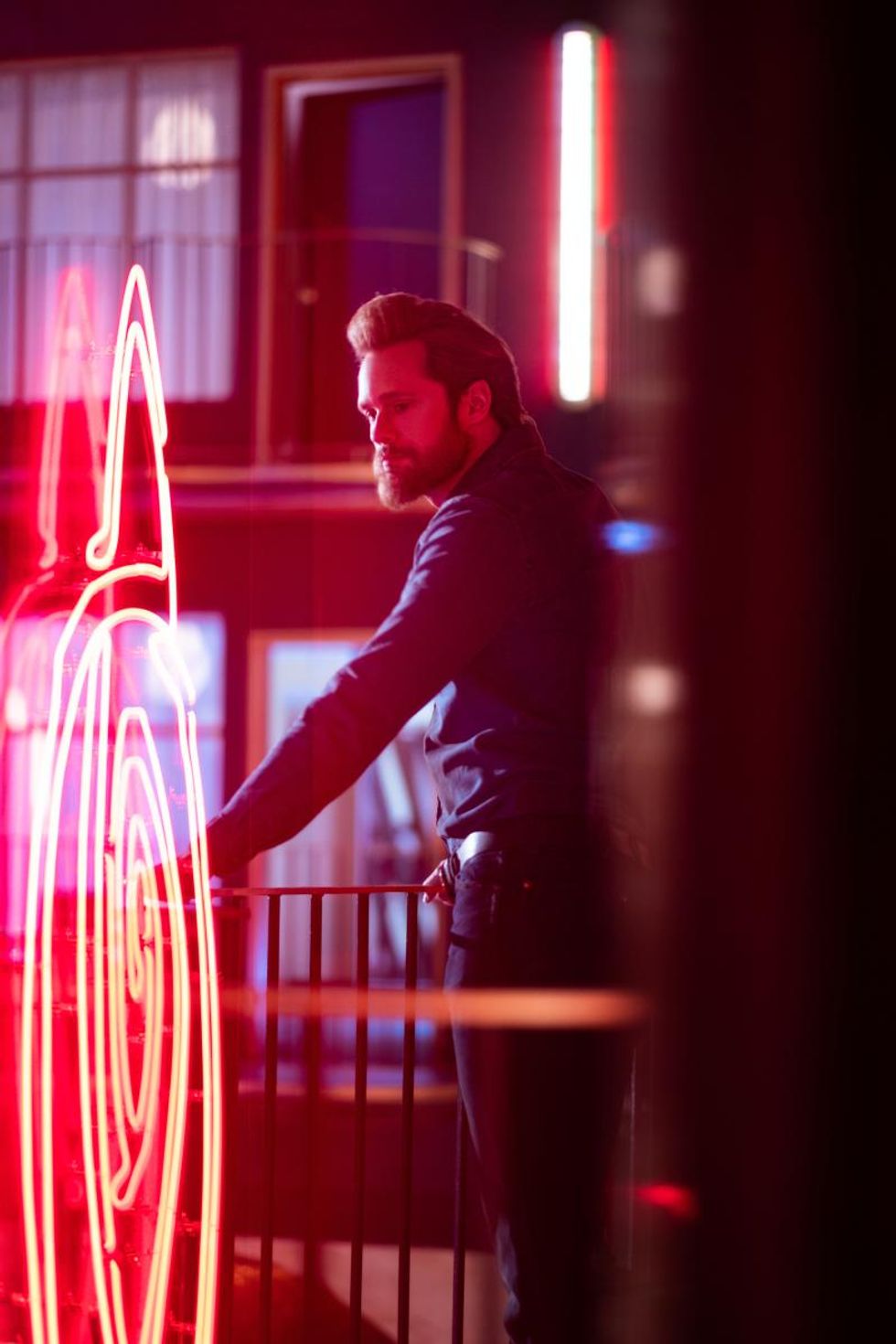 Alexander Skarsgård as Randall Flagg in The Stand.
Photo Credit: Robert Falconer/CBS.
On the opposite side of the spectrum is the Dark Man. What do you think of Alexander Skarsgård's interpretation of Randall Flagg?
Alexander Skarsgård is so beautiful and he's so charming and charismatic. In a world in chaos, you can see how a guy like that might make people feel safe and protected. Alex is a perfect fit in that role because he's just so magnetic; just being around him, you sort of have the desire to go where he's going.
Stand And Deliver
Tell us about some of the changes you brought to The Stand—like a gender-swapped version of Ralph Brentner.
It was important to us to update a number of things about the book in 1978. We we wanted to make a story that had more women and more people of color in our central cast than are featured in the book. One of the first things we wanted to do was make Ralph a female character. I've always loved Irene Bedard (Pocahontas, Smoke Signals). As Ray Brentner, Irene is so wonderful; she conveys a certain kind of lived-life when you see her on screen.
What part of the book were you most excited to bring to life?
Well, this may be obvious, but the final showdown in Las Vegas. The ways in which we were able to realize a lot of the vision of the book in a way that just, frankly, wouldn't have been possible in 1994. That was very exciting.
Last question: What is your memory throughout this whole Stand experience?
Wow, that's a wonderful question. I guess it's the moment at which I realized that everybody involved with the production, including these iconic performers, all felt just as determined to do right by our source material and ideas. That they really felt a stake in wanting to pull this off and bringing something new and special to it. And selfishly, the moment that stands out to me is the moment that that I proposed a change we wanted to make by Stephen King. And he essentially said,
"Sounds great. If you guys think that this change is the way to go, I defer to you." It's really hard to top that.
The nine-episode limited series, The Stand, premieres Thursday, Dec. 17, exclusively on CBS All Access.