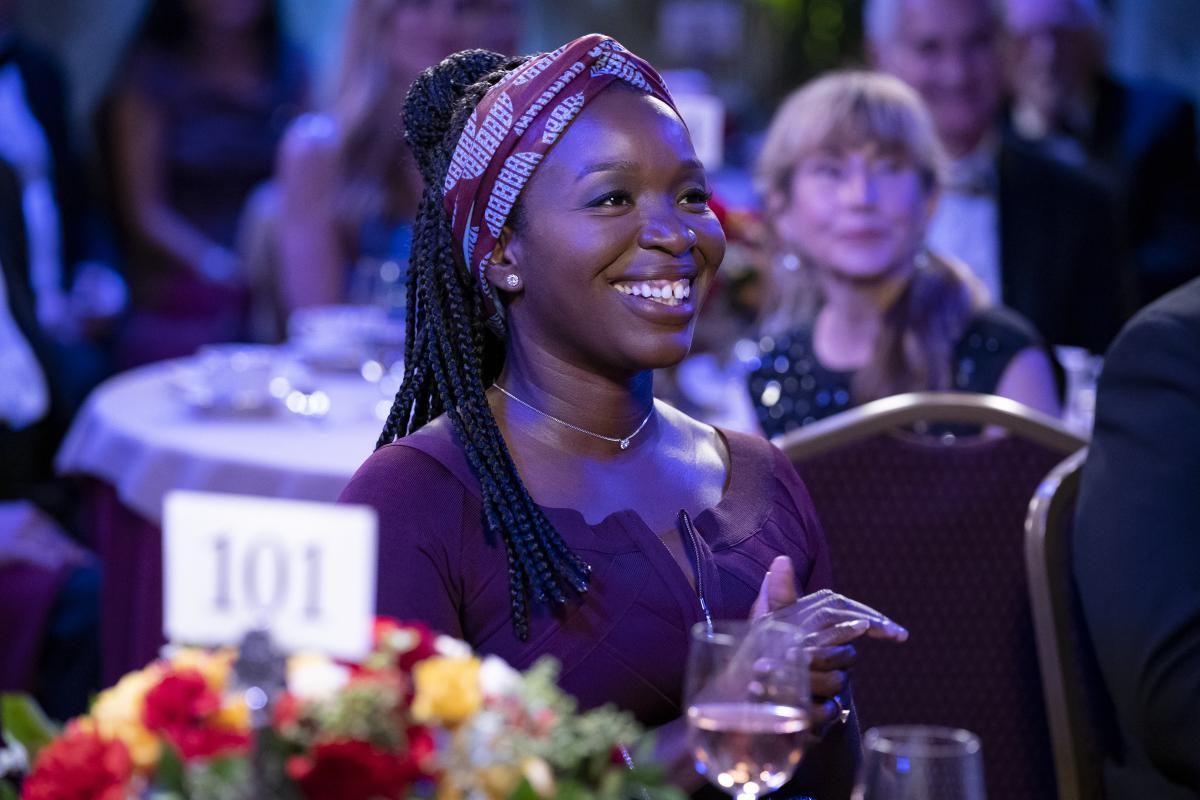 Photo Credit: Michael Yarish/CBS 2020.
How much do we love Folake Olowofoyeku's no-nonsense nurse? Let us count the ways!
By Nate Millado
Bob ❤️Abishola—and frankly, so do we! After the cardiac nurse (Folake Olowofoyeku) captured the heart of her patient-turned-paramour, Abishola has shown herself to be hardworking, caring, and loyal ... what's not to love? Here are 16 reasons why everyone's favorite sock salesman (Billy Gardell) is so smitten!
Watch all-new episodes of Bob ❤️ Abishola on Mondays at 8:30/7:30c on CBS and Paramount+.
---
Reason #1: She's hardworking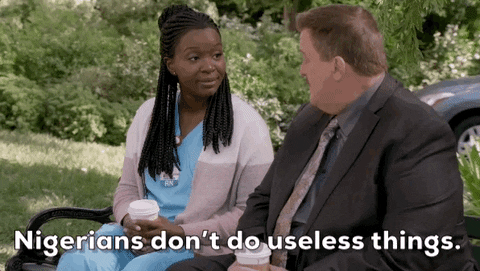 Abishola gives Bob a little insight into the Nigerian work ethic.
The groundbreaking sitcom shines a light on the immigrant experience. Abishola is a single mom from Nigeria who works tirelessly at her job to support her son, Dele (Travis Wolfe, Jr.), and her meddling but well-intentioned Auntie Olu (Shola Adewusi) and Uncle Tunde (Barry Shabaka Henley).
Reason #2: She's an excellent mother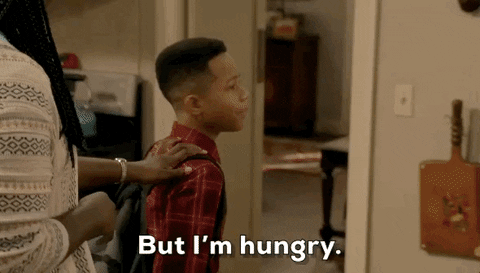 Abishola gives Dele an apple — and a piece of advice.
Abishola is always harping on Dele to focus on his studies so he can become a doctor someday. She's sacrificed so much and only wants the best for him! But when her music-minded son cops to choreographing behind her back, she doesn't derail his dance dreams completely. "Tell me, how does a person make money doing this dancing and choreography?" she asks. "I don't know," Dele replies, "it just makes me happy." Abishola, without missing a beat, replies: "Happy? Hmph. You are an American."
Reason #3: She's a loyal friend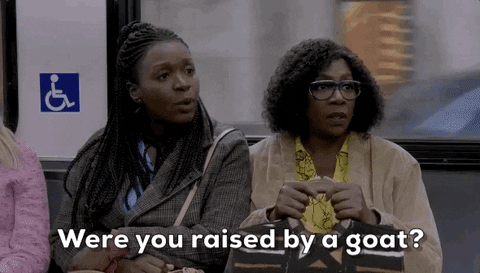 Abishola and Kemi ride the bus.
Credit: CBS Giphy
Don't mess with Kemi (scene-stealer Gina Yashere)! When it comes to her bus buddy and lunchtime confidante, Abishola always has her bestie's back.
Reason #4: Her smile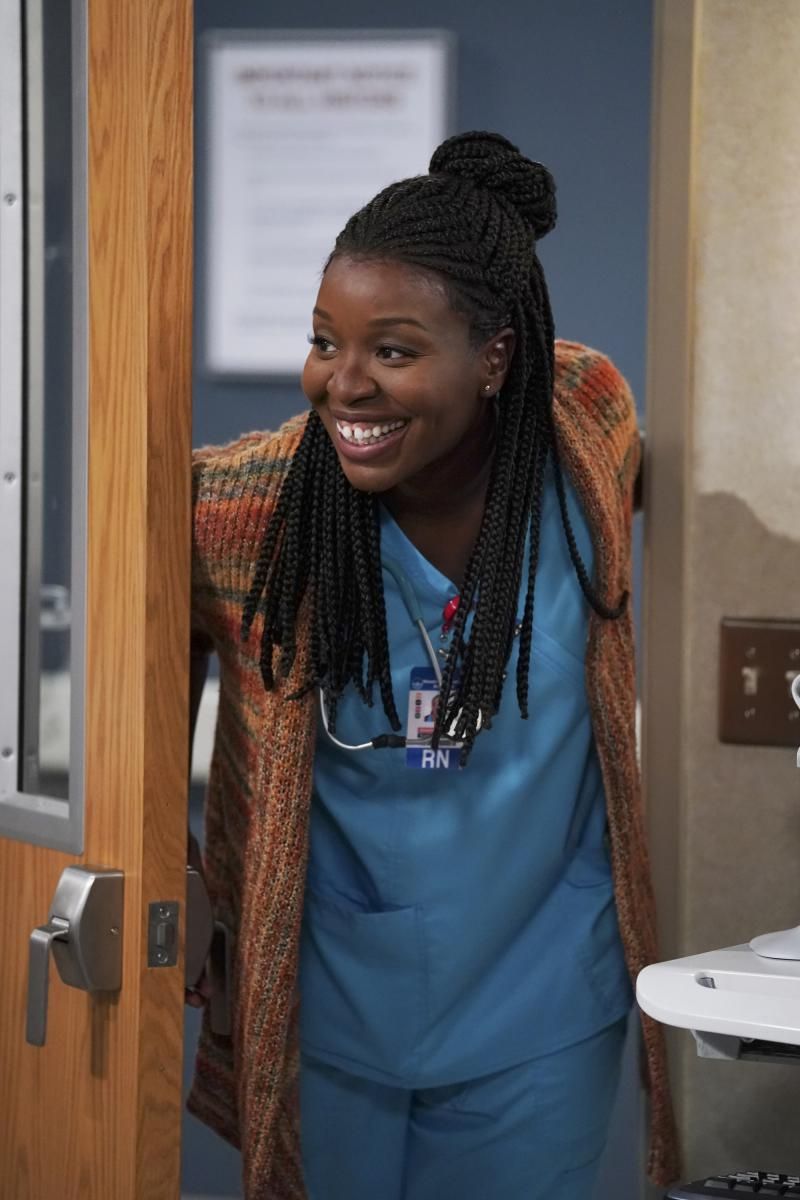 Folake Olowofoyeku as Abishola.
Photo Credit: Michael Yarish/CBS.
OK, we admit that Abishola doesn't smile often. But when she does flash her pearly whites? She lights up the room!
Reason #5: Her eyes speak volumes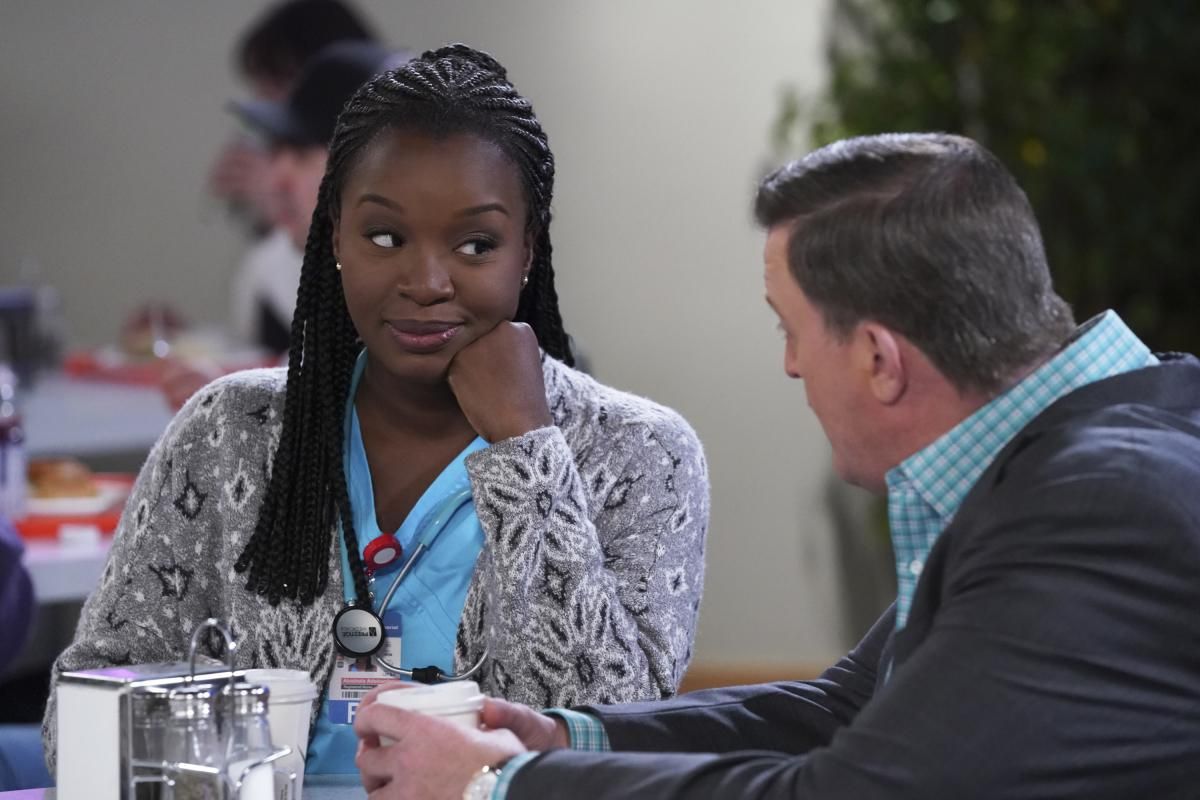 Abishola gives Bob a knowing look, while the two share coffee and conversation.
Photo Credit: Michael Yarish/CBS.
Oh, Bob knows The Look! Without uttering a word, Abishola's expressive eyes can tell whether she's happy, sad, annoyed, incredulous, intrigued — or just downright pissed off at you!
Reason #6: She's a fighter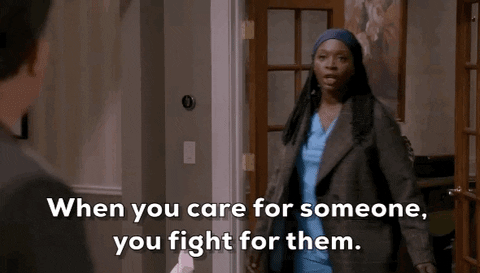 Abishola gives Bob some perspective on fighting for what matters.
Credit: CBS Giphy
Bob learns from Uncle Tunde that a handsome Nigerian pharmacist is also vying for Abishola's affections. Thinking how much more they have in common, he's ready to throw in the towel. But Abishola is having none of it: "Do not tell me how to live my life!" After Bob says he was just trying to be supportive, Abishola threw down some fightin' words: "You don't just give up."
Reason #7: She can dish out tough love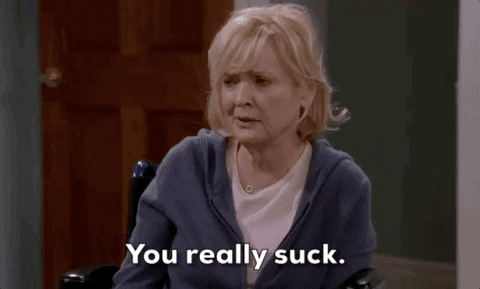 Abishola makes it clear that she isn't going to let Dottie boss her around.
Credit: CBS Giphy
Not everyone can go toe-to-toe with Dottie (Christine Ebersole) — just ask her kids, Douglas (Matt Jones) and Christina (Maribeth Monroe)! But after the MaxDot matriarch suffers a stroke, Dottie learns fairly quickly that her new caregiver is no pushover. Abishola's "tough love" approach aids Dottie during her recovery.
Reason #8: She knows what she wants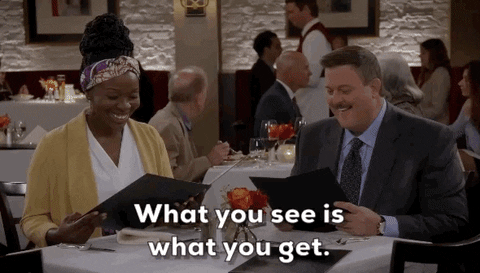 Abishola pays Bob a compliment.
Credit: CBS Giphy
It wasn't exactly love at first sight. But once Bob won her over during their slow-burn courtship, Abishola realized the endearing teddy bear is just what the Nigerian nurse ordered.
Reason #9: She's a straight shooter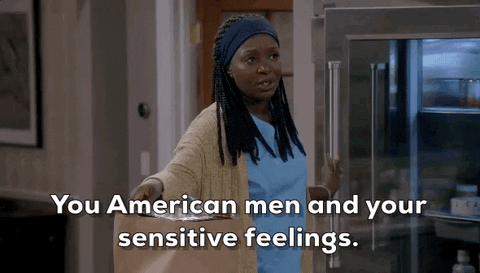 Abishola thinks American men overreact.
Credit: CBS Giphy
Truth hurts: Abishola isn't afraid to speak her mind!
Reason #10: She can shut you down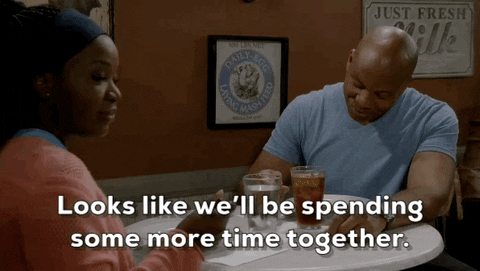 Abishola doesn't fall for smooth talkers.
Credit: CBS Giphy
Attention, would-be Abishola suitors: Your come-ons fall on deaf ears. This strong and independent woman doesn't need your approval, either. When "Sexy Pharmacist" Chukwuemeka apologizes, "You do not need my permission to pursue your career," she replies, "That is correct. I do not."
Reason #11: She likes to confront issues head-on
Remember when we said Abishola was "loyal?" She spills the beans to Kemi that Bob finds her "annoying." Abishola doesn't like to sweep problems under the rug, though Bob thinks some things are better left unsaid.
Reason #12: She knows how to express herself
Abishola blanks out at dinner after Bob says, "I love you." So when she learns that Americans jump up and down to express joy, well, we'll let you watch for yourself!
Reason #13: She knows how to say sorry
Bob and Abishola enjoy a fast food date.
Photo Credit: CBS Broadcasting Inc.
The way to one's heart is often through their stomach. No one knows this better than Abishola. After she gets into a tiff with her Aunt Olu, she brings home a tasty peace offering: a Wendy's Baconator. ("Square hamburger, round buns!" marvels Tunde.) And Abishola knows exactly how to reaffirm her affections for Bob: ice cream for breakfast.
Reason #14: She's willing to try new things
No doubt, Abishola has brought out the best in Bob, but her sock salesman suitor has also inspired the usually straitlaced nurse to lighten up a bit. Just watch her heckle these midday slackers at the park!
Reason #15: She's not easily intimidated
When Bob's ex, Lorraine (Nicole Sullivan) reenters the picture, Abishola confronts her when she starts spending a little too much time with "Bobby Socks'" family:

Lorraine: "Is there a problem?"
Abishola: "Yes, you. It's time for you to go."
Lorraine: "Did I do something wrong?"
Abishola: "Not yet, but you are getting very close."
Lorraine looks to her former mother-in-law for assistance, but Dottie says, "Sorry, kid, looks like there's a new sheriff in town." Tunde clarifies: "A Nigerian sheriff."
Reason #16: She and Bob are couple GOALS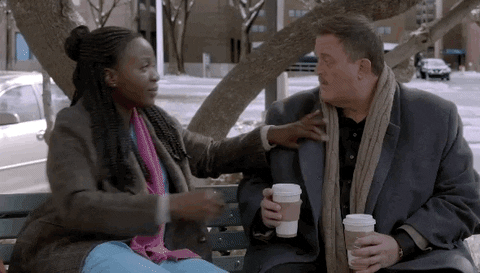 A romantic embrace for Bob and Abishola.
Photo Credit: Giphy.
A swoon-worthy GIF is worth a thousand words!

Bob ❤️ Abishola airs Mondays at 8:30/7:30c on CBS and streams on Paramount+.