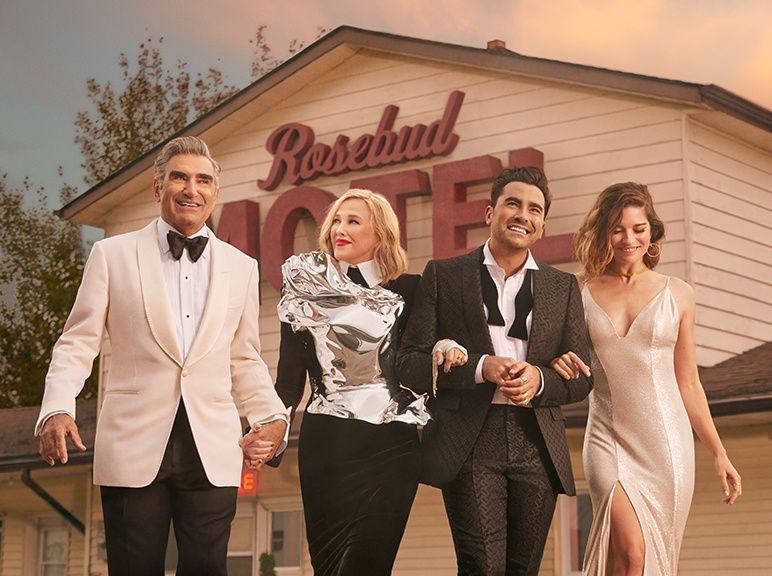 Photo Credit: Pop TV.
These 8 performances left us speechless, so we'll let the Emmy-worthy actors do the talking.
By Nate Millado
As they say in the biz: The show must go on. So despite the coronavirus pandemic nixing the typically glitzy, red carpet affair, the 72nd Primetime Emmy Awards will still be handed out on Sept. 20—albeit virtually.
PopTV's critically acclaimed cult fave Schitt's Creeklanded a whopping 15 nominations for its final season, including acting notices for all four fictional Rose family members (Eugene Levy, Catherine O'Hara, Daniel Levy, and Annie Murphy).
Both leading ladies of Netflix's dark comedy Dead to Me(Christina Applegate and Linda Cardellini) were recognized for their roles as star-crossed besties Jen and Judy.
Perennial Emmy nominee Don Cheadle scored a second straight nod for playing Black Monday's ruthless stock broker, Mo Monroe. Will the 10th time be a charm?
Finally, Toni Collette turned in yet another Unbelievableperformance in Netflix's searing limited series as a hard-nosed detective tracking a serial rapist.
Read on to find out how these eight incredible actors reacted to their Emmy nominations—and how they plan to celebrate on the big night—in their own words.