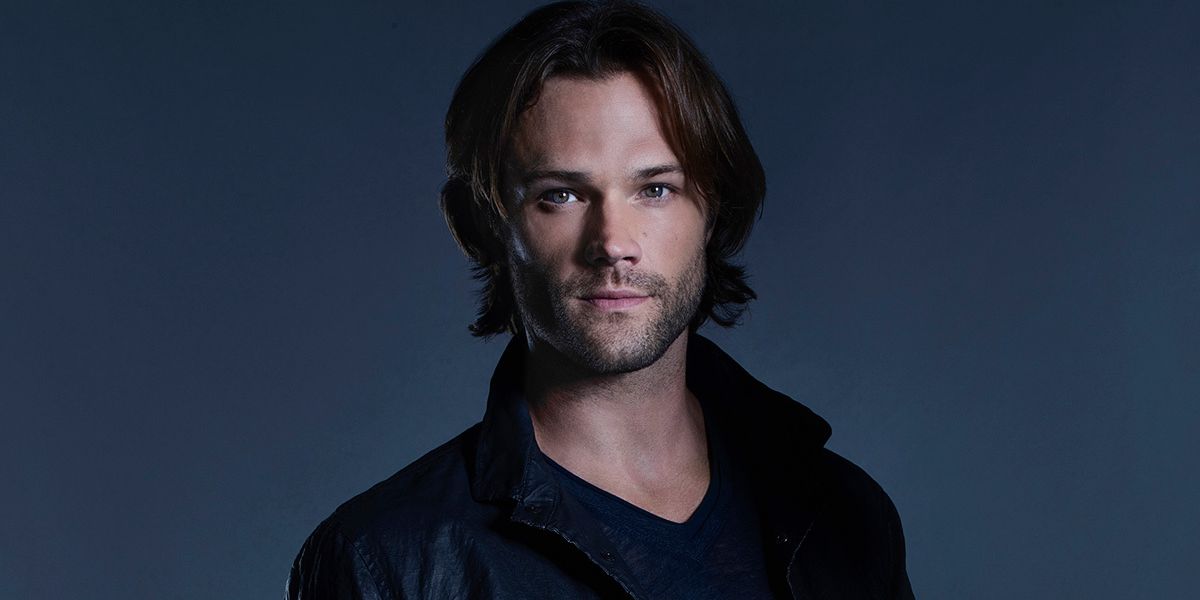 Photo Credit: Frank Ockenfells III/The CW.
After 15 seasons on The CW's hit drama series Supernatural, actor, dad, and mental health advocate Jared Padalecki is gearing up for his final round of ghost chasing, demon summoning, and primetime hell-raising. Here's a typical day.
Originally published in Watch Magazine, November-December 2019.
Supernatural returns with the final 7 episodes on Thursday, Oct. 8 at 8/7c. Catch up now and stream free only on The CW.

By David Hochman
5:30 A.M.
I wake up two and a half hours before I get picked up for work. I shower, maybe change out the laundry I didn't do the night before, have coffee, and usually take an Advil because fighting devils gets harder as you get older.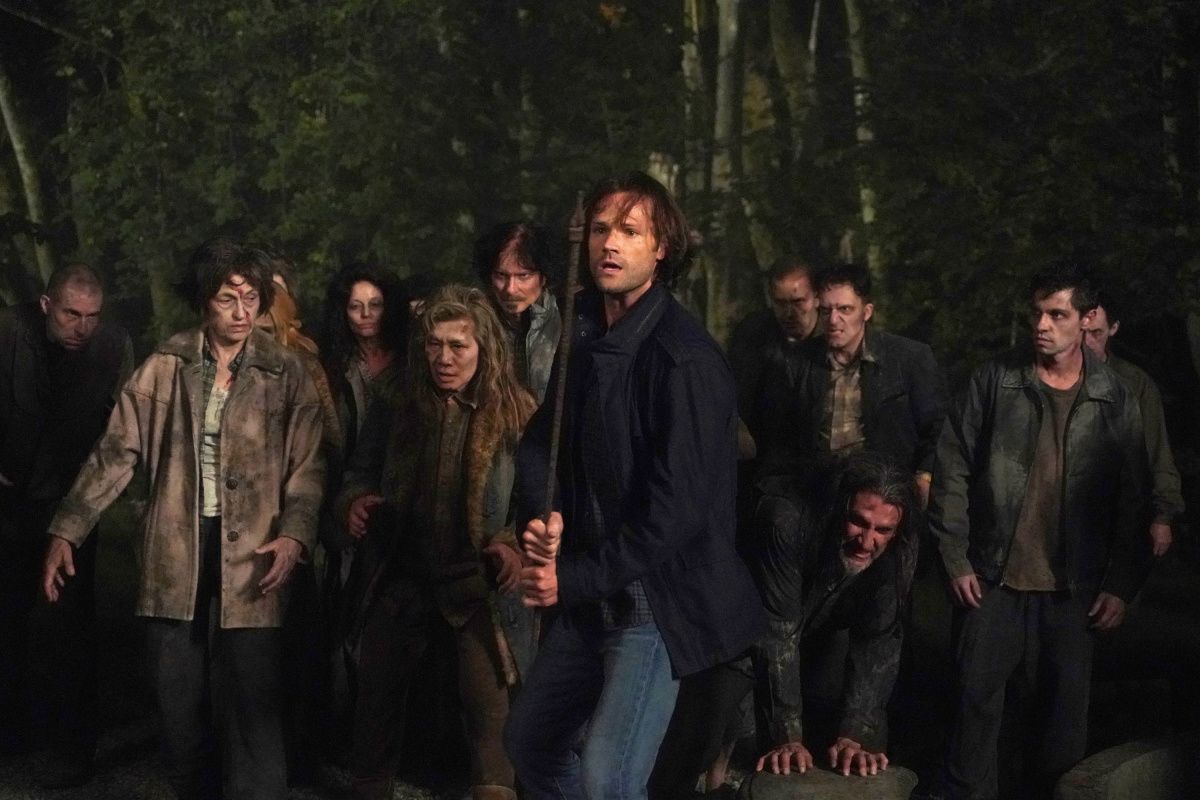 Jared Padalecki in Season 15 of Supernatural.
Photo Credit: Shane Harvey/The CW.
6:00 A.M.
From my years on Gilmore Girls, I learned that I'm better at memorizing dialogue when I'm doing something else. So I spend a half-hour on the treadmill reading my lines for the day. I don't know why, but the words stick more easily if I'm moving.
7:30 A.M.
We shoot Supernatural in Vancouver, but my family [including wife-actress Genevieve Cortese; sons Thomas, 7, and Shepherd, 5; and daughter Odette, 2 ] is in Austin, Texas, which makes it hard to connect in the morning because they're two hours ahead. I'm waking up and the kids are already leaving for school, outside chasing lizards, or whatever. But we try to at least say good morning.
7:45 A.M.
Leaving for work, looking at headlines on CNN, listening to Howard Stern.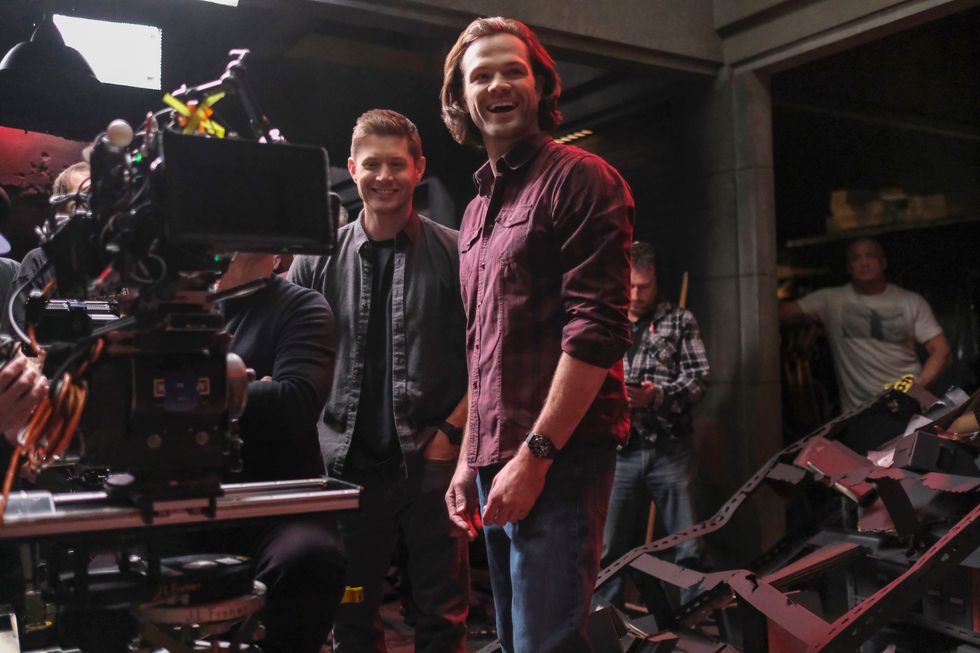 Behind-the-scenes on the set of Supernatural.
Photo Credit: Bettina Strauss/The CW.
8:17 A.M.
I'll drop my backpack in my trailer, take some vitamins, and go through what we call "The works"--hair, makeup, special effects makeup if we need it. I'm still in my personal clothes because God forbid something smudges my work outfit! Season 1, it took about five minutes to do makeup. As years went by, it would be 10. Then 15. You can probably figure out why.
9:00 A.M.
Craft services makes you anything you want for breakfast: pancakes, eggs, etc. I generally have a breakfast burrito, a bowl of berries, and coffee.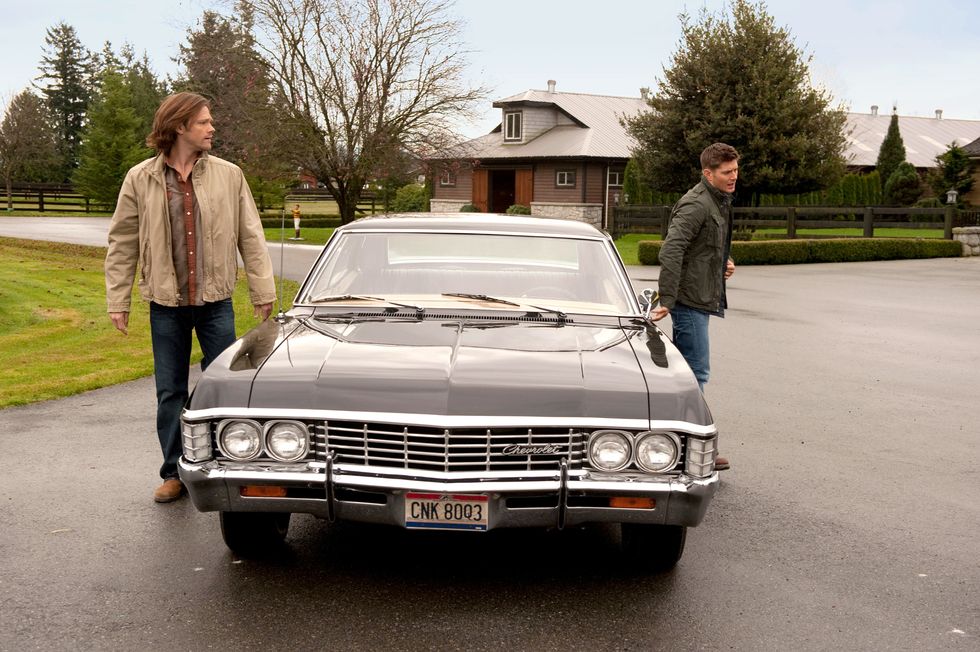 Jared Padalecki as Sam Winchester and Jensen Ackles as Dean Winchester with the iconic Impala on Supernatural.
Photo Credit: Diyah Pera/The CW.
9:30 A.M.
We're called to the set to block out the scenes unless we're shooting in the show's iconic Impala that day. In that case, [co-star] Jensen Ackles gets behind the wheel and I'll get in the passenger seat, and we'll just start cracking jokes.
10:51 A.M.
This is a physical show. I've gotten pounded, bruised, and scraped over the years, and it's almost always my fault. If there's a scene where a guy's throwing a bar stool, and they tell you to go down on the ground a certain way, you do it. One time I did it wrong and ended up breaking part of my wrist.
NOON
Three hours after crew call, it's sandwich time. It'd be nice to say I have a healthy salad instead, but it's usually a big ol' sandwich and potato chips.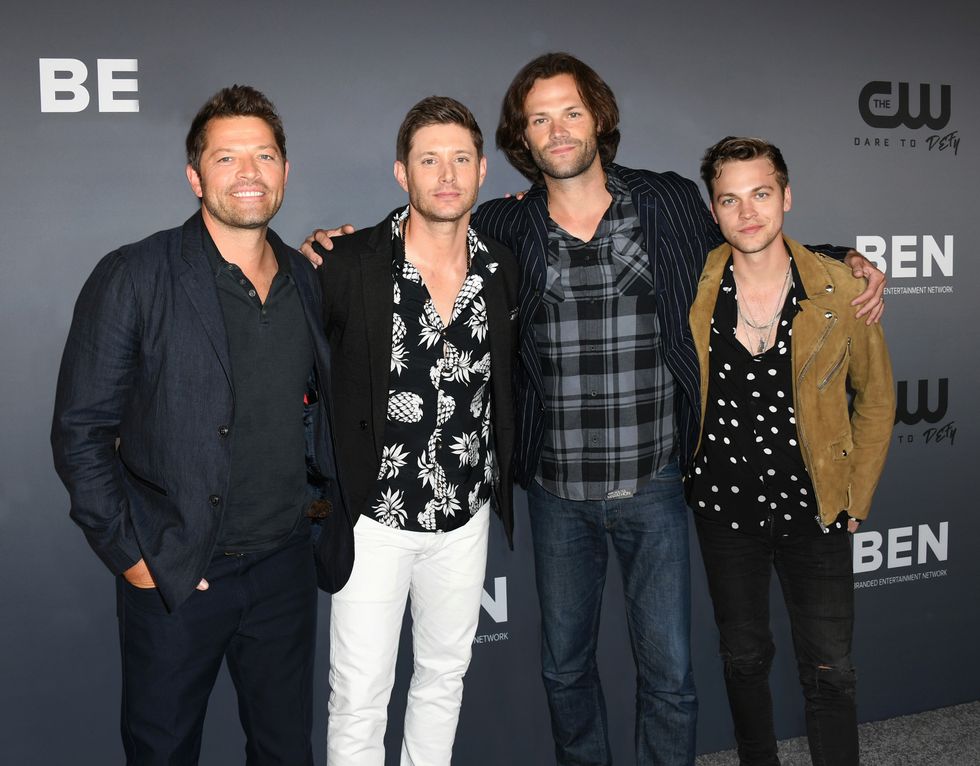 Misha Collins, Jensen Ackles, Jared Padalecki, and Alexander Calvert attend the The CW's Summer 2019 TCA Party.
Photo Credit: Jon Kopaloff/Getty Images.
1:00 P.M.
I love bringing my family to set when they're in town, but we're also a happy show family. Jensen, Misha [Collins], Alex [Calvert], and I are like a bunch of kids. We tease each other pretty hardcore. Go look at the gag reels on YouTube to see what I mean. Nobody's trying to sabotage anyone. We're just keeping morale up on set.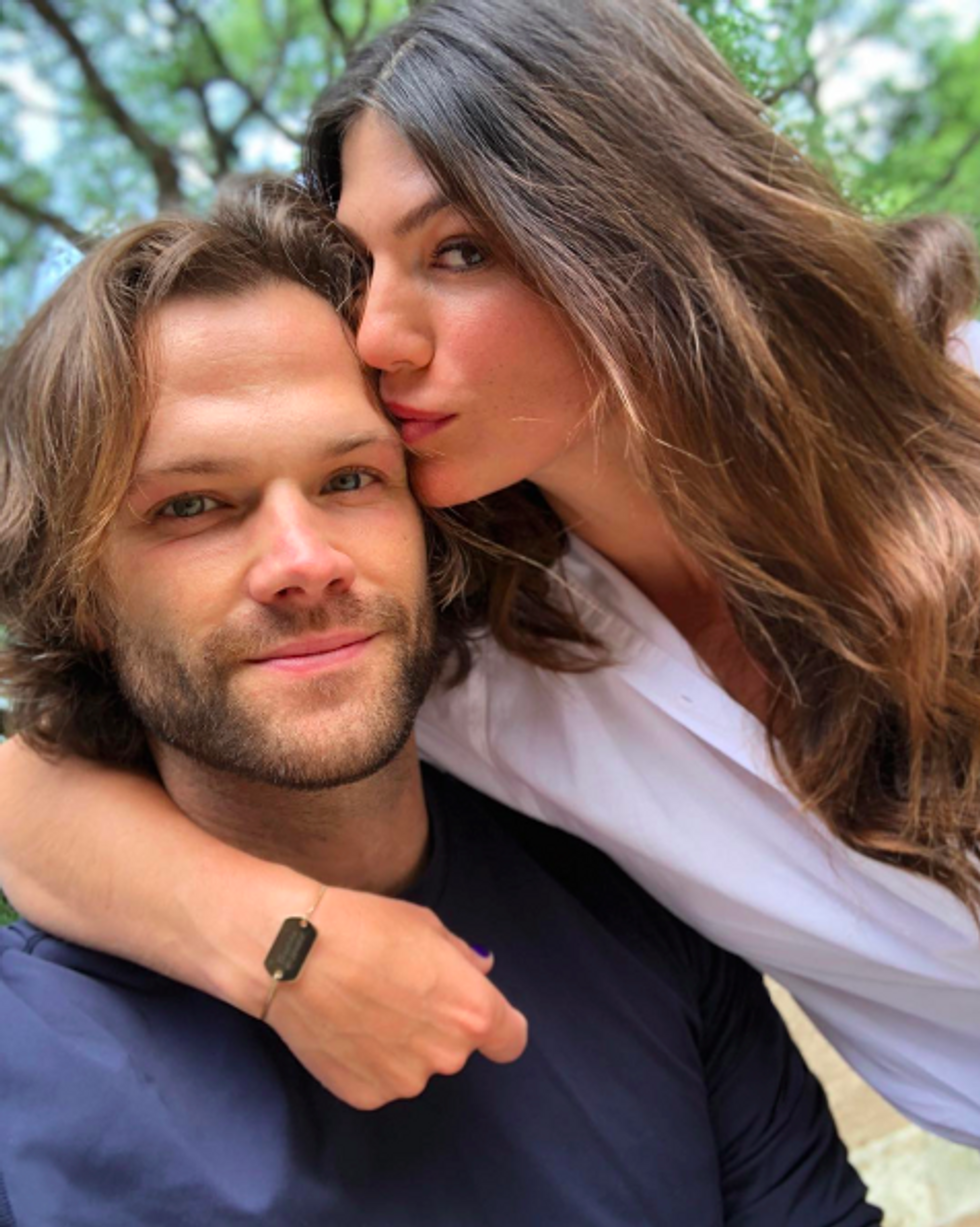 Jared Padalecki with wife Genevieve Cortese.
Photo Credit: Courtesy of Jared Padalecki.
2:00 P.M.
My wife, Genevieve, and I met on set in 2009. She played a demon. It was love at first sight. So much has happened with this crew over time: We've seen births and deaths, marriages and divorces, and a lot of babies. It's really hitting me in this final season that we've grown up together. We're like childhood friends.
3:00 P.M.
If I get a break, I sometimes go for a run. A bunch of us from the show had the harebrained idea to run a marathon together last year, and we ended up doing it for a charity called Endure 4 Kindness that feeds children around the world. We raised over $200,000. Then I got invited to do the Boston Marathon with my wife. She demolished me, but it didn't matter. We raised $30,000 for Dream Big!, which supports girls in sports.
4:05 P.M.
I FaceTime with my kids. We used to read together, but now I'd rather just hear about their days. Tom's into basketball, biking, and swimming. We have a bunch of animals--dogs and chickens--that Shepherd keeps me updated on. Odette's still too young to express herself that well, but she's good at giving daddy the stink eye.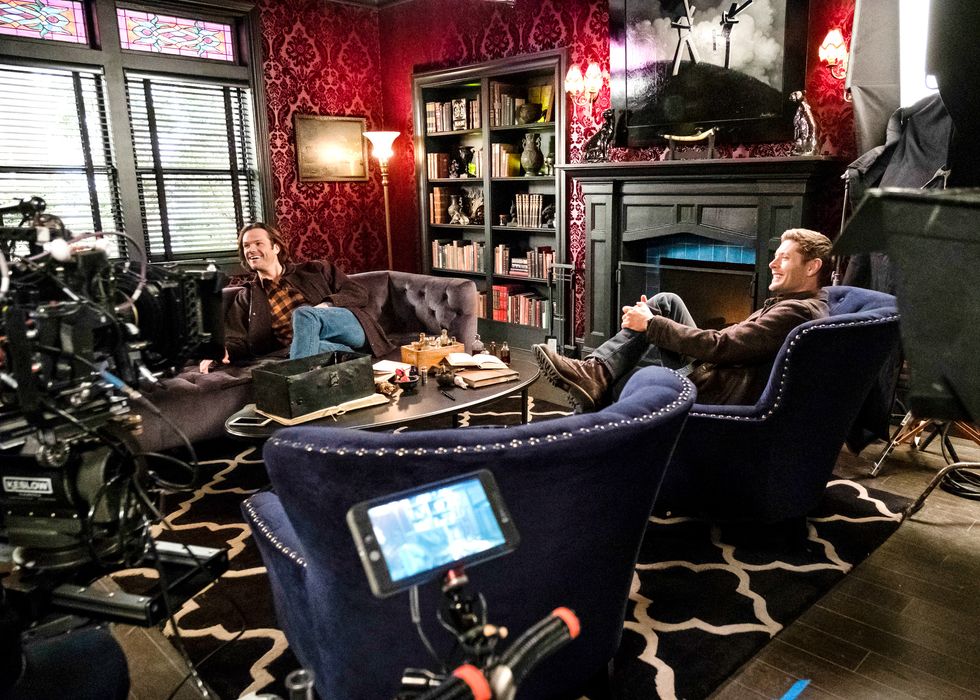 Photo Credit: Katie Yu/The CW.
4:30 P.M.
Fans of this show are incredible. My office is full of letters that mean so much to me. People are so supportive of Always Keep Fighting. [Padalecki launched the mental illness awareness campaign in 2015, after opening up about his own struggle with depression.] Fans will thank me, but I'll say, "Don't thank me. We're all going through this together." No matter who you are, how much you make, where you live--dealing with issues like depression, that's universal. We're all struggling.
6:38 P.M.
We shoot a 12-hour day, but you never know which 12 hours. A lot of it is overnight. What we call "lunch" happens six hours after crew call. So lunch sometimes happens at lunchtime, but often times it's dinner or it could be a midnight snack.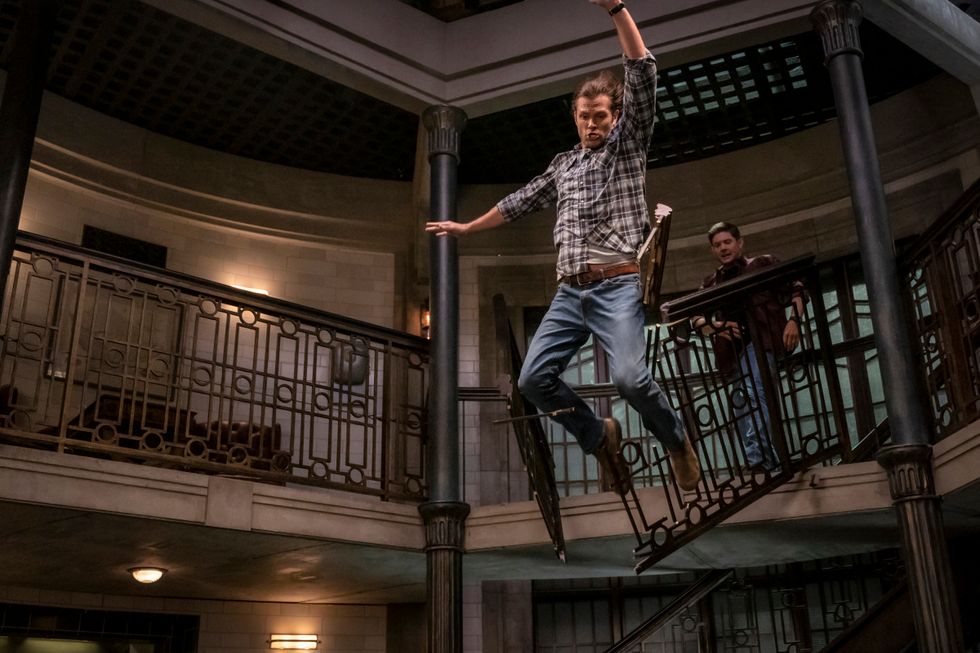 Photo Credit: Colin Bentley/The CW.
8:30 P.M.
One thing I look forward to when the show ends is having more time to pursue my passions. I used to do jiujitsu, but you don't want to get injured on a Friday and show up to work on a Monday not being able to walk. My wife and I opened a couple of bars in Austin, and sometimes I'll bartend. I love to travel and read and be with my family without having to fly off somewhere. So I'm sort of excited about having time to devote to regular life.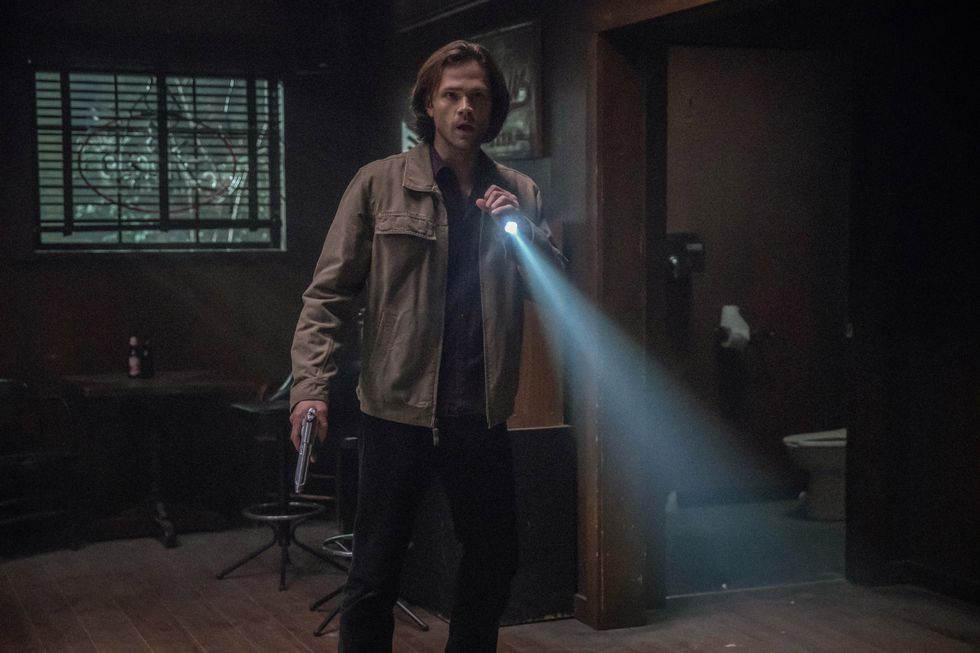 Photo Credit: Jack Rowand/The CW.
11:00 P.M.
At the end of a long day, I'll usually give thanks. Playing Sam Winchester for over 15 years, he's more than a character to me. He's actually shaped who I am, how I want to behave, what I strive for, how I can help people. I don't feel like I'm saying goodbye to him. He'll always be part of who I've become, and I'm grateful for that.
Originally published in Watch Magazine, November-December 2019.
Supernatural returns with the final 7 episodes on Thursday, Oct. 8 at 8/7c. Catch up now and stream free only on The CW.