Stars
9 Reasons We Are Mad About Mayim Bialik
Photography by James Banasiak
She's all about girl power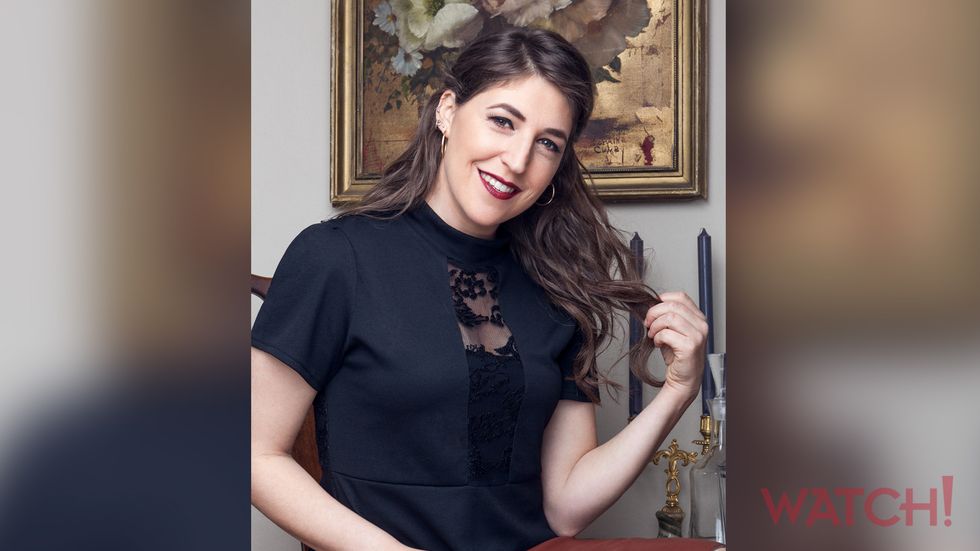 Photography by TJ Manou
As a feminist and academic, Mayim sees a future full of females who rule. She wants to help young women reach for the stars, and has penned a bestelling book, Girling Up, to help them do it.
Why, as a mother of two sons, did she aim her writing talents at teenage girls? "I used to be a girl and I am a woman," she tells Watch! in this interview about her inspiring tome. "This is about the process of becoming a woman. But I dedicated the book to my sons because I hope they encounter strong, smart, and spectacular women—and men—in their lives."
Photography by TJ Manou. Exclusive to CBS.com.
Stream full episodes of The Big Bang Theory on CBS All Access.
</div> <div class="rebellt-item col1" id="rebelltitem3" data-id="3" data-reload-ads="false" data-is-image="True" data-href="https://cbswatchmagazine.com/stars/9-reasons-we-are-mad-about-mayim-bialik/shes-a-multitasking-maven" data-basename="shes-a-multitasking-maven" data-post-id="2640874988" data-published-at="1614681052" data-use-pagination="False"> <h3 data-role="headline"> She's a multitasking maven </h3> <img type="lazy-image" data-runner-src="https://assets.rebelmouse.io/eyJhbGciOiJIUzI1NiIsInR5cCI6IkpXVCJ9.eyJpbWFnZSI6Imh0dHBzOi8vYXNzZXRzLnJibC5tcy8yMTIxMDg2Ni9vcmlnaW4uanBnIiwiZXhwaXJlc19hdCI6MTY0NTYwMjMzMX0.uI-BROzXu0R5-cD0jx_YpPBfKASV3Mc1mB_wNmimUyk/img.jpg?width=980" id="fc861" class="rm-shortcode" data-rm-shortcode-id="986ded42b2329294e273dbcda3f922c4" data-rm-shortcode-name="rebelmouse-image" alt="Mayim Bialik with hair in updo in black outfit"> <small class="image-media media-photo-credit"><p>Photography by Gilles-Marie Zimmermann</p></small> <p>Since Mayim has also written a parenting guide and a vegan cookbook, has a blog GrokNation, and has a companion book <em>Boying Up</em> coming out in May, we were curious about how the working mom of two finds the time.</p><p><br><br></p><p>"I have 50 percent custody of my children with my ex-husband, so I write as much as possible when they aren't around," <em>The Big Bang Theory</em> star shares with <em>Watch!</em> in an interview about her book <em>Girling Up</em>. "But I'm a fast typer and a fast thinker. That isn't to say I'm so fantastic, but I'm a very productive writer. I wrote a 300-page thesis while breastfeeding an infant!"</p><p><br><br></p><p>Photography by Gilles-Marie Zimmermann. Exclusive to CBS.com.</p><p><br><br></p><p>Stream full episodes of <em>The Big Bang Theory</em> on CBS All Access.</p> </div> <div class="rebellt-item col1" id="rebelltitem4" data-id="4" data-reload-ads="false" data-is-image="True" data-href="https://cbswatchmagazine.com/stars/9-reasons-we-are-mad-about-mayim-bialik/she-makes-her-quirkiness-work" data-basename="she-makes-her-quirkiness-work" data-post-id="2640874988" data-published-at="1614681052" data-use-pagination="False"> <h3 data-role="headline"> She makes her quirkiness work </h3> <img type="lazy-image" data-runner-src="https://assets.rebelmouse.io/eyJhbGciOiJIUzI1NiIsInR5cCI6IkpXVCJ9.eyJpbWFnZSI6Imh0dHBzOi8vYXNzZXRzLnJibC5tcy8yMTIxMDg3Ny9vcmlnaW4uanBnIiwiZXhwaXJlc19hdCI6MTYxNjYwNzcyOX0.ROdeDY0gz3QV6okeTqNuPOd5gD2zcAaF21mgdVk1paQ/img.jpg?width=980" id="d6fd3" class="rm-shortcode" data-rm-shortcode-id="71d52ac36b1377eaddf0ad30fc7382ec" data-rm-shortcode-name="rebelmouse-image" alt="Mayim Bialik in patterned top"> <small class="image-media media-photo-credit"><p>Photography by TJ Manou</p></small> <p>Mayim began making the acting rounds at 11, and was thrust fully into the star-powered limelight at 14, with the debut of <em>Blossom</em>.</p><p><br><br></p><p>"At the time, the only look that they wanted was 'all-American,'" she recalls in her first <em>Watch!</em> interview. "I was blond and blue-eyed but ethnic-looking, so I started getting character roles, which is still what they call actors like me now. Back then it was unusual to look the way I did and try to be getting work."</p><p><br><br></p><p>Photography by TJ Manou. Exclusive to CBS.com.</p><p><br><br></p><p>Stream full episodes of <em>The Big Bang Theory</em> on CBS All Access.</p> </div> <div class="incontent-ad" style="height: 250px;" data-pos="InContent"></div> <div class="rebellt-item col1" id="rebelltitem5" data-id="5" data-reload-ads="true" data-is-image="True" data-href="https://cbswatchmagazine.com/stars/9-reasons-we-are-mad-about-mayim-bialik/she-won-the-heart-of-bette-midler" data-basename="she-won-the-heart-of-bette-midler" data-post-id="2640874988" data-published-at="1614681052" data-use-pagination="False"> <h3 data-role="headline"> She won the heart of Bette Midler </h3> <img type="lazy-image" data-runner-src="https://assets.rebelmouse.io/eyJhbGciOiJIUzI1NiIsInR5cCI6IkpXVCJ9.eyJpbWFnZSI6Imh0dHBzOi8vYXNzZXRzLnJibC5tcy8yMTIxMDg4NC9vcmlnaW4uanBnIiwiZXhwaXJlc19hdCI6MTYzMzcyODU2NH0.fIJfSbBSZuOXfJGCUyEGAbsLiPekld3pgleoriZLl3c/img.jpg?width=980" id="8a37b" class="rm-shortcode" data-rm-shortcode-id="151b998c8805efe3bec1334dcd6db237" data-rm-shortcode-name="rebelmouse-image" alt="Mayim Bialik in black outfit"> <small class="image-media media-photo-credit"><p>Photography by James Banasiak</p></small> <p>Mayim says that her mom always felt she gave off a Bette Midler or Barbara Streisand vibe; and when she landed the pre-<em>Blossom</em> role of a young Bette in <em>Beaches</em>, that motherly notion proved not just correct but a boon to the film itself. </p><p><br><br></p><p>"When we were making <em>Beaches</em>, everyone knew Mayim was destined for stardom," Midler recalls. "She was adorable and found her way into people's hearts. I think if it hadn't been for her, the movie wouldn't have been such a hit."</p><p><br><br></p><p>Photography by James Banasiak. Exclusive to CBS.com.</p><p><br><br></p><p>Stream full episodes of <em>The Big Bang Theory</em> on CBS All Access.</p> </div> <div class="rebellt-item col1" id="rebelltitem6" data-id="6" data-reload-ads="false" data-is-image="True" data-href="https://cbswatchmagazine.com/stars/9-reasons-we-are-mad-about-mayim-bialik/shes-always-up-for-a-challenge" data-basename="shes-always-up-for-a-challenge" data-post-id="2640874988" data-published-at="1614681052" data-use-pagination="False"> <h3 data-role="headline"> She's always up for a challenge </h3> <img type="lazy-image" data-runner-src="https://assets.rebelmouse.io/eyJhbGciOiJIUzI1NiIsInR5cCI6IkpXVCJ9.eyJpbWFnZSI6Imh0dHBzOi8vYXNzZXRzLnJibC5tcy8yMTIxMDg5NS9vcmlnaW4uanBnIiwiZXhwaXJlc19hdCI6MTY2OTY4ODI4Nn0.7PT1S6XUY0CIE8XvwawtWfpW_mGcZEAXWLCfjDpZx_o/img.jpg?width=980" id="76d00" class="rm-shortcode" data-rm-shortcode-id="945d25b465c91de044b23d88a4b83321" data-rm-shortcode-name="rebelmouse-image" alt="Mayim Bialik in white outfit"> <small class="image-media media-photo-credit"><p>Photography by James Banasiak</p></small> <p>Having earned a Ph.D. at UCLA for her dissertation on the rare genetic disorder Prader-Willi syndrome, Mayim segued back into acting and encountered a new type of test: on screen chemistry.</p><p><br><br></p><p>"When I joined the cast permanently, a lot of people resisted the idea that Sheldon would have a sexual or romantic relationship," Mayim tells <em>Watch!</em> in her February 2014 cover story. "But we've kept Sheldon to his character; we had to be careful to not change him, and I think we succeeded. It's sweet, and they have an interesting connection."</p><p><br><br></p><p>Photography by James Banasiak. Exclusive to CBS.com.</p><p><br><br></p><p>Stream full episodes of <em>The Big Bang Theory</em> on CBS All Access.</p> </div> <div class="rebellt-item col1" id="rebelltitem7" data-id="7" data-reload-ads="false" data-is-image="True" data-href="https://cbswatchmagazine.com/stars/9-reasons-we-are-mad-about-mayim-bialik/shes-totally-unique-yet-completely-relatable" data-basename="shes-totally-unique-yet-completely-relatable" data-post-id="2640874988" data-published-at="1614681052" data-use-pagination="False"> <h3 data-role="headline"> She's totally unique—yet completely relatable </h3> <img type="lazy-image" data-runner-src="https://assets.rebelmouse.io/eyJhbGciOiJIUzI1NiIsInR5cCI6IkpXVCJ9.eyJpbWFnZSI6Imh0dHBzOi8vYXNzZXRzLnJibC5tcy8yMTIxMDkwMy9vcmlnaW4uanBnIiwiZXhwaXJlc19hdCI6MTYyNjk4MjA0OH0.IsmWMQhtI7f9fFhQnnHjCC9wSiyZp65TP6a_-bNYt-E/img.jpg?width=980" id="dfd64" class="rm-shortcode" data-rm-shortcode-id="3353434c76e02f2d50ebb2c20d8cbe22" data-rm-shortcode-name="rebelmouse-image" alt="Mayim Bialik sitting down in white outfit"> <small class="image-media media-photo-credit"><p>Photography by TJ Manou</p></small> <p>When our writer joined Mayim in Paris for her <em>Watch!</em> photo shoot, she found the actress "immensely friendly and a great conversationalist," which is not all that different from the way <em>Big Bang</em> costar Jim Parsons sees her.</p><p><br><br></p><p>"When she's acting she makes original choices that you never would have thought of," Parsons tells us. "But at the same time she radiates this very human quality—she empathizes with and struggles with the same everyday matters of the heart, self-doubt, etc., that we all do."</p><p><br><br></p><p>Photography by TJ Manou. Exclusive to CBS.com.</p><p><br><br></p><p>Stream full episodes of <em>The Big Bang Theory</em> on CBS All Access.</p> </div> <div class="incontent-ad" style="height: 250px;" data-pos="InContent"></div> <div class="rebellt-item col1" id="rebelltitem8" data-id="8" data-reload-ads="true" data-is-image="True" data-href="https://cbswatchmagazine.com/stars/9-reasons-we-are-mad-about-mayim-bialik/shes-indoctrinating-a-new-generation-of-star-trek-fans" data-basename="shes-indoctrinating-a-new-generation-of-star-trek-fans" data-post-id="2640874988" data-published-at="1614681052" data-use-pagination="False"> <h3 data-role="headline"> She's indoctrinating a new generation of Star Trek fans </h3> <img type="lazy-image" data-runner-src="https://assets.rebelmouse.io/eyJhbGciOiJIUzI1NiIsInR5cCI6IkpXVCJ9.eyJpbWFnZSI6Imh0dHBzOi8vYXNzZXRzLnJibC5tcy8yMTIxMDkxNi9vcmlnaW4uanBnIiwiZXhwaXJlc19hdCI6MTYxODU0OTU1N30.dZekfwI2Upd2EjfxQ6rQpG4QrFA9ns2M3SgIqKck5YQ/img.jpg?width=980" id="c536a" class="rm-shortcode" data-rm-shortcode-id="20df19d120fdb914785dc12229f33c93" data-rm-shortcode-name="rebelmouse-image" alt="Mayim Bialik in white outfit"> <small class="image-media media-photo-credit"><p>Photography by James Banasiak</p></small> <p>Through their collective obsession with all things <em>Star Trek</em>, <em>The Big Bang Theory</em>'s featured players have made huge strides toward promoting Klingon literacy, a cause dear to Mayim's heart.</p><p><br><br></p><p>"What's really neat is that thanks to <em>Big Bang</em>, there's a whole new group of fans who have been introduced to <em>Star Trek</em>," she explains while on a <em>Watch!</em> photo shoot where she dressed as some of <em>Star Trek</em>'s most iconic characters. "My thought is that maybe people who have always been into <em>Star Trek</em> have become <em>Big Bang</em> fans because of all of the love our characters have for <em>Star Trek</em>! It's the perfect meeting of the minds!"</p><p><br><br></p><p>Photography by James Banasiak. Exclusive to CBS.com.</p><p><br><br></p><p>Stream full episodes of <em>The Big Bang Theory</em> on CBS All Access.</p> </div> <div class="rebellt-item col1" id="rebelltitem9" data-id="9" data-reload-ads="false" data-is-image="True" data-href="https://cbswatchmagazine.com/stars/9-reasons-we-are-mad-about-mayim-bialik/shes-not-in-it-for-the-attention" data-basename="shes-not-in-it-for-the-attention" data-post-id="2640874988" data-published-at="1614681052" data-use-pagination="False"> <h3 data-role="headline"> She's not in it for the attention </h3> <img type="lazy-image" data-runner-src="https://assets.rebelmouse.io/eyJhbGciOiJIUzI1NiIsInR5cCI6IkpXVCJ9.eyJpbWFnZSI6Imh0dHBzOi8vYXNzZXRzLnJibC5tcy8yMTIxMDkyNi9vcmlnaW4uanBnIiwiZXhwaXJlc19hdCI6MTYzMjExOTI5MX0.dRDThRHj_b877JzWEMv9UhHFPB6D4luQy01FqyP7QAs/img.jpg?width=980" id="fd89a" class="rm-shortcode" data-rm-shortcode-id="64b99903da005954f458fd2e7d77e1e9" data-rm-shortcode-name="rebelmouse-image" alt="Mayim Bialik in green dress"> <small class="image-media media-photo-credit"><p>Photography by TJ Manou</p></small> <p>Noting both the changes in the world since her <em>Blossom</em> days, and the fact that while <em>Blossom</em> was indeed a hit, "it wasn't on a <em>Big Bang</em> scale," Mayim minds her Ps and Qs.</p><p><br><br></p><p>"Way more people come over to me now, but unadorned women don't get much attention, so it's a good disguise just to be frumpy," she shares with <em>Watch!</em> in her February 2014 cover story. "I still go to the supermarket and all that stuff, but with iPhones and iPads you get people videotaping in airports, so you have to be on your best behavior all the time."</p><p><br><br></p><p>Photography by TJ Manou. Exclusive to CBS.com.</p><p><br><br></p><p>Stream full episodes of <em>The Big Bang Theory</em> on CBS All Access.</p> </div> <div class="rebellt-item col1" id="rebelltitem10" data-id="10" data-reload-ads="false" data-is-image="True" data-href="https://cbswatchmagazine.com/stars/9-reasons-we-are-mad-about-mayim-bialik/shes-kept-her-sense-of-wonder" data-basename="shes-kept-her-sense-of-wonder" data-post-id="2640874988" data-published-at="1614681052" data-use-pagination="False"> <h3 data-role="headline"> She's kept her sense of wonder </h3> <img type="lazy-image" data-runner-src="https://assets.rebelmouse.io/eyJhbGciOiJIUzI1NiIsInR5cCI6IkpXVCJ9.eyJpbWFnZSI6Imh0dHBzOi8vYXNzZXRzLnJibC5tcy8yMTIxMDkzNi9vcmlnaW4uanBnIiwiZXhwaXJlc19hdCI6MTY1MDcxNDIzOH0.YQ2dTOibCxUsKvAPwxOnEYVRhzUnLMzLXWlkqm5WFZs/img.jpg?width=980" id="14615" class="rm-shortcode" data-rm-shortcode-id="78a955a72d3cf9fef73b7d315106ff21" data-rm-shortcode-name="rebelmouse-image" alt="Mayim Bialik in a black top with blue glasses"> <small class="image-media media-photo-credit"><p>Photography by James Banasiak</p></small> <p>While on a <em>Watch!</em> photo shoot in Israel, Mayim explained her feelings of spiritual connectedness with the country.</p><p><br><br></p><p>"It's a really holy place even if you're not religious," <em>The Big Bang Theory</em> star tells our writer in her April 2016 cover story. "There's a power to a place that everyone's been coming to for thousands of years because of their beliefs... That kind of collective energy is amazing, and being here can give you an experience that you can't really describe."</p><p><br><br></p><p><strong>PHOTOS: More Beautiful Photos Of Mayim Bialik Like You've Never Seen Her Before</strong></p><p><br><br></p><p>Photography by James Banasiak. Exclusive to CBS.com.</p><p><br><br></p><p>Stream full episodes of <em>The Big Bang Theory</em> on CBS All Access.</p> </div> <div class="incontent-ad" style="height: 250px;" data-pos="InContent"></div> <div class="rebellt-item col1" id="rebelltitem1" data-id="1" data-reload-ads="true" data-is-image="True" data-href="https://cbswatchmagazine.com/stars/9-reasons-we-are-mad-about-mayim-bialik/mayim-bialik-is-a-fan-favorite-and-certainly-one-of-ours" data-basename="mayim-bialik-is-a-fan-favorite-and-certainly-one-of-ours" data-post-id="2640874988" data-published-at="1614681052" data-use-pagination="False"> <h3 data-role="headline"> Mayim Bialik is a fan favorite, and certainly one of ours </h3> <img type="lazy-image" data-runner-src="https://assets.rebelmouse.io/eyJhbGciOiJIUzI1NiIsInR5cCI6IkpXVCJ9.eyJpbWFnZSI6Imh0dHBzOi8vYXNzZXRzLnJibC5tcy8yMTIxMDg0Ny9vcmlnaW4uanBnIiwiZXhwaXJlc19hdCI6MTYzODc0NjE3NX0.QfmfWaeQZaROhegipQY2Accg9CpiGwnvM8YOZv_ml8g/img.jpg?width=980" id="ff11f" class="rm-shortcode" data-rm-shortcode-id="3038cb4661978c145f3dcc6230afdc35" data-rm-shortcode-name="rebelmouse-image" alt="Mayim Bialik"> <small class="image-media media-photo-credit"><p>Photography by James Banasiak</p></small> <p>When Mayim Bialik isn't expertly playing Dr. Amy Farrah Fowler, Sheldon Cooper's brainiac fiancée on America's #1 comedy, the real-life neuroscientist, mother, author, and all out amazing role model is pretty much a super woman.</p><p><br></p><p><br></p><p><strong>Check out our tribute on the marvelous Miss Mayim and a curated set of pretty portraits, to boot! </strong></p><p><strong><br></strong></p><p><strong>STREAM: Full Episodes Of <em>The Big Bang Theory</em> On CBS All Access</strong></p><p><br><br></p><p>Photography by James Banasiak. Exclusive to CBS.com.</p><p><br><br></p><p>Stream full episodes of <em>The Big Bang Theory</em> on CBS All Access.</p> </div><p></p><div class="post-pager js-listicle-pager" data-listicle-style="" data-async_load_parameters="platform=desktop&amp;display_ads=1&amp;settings=%7B%22enter_url%22%3A+false%2C+%22no_post_section%22%3A+false%2C+%22ads_breaks%22%3A+%5B3%2C+3%2C+3%5D%2C+%22prevent_last_break_repetition%22%3A+false%2C+%22use_numeration%22%3A+false%2C+%22show_columns_on_mobile%22%3A+false%2C+%22ads_order%22%3A+%5B3%5D%2C+%22turn_into_posts%22%3A+false%2C+%22list_breaks%22%3A+null%2C+%22reorder_voting%22%3A+false%2C+%22cooldown_in_seconds%22%3A+null%2C+%22pagination_order%22%3A+%5B%5D%2C+%22source%22%3A+%22post_listicle_settings%22%2C+%22next_post_url%22%3A+null%2C+%22up_down_voting%22%3A+false%2C+%22allow_url_change%22%3A+true%2C+%22numeration_sort%22%3A+-1%2C+%22allow_url_update%22%3A+true%2C+%22use_pagination%22%3A+false%2C+%22body_text_above%22%3A+false%2C+%22use_ads%22%3A+true%2C+%22items_as_posts%22%3A+false%2C+%22multiple_answers%22%3A+false%2C+%22no_redirect%22%3A+true%2C+%22is_guest_voting_allowed%22%3A+true%2C+%22layout_type%22%3A+1%2C+%22voting_extra_fields%22%3A+%7B%7D%7D"> </div>