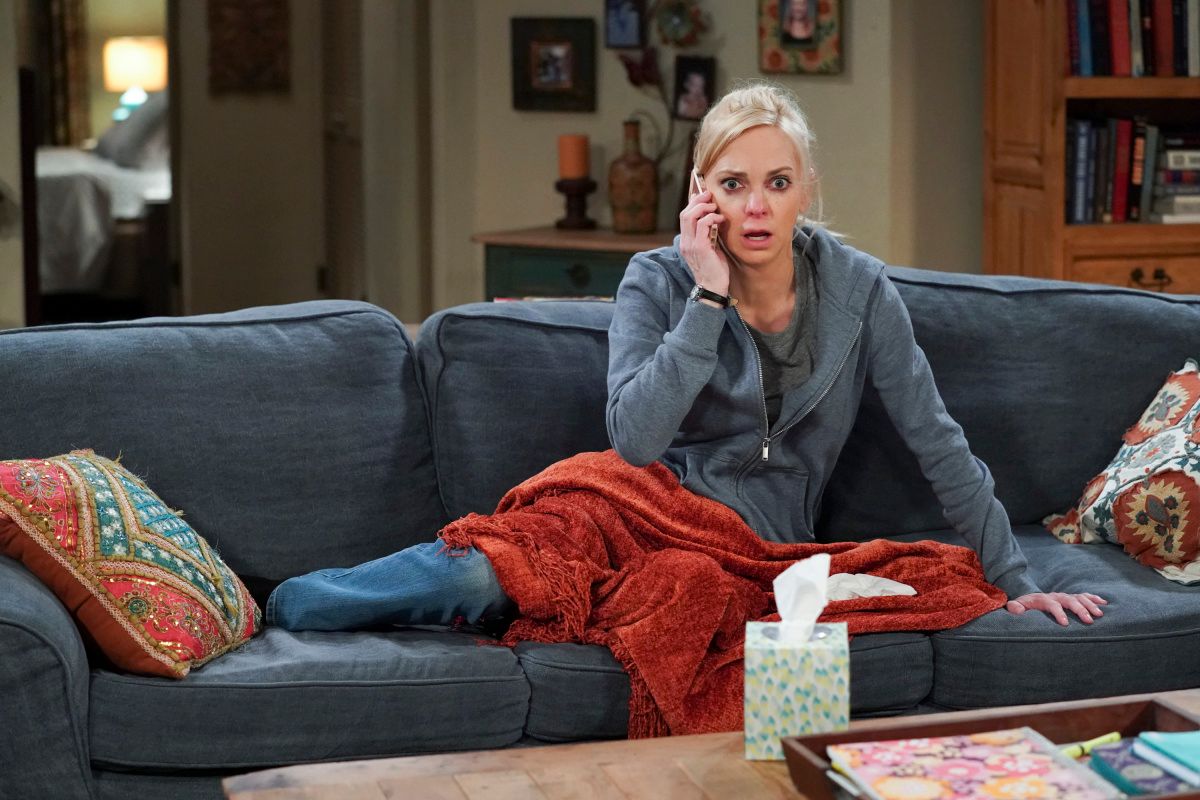 Photo Credit: Sonja Flemming/CBS.
The Mom star is living out all of our dreams in her long-running podcast, Anna Faris Is Unqualified.
From sitcoms to the big screen (three words: The House Bunny), Anna Faris is a natural at making us laugh. And on her hit podcast, Anna Faris Is Unqualified—which has garnered so much success that she published a memoir by the same name in 2017—the star of CBS' hit comedy Mom gets the juicy gossip from celebrities and gives us all the comic relief we need.
Anna Faris Is Unqualified
Faris started her podcast in late 2015 and has now amassed about 250 episodes. On the Unqualified website, the actress describes her podcast as "relationship advice from completely unqualified Hollywood types" and "a community where those of us who have no idea what we're doing can find comfort, support, and laughter." We're in!
Flipping The Script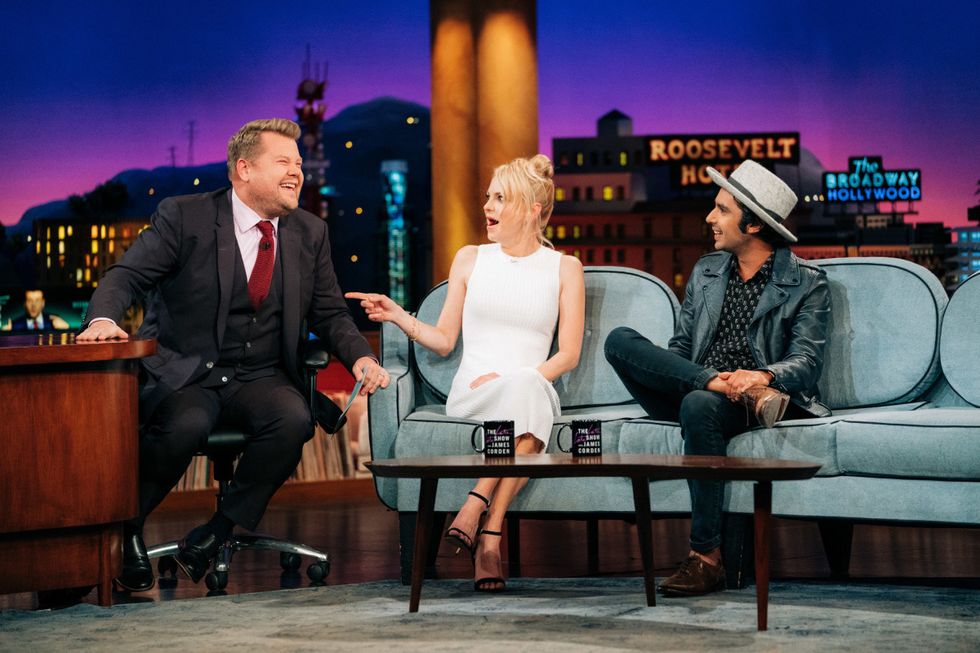 The Late Late Show host James Corden chats with Anna Faris and Kunal Nayyar.
Photo Credit: Terence Patrick/CBS.
Though Faris has become a pro at fielding questions and dropping amusing anecdotes to entertain a talk show host, in Unqualified, she gets to turn the tables and step behind the mic. In episode 152 with Jake Johnson (star of the sitcom New Girl and the animated hit Spider-Man: Into the Spiderverse), she jokes about the benefits of podcasting: "We can all have our voice…even if it's incredibly boring and obnoxious."
One For The Books
Faris has hosted countless boldface names on Unqualified. To name just a few: talk show hosts Kelly Ripa, Andy Cohen, Lilly Singh; basketball legends Kobe Bryant and Shaquille O'Neal; awesomely edgy comedians Chelsea Handler, Hannibal Buress, and Nikki Glaser; globe-trotting chefs Padma Lakshmi and Samin Nosrat; actors Mayim Bialik, Dax Shepard, Tiffany Haddish, Zach Braff, and Regina King. "When I first started this podcast I didn't think that many people would be interested," Faris said, "but it turns out they are!"
Platform For Comedy
It's true Faris delivers comedic gold every week on Mom, but her chatter on Unqualified allows her sense of humor to truly shine: "I never watched Lost; I only watched Scary Movies one, two, three, and four over and over again." For the uninitiated, Faris starred as high school student–turned–college coed–turned–news reporter–turned–haunted house caretaker Cindy in the slasher-film parody series.
Here For The Throwbacks
If you're a fan of Faris' repertoire (and who isn't?), Unqualified has all your favorite reunions, including Kat Dennings, who co-starred with Faris in the 2008 rom-com The House Bunny. In episode 137, Dennings and Faris exchange dating anecdotes and reminisce about their time together on set. "I felt like a camp counselor and I loved it," said Faris of her young female co-stars, who also included Rumer Willis, Katherine McPhee, and future Oscar winner Emma Stone. "'Come on my little chickies!'"
Made For The Times
In a simpler time, Faris and her guests—like Josh Gad (star of Broadway's The Book of Mormon and the voice of Olaf in the Frozen films)—would share a couch as they chatted. Now, thanks to technology, Faris has found a way to make Unqualified quarantine-friendly. She makes good use of video calls to connect with celebs such as Alexandra Daddario (Baywatch, San Andreas) and fellow podcasters Linda Phan and Drew "Property Brother" Scott (At Home With Drew and Linda).
Costar Mania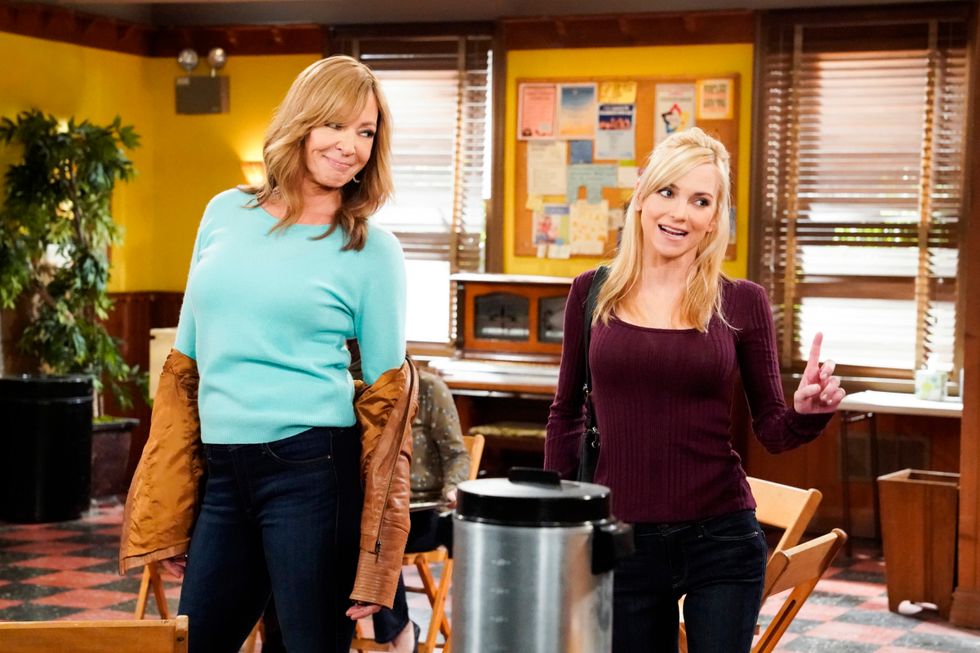 Bonnie and Christy in Mom.
Photo Credit: Robert Voets/Warner Bros. Entertainment Inc.
Faris' very first podcast guest was her prime-time partner-in-crime, her multi-Emmy-winning Mom costar Allison Janney. Janney returned to Unqualified in episodes 47 and episode 111 where she discussed starring on Broadway in a revival of John Guare's Six Degrees of Separation, blushed over her star on the Hollywood walk of fame, and served up her best break-up advice: If your partner doesn't understand career prioritization, it's a much bigger issue and you'll find someone who loves you enough to respect that. "You can appreciate what you have or had with someone," said Janney, "but don't put too much pressure on yourself."
Two Worlds Collide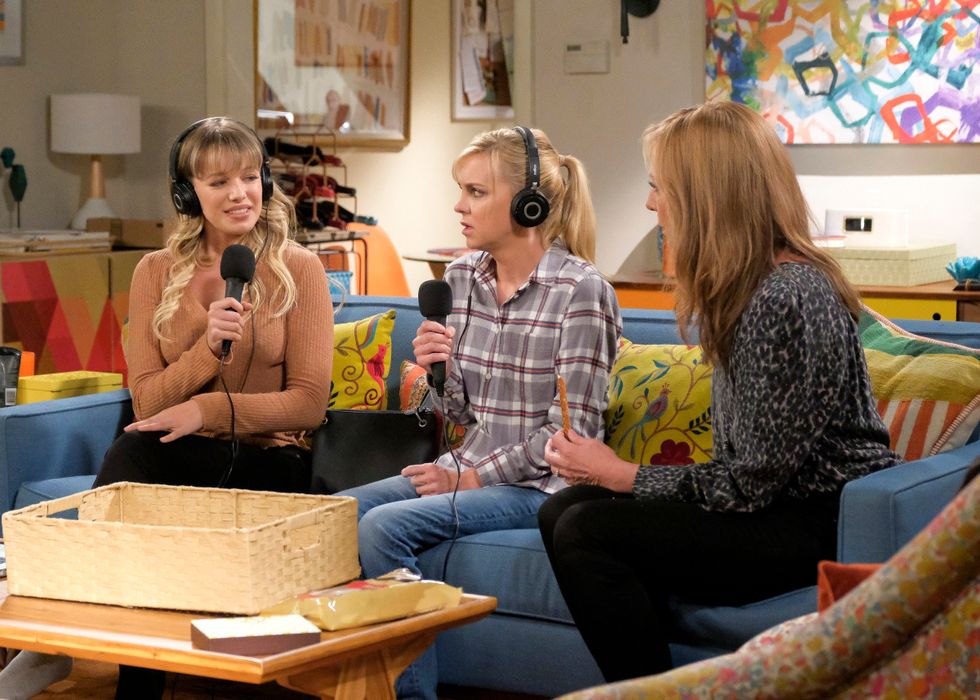 Christy talks on a podcast on Mom.
Photo Credit: Darren Michaels/Warner Bros. Entertainment Inc.
In a case of art imitating life, Mom tackles podcasts in the Season 6 episode "Jell-O Shots and the Truth About Santa." Here, Christy (Anna Faris) joins her daughter, Violet (played by Sadie Calvano), on The Mother of All Problems, Violet's podcast about the horror stories of growing up with Christy—or, as Violet calls her, the "drunken stripper who I unfortunately had to call Mommy."
SUBSCRIBE NOW: Enjoy 4 Digital Plus 2 Print/Digital Issues Of Watch Per Year — For Free!