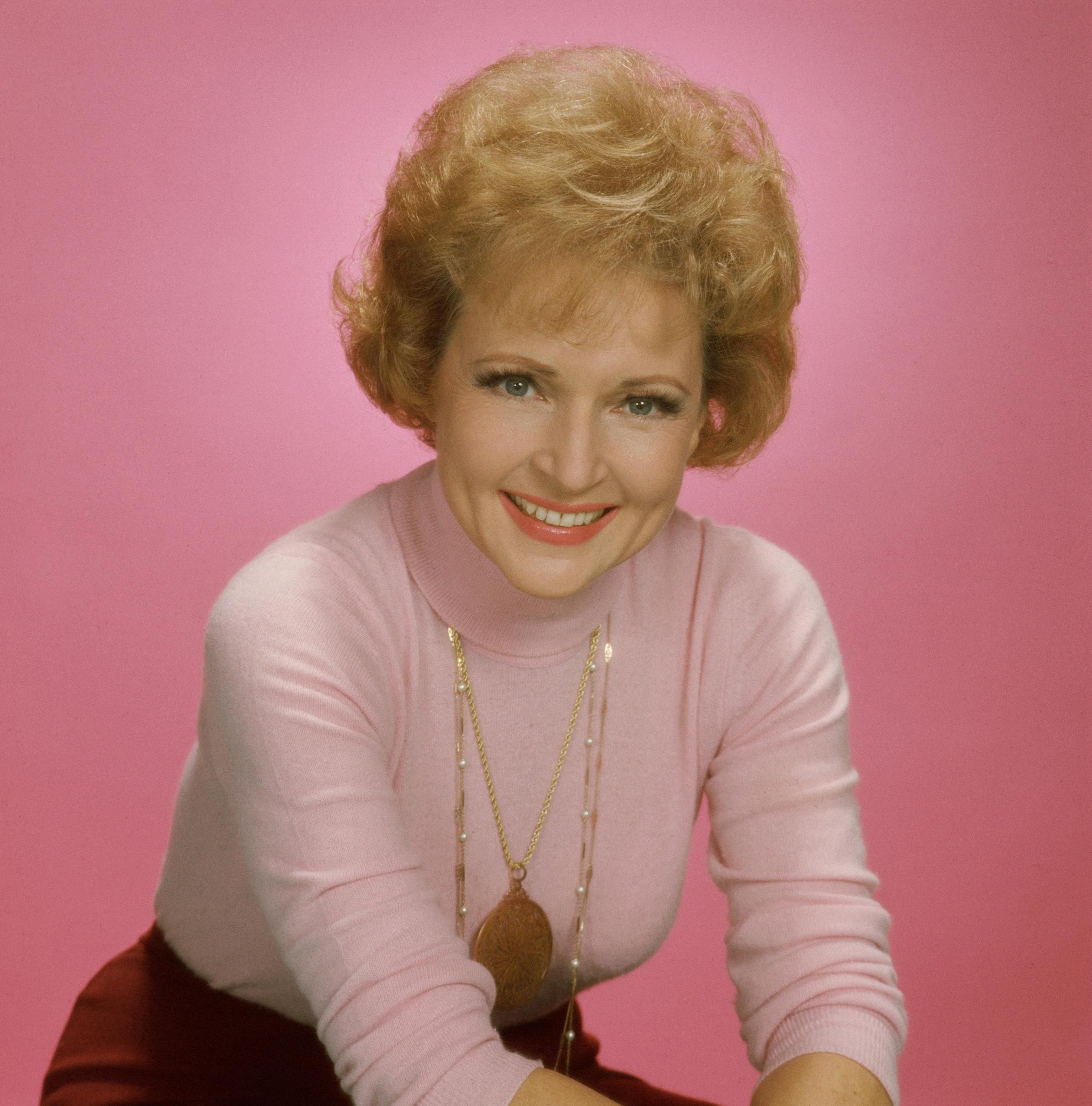 Photo by CBS Photo Archive/Getty Images
Despite all of the turmoil going on in the world, there's one thing we can all agree on: Betty White was simply the best.
By Jim Colucci
New Year's Eve always marks a shift in time, often bittersweet. But for the television industry in particular, this past December 31 marked the end of an era, with the passing of one of the medium's pioneers and longest-working stars, Betty White.

White's fans around the world took to social media, not just to mourn, but to revel in the actress's incredible 80-year career that lasted right up until her death, 17 days short of her 100th birthday. "The world looks different now," Ryan Reynolds, White's co-star in the 2009 film The Proposal, tweeted upon hearing the news. "She managed to grow very old and somehow, not old enough."
Despite the icon's advancing age, no one could ever envision a world without her—because actually almost no one alive can remember a time before Betty White. She was perhaps America's most famous senior citizen, but ironically she predated the Social Security program by more than 13 years. And for the TV industry, White was there from the beginning, present and in focus when
they turned on the first, experimental TV cameras in Los Angeles in 1939.
SUBSCRIBE NOW: Enjoy 4 Digital Plus 2 Print/Digital Issues Of Watch Per Year — For Free!
A Teenage Debut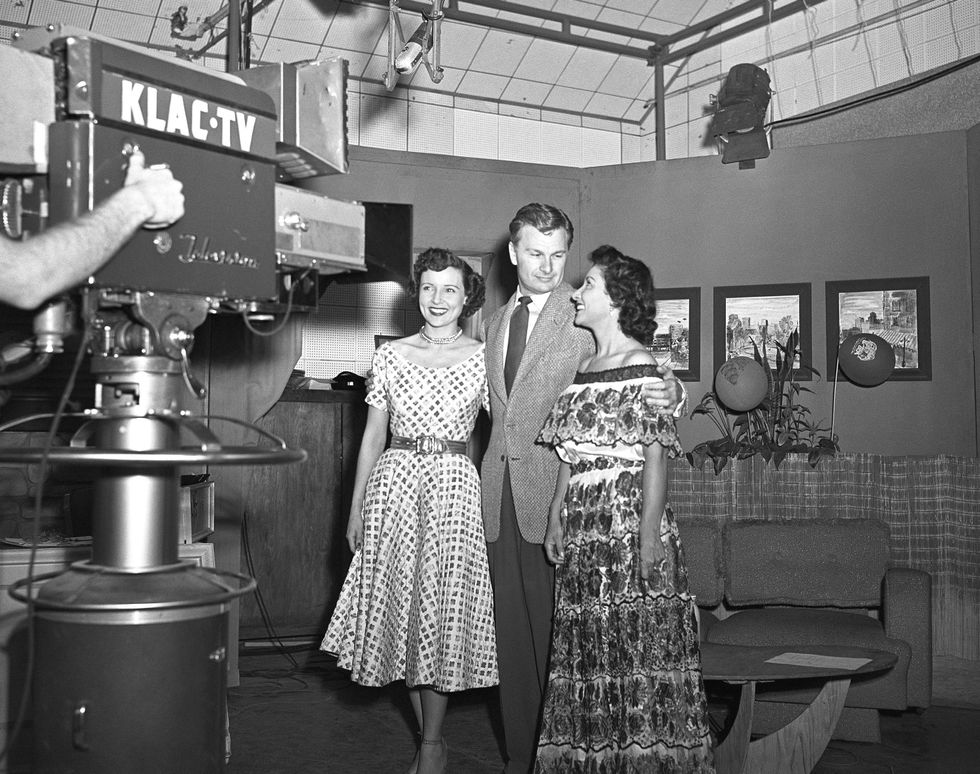 Betty White (left), actor Eddie Albert (1906–2005), and an unidentified woman pose in front of the KLAC-TV camera during a broadcast of the talk show Hollywood on Television in 1952.
Photo by Nigel Dobinson/Getty Images
At just 17 years old, White got her first showbiz break in the burgeoning medium, wearing the dress from her recent high school graduation in a performance of the musical The Merry Widow. World War II intervened, during which the future star drove a supply truck to armed garrisons hidden in the Hollywood Hills.
But when TV started up again in earnest in the late '40s, the then 20-something was once again in front of the cameras. This time, White filmed 5½ hours a day, six days a week, on the unscripted local L.A. show Hollywood on Television, ad-libbing, singing, and doing improv comedy; if they asked her to juggle, she said yes and then learned how, showing early fake-it-till-you-make-it spunk.
Emmy-Winning Game Show Host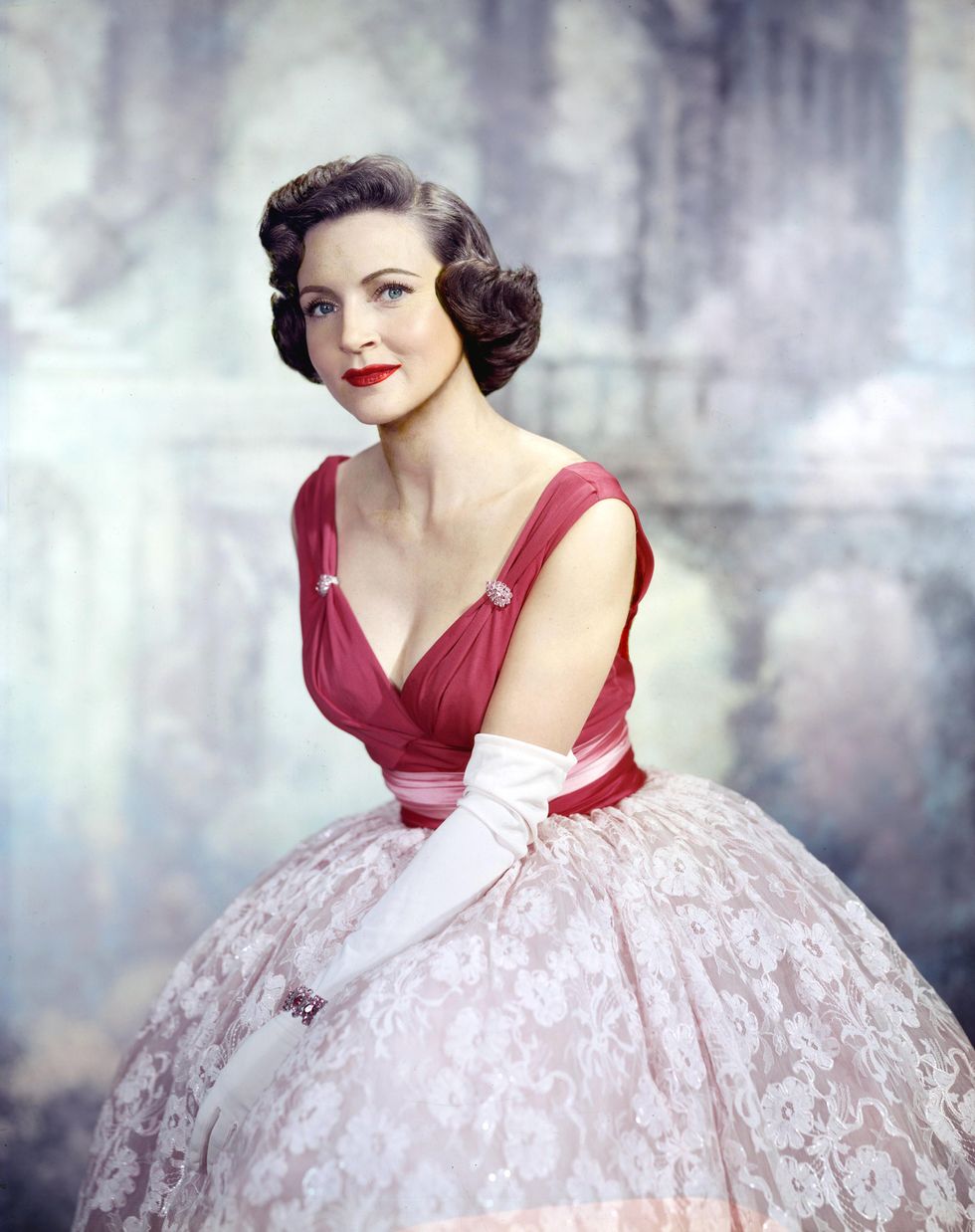 White on the set of the comedy series Date with the Angels in 1957
Phot Credit: ABC Photo Archives/Disney General Entertainment Content via Getty Images
The 1950s brought the dawn of now-classic game shows, and for season after season the quick-witted and wickedly funny White proved to be an asset to them all, from What's My Line, Match Game, and Password—where she would meet the love of her life in that show's host, Allen Ludden—ultimately to a show of her own. That 1983 NBC dating show, Just Men!, lasted just one season but brought White a Daytime Emmy as Outstanding Game Show Host, making her the first and, to date, only woman to win the award.
On Paar and Onward To Pets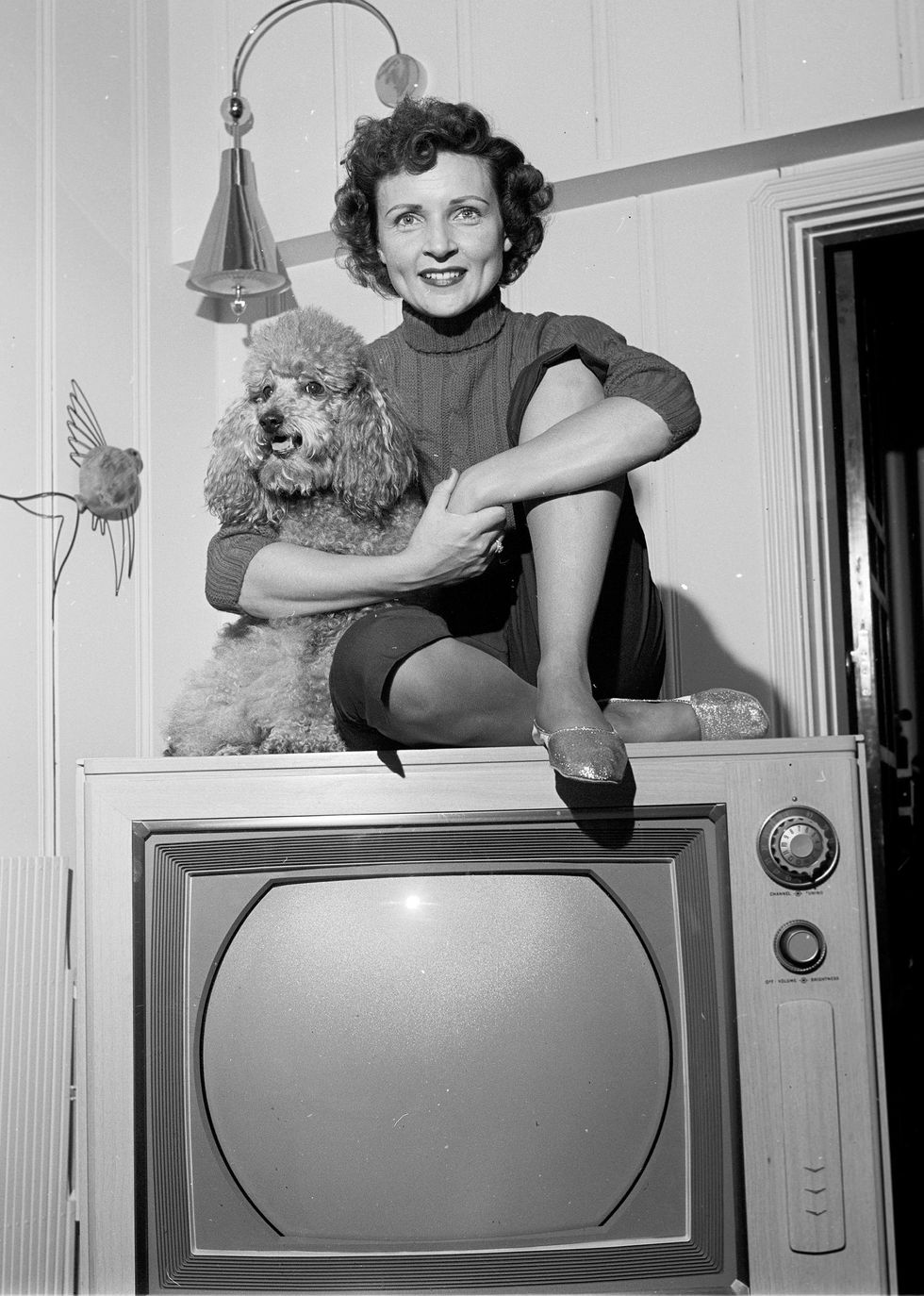 White on the set of Date with the Angels in 1957
Photo by ABC Photo Archives/Disney General Entertainment Content via Getty Images
As she found reasons to spend more time on the East Coast with Ludden, whom she married in 1963, White became a frequent guest on Jack Paar's Tonight Show in New York, and later combined her acquired expertise in the talk format with her lifelong passion for animals into the 1971–1972 series The Pet Set. Over 39 episodes, White welcomed her famous friends, their pets, and other more exotic animals, scrupulously researching each creature and educating the world about its preservation, an experience she described as her happiest on TV to date.
Performer and Producer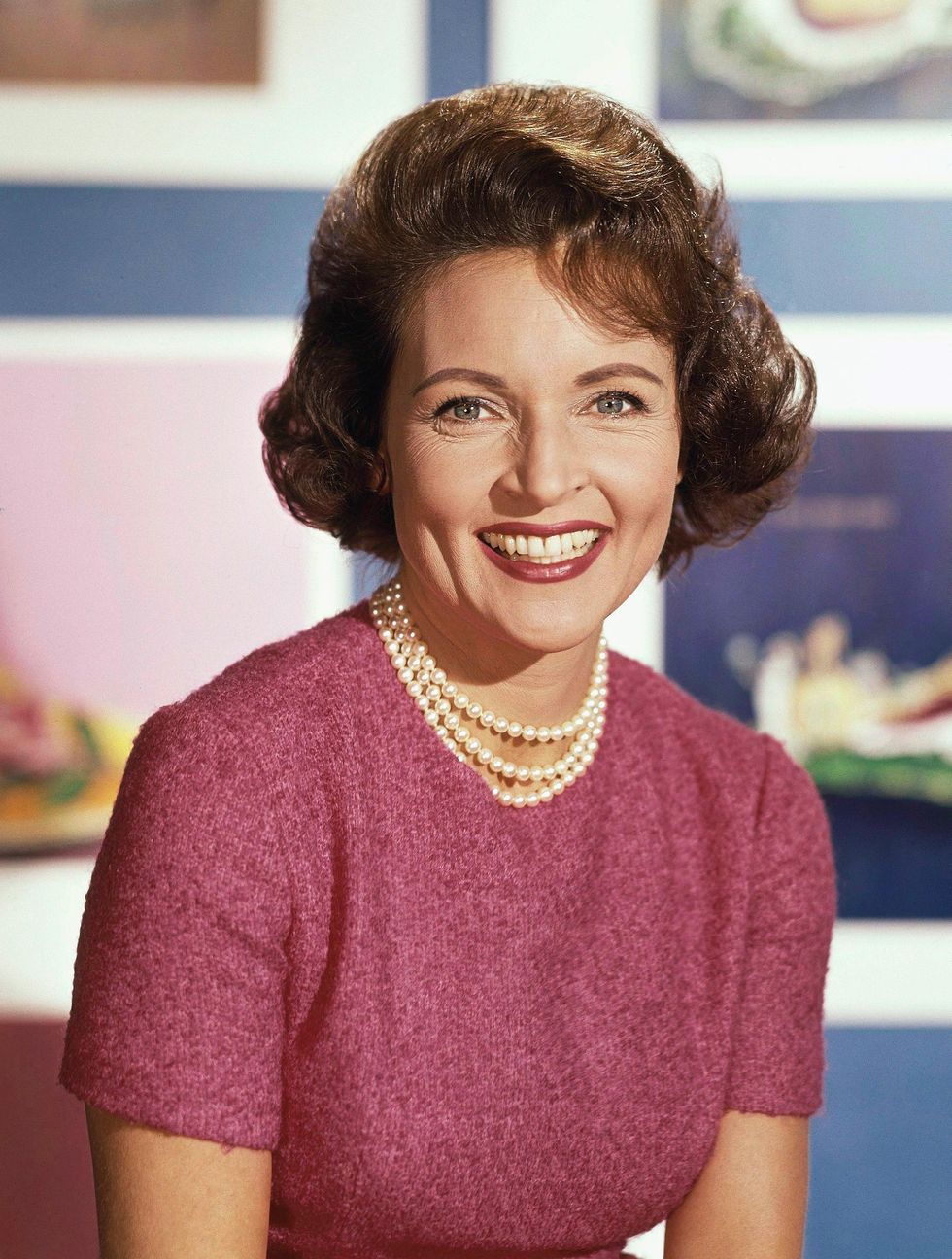 Sitting pretty in pink in 1965
Photo by Anonymous/AP/Shutterstock
White became a fixture through every decade of television, popping up on The Carol Burnett Show or aboard The Love Boat. She headlined talk shows and sitcoms—four of which were titled simply The Betty White Show because from the start we couldn't get enough of her—and often broke new ground.
In an era when other small-screen leading ladies were limited to wearing pearls to vacuum their sitcom living rooms, White was not just a performer, but also a producer of her early comedies Life with Elizabeth (1952–1955) and Date with the Angels (1957–1958).
Sue Ann Nivens: Happy Homemaker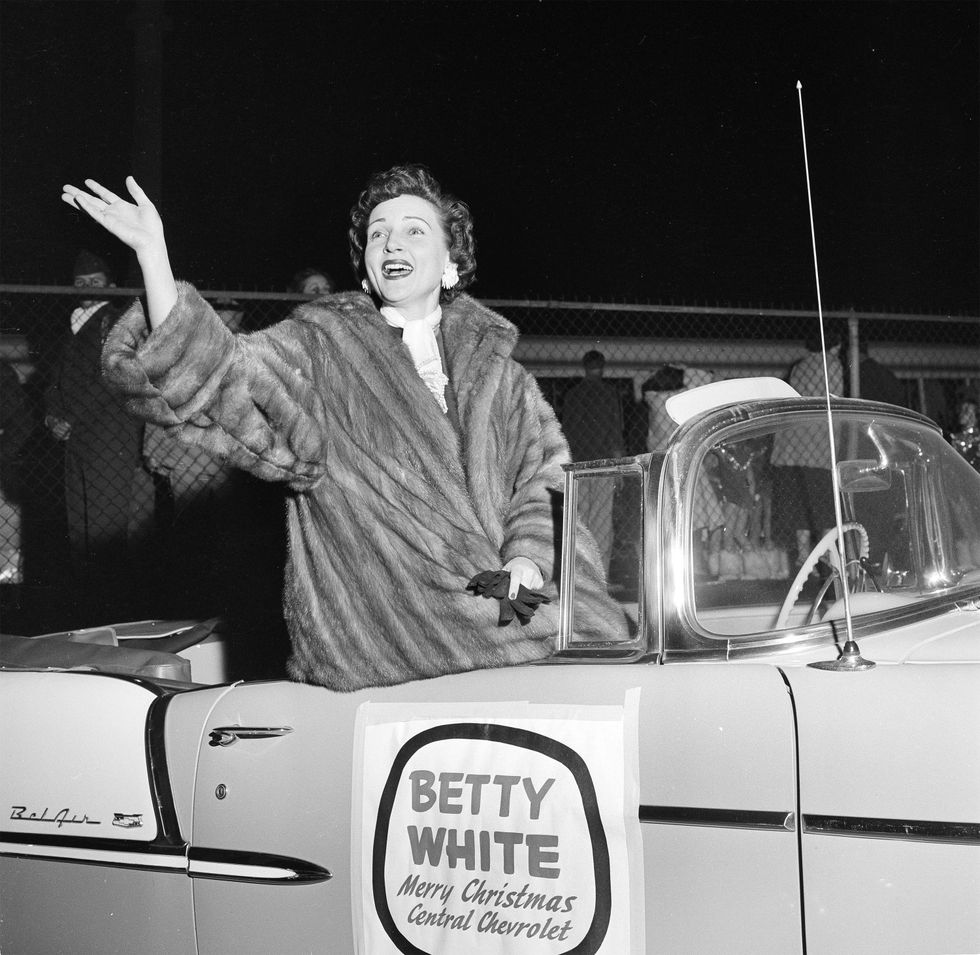 Betty White riding in style in a Chevrolet during the 1955 Christmas parade in L.A.
Photo by Earl Leaf/Michael Ochs Archives/Getty Images
White already had many high-profile credits on her résumé, yet it was more than 20 years into her busy career before she landed the first of two roles on comedy megahits that would forever etch her into TV history. In 1973, when CBS's The Mary Tyler Moore Show was looking for a "sickening, icky Betty White type" to play a guest role in the sitcom's Season 4 premiere, its producers were reticent to approach the actual Betty White for fear of impinging on her real-life friendship with the show's star.
But after auditioning a dozen or so candidates, they realized they needed the real deal. So White, now in her early 50s, began playing the most sexually charged character of her career in Sue Ann Nivens, WJM-TV's on-air "happy homemaker" with an off-air nymphomaniac streak.
More Emmys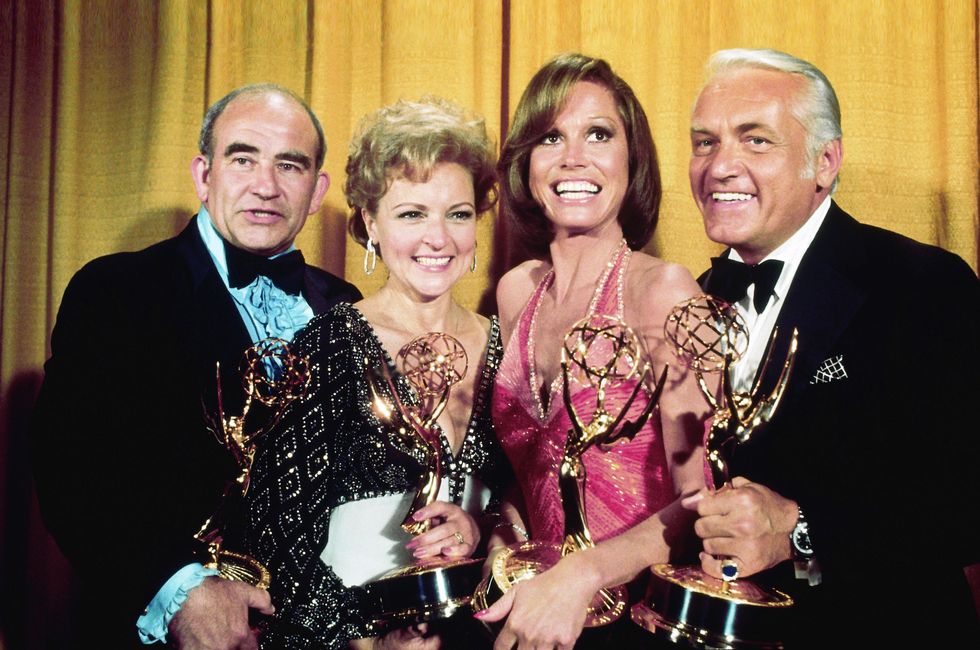 Betty White celebrating her second Primetime Emmy win with her co-stars from The Mary Tyler Moore Show in 1976
Photo by Tva/Picturegroup/Invision/AP/Shutterstock
Sue Ann became a recurring, integral member of what is now recognized as TV's first powerhouse sitcom ensemble, and White scored Emmys in 1975 and 1976, which she found particularly gratifying. "I started out as an actress in the business, but then I did game shows and talk shows, and I became a 'television personality,' and there's a big difference," White said. "
They don't think of you as an actress. So everybody was so surprised—why, Betty could act! And it really did turn my career completely around."
Golden Girls Glory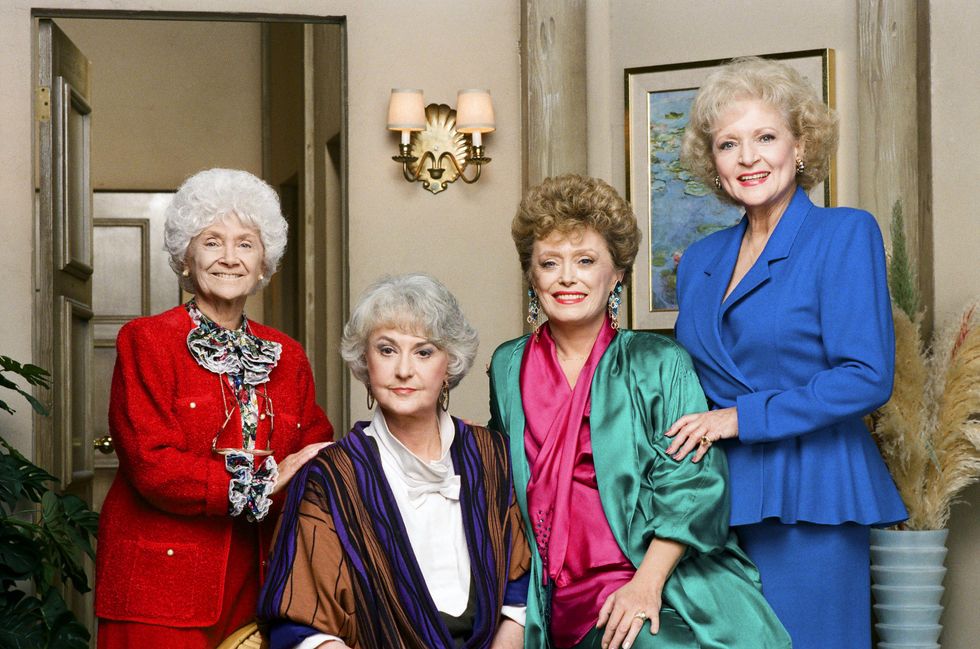 White is all smiles with her golden co-stars
Photo by: Paul Drinkwater/NBCU Photo Bank
White got another high-profile chance to display those acting chops when she landed the role of Rose Nylund on the 1985 NBC sitcom The Golden Girls, co-starring Bea Arthur, Rue McClanahan, and Estelle Getty. The show was an instant, international smash, spending six of its seven seasons on the Nielsen ratings Top 10 list, and winning White yet another Emmy trophy in 1986. When Bea Arthur left the show in 1992, America wasn't ready to say goodbye to White and company and their inimitable comic timing; so the three remaining Girls bought an Art Deco Miami Beach hotel and checked into CBS's 1992 sequel sitcom, The Golden Palace, which began streaming in January as a Betty White tribute.
Rose Nylund once philosophized that "the older you get, the better you get—unless you're a banana." White continued to prove Rose right. She spent the '90s landing laughs on such CBS sitcoms as Bob, opposite Bob Newhart, and as the mother of Alfred Molina on Ladies' Man. On the big screen, she cornered the market on hilariously foul-mouthed old ladies in such films as Lake Placid (1999) and Bringing Down the House (2003).
Another Emmy, But Who's Counting?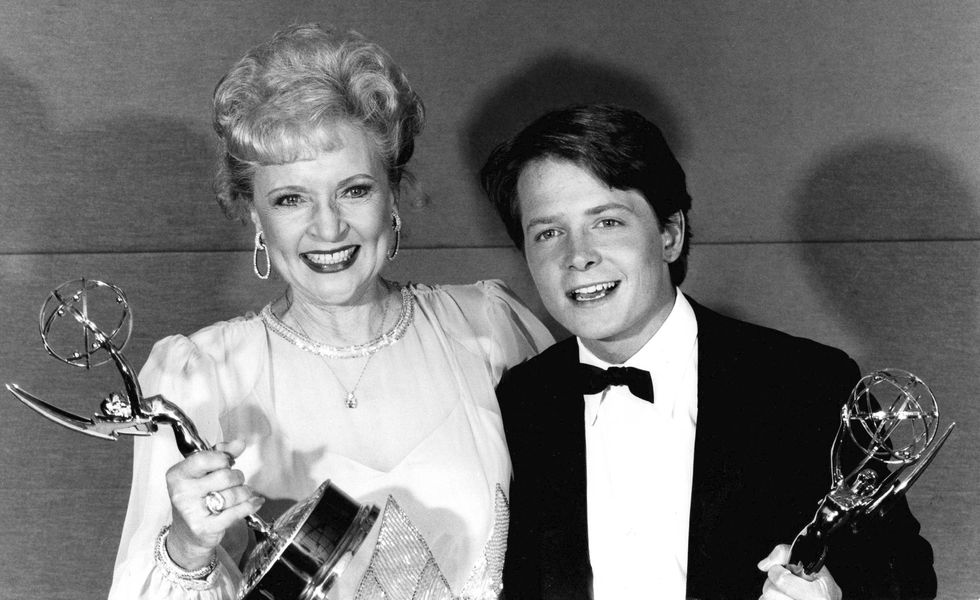 White, pictured with actor Michael J. Fox, backstage after her Emmy win for lead actress in The Golden Girls
Photo by Getty Images/Bob Riha, Jr.
In 2010, at 88, an age when most performers have long since slowed down, White was gearing up for a long and fruitful final act. She captivated a new generation with her scene-stealing turn in The Proposal (2009) and a Super Bowl ad for Snickers; in turn those social media–savvy fans successfully lobbied for her to appear on Saturday Night Live, a gig that made her both the oldest host in the show's history and subsequently the oldest person at that time to win a Primetime Emmy, her fifth.
Hot in Cleveland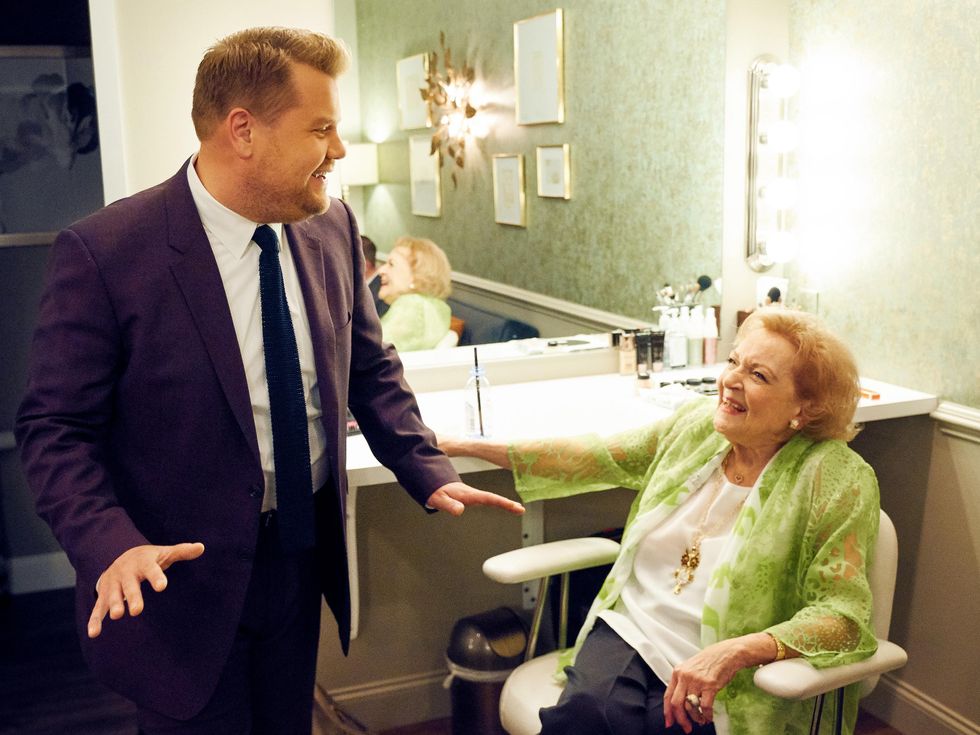 White chats with James Corden in the green room during a 2017 appearance on The Late Late Show.
Photo by Terence Patrick/CBS via Getty Images
That same spring, White began a six-season run as sardonic senior Elka Ostrovsky on the TV Land network's original sitcom Hot in Cleveland alongside fellow sitcom veterans Wendie Malick, Jane Leeves, and Valerie Bertinelli. Hot in Cleveland yielded yet another success for the near-nonagenarian, prompting her to remark modestly to the press, "How lucky can one old broad get?"

It was only in recent years, as PBS prepared its 2018 docu-special Betty White: First Lady of Television, that the story came to light about how White once refused to cave to pressure from southern TV affiliates to fire African American tap dancer Arthur Duncan from her 1950s iteration of The Betty White Show. "I'm sorry, but he stays," White responded, defiantly vowing to showcase her friend.
Awards and Offers Until the End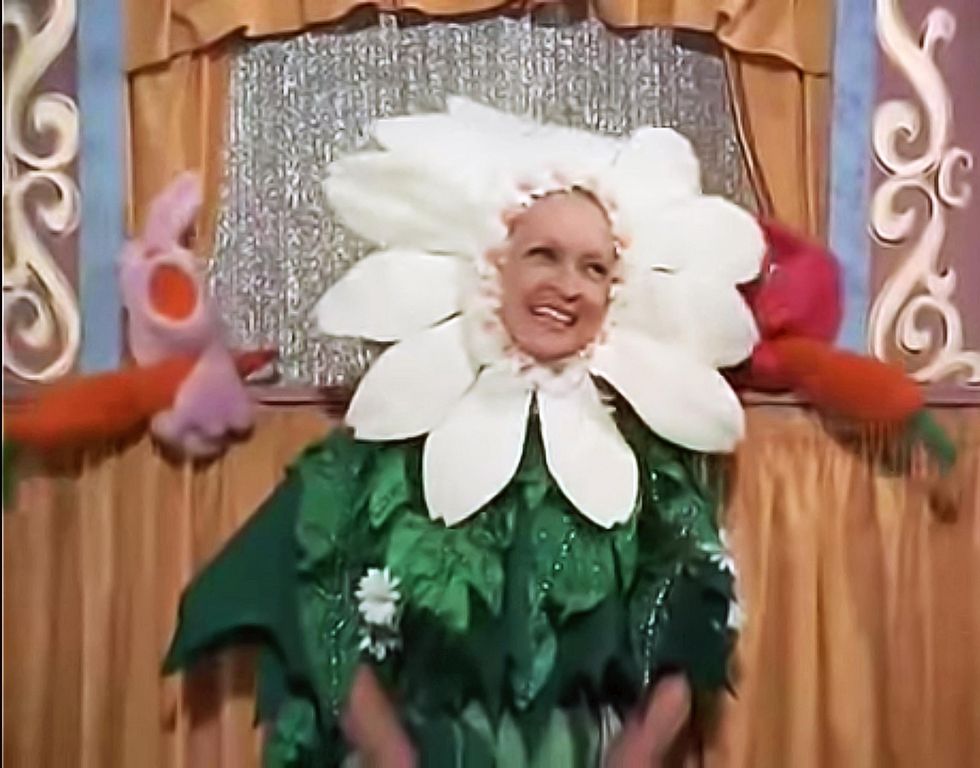 White (as Sue Ann Nivens) in a scene from The Mary Tyler Moore Show in 1977
Photo Credit: YouTube
White's marriage to Ludden, which lasted just short of 18 years until his death in 1981, made her the stepmother to his three children; but the career-focused actress had consciously opted not to have children of her own, making her yet another kind of role model for similarly minded women.

White earned dozens of major nominations and awards—including a spoken-word Grammy won at age 90. And she continued to receive volumes of fan mail and job offers, as her agent, Jeff Witjas, informed her, up until her last days, to remind her how much she was loved as America's de facto grandmother.
A Good Friend Forever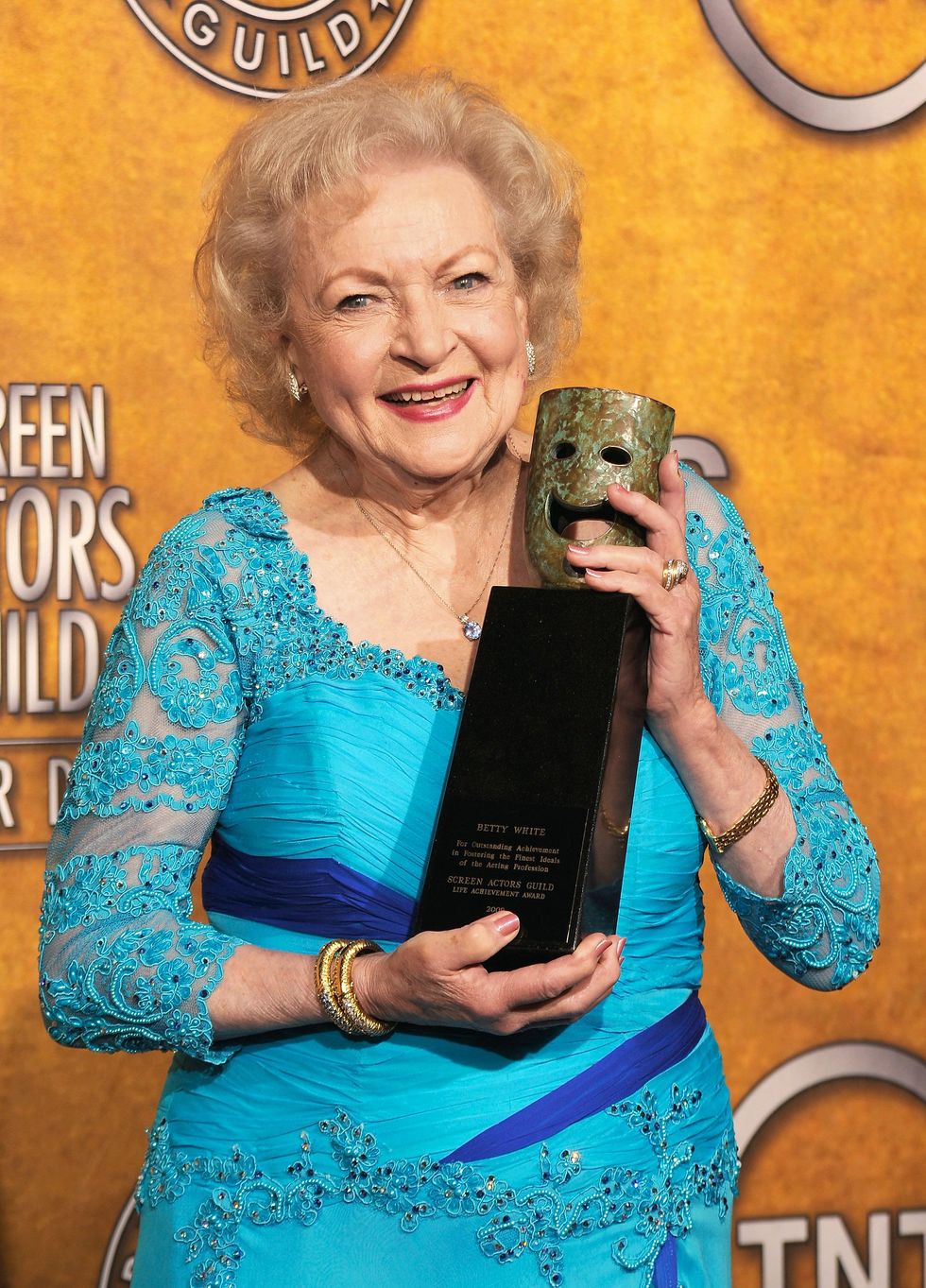 White poses in the press room at the 16th annual Screen Actors Guild Awards in 2010.
Photo credit: WireImage
But it was White herself who defined the legacy she was most proud to leave: her work for such conservation causes as Actors and Others for Animals, Morris Animal Foundation, and the Los Angeles Zoo, where she served as a trustee for nearly 40 years. "The two parts of my life—the animal part and the television part—I work them together as much as I can," she said in a 1997 TV Academy interview. "I just would like to know that I made people laugh, and I made people think a little bit. And I'd like to be remembered as Betty, their good friend that they invited into their home."
Jim Colucci is the author of the New York Times bestselling book Golden Girls Forever: An Unauthorized Look Behind the Lanai.
Watch Hot in Cleveland on Paramount+.
SUBSCRIBE NOW: Enjoy 4 Digital Plus 2 Print/Digital Issues Of Watch Per Year — For Free!