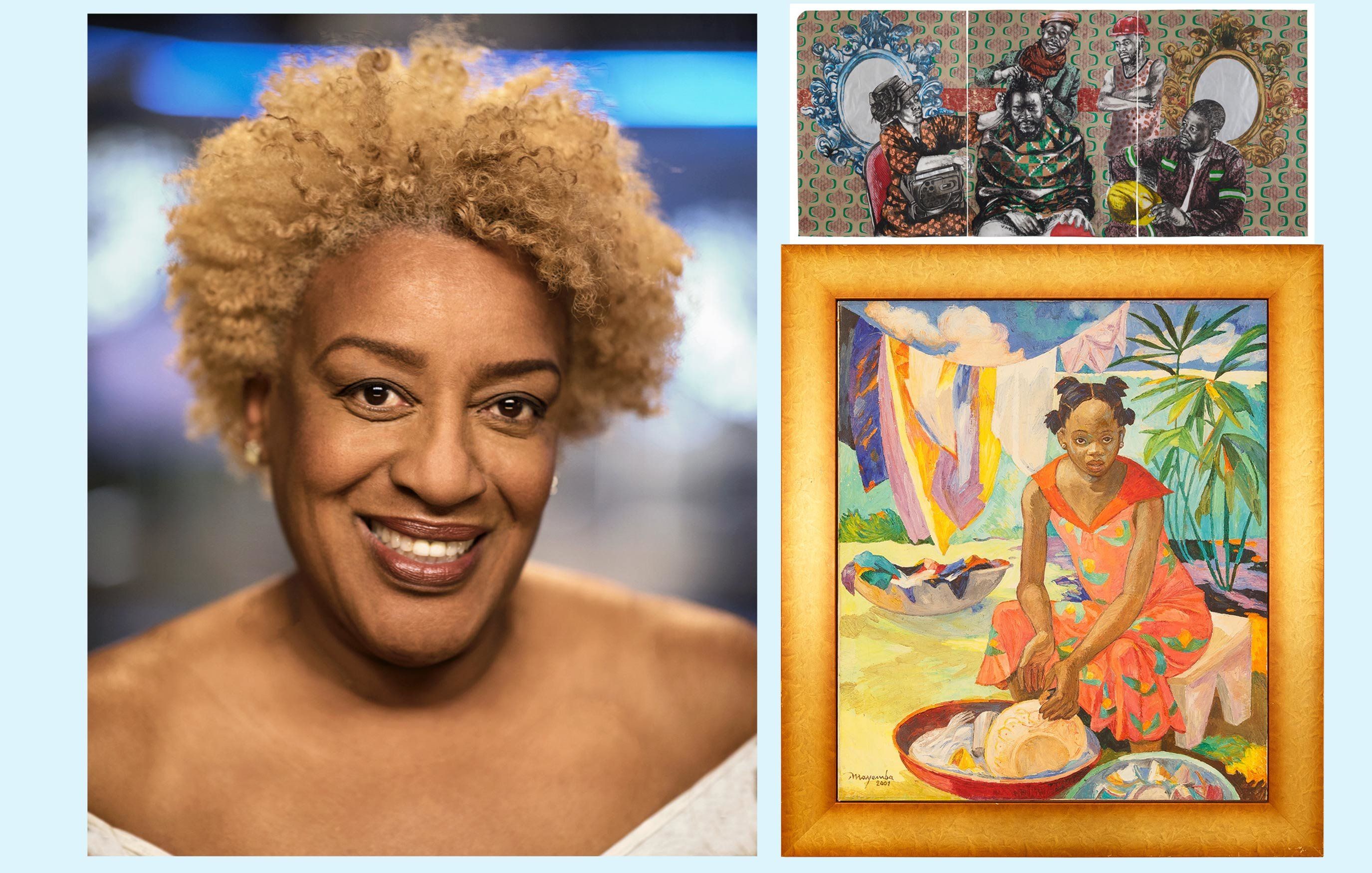 NCIS: New Orleans star and art collector CCH Pounder takes us inside her captivating, colorful world.
By John Griffiths
Sometimes life just is art. Especially if you're estimable actress CCH Pounder, who—after notching a day of playing coroner Dr. Loretta Wade on NCIS: New Orleans—comes home to a vast array of paintings, sculptures, and tapestries that adorn her walls, floors, tables, cabinets, counters, and chairs. Some of her chairs are art pieces and presented as such, mounted in all their ornate, colorful glory alongside framed sketches in the star's two-story Big Easy abode.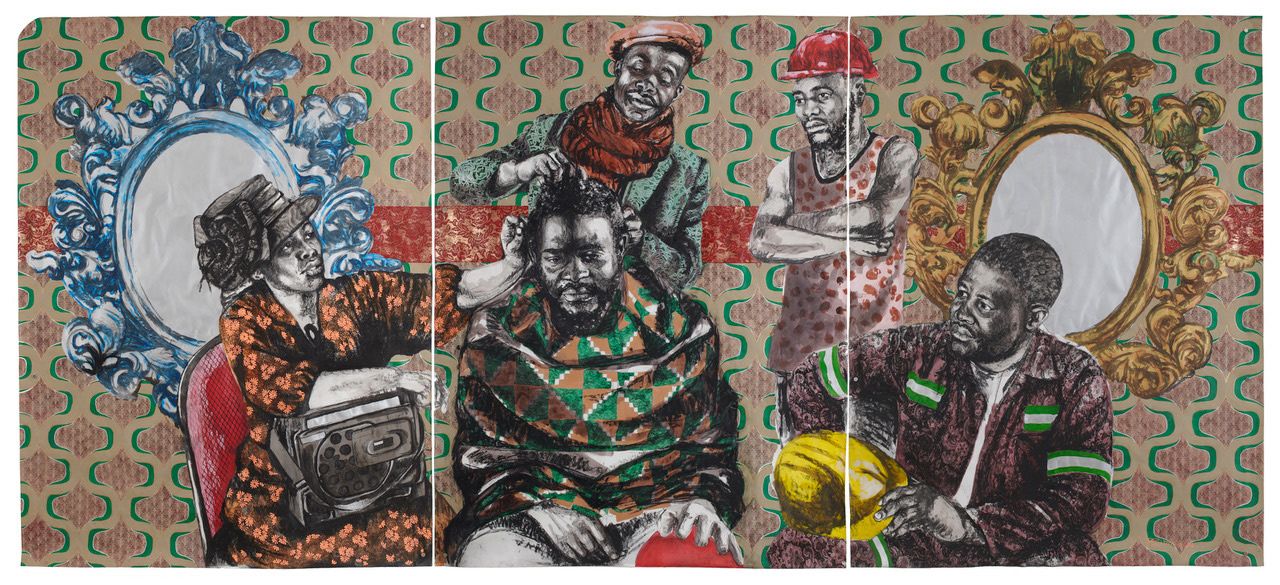 Street Barbershop (triptych), 2018 by artist Bambo Sibiya. Acrylic and charcoal on paper.
Photo Credit: Ashley Lorraine Photography.
In her living room can be found two giant wooden statues of Anubis, the jackal-headed Egyptian god who cares for the dead. "I'm really lucky to have high ceilings," a laughing Pounder says of the place she's inhabited since 2017. Back at her former home in L.A., those mega-statues "used to scrape at the top."
Meanwhile her kitchen, she doesn't mind saying, is "jammed" with fantastical Ardmore ceramics—vases, urns, and teapots festooned with tiny tigers and elephants handmade by South African artists. Her overall art collection of more than 500 pieces takes up half her first floor "and three storage rooms outside, too!"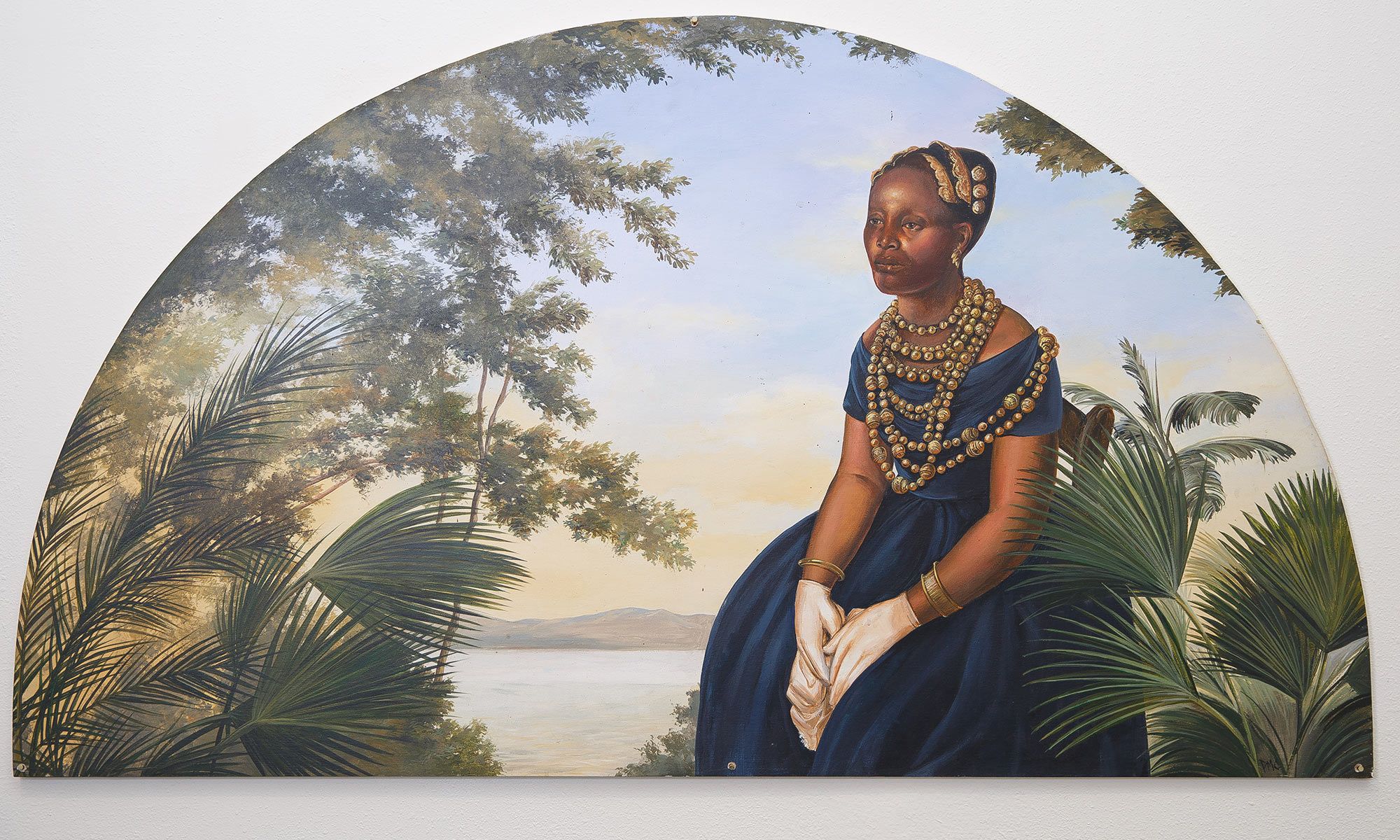 Free Woman Of Color by American artist Pamela Mower-Conner.
Photo Credit: Ashley Lorraine Photography.
"CC," as she likes to be called, says her favorite type of art is the kind that "tells a story." So her collection is rife with portraitures, many of them of females. "At one point my husband [fellow art-lover Boubacar Koné, who passed away in 2016] said, 'I've only got one wife, but I'm looking at all of these women here—what's going on?!'"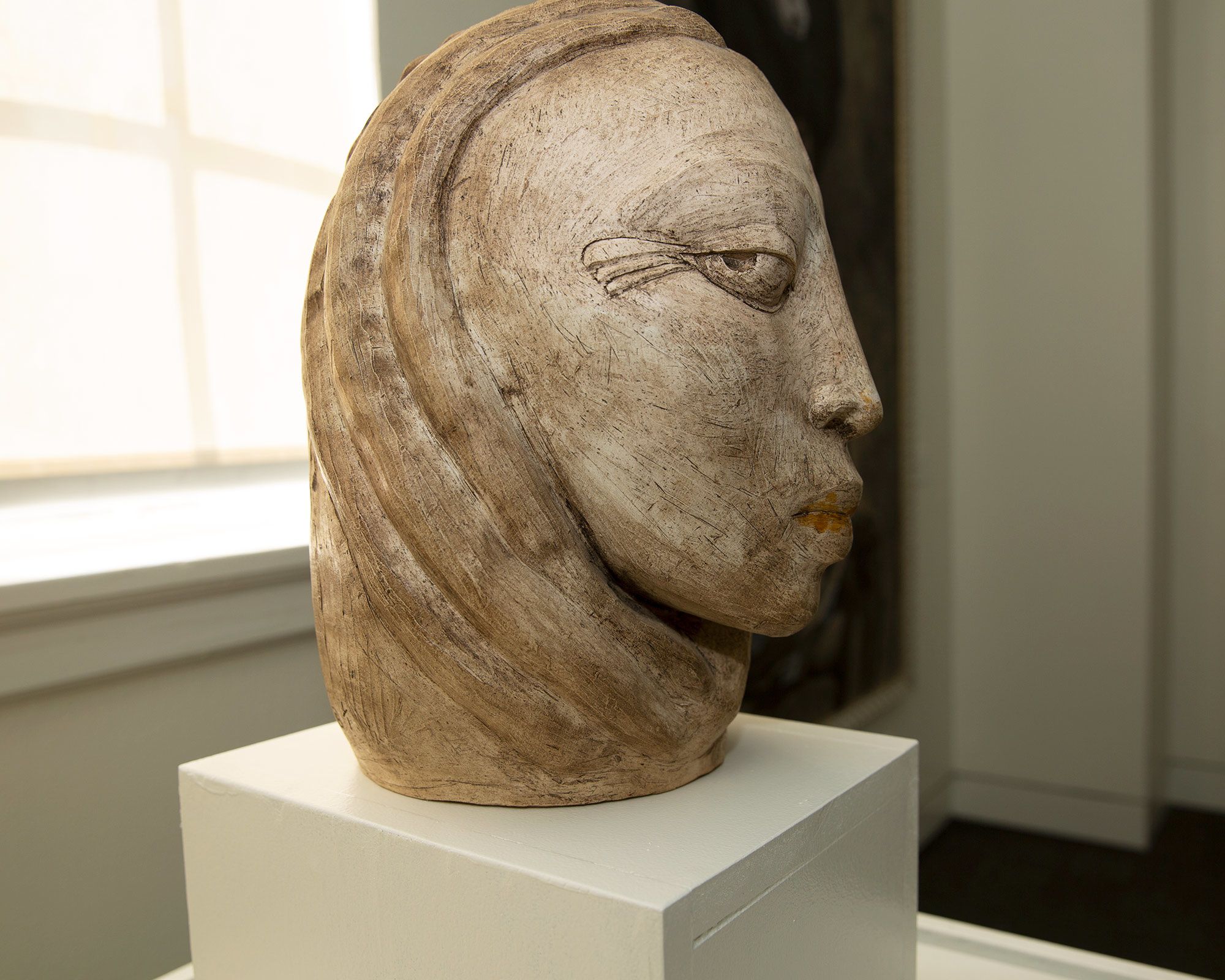 First Wife by late Jamaican artist Gene Pearson.
Photo Credit: Ashley Lorraine Photography.
One of her prized pieces, a striking stone bust by the late Jamaican artist Gene Pearson, is titled First Wife. "Her look, at least to me, is very powerful," says Pounder. Outside a bedroom, say hello to a large, heart-shaped quasi-mask showing a woman in serene slumber. "She says, 'This is a place to sleep in,'" Pounder quips of the piece by Haiti's François Cauvin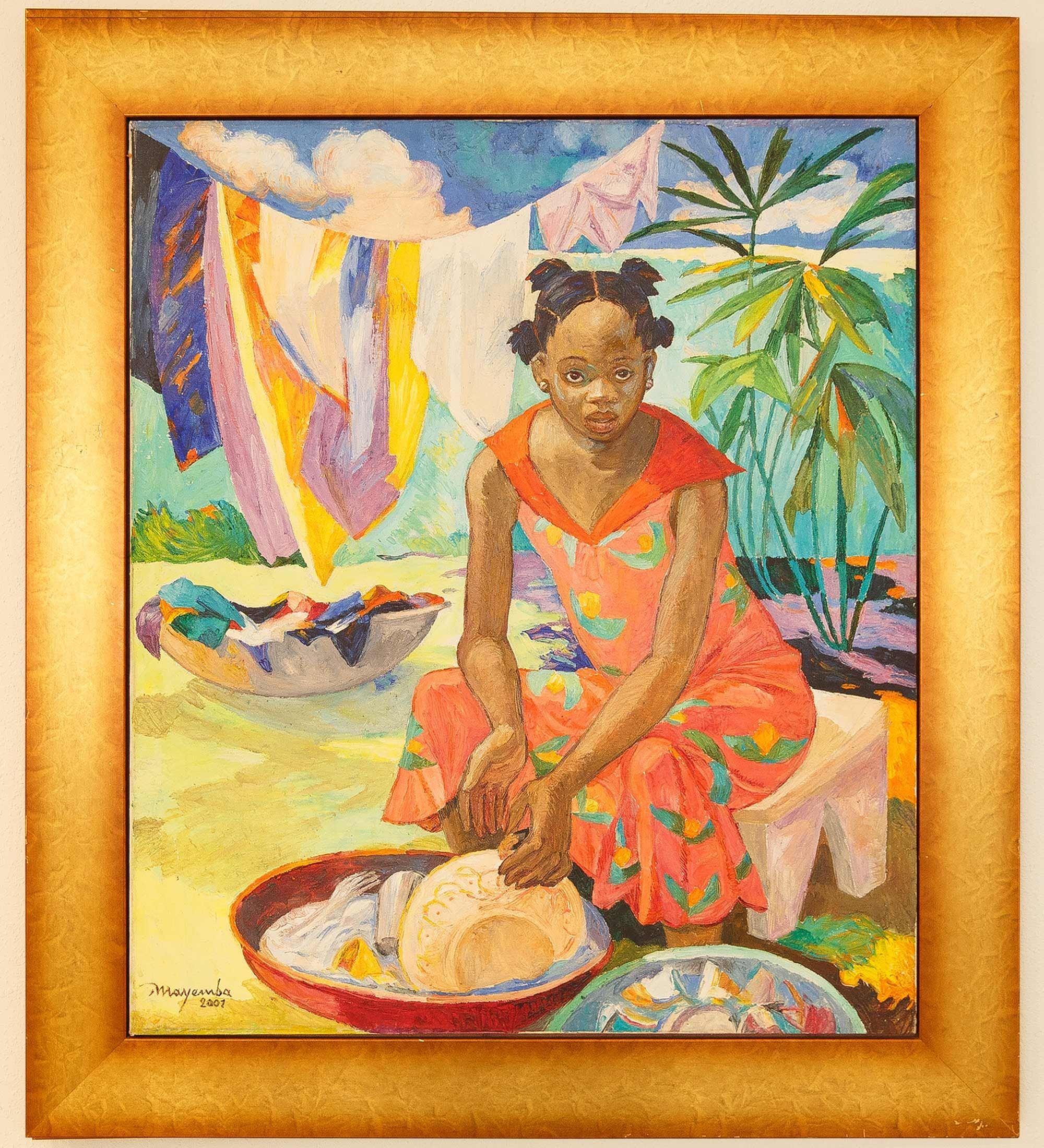 The Laundress by Congolese artist Mayemba.
Photo Credit: Ashley Lorraine Photography.
She's placed Congolese artist Mayemba's The Laundress, a vibrant painting of a young woman mysteriously distracted from her bin of soaking clothes, right beneath a portrait of fearless abolitionist Harriet Tubman. "I recently discovered that [Tubman] became a laundress herself," says a still-surprised Pounder. "After all the running and magnificent kind of cowboying she did, her life settled into a rather quiet—well, I'm assuming quiet—life."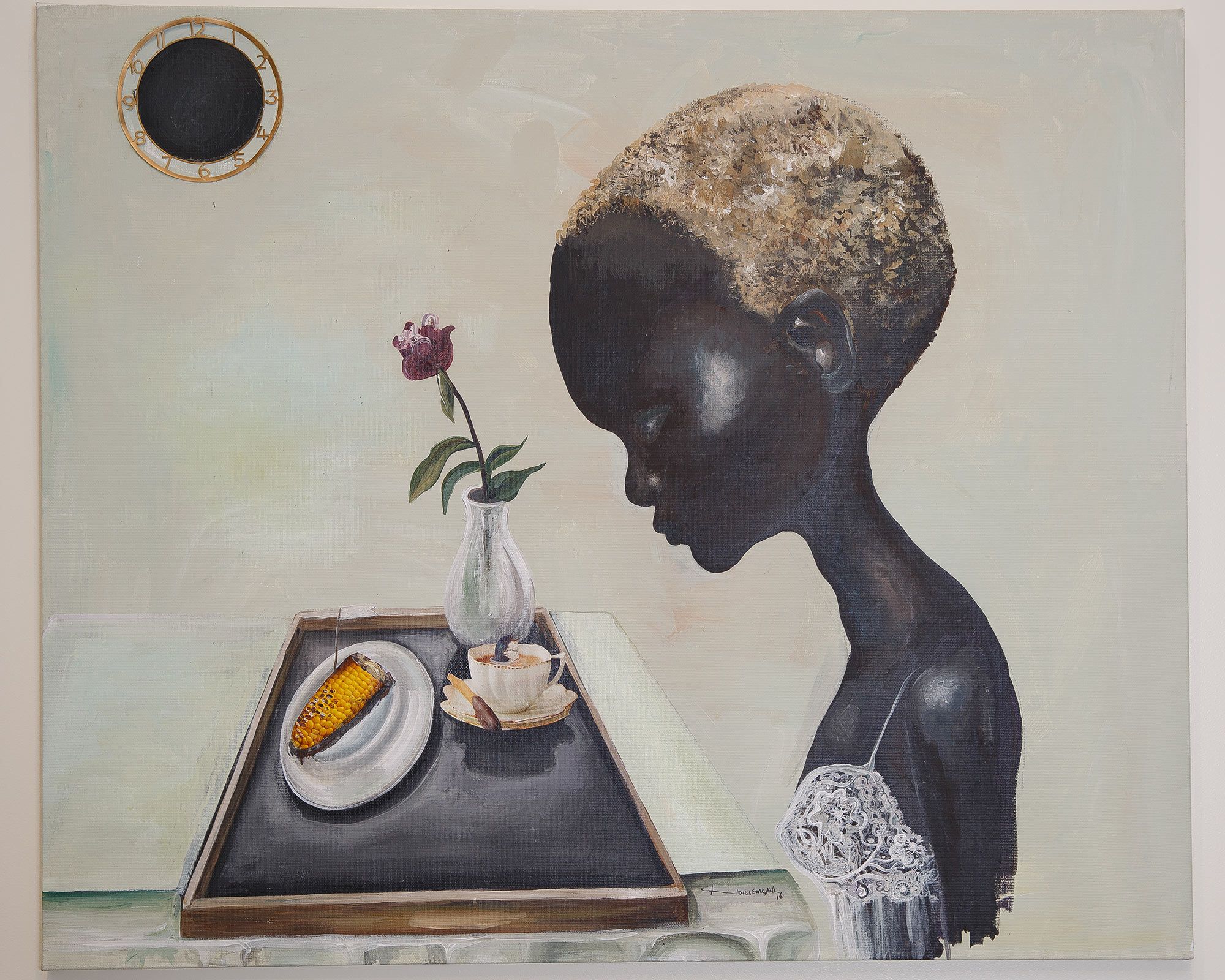 Awake by Nigerian-Brit artist Ndidi Emefiele.
Photo Credit: Ashley Lorraine Photography.
More personal is the stark Awake, a voyeuristic peek at a woman staring at a tray of coffee and half a corncob. The painting, by Nigerian-Brit Ndidi Emefiele, "speaks to me about my colonial past and Western future and present," says Pounder, who was born in Georgetown, Guyana. "Not that I was eating roasted corn growing up—that's a decidedly African breakfast. But the woman, with her coffee cup, is in this sort of dual world."
Look closely and you'll see a little bird popping out of that cup. Says Pounder with delight: "Birds represent messengers."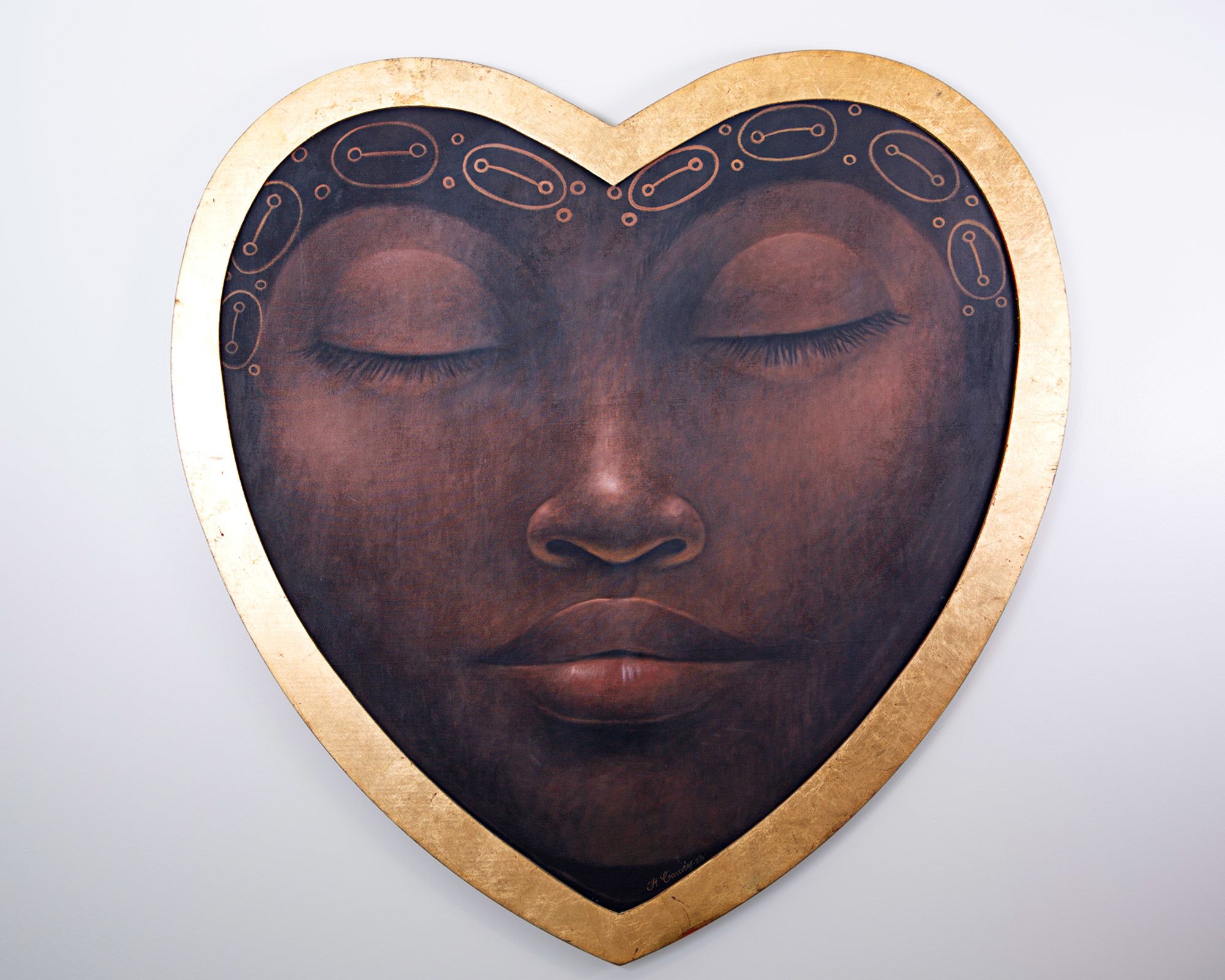 Sleep by Haitian artist Francois Cauvin.
Photo Credit: Ashley Lorraine Photography.
The worldly CCH (Carol Christine Hilaria) Pounder, who attended boarding school in England and studied acting at New York's Ithaca College, almost opted for a painting career herself. "I was conflicted with these two great, measly paying art forms!" Nabbing the role of a nurse in 1979's All That Jazz sealed her fate. (Later came an Emmy nomination for The Shield.)
So, to satisfy her other yen, she took to throwing dinner parties to trumpet talented starving-artist pals in her cramped apartments (first in NYC, then L.A.). "I would call my friends and say, 'Come and get a painting!'"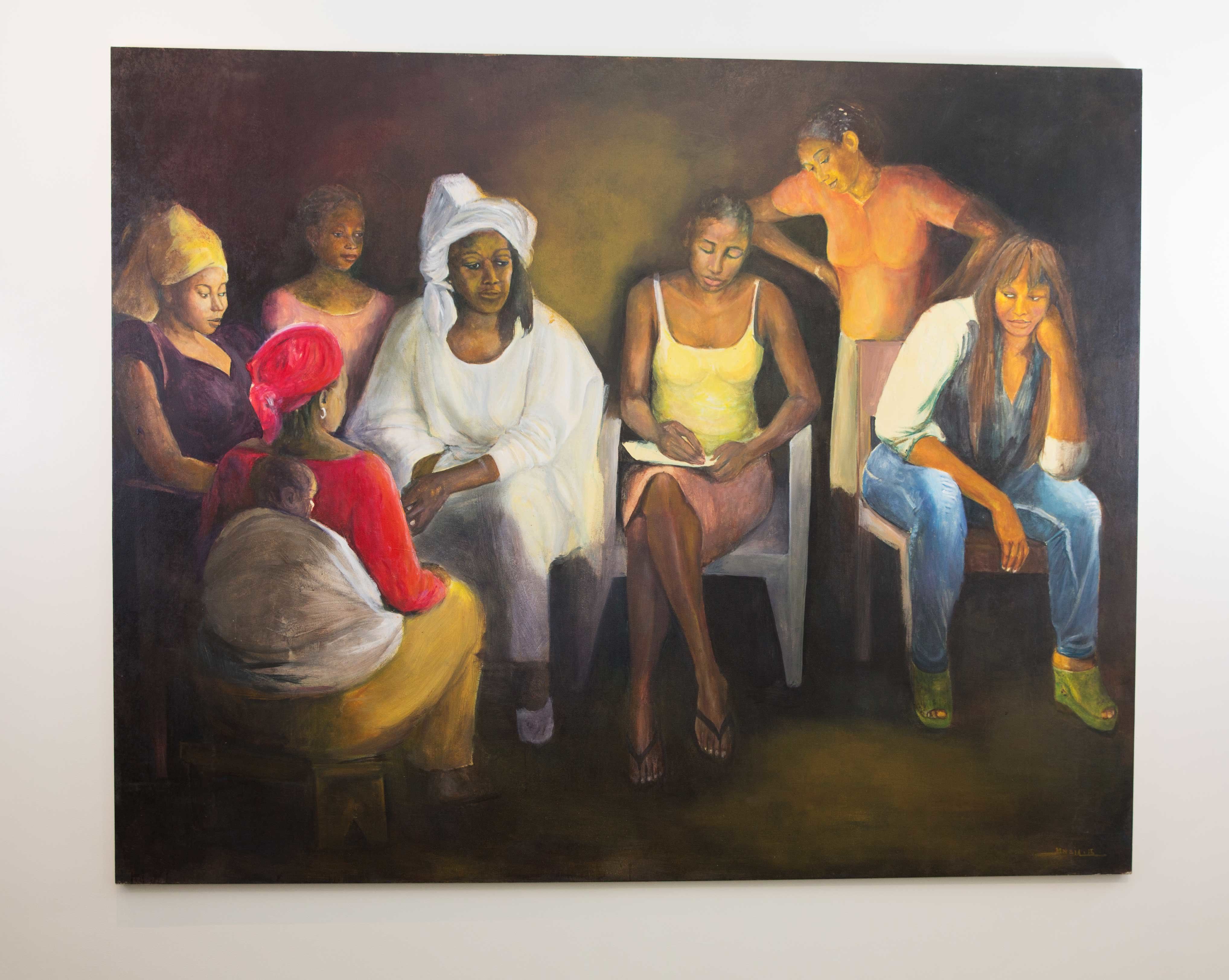 Sous Sous by Senegalese artist Mouhamadou Dia.
Photo Credit: Ashley Lorraine Photography.
She's long been most keen on contemporary African art. "I like works by artists that reflect the state of the world that they're in. Western art is floating off into the interior world and talking about highly intellectual things—which does not interest me at the moment."
Pounder definitely has an eye. She's helped put several young masters-to-be on the map. For a time she and her husband owned a gallery in L.A., and they also built a museum, the Musée Boribana, in his hometown, Dakar, Senegal, which they gifted to the nation in 2014. (She's heading there this summer to visit the Dakar Biennale art festival.)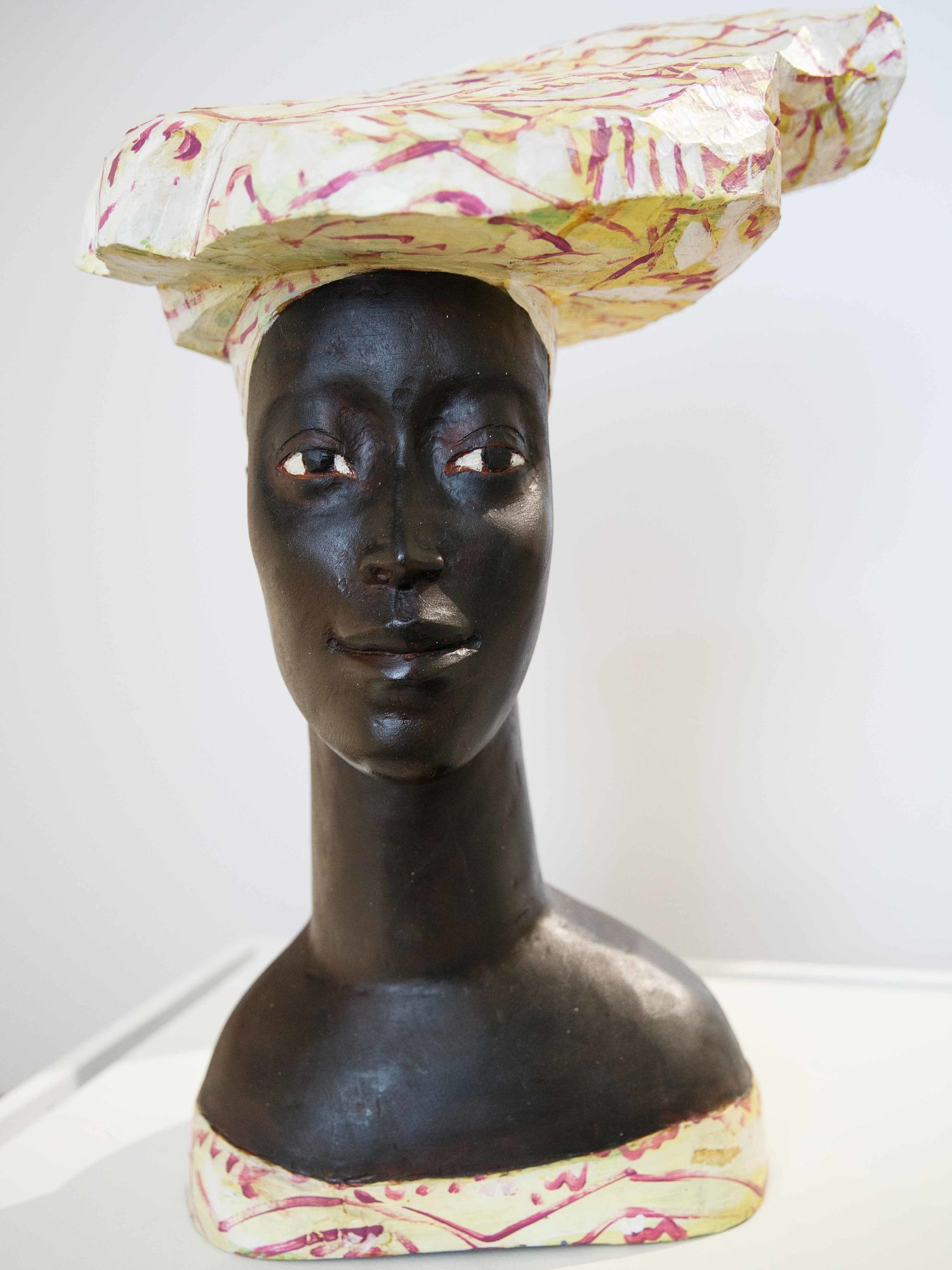 Marianne by late German artist Luise Kimme.
Photo Credit: Ashley Lorraine Photography.
CCH Pounder is reprising her big-screen role as Queen Mo'at in Avatar's two upcoming sequels, yet she does make time to doodle. "I keep books of ideas, and some day I'm going to sit back and paint them." And, apparently, N'awlins' spirits also love art. "My house keeps talking to me. I think eventually she's gonna push me out and become a gallery."
Originally published in Watch! Magazine, January-February 2020.
NCIS: New Orleans returns Sunday, Feb. 16 at 10/9c on CBS and CBS All Access.
From Your Site Articles
Related Articles Around the Web