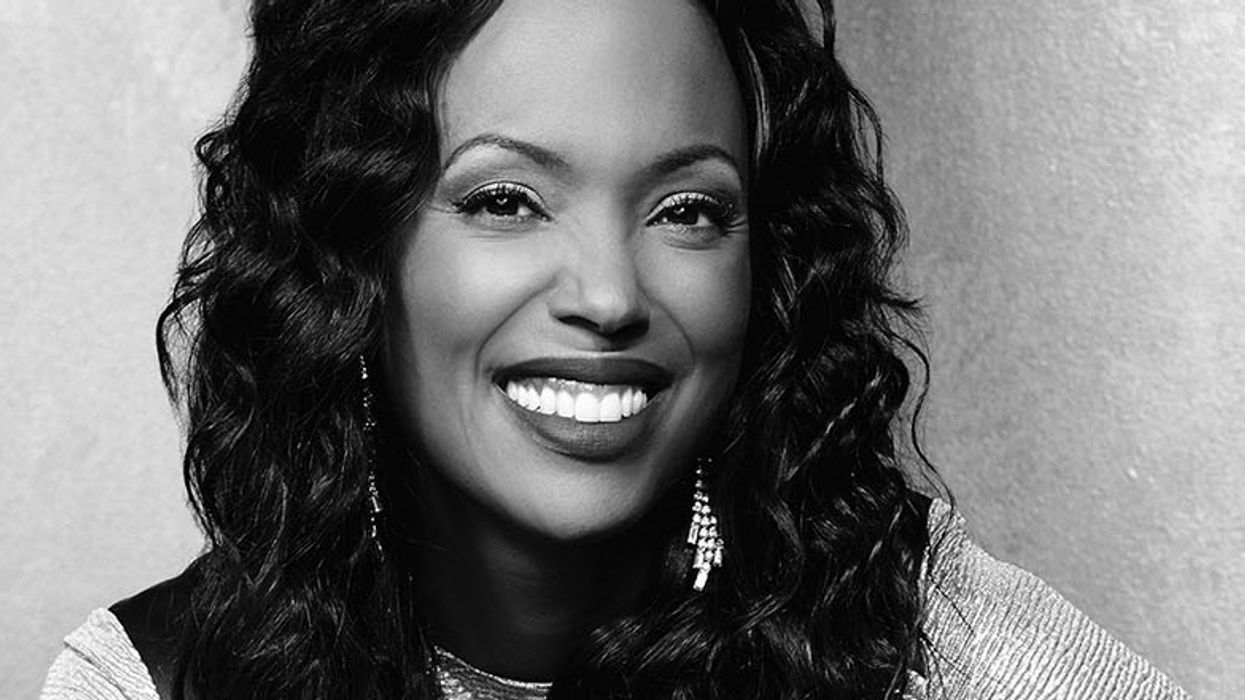 Photo Credit: Art Streiber/CBS.
Funny, smart, and gorgeous, Criminal Minds star and host of The Talk Aisha Tyler is the total package.
By Brantley Bardin

"We've become a quintet of instruments," The Talk's Aisha Tyler says of herself and her chat show cohorts Julie Chen, Sara Gilbert, Sheryl Underwood, and Sharon Osbourne. "We're playful and spontaneous, and our friendships are at a place where we can be silent in a car and it's not uncomfortable. Perfect!"

Tyler has personally reached a plateau of achievement and comfort, too. "My motto is, 'Everything is going to go great,'" she says. Good thing, as our Type A gal also stars as Dr. Tara Lewis on Criminal Minds, hosts Whose Line Is It Anyway? and voice-stars in FX's animated series Archer, and she has directed a feature film, the drama Axis, due later this year.
Her secret to multitudinous multitasking? The Dartmouth political science graduate, stand-up comic, and feminist politico says she tries to be "more relaxed and rested and to meditate. Panic serves no one!"
It's been five years since your first visit to this page—welcome back! My first question is very The Talk: As a 6-foot-tall progressive Democrat, would you date a short Republican?

[Laughs] Well, I'm an open-hearted person, and I've dated very short men, and I've dated Republicans. I don't know if I could take all of those qualities in the same person, though!

Who's your sexiest man alive?

So many to choose from! I'm a big fan of the Ryans–Gosling and Reynolds. And Taye Diggs—at 90, he'll still be gorgeous. Oh, and Chris Pine. Remember when they performed Selma's "Glory" at the [2015] Oscars and he cried? I like a sensitive guy.

The Talk is unabashedly gossip-obsessed. Do you ever think, I'm a Dartmouth grad. Why is my mind filled with Justin Bieber?!

[Laughs
] Our goal is to make a piece of gossip into something more substantial and relevant. So one question was, "Should Justin Bieber [having recently rid himself of yet another adopted dog] be banned from having animals?" The larger issue was animal cruelty and that it's important to take responsibility for another living creature.
Got it. Let's talk Criminal Minds. What do you love about your character, Tara?

That she's smart, completely work-obsessed, and wildly imperfect. She's got a highly developed obsessive-compulsive disorder, which I do as well.

You do? How so?

Oh, everything! I'm not pressing door handles 16 times a day, but my closet is arranged, from pants to shirts, along the actual spectrum of the rainbow. I fold my underwear. And I've never left a dish in a sink overnight.

Just like me—not. I don't know when you find time to snooze, but when you do, any recurring dreams?

They mostly have to do with flight, maybe because I'm always on planes in real life. Sometimes I'm actually physically flying like a superhero, though.
Freud said flying dreams are all about sex.

Everything is about sex, always! [Laughs] But thank God you're breaking this down for me, because I was curious. I should enjoy my flying dreams more!

Go for it. You've described your teenage self as "a social pariah—a giant Blackzilla in knockoff Nikes." Do you now accept that you're a gorgeous fashion plate?

Noooo. I'm grateful for the genetic material given to me by my parents, but... well, I'll say this: Everybody, typically, prefers themselves at 25, but I like myself better in my 40s.

Talking adulthood, you dubbed yourself a "snobby mixologist" when we talked last. Now you're launching a new spirits line, Courage + Stone. What was your inspiration for it?

I'd get home from traveling and want a proper drink but didn't have all the stuff. With my line, you can buy three bottles and have a full bar. The "Courage" part is for "liquid courage," so...
Sold! OK, how do you as a now-famous, well-to-do woman give back?

I donate—last year to the ACLU and the Southern Poverty Law Center, to name two. I volunteer. I work with Planned Parenthood and the Red Cross extensively. And the best part [of being famous] is you can just put your name on something and it helps. So if I can do it, I do it.

When exactly does this meditating thing you spoke of earlier happen?

I'm just trying right now to sit still. If I can just sit still and breathe for a couple of minutes, I'm on my way!
Originally published in Watch! Magazine, June 2017.

Watch The Talk on CBS and CBS All Access.

Stream episodes of Criminal Minds on CBS All Access.