Stars
NCIS: Los Angeles' Daniela Ruah Is California Dreamy
Photography by Cliff Lipson
Heaven scent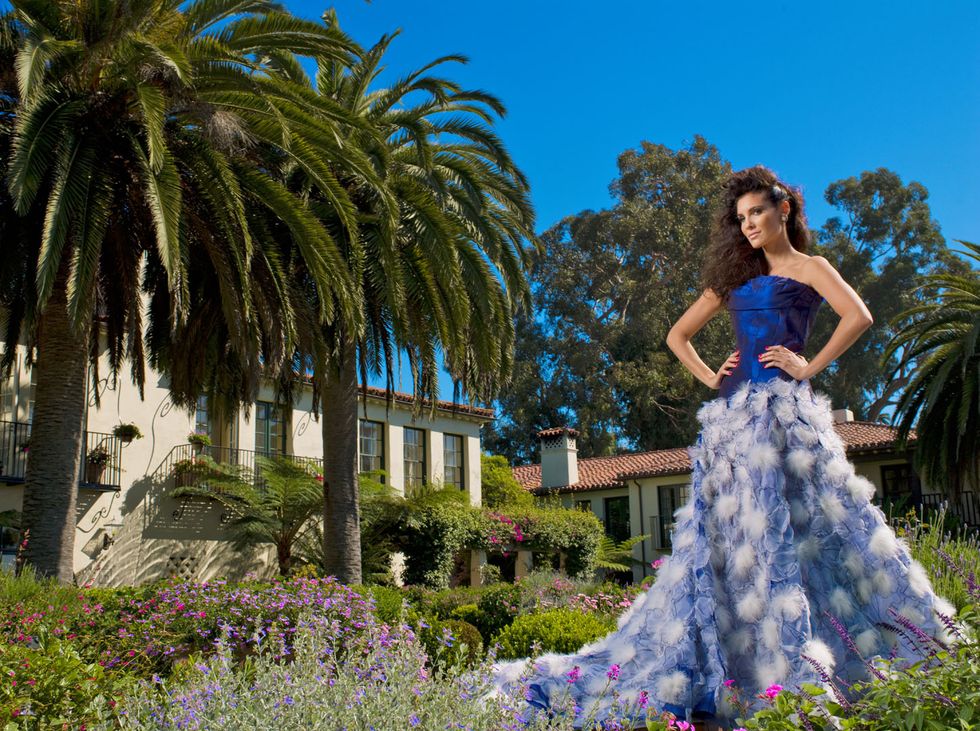 Photography by Cliff Lipson
Like her character, Special Agent Kensi Blye, Daniela Ruah blends feminine mystique and tomboy tough—in fact, she's dabbled in doing her own stunts. Our investigation of NCIS: Los Angeles' sexy star reveals a fascinating and stunningly versatile actress, who gets even more gorgeous (if that's possible) in these fashion photos.
Scroll to see her glamorous pics for Watch! Magazine on location at the Four Seasons Resort The Biltmore Santa Barbara, plus learn fascinating tidbits about Daniela Ruah.
Fun fact: Daniela Ruah never walks out of her set trailer without putting on perfume. One of her favorite fragrances? Bombshell.
Photography by Cliff Lipson. Originally published in Watch! Magazine, June 2012.
Watch NCIS: Los Angeles on Sundays at 9/8c on CBS and CBS All Access.
</div> <div class="rebellt-item col1" id="rebelltitem3" data-id="3" data-reload-ads="false" data-is-image="True" data-href="https://cbswatchmagazine.com/stars/ncis-los-angeles-daniela-ruah-is-california-dreamy/let-me-entertain-you" data-basename="let-me-entertain-you" data-post-id="2640874770" data-published-at="1614153387" data-use-pagination="False"> <h3 data-role="headline"> Let me entertain you. </h3> <img type="lazy-image" data-runner-src="https://assets.rebelmouse.io/eyJhbGciOiJIUzI1NiIsInR5cCI6IkpXVCJ9.eyJpbWFnZSI6Imh0dHBzOi8vYXNzZXRzLnJibC5tcy8yMTIwMDUwMC9vcmlnaW4uanBnIiwiZXhwaXJlc19hdCI6MTYyNTg3NjQ2MH0.2AjsxIIB70DP-V-Zt1WgmyuvZaB3zSQC0LJhr3krHFM/img.jpg?width=980" id="70416" class="rm-shortcode" data-rm-shortcode-id="939212fdeca002972389c8534a25cc08" data-rm-shortcode-name="rebelmouse-image" alt="Daniela Ruah of NCIS Los Angeles in bright blue dress with neon platforms and pink bag"> <small class="image-media media-photo-credit"><p>Photography by Cliff Lipson</p></small> Born in Boston but raised mostly in her parents' native Portugal, Ruah decided early on that, despite coming from a family of doctors, she wanted to perform.<br> <br> Photography by Cliff Lipson. Originally published in <em>Watch!</em> Magazine, June 2012.<br> <br> Watch <a href="http://www.cbs.com/shows/ncis_los_angeles/" target="_blank"><em>NCIS: Los Angeles</em></a> on Sundays at 9/8c on CBS and <a href="https://www.cbs.com/all-access/?intcid=CIA-00-10abc4e" target="_blank">CBS All Access</a>. </div> <div class="rebellt-item col1" id="rebelltitem4" data-id="4" data-reload-ads="false" data-is-image="True" data-href="https://cbswatchmagazine.com/stars/ncis-los-angeles-daniela-ruah-is-california-dreamy/action-figure" data-basename="action-figure" data-post-id="2640874770" data-published-at="1614153387" data-use-pagination="False"> <h3 data-role="headline"> Action figure </h3> <img type="lazy-image" data-runner-src="https://assets.rebelmouse.io/eyJhbGciOiJIUzI1NiIsInR5cCI6IkpXVCJ9.eyJpbWFnZSI6Imh0dHBzOi8vYXNzZXRzLnJibC5tcy8yMTIwMDUwNy9vcmlnaW4uanBnIiwiZXhwaXJlc19hdCI6MTY1MzQ3ODc1NX0.clOcb2EZ7rHCUEHXpymrEa4lIt4xU4Q1VOcw8EhMiW8/img.jpg?width=980" id="eea6c" class="rm-shortcode" data-rm-shortcode-id="fd8a92be74524f834ca600cdffb6da6d" data-rm-shortcode-name="rebelmouse-image" alt="Daniela Ruah of NCIS Los Angeles in sunglasses with rhinestone drop earrings"> <small class="image-media media-photo-credit"><p>Photography by Cliff Lipson</p></small> Like her character, Ruah prefers to be at the center of the action. She's been known to plead with the stunt coordinator to let her do as many of her own stunts as possible.<br> <br> Photography by Cliff Lipson. Originally published in <em>Watch!</em> Magazine, June 2012.<br> <br> Watch <a href="http://www.cbs.com/shows/ncis_los_angeles/" target="_blank"><em>NCIS: Los Angeles</em></a> on Sundays at 9/8c on CBS and <a href="https://www.cbs.com/all-access/?intcid=CIA-00-10abc4e" target="_blank">CBS All Access</a>. </div> <div class="incontent-ad" style="height: 250px;" data-pos="InContent"></div> <div class="rebellt-item col1" id="rebelltitem5" data-id="5" data-reload-ads="true" data-is-image="True" data-href="https://cbswatchmagazine.com/stars/ncis-los-angeles-daniela-ruah-is-california-dreamy/real-character" data-basename="real-character" data-post-id="2640874770" data-published-at="1614153387" data-use-pagination="False"> <h3 data-role="headline"> Real character </h3> <img type="lazy-image" data-runner-src="https://assets.rebelmouse.io/eyJhbGciOiJIUzI1NiIsInR5cCI6IkpXVCJ9.eyJpbWFnZSI6Imh0dHBzOi8vYXNzZXRzLnJibC5tcy8yMTIwMDUxNy9vcmlnaW4uanBnIiwiZXhwaXJlc19hdCI6MTYyMjM0Mjg4Nn0.YiBEMz-mSLTUWLNSPB191PbsIHBpZAi63QIgT9QrBOE/img.jpg?width=980" id="f93f6" class="rm-shortcode" data-rm-shortcode-id="f910dbf0369b82a32d46e0725633a00d" data-rm-shortcode-name="rebelmouse-image" alt="Daniela Ruah of NCIS Los Angeles in yellow swimsuit with chunky colored stone bracelet"> <small class="image-media media-photo-credit"><p>Photography by Cliff Lipson</p></small> <p>"Kensi's not too far off from who I am. The longer I play her, the more we jell into each other." —Daniela Ruah</p><p><br><br></p><p>Photography by Cliff Lipson. Originally published in <em>Watch!</em> Magazine, June 2012.</p><p><br><br></p><p>Watch <a href="http://www.cbs.com/shows/ncis_los_angeles/" target="_blank"><em>NCIS: Los Angeles</em></a> on Sundays at 9/8c on CBS and <a href="https://www.cbs.com/all-access/?intcid=CIA-00-10abc4e" target="_blank">CBS All Access</a>.</p> </div> <div class="rebellt-item col1" id="rebelltitem6" data-id="6" data-reload-ads="false" data-is-image="True" data-href="https://cbswatchmagazine.com/stars/ncis-los-angeles-daniela-ruah-is-california-dreamy/casting-call" data-basename="casting-call" data-post-id="2640874770" data-published-at="1614153387" data-use-pagination="False"> <h3 data-role="headline"> Casting call </h3> <img type="lazy-image" data-runner-src="https://assets.rebelmouse.io/eyJhbGciOiJIUzI1NiIsInR5cCI6IkpXVCJ9.eyJpbWFnZSI6Imh0dHBzOi8vYXNzZXRzLnJibC5tcy8yMTIwMDUyOC9vcmlnaW4uanBnIiwiZXhwaXJlc19hdCI6MTYzMjM5NjEyMX0.RrsgXr252GGGKxCgTzr-nfYkMS72xdGkw2B2dFZ7KtE/img.jpg?width=980" id="32f3a" class="rm-shortcode" data-rm-shortcode-id="e822567f855e02d59074d42635c683d4" data-rm-shortcode-name="rebelmouse-image" alt="Daniela Ruah of NCIS Los Angeles in blue dress with hot pink sunglasses"> <small class="image-media media-photo-credit"><p>Photography by Cliff Lipson</p></small> Daniela Ruah got her first big acting break on a popular Portugese soap opera.<br> <br> Photography by Cliff Lipson. Originally published in <em>Watch!</em> Magazine, June 2012.<br> <br> <strong>SUBSCRIBE: <a href="https://secure.palmcoastd.com/pcd/eSv?iMagId=23401&amp;i4Ky=IR25" target="_blank">For More Stunning Photos Of Your Favorite TV Stars, Subscribe To </a></strong><a href="https://secure.palmcoastd.com/pcd/eSv?iMagId=23401&amp;i4Ky=IR25" target="_blank"><em><strong>Watch!</strong></em></a><br> <br> Watch <a href="http://www.cbs.com/shows/ncis_los_angeles/" target="_blank"><em>NCIS: Los Angeles</em></a> on Sundays at 9/8c on CBS and <a href="https://www.cbs.com/all-access/?intcid=CIA-00-10abc4e" target="_blank">CBS All Access</a>. </div> <div class="rebellt-item col1" id="rebelltitem7" data-id="7" data-reload-ads="false" data-is-image="True" data-href="https://cbswatchmagazine.com/stars/ncis-los-angeles-daniela-ruah-is-california-dreamy/soap-dish" data-basename="soap-dish" data-post-id="2640874770" data-published-at="1614153387" data-use-pagination="False"> <h3 data-role="headline"> Soap dish </h3> <img type="lazy-image" data-runner-src="https://assets.rebelmouse.io/eyJhbGciOiJIUzI1NiIsInR5cCI6IkpXVCJ9.eyJpbWFnZSI6Imh0dHBzOi8vYXNzZXRzLnJibC5tcy8yMTIwMDUzNi9vcmlnaW4uanBnIiwiZXhwaXJlc19hdCI6MTY1MzQwNjQwMn0.VwRlTC9dp8gVxHyS890WqfWjRn-2mocqGdH8W7DZbVk/img.jpg?width=980" id="c19a8" class="rm-shortcode" data-rm-shortcode-id="2bc1437b2be96bb6b013ba9db5efdbf7" data-rm-shortcode-name="rebelmouse-image" alt="Daniela Ruah of NCIS Los Angeles in American flag dress"> <small class="image-media media-photo-credit"><p>Photography by Cliff Lipson</p></small> <p>"A lot of people joke about soap operas, but there's no better training. In no [other] job will you have as many lines to learn, in as short an amount of time, with as complicated a plot. It was the biggest lesson of my life." —Daniela Ruah</p><p><br><br></p><p>Photography by Cliff Lipson. Originally published in <em>Watch!</em> Magazine, June 2012.</p><p><br><br></p><p>Watch <a href="http://www.cbs.com/shows/ncis_los_angeles/" target="_blank"><em>NCIS: Los Angeles</em></a> on Sundays at 9/8c on CBS and <a href="https://www.cbs.com/all-access/?intcid=CIA-00-10abc4e" target="_blank">CBS All Access</a>.</p> </div> <div class="incontent-ad" style="height: 250px;" data-pos="InContent"></div> <div class="rebellt-item col1" id="rebelltitem8" data-id="8" data-reload-ads="true" data-is-image="True" data-href="https://cbswatchmagazine.com/stars/ncis-los-angeles-daniela-ruah-is-california-dreamy/dancing-queen" data-basename="dancing-queen" data-post-id="2640874770" data-published-at="1614153387" data-use-pagination="False"> <h3 data-role="headline"> Dancing queen </h3> <img type="lazy-image" data-runner-src="https://assets.rebelmouse.io/eyJhbGciOiJIUzI1NiIsInR5cCI6IkpXVCJ9.eyJpbWFnZSI6Imh0dHBzOi8vYXNzZXRzLnJibC5tcy8yMTIwMDU0NC9vcmlnaW4uanBnIiwiZXhwaXJlc19hdCI6MTYyMTU0OTU3M30.WAh_s9YIU1kiAU2PUl_e1hY-vRg2DsbwVYp4-NOtS0Q/img.jpg?width=980" id="f3eaf" class="rm-shortcode" data-rm-shortcode-id="f723bd83de79a99c59d1763a97c76082" data-rm-shortcode-name="rebelmouse-image" alt="Daniela Ruah of NCIS Los Angeles in sculptural yellow dress"> <small class="image-media media-photo-credit"><p>Photography by Cliff Lipson</p></small> Fun fact: Inspired by her love of dance, Ruah competed on—and won!—the first season of <em>Danca Comigo</em>, Portugal's version of <em>Dancing with the Stars</em>.<br> <br> Photography by Cliff Lipson. Originally published in <em>Watch!</em> Magazine, June 2012.<br> <br> Watch <a href="http://www.cbs.com/shows/ncis_los_angeles/" target="_blank"><em>NCIS: Los Angeles</em></a> on Sundays at 9/8c on CBS and <a href="https://www.cbs.com/all-access/?intcid=CIA-00-10abc4e" target="_blank">CBS All Access</a>. </div> <div class="rebellt-item col1" id="rebelltitem9" data-id="9" data-reload-ads="false" data-is-image="True" data-href="https://cbswatchmagazine.com/stars/ncis-los-angeles-daniela-ruah-is-california-dreamy/budding-linguist" data-basename="budding-linguist" data-post-id="2640874770" data-published-at="1614153387" data-use-pagination="False"> <h3 data-role="headline"> Budding linguist </h3> <img type="lazy-image" data-runner-src="https://assets.rebelmouse.io/eyJhbGciOiJIUzI1NiIsInR5cCI6IkpXVCJ9.eyJpbWFnZSI6Imh0dHBzOi8vYXNzZXRzLnJibC5tcy8yMTIwMDU0OC9vcmlnaW4uanBnIiwiZXhwaXJlc19hdCI6MTY3MjI4NzM2NH0.6k6bR-5D_XU9WZyElPeFCqk_6o-c283ouLx9vb_Tmt8/img.jpg?width=980" id="21685" class="rm-shortcode" data-rm-shortcode-id="55c149c64e27960d117c3417325b903e" data-rm-shortcode-name="rebelmouse-image" alt="Daniela Ruah of NCIS Los Angeles in navy fitted gown"> <small class="image-media media-photo-credit"><p>Photography by Cliff Lipson</p></small> Besides acting chops, Daniela Ruah has great language skills. She's fluent in English and Portugese, and speaks conversational Spanish and French.<br> <br> Photography by Cliff Lipson. Originally published in <em>Watch!</em> Magazine, June 2012.<br> <br> Watch <a href="http://www.cbs.com/shows/ncis_los_angeles/" target="_blank"><em>NCIS: Los Angeles</em></a> on Sundays at 9/8c on CBS and <a href="https://www.cbs.com/all-access/?intcid=CIA-00-10abc4e" target="_blank">CBS All Access</a>. </div> <div class="rebellt-item col1" id="rebelltitem10" data-id="10" data-reload-ads="false" data-is-image="True" data-href="https://cbswatchmagazine.com/stars/ncis-los-angeles-daniela-ruah-is-california-dreamy/california-dreamin" data-basename="california-dreamin" data-post-id="2640874770" data-published-at="1614153387" data-use-pagination="False"> <h3 data-role="headline"> California dreamin' </h3> <img type="lazy-image" data-runner-src="https://assets.rebelmouse.io/eyJhbGciOiJIUzI1NiIsInR5cCI6IkpXVCJ9.eyJpbWFnZSI6Imh0dHBzOi8vYXNzZXRzLnJibC5tcy8yMTIwMDU1OS9vcmlnaW4uanBnIiwiZXhwaXJlc19hdCI6MTYzNzIwMDc1MH0.A7lkkteGhb0VBrcLSHkgv83xQSvcbS-pplOGAe9Z3Lk/img.jpg?width=980" id="3e1cf" class="rm-shortcode" data-rm-shortcode-id="7cfc2d04d08be26638bf0750643f973c" data-rm-shortcode-name="rebelmouse-image" alt="Daniela Ruah of NCIS Los Angeles in blue leather dress and hot pink sunglasses with palm trees"> <small class="image-media media-photo-credit"><p>Photography by Cliff Lipson</p></small> On her first trip to Los Angeles, which happened to be for her <em>NCIS: Los Angeles</em> call back, she got the gig.<br> <br> Photography by Cliff Lipson. Originally published in <em>Watch!</em> Magazine, June 2012.<br> <br> Watch <a href="http://www.cbs.com/shows/ncis_los_angeles/" target="_blank"><em>NCIS: Los Angeles</em></a> on Sundays at 9/8c on CBS and <a href="https://www.cbs.com/all-access/?intcid=CIA-00-10abc4e" target="_blank">CBS All Access</a>. </div> <div class="incontent-ad" style="height: 250px;" data-pos="InContent"></div> <div class="rebellt-item col1" id="rebelltitem11" data-id="11" data-reload-ads="true" data-is-image="True" data-href="https://cbswatchmagazine.com/stars/ncis-los-angeles-daniela-ruah-is-california-dreamy/sistine-chapel-dreams" data-basename="sistine-chapel-dreams" data-post-id="2640874770" data-published-at="1614153387" data-use-pagination="False"> <h3 data-role="headline"> Sistine Chapel dreams </h3> <img type="lazy-image" data-runner-src="https://assets.rebelmouse.io/eyJhbGciOiJIUzI1NiIsInR5cCI6IkpXVCJ9.eyJpbWFnZSI6Imh0dHBzOi8vYXNzZXRzLnJibC5tcy8yMTIwMDU2OC9vcmlnaW4uanBnIiwiZXhwaXJlc19hdCI6MTY0NTk0OTkwM30.KENQLEjQpxbLyj2AjMOiwIQVMSmlUxnidzQe6zkw-1E/img.jpg?width=980" id="6480e" class="rm-shortcode" data-rm-shortcode-id="8c8216f031c1ecc8aae6d082e60bc1ad" data-rm-shortcode-name="rebelmouse-image" alt="Daniela Ruah of NCIS Los Angeles in leopard print gown"> <small class="image-media media-photo-credit"><p>Photography by Cliff Lipson</p></small> Fun fact: She is a big fan of Renaissance art, namely Michelangelo's.<br> <br> Photography by Cliff Lipson. Originally published in <em>Watch!</em> Magazine, June 2012.<br> <br> Watch <a href="http://www.cbs.com/shows/ncis_los_angeles/" target="_blank"><em>NCIS: Los Angeles</em></a> on Sundays at 9/8c on CBS and <a href="https://www.cbs.com/all-access/?intcid=CIA-00-10abc4e" target="_blank">CBS All Access</a>. </div> <div class="rebellt-item col1" id="rebelltitem12" data-id="12" data-reload-ads="false" data-is-image="True" data-href="https://cbswatchmagazine.com/stars/ncis-los-angeles-daniela-ruah-is-california-dreamy/memorable-vacation" data-basename="memorable-vacation" data-post-id="2640874770" data-published-at="1614153387" data-use-pagination="False"> <h3 data-role="headline"> Memorable vacation </h3> <img type="lazy-image" data-runner-src="https://assets.rebelmouse.io/eyJhbGciOiJIUzI1NiIsInR5cCI6IkpXVCJ9.eyJpbWFnZSI6Imh0dHBzOi8vYXNzZXRzLnJibC5tcy8yMTIwMDU3OS9vcmlnaW4uanBnIiwiZXhwaXJlc19hdCI6MTY3MjkzNjc0MX0.VpV-wqNi7JMnAnpkSst-5CwhC-c3bPDkSj_dbxky62g/img.jpg?width=980" id="3ea4e" class="rm-shortcode" data-rm-shortcode-id="744e9a2a32775ed44b1325b678e5101e" data-rm-shortcode-name="rebelmouse-image" alt="Daniela Ruah of NCIS Los Angeles in white blouse and safari shorts"> <small class="image-media media-photo-credit"><p>Photography by Cliff Lipson</p></small> She loves to travel and besides home (Lisbon, Portugal), one of her favorite destinations is <a href="http://www.cbs.com/shows/watch_magazine/archive/1007051/daniela-ruah-s-travel-hotlist/" target="_blank">Cuba</a>.<br> <br> Photography by Cliff Lipson. Originally published in <em>Watch!</em> Magazine, June 2012.<br> <br> Watch <a href="http://www.cbs.com/shows/ncis_los_angeles/" target="_blank"><em>NCIS: Los Angeles</em></a> on Sundays at 9/8c on CBS and <a href="https://www.cbs.com/all-access/?intcid=CIA-00-10abc4e" target="_blank">CBS All Access</a>. </div> <div class="rebellt-item col1" id="rebelltitem13" data-id="13" data-reload-ads="false" data-is-image="True" data-href="https://cbswatchmagazine.com/stars/ncis-los-angeles-daniela-ruah-is-california-dreamy/career-ambition" data-basename="career-ambition" data-post-id="2640874770" data-published-at="1614153387" data-use-pagination="False"> <h3 data-role="headline"> Career ambition </h3> <img type="lazy-image" data-runner-src="https://assets.rebelmouse.io/eyJhbGciOiJIUzI1NiIsInR5cCI6IkpXVCJ9.eyJpbWFnZSI6Imh0dHBzOi8vYXNzZXRzLnJibC5tcy8yMTIwMDU4Ny9vcmlnaW4uanBnIiwiZXhwaXJlc19hdCI6MTY0NTg0NzgyMn0.zkEH6sf0ZrEF3ccUD8nP_Bq5cEWealw0EAoQyNyUL-w/img.jpg?width=980" id="a08a9" class="rm-shortcode" data-rm-shortcode-id="0dc4a2d2805f987152257189d619e535" data-rm-shortcode-name="rebelmouse-image" alt="Daniela Ruah of NCIS Los Angeles smiling in pink sunglasses"> <small class="image-media media-photo-credit"><p>Photography by Cliff Lipson</p></small> <p>"The goal is to work as much as possible in projects I respect and that will help me grow. No actor has a flawless career, but in the long term, I'd like my name to be synonymous with good quality." —Daniela Ruah</p><p><br><br></p><p>Photography by Cliff Lipson. Originally published in <em>Watch!</em> Magazine, June 2012.</p><p><br><br></p><p>Watch <a href="http://www.cbs.com/shows/ncis_los_angeles/" target="_blank"><em>NCIS: Los Angeles</em></a> on Sundays at 9/8c on CBS and <a href="https://www.cbs.com/all-access/?intcid=CIA-00-10abc4e" target="_blank">CBS All Access</a>.</p> </div> <div class="incontent-ad" style="height: 250px;" data-pos="InContent"></div> <div class="rebellt-item col1" id="rebelltitem1" data-id="1" data-reload-ads="true" data-is-image="True" data-href="https://cbswatchmagazine.com/stars/ncis-los-angeles-daniela-ruah-is-california-dreamy/fun-in-the-sun-with-this-fabulous-secret-agent-woman" data-basename="fun-in-the-sun-with-this-fabulous-secret-agent-woman" data-post-id="2640874770" data-published-at="1614153387" data-use-pagination="False"> <h3 data-role="headline"> Fun in the sun with this fabulous secret agent woman </h3> <img type="lazy-image" data-runner-src="https://assets.rebelmouse.io/eyJhbGciOiJIUzI1NiIsInR5cCI6IkpXVCJ9.eyJpbWFnZSI6Imh0dHBzOi8vYXNzZXRzLnJibC5tcy8yMTIwMDQ5Ny9vcmlnaW4uanBnIiwiZXhwaXJlc19hdCI6MTYzNTM0MTMwOX0.XGdXxfJdd9MkMyYeznE5_z4iA6TFpgU8MsgHGJD9U7g/img.jpg?width=980" id="3d5ac" class="rm-shortcode" data-rm-shortcode-id="26b5d4146b9c3cabac66ca5fc6d7a361" data-rm-shortcode-name="rebelmouse-image" alt="Daniela Ruah of NCIS Los Angeles in yellow swimsuit at sunset"> <small class="image-media media-photo-credit"><p>Photography by Cliff Lipson</p></small> <p><br></p><p><br></p><p>Photography by Cliff Lipson. Originally published in <em>Watch!</em> Magazine, June 2012.</p><p><br><br></p><p>Watch <a href="http://www.cbs.com/shows/ncis_los_angeles/" target="_blank"><em>NCIS: Los Angeles</em></a> on Sundays at 9/8c on CBS and <a href="https://www.cbs.com/all-access/?intcid=CIA-00-10abc4e" target="_blank">CBS All Access</a>.</p> </div><p></p><div class="post-pager js-listicle-pager" data-listicle-style="" data-async_load_parameters="platform=desktop&amp;display_ads=1&amp;settings=%7B%22enter_url%22%3A+false%2C+%22no_post_section%22%3A+false%2C+%22ads_breaks%22%3A+%5B3%2C+3%2C+3%2C+3%5D%2C+%22prevent_last_break_repetition%22%3A+false%2C+%22use_numeration%22%3A+false%2C+%22show_columns_on_mobile%22%3A+false%2C+%22ads_order%22%3A+%5B3%5D%2C+%22turn_into_posts%22%3A+false%2C+%22list_breaks%22%3A+null%2C+%22reorder_voting%22%3A+false%2C+%22cooldown_in_seconds%22%3A+null%2C+%22pagination_order%22%3A+%5B%5D%2C+%22source%22%3A+%22post_listicle_settings%22%2C+%22next_post_url%22%3A+null%2C+%22up_down_voting%22%3A+false%2C+%22allow_url_change%22%3A+true%2C+%22numeration_sort%22%3A+-1%2C+%22allow_url_update%22%3A+true%2C+%22use_pagination%22%3A+false%2C+%22body_text_above%22%3A+false%2C+%22use_ads%22%3A+true%2C+%22items_as_posts%22%3A+false%2C+%22multiple_answers%22%3A+false%2C+%22no_redirect%22%3A+true%2C+%22is_guest_voting_allowed%22%3A+true%2C+%22layout_type%22%3A+1%2C+%22voting_extra_fields%22%3A+%7B%7D%7D"> </div>