Stars
The Big Bang Theory's Kaley Cuoco Is Hotter Than Ever
Photography by John Russo/Contour by Getty Images
All that glitters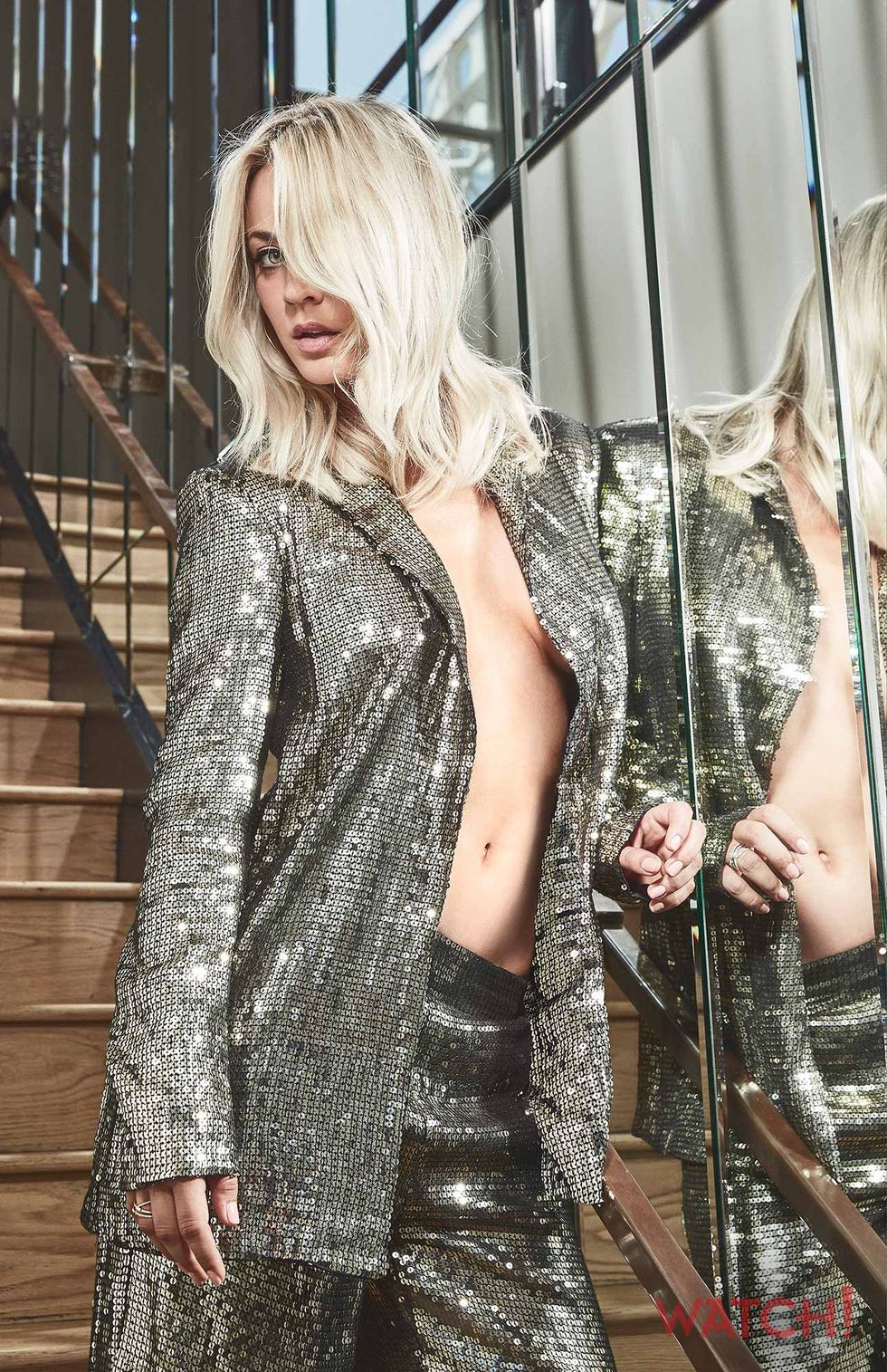 Photography by John Russo/Getty Images
There's nothing like seeing your favorite stars all glammed up, like The Big Bang Theory beauty Kaley Cuoco, who makes a picture perfect photo subject—especially when she dresses to the nines in her favorite attire: sexy designer pantsuits! See her suit up and take Penny from pretty former-girl-next-door to drop-dead gorgeous fashionista in this haute new pictorial captured by celebrity and fashion photographer John Russo.
Watch! curated this exquisite collection of contemporary Kaley Cuoco portraits, including exclusive, never-seen-before photos. These are guaranteed to make your day.
Kaley Cuoco goes for the glamorous gold.
</div> <div class="rebellt-item col1" id="rebelltitem3" data-id="3" data-reload-ads="false" data-is-image="True" data-href="https://cbswatchmagazine.com/stars/the-big-bang-theorys-kaley-cuoco-is-hotter-than-ever/kaley-cuoco-sheer-delight" data-basename="kaley-cuoco-sheer-delight" data-post-id="2640874853" data-published-at="1614611570" data-use-pagination="False"> <h3 data-role="headline"> Sheer delight </h3> <img type="lazy-image" data-runner-src="https://assets.rebelmouse.io/eyJhbGciOiJIUzI1NiIsInR5cCI6IkpXVCJ9.eyJpbWFnZSI6Imh0dHBzOi8vYXNzZXRzLnJibC5tcy8yMTIwNTIzNC9vcmlnaW4uanBnIiwiZXhwaXJlc19hdCI6MTY3NjAwNDg4Nn0.jDHlp4WCA687QifJgR0hlGC9Nv0WPKVzofJZxeolq7w/img.jpg?width=980" id="aa09e" class="rm-shortcode" data-rm-shortcode-id="617cc0fc8c5f5a97686759df19986f22" data-rm-shortcode-name="rebelmouse-image" alt="Kaley Cuoco in navy blue pant suit"> <small class="image-media media-photo-credit"><p>Photography by John Russo/Contour by Getty Images</p></small> <p>Fitted suit + sparkly sheer top = fabulous!</p> </div> <div class="incontent-ad" style="height: 250px;" data-pos="InContent"></div> <div class="rebellt-item col1" id="rebelltitem4" data-id="4" data-reload-ads="true" data-is-image="True" data-href="https://cbswatchmagazine.com/stars/the-big-bang-theorys-kaley-cuoco-is-hotter-than-ever/kaley-cuoco-blush-crush" data-basename="kaley-cuoco-blush-crush" data-post-id="2640874853" data-published-at="1614611570" data-use-pagination="False"> <h3 data-role="headline"> Blush crush </h3> <img type="lazy-image" data-runner-src="https://assets.rebelmouse.io/eyJhbGciOiJIUzI1NiIsInR5cCI6IkpXVCJ9.eyJpbWFnZSI6Imh0dHBzOi8vYXNzZXRzLnJibC5tcy8yMTIwNTIzNS9vcmlnaW4uanBnIiwiZXhwaXJlc19hdCI6MTYyNjAyMDQ3M30.-zA7JtL2q-5zB_JklsCDwZgu970VCLvRSE8pxSC_iQc/img.jpg?width=980" id="71285" class="rm-shortcode" data-rm-shortcode-id="eea64e7df2623e40bd4eb078fe6b119b" data-rm-shortcode-name="rebelmouse-image" alt="Kaley Cuoco in blush colored jacket"> <small class="image-media media-photo-credit"><p>Photography by John Russo/Contour by Getty Images</p></small> <p>What's not to love about this chic look?</p> </div> <div class="rebellt-item col1" id="rebelltitem5" data-id="5" data-reload-ads="false" data-is-image="True" data-href="https://cbswatchmagazine.com/stars/the-big-bang-theorys-kaley-cuoco-is-hotter-than-ever/kaley-cuoco-haute-and-heavenly" data-basename="kaley-cuoco-haute-and-heavenly" data-post-id="2640874853" data-published-at="1614611570" data-use-pagination="False"> <h3 data-role="headline"> Haute and heavenly </h3> <img type="lazy-image" data-runner-src="https://assets.rebelmouse.io/eyJhbGciOiJIUzI1NiIsInR5cCI6IkpXVCJ9.eyJpbWFnZSI6Imh0dHBzOi8vYXNzZXRzLnJibC5tcy8yMTIwNTIzNy9vcmlnaW4uanBnIiwiZXhwaXJlc19hdCI6MTY3MTczMTQzMH0.Lx6fYqSaLs-_UeilisTFSwV9dcRbLgLGiYl9IadRYOM/img.jpg?width=980" id="60777" class="rm-shortcode" data-rm-shortcode-id="284d137363fb3f23a02c17dee2eb5ccf" data-rm-shortcode-name="rebelmouse-image" alt="Kaley Cuoco in orange pant suit with black floral design"> <small class="image-media media-photo-credit"><p>Photography by John Russo/Contour by Getty Images</p></small> <p>She's absolutely divine in this Dolce &amp; Gabbana number.</p> </div> <div class="incontent-ad" style="height: 250px;" data-pos="InContent"></div> <div class="rebellt-item col1" id="rebelltitem6" data-id="6" data-reload-ads="true" data-is-image="True" data-href="https://cbswatchmagazine.com/stars/the-big-bang-theorys-kaley-cuoco-is-hotter-than-ever/kaley-cuoco-mirror-mirror" data-basename="kaley-cuoco-mirror-mirror" data-post-id="2640874853" data-published-at="1614611570" data-use-pagination="False"> <h3 data-role="headline"> Mirror, mirror </h3> <img type="lazy-image" data-runner-src="https://assets.rebelmouse.io/eyJhbGciOiJIUzI1NiIsInR5cCI6IkpXVCJ9.eyJpbWFnZSI6Imh0dHBzOi8vYXNzZXRzLnJibC5tcy8yMTIwNTIzOS9vcmlnaW4uanBnIiwiZXhwaXJlc19hdCI6MTY3NTY4MzA2NH0.jYUU6wIdkOS3E7aaI1yMIbsgSDpbyieKtlJb4_BIWIE/img.jpg?width=980" id="1a078" class="rm-shortcode" data-rm-shortcode-id="269b26c83c77660c8c052206f8945649" data-rm-shortcode-name="rebelmouse-image" alt="Kaley Cuoco in colorful striped pant suit"> <small class="image-media media-photo-credit"><p>Photography by John Russo/Contour by Getty Images</p></small> <p>Kaley is magnetic in this provocative portrait.</p> </div> <div class="rebellt-item col1" id="rebelltitem7" data-id="7" data-reload-ads="false" data-is-image="True" data-href="https://cbswatchmagazine.com/stars/the-big-bang-theorys-kaley-cuoco-is-hotter-than-ever/kaley-cuoco-model-behavior" data-basename="kaley-cuoco-model-behavior" data-post-id="2640874853" data-published-at="1614611570" data-use-pagination="False"> <h3 data-role="headline"> Model behavior </h3> <img type="lazy-image" data-runner-src="https://assets.rebelmouse.io/eyJhbGciOiJIUzI1NiIsInR5cCI6IkpXVCJ9.eyJpbWFnZSI6Imh0dHBzOi8vYXNzZXRzLnJibC5tcy8yMTIwNTI0MS9vcmlnaW4uanBnIiwiZXhwaXJlc19hdCI6MTY1OTg4ODk5MH0.8pomKrv1aaIPjYBRDcbFK3XI-iek_efA0VfEh3ql2RM/img.jpg?width=980" id="7ccbf" class="rm-shortcode" data-rm-shortcode-id="77fb7fe2d1efdf074c8cc6323dc779de" data-rm-shortcode-name="rebelmouse-image" alt="Kaley Cuoco in opened orange pant suit with black floral design"> <small class="image-media media-photo-credit"><p>Photography by John Russo/Contour by Getty Images</p></small> <p>When she isn't playing Penny, Kaley Cuoco looks like this...</p> </div> <div class="incontent-ad" style="height: 250px;" data-pos="InContent"></div> <div class="rebellt-item col1" id="rebelltitem8" data-id="8" data-reload-ads="true" data-is-image="True" data-href="https://cbswatchmagazine.com/stars/the-big-bang-theorys-kaley-cuoco-is-hotter-than-ever/kaley-cuoco-pretty-pantsuit" data-basename="kaley-cuoco-pretty-pantsuit" data-post-id="2640874853" data-published-at="1614611570" data-use-pagination="False"> <h3 data-role="headline"> Pretty pantsuit </h3> <img type="lazy-image" data-runner-src="https://assets.rebelmouse.io/eyJhbGciOiJIUzI1NiIsInR5cCI6IkpXVCJ9.eyJpbWFnZSI6Imh0dHBzOi8vYXNzZXRzLnJibC5tcy8yMTIwNTI0NC9vcmlnaW4uanBnIiwiZXhwaXJlc19hdCI6MTY0OTA5MzcxMH0.n6cfxF6r-ZaFU23qCZxobeHWaudvTMf-eF086wJwby8/img.jpg?width=980" id="3a9ec" class="rm-shortcode" data-rm-shortcode-id="d22f043ebadaf6e5de6b7ff42b6fcf51" data-rm-shortcode-name="rebelmouse-image" alt="Kaley Cuoco in open front gray pantsuit"> <small class="image-media media-photo-credit"><p>Photography by John Russo/Contour by Getty Images</p></small> <p>Velvet has never looked sexier.</p><p><br></p> </div> <div class="rebellt-item col1" id="rebelltitem9" data-id="9" data-reload-ads="false" data-is-image="True" data-href="https://cbswatchmagazine.com/stars/the-big-bang-theorys-kaley-cuoco-is-hotter-than-ever/kaley-cuoco-all-eyes-on" data-basename="kaley-cuoco-all-eyes-on" data-post-id="2640874853" data-published-at="1614611570" data-use-pagination="False"> <h3 data-role="headline"> All eyes on Kaley </h3> <img type="lazy-image" data-runner-src="https://assets.rebelmouse.io/eyJhbGciOiJIUzI1NiIsInR5cCI6IkpXVCJ9.eyJpbWFnZSI6Imh0dHBzOi8vYXNzZXRzLnJibC5tcy8yMTIwNTI0Ni9vcmlnaW4uanBnIiwiZXhwaXJlc19hdCI6MTY3NzMwMzc2MX0.6fG2vB4D7jYGN8ZMmuS1ABeJ7e5-YXvJPo9oL74lA9E/img.jpg?width=980" id="2764c" class="rm-shortcode" data-rm-shortcode-id="bf1311039c85e11524741024f95d98bc" data-rm-shortcode-name="rebelmouse-image" alt="Kaley Cuoco in silver sequined jacket"> <small class="image-media media-photo-credit"><p>Photography by John Russo/Contour by Getty Images</p></small> <p>Can this <em>Big Bang</em> beauty get any more gorgeous?</p> </div> <div class="incontent-ad" style="height: 250px;" data-pos="InContent"></div> <div class="rebellt-item col1" id="rebelltitem1" data-id="1" data-reload-ads="true" data-is-image="True" data-href="https://cbswatchmagazine.com/stars/the-big-bang-theorys-kaley-cuoco-is-hotter-than-ever/kaley-cuoco-looks-exquisite" data-basename="kaley-cuoco-looks-exquisite" data-post-id="2640874853" data-published-at="1614611570" data-use-pagination="False"> <h3 data-role="headline"> Kaley Cuoco looks exquisite in every one of these photos </h3> <img type="lazy-image" data-runner-src="https://assets.rebelmouse.io/eyJhbGciOiJIUzI1NiIsInR5cCI6IkpXVCJ9.eyJpbWFnZSI6Imh0dHBzOi8vYXNzZXRzLnJibC5tcy8yMTIwNTIyOC9vcmlnaW4uanBnIiwiZXhwaXJlc19hdCI6MTY0MjY5OTUzOH0.waQVnWY0AmKUPDFUPwL5DbMq1iHQw_PgDBP6z0vSvhk/img.jpg?width=980" id="cfc23" class="rm-shortcode" data-rm-shortcode-id="10b5c7961a6f6f55ae29e2129d1bccae" data-rm-shortcode-name="rebelmouse-image" alt="Kaley Cuoco in pink jacket"> <small class="image-media media-photo-credit"><p>Photography by John Russo/Contour by Getty Images</p></small> </div><p></p><div class="post-pager js-listicle-pager" data-listicle-style="" data-async_load_parameters="platform=desktop&amp;display_ads=1&amp;settings=%7B%22enter_url%22%3A+false%2C+%22no_post_section%22%3A+false%2C+%22ads_breaks%22%3A+%5B2%2C+2%2C+2%2C+2%5D%2C+%22prevent_last_break_repetition%22%3A+false%2C+%22use_numeration%22%3A+false%2C+%22show_columns_on_mobile%22%3A+false%2C+%22ads_order%22%3A+%5B2%5D%2C+%22turn_into_posts%22%3A+false%2C+%22list_breaks%22%3A+null%2C+%22reorder_voting%22%3A+false%2C+%22cooldown_in_seconds%22%3A+null%2C+%22pagination_order%22%3A+%5B%5D%2C+%22source%22%3A+%22post_listicle_settings%22%2C+%22next_post_url%22%3A+null%2C+%22up_down_voting%22%3A+false%2C+%22allow_url_change%22%3A+true%2C+%22numeration_sort%22%3A+-1%2C+%22allow_url_update%22%3A+true%2C+%22use_pagination%22%3A+false%2C+%22body_text_above%22%3A+false%2C+%22use_ads%22%3A+true%2C+%22items_as_posts%22%3A+false%2C+%22multiple_answers%22%3A+false%2C+%22no_redirect%22%3A+true%2C+%22is_guest_voting_allowed%22%3A+true%2C+%22layout_type%22%3A+1%2C+%22voting_extra_fields%22%3A+%7B%7D%7D"> </div>