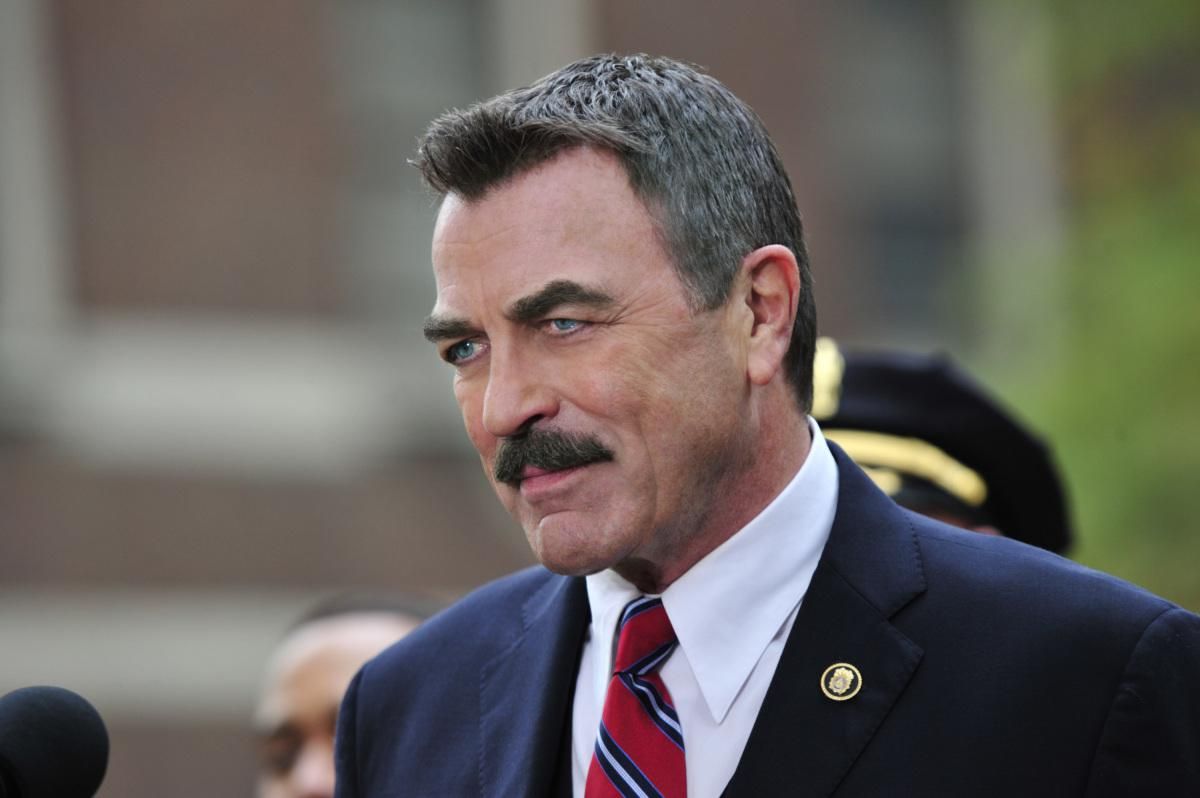 Photo: John P. Filo/CBS
Family man. Hero. Dog Lover. What's not to like?
1. He's A Family Man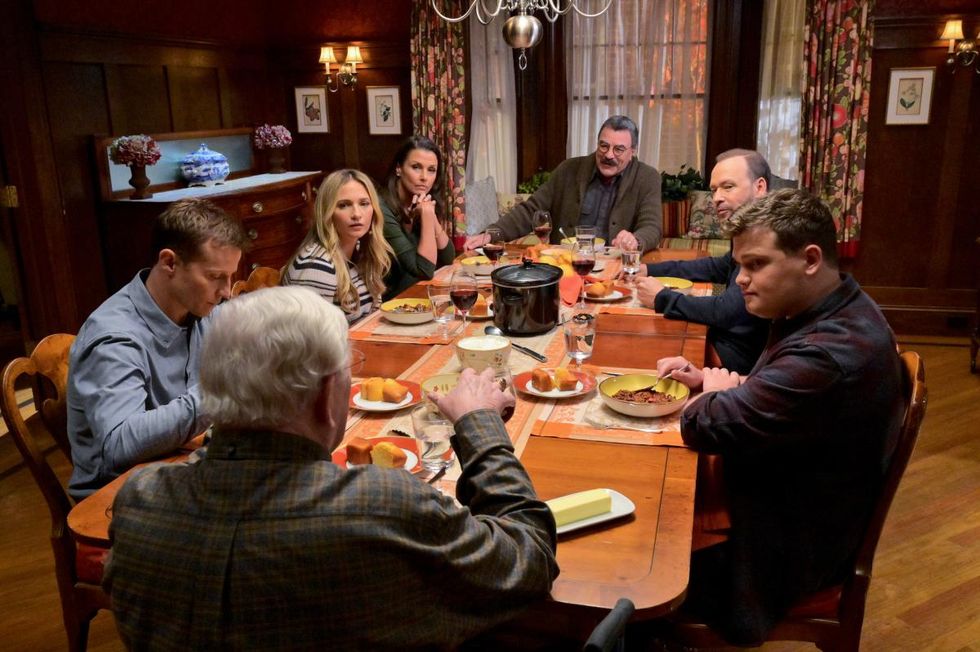 The stars of Blue Bloods gathered around the Reagans' dinner table.
Photo: John Paul Filo/CBS
One of the cornerstones of every episode of Blue Bloods is the family dinner, where Frank Reagan gets to break bread with his brood—all of whom followed in his footsteps to a life in law enforcement. Jamie (Will Estes) and Danny (Donnie Wahlberg) are both cops (and, of course, Frank's other son, Joe, died in the line of duty), while daughter Erin (Bridget Moynahan) works in the Manhattan District Attorney's Office.
And let's not forget Pop (Len Cariou)! Henry is the one Reagan who preceded Frank as a LEO, holding the top cop job before his son climbed the ranks. Time will tell if Frank's influence carries on to lead his grandchildren—beyond recent arrival Joe Hill (Will Hochman)—into the family business, but it wouldn't be a surprise given how much he inspires us.
2. He's Highly Decorated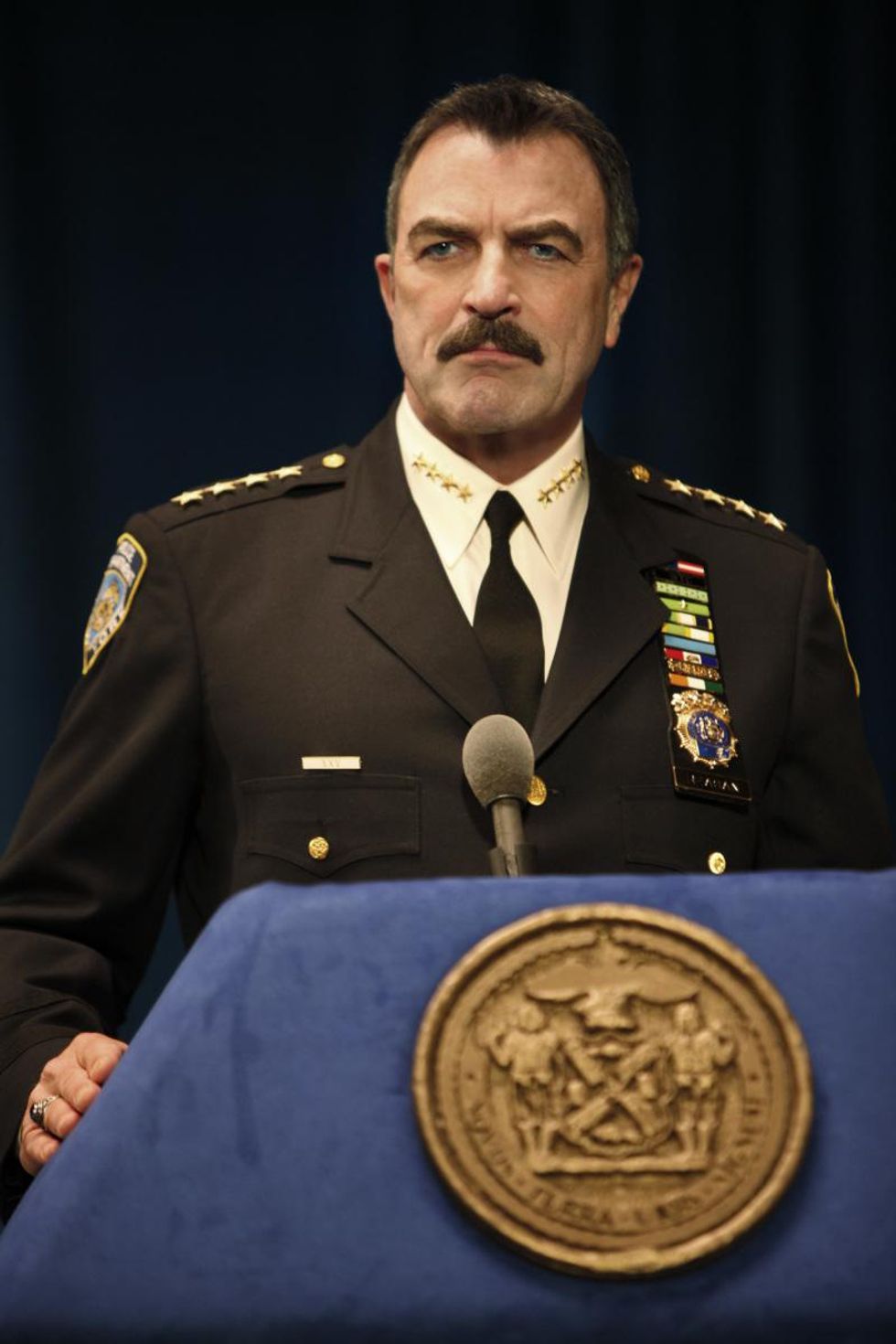 When we first meet Frank Reagan in the Blue Bloods pilot, he's the New York Chief of Police.
Photo: Marni Grossman/CBS
Just take a gander at all those breast bars on Frank's uniform! Among the accolades he's been awarded for his service: The American Flag Breast Bar, the World Trade Center Breast Bar, the NYPD Meritorious Police Duty medal, and the NYPD Medal of Honor.
3. He's Loyal To His City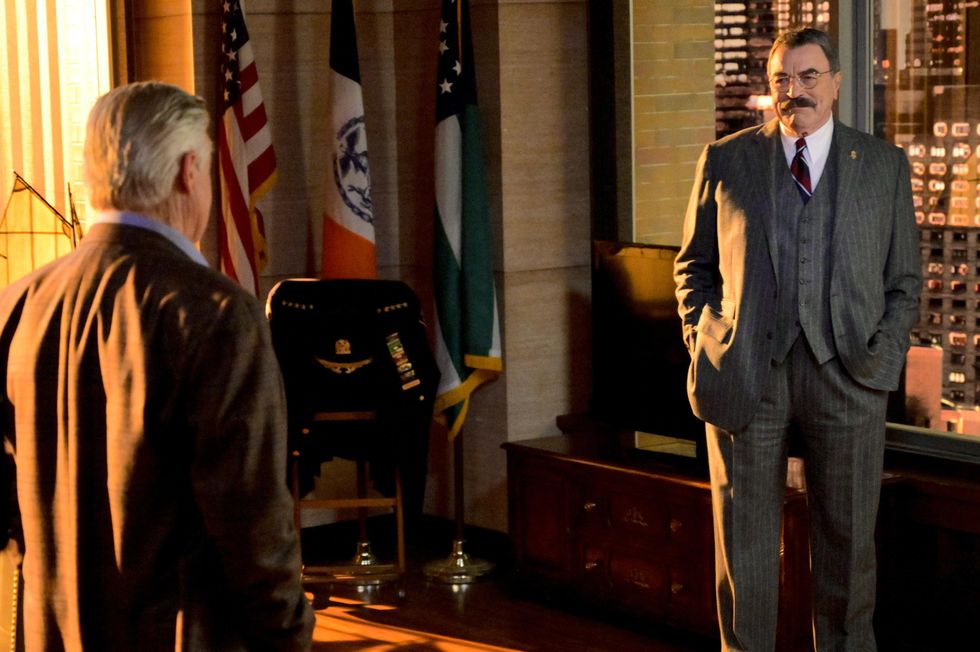 The commissioner isn't open to job offers, as Frank tells Lenny Ross (Treat Williams).
Photo: John Paul Philo/CBS
Commissioner Frank Reagan has never worked a day in his life—if, that is, you go by the old adage about loving your work. As mayors have come and gone, the commissioner has been steadfast in his commitment to his city and the people who inhabit it.

We could have told Lenny Ross (Treat Williams) that no cushy job with the NFL, tempting as it might be for some, could persuade Frank to leave his city without strong leadership at a time of great challenges. That's inspiring loyalty!
4. He's A Dog Lover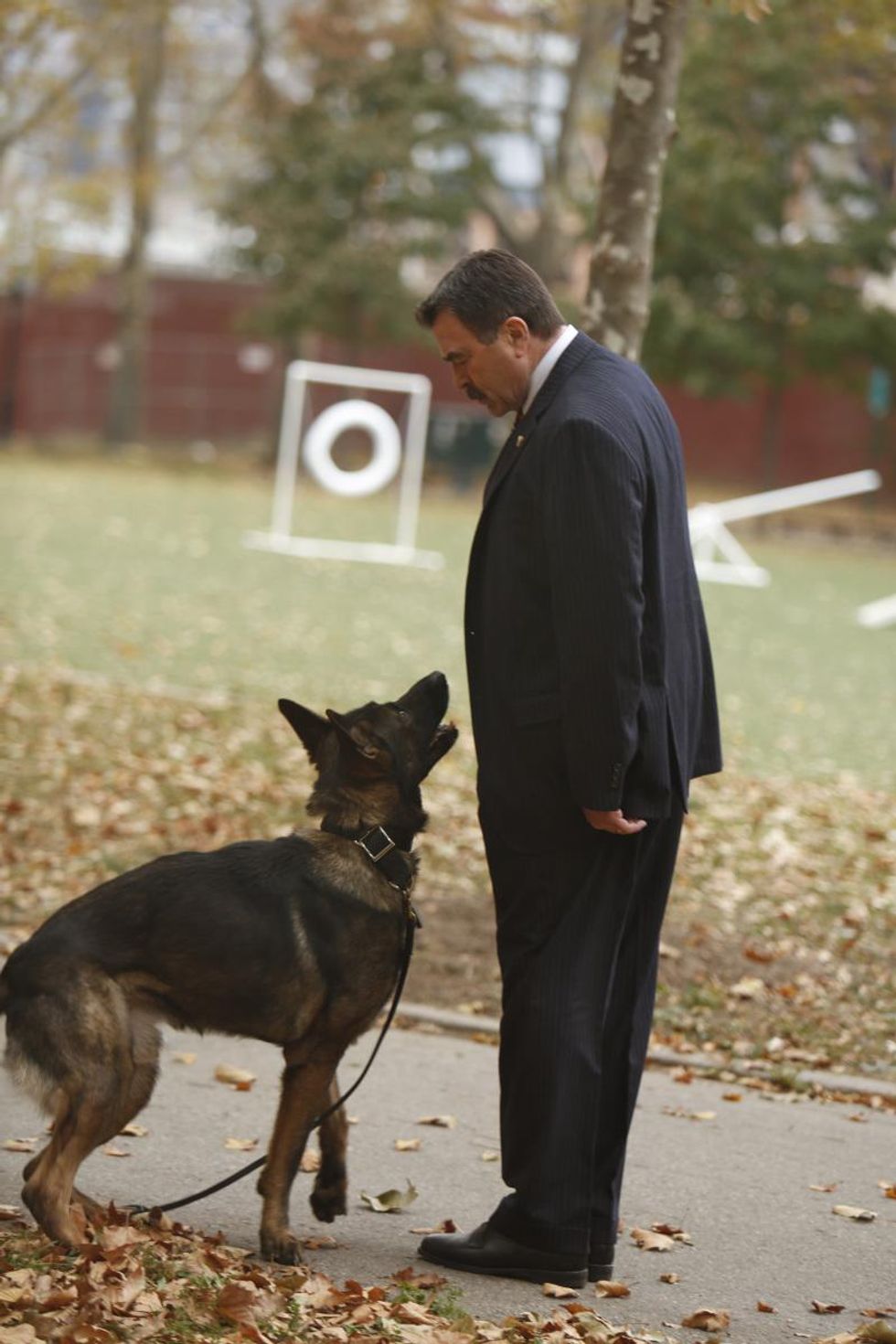 Frank with a member of the K9 unit who's facing a tough accusation.
Photo: Craig Blankenhorn/CBS
Frank has had many partners over the years—including Lenny Ross (Treat Williams) and Jimmy Burke (Gary Basaraba)—but he memorably served with four-legged friend Greta, his partner in the K9 Unit in the early '80s. He transferred out of the unit after Greta was shot and killed by a burglar Frank sent her to apprehend.
Greta's sacrifice isn't forgotten, nor is Frank's loyalty to her canine comrades in question, as he is forced to revisit this painful memory in the Season 4 episode "Bad Blood." When the Commissioner learns one of his most highly decorated officers—Raymond, a German Shepherd in the K9 unit—is being accused of police brutality, he gets to the truth and stands up for this dutiful dog's honor.
5. He's Faithful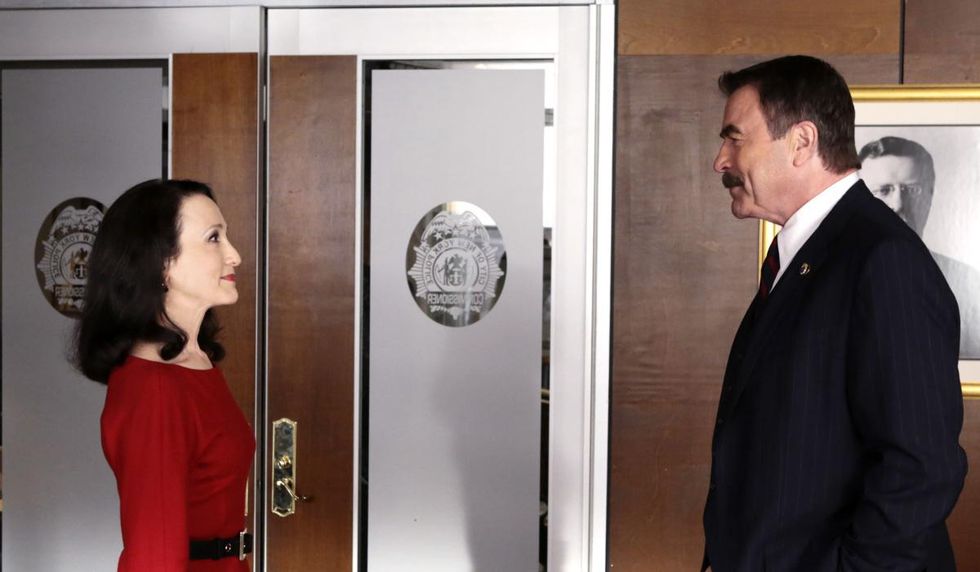 Frank meets the new Inspector General, Kelly Peterson (Bebe Neuwirth).
Photo: Giovanni Rufino/CBS
Frank married Mary Margaret Reagan in the early 1970s and has remained faithful to her even after her death from cancer. Fans have been clamoring for him to find love again—and there were certainly sparks with Inspector General Kelly Peterson (Bebe Neuwirth), who resigned after confessing her feelings for him—but Selleck is OK with his character's single life. "It's important he remains a man alone in overall concept because that's part of the sacrifice he's made," he told TV Insider.
6. He's A Hero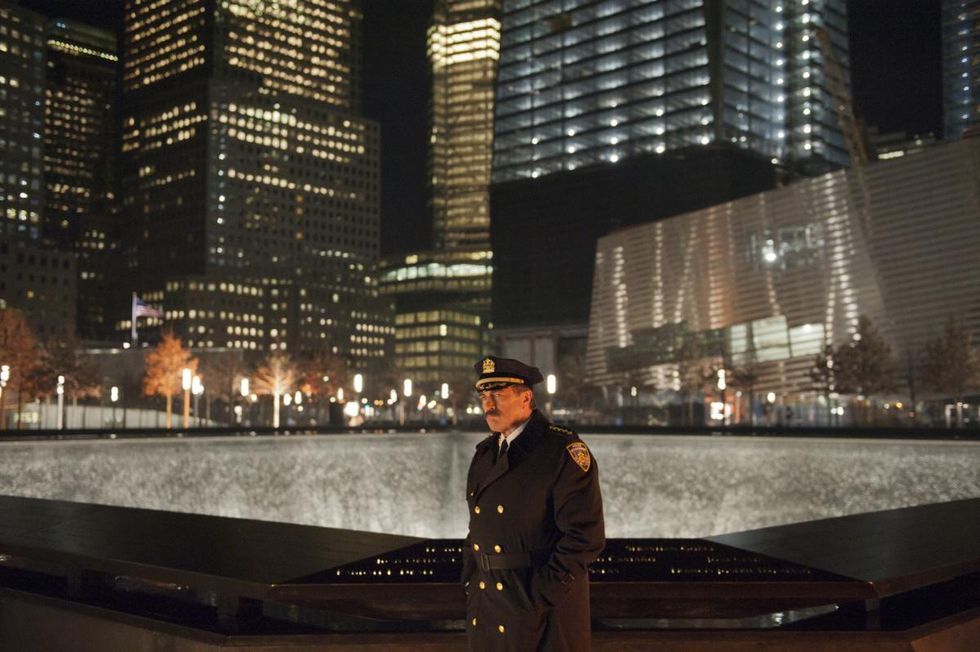 Frank grapples with the impending loss of a friend who worked alongside him at Ground Zero.
Photo: Jojo Whilden/CBS
On September 11, 2001, Frank was working in the North Tower of the World Trade Center when the South Tower collapsed. He spent days at Ground Zero and slept in the pews with his fellow officers at St. Paul's Chapel. Blue Bloods was the first scripted series to film at the 9/11 Memorial.
7. He's A Survivor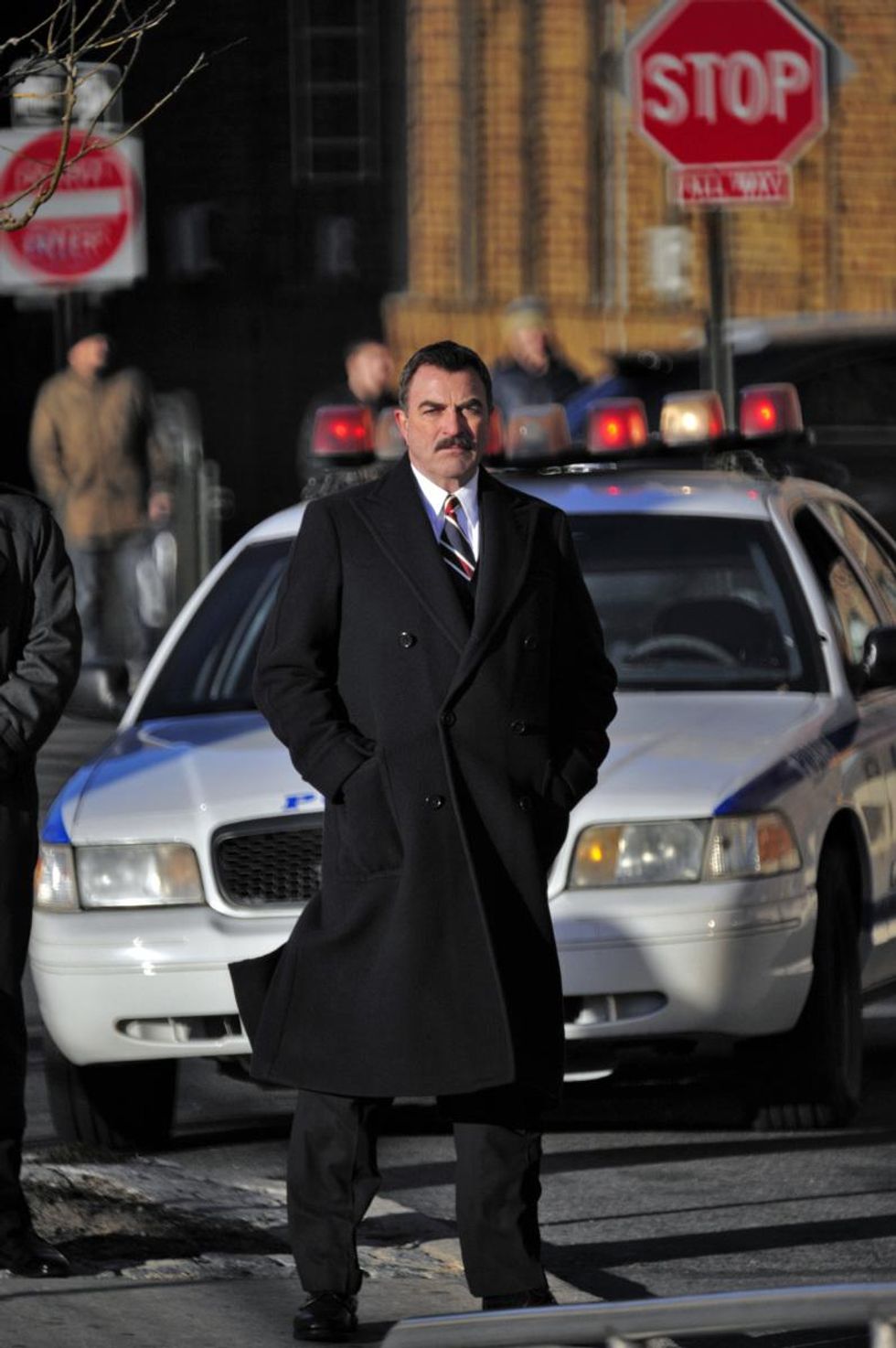 Frank looks on as a mob boss is led away.
Photo: John Paul Filo/CBS
Frank survived not one but two assassination attempts! In 2011, he was shot by Kevin Brennan, the son of the former head of the Westies, who Frank arrested back in the '70s. Two years later, he was targeted by Hector Santiago, a mentally challenged teen who was tricked by the Los Lordes gang. The bullets miss Frank, but hit Mayor Poole, leaving him paralyzed. Frank's resolve to serve his city never wavers.
8. He Rocks That Mustache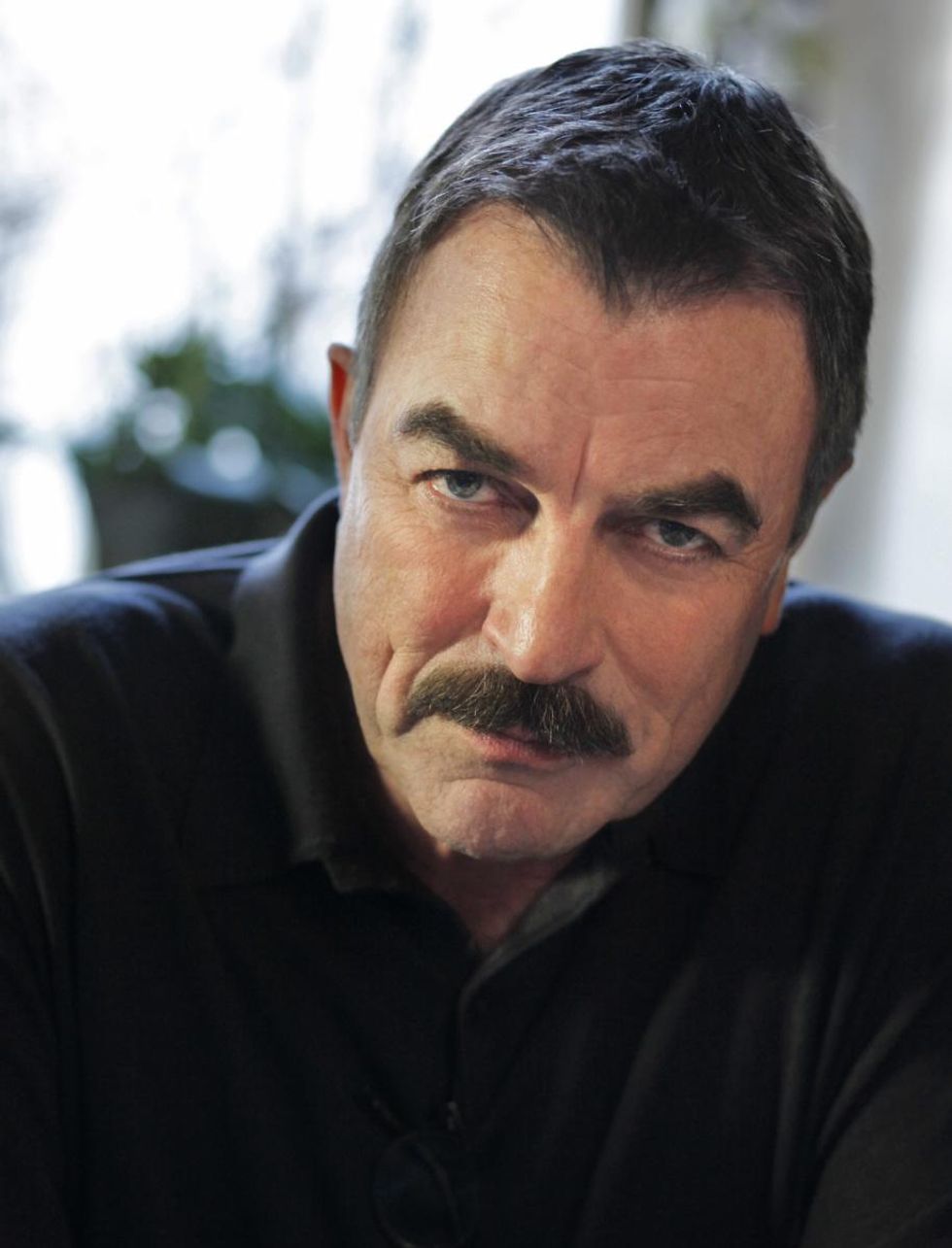 Tom Selleck has one of the most iconic mustaches in Hollywood.
Photo: Marni Grossman/CBS
Not since the OG Magnum, P.I., has there been a mustache as iconic as Frank Reagan's. It just happens that TV legend Tom Selleck played both! It's always Movember at the Reagan home—and that's the way we like it.
Watch Blue Bloods Fridays at 10 p.m. ET/PT on CBS and streaming on Paramount+.
SUBSCRIBE NOW: Enjoy 4 Digital Plus 2 Print/Digital Issues Of Watch Per Year — For Free!