Photo Credit: Matthias Clamer/CBS.
Emmy Award–winning costume designer Janie Bryant, the creative force behind the multi-era looks on Why Women Kill, takes you behind the scenes of the series' knockout style.
By Sara Spruch-Feiner
Why Women Kill streams exclusively on CBS All Access.
The premise of Why Women Kill may be slightly dark—three women living in different time periods must cope with infidelity and betrayal in their marriages—but the characters' wardrobes serve as constant inspiration for dressing with cheerful confidence. Which isn't surprising when you learn that the show's costume designer is Janie Bryant, whose work on Mad Men earned her four Emmy nominations and sparked a renewed infatuation with '60s style. Now Bryant is once again making fashion diehards' hearts race with the dynamic looks she creates on the series.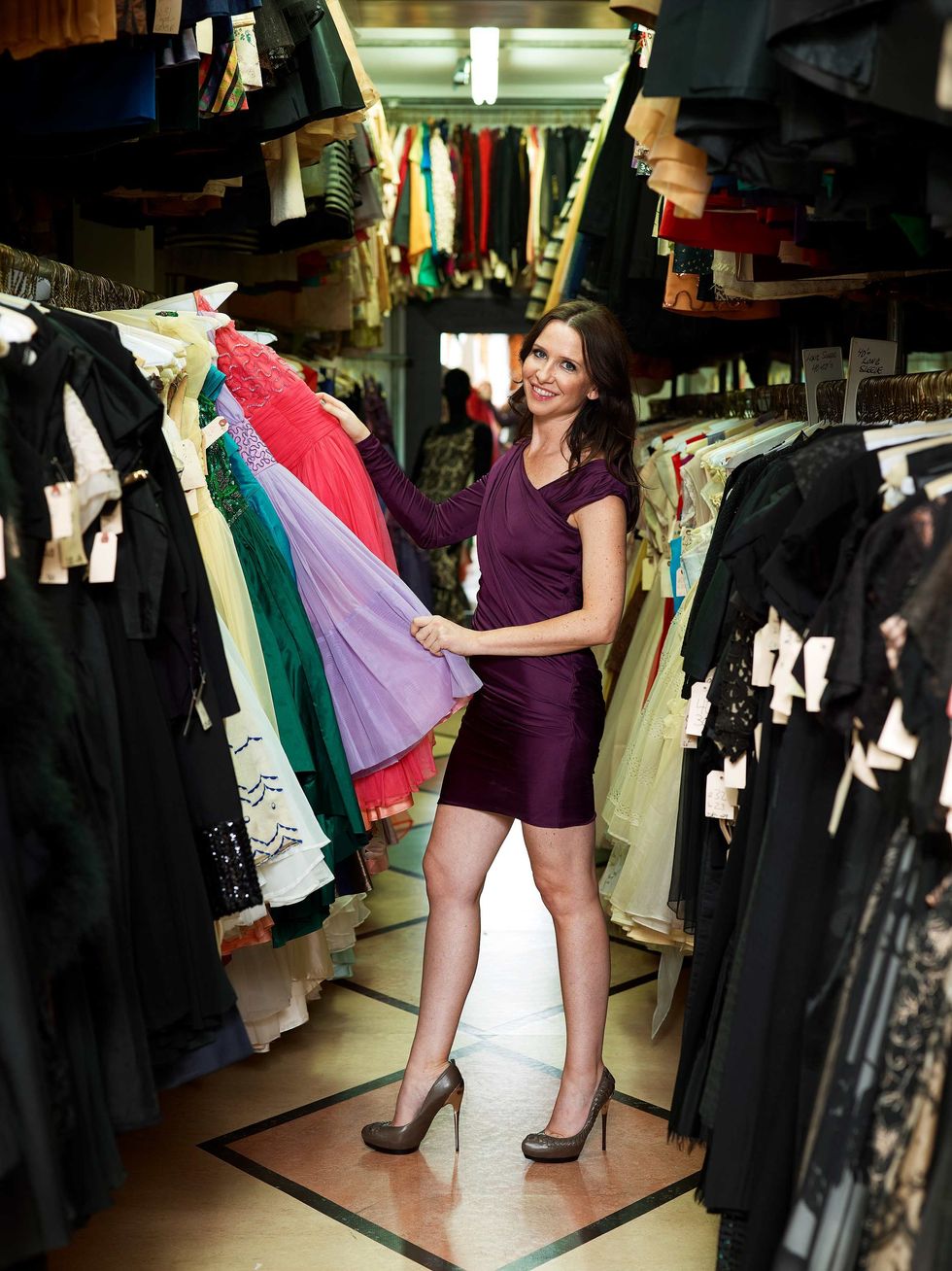 Janie Bryant poses for a portrait among fabulous fashions.
Photo Credit: Moses Berkson.
The first season's three leading ladies each reside in a different decade: Beth Ann (played by Ginnifer Goodwin) is living in 1963, Simone (played by Lucy Liu) is living in 1984, and Taylor (played by Kirby Howell-Baptiste) lives in the present day. Which means Bryant, who does extensive research for her characters' wardrobes and is known for her meticulous attention to era-appropriate details, relies on both retro and current pieces to shape their distinct styles. We asked her to share the essence of each character's fashion vibe, then we found the best items to help you channel some of their flair into your own timeless look.
'60s SWEETHEART
Beth Ann Stanton (played by Ginnifer Goodwin)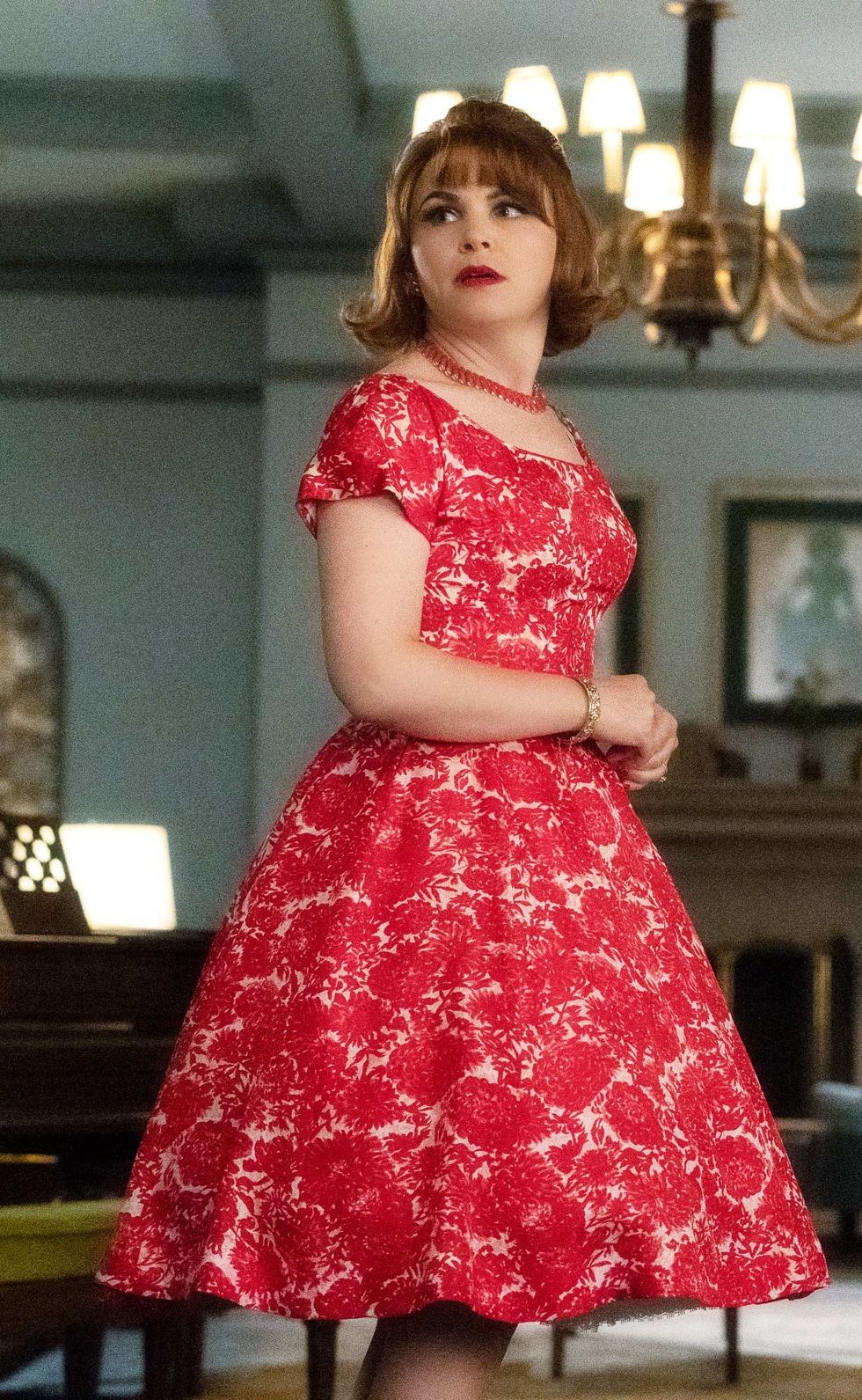 Ginnifer Goodwin as Beth Ann Stanton in Why Women Kill.
Photo Credit: Aaron Epstein/CBS.
"In the beginning of the series, Beth Ann's color palette was very beige, celery, and gray, which reflected how sad and dead inside she was at the time. But as her story evolved and Beth Ann discovered herself and started living again, now she's in bright colors and patterns. I also changed her silhouette by doubling and tripling the size of the petticoats under her outfits. So her skirts keep getting bigger and the flowers on her silk dresses keep getting bolder, which follow her character's growth into a more lively, engaging personality."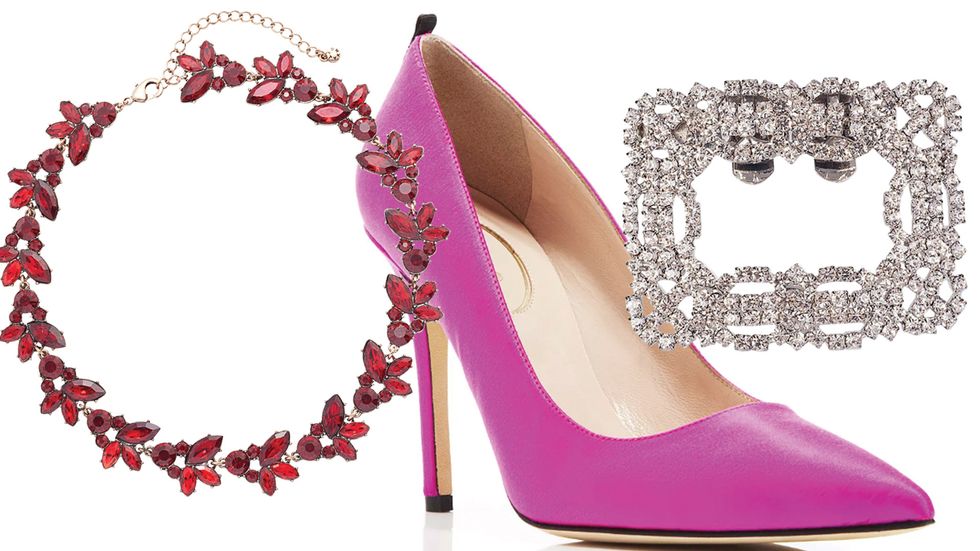 Knotty Crystal Statement Collar Necklace, $58. SJP by Sarah Jessica Parker fawn satin high-heel pumps in Candy, $350. Absolutely Audrey Scarlett shoe clips, $18 for set.
Photo Credit: Nordstrom, SJP by Sarah Jessica Parker, Absolutely Audrey.
Style inspirations: "'50s good girls like Doris Day, Donna Reed, and Debbie Reynolds."
You'll never see Beth Ann wearing … "Cigarette pants. She and [her husband] Rob have that early '60s husband-and-wife dynamic where he would probably scold her for wearing pants."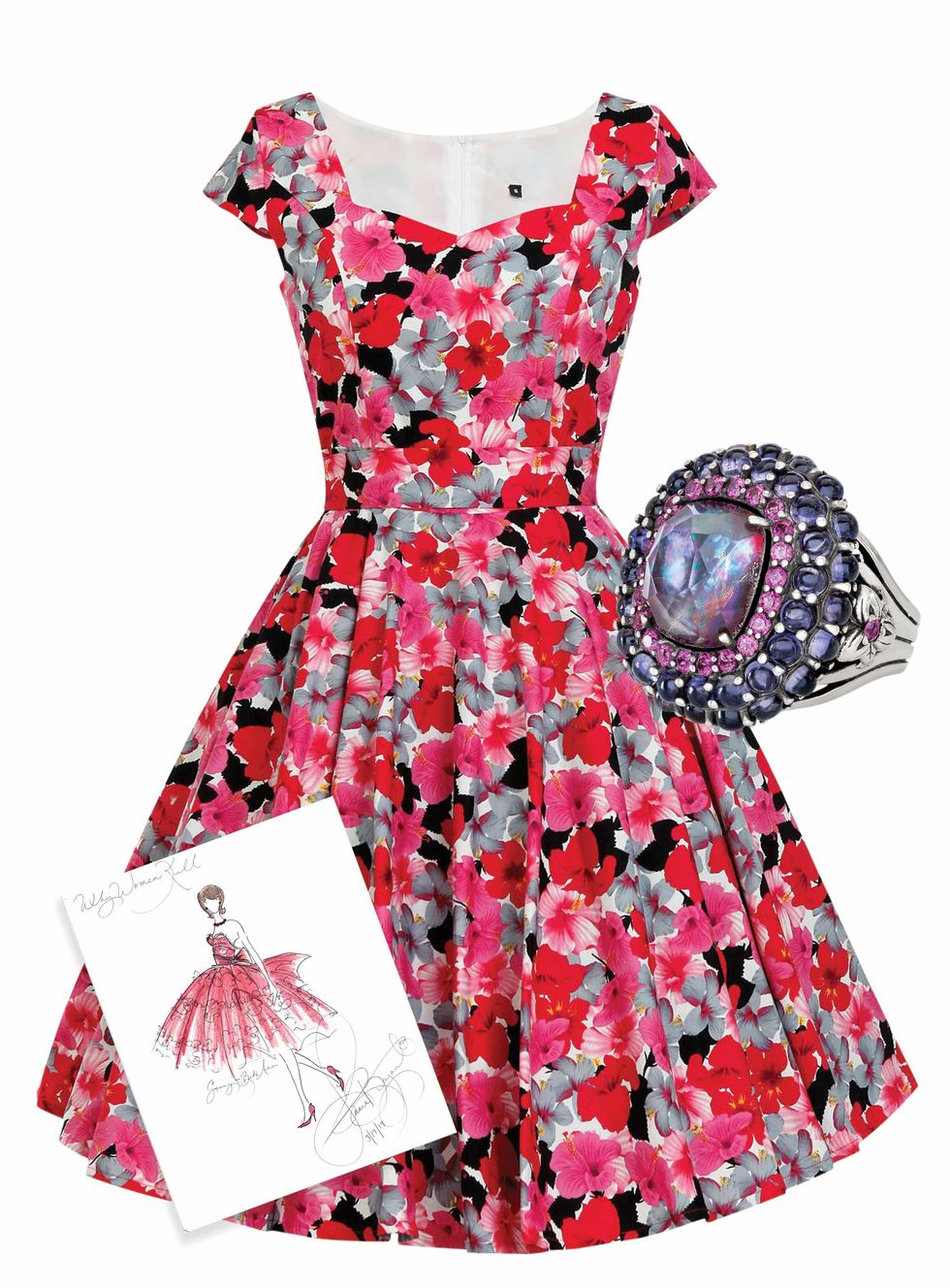 Bryant's drawing of Goodwin's finale dress. Lady Mayra Clothing red poppy dress, $50. Stephen Dweck iolite, garnet, and quartz ring, $895.
Photo Credit: Courtesy of Janie Bryant, Lady Mayra Clothing, Neiman Marcus.
Her best look: "I love the beautiful red-and-white floral silk-print dress that she wears in the last scene of the Season 1 finale. I design a lot of Beth Ann's clothes, but this was actually a vintage gown. Red was the breakout element of Beth Ann's color story, and we added three petticoats under that skirt so her dress was extra full. Her shoes were these amazing red patent-leather pumps from the 1950s. I adore that entire costume, especially on Ginny."
'80s GLAMOUR SIREN
Simone Grove (played by Lucy Liu)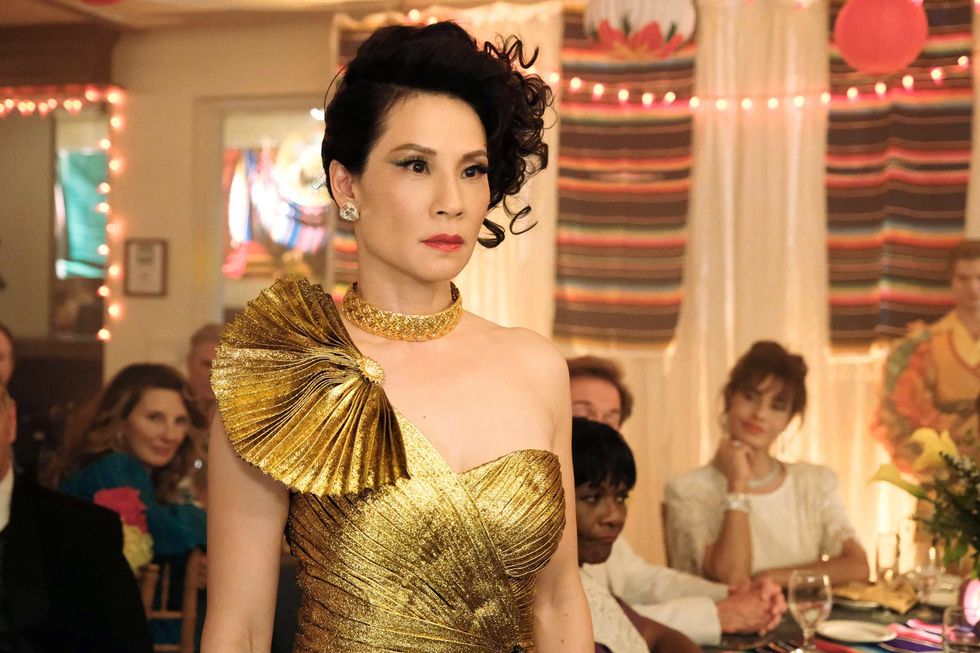 Lucy Liu as Simone Grove in Why Women Kill.
Photo Credit: Jessica Brooks/CBS.
"Simone's look mirrors the ostentatiousness of the '80s: It starts out elaborate and vivid, with strong statement jewelry, rings all the time, and big shoulder pads. Throughout the course of the show, her style transitions from over-the-top to more somber. She's still sophisticated, but as her character comes to realize that life is about love and companionship rather than material goods, her manner of dressing becomes more low-key."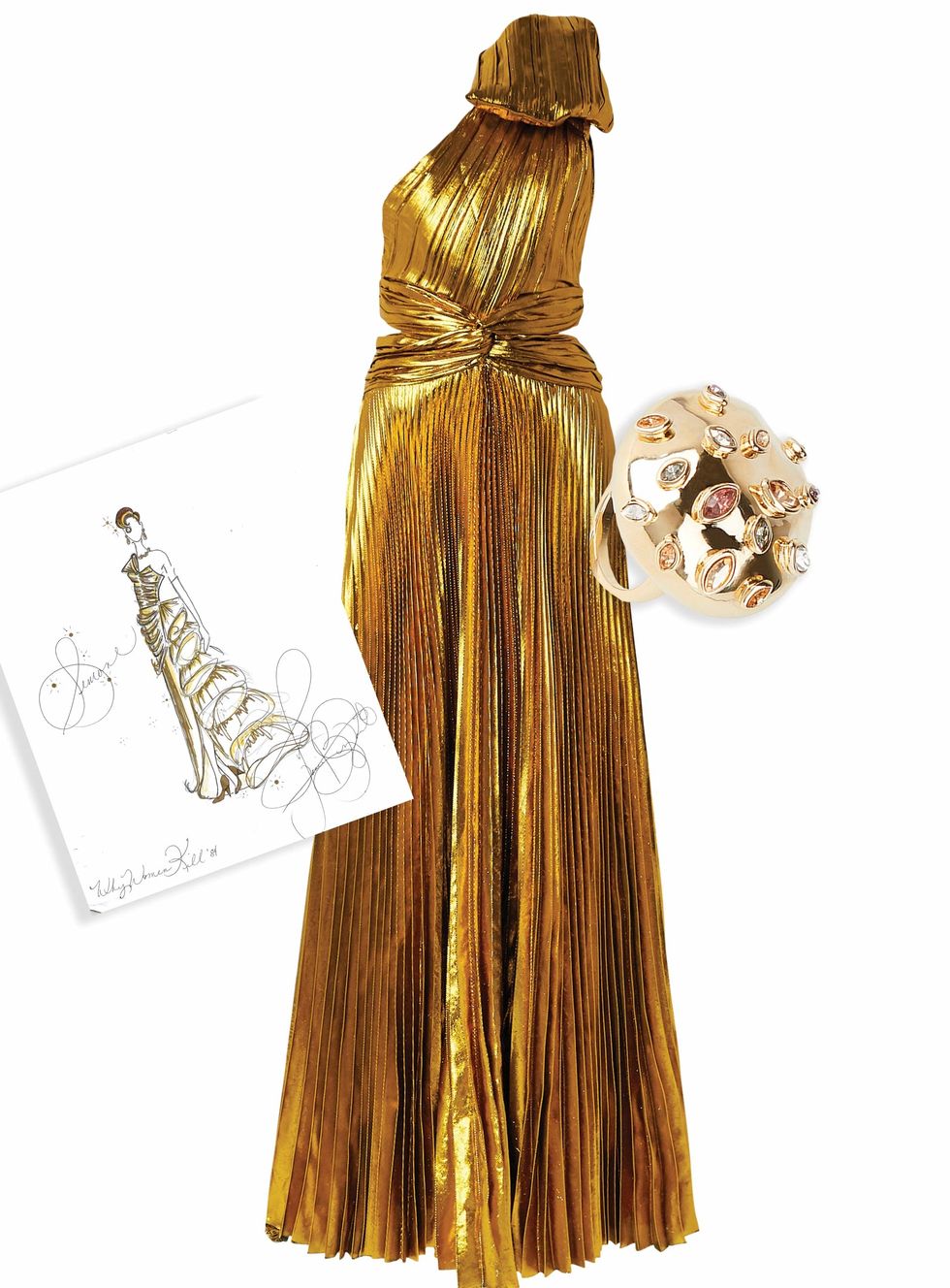 A sketch by Bryant of Liu's gold gown. TRE by Natalie Ratabesi bow-embellished one-shoulder plissé-lamé gown, $2,610. Alexis Bittar Sputnik cocktail ring, $245.
Photo Credit: Courtesy of Janie Bryant, Net-a-Porter, Neiman Marcus.
Style inspirations: "Joan Collins on Dynasty, Elizabeth Taylor, and Tina Chow."
You'll never see Simone wearing … "Polyester. It's just not chic enough for her."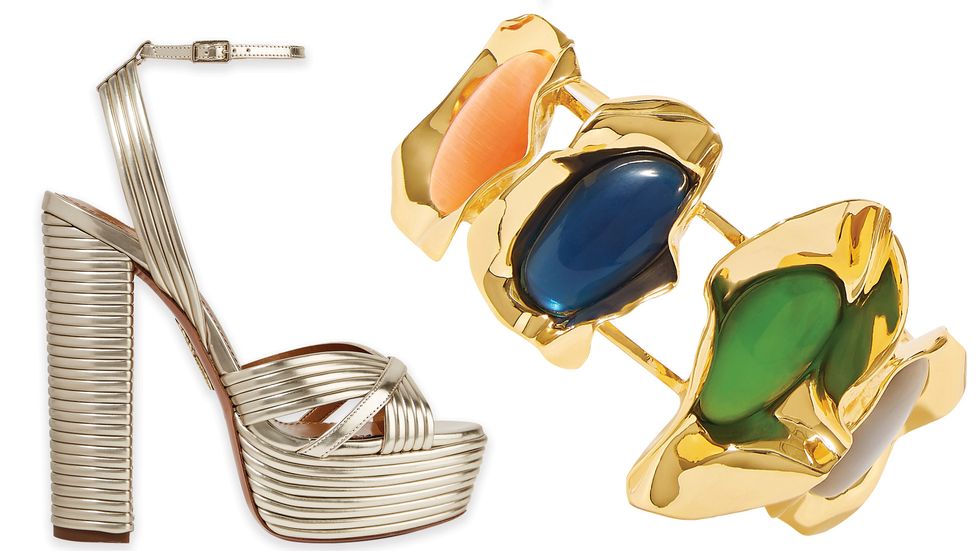 Ejing Zhang Effie gold-plated and resin cuff, $225. Aquazzura Sundance 140 metallic vegan leather platform sandals, $895.
Photo Credit: Net-a-Porter.
Her best look: "I designed the gold-and-black gown that Simone wears when she does the tango dance in the third episode, which is such a fabulous episode. I love the gold fan on the shoulder and the high slit in the skirt, which I made in stretch rayon so that Lucy could really move during the dance scene. Gold is such an opulent color, but it's also sexy."
MODERN SOPHISTICATE
Taylor Harding (played by Kirby Howell-Baptiste)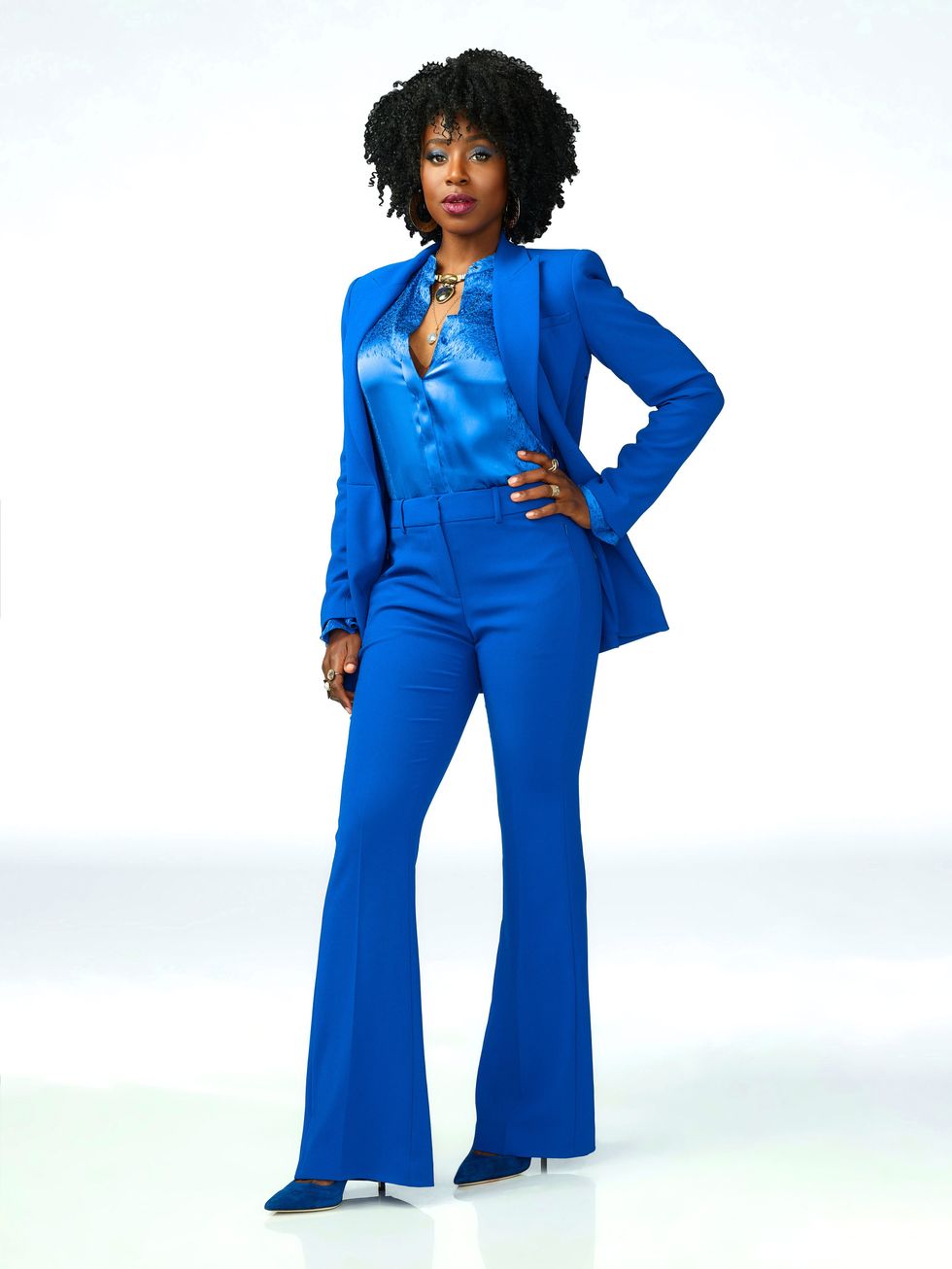 Kirby Howell-Baptiste as Taylor Harding in Why Women Kill.
Photo Credit: Matthias Clamer/CBS.
"Taylor has both masculine and feminine traits, so her wardrobe brings together those two worlds. I put her in a lot of leather and animal prints, and harder-edge jewelry mixed with softer pieces like silk blouses and skirts and beautiful stiletto heels. She has those two sides of her personality, so balancing elements of menswear and womenswear in her look is a very important through line of her story."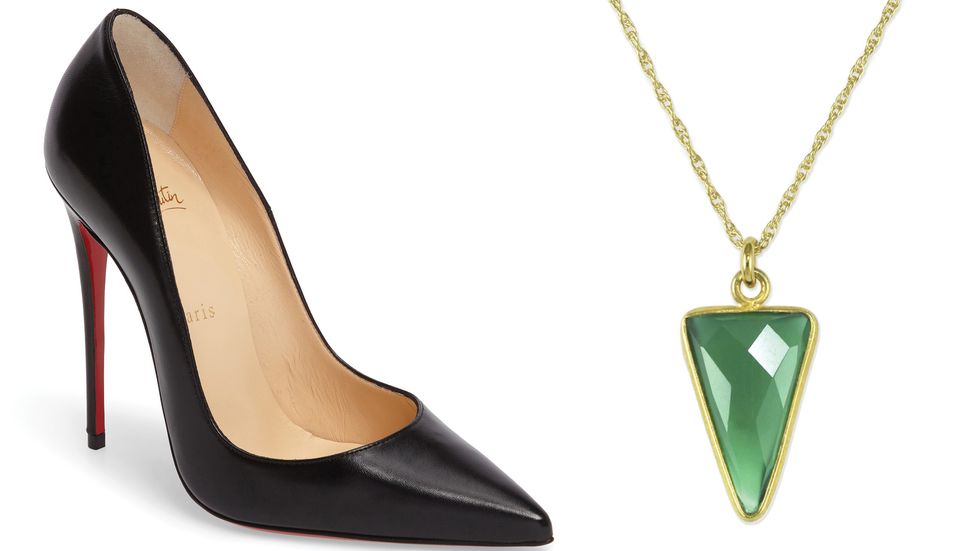 Christian Louboutin So Kate 120mm pumps, $725. Cynthia Rybakoff Emerald Agate Arrow Pendant, $84.
Photo Credit: Neiman Marcus, Cynthia Rybakoff.
Style inspirations: "The street style of today's high-powered professional women."
You'll never see Taylor wearing … "Ruffles. They're way too girly for her."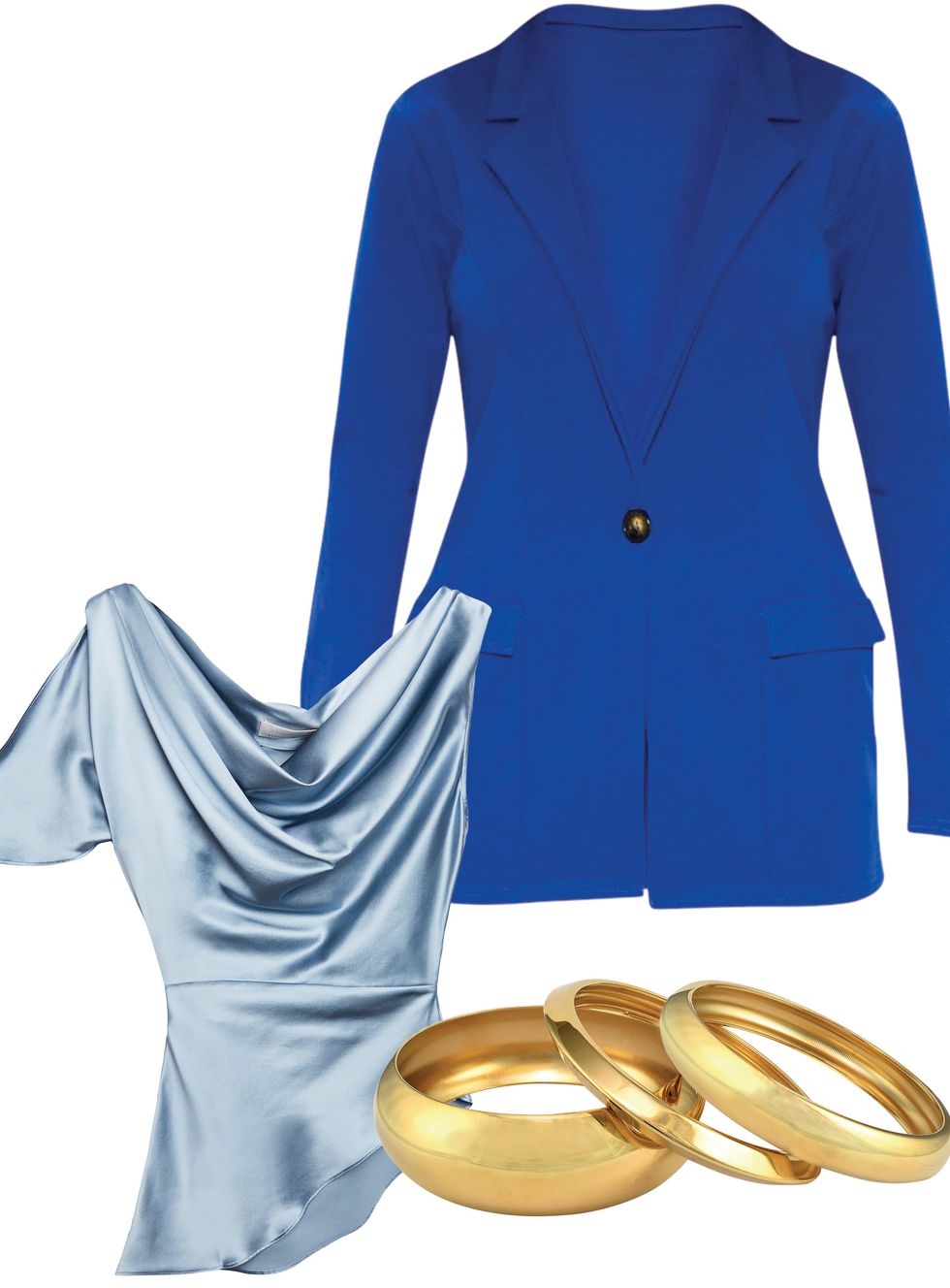 Fleur du Mal asymmetrical cowl top, $295. PrettyLittleThing blue fitted button-down crepe blazer, $38. Cynthia Rybakoff '80s bangle stack, $148.
Photo Credit: Fleur Du Mal, PrettyLittleThing, Cynthia Rybakoff.
Her best look: "The bright blue Tahari pantsuit that Taylor wears in Episode 1 makes such a strong statement. It's this very vivid Moroccan blue that's just gorgeous on her and represents her character perfectly, because the power-suit silhouette is masculine, but then the color is all woman."
Why Women Kill streams exclusively on CBS All Access.