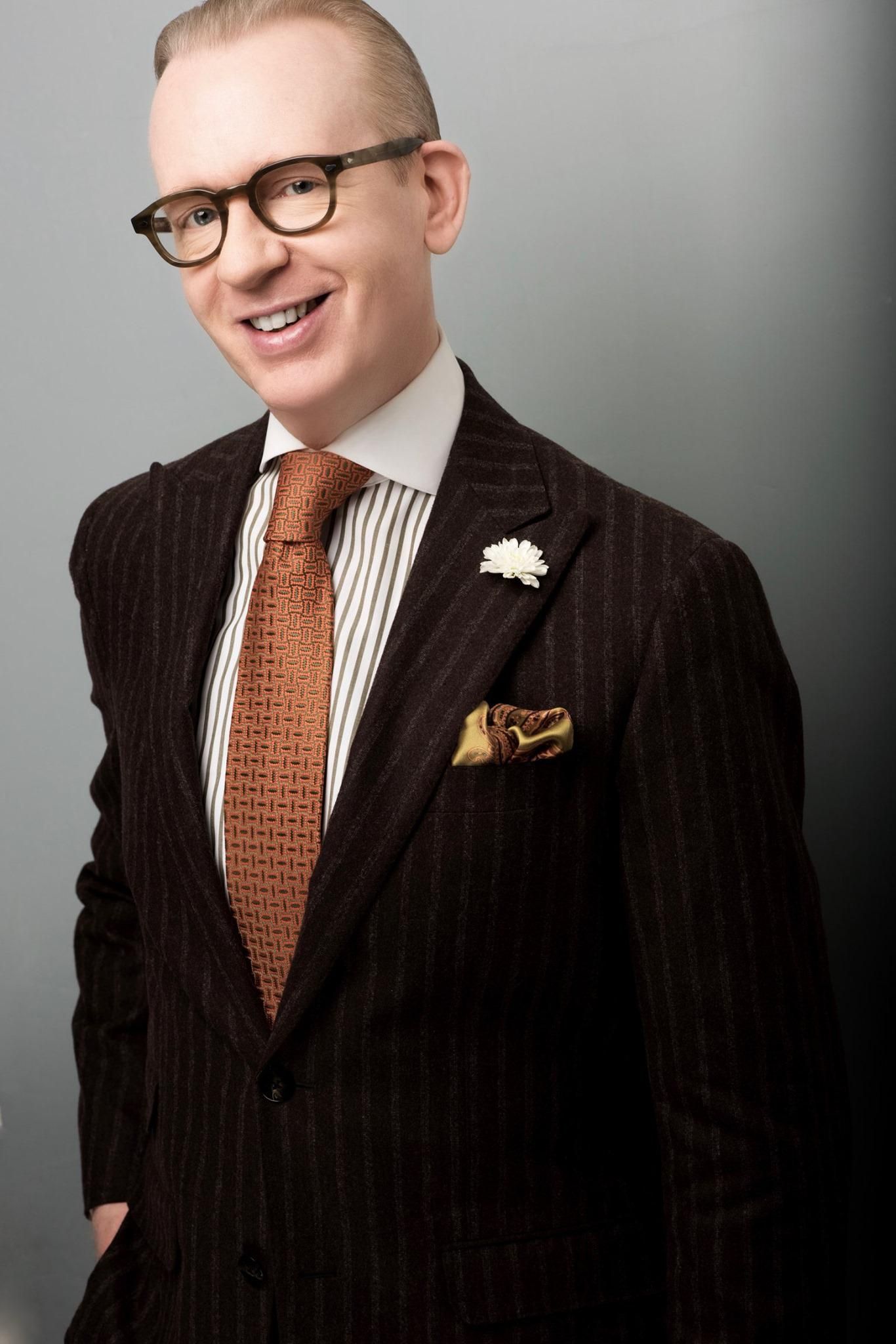 Photo Credit: Cathryn Farnsworth, Courtesy of David Zyla
Emmy-winning The Young and the Restless costume designer David Zyla spills his wardrobe secrets.
By Meirav Devash

And we thought picking out something to wear was challenging. At 250 episodes per season, CBS's The Young and the Restless costume designer David Zyla is responsible for dressing a huge, beloved cast of characters—approximately 2,000 outfits a year. Every character has their own color palette, their clothes are tailored for a custom fit, and they never—ever—repeat outfits.
Watch The Young and the Restless weekdays on CBS and streaming on Paramount+.
---
SUBSCRIBE NOW: Enjoy 4 Digital Plus 2 Print/Digital Issues Of Watch Per Year — For Free!
Big Events and Small Details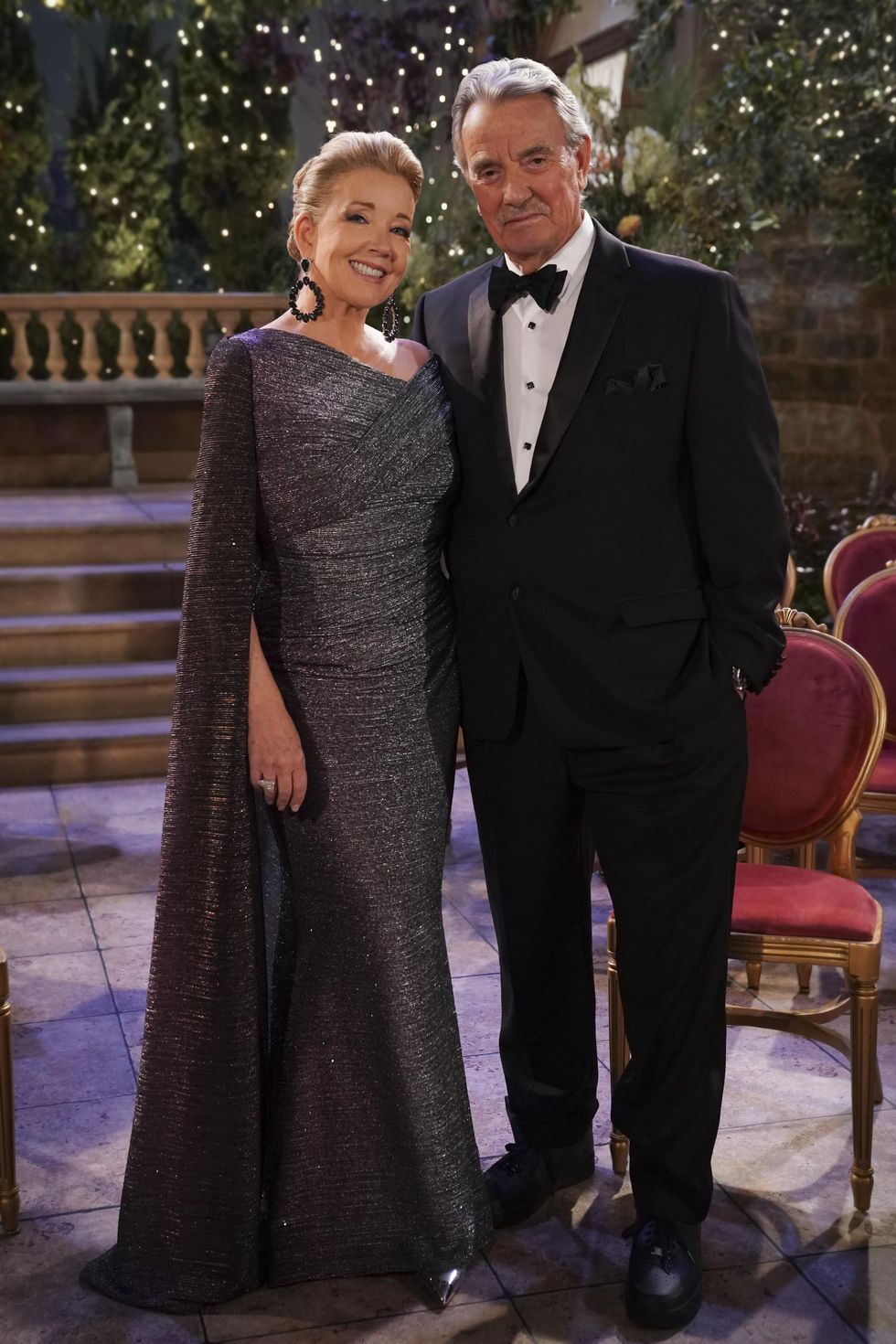 Melody Thomas Scott (Nikki Newman) and Eric Braeden (Victor Newman) dazzle in formalwear for Ashland and Victoria's wedding.
Photo: Sonja Flemming/CBS
While that may sound daunting, Zyla loves his work. "Dressing each character is fascinating because they're so well written," he says. "My job is to find the clothes to illuminate their individual personalities. Amanda (Mishael Morgan) is never going to show up looking like Mariah (Camryn Grimes)."
To craft a look that makes sense in the Y&R universe, Zyla lets the clothes help tell the story. "If it's a sexy scene and the character is coming from work in the emergency room," he says, "you can't dress her in a strapless cocktail dress, but she can wear a sweater that illustrates sexiness in that moment. If there's a scene written for a character lurking in the shadows, covered in blood, you have to dress him in a light color shirt so viewers can see it."
Zyla let us in on some of his style secrets:
Each Character Has a Closet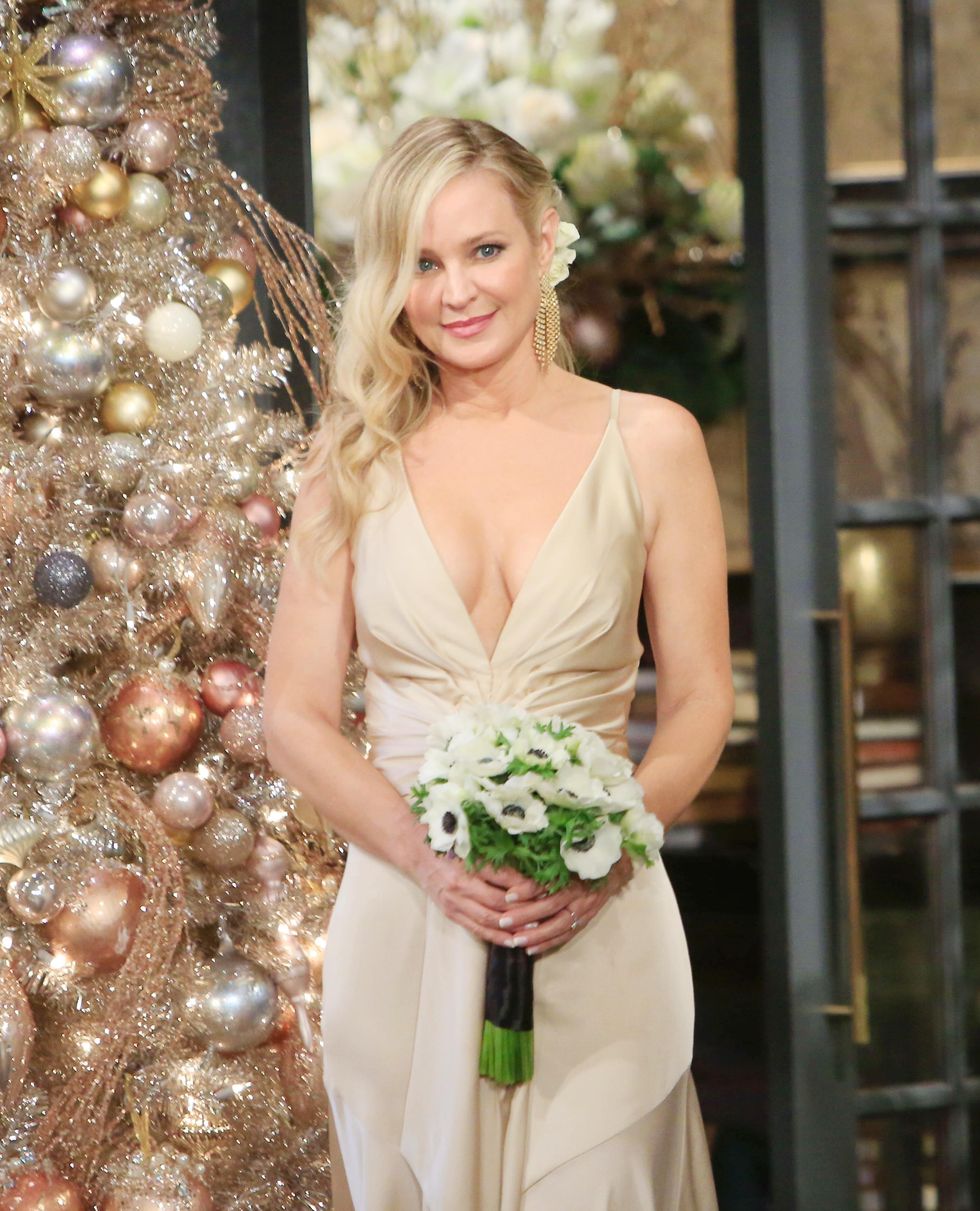 Sharon Case wears a Fame & Partners gown on The Young and the Restless set.
Photo Credit: Howard Wise/jpistudios.com
"And their own color palette, too, which we stick to very faithfully. We put just as much thought into building a clean, simple wardrobe for one character as we do into creating a more eclectic one for another, with lots of accessories and pattern mixing.
"When putting Nikki's (Melody Thomas Scott) looks together, I'll ask my team if they think an earring is too much, and the response is always no, because she's such a powerful force that nothing ever wears her. The rule for Phyllis (Michelle Stafford) is to go asymmetrical—her clothes are often off the-shoulder tops, wrap blouses, and one sleeve dresses.
"Victoria (Amelia Heinle) is influenced by the Victorian era but updated and not costume-y at all—high necks, puffed sleeves, a cummerbund at the waist. There are a lot of elements involved in dressing Sharon (Sharon Case), which makes it super fun. She has more pieces in her wardrobe than anyone because her style is a boho mix of a camisole with three necklaces, a jacket with fur, plus tights and boots.
"For Amanda, we researched how she dressed before and brainstormed how to empower her new character in a different way. I'd describe her wardrobe as having a soft Grecian or 1930s feel, but modern at the same time."
There Are No Repeat Looks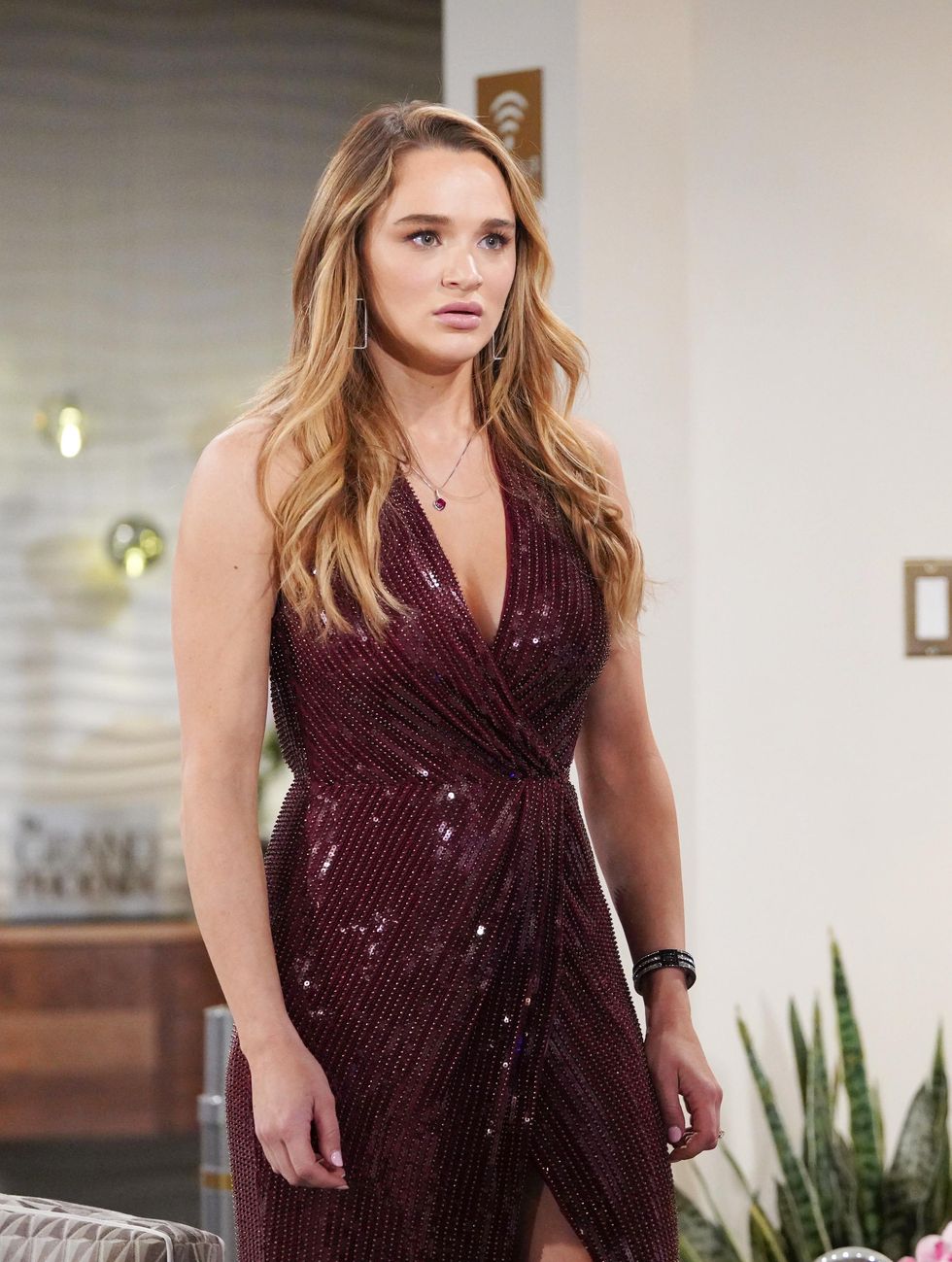 Hunter King on the set of The Young & The Restless in a dazzling dress
Photo Credit: Howard Wise/jpistudios.com
"If they've worn a blue pencil skirt, you might spot it again, but with a different blouse or sweater. We never want to remind viewers of what happened when they wore it before," he says. "We want the story to move forward."
He Finds the Perfect Fit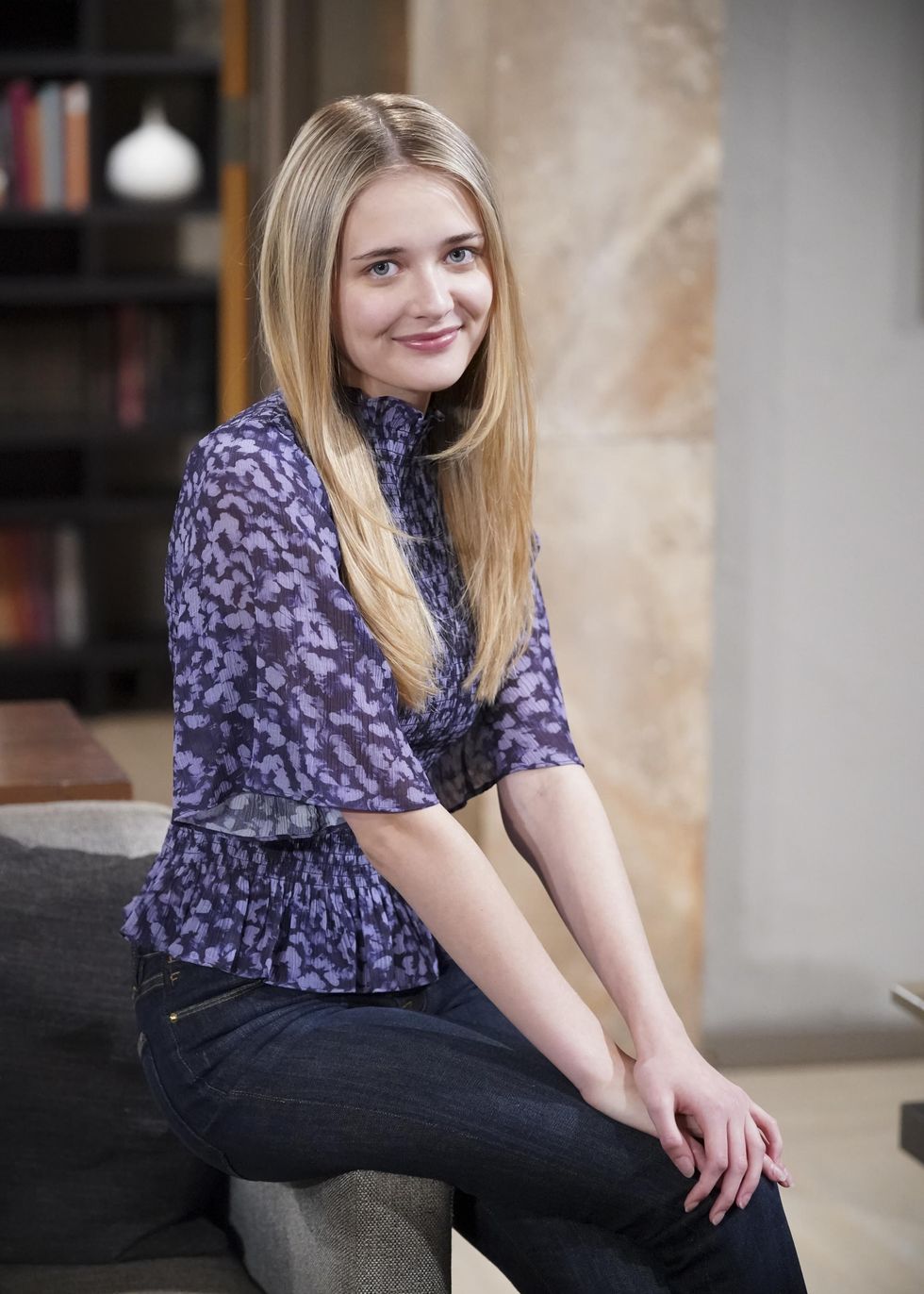 Reylynn Caster as Faith Newman looks both casual and flawless in her attire.
Photo: Monty Brinton/CBS
Zyla's goal for the clothes is heightened realism. "We're creating the idealized version of what your neighbor would wear at the coffee shop down the street," he says. "We don't want it to look good: We want it perfect. Idealized. Heightened." In fact, 90% of the clothes worn on camera are tailored, he says.
"Why is it so important to be a perfectionist? So no matter where the camera cuts, the actor will still look fantastic. "Our actors often tell me that they have a hard time shopping after being on the show because the clothes don't fit perfectly like they're used to," he says.
Biggest Fashion Emergency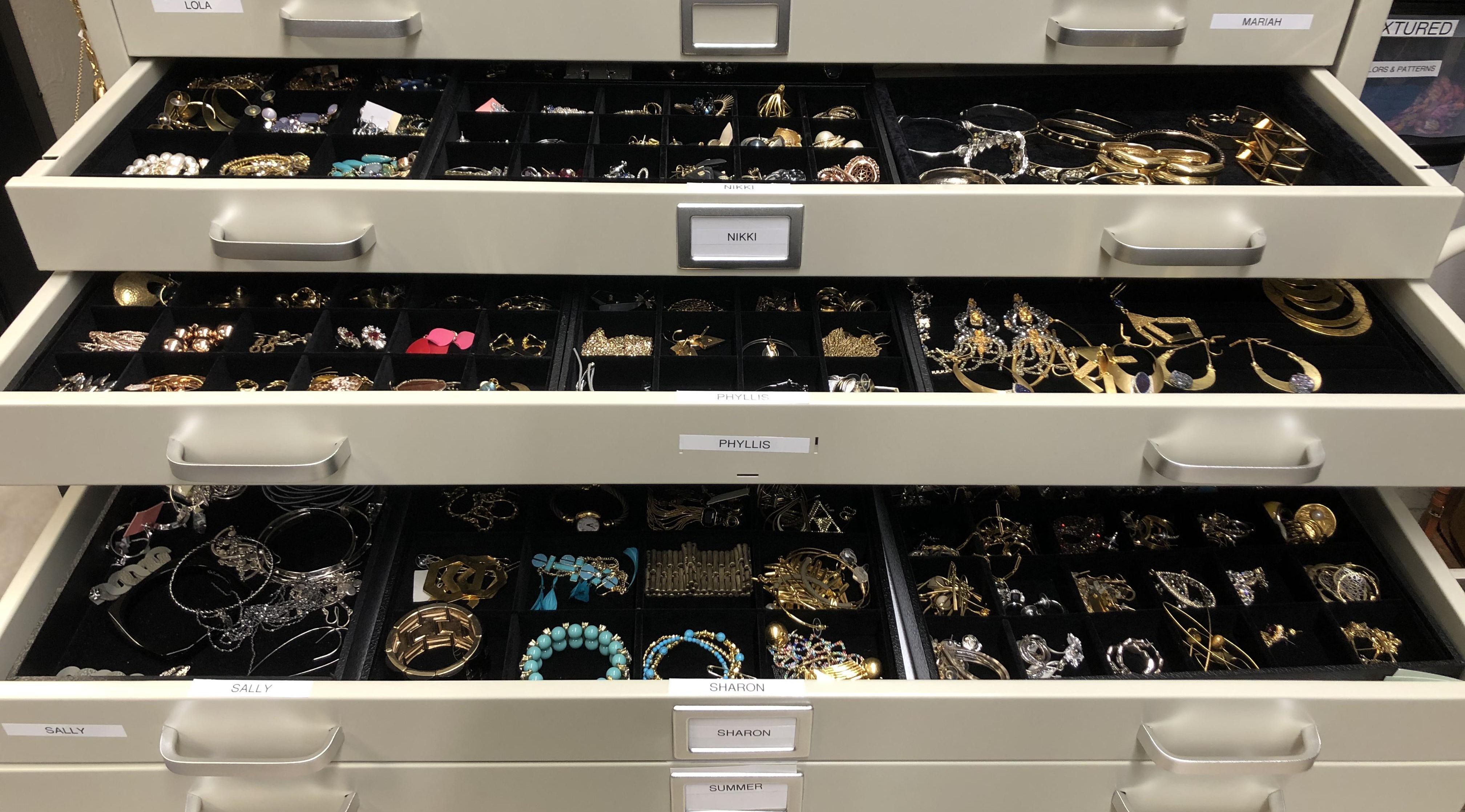 Here's a sneak peek at the jewelry drawers backstage on set, each labeled with a character's name.
Photo Credit: Y&R
Earlier this year, a side zipper on Phyllis' dress broke during the shoot. "The design was totally asymmetrical, so it wouldn't stay up without the zipper," he says. "Her side was completely open, and there was no way to fix it in time." So they hid it the old fashioned way—with props. In the scene, she's holding an iPad under her arm over the gap.
Zyla's Tricks of the Trade
STREAMLINING COLLARS
"For an over-the shoulder shot, I lower the collar of a man's jacket and remove the bump back there. The silhouette has to be perfect."
NARROWING SLEEVES
"Designers cut clothes to accommodate a variety of arm sizes, but on someone very lean, there's too much fabric. It's distracting."
HEMMING DRESS SHIRTS
"For men who wear their shirts untucked, we even out the hem and put slits in the side so that it looks like it's designed to be worn that way."
SUBSCRIBE NOW: Enjoy 4 Digital Plus 2 Print/Digital Issues Of Watch Per Year — For Free!
Watch The Young and the Restless weekdays on CBS and streaming on Paramount+.