By Sarah Deming
'Tis the season for cozy celebration, and if anyone knows how to make merry, it's the Reagans. Blue Bloods' heroic police family has been keeping the streets of New York safe for 13 years in their hit CBS police procedural. And after every homicide arrest, drug bust, and foiled terrorist plot, they debrief back in Bay Ridge over the Sunday roast.
Tom Selleck heads the table as formidable Police Commissioner Frank Reagan, but everyone gets their say, from Grandpa Henry (Len Cariou) to his wisecracking great grandkids. Fiery Detective Danny (Donnie Wahlberg) always has a hot take. Assistant District Attorney Erin (Bridget Moynahan) and younger brother Jamie (Will Estes) play devil's advocate as the Reagans debate serious moral issues and eat serious amounts of meatballs.
Here are some morsels of wisdom from the Reagans to savor over the holidays.
Watch Blue Bloods Fridays at 10 p.m. ET/PT on CBS and streaming on Paramount+.
Don't Isolate: Celebrate!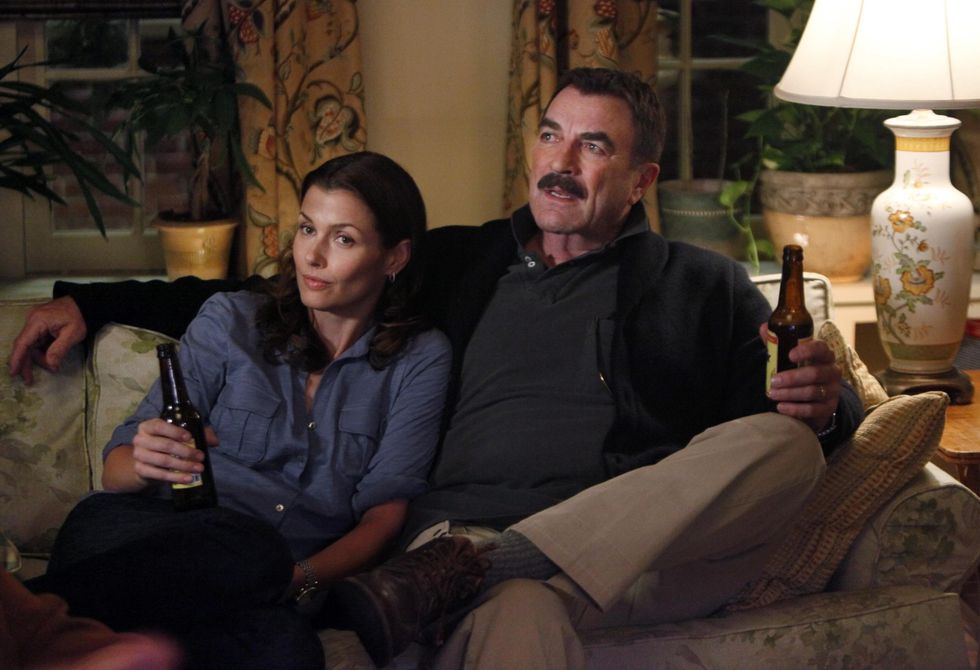 Erin ( Bridget Moynahan) and Frank (Tom Selleck) in a scene from Season 1, Episode 7, "Brothers"
Photo: Craig Blankenhorn/CBS ©2010 CBS Broadcasting Inc. All Rights Reserved.
If holidays make you blue, why not gather some friends and be blue together? In the Season' 1 episode "My Funny Valentine," all the single Reagans get together for Peking duck and "a meeting of the lonely hearts club." Nicky (Sami Gayle) presents her mother with a single red rose, and Henry and Jamie propose a toast, "To better luck next year."
Focus On What's Important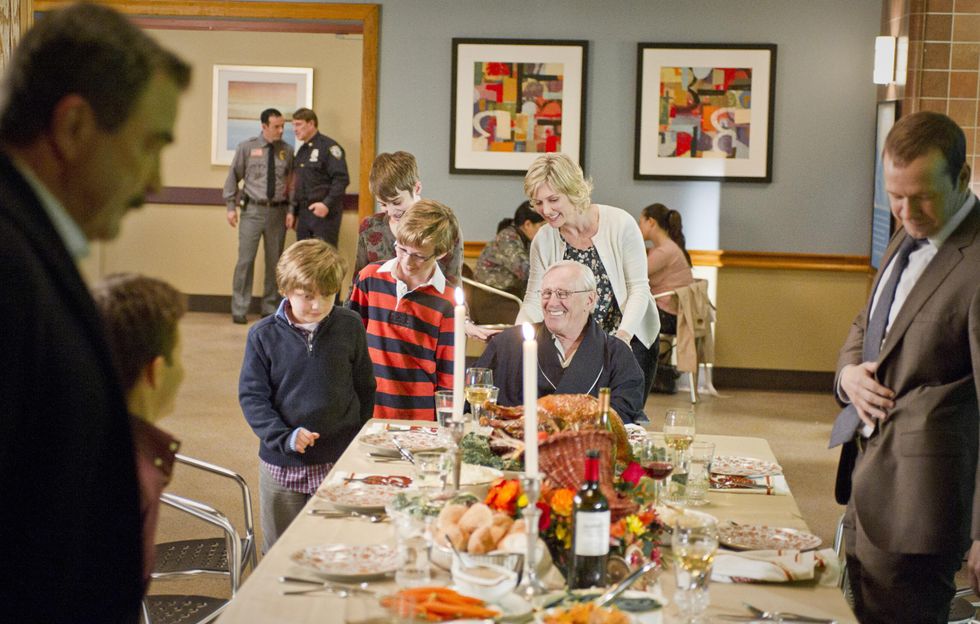 Sean (Andrew Terraciano), Jack (Tony Terraciano), Nicky (Sami Gayle), and Linda (Amy Carlson) gather around Henry (Len Cariou) at the Reagan family Thanksgiving dinner in Season 2, Episode 8, "Thanksgiving."
Photo: John P. Filo/CBS ©2011 CBS Broadcasting Inc. All Rights Reserved.
Sometimes life gets in the way of a picture-perfect holiday. When Grandpa Henry has a heart attack, the holidays threaten to turn tragic. But he is made of sterner stuff and so are the Reagans. The second season's "Thanksgiving" sees the clan set up a festive family dinner in the hospital. Henry leads grace, "For all those less fortunate in this season of giving and for those who open their door to them."
Remember Your Family Recipes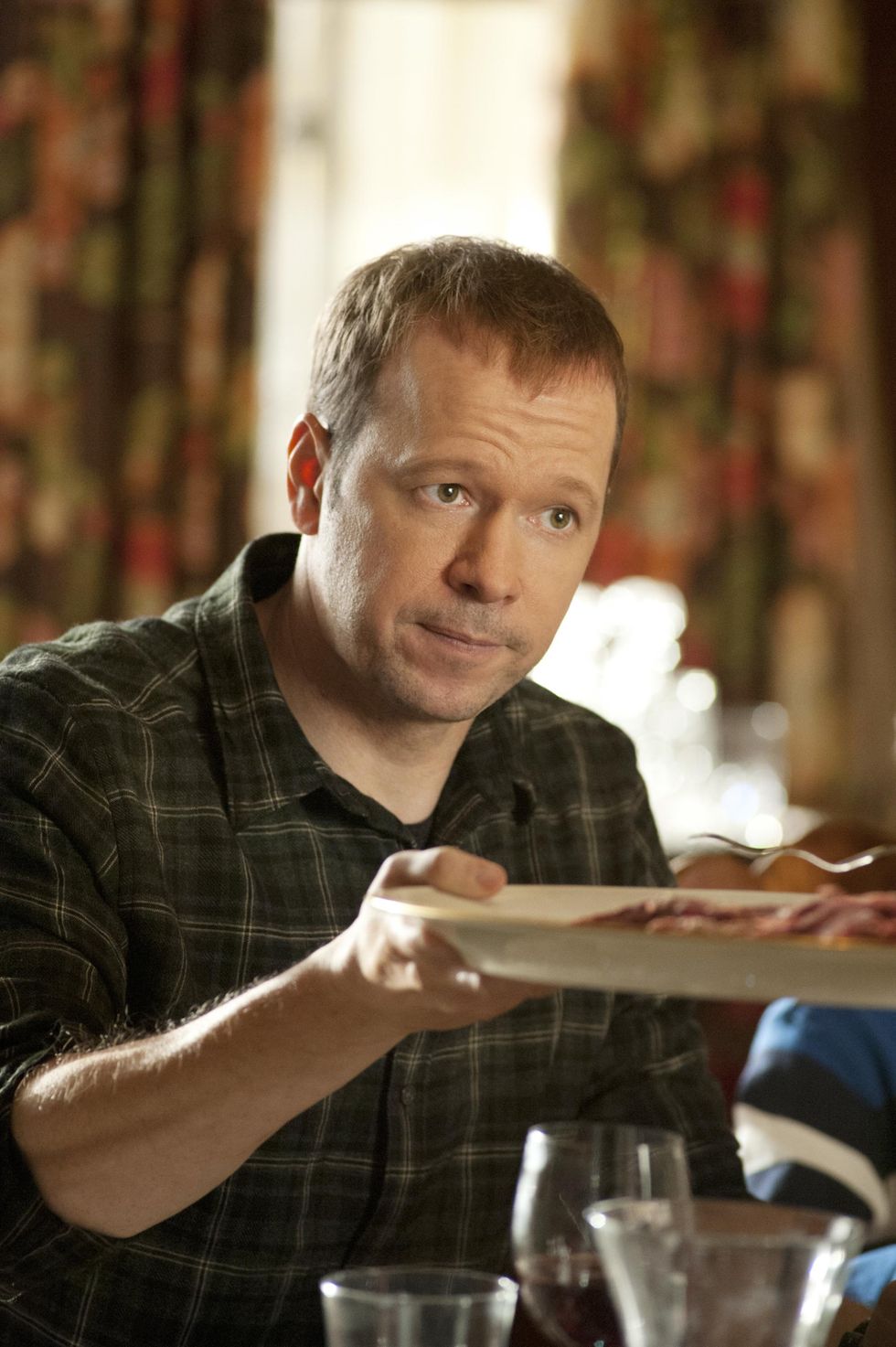 Danny (Donnie Wahlberg) during a Reagan family dinner
Photo: Jojo Whilden ©2012 CBS Broadcasting Inc.
Food satisfies more than just physical hunger, and including a traditional recipe in your holiday meal is a great way to honor your roots. In the Season 2 episode "Mother's Day," the Reagans feel sentimental as they remember their late mother and grandmother. At dinner, the men wait on the women for a change, and Frank dishes out his "World Famous Mother's Day Mash." It's a little lumpy, just the way Grandma liked it.
Practice Gratitude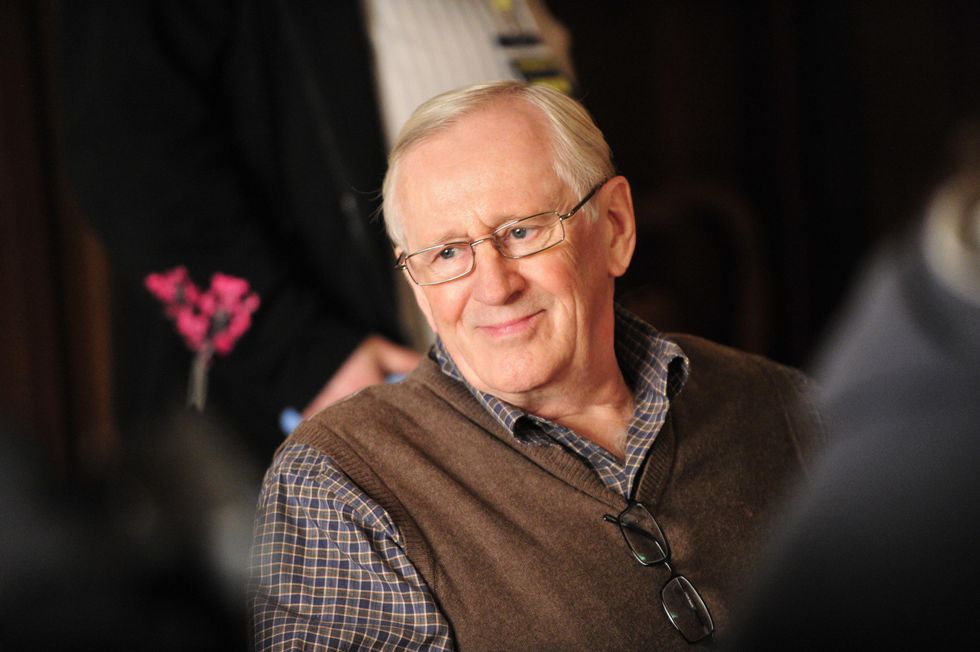 A smiling Henry (Len Cariou) at home
Photo: John P. Filo ©2011 CBS Broadcasting Inc.
Research shows that practicing gratitude can reduce anxiety levels. In the Season 9 episode "Authority Figures," Jamie's fiancée Eddie (Vanessa Ray) confesses to feeling Christmas stress. Henry suggests gratitude as an antidote. He and Frank recount the story of the famous "Christmas truce" of 1914, in which French and British soldiers climbed out of the trenches to play soccer with their German foes.
Make A To-Do List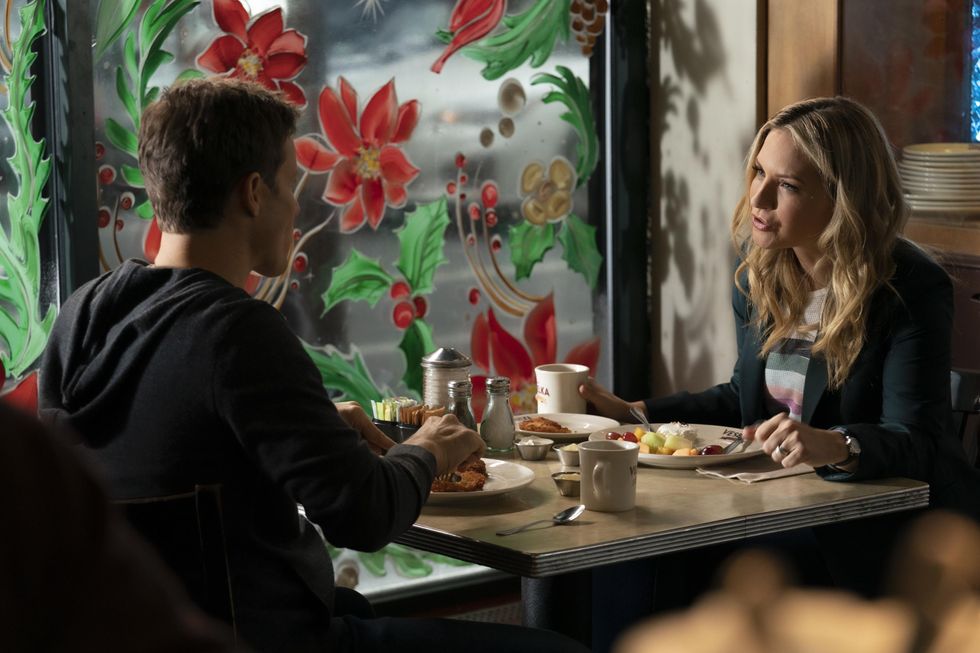 Jamie (Will Estes) and Eddie (Vanessa Ray)
Photo: Patrick Harbron/CBS ©2019CBS Broadcasting Inc. All Rights Reserved.
If you're tackling an ambitious menu, take a cue from professional chefs: Make a prep list to keep your kitchen organized. But be careful. When Eddie gives Jamie a list of pre-Christmas tasks, it sparks a tiff about marital roles. The newlyweds eventually make up, and Jamie gives Eddie a "Honey Do List" of his own: 1. Have better days. 2. Hug each other more. 3. Explore kama sutra. 4. Snuggle more. 5. Spend more time together.
If You Can't Be There In Person, Send A Gift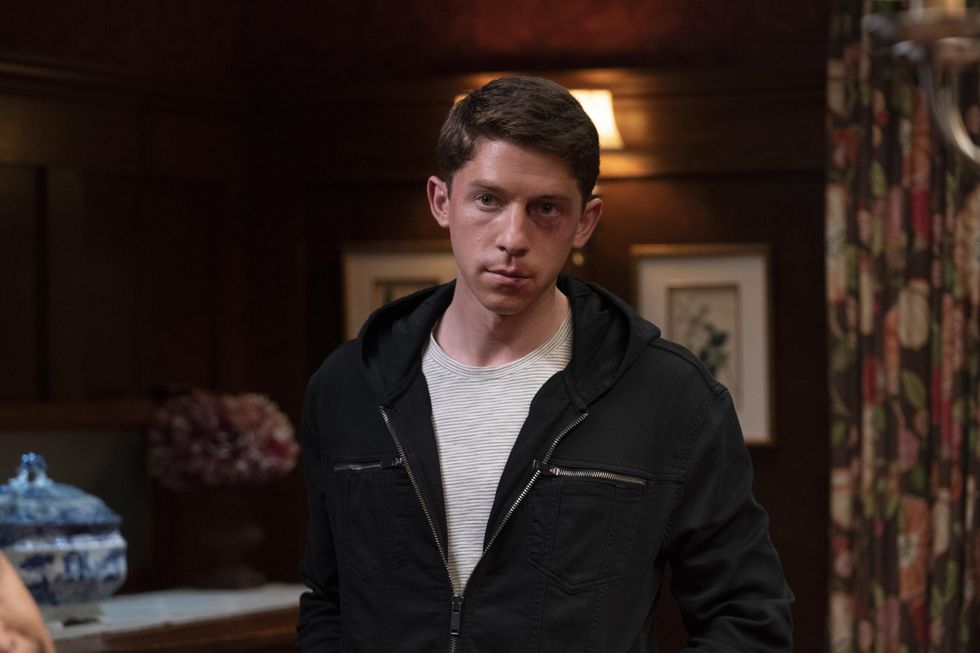 Will Hochman as Joe Hill
Photo: Patrick Harbron/CBS ©2020 CBS Broadcasting Inc. All Rights Reserved.
In Season 11, prodigal grandson Joe Hill struggles with his newly revealed Reagan identity. He shows up to the family poker game with fresh bruises, bemoaning the pressure of being a "Kennedy of cops." The family expects him at their pre-Christmas dinner, but he doesn't show. At least he stopped by the day before with an offering of fresh mozzarella, prosciutto, and—of course—meatballs. The takeaway here? Honor the spirit of the "giving" season.
Take Time To Toast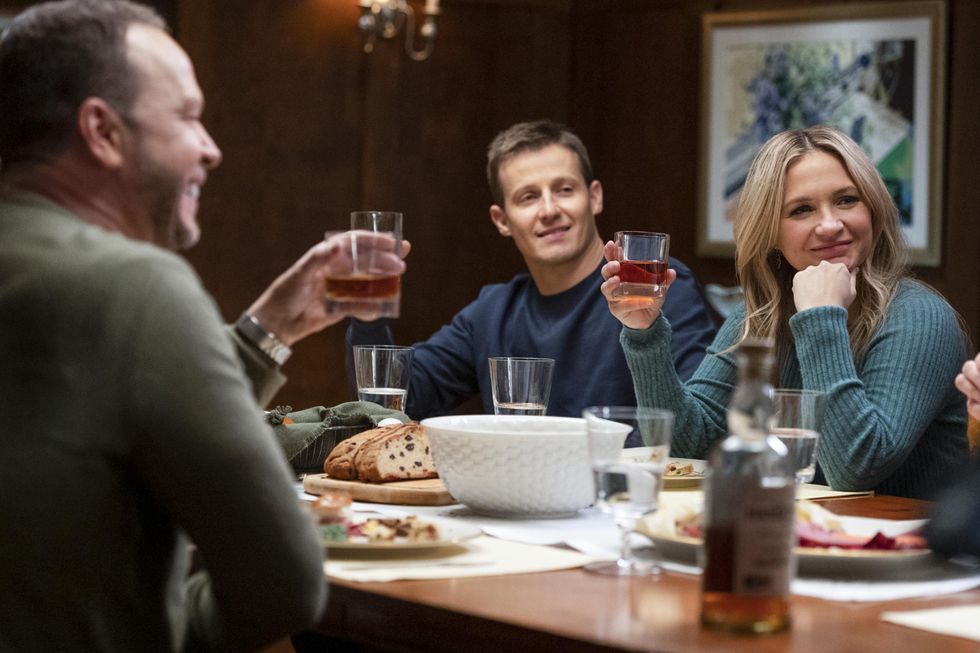 Danny Reagan, Jamie, and Eddie during a toast at dinner
Photo: John Paul Filo/CBS. ©2022 CBS Broadcasting Inc. All Rights Reserved.
the Season 12 episode "Guilt" marked the 250th installment of Blue Bloods. The St. Patrick's Day special concluded with a traditional Irish toast that made viewers tear up: "May the road rise up to meet you. May the wind be always at your back. May the sun shine warm upon your face. May the rains fall soft upon your fields. 'Till we meet again, may God hold you in the palm of His hand."
Whether you're pouring Irish whiskey, California wine, or local apple cider, be sure to clink glasses with your dining companions, wish them well, and savor your time together.
Put Your Smartphone In the Slammer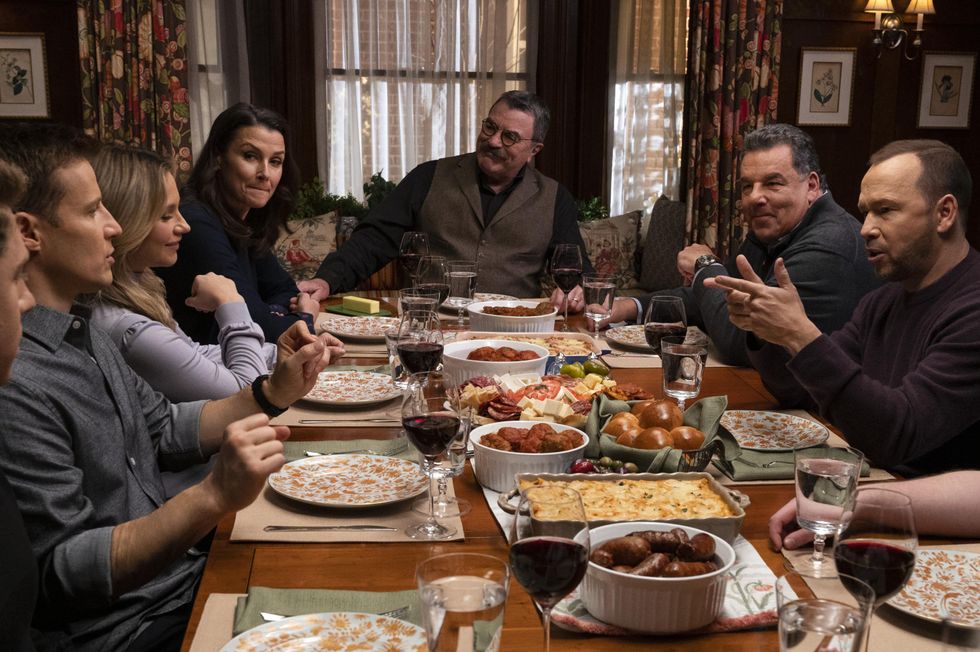 Dinner with the Reagans
Photo: John Paul Filo/CBS ©2022 CBS Broadcasting, Inc. All Rights Reserved.
In the Season 12 finale, the Reagans dine with Erin's investigator, Anthony (Steve Schirripa). For his benefit, they recite the house rules: No eating before saying grace. No language "that would make Sister Margaret Mary blush." No subject is taboo, as long as the discussion stays civil. And our absolute favorite: No electronics at the table. It's no wonder the Reagans are always present for each other. Now more than ever, attention is the greatest gift we can give each other.
Watch Blue Bloods Fridays at 10 p.m. ET/PT on CBS and streaming on Paramount+.