By Meirav Devash
We feel like we've known Drew Barrymore our whole lives, as her style evolved from little-girl pigtails and ruffled frocks to grunge-era baddie to boho earth mama. Now, on
her daytime talk show
, she keeps the '70s vibes going while cranking up the elegance. "Drew dresses very casually in her personal life," says her longtime stylist Lee Harris (
@_leeharris_
on Instagram). "We started shooting during a pandemic, so I wanted her to look like she dressed up for work."
To create a uniquely put-together look that's as eclectic as his muse, Harris looked to vintage references like Annie Hall, '70s Yves Saint Laurent, earthy tones, and retro patterns. "Menswear influences like wide-leg trousers, vests, and neckties are also a cool hallmark of our look," he says. "Each morning, I put together between 10 and 12 outfits for Drew to choose from, depending on how she's feeling or the mood of the day's show." Harris let us in on some of his behind-the-scenes secrets:
SUBSCRIBE NOW: Enjoy 4 Digital Plus 2 Print/Digital Issues Of Watch Per Year — For Free!
A Whittled-Down Wardrobe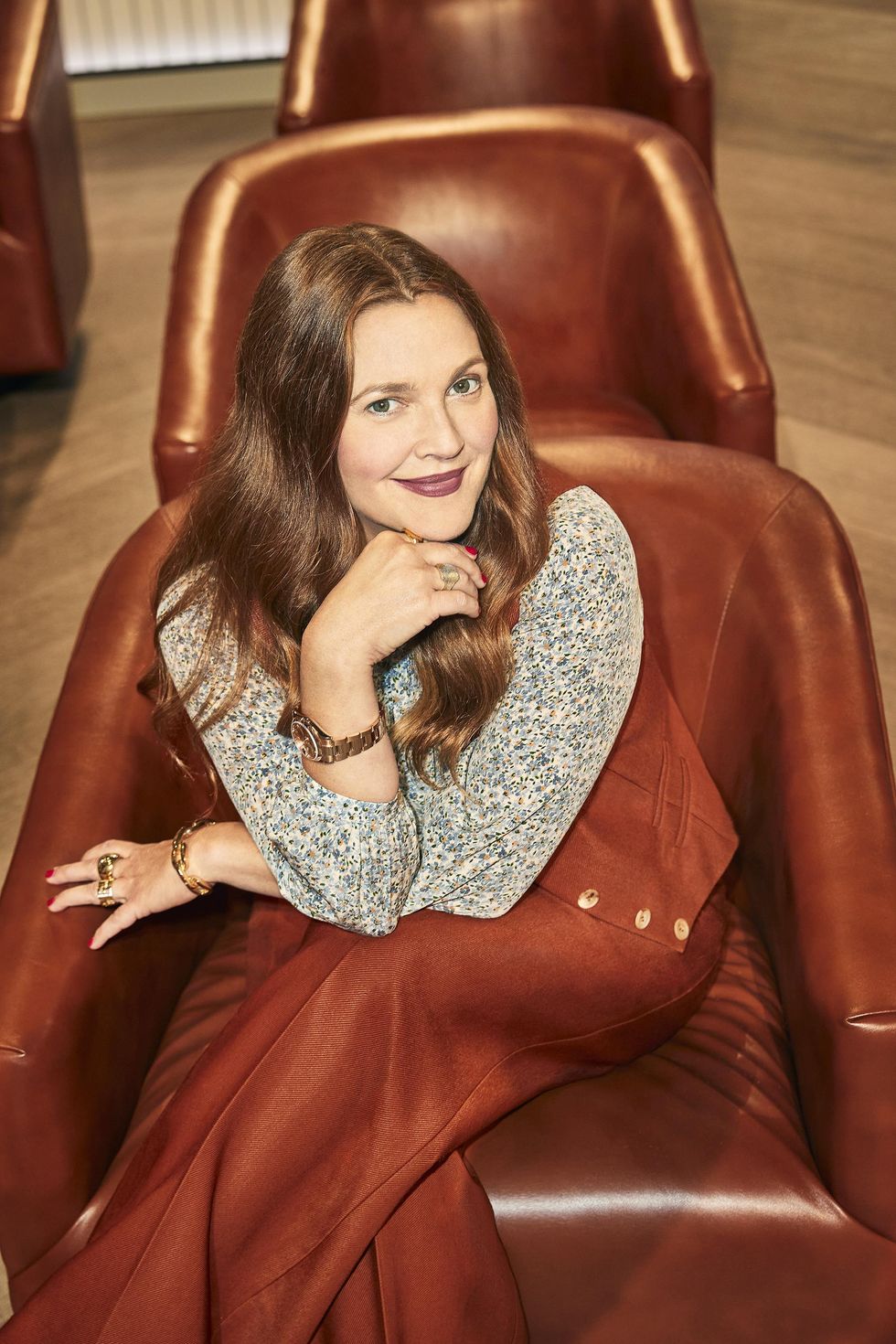 Gabriela Hearst vest and trousers, Celine blouse
Photo credit: CBS
Nearly every outfit is composed of a bow blouse or vest and tie, a miniskirt or wideleg trousers, and boots or platform sandals. "Those are the versatile basics that I'm always looking out for when I'm shopping," says Harris. "I don't believe clothes should only be worn once and then never seen again." He dislikes the concept of fast fashion ("It's such a bummer in today's world") and reworks pieces by breaking up suit sets and mixing and matching with other separates. "We rarely repeat an outfit, but we style pieces in different ways. You can wear them over and over again and never get tired of them," he says.
Flowy Fabrics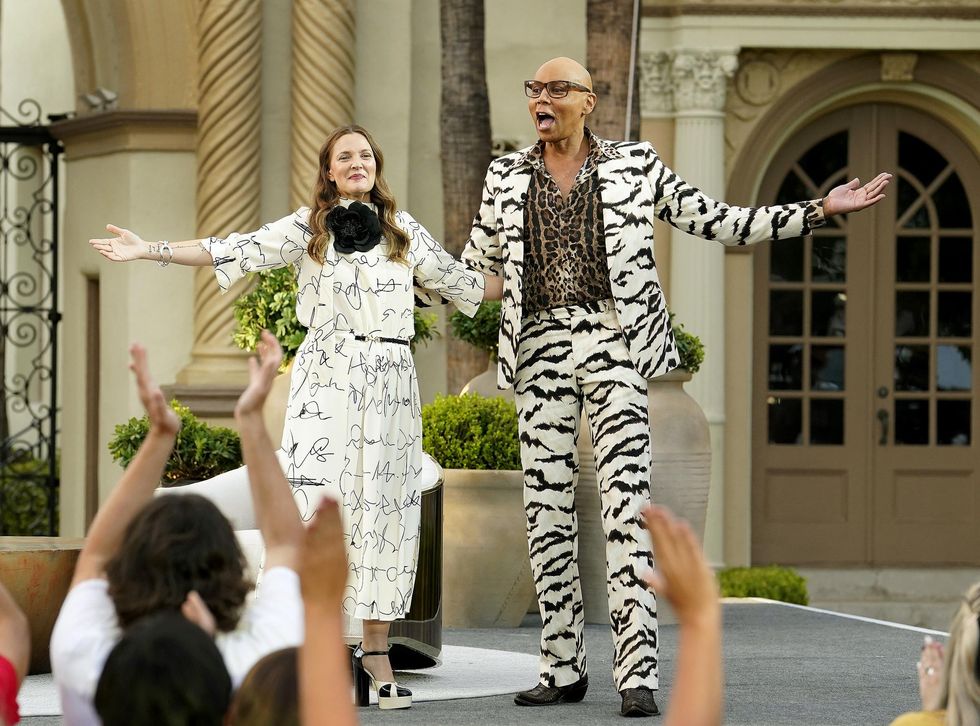 Drew Barrymore and RuPaul at the Paramount Theater
Photo credit: Robert Voets/CBS
On the show, Barrymore isn't modeling in a single pose—she's sitting, standing, walking, and interacting with guests. The bane of Harris' existence is wrinkles. "We try to stick to natural fibers, which sounds boring but it works," he says. "Even silk, linen, and cotton pants become a wrinkled mess after sitting." He prefers wool and wool blends, which stay crisp on camera. His tip for finding the right fabric: Scrunch it up in your fist. If it doesn't bounce right back, it's not for you.
MacGyver Vibes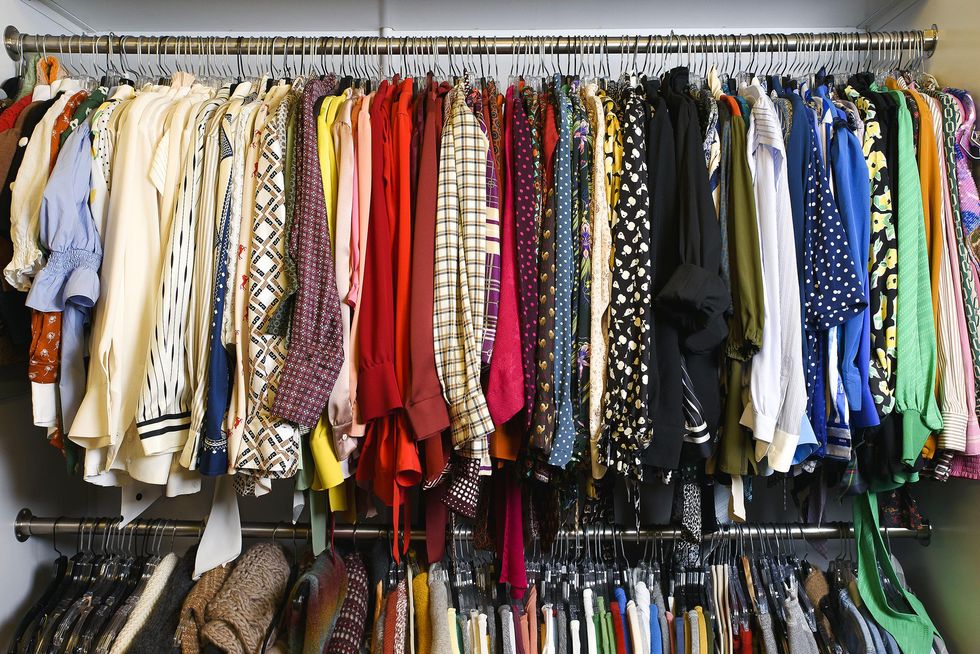 The styling room at The Drew Barrymore Show
Photo credit: Dominick Mastrangelo
At one point during the pandemic, Barrymore, like many of us, couldn't zip up her pants. "Luckily, our tailor gave her a little more room by attaching a makeshift bra strap extender to the back zipper of her culottes," says Harris, a solution Barrymore found equally genius and ridiculous. "I guess I've been eating my stress a little bit lately," she said, showing it off in an Instagram post that became one of the show's most relatable—and most-viewed—videos.
Perfect Proportions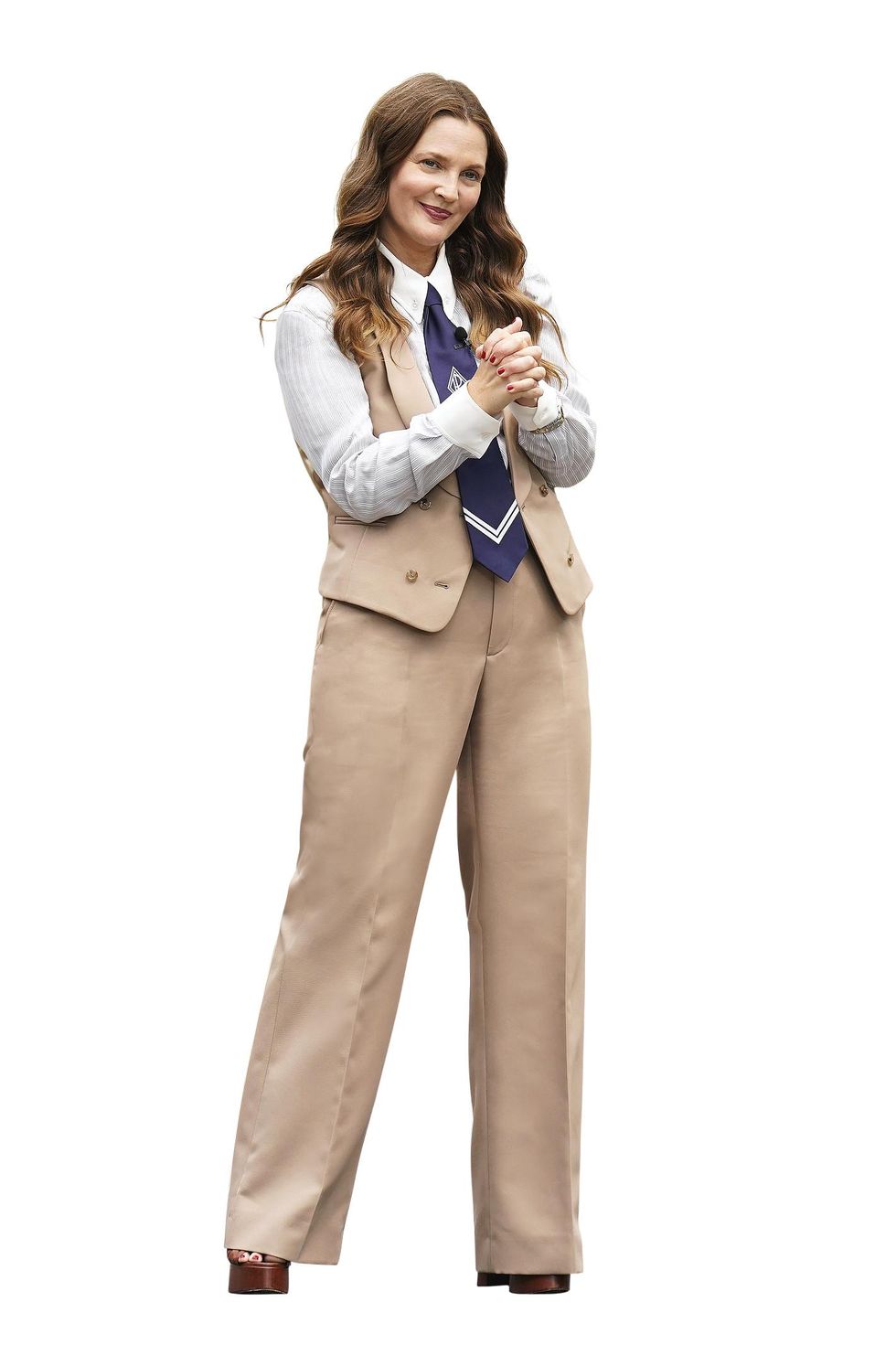 Gucci vest and trousers, Celine blouse, Ralph Lauren navy tie, Saint Laurent platform shoes
Photo credit: Robert Voets/CBS
"Drew is very fastidious about tailoring," says Harris. "Ninety-nine percent of what she wears on the show has been altered in one way or another." Tailor Matthew Kilgore takes in voluminous shirt sleeves or shortens them to three-quarter length, which lightens the look and lets her flash a bit of skin. Kilgore sews custom pieces—hemming trousers into culottes and using the excess fabric to make matching vests. They even have a dress form padded to Barrymore's measurements so she doesn't have to come in for fittings.
Finishing Touches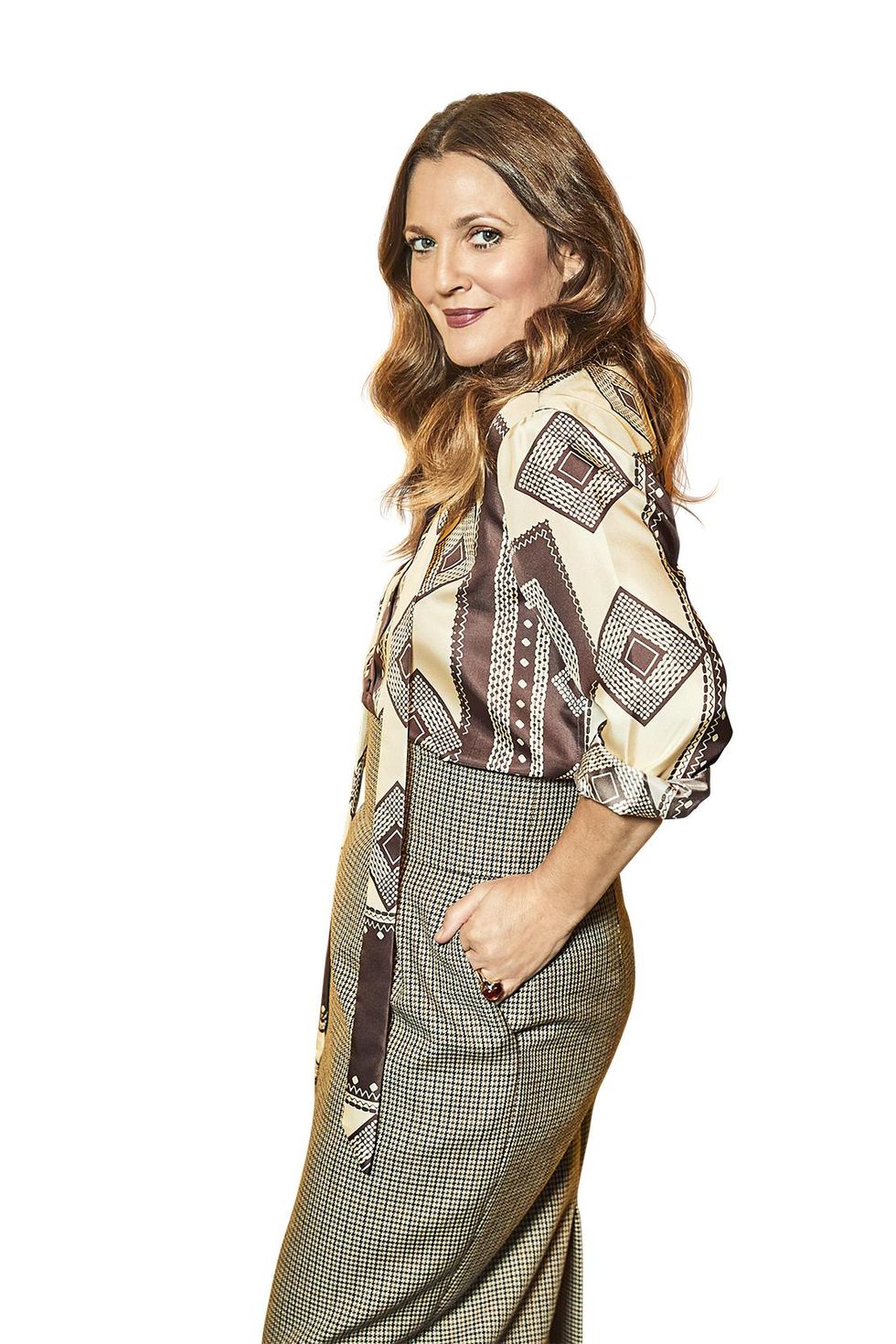 Marc Jacobs blouse, Alexandre Vauthier skirt
Photo credit: CBS
"A secretary bow does the work of a necklace without interfering with her wireless microphones. She wears [the bows] tied in a bow, a knot, or just leaves them loose. Drew doesn't wear many bracelets, but she has a watch collection that's a little bit masculine. They're mostly oversize diving watches that she wears layered over her shirt cuffs. And of course, she loves flowers. Flower Beauty is the name of her cosmetics company, and faux blooms are an easy way to add a little flourish to simple outfits. We get them—with pins attached—from M&S Schmalberg, one of the last New York–made custom silk flower companies."
These Boots Were Made For Talking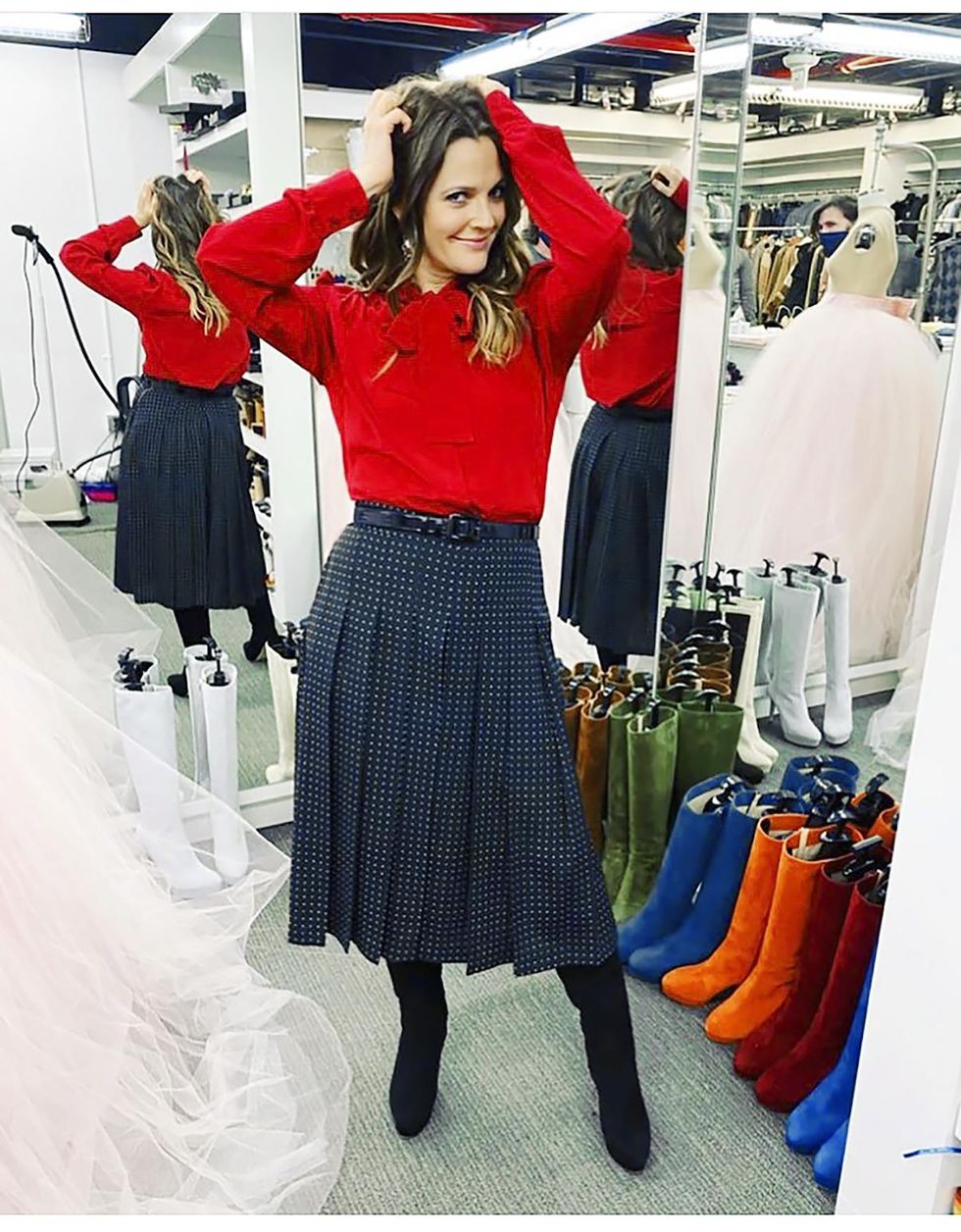 Jimmy Choo boots
Photo credit: Lee Harris
The pièce de résistance of Barrymore's retro aesthetic is a favorite pair of boots she's held on to since 2016—suede Jimmy Choo platforms with a narrow ankle and skinny heels. The designer remade them for her in so many colors, she's never without the right pair. What makes them so great?
They reinforce the '70s theme.
They're the perfect length to wear with below-the-knee skirts and culottes. ("It's a big pet peeve of mine when knees poke out in between," he says.)
They boost your height. Drew, who at 5'4" once told a reporter she had "legs like a corgi," loves the lengthening effect.
SUBSCRIBE NOW: Enjoy 4 Digital Plus 2 Print/Digital Issues Of Watch Per Year — For Free!
The Drew Barrymore Show airs weekdays. Check local listings. You can also stream it on Paramount+.