Photo Credit: Sonja Flemming/CBS.
By Nate Millado
As team captain on CBS' sports-comedy hybrid Game On!, Super Bowl champ Rob Gronkowski isn't afraid to poke fun at himself—especially for a laugh. Each week, Gronk and tennis legend Venus Williams—along with their "ride-or-die" teammates, comedians Bobby Lee and Ian Karmel—compete in over-the-top athletic challenges. Hilarity ensues! Check out this highlight reel of Gronk in action.
Stream Season 1 of Game On! on CBS All Access.
That Time Gronk Had A Baby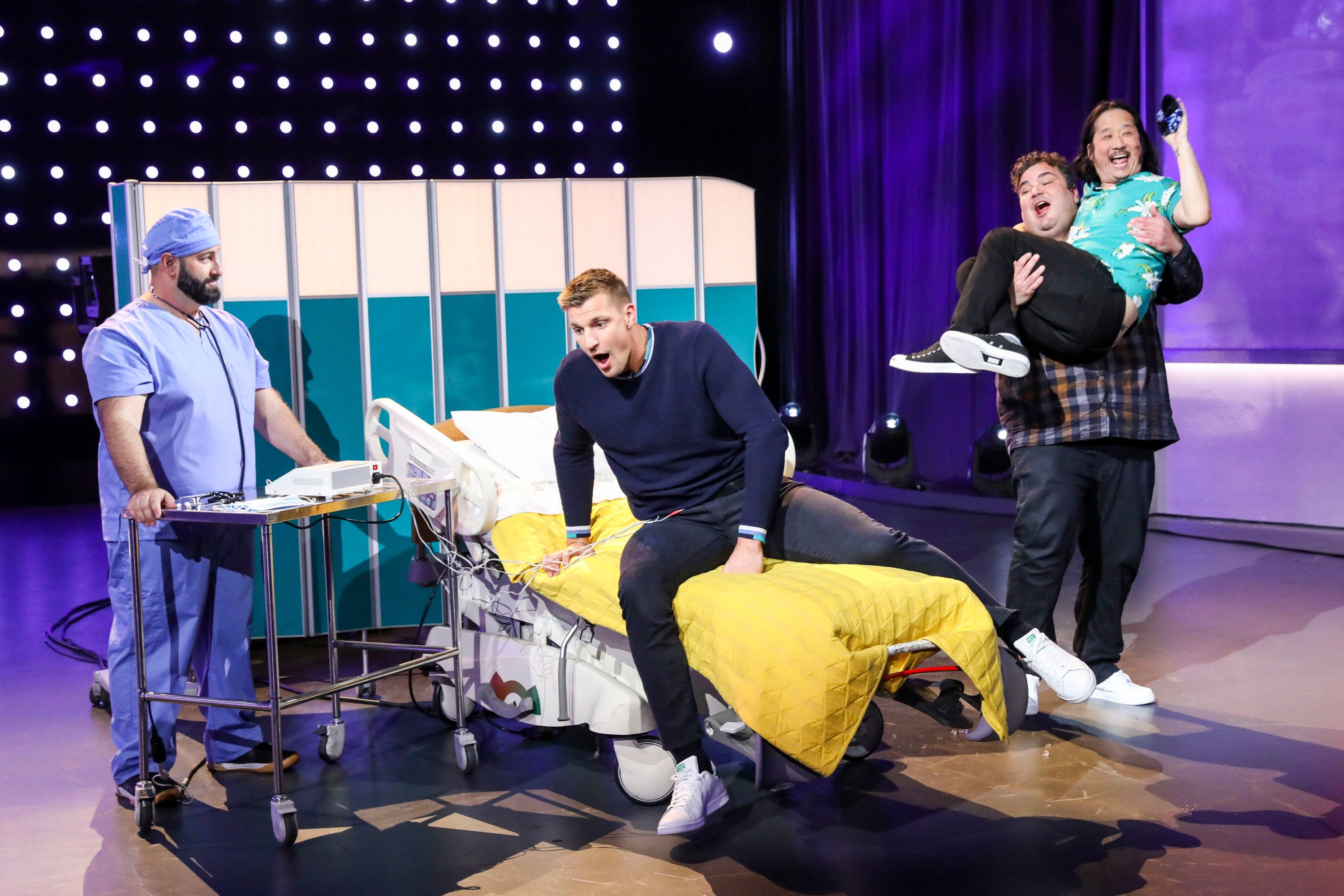 Gronk gets a dose of labor pain with the help of a birthing simulator.
Monty Brinton/CBS.
After Rob Gronkowski confidently brags that he could absolutely handle the pain of childbirth—as the audience loudly jeers—Game On! host Keegan-Michael Key calls his bluff. Key challenges Gronk to get into a birthing simulator that mimics labor pains by zapping electrical impulses to electrodes attached to his abdomen. Gronk proves he isn't a big baby after all, and ultimately earns the point. But Key definitely made him work for it!
That Time Gronk Did Ribbon Gymnastics
Apparently this beautiful sport is RHYTHMIC gymnastics, not RIBBON gymnastics. Either way, I crushed it. 8p on CBS… https://t.co/LB70daJcUq

— Rob Gronkowski (@Rob Gronkowski) 1592409970.0
If you think football players can't be graceful, then you haven't seen Gronkowski slip into a unitard and dance with a ribbon! Gronk takes the floor in front of a panel of judges and performs a too-good-to-be-real routine set to Foreigner's "I Want to Know What Love Is." Perfect 10s across the board, if you ask us!
That Time Gronk Horsed Around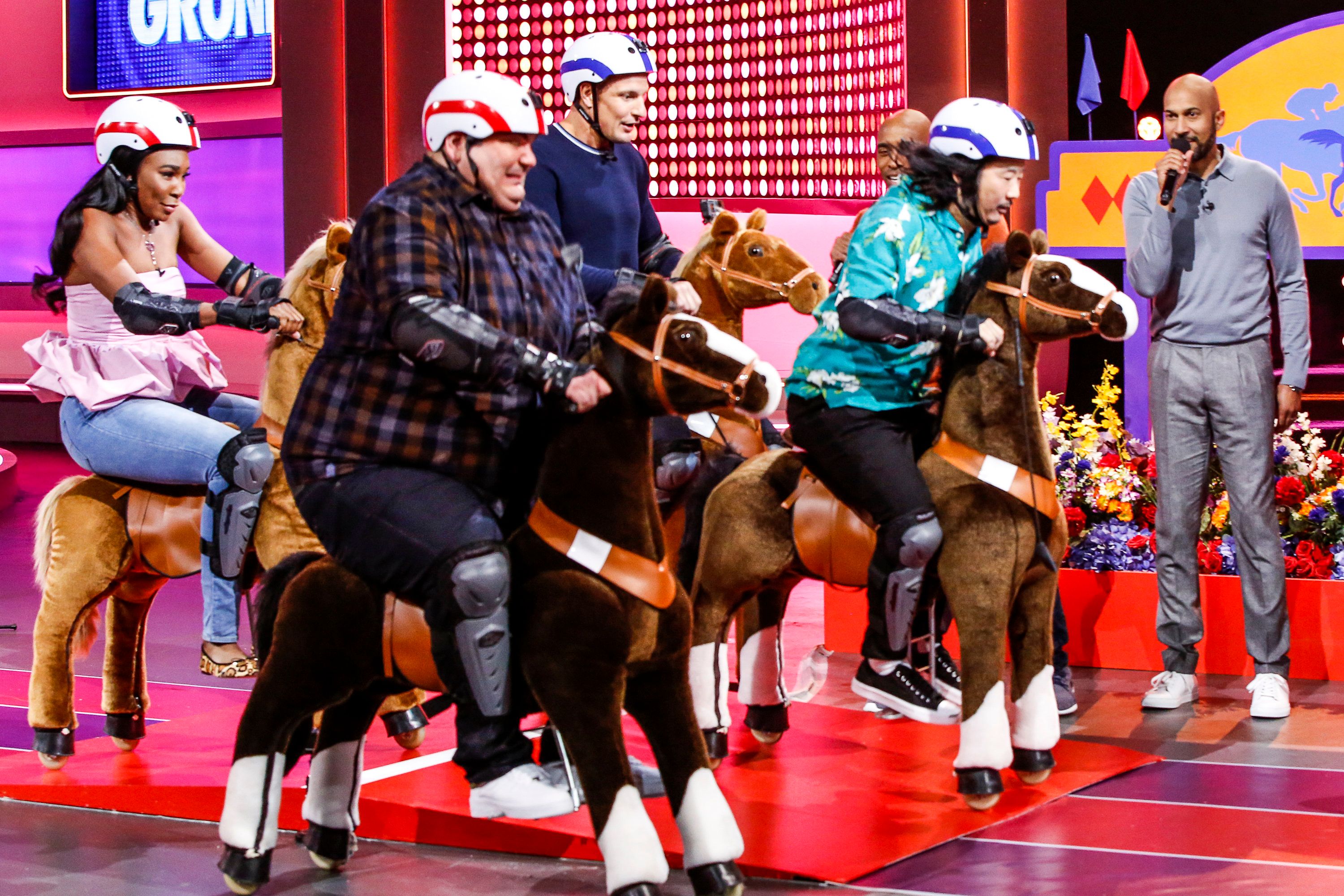 Venus Williams, Ian Karmel, Rob Gronkowski, Bobby Lee, and Keegan-Michael Key compete in a mechanical horse race.
Monty Brinton/CBS.
For this silly challenge, Gronk & Co. had to hop on mechanical thoroughbreds and lap a racetrack twice by "pumping and thrusting" their ponies. "Can we say that on broadcast?" Key quipped. Gronk was way ahead of his nearest competition, Venus—until his "horse" stalled right before the finish line. Slow and steady wins the race?

That Time Gronk Was A Life-Size Foosball Goalie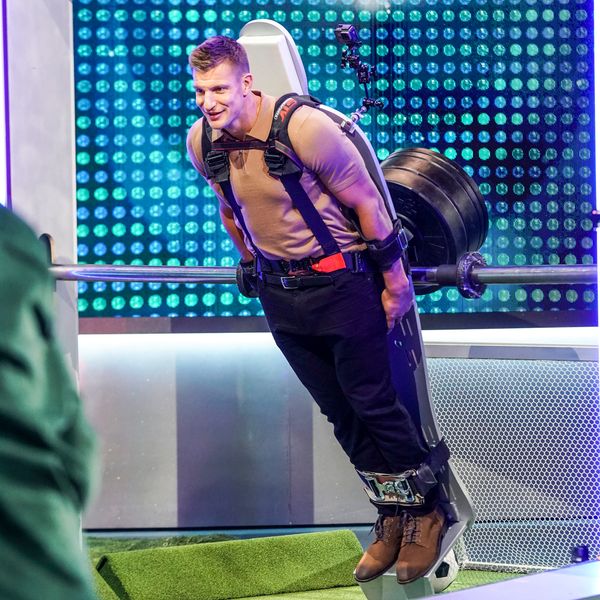 Gronk plays goalie in a life-size game of foosball.
Sonja Flemming/CBS.
Team captains Venus and Gronk try a new sport: life-size human foosball. After being strapped in as the paddles, the two are controlled by their teammates as they attempt to score goals on each other. It's worth watching just to see Gronk spin around like a "whirling dervish," as Key described him.
That Time Gronk Double Dutched
Okay @RobGronkowski and @Venuseswilliams, this is just getting ridiculous. Is there ~anything~ you two can't do? https://t.co/9symyzz5LX

— Game On! (@Game On!) 1593116652.0
"If human beings were meant to jump, then why does gravity exist?" asked Gronkowski's teammate Bobby Lee. Still, Gronk and Bobby bust out their Matrix moves during a Double Dutch battle with Venus and Ian, and wow the professional jump ropers. Team Gronk wins the point!
SEE MORE: Gronk's Winning Music Playlist
Stream Season 1 of Game On! on CBS All Access.