By Nate Millado

While everyone was picking out Halloween costumes and stocking up on trick-or-treat candy, Jessica Camacho was already counting down the days till Christmas. "I start getting amped in October, so by the time December rolls around, I'm in full-on holiday mode," she says. "The hokey carols. Decorating the tree with my family. The silly pajamas with the ridiculous socks. Setting cookies and carrots out on Christmas Eve for Santa and the reindeer. I'm a grown adult and I still love these things!" How apropos,
then, that the yuletide-obsessed actress is starring in a brand-new holiday movie on CBS, co-starring CSI: Miami's Adam Rodriguez.
SUBSCRIBE NOW: Enjoy 4 Digital Plus 2 Print/Digital Issues Of Watch Per Year — For Free!
A Christmas Proposal airs Dec. 12 at 8:30p.m. ET/PT on CBS and streams on Paramount+.
Sneak Peek
Tell us about A Christmas Proposal. This isn't a proposal as we normally know it, right, but more like a business proposition?
JC: Let me put it this way: "An up-and coming struggling chef and a hotshot lawyer work together to pull off a scheme that will benefit them both. Their plans become muddled, however, due to real feelings hiding underneath their carefully crafted facade." Boom!
Wow, that's some elevator pitch. Sold! Were you already a rom-com aficionado, or did you have to prepare for the role by bingeing Julia Roberts and Meg Ryan flicks?
JC: I mean, come on, '90s rom-coms were so epic! They were everything. I was totally stoked to finally be able to play inside of one. Even though I wanted to dive into all of them, I really tried not to because I didn't want to subconsciously bring remnants of those movies into this story. I really wanted to find our own organic chemistry, our own organic magic, and have this story be its own thing as much as possible.
Well, what the world needs now is love, sweet love—especially after the 2020 we had!
JC: That was actually such a big deal to me when I accepted the offer because I realize how important these holidays are for families who are finally able to gather—without as much fear as we had last year. It really meant a lot to me to be a part of a project like this after what we've all gone through [during the pandemic]. I wasn't able to be with my mom last Christmas because of the circumstances, so hopefully this year I will be on her couch, in her house, watching this movie.
Santa Selfie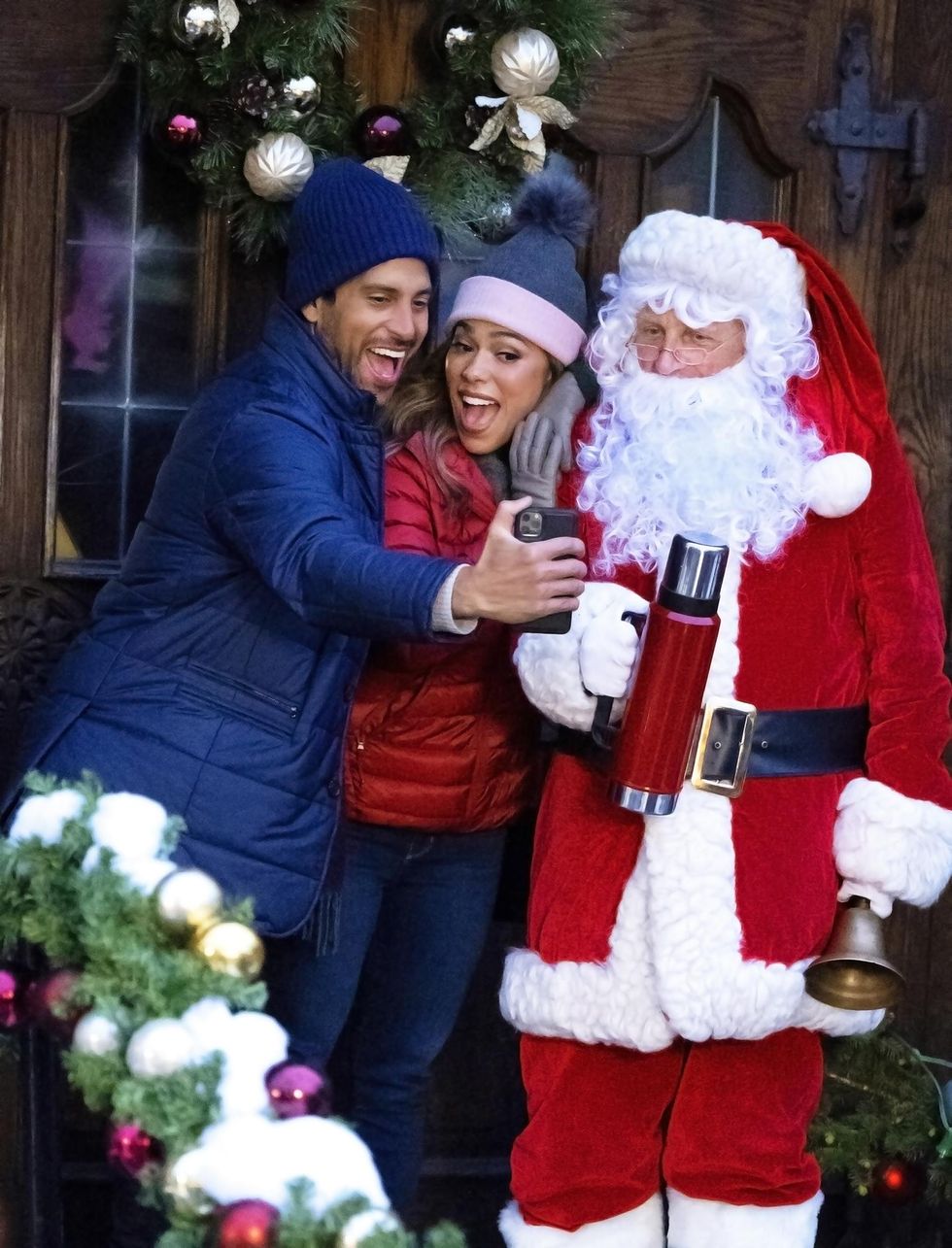 Jessica Camacho and Adam Rodriguez pose for a selfie with Santa in A Christmas Proposal
Photo Credit: Dean Buscher
Why are holiday movies so popular? Is it because they're the TV equivalent of comfort food?
JC: That's a great way to put that! They give you those warm and fuzzies. And there's always a lesson, right? To appreciate what you have and those around you. Sometimes the reality of the holidays doesn't add up; life is far from being perfect. But you know, you put on a holiday movie and it reignites that sense of hope and faith that the holidays are all about. I hope that each person watching A Christmas Proposal takes something special from this movie and that it makes them feel a little bit brighter and a little less alone.
Are you anything like Maria—or are you a complete 180?
JC: Maria is strong, determined, goal oriented, and she is passionate about what she does, and I absolutely relate to all of that. The arduous, uncertain journey of building an acting career for myself … I never doubted that that would be my reality, and Maria definitely has that same unshakable drive that keeps her striving through the hardships. But I think where we differ is, I do not love being in the kitchen. It's sort of therapy for her, but for me, historically speaking, it's been more of a nightmare scenario. I am not in control. I'm sweating. I'm a hot mess trying to keep it together. But I'm working to change that, to find the beauty in cooking. I'm trying to have the grace to let myself epically ruin some dishes and learn to be OK with that.
Teaser Trailer
Maria and Julian have such amazing chemistry. What was it like working with Adam Rodriguez?
JC: The guy was a dream to work with, honestly. He is so warm and kind. He's giving. He's prepared. When he shows up, he shows up for whomever is in the scene with him. He'll run lines a million times with you. He will talk about the scene. I learned so much from him. And he's hilarious! He does voices, like, crazy characters. We just laughed constantly!
CBS recently aired Rudolph the Red-Nosed Reindeer for the 57th consecutive year. Any fond memories of watching that?
JC: That's one of the specials that I will never, ever tire of. I remember as a kid being fascinated by the stop-motion. I was like, "What kind of special magic is this?" I was addicted. The whole thing is so beautiful. And then one of my favorite moments? When Rudolph says: "I'm cute! I'm cute! She said I'm cuuuuuuuuuute!" That classic warms my heart.
SUBSCRIBE NOW: Enjoy 4 Digital Plus 2 Print/Digital Issues Of Watch Per Year — For Free!
This story originally appeared in the Nov/Dec 2021 issue of Watch magazine.
A Christmas Proposal airs Dec. 12 at 8:30p.m. ET/PT on CBS and streams on Paramount+.