Photo Credit: Sonja Flemming/CBS
By Michelle Darrisaw

Set decorator Justine Mercado is such a creative force at making the homes on The Young and the Restless merry and bright for the holiday season that her colleagues christened her as the "Christmas Queen." Fortunately, you don't have to wait until the week of Christmas to feast your eyes on the holiday décor while watching Y&R on CBS.
Ahead, a sneak peek of what's to come this season and how Mercado and the team rose to this year's design challenge. Spoiler alert: It doesn't take a Newman-style takeover or a Chancellor fortune to reimagine these decorations in your own home.
Watch The Young and the Restless weekdays on CBS and streaming on Paramount+.
Watch all your favorite shows on CBS and streaming on Paramount+!
Trimming the Tree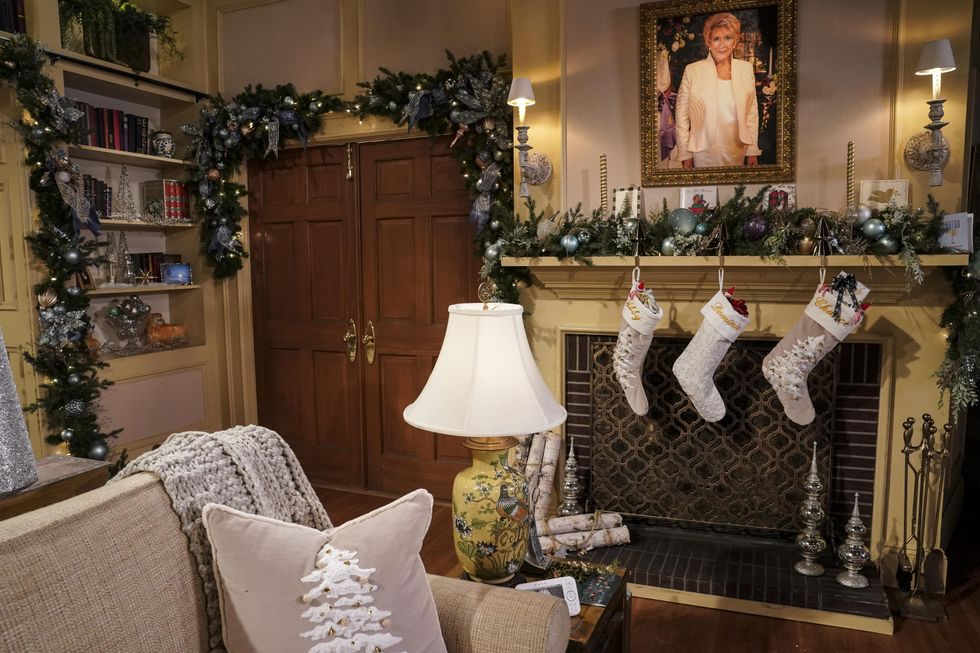 A light color scheme makes the Chancellor family room merry and bright.

Photo Credit: Sonja Flemming/CBS
Armed with garland, ribbon, a great script, and, of course, an eye for detail, Christmas Queen Mercado, along with the art and production team at Y&R, are responsible for filling the Newman Ranch with classic holiday charm, the Chancellor Estate with whimsy and wonder, and Devon Hamilton's (Bryton James) penthouse with shiny baubles.
After all, with Devon and Victor Newman (Eric Braeden) on the trail searching for an MIA Abby Newman (Melissa Ordway), we're pretty sure these characters have little time for decorating. That's where Mercado and crew come in, churning out trimmings and lavish décor in their "workshops" on set.
"On Y&R, we start prepping several months before Christmas, and we are each assigned different sets throughout the year that we continue decorating through Christmas," says Mercado. "Over the years, we've accumulated things we've purchased and stored, and then we bring them out each season and slightly update them for a fresh look, working with florists and outside companies."
Mercado adds: "Everything we do is always character-driven. As soon as the outlines come out for the season, we receive notes about special occasions like a holiday party or decorating with a particular ornament."
A Newmans' Christmas in Luxury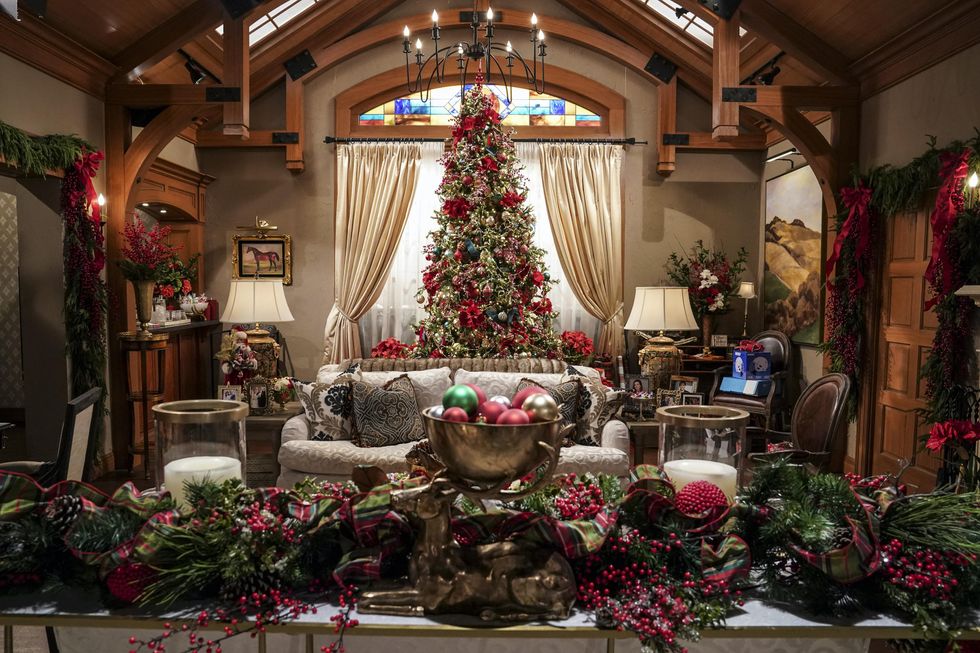 A traditional Christmas at the Newmans'
Photo Credit: Sonja Flemming/CBS
As one of the wealthiest and most powerful families on Y&R, it should come as no surprise that the Newman ranch is decked with boughs of holly and statement-making décor. Here, Mercado highlights luxury and tradition in the little things.
"They live on a ranch (one of the versions that hasn't burned down), so everything is very natural but expensive," suggests Mercado. "The antlers are gold and more upscale for them."
"Each year, there's one particular set we base around Christmas. This year happens to be the Chancellor Estate living room and the Newman Ranch. It always goes back being traditional for the Newman family; they're not very avant-garde."
Recreate the look with: plaid ribbon, poinsettias, gold candle holders and urns, red-berry garland, and assorted ornaments in bright red, green, and metallic gold.
One Extraordinary Christmas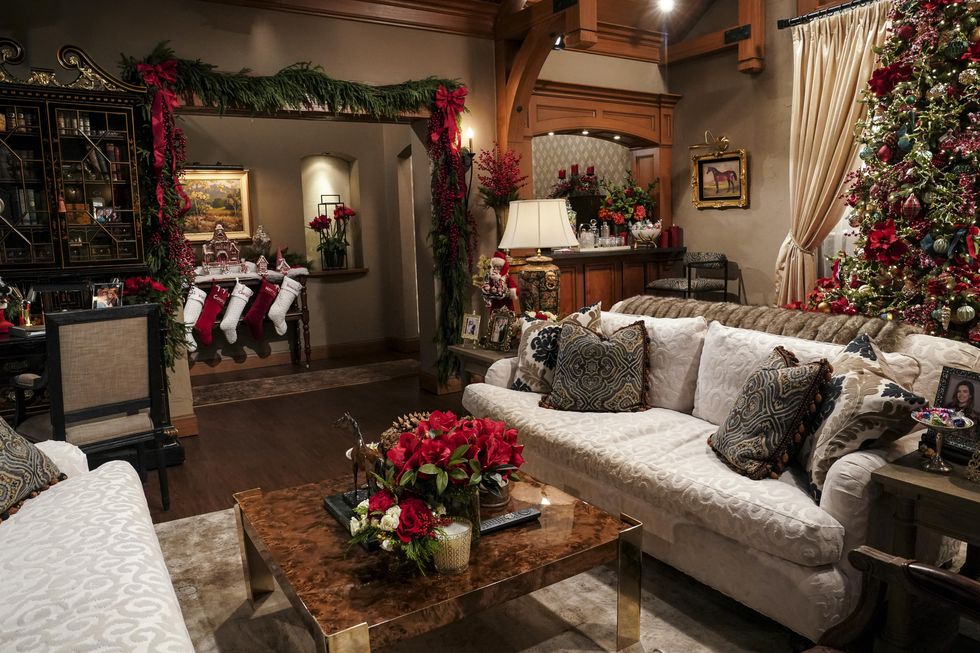 Fresh flowers make a big statement on set at the Newman house.
Photo Credit: Sonja Flemming/CBS
For the Newmans, only the most extraordinary will do. For this space, Mercado doesn't take any space for granted and utilizes upholstery to accent holiday décor.
"I make a stop to Rogers Gardens in Orange County—it's a huge nursery and holiday store," says Mercado. "I try to find things there that are expensive and unique, like a one-of-a-kind Santa Claus. I work with a florist that decorates the tree and refreshes it each year, and I always try to have something, like greenery, in every area of the set for close-up shots."
Recreate the look with: Santa figurines, red velvet bows and ribbons, flower centerpiece filled with seasonal blooms, ivory candles, and pine or cedar sprigs.
Gingerbread Delight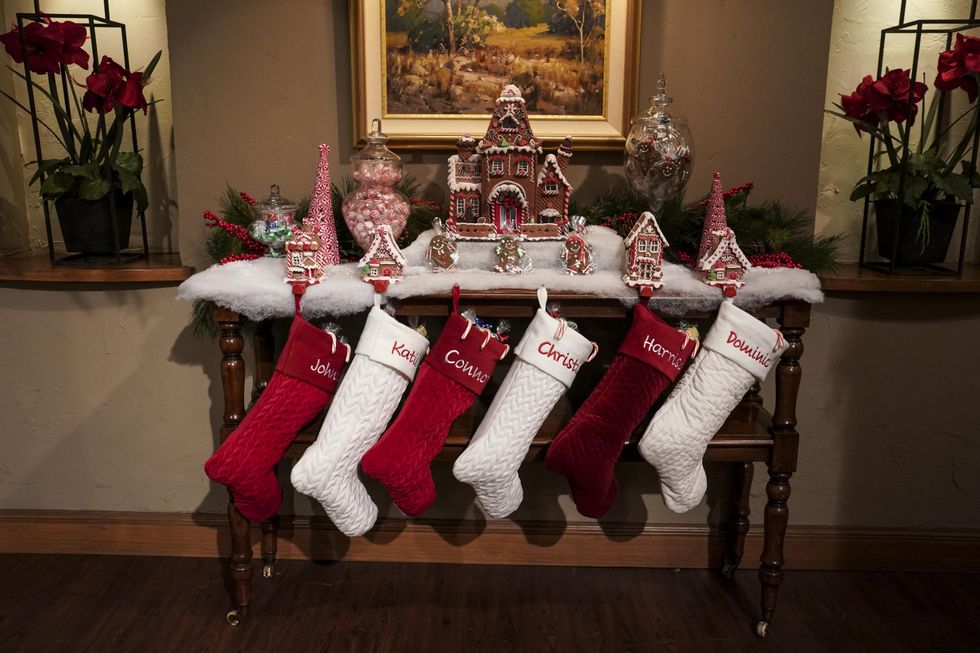 Stockings filled to the brim for Nikki's grandchildren
Photo Credit: Sonja Flemming/CBS
"We decorated the hallway leading into the sitting room as a moment for Nikki (Melody Thomas Scott)," says Mercado. "She's a grandmother to several grandkids, so we placed everything lower for the kids to see and touch the items and get excited about it."
"They [the Newmans] added two new grandchildren into the family this year, so I included their stockings. The actors enjoy eating all the candy while they're rehearsing."
Recreate the look with: candy canes and sugar dust or artificial snow to cover mantels, gingerbread houses, cookies, peppermint candy, glass candy bowls and dishes, cable knit Christmas stockings, and potted amaryllis.
Dramatic in Red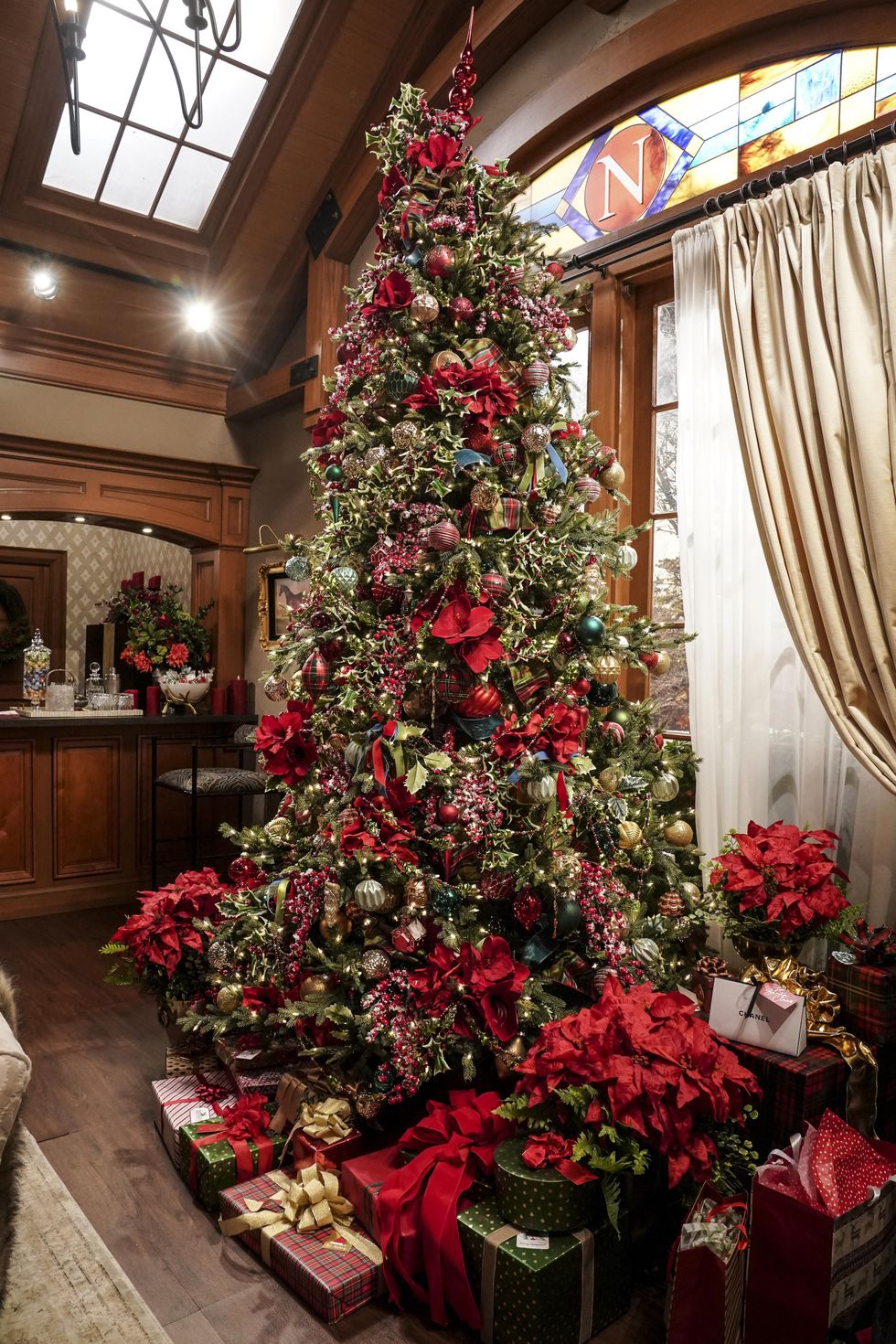 Christmas at the Newmans' means presents galore.
Photo Credit: Sonja Flemming/CBS
Everything is intentional with the décor, right down to the cards and presents around the tree.
"Even in the Christmas cards, tags, and presents, we try to make sure we keep them authentic," says Mercado. "Nikki will get Christmas cards from the Abbotts, and if they happen to open them up when they're doing their scene, we want the notes and details to be a genuine moment for the actors. I put the Chanel gift bag under the tree on purpose because I thought Victor would definitely gift Nikki something from Chanel."
Recreate the look with: a point-star tree topper, color-coordinated wrapping paper and gift bags to match tree decorations, beaded garland, faux holly leaves and berries, and plaid ornaments.
Watch all your favorite shows on
CBS
and streaming on
Paramount+!
A Minimalist Penthouse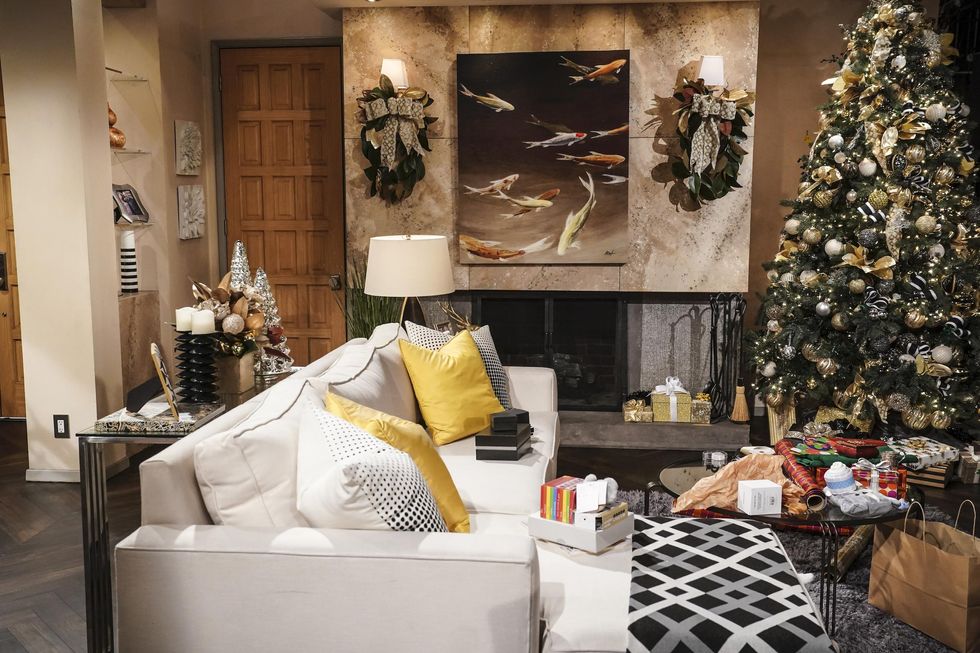 A minimalist's Christmas
Photo Credit: Sonja Flemming/CBS
Mercado put a unique twist on traditional favorites, complementing the penthouse's minimalist design with more elegant, dreamy, and glam decorations.
"Devon's penthouse is a bit more contemporary and fun just because of who he is as a younger character on the show," adds Mercado. "We don't overdo his set, keeping it more modern and cleaner."
"I kept everything simple in black, white, and gold. He just had his girlfriend move in with him, so it doesn't have a lot of her touches yet. But if they stay together throughout next year, this will probably change next Christmas and have more of her vibe in there."
Recreate the look with: gingerbread houses and cookies for hearths and mantels, bay leaf or cascading garland, antique gold and white double-loop bows, tabletop Christmas trees, and silver or glass tree figurines.
Warm and Inviting at Crimson Lights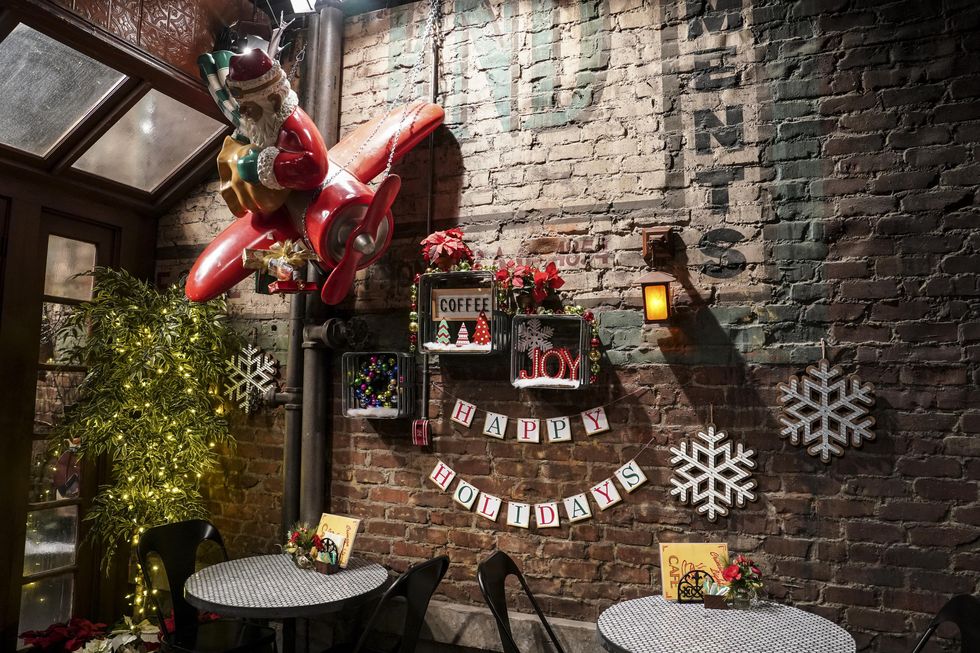 Crimson Lights has whimsical charm around the holidays.
Photo Credit: Sonja Flemming/CBS
Naturally, everyone's favorite coffee shop to unload their drama and escape from the Midwest winter is warm and inviting year-round. During the holidays, it's no different.
"We can have a lot of fun with this one," says Mercado. "Jennifer Hayback works on this set, and she shops for decorations online from places such as Cost Plus World Market and Etsy, where everything is accessible, and you can get things handmade. We can inject a lot of humor into the coffee shop, putting things everywhere."
Recreate the look with: festive string banners or flag garland to hang on the wall, ball or felt ornament garland, shadow box Christmas scenes, large Santa décor to hang from ceiling, and resin or wood word décor for tabletops.
Christmas Traditions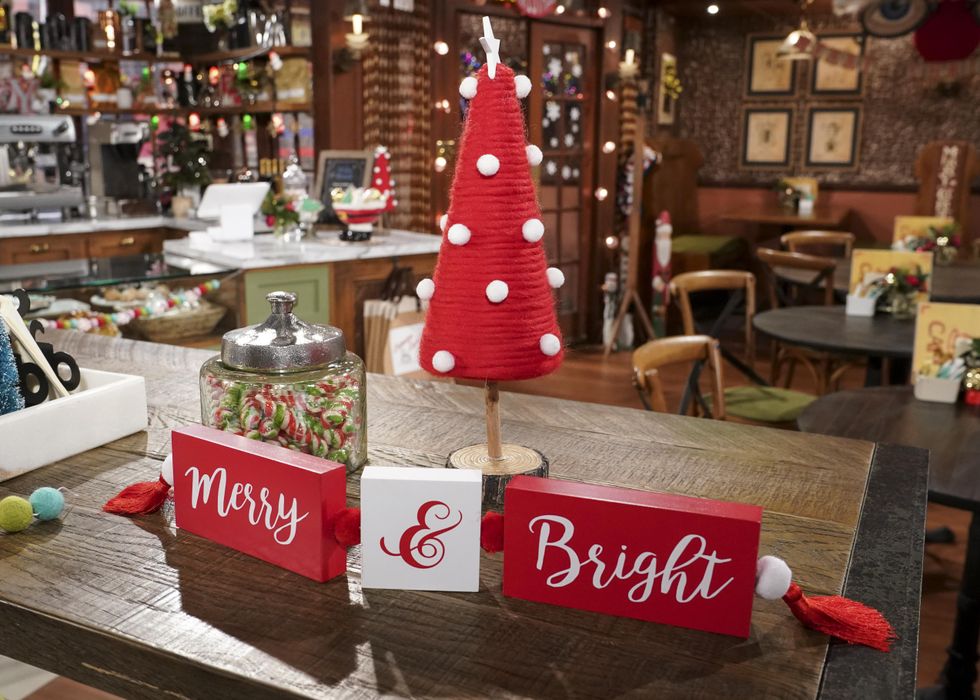 Some Christmas decor at Crimson Lights has become traditional, well-loved pieces.

Photo Credit: Sonja Flemming/CBS
"We don't have a lot of extras in our set, so you get a chance to see a lot of the décor," notes Mercado. "Fans really like looking at the coffee shop to see what cookies are in the display case. They watch all the stuff in the background and know things that have been there year after year. There are a lot of traditional things at play, like reindeer, that have been there for a while."
Recreate the look with: Santa serving bowls, glass candy jars with lid, Christmas string lights, wooden signs with sayings, figures, and rustic felt Christmas trees.
No Expense Spared for the Chancellor Estate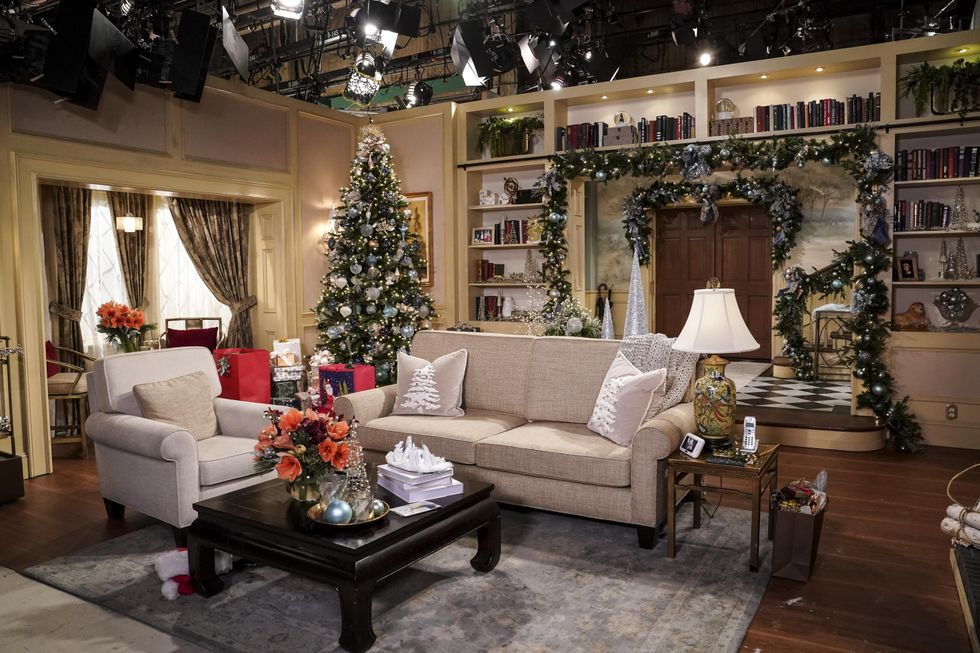 An understated look makes for an extravagant scene at the Chancellor Estate.
Photo Credit: Sonja Flemming/CBS
As Y&R fans might expect, indulgence and extravagance are the primary directives when decorating the renowned Chancellor Estate.
"These characters are so wealthy, they would probably hire a decorator to come in," suggests Mercado. "The approach with both the Chancellors and Newmans is for the fans to see what it looks like when you could decorate however you want to, no expense spared."
Recreate the look with: Christmas-themed pillow covers, white ceramic nativity sets, snow globes, cone-shaped Christmas trees, and ornament garland and trim to hang around the door or entryway.
A Christmas Celebration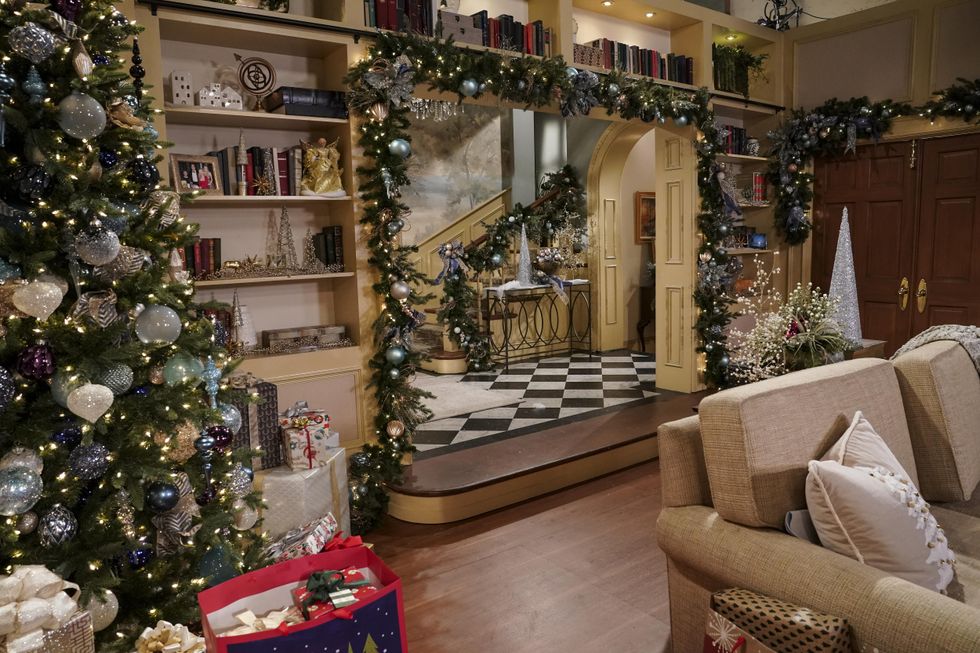 No expense is spared to create the fabulous Chancellor Estate.
Photo Credit: Sonja Flemming/CBS
"Even though the Chancellor set is a bit more traditional, Jennifer [Hayback] had a little more fun decorating it because the couple living there is young with a new baby," says Mercado. "They're celebrating because her husband just came back, so it's very fresh and festive décor."
Recreate the look with: a pre-lit tree, starburst tree topper, gold, shimmery ribbon, beaded and glass teardrop-shaped ornaments, and wired LED tree figurines.
The Newman Penthouse Goes All Out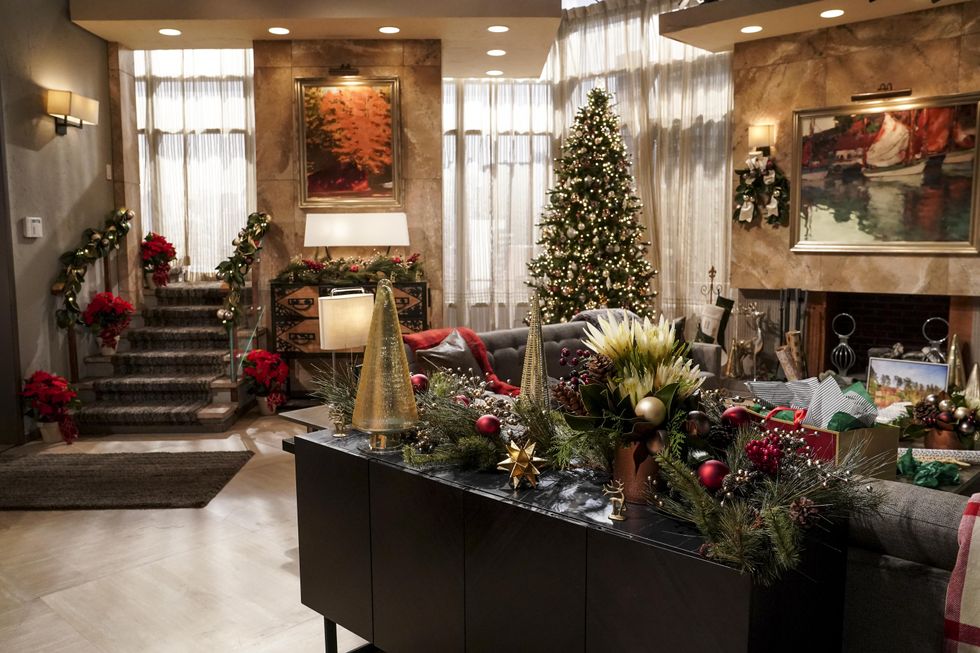 Welcoming Chelsea and Connor home means getting in the spirit.
Photo Credit: Sonja Flemming/CBS
It's not always a time of cheer with Chelsea Lawson (Melissa Claire Egan) and Adam Newman (Mark Grossman). After months of Chelsea being away with her son, Connor (Judah Mackey), the team went all out decorating Adam's penthouse to give Connor a Christmas he's sure to remember.
Recreate the look with: eucalyptus garland with complementary ornaments and mixed pine and berry garland, red and gold cone-shaped trees in various sizes, wool gold and green Christmas stockings, potted amaryllis or poinsettias, and brass reindeer.
For Mercado, one of the most gratifying parts of her job is the fans noticing all the details, from the wardrobe and acting to the set design. "Everything comes together for the Christmas episode, and then all the characters go back to hating each other," she says with a laugh. It's a sentiment most families can relate to and yet another reason we love Y&R.
Watch The Young and the Restless weekdays on CBS and streaming on Paramount+.

Watch all your favorite shows on CBS and streaming on Paramount+!