Photo Credit: Brendan Meadows/The CW .
Baby, what a ride it's been! It's television's longest-running sci-fi fantasy show—and certainly the longest-running series ever on The CW—but on Thursday, Nov. 19, Supernatural comes to an end. Originally set to sign off in the spring, Supernatural's long goodbye was made even longer by the coronavirus pandemic, and the final seven episodes aired this fall instead.
We've already rounded up our 18 most memorable Supernatural episodes. Now we look ahead to the iconic series' swan song.
Don't miss the series finale of Supernatural, airing this Thursday, Nov. 19 at 9/8c on The CW. Stream free the next day only on The CW.
The two-hour event begins at 8/7c with "The Long Road Home"—a preview of the finale with the cast and crew.
Dean And Sam Winchester Say Farewell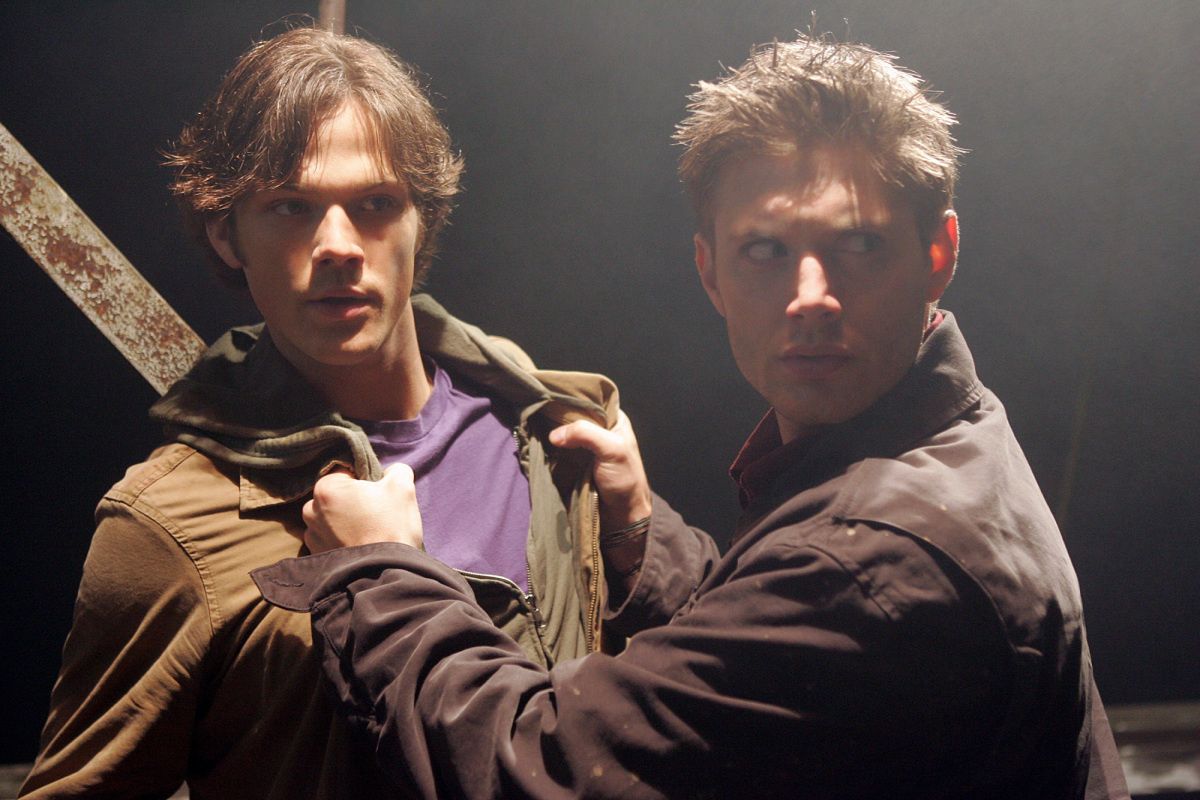 Jared Padelecki as Sam and Jensen Ackles as Dean in the pilot episode.
Photo Credit: © The WB / Justin Lubin.
Jensen Ackles and Jared Padalecki both used sports analogies to button-up Season 15's final episodes. Ackles likens them to the "fourth quarter" of a football game, while Padalecki calls them the 26th mile of a marathon. (Coincidentally, the Supernatural stars finished the 2018 Seattle marathon together for charity).
Ackles told ET he was dreading March because he's not good at saying goodbyes, so he was somewhat relieved when production halted. Once they returned to shoot the last batch, with COVID-19 safety protocols in place, it became more of a "see you later" than a final farewell. Padalecki says he and Jensen even snuck in a few Easter eggs for hardcore fans who have stuck with them for 15 years—so keep an eye out!
An Ode To The Best Fans
There's a saying: "Supernatural never dies." Padalecki credits the fandom for sticking with them for 15 years and being critical to the show's success. "[You're] the reason why Supernatural will never truly die." The end weighed heavily on Ackles, who posted on Instagram on the final day of shooting: "To those I have worked with on this journey and to those who have watched and supported ... you will never understand my great appreciation for you. 'Thank you' doesn't cover it. There just aren't words. I'm so grateful for these memories that I will carry with me forever. What a ride it has been. And what a run."
Did Coronavirus Affect The Series Finale?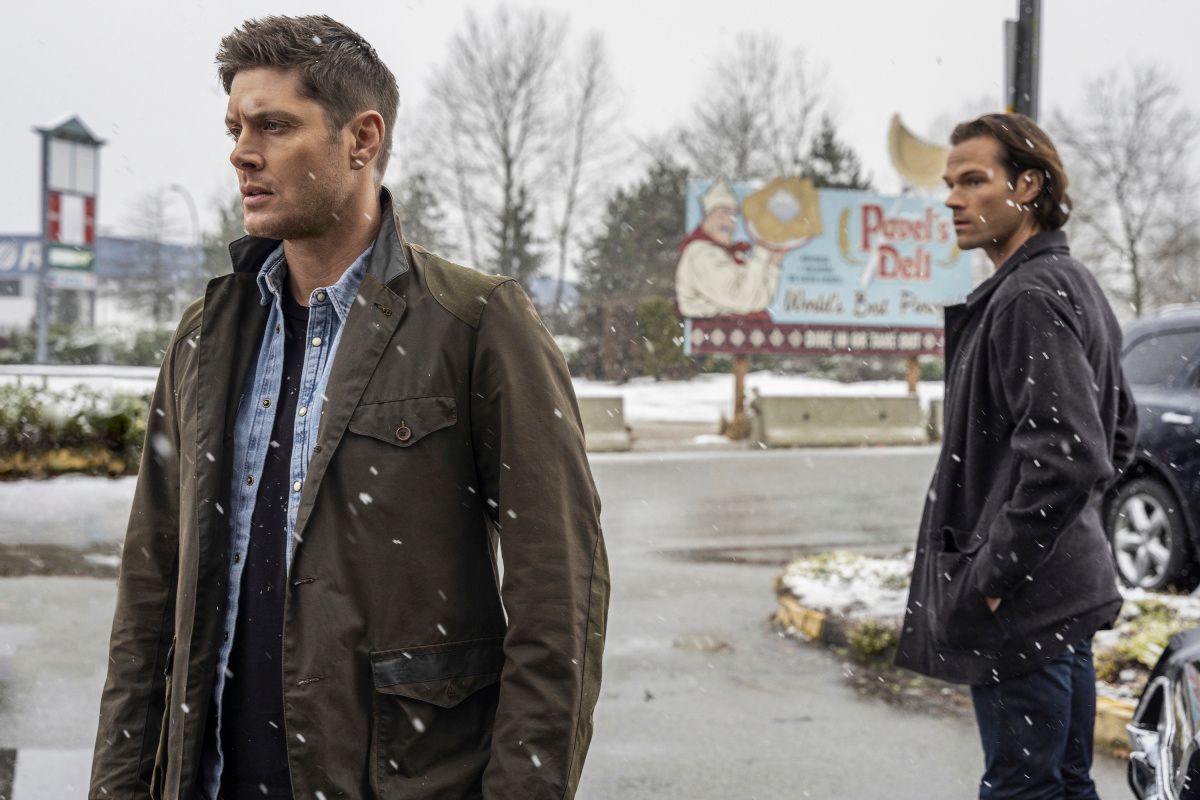 Jensen Ackles as Dean and Jared Padalecki as Sam.
Photo Credit: Colin Bentley/The CW.
Executive producers Robert Singer and Andrew Dabb told PaleyFest New York they didn't "have to blow anything up" in terms of their original vision for how it all ends. Although the shots in the final episodes had to be tweaked based on how many "extras" could appear in each scene, the EPs call the final installment an "intimate episode, just about the guys."
Jared's Favorite Episode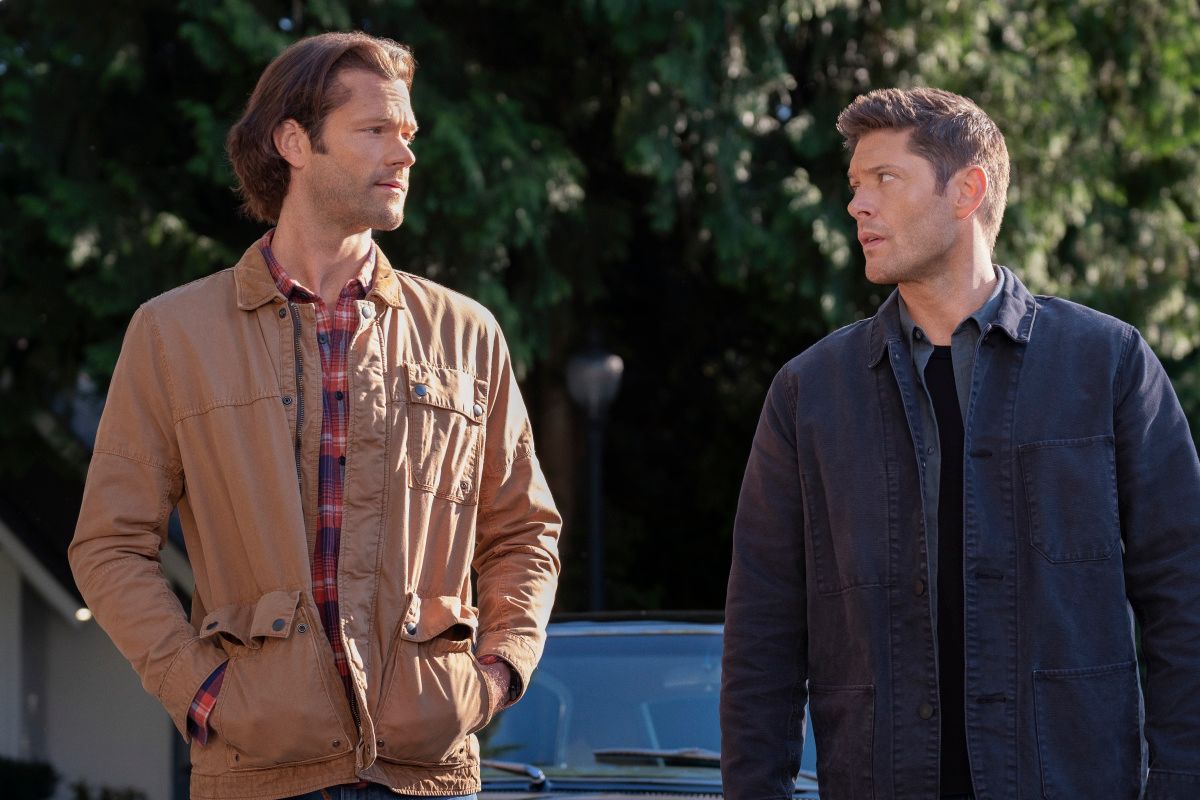 Jared Padalecki as Sam and Jensen Ackles as Dean.
Photo Credit: Robert Falconer/The CW.
Padalecki's pick is one you haven't seen yet—the series finale. "I love all of my children equally, but this one is my favorite," he posted on social. With Episode 19 wrapping up a big chunk of the mythology (keep reading to find out more), executive producer Andrew Dabb told TV Line the finale is "more character-based and is more concerned with Sam, Dean, and this family they've built around them than it is with figuring out the Case of the Week." Ackles waxed poetic about the final shoot day: "Putting these brothers away, this is it … us standing on a bridge," he began, before EP Robert Singer and Padalecki shushed him for fear he would spill too much.

Jensen's Favorite Episode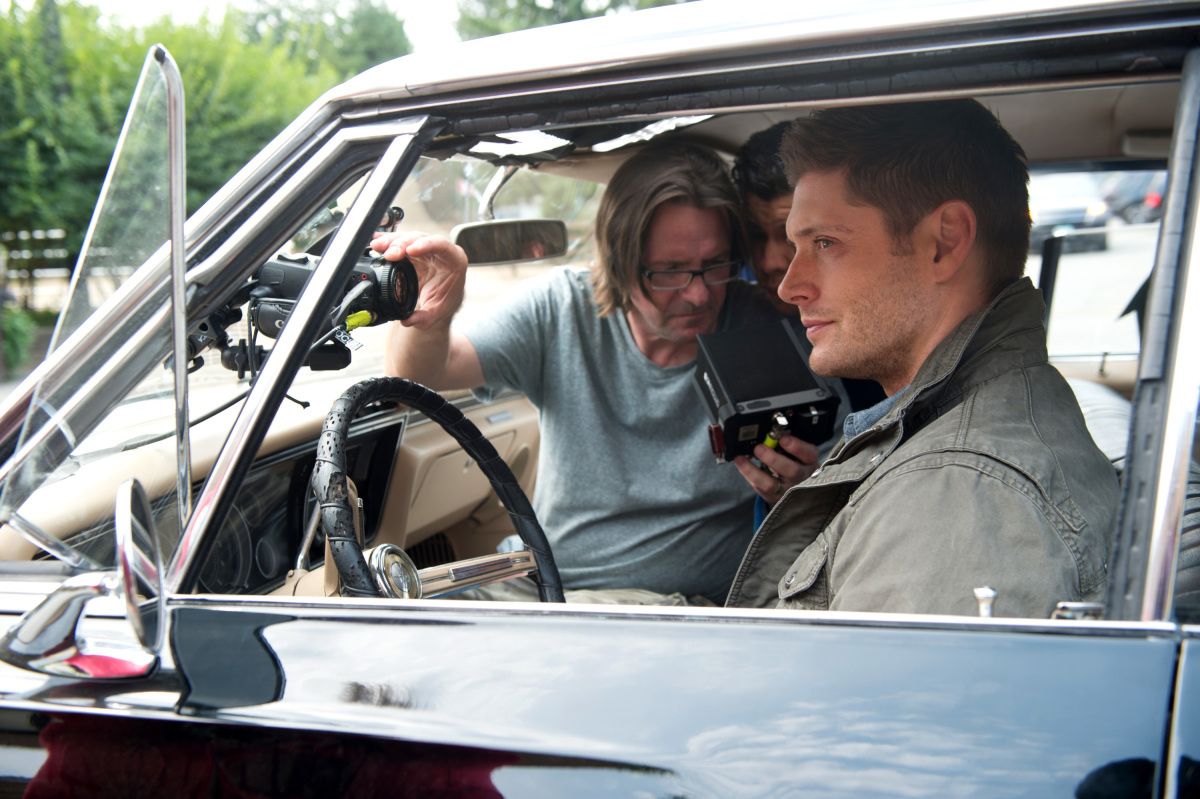 Seen from the viewpoint of the Impala, Sam (Jared Padalecki) and Dean (Jensen Ackles) go on a road trip to fight monsters and demons.
Photo Credit: Diyah Pera /The CW.
Given how much Dean loves his 1967 Chevy Impala, it's not really shocking that Ackles singles out the fan-favorite Season 11 episode "Baby"—told entirely from the car's perspective. TV Guide even wrote a love letter to the real star of Supernatural. "It was one of the coolest episodes we've ever done," Ackles told Rolling Stone. "I remember we had outfitted, like, eight cameras in and around and on the car, and then they just set us off. Jared and I were just—he hopped in and we just took off down the road. There was no camera operator, there's no grips, there's no electricians, there's no DP, no director, no script supervisor, no makeup, no nothing.... We were doing everything ourselves."
ICYMI: The Finale That Wasn't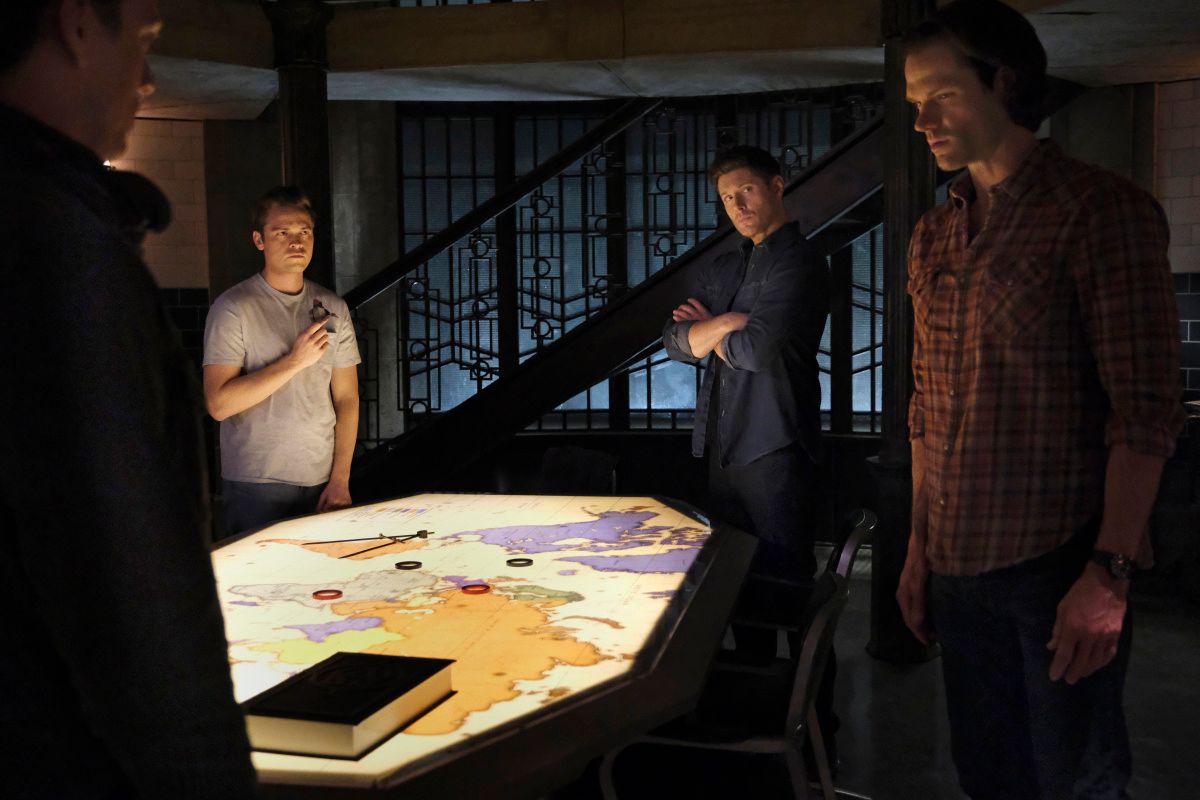 Jake Abel as Michael, Alexander Calvert as Jack, Jensen Ackles as Dean, and Jared Padalecki as Sam.
Photo Credit: Bettina Strauss/The CW.
The penultimate episode, "Inherit the Earth," sure felt like a series finale. There was even a feels-inducing montage from the past 15 seasons at the end. In case you need a refresher before the actual finale, here's what went down:
After the rapture wipes everyone out (RIP Castiel), Sam and Dean are ready to throw in the towel, since there's literally no one left to save. The modern-day Cain and Abel agree to fulfill their destiny and take each other out if Chuck (Rob Benedict) brings everyone back to life. But because they wouldn't "take a knee," Chuck ain't having it: He wants to see the Winchesters suffer on a lifeless planet.
Enter some familiar faces—Michael (Jake Abel) and Lucifer (Mark Pellegrino)—who at first appear to be Team Winchester against God but instead double-cross them for a final showdown to be Daddy's favorite. Michael offs Lucifer (with an archangel blade); Chuck kills Michael, then sets his sights on Sam and Dean, pummeling them to a pulp. But Jack (Alexander Calvert) is able to absorb Chuck's power (he's essentially become a power vacuum since he blew up), snap his fingers to heal Dean and Sam, and turn Chuck into a powerless human!
Rather than kill Chuck once and for all, he's left to suffer a fate of growing old. "For the first time I have no idea what happens next," Chuck says in his last scene. Jack repopulates the world, and Sam and Dean have free will to do whatever it is they're going to do in the series-ender, "Carry On." Like Chuck, we have no idea what happens next!
Behind-The-Scenes Memories
Padalecki's favorite memory is a no-brainer: when he met and fell in love with his wife, Genevieve, in Season 4. "That season, for whatever reason, was magical all around," he adds. Ackles points to the last time they hit the stage at Hall H at 2019 Comic-Con. "There's something really special about that room and that crowd, the grandeur of it all," he says. "To just stand there and take that in is a pretty emotional moment I'll never forget."
Castiel himself, Misha Collins, will always remember the cast cutting up: "The hundreds of hours of WB money wasted on us laughing on set, enjoying the process, the friendship and camaraderie was deeply meaningful."
Ackles adds: "We wouldn't have made it 15 years without that."
Life After Supernatural
So, what's next for the Winchester Bros.? Padalecki will step into Chuck Norris' boots in a reboot of the '90s classic, Walker, Texas Ranger. In The CW's new series Walker (premiering Jan. 21), Padalecki stars as Cordell Walker, a widowed father of two who returns to Austin after being undercover for two years only to discover that there's harder work to be done at home.
Ackles will join Amazon's hit superhero saga The Boys (from Supernatural creator Eric Kripke) as not-so-good-guy Soldier Boy. And The CW CEO Mark Pedowitz hasn't shut the door on a potential Supernatural spinoff. "There's a lot of mythology," he told The Hollywood Reporter. "We're always open to carrying on the Supernatural universe, but it has to be connected to the Winchesters. I'm always open to ideas—and there are many things I can't discuss."
Don't miss the series finale of Supernatural, airing this Thursday, Nov. 19 at 9/8c on The CW. Stream free the next day only on The CW.
The two-hour event begins at 8/7c with "The Long Road Home"—a preview of the finale with the cast and crew.