By Sarah Deming
Buzz, buzz, buzz! We can't stop talking about Yellowjackets, SHOWTIME's survivalist horror hit about a championship girls' soccer team stranded in the wilderness. The teens endure bears, wolves, starvation, hypothermia, DIY surgery, pagan cult rituals, and their own raging hormones. Think Lost meets Lord of the Flies, with a dash of Pretty in Pink. Twin timelines intersperse the 1996 ordeal with the survivors' lives in 2021, exploring how past traumas shape present reality.
The thrilling debut season was the second-most-streamed in SHOWTIME history, behind only Dexter: New Blood. It snagged a 100% rating from critics on Rotten Tomatoes and seven Emmy nominations, including Best Actress for Melanie Lynskey (Heavenly Creatures) as Shauna and Best Supporting Actress for Christina Ricci (Monster) as comically evil Misty. Also starring are Tawny Cypress (Heroes) and Juliette Lewis (Secrets and Lies).
Season 1's finale delivered shocks, laughs, and gore aplenty, while leaving a swarm of questions for fans to debate online. Let's revisit the lingering mysteries that keep us buzzing.
Warning: Spoilers ahead!
Watch all your favorite shows on CBS and streaming on Paramount+!
Who Is The Girl In The Pit?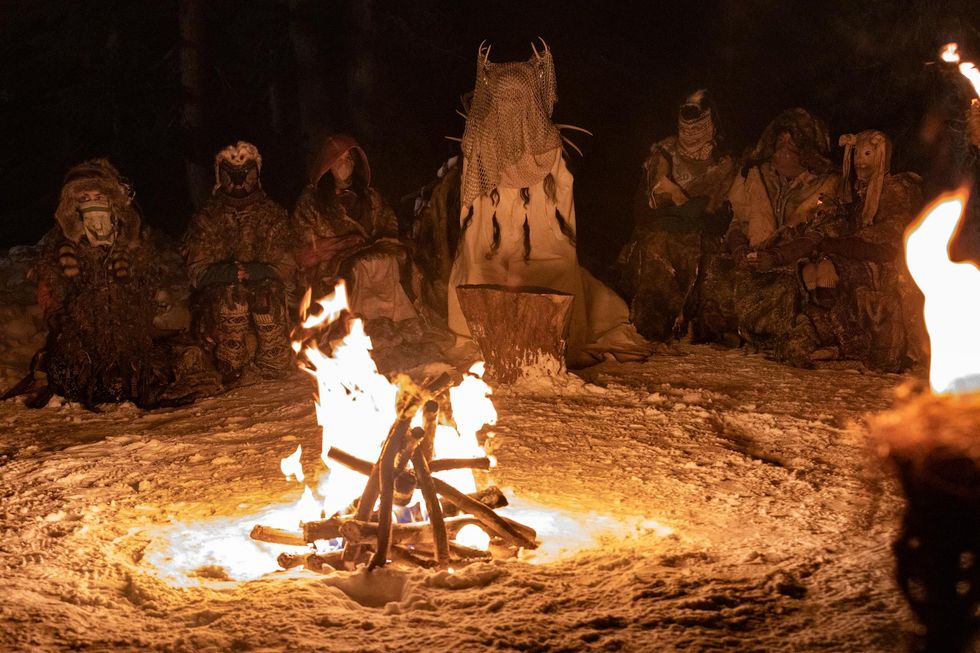 A scene from the pilot episode
Photo credit: Paul Sarkis/SHOWTIME
Yellowjackets' opening image shows a barefoot girl running through the woods and falling into a spike-bottomed pit. A gang in animal-skin masks ritualistically butcher her and share the meat. One of the diners is revealed as Misty; another appears to be Lottie. But who was the victim and why was she hunted? She wears a golden heart necklace that once belonged to Jackie, but the season finale reveals that Jackie meets a different fate.
Does Lottie Have Supernatural Powers?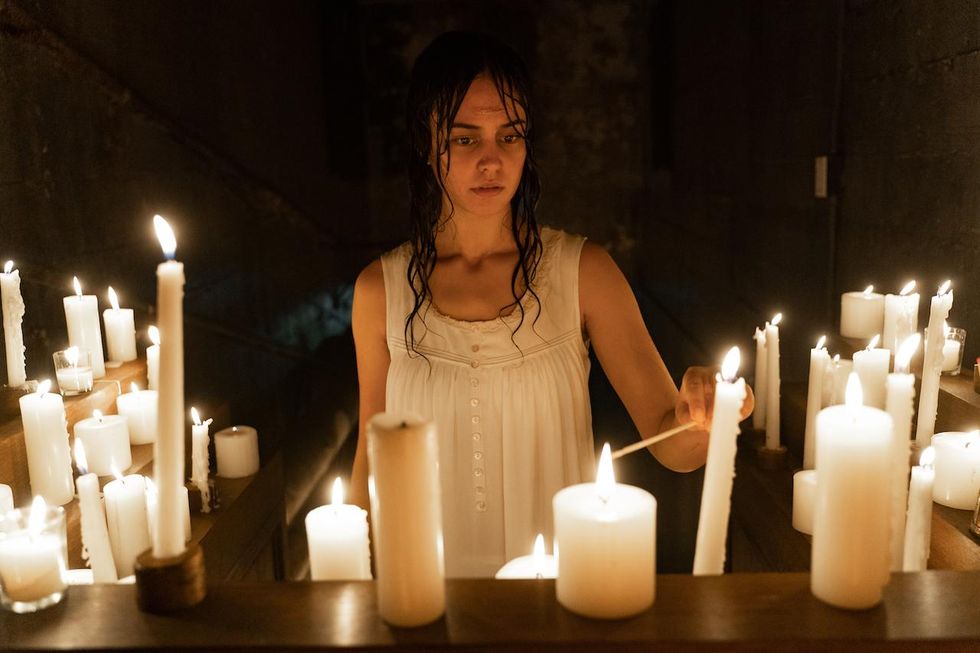 Courtney Eaton as teen Lottie in the Yellowjackets episode "Saints"
Photo credit: Michael Courtney/SHOWTIME
Lottie takes a prescription antipsychotic. When the pills run out, she sees visions—some of which foreshadow real events. Although the first season featured only a teen Lottie, Simone Kessell (Obi-Wan Kenobi) is due to portray Adult Lottie in the second season, joined by Six Feet Under's Lauren Ambrose as Adult Van. We look forward to learning more about Lottie's mysterious powers and the dark roads she leads her followers down.
What Does The Symbol Mean?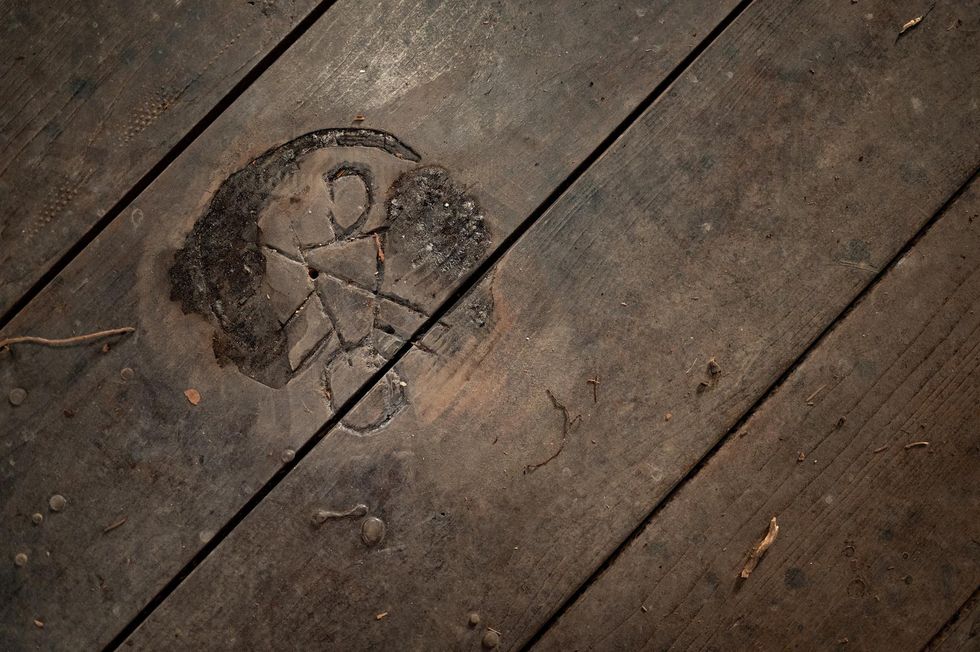 A cryptic symbol in the floorboards from the episode "Blood Hive"
Photo credit: Kailey Schwerman/SHOWTIME
It looks like a warning sign on a women's bathroom, and it shows up whenever there's trouble. Right after the crash, we see it carved on a nearby tree, suggesting it predates the accident. It is also in the dead hunter's attic and near his plane. In the modern timeline, it shows up beneath Travis's body, on Taissa's altar, and around the necks of the thugs who break into Natalie's room. Is it the symbol of a cult? If so, what are they after?
Who (Or What) Killed Travis?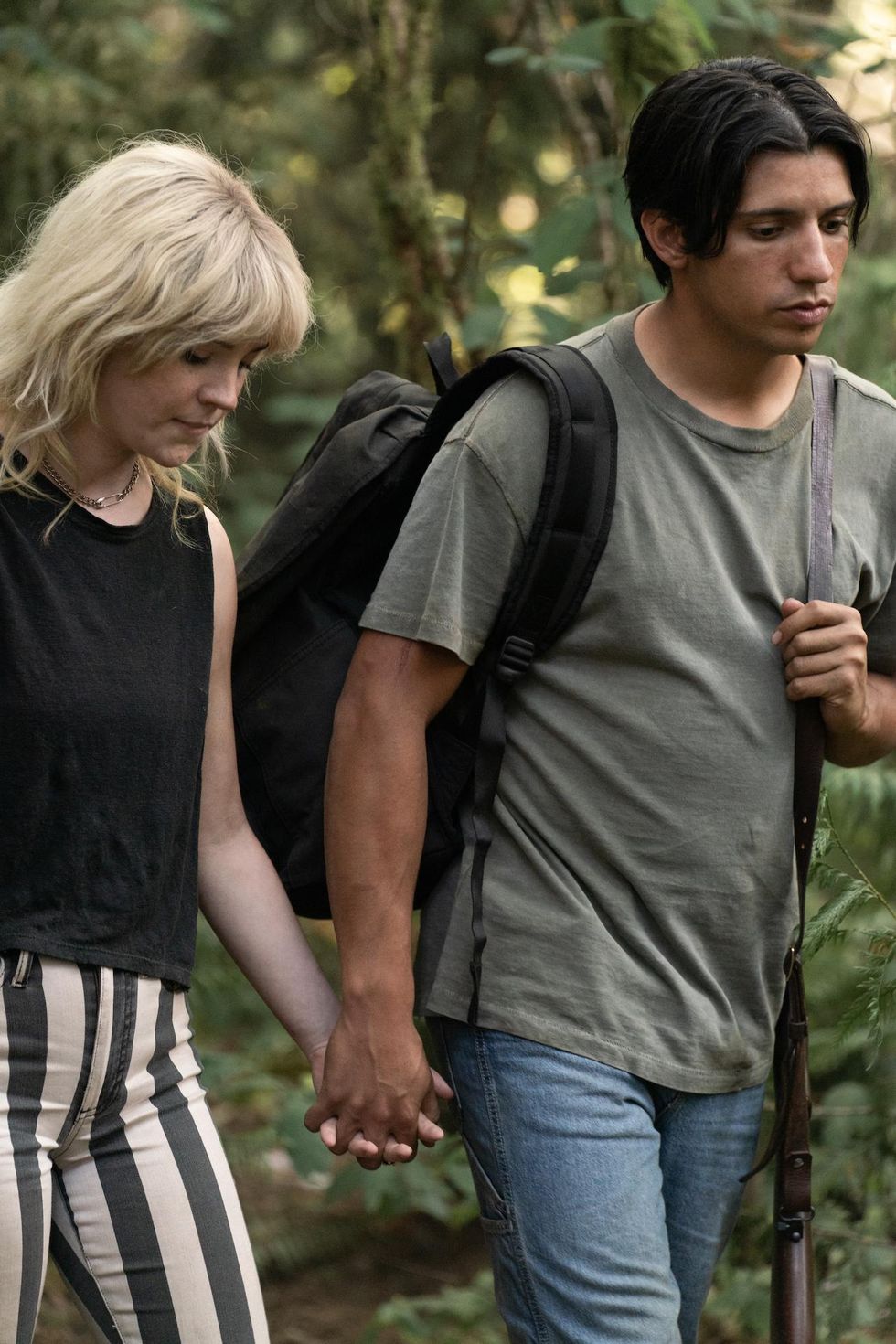 Thatcher as Teen Natalie and Kevin Alves as teen Travis in the episode "Saints"
Photo credit: Michael Courtney/SHOWTIME.
In 2021, Natalie and Misty tragically discover Travis hanging from the rafters of a ranch. The police rule it a suicide, but Nat—who has always loved him—disagrees. Misty finds an empty notepad in Travis's cabin with indented writing that reads "Tell Nat she was right." Later, we learn that somebody emptied Travis's bank account the day after he died and that Lottie was involved. Was Lottie responsible for his death? And what was Nat right about?
Where (Or When) Did Javi Go?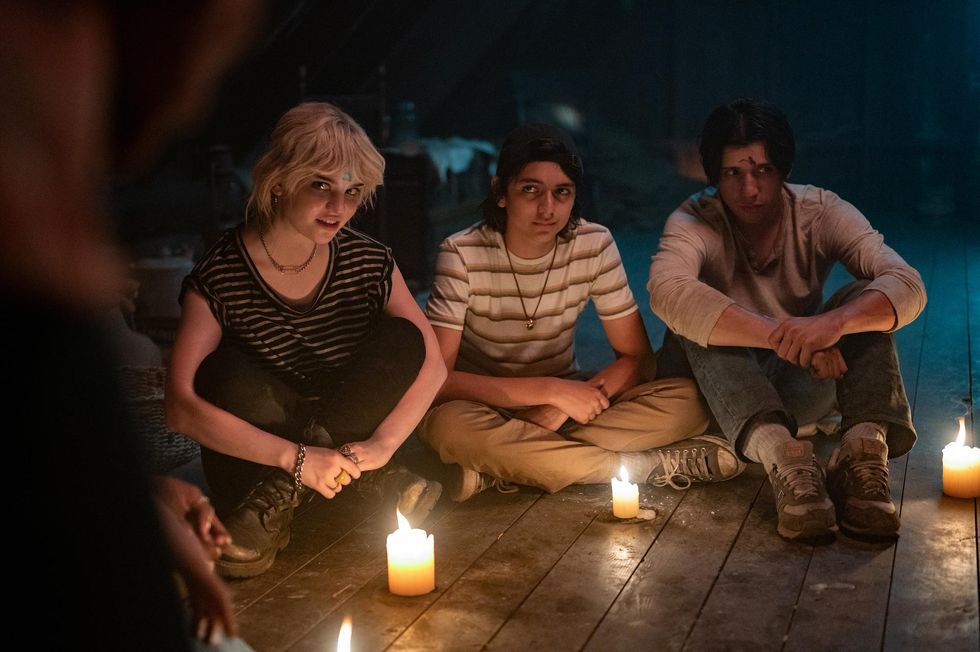 Thatcher, Luciano Leroux as Javi, and Alves in the episode "Blood Hive"
Photo credit: Kailey Schwerman/SHOWTIME.
The night of "Doomcoming," Misty doses the team with hallucinogenic mushrooms, turning them into a frenzied mob. They mistake Travis for a stag and almost slit his throat. In a moment of clarity, Shauna catches sight of Travis's kid brother Javier and yells "Run!" The next day, Javi is nowhere to be found.
What Is Adam's Backstory?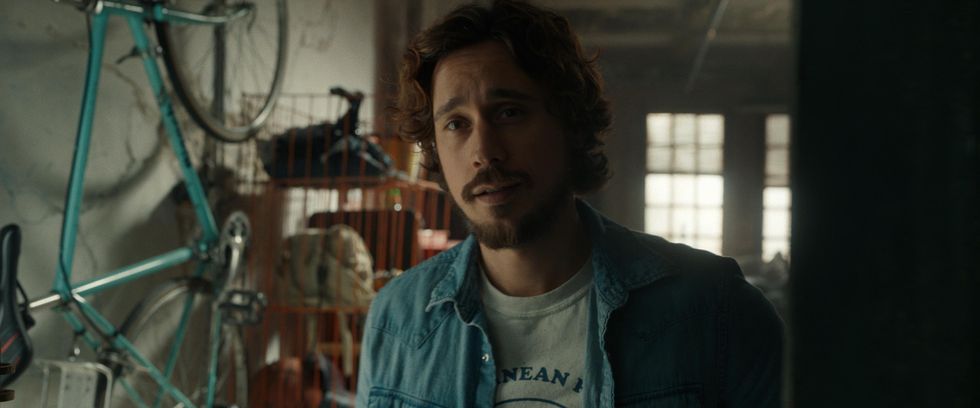 Peter Gadiot as Adam in the episode "Flight of the Bumblebee"
Photo credit: SHOWTIME
Adult Shauna is talking on her cell when she rear-ends a handsome stranger named Adam. It's a fun start to a hot and heavy affair. But when her teammates are blackmailed, Shauna suspects her lover. She is wrong, but why did Adam lie about art school, and why were there so many coincidences involved in their meeting?
Fans speculated that Adam was really Javi returned. Yellowjackets creators Ashley Lyle and Bart Nickerson and co-showrunner Jonathan Lisco told Variety that they had considered and rejected this idea: "It feels a little mustache-twirly," said Lyle, "which is not necessarily the place we want to go."
Who Is The Man With No Eyes?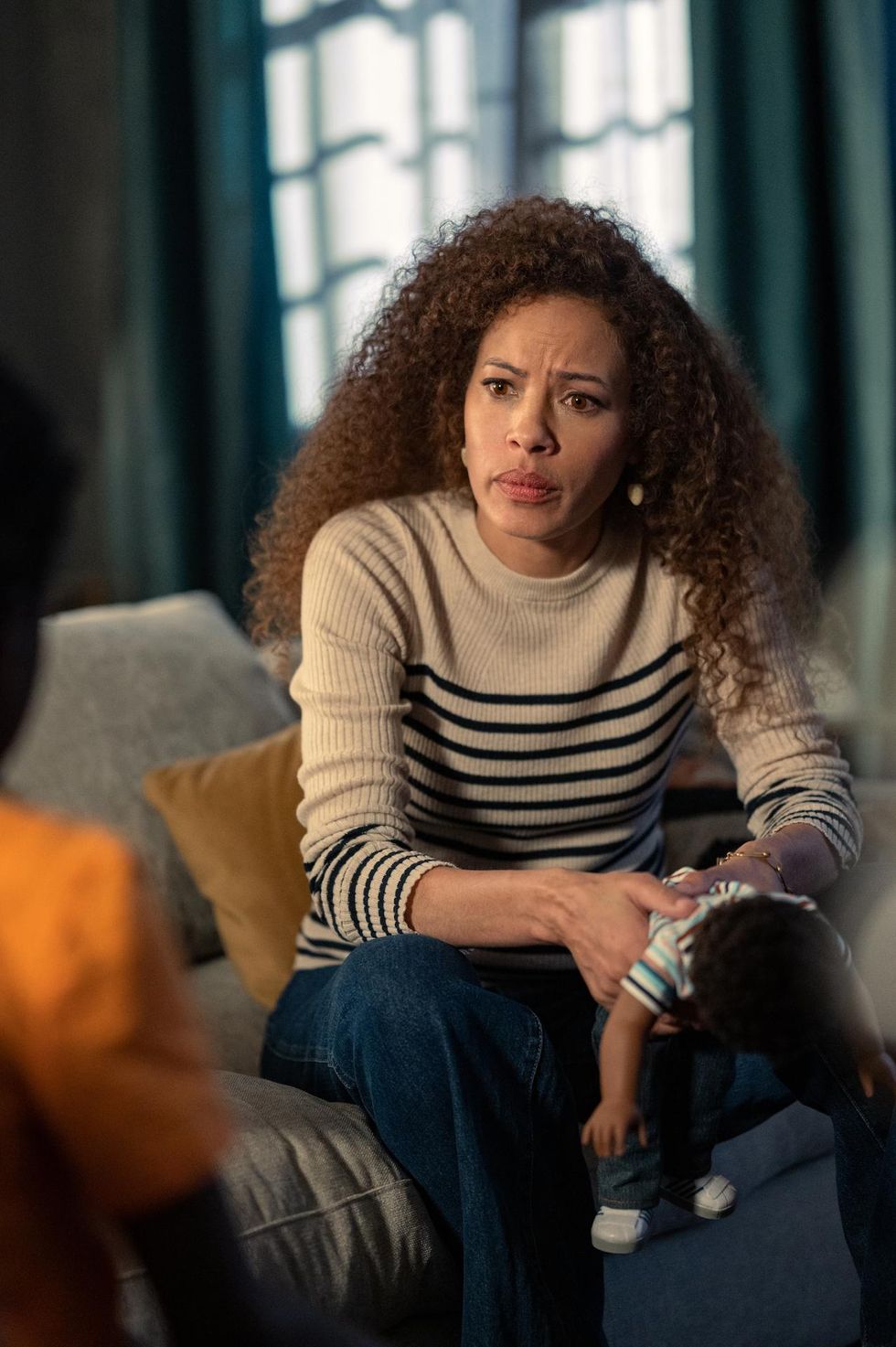 Tawny Cypress as Taissa in the episode "The Dollhouse," which includes a flashback to her childhood
Photo credit: Kailey Schwerman/SHOWTIME
In flashback, we see little Taissa hear her grandmother scream on her deathbed, "The man with no eyes! Don't let him take me! Don't let him take my eyes!" In a mirror, little Taissa sees a pale man with holes where his eyes should be. He reappears in the crowd at adult Taissa's press conference and in the Yellowjackets opening credits, where he never fails to freak us out.
What's The Deal With Taissa's Altar?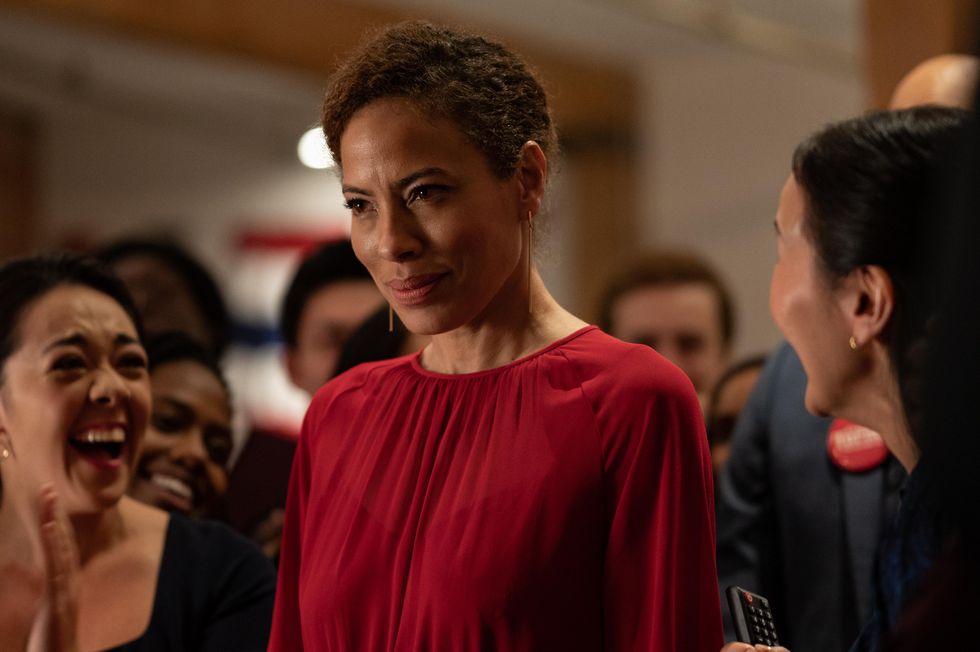 Emily Schoen as a campaign staffer (left) and Cypress (center) in the episode "Sic Transit Gloria Mundi"
Photo credit: Kailey Schwerman/SHOWTIME
Taissa has a sleepwalking problem, and it's stressing out her little son Sammy (played by Aiden Stoxx). But when Taissa's wife, Simone (Rukiya Bernard), goes into the basement crawlspace, she finds something much worse. Is Taissa the one who painted that symbol in blood and poked the eyes out of Sammy's doll? Let's not even talk about the dog Biscuit.
What Happened To Shauna's Baby?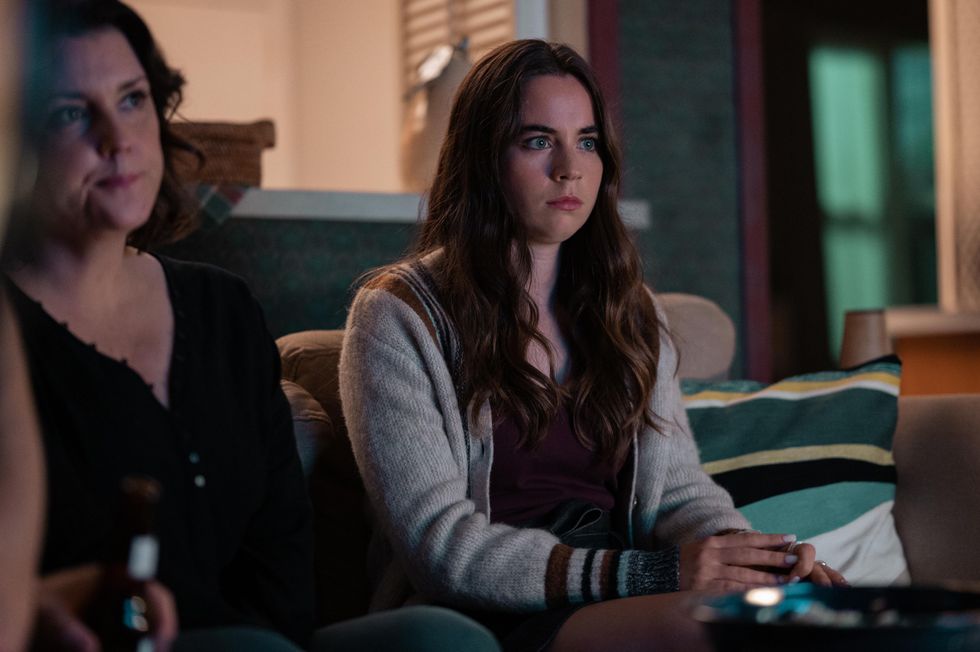 Melanie Lynskey as Shauna (left) and Sarah Desjardins as Callie Sadecki in "Sic Transit Gloria Mundi"
Photo credit: Kailey Schwerman/SHOWTIME
The only thing worse than being stranded in the wilderness? Being secretly pregnant with your best friend's boyfriend's baby. Since Shauna winds up married to Jeff (Warren Kole), it's easy to assume their teenage daughter is the product of that pregnancy. But the wilderness baby would be 25 in 2021. So what happened to it? Thank goodness for Christina Ricci, who appeared on The Tonight Show last April with the reassuring news that the girls do not eat it.
Watch all your favorite shows on CBS and streaming on Paramount+!