Photo: Stephanie Berger
By Melissa Rose Bernardo
Despite the pandemic, the 2021–2022 season felt like the busiest ever on Broadway, with more than three dozen Tony-eligible productions bringing up their curtains. There were 15 of them in April alone! This Sunday, June 12th, Broadway gets a chance to celebrate with the 75th Annual Tony Awards at New York City's Radio City Music Hall.
The festivities kick off live at 7 p.m. ET/4 p.m. PT on Paramount+ with hosts Darren Criss, currently featured in American Buffalo, and Julianne Hough, who's making her Broadway debut in the all-female ensemble of Selina Fillinger's farce POTUS: Or, Behind Every Great Dumbass Are Seven Women Trying to Keep Him Alive. Then the party continues on CBS at 8 p.m. ET/5 p.m. PT with host Ariana DeBose, the newly minted West Side Story Oscar winner. DeBose was also a 2018 Tony nominee for her turn as Disco Donna in Summer.
To help you get into the spirit, we've compiled 10 tidbits about this year's buzziest shows and competitive categories. Let's raise a glass to the 2021–2022 season. A special shoutout to the swings and understudies who kept the marquees on as shows everywhere dealt with COVID-19–related absences. You're all winners in our book!
Watch the 75th Annual Tony Awards 7–8 p.m. ET/4–5 p.m. PT exclusively on Paramount+, and 8–11 p.m. ET/5–8 p.m. PT on CBS, and streaming live and on demand on Paramount+.
SUBSCRIBE NOW: Enjoy 4 Digital Plus 2 Print/Digital Issues Of Watch Per Year — For Free!
1. Best Musical: Bob Dylan vs. Michael Jackson vs. Michael R. Jackson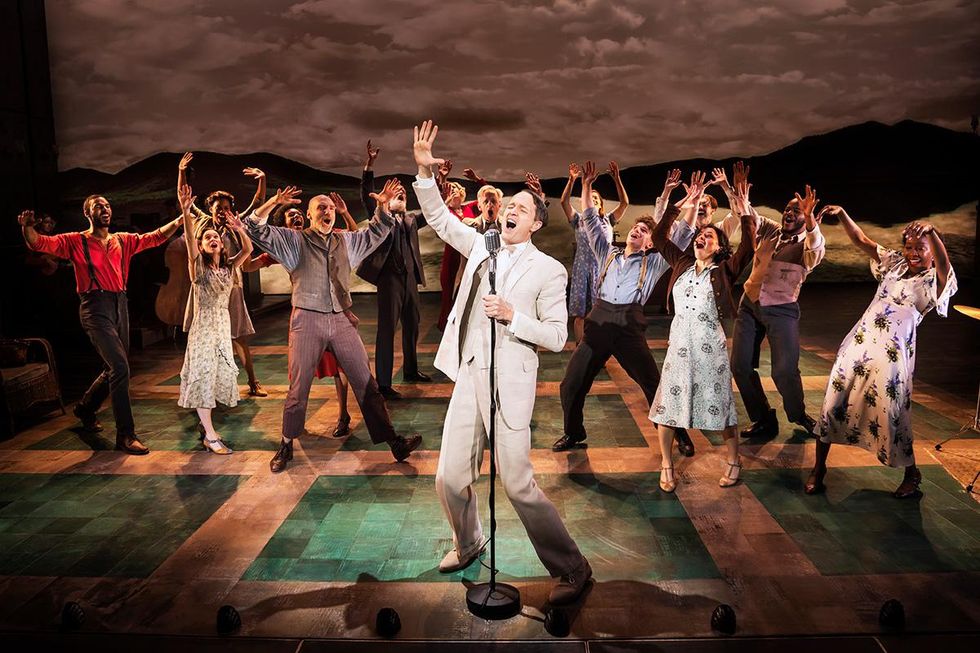 Todd Almond (at the microphone) and the cast of Girl From the North Country, set to the songs of Bob Dylan
Photo: Matthew Murphy

Only on Broadway could you have two Rock & Roll Hall of Famers duking it out for the Best Musical title:
• Girl From the North Country, the Great Depression–era musical written by Conor McPherson with a score of 20 existing Bob Dylan tunes
•MJ, the musical focusing on the life and music of the legendary King of Pop
And then there's Michael R. Jackson, the multi-nominated lyricist, librettist, and composer of the Pulitzer Prize–winning A Strange Loop, the self-described "big, Black, and queer-ass Great American Musical."
The other nominees include:
• Paradise Square, a Les Miz-meets-Ragtime mashup set in a slum in Lower Manhattan in 1863
• the plucky girl-powered Tudor romp SIX: The Musical
• the stage-to-screen Billy Crystal vehicle Mr. Saturday Night
2. The Season's Most-Nominated Show Has No Stars … in the Cast.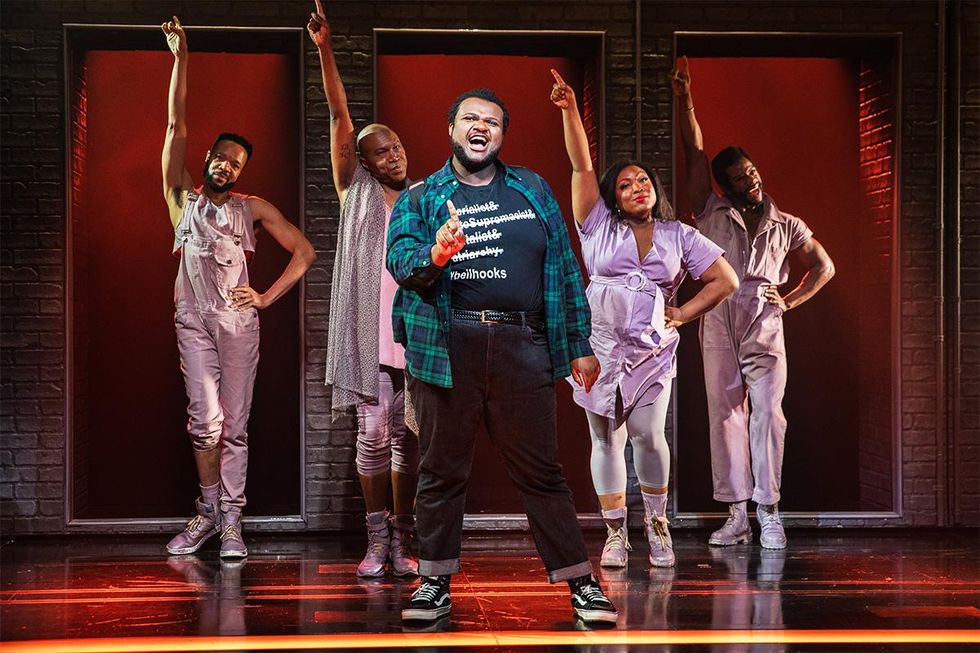 Jaquel Spivey as Usher (center) surrounded by his Thoughts—Jason Veasey, James Jackson Jr., L Morgan Lee, and Antwayn Hopper—in A Strange Loop
Photo: Marc J. Franklin

The cast members are far from household names, but you might recognize a few of the names above the title of the 11-time Tony-nominated A Strange Loop.
Just a few of the show's famous producers:
• RuPaul Charles
• Alan Cumming
• Ilana Glazer
• Mindy Kaling
• Billy Porter
• Jennifer Hudson
Hudson will become an EGOT winner if Loop wins Best Musical. That's how John Legend got the T in his EGOT; he was a producer of the 2017 Tony-winning revival of August Wilson's Jitney.
3. Keep an Eye on Camille A. Brown.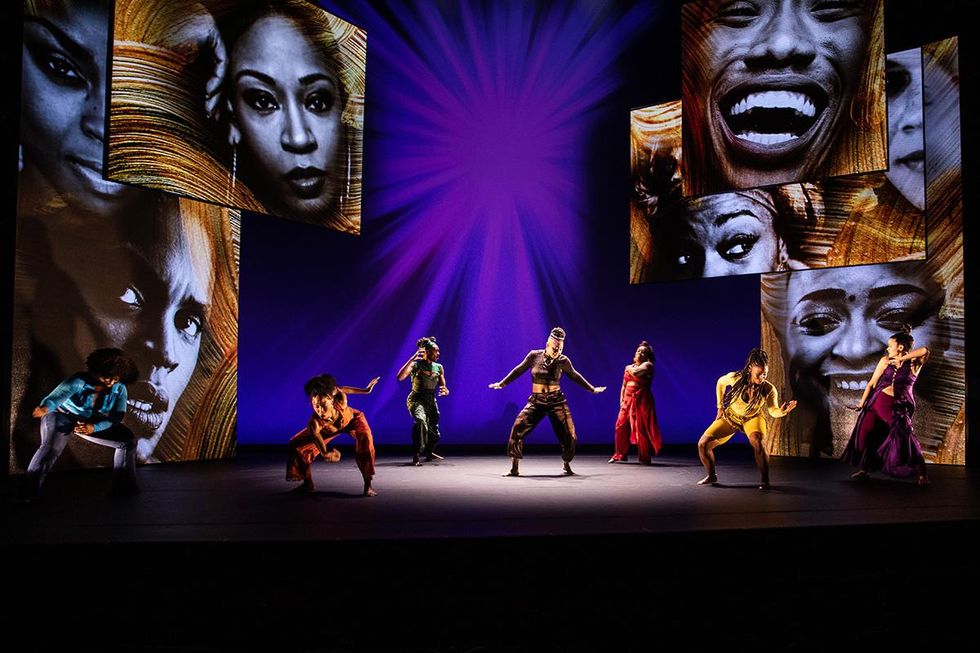 The cast of for colored girls …: Stacey Sargeant, Amara Granderson, Okwui Okpokwasili, Tendayi Kuumba, Kenita R. Miller, D. Woods, and Alexandria Wailes
Photo: Marc J. Franklin

With her revival of Ntozake Shange's groundbreaking 1975 choreopoem for colored girls who have considered suicide/when the rainbow is enuf, Camille A. Brown became the first Black woman to direct and choreograph a Broadway production in 67 years. (The last was Katherine Dunham.) And she received Tony nominations for both her direction and her choreography. Although for colored girls… closed June 5th, it received seven noms.
Brown is the first person ever nominated for both directing and choreographing a play.
No Black woman has ever won a Tony for directing. This year, two are nominated—Brown and Lileana Blain-Cruz, forThe Skin of Our Teeth.
4. Mary-Louise Parker and David Morse: Déjà Vu All Over Again.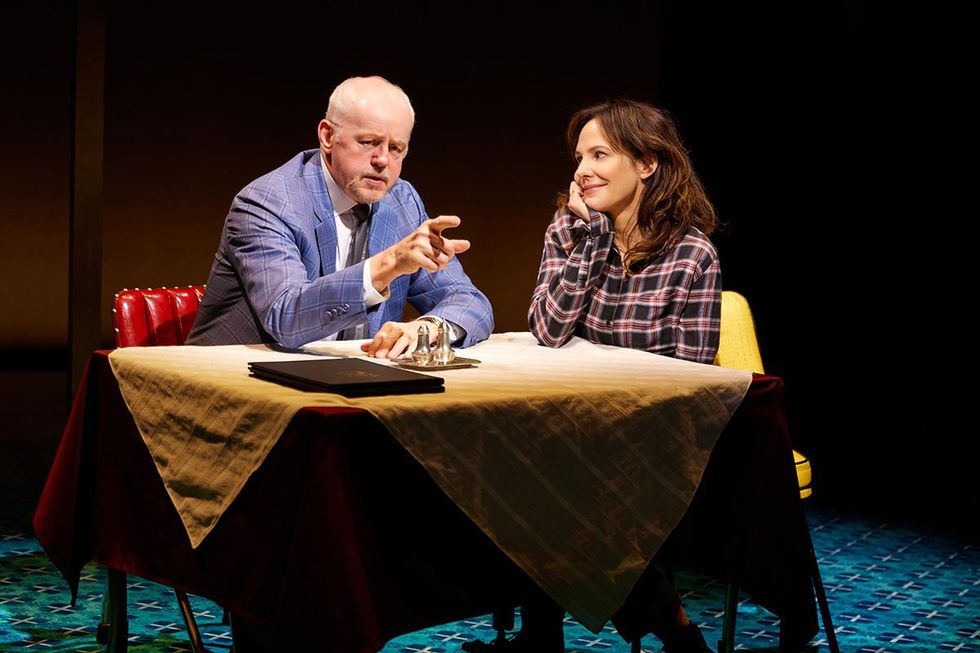 David Morse and Mary-Louise Parker in Paula Vogel's provocative How I Learned to Drive
Photo: Jeremy Daniel

Stop me if you've heard this one before. Mary-Louise Parker and David Morse starring in Paula Vogel's wrenching drama How I Learned to Drive. Both originated their respective roles in the 1997 off-Broadway premiere. Parker played teenager Li'l Bit and Morse played her extremely attentive Uncle Peck.
Drive went on to win the New York Drama Critics' Circle Award for Best Play and the Pulitzer Prize for Drama. Both actors received Obie, Drama Desk, and Lucille Lortel Awards for their performances.
Now, 25 years later, How I Learned to Drive is making its Broadway debut, again directed by Mark Brokaw, with Parker and Morse. Since the play was never on Broadway, both actors are indeed eligible and were nominated for Tony Awards.
5. Lynn Nottage: Two Shows, Two Nominations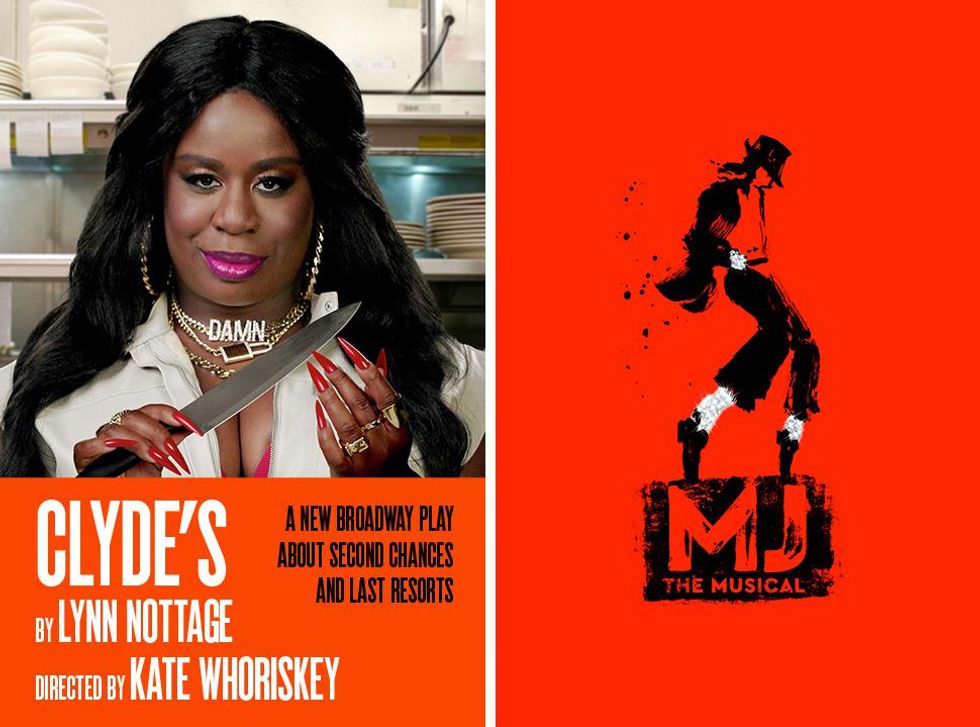 Promotional posters for Clydes and MJ The Musical
Lynn Nottage, a two-time Pulitzer Prize winner for her plays Ruined and Sweat, earned not one but two writing nominations for two very different works this season.
One nom was for her play Clyde's, a fast-paced, ferocious kitchen comedy set in a sandwich shop staffed by ex-cons. Actors Uzo Aduba, Ron Cephas Jones, and Kara Young all earned featured actor nods for their roles.
The other was for the book of the Michael Jackson biomusical MJ, which is nominated for 10 Tonys.
6. There Are Seven Nominees for Leading Actor in a Play.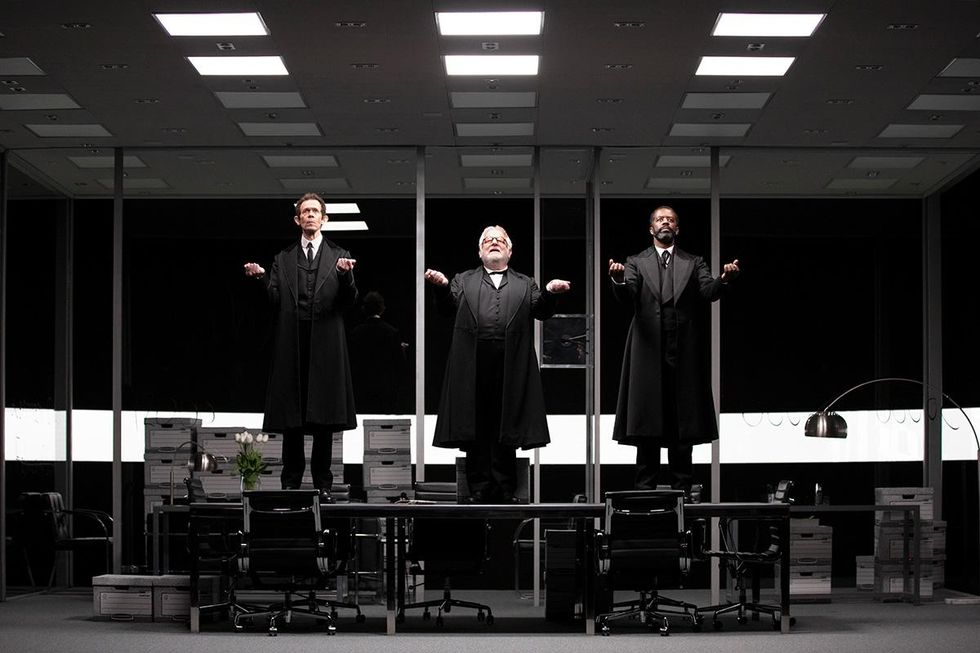 Adam Godley, Simon Russell Beale, and Adrian Lester played every role in the three-and-a-half-hour Sam Mendes–directed drama The Lehman Brothers.
Photo: Julieta Cervantes

Yes, seven nominees! They include:
• David Morse for How I Learned to Drive
• Sam Rockwell for American Buffalo
• Ruben Santiago-Hudson for Lackawanna Blues
• David Threlfall for Hangmen
• Simon Russell Beale for The Lehman Trilogy
• Adam Godley for The Lehman Trilogy
• Adrian Lester for The Lehman Trilogy
Remind us why the Tonys don't have an ensemble category. The Lehman guys shouldn't have to compete against each other!
Seven is a lot of nominees in an acting category. Five, sometimes six, is the norm. But it has happened before, back in 1958. The contenders were:
• Ralph Bellamy for Sunrise at Campobello. Bellamy ultimately won the Tony.
• Richard Burton for Time Remembered
• Hugh Griffith for Look Homeward, Angel
• Laurence Olivier for The Entertainer
• Anthony Perkins for Look Homeward, Angel
• Peter Ustinov for Romanoff and Juliet
• Emlyn Williams for A Boy Growing Up
Just a little Tony trivia for your next theatrical cocktail party.
7. SIX Boasts Eight Nominations, but Not One for Any of Its Six Actors.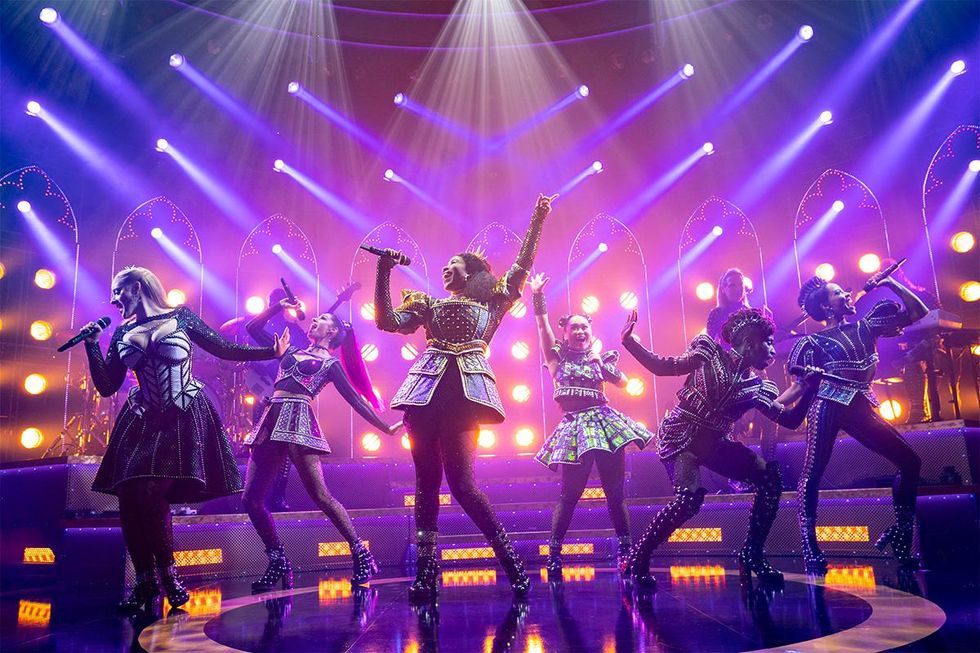 Bow down! Abby Mueller, Samantha Pauly, Adrianna Hicks, Andrea Macasaet, Brittney Mack, and Anna Uzele in SIX
Photo: Joan Marcus

If you've seen SIX, the supremely witty musical salute to the wives of Henry VIII, you might be shocked to learn that none of the actresses who play the badass queens were nominated.
The Tony Administration committee determined they were all lead, as opposed to featured, actresses. With all six competing for slots in the category, it's actually not surprising they all got snubbed. Yet another reason the Tonys need an ensemble category.
8. This Year's Most Competitive Category? Choreography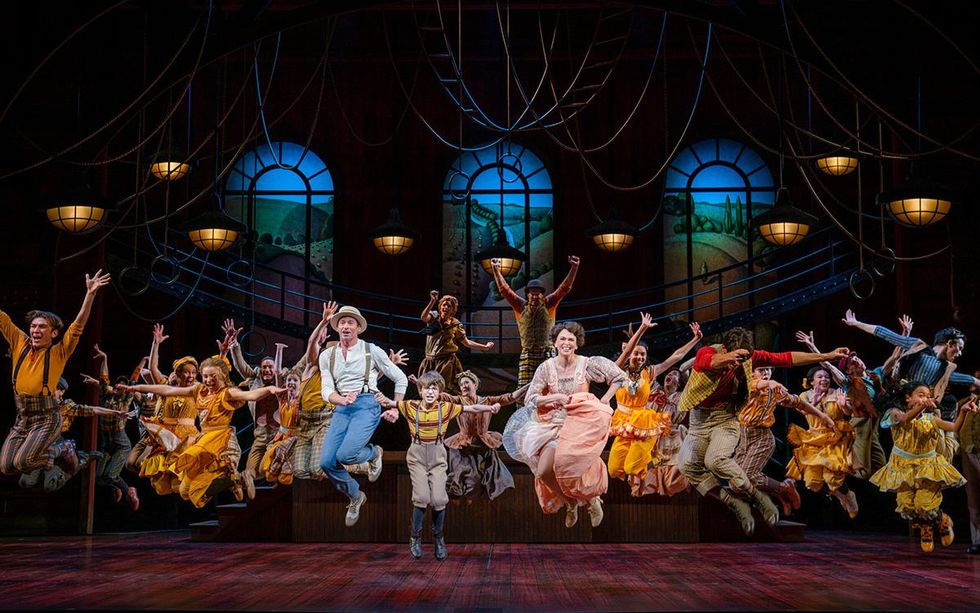 Hugh Jackman, Sutton Foster, and the dance-happy denizens of River City in The Music Man
Photo: Joan Marcus

Has there ever been a better season for choreography on Broadway? Nominees include:
• Camille A. Brown's picturesque modern dance–powered for colored girls…
• Carrie-Anne Ingrouille's bouncy, hip-popping, arm-punching steps in SIX
• Warren Carlyle's rousing marching band and tap routines for The Music Man (Carlyle and star Hugh Jackman worked on that tap for two years during the pandemic.)
• Bill T. Jones' Irish step–meets–African Juba work in Paradise Square
• Christopher Wheeldon's uncanny re-creation of Michael Jackson's iconic moves in MJ
The only way to decide who gets the Tony? Dance off!
9. This Year's Second-Most-Competitive Category? Set Design of a Play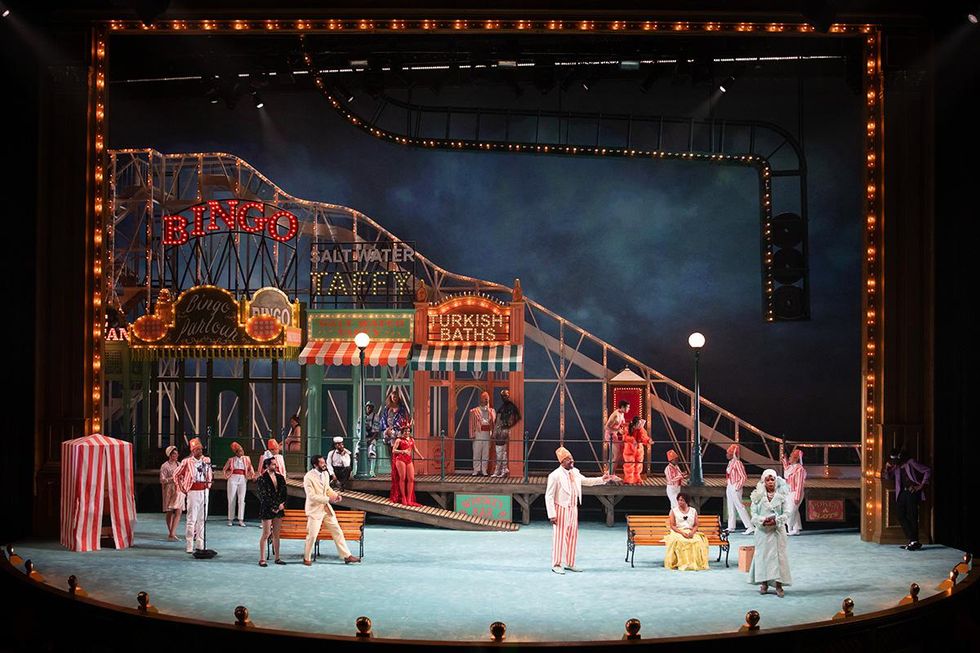 The Atlantic City set in The Skin of Our Teeth. (Yes, that's a working slide. Whee!)

Photo: Julieta Cervantes

Musicals traditionally have much more elaborate sets. Think moving mansions, crashing chandeliers. But this season, the plays were the thing.
• Beowulf Boritt created a dynamic rotating multi-room White House for POTUS: Or, Behind Every Great Dumbass Are Seven Women Trying to Keep Him Alive.
• Michael Carnahan and Nicholas Hussong's lived-in break room in Skeleton Crew looked ripped straight out of an aughts-era Detroit auto plant.
• Anna Fleischle's Hangmen set moves seamlessly from a dank prison cell to a smoke-filled pub, with a few dangling ropes thrown in for good measure.
• Es Devlin used a massive rotating glass cube and an almost entirely black-and-white palette to tell the epic 164-year story of The Lehman Trilogy.
• Scott Pask's American Buffalo junk shop is a hoarder's delight, packed with trash and treasure in every nook and cranny.
• Finally, Adam Rigg's The Skin of Our Teeth designs are as massive as the play itself, which spans thousands of years and includes a dinosaur, a woolly mammoth, and a trip to the Atlantic City boardwalk.
10. Mr. Saturday Night Received More Tony Nominations Than Oscar Nominations.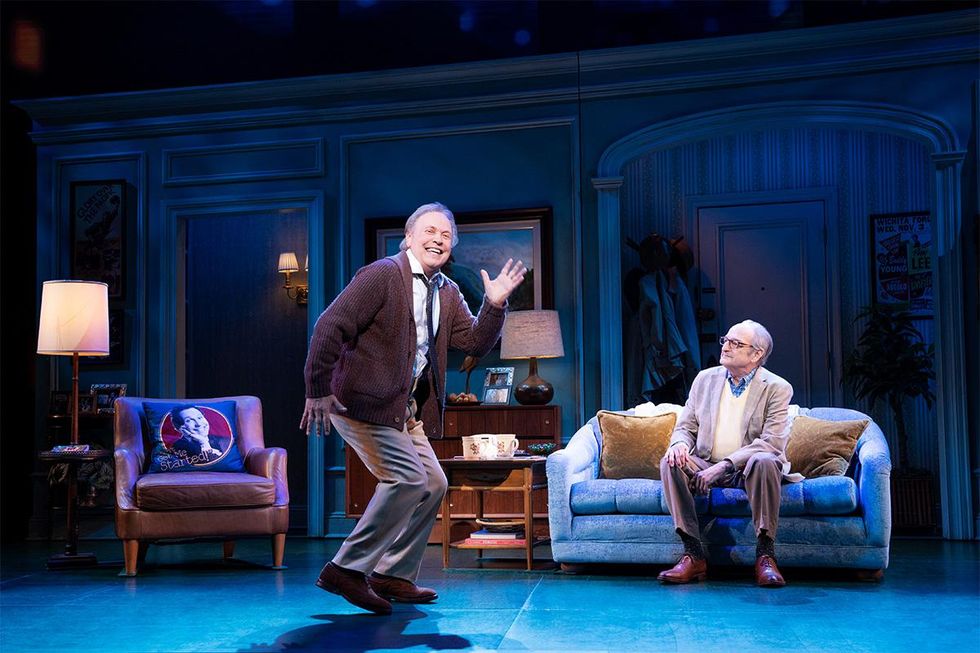 Together again: Billy Crystal and David Paymer in Mr. Saturday Night

Photo: Matthew Murphy

The 1992 movie received just one Oscar nom, for David Paymer's supporting character Stan, the beleaguered brother of Billy Crystal's standup comic Buddy Young Jr.
The Broadway musical, however, received five Tony noms:
• book (Billy Crystal, Lowell Ganz, and Babaloo Mandel, who wrote the original screenplay)
• original score (music by Jason Robert Brown, lyrics by Amanda Green)
• leading actor (Crystal)
• featured actress (Shoshanna Bean, who plays Buddy's daughter)
• best musical
The one it didn't get? Featured actor for Paymer, who's reprising his movie role on stage. To paraphrase one of Buddy Young's famous lines, don't get us started!
Watch the 75th annual Tony Awards 7–8 p.m. ET/4–5 p.m. PT exclusively on Paramount+, and 8–11 p.m. ET/5–8 p.m. PT on CBS, and streaming live and on demand on Paramount+.
SUBSCRIBE NOW: Enjoy 4 Digital Plus 2 Print/Digital Issues Of Watch Per Year — For Free!