Photo Credit: Courtesy of Pop TV.
By Robert Rorke
In honor of Valentine's Day, we're taking a loving look at some of the most popular and groundbreaking duos that have brightened TV screens over the past five decades. Some were mismatched, others destined for one another, and a few were not romantic but rather two people who shared a deep connection. Because at the end of the day, all you need is love.
SUBSCRIBE NOW: Enjoy 4 Digital Plus 2 Print/Digital Issues Of Watch Per Year — For Free!
Originally published in Watch Magazine, January-February 2021.
Sheldon Cooper and Amy Farrah Fowler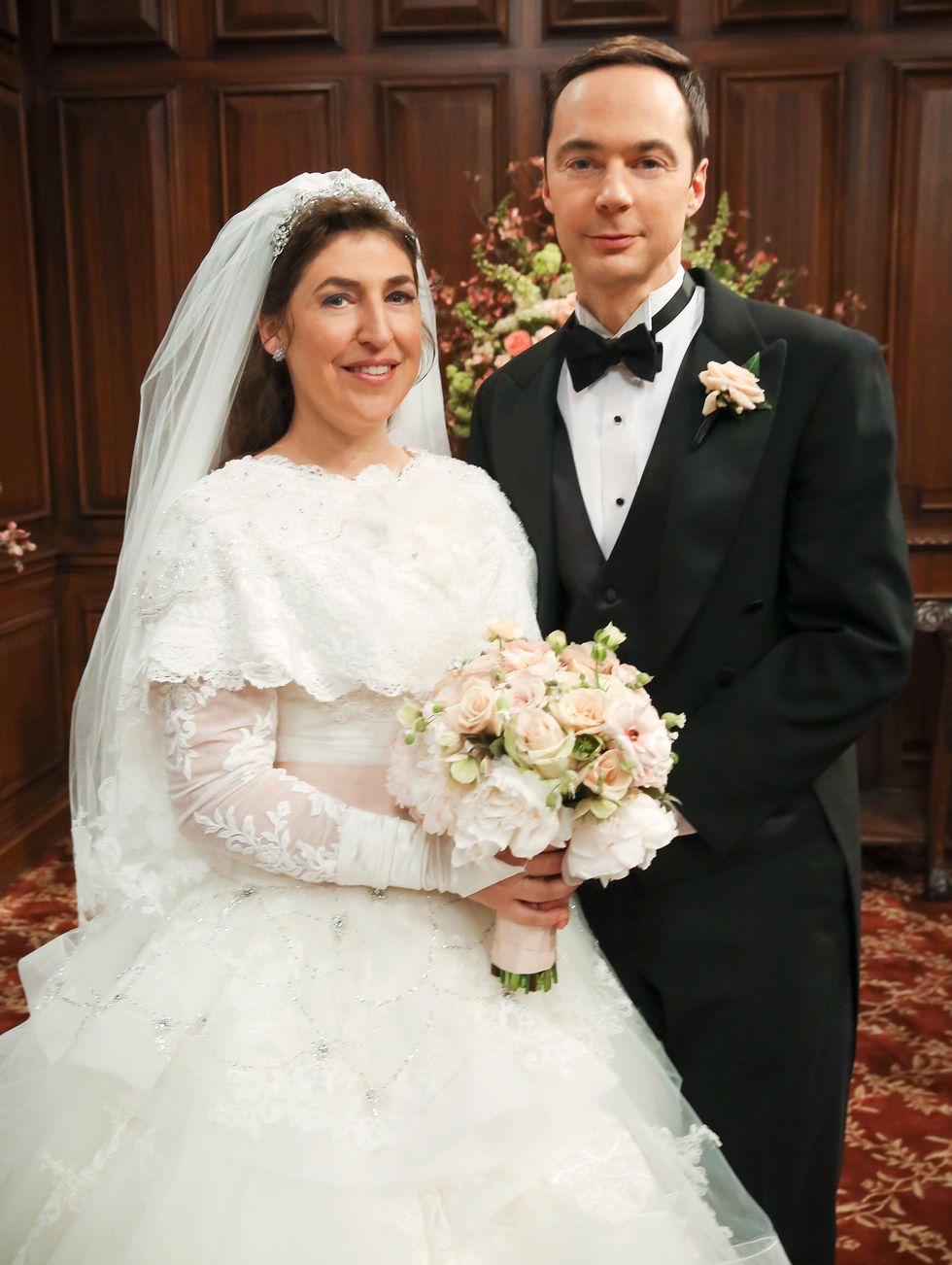 The Big Bang Theory's Sheldon (Jim Parsons) and Amy (Mayim Bialik)
Photo Credit: Michael Yarish/CBS via Getty Images.
The Big Bang Theory (2007–2019)
Sheldon and Amy were both brilliant at science but clueless about relationships. She had a PhD in neurobiology. He was a theoretical physicist who received his PhD at age 16. An online dating site selected Amy as Sheldon's perfect mate, but there was a lot of brain matter to plow through on the way to true love. Amy devised an experiment to increase his feelings for her. It consisted of a meal whose ingredients would evoke warm memories of Sheldon's childhood. The beverage of choice was Strawberry Quik, his "favorite pink fluid." The main course? Spaghetti with little pieces of cut-up hot dog. "Yummy, yummy. We should do this more often," Sheldon said. The experiment was a success. They were finally married in the Season 11 finale.
Sweetest nerd moment:
In Season 9, Amy finally seduces Sheldon on her birthday after years of dating. Fortunately, the encounter goes well enough for Sheldon to admit he enjoyed it much more than he thought he was going to. "I look forward to your next birthday, when we do it again," he says.
Lorelai Gilmore and Luke Danes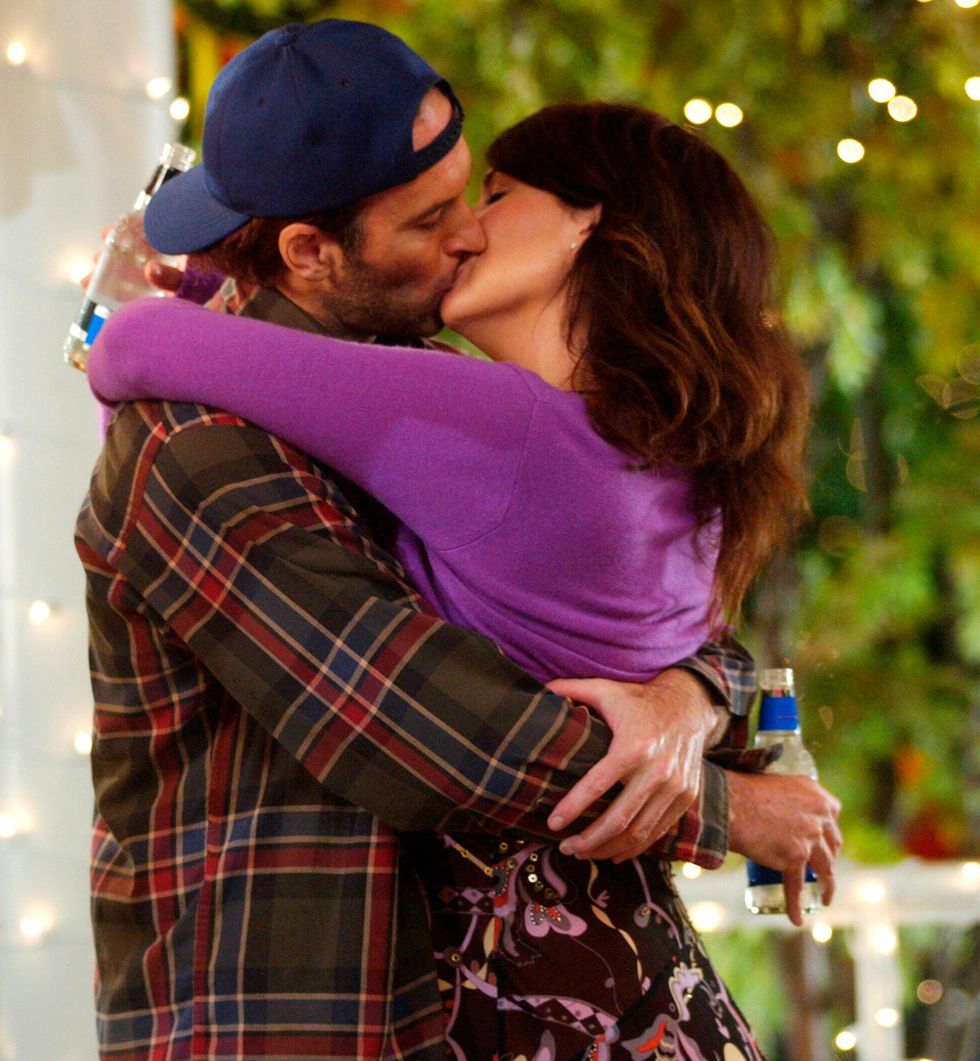 Gilmore Girls' Lorelai (Lauren Graham) and Luke (Scott Patterson).
Photo Credit: Warner Bros./Everett Collection.
Gilmore Girls (2000–2007)
This love story started over a cup of coffee. As owner of Luke's Diner, Luke (Scott Patterson) poured cup after cup for hyper single mom Lorelai (Lauren Graham). To many observers in Stars Hollow, Connecticut, their attraction was mutual, but it took forever for them to realize it. In the meantime she dated her daughter Rory's (Alexis Bledel) teacher, Max Medina (Scott Cohen); briefly became engaged to him; and even went back to Rory's dad, Christopher Hayden (David Sutcliffe), with heart-breaking results. Luke married someone else, but that relation-ship ended in divorce. Lorelai always went back to the diner for coffee and Luke's sympathetic ear. While watching Casablanca at the Gilmore house, they discussed relationships. "If I had dated a lot," said Luke, "I'd still be single." Countered Lorelai: "But dating is how you get to know your potential partner. It's the only way." A self-help tape helped Luke realize who his true soul mate was—duh, Lorelai—and he finally asked her out on an actual date.
Lasting memento:
Luke and Lorelai did not hit it off at the start. In fact, she ripped the horoscope page out of the daily paper and wrote him a note on the back: "You will meet an annoying woman today. Give her coffee and she'll go away." He kept it in his wallet for eight years because she said it would eventually bring him luck.
George and Louise Jefferson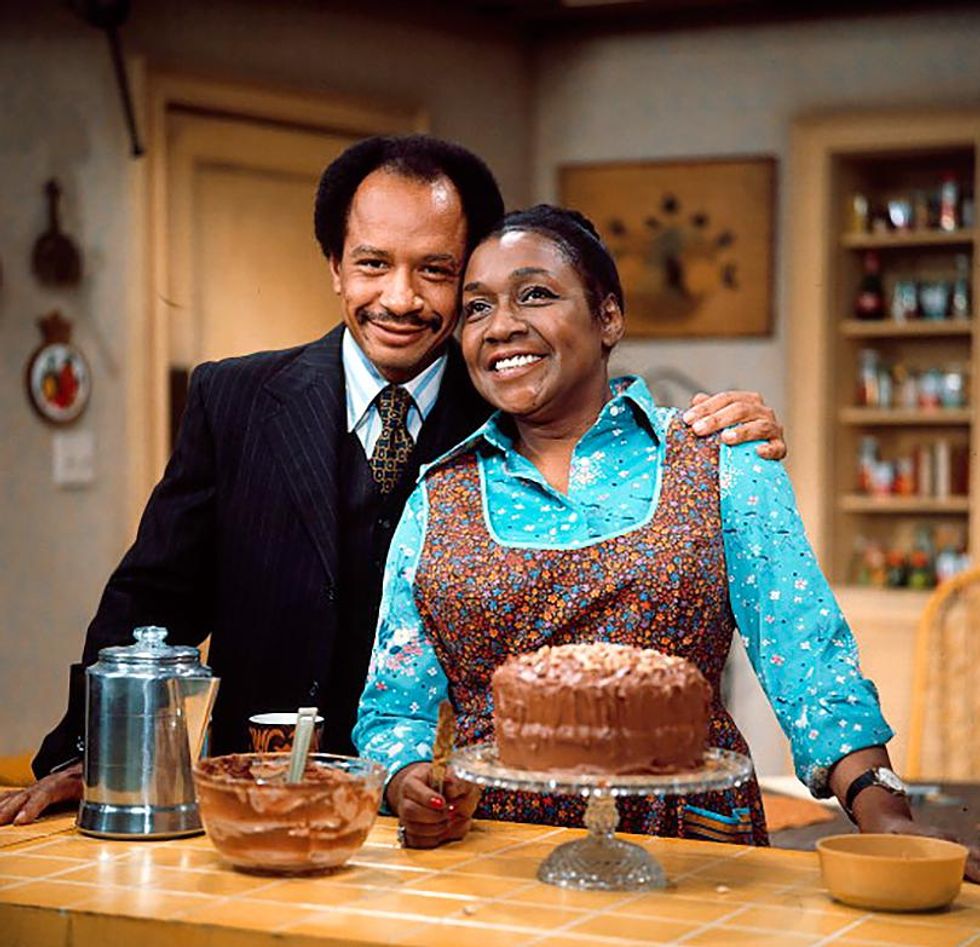 The Jeffersons' George (Sherman Hemsley) and Louise (Isabel Sanford).
Photo CreditL Courtesy of CBS Photo Archive.
The Jeffersons (1975–1985)
Long-married couple George (Sherman Hemsley) and Louise (Isabel Sanford) struck it rich when he opened a series of dry cleaners, enabling them to move away from their Queens neighborhood—where their neighbors were Edith and Archie Bunker—to Manhattan's Upper East Side. George let success go to his head, but Louise, a.k.a. " Weezy," tried to keep his feet on the ground, reminding him that he was the grandson of a sharecropper and she the daughter of a janitor. " We are just plain folks," she said. Still, Louise did hire a maid, the wisecracking Florence (Marla Gibbs).
In an interview for the National Academy of Television Arts and Sciences, Sanford revealed that she was reluctant to do the All in the Family spinoff because that show was such a hit. But The Jeffersons ran for 11 seasons, and Sanford became the first Black actress to win an Emmy for Best Actress in a Comedy Series in 1981.
Most revealing moment:
Louise complains to George that they are not spending enough time together. "George, you're so wrapped up in your work, I'm beginning to wonder if I'm your wife or just a tax deduction," she says. His retort? "C'mon, Weezy, you know the answer to that. You're both!"
David Rose and Patrick Brewer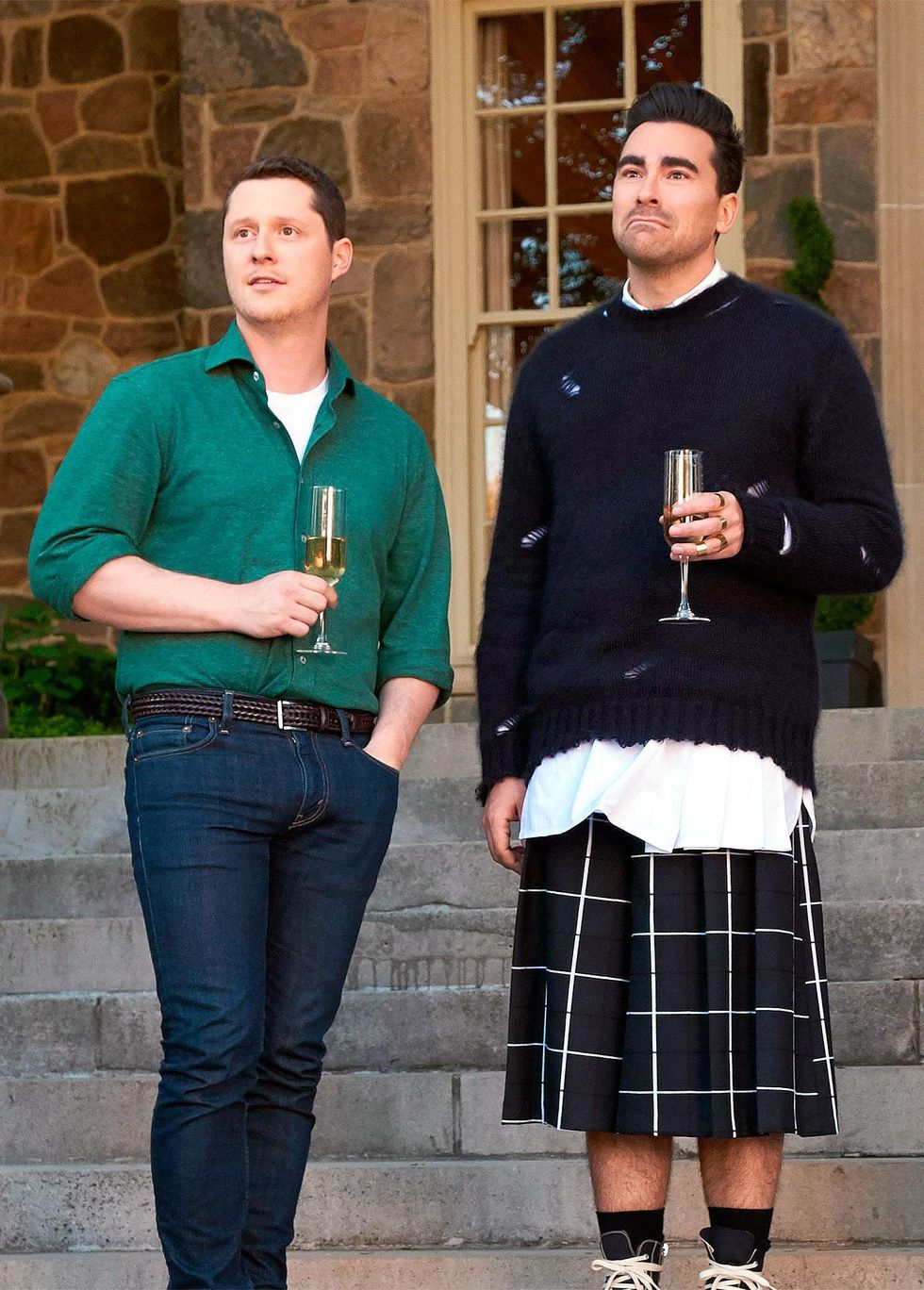 Schitt's Creek's Patrick (Noah Reid) and David (Daniel Levy).
Photo Credit: Courtesy of Pop TV.
Schitt's Creek (2015–2020)
TV couples usually face some kind of obstacle, but Schitt's Creek came up with a unique challenge: bedwetting. It could have been a deal breaker for earnest, mild-mannered Patrick Brewer (Noah Reid) and hilariously insecure David Rose (Daniel Levy). David was mortified, but Patrick helped smooth things over by showing him the nose guard he sometimes used at night to help with his breathing. This seemingly odd couple met when David applied for a business license to open the store that became Rose Apothecary. Patrick, described by David as a "business major who wears straight-legged, midrange denim," had the right experience to help David articulate his plans.
David helped Patrick in more intimate ways, becoming the first man to kiss him, in Patrick's car. Said the grateful driver: "I was getting a little scared that I was going to let you leave here without us having done that. So thank you for making that happen for us." Their Season 6 wedding was a blast, officiated by David's mother, Moira (Catherine O'Hara).
Sweetest moments:
The Tina Turner hit "Simply the Best" frames David and Patrick's courtship. Patrick serenades David with an acoustic version at an open-mic night at the store, and David returns the favor when he lip- syncs while playing Turner's version.
Schitt's Creek streams on the Pop Now app, plus Netflix and CW Seed.
Blair Waldorf and Chuck Bass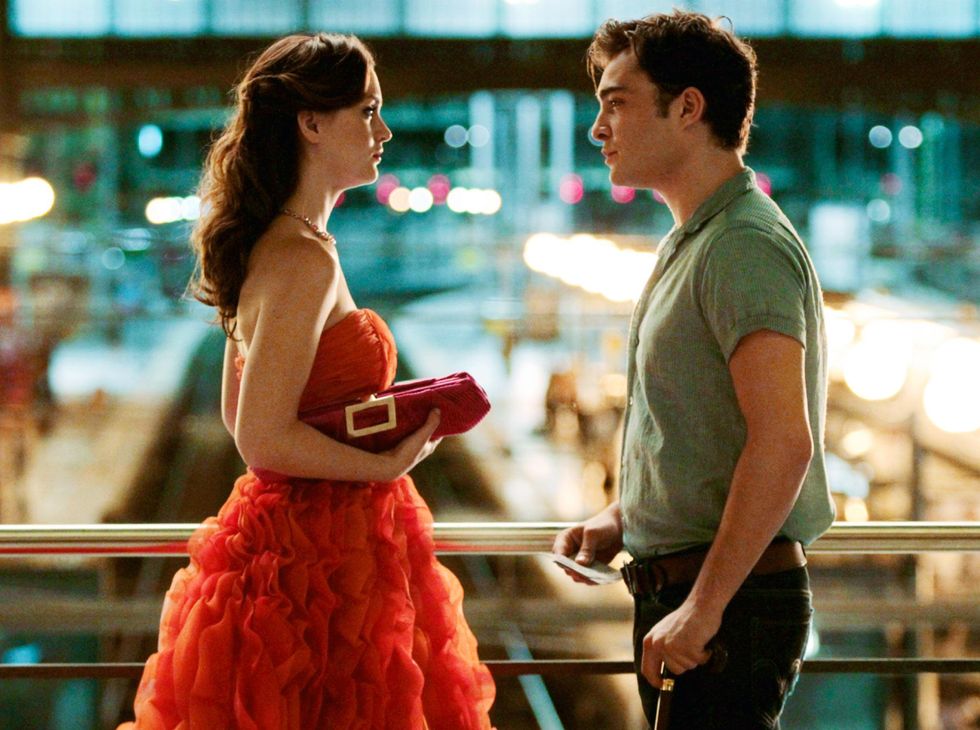 Gossip Girl''s Chuck (Ed Westwick) and Blair (Leighton Meester).
Photo Credit: Giovanni Rufino/The CW/Courtesy Everett Collection.
Gossip Girl (2007–2012)
Three words, eight letters. That's what it came down to for Blair Waldorf (Leighton Meester) and Chuck Bass (Ed Westwick), the reigning couple of Gossip Girl. Who would be the first to say, "I love you"? Would it be Blair, the queen bee of the Constance Billard School for Girls? Or would it be Chuck, the smoldering bad boy of St. Jude's School for Boys?
As it turned out, it was Chuck, after two seasons of toying with Blair's affections. A prep- school summer romance blossomed into a roller coaster relationship that peaked and plummeted against a glamorous backdrop of limousines, exclusive soirees, and masked balls. At one point, they broke up, and Blair nearly married Dan (Penn Badgley) in Season 5, until Chuck showed up at the church. As Gossip Girl was nearing the end of its run, this romantic storyline was wrapped up with a surprise wedding and a fast-forward where Blair and Chuck become parents of a son named Henry.
Sweetest moment:
Blair consoles Chuck at the hospital after his father dies in a car accident. "I don't think you ran away because you couldn't handle death," she says. "I think it's because you couldn't handle feelings. You're not like that anymore."
Calvin Butler and Dave Johnson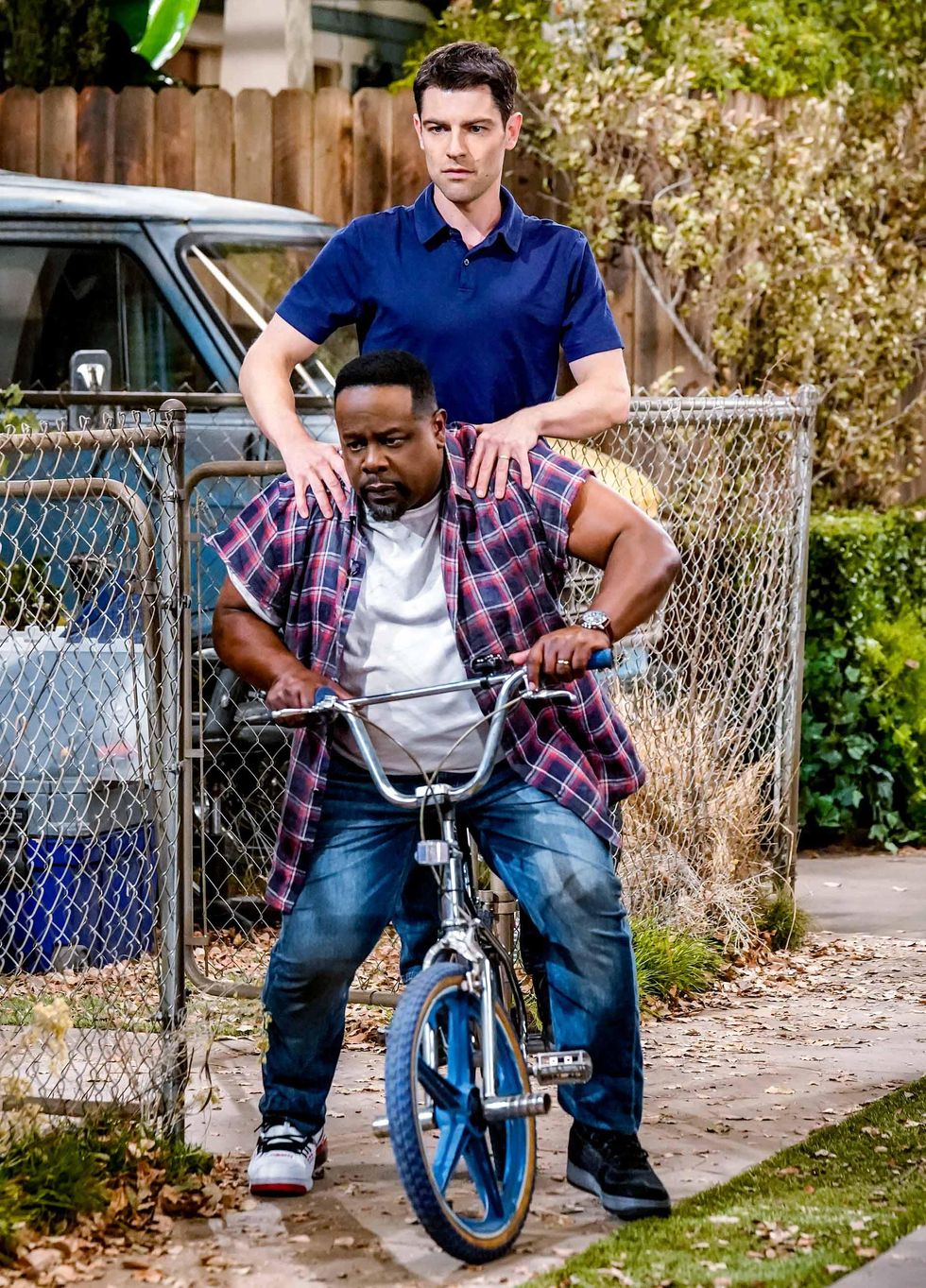 The Neighborhood's Calvin (Cedric the Entertainer) and Dave (Max Greenfield).
Photo Credit: Monty Brinton/CBS.
The Neighborhood (2018–Present)
They weren't supposed to be friends, let alone share an unlikely bromance. When Dave Johnson (Max Greenfield) moved next door to Calvin Butler (Cedric the Entertainer), there was no welcome wagon. Good-natured Dave and his wife, Gemma (Beth Behrs), bent over back-ward to win Cedric's trust and friendship, inviting Cedric and his wife, Tina (Tichina Arnold), over for dinner.
The ice thawed and, despite Calvin's objections, Dave was welcomed at his local barbershop. With their wives away at a Napa Valley wine-tasting holiday, Dave invited Calvin to a hockey game. He liked it way more than he cared to admit and was worried that Dave's "Daveness" was rubbing off on him. In this way, each man saw the world from the other's point of view. At the end of Season 2, Calvin threw his support behind Dave's campaign to run for city council.
Most supportive moment:
When Calvin experiences discrimination by the staff of a fancy golf course, Dave sticks up for his friend. He later asks Calvin, "How do you handle all the double standards? I would be angry all the time."
The Neighborhood airs Mondays at 8/7c on CBS and streams on Paramount+.
Marshall Eriksen and Lily Aldrin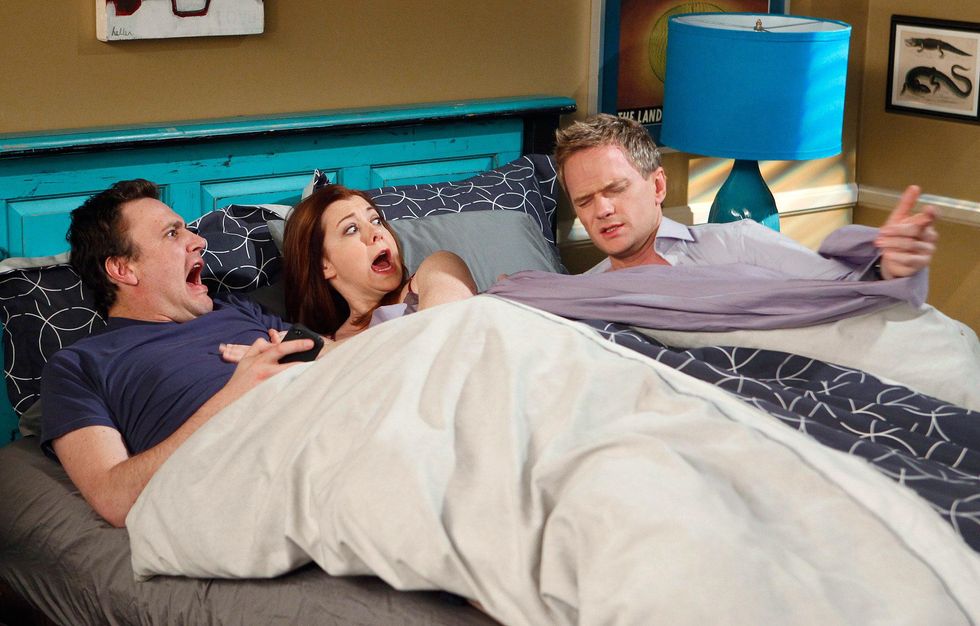 How I Met Your Mother's Marshall (Jason Segel) and Lily (Alyson Hannigan) with Barney (Neil Patrick Harris).
Photo Credit: Monty Brinton/CBS via Getty Images.
How I Met Your Mother (2005–2014)
For every couple whose happiness means heartbreak for others or who take forever to realize they're meant for each other, there is that rare pair that gets it right from the beginning. Marshall Eriksen (Jason Segel) and kindergarten teacher Lily Aldrin (Alyson Hannigan) met on the first day of college and fell in love. These soul mates might be the luckiest couple on this list. The stability they presented offered a welcome contrast to the romantic ups and downs of Ted Mosby (Josh Radnor), Marshall's best friend and college roommate. And who could forget when they dressed up as Sonny and Cher for Halloween, only it was Lily as Sonny and Marshall in a long black wig?
Marshall didn't propose until he and Lily had dated for nine years. Lily decided she was missing something in her life and accepted an art fellowship in San Francisco, prompting a breakup. But the separation didn't last and Lily returned to New York, realizing that art was not her calling. They married in the show's second season and eventually started a family.
Sweetest tradition:
Whenever Marshall and Lily fly anywhere, their airport reunion features one of them holding a cardboard chauffeur sign and the other emerging from the plane with a six-pack that advertises wherever they've been (Fort Lager Dale, Minne-Cider, etc.).
Lieutenant Paul Stamets and Dr. Hugh Culber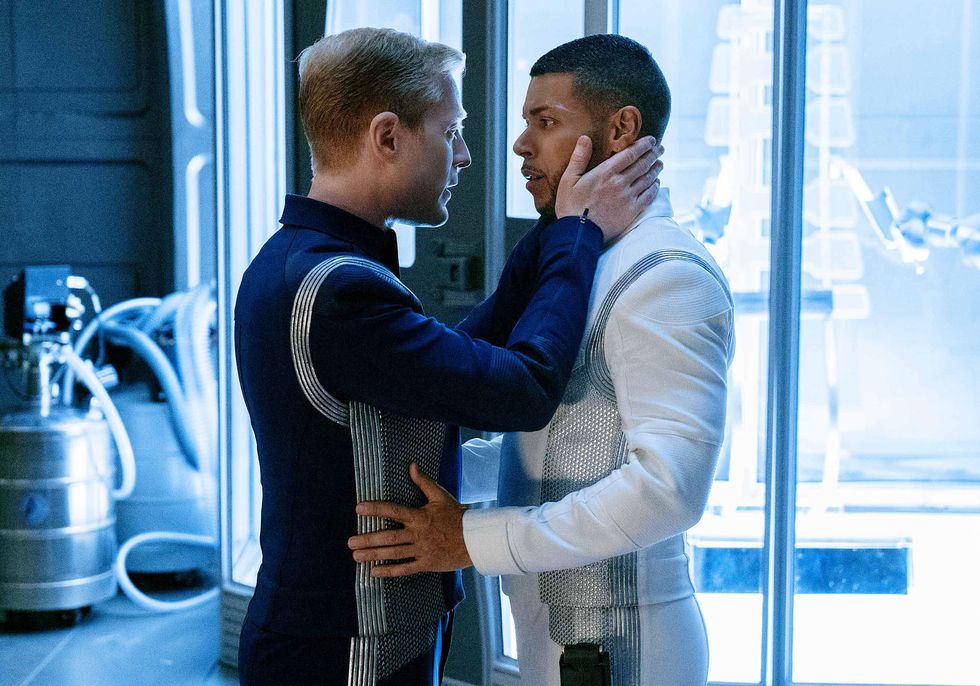 Star Trek: Discovery's Paul (Anthony Rapp) and Hugh (Wilson Cruz).
Photo Credit: Michael Gibson/CBS.
Star Trek: Discovery (2017–Present)
Gay couples are now mainstays on TV, but Star Trek: Discovery is the first live-action show to send one into outer space. Paul Stamets (Anthony Rapp) is the Discovery's chief engineer, and his husband is Hugh Culber (Wilson Cruz), the ship's medical officer. Their bickering during Stamets' skull-fracture examination spoke volumes about their relationship. To wit: "The frontal lobe is overrated," said Stamets. "It only contains memory and emotional expression. It's completely unnecessary." Culber decided Stamets might need his: "Well, I'll save it. You know, just in case you might want to have a feeling one day."
Out actors Rapp and Cruz were proud that their characters were the first openly gay couple in the Trek franchise, but then one of Culber's patients broke the doctor's neck in episode 10. The death left members of the gay community crestfallen. GLAAD spokesperson Nick Adams called Culber "a beloved groundbreaking character."
Sweetest resurrection:
Since death is rarely final in the Star Trek universe, fans rejoiced when Culber's body was reconstructed in Season 2, thanks to the mycelial network. His emotional attachments are missing , though, leaving Stamets high and dry. After some soul-searching and a sabbatical on the Enterprise, Culber and Stamets eventually reconcile.
Star Trek: Discovery streams exclusively on Paramount+.
Fran Fine and Mr. Sheffield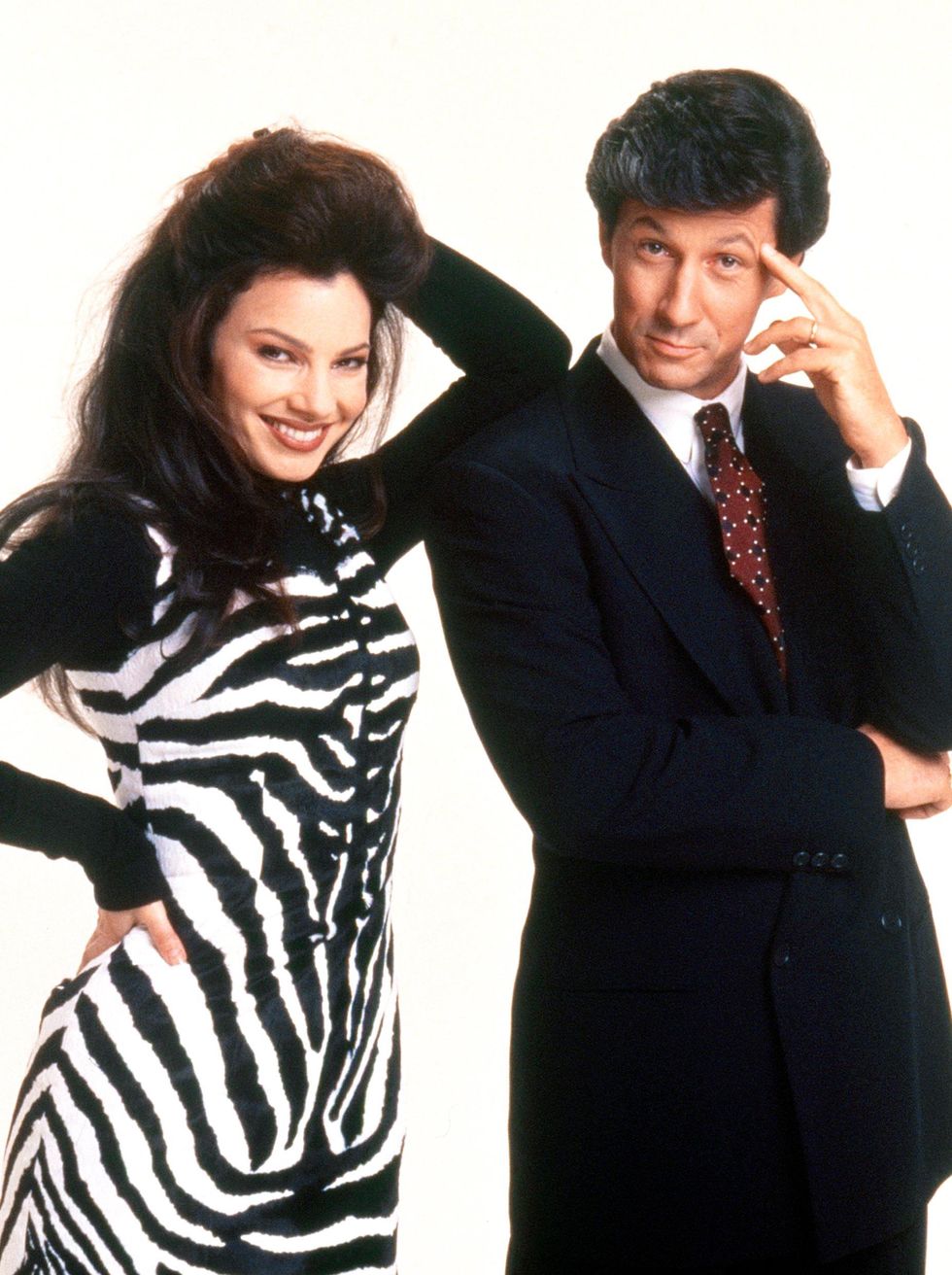 The Nanny's Fran (Fran Drescher) and Mr. Sheffield (Charles Shaughnessy).
Photo Credit: CBS/Courtesy Everett Collection.
The Nanny (1993–1999)
Inspired by The Sound of Music (who knew?),The Nanny told the story of how Fran Fine (Fran Drescher), a brassy, blue-collar girl from Queens with a weakness for leopard prints, charmed her way into the Upper East Side home and hearts of frosty Broadway producer Maxwell Sheffield (Charles Shaughnessy) and his three young children. At first, Fran's inter-viewing skills didn't impress Sheffield, voted one of Esquire's "10 Most Eligible Widowers," but he hired her on a trial basis after hearing this pitch: "I come from Flushing. There is nothing these kids can throw at me that I haven't seen before—except maybe their trust funds."
He was the straight man to Fran's "Lucy"-like schemes, which included impersonating a nurse and being ordered by a surgeon to shave Sheffield before an appendectomy. (And he wasn't talking about the man's five o'clock shadow.) Fran played the field early in the show's run, but the plan was always to have her get together with Sheffield, and in Season 2, they ended up in bed after a night of drinking. The Nanny teased out their relationship before the inevitable wedding in the Season 5 finale.
Sweetest moment:
On their way home from a trip to Paris in Season 3, Fran and Mr. Sheffield experience heavy turbulence. He panics, fearing he will never see his children again—and tells Fran he loves her.
Bobby and Pam Ewing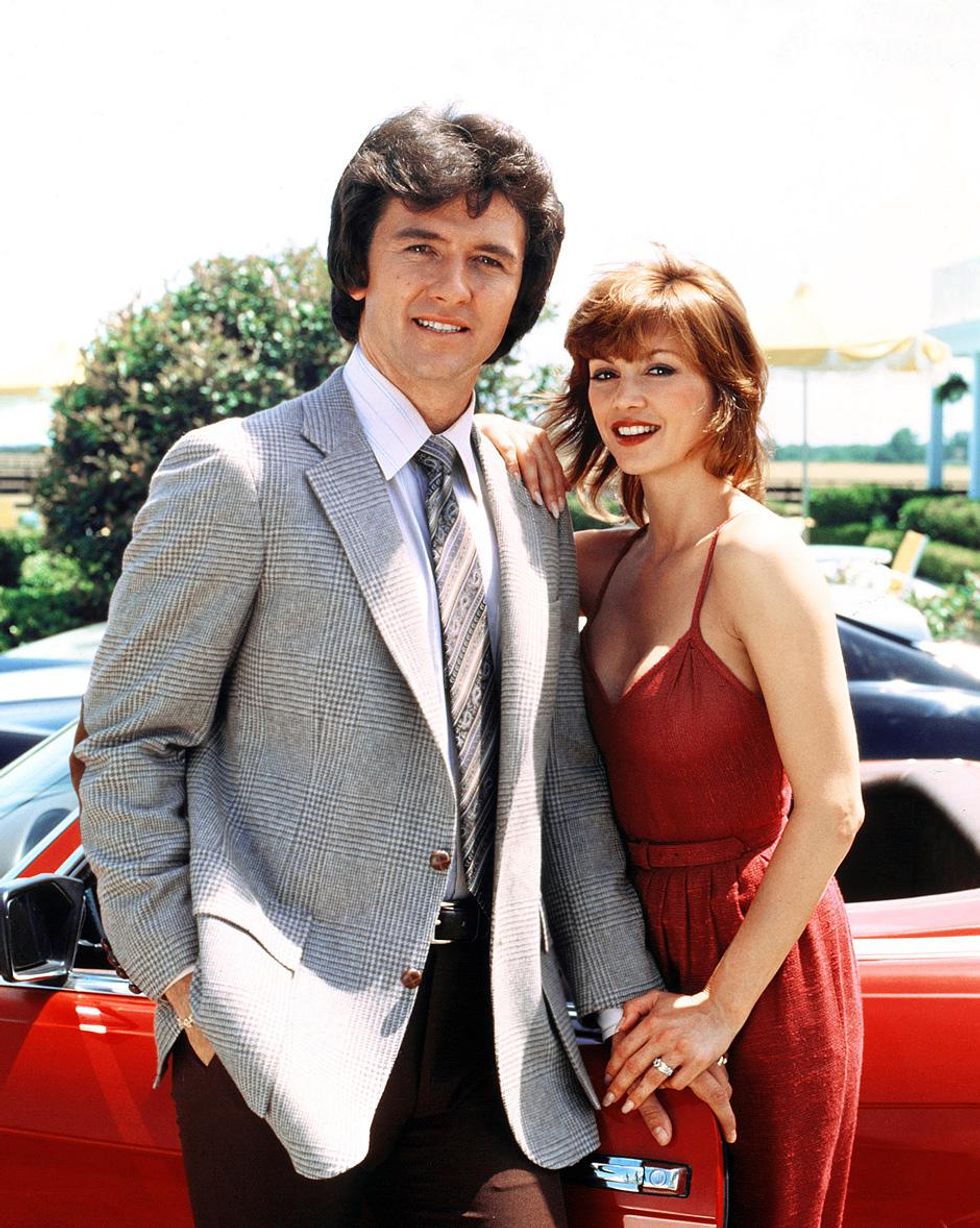 Dallas' 'Bobby (Patrick Duffy) and Pamela (Victoria Principal).
Photo Credit: Courtesy of the Everett Collection.
Dallas (CBS, 1978–1991)
When Bobby Ewing (Patrick Duffy) and Pamela Barnes (Victoria Principal) eloped in the pilot for this hit show, their feuding families of oilmen and ranchers were shocked, but the couple proved everybody wrong: Their love did last. They endured soapy standards such as betrayals—which included Bobby's brother J.R.'s (Larry Hagman) attempts to under-mine the marriage by embarrassing his sister-in-law—and cliffhangers. The most dramatic of these was when Katherine Wentworth (Morgan Brittany) tried to hit Pam with her car and ended up killing Bobby when he stepped in to save her (more about that below).
This golden couple proved resilient to the plot twists that saw the series through 357 episodes. As Principal said in a YouTube interview, " We were Romeo and Juliet in Dallas." Duffy agreed. "Even when we weren't together, we knew we should be together. Everybody looked at us and went, 'That's love.'"
Sweetest comeback:
Season 9 brings Pam a new husband, Mark Graison (John Beck), but something funny happens in the cliffhanger. She hears water running and goes to see her husband. He's there, in the shower—but it's Bobby, looking very much alive. Sea-son 10 kicks off with the revelation that Pam had dreamed the entire previous year's events.
Murphy Brown and Eldin Bernecky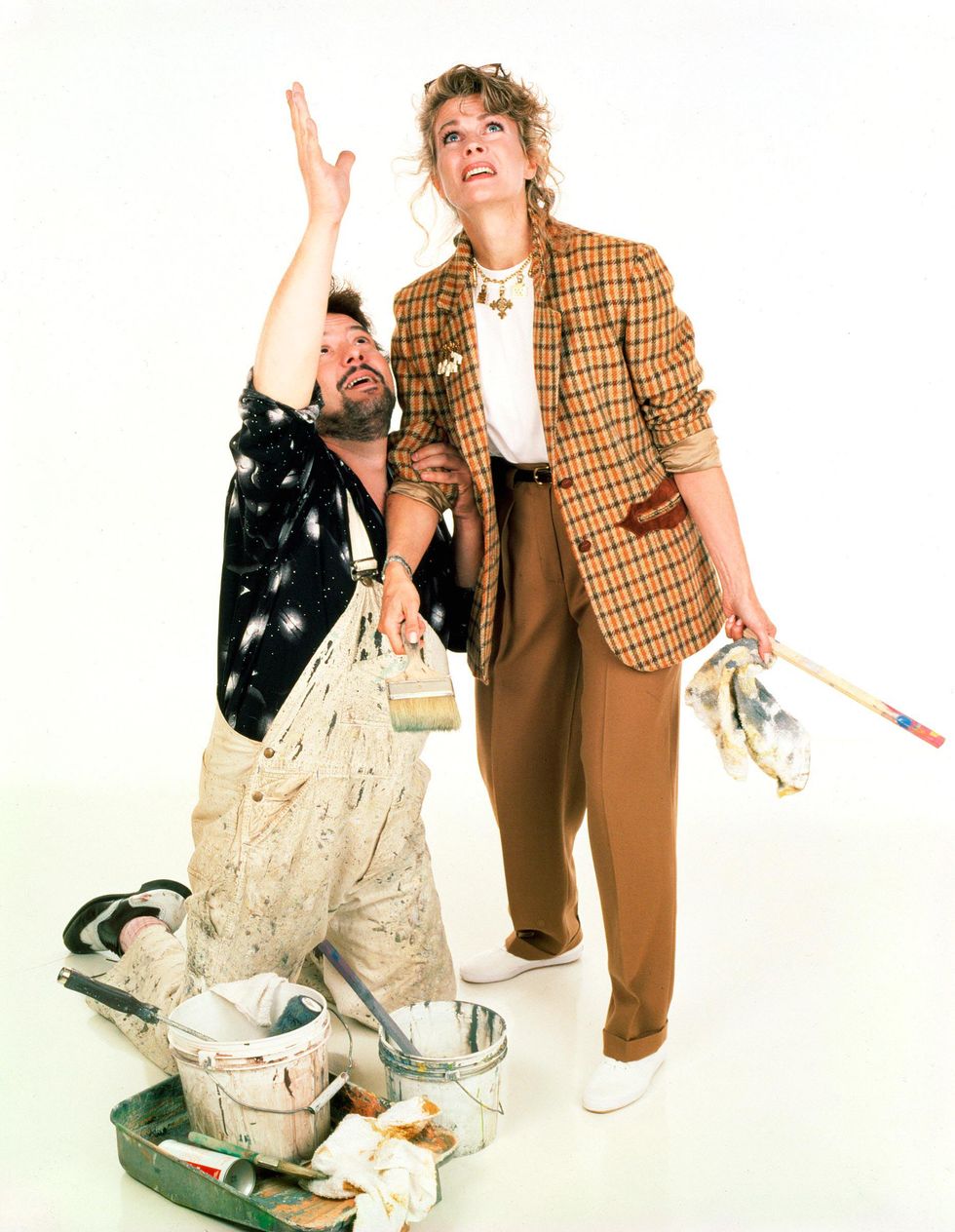 Murphy Brown's Eldin Bernecky (Robert Pastorelli) and Murphy Brown (Candice Bergen).
Photo Credit: Warner Bros. Television/courtesy Everett Collection.
Murphy Brown (1988–1998, 2018)
In some ways, the man who acerbic and ambitious news anchor Murphy Brown (Candice Bergen) was most comfortable with was her house painter, Eldin Bernecky (Robert Pastorelli). He was in her house for years, doing a touch-up here and there and even painting a mural with a socially relevant theme. Because he was always on the premises, Eldin later served as a babysitter for Murphy's son, Avery, and sometimes caught Murphy in her most private moments. In an episode from Season 1, Murphy came home after a long day at the studio and played "Natural Woman" on her tape deck, singing along off-key. Eldin walked into the living room, paintbrush in hand, as Murphy acted out the song. Seeing that she was mimicking Aretha Franklin's soulful delivery, he backed off but came back a minute or so later when Murphy was singing over Aretha's voice and joined her. She nearly had a heart attack when she saw him. "You scared the hell out of me," she said. "I have to tell you, you were getting much better at the end," he replied.
Sweetest moment:
Pastorelli left the series after seven seasons but made a cameo in the Season 7 finale. When Murphy returns home after being successfully treated for breast cancer, Eldin stops by with a marriage proposal. Murphy gently lets him down, but invites him to touch up the place.
Henry VIII and Anne Boleyn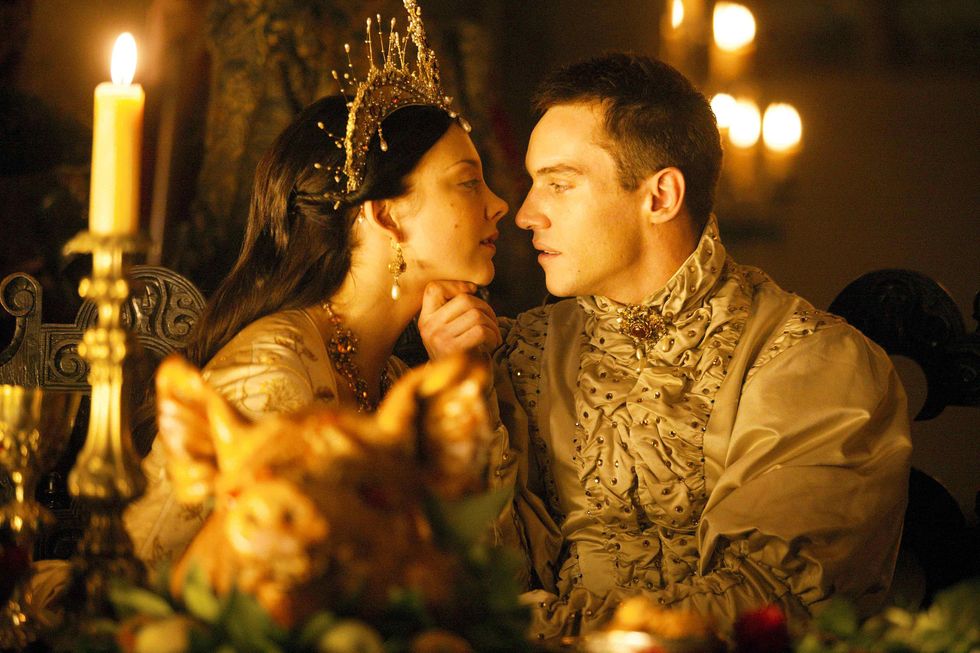 The Tudors' Anne (Natalie Dormer) and Henry VIII (Jonathan Rhys Meyers).
Photo Credit: Courtesy of SHOWTIME.
The Tudors (2007–2010)
OK, so this one didn't end well. But the 16th-century royal romance of King Henry VIII (Jonathan Rhys Meyers) and Anne Boleyn (Natalie Dormer) was the product of erotic longing and court intrigue. Henry VIII was desperate for a male heir, and his first wife, Catherine of Aragon (Maria Doyle Kennedy), could not give him one. Enter the bewitching Anne, whose conniving father, Thomas (Nick Dunning), described her eyes as "dark hooks for the soul." Love letters and stolen kisses in the palace shadows gave way to gifts of opulent jewelry and a courtship conducted in full view of the king's subjects. Catherine seethed, the pope refused to grant Henry an annulment, and the king offered to make Anne his sole mistress.
The clever Boleyn girl brokered a deal. "I will give you a son," she promised Henry as he pushed her petticoats higher—if he married her. So it was. Henry VIII secretly married Anne in 1533 and broke with the Catholic Church. There was just one problem: Their first—and only—child was a girl, the future Queen Elizabeth I. Henry began cheating on Anne, and the queen lost favor at court. She was executed for treason in 1536.
Hottest seduction:
Henry and Anne chase each other around an empty part of the palace, their fingertips nearly touching on the stone walls. He asks how to woo her. "Write letters to me. And poems," she says. "Ravish me with your words."
Stream all seasons of The Tudors on SHOWTIME and SHOWTIME ANYTIME® apps, as well as via SHOWTIME On Demand.